June 23 Feeling More Like Fall Today Then Heating Up This Weekend
climate data
rain timeline
Forecast
Justin Berk
Jun 23, 2022
6:29 am
0
June 23 2022
Thursday Morning Update 
I need to remind myself and maybe you as well that summer officially began this week. It does NOT feel like it. The larger circulation offshore and the approaching front from the west validated the Convergence Zone last week. The bubble in metro areas burst with rain, and now a narrow band of rain remains in place.
Morning Radar Loop
4 AM to 6 AM
Rain has been most persistent in Northeastern Maryland and down the Chesapeake Bay.  Less inland to the West, and less East to the coast…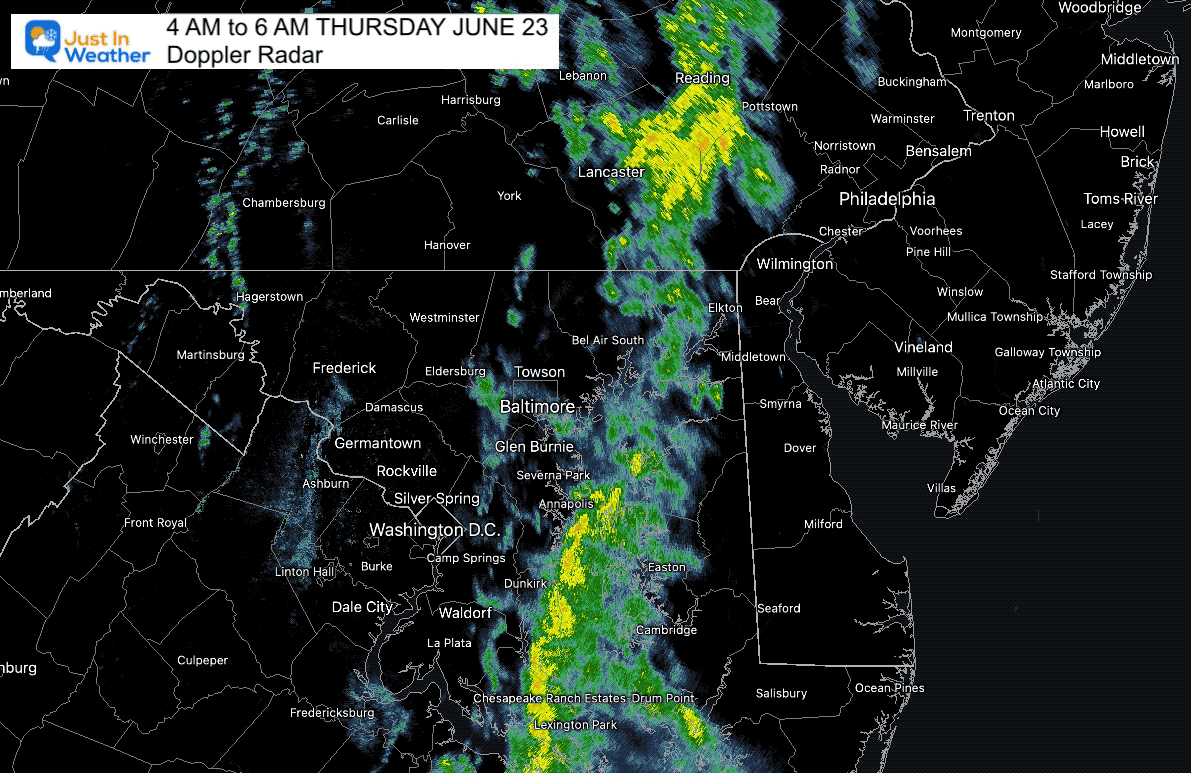 Morning Surface Weather
There will be more energy along this region to bring more rain from north to south which may last into the afternoon. In shore, the day will remain damp and chilly!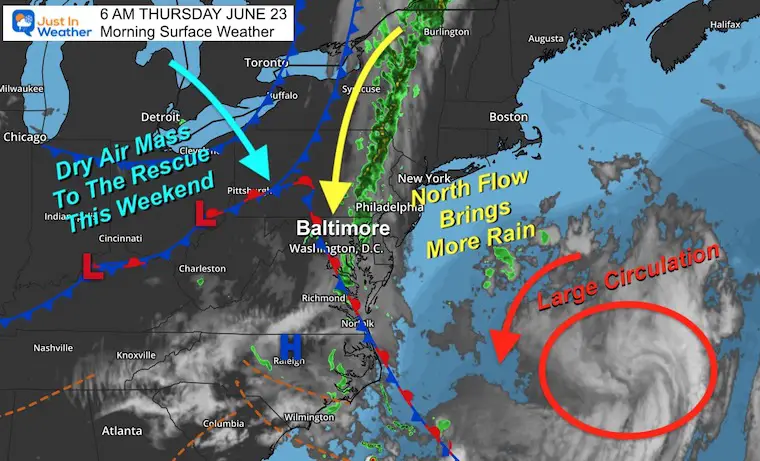 Morning Temperatures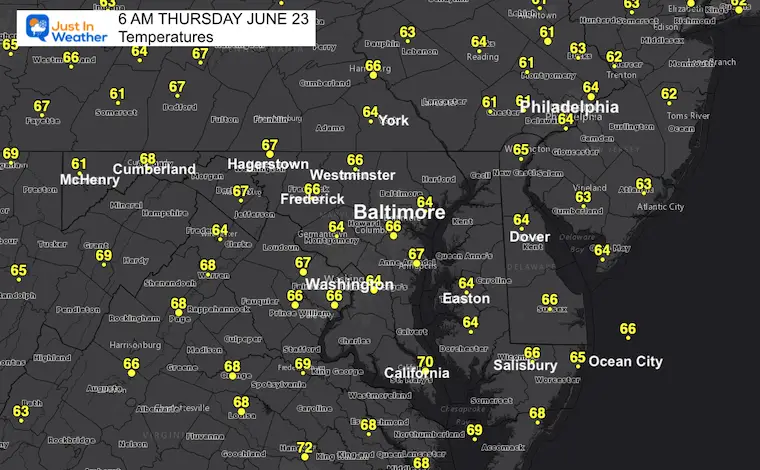 Live Radar Widget
Radar Simulation 8 AM to 6 PM
The band of rain will reserve at times, then break up mid afternoon and evening. 
This is NOT a perfect product, but I would plan for a damp and chilly day… especially around the Bay.
Afternoon Temperatures
A little warmer inland, but chilly under the rain in central areas to the coast.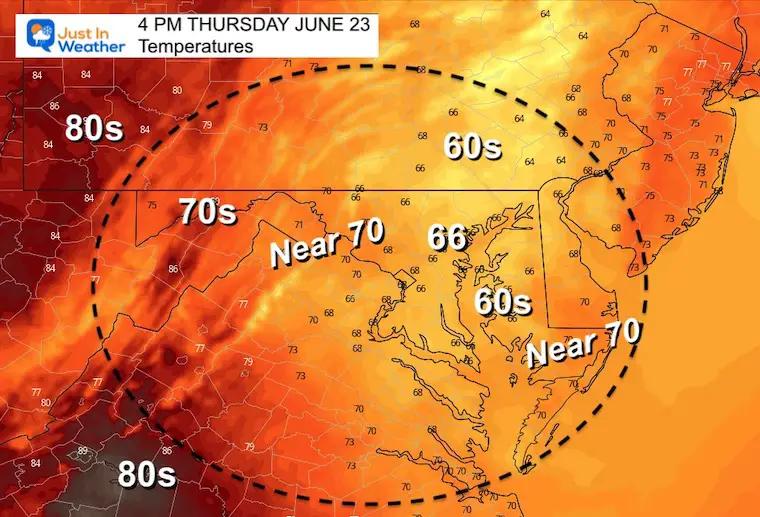 CLIMATE DATA
TODAY June 23rd
Normal Low in Baltimore:  64ºF
Record 48ºF in 1992
Normal High in Baltimore: 85ºF
Record 97ºF 2010
Friday
The rain will clear and allow the un to return.  Temps will still be a little below normal, then make up for it this weekend.
Morning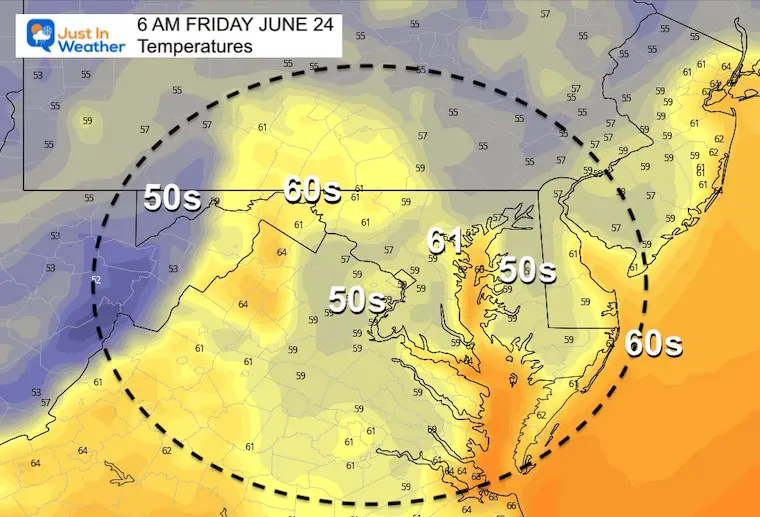 Afternoon
With more sun it will be warmer… but still below average.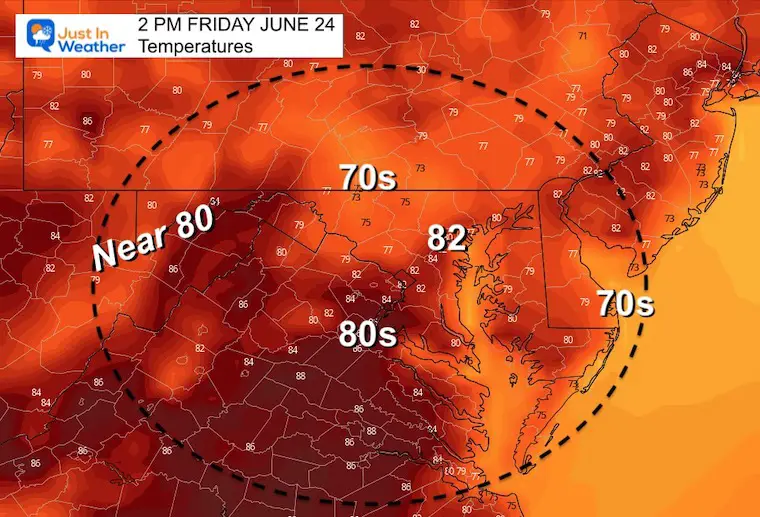 GREAT WEEKEND AHEAD

Book Your Kayak or Paddle Boat Adventure On The North Chesapeake Bay
Looks Ahead…
A dry weekend will allow us to heat up back to near 90ºF on Sunday.
Then we watch a cold front bring in thunderstorms late Sunday and more likely on Monday afternoon and evening.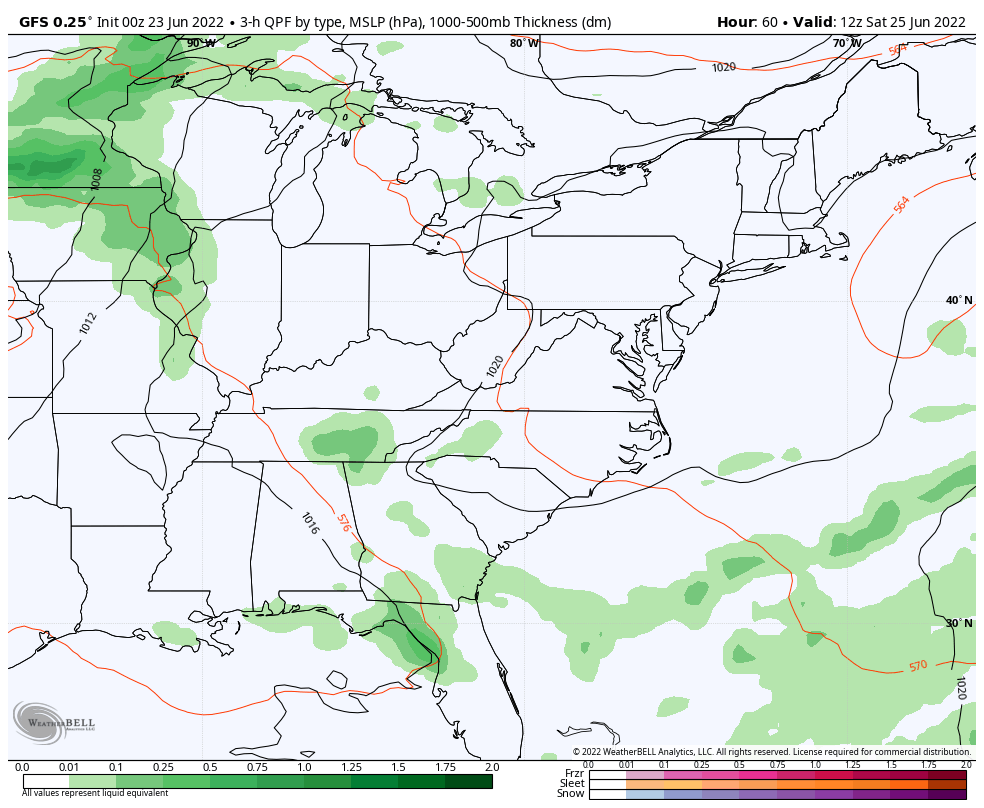 Weather posts straight to your inbox
Sign up and be the first to know!
7 Day Forecast
Heating back up with sunshine this weekend.