Wednesday Stormy Outlook: Severe West And Chilly Rain At The Beaches
rain timeline
Severe Weather
Forecast
Justin Berk
Jun 21, 2022
9:54 pm
0
June 21 2022
Tuesday Night Update
A really interesting weather event may develop on Wednesday that is complex and simple at the same time. We are still just missing out on the heat dome in the southern US, but on the edge of the upper level wind flow around it.
Storms forming in the Mid West which are expanding north, meanwhile a chilly rain is diving southward along the coast.
Our region is getting the squeeze play in between, which may develop a convergence zone right on top of us on Wednesday night. 
It does look like the scattered afternoon showers will become more widespread towards and after nightfall. I know there is a big concert in Washington, which may be subject to some of these storms.
Tuesday Night Surface Weather
I have annotated the flow of air aloft, but the satellite loop below may help show this better.
An explosion of storms in Iowa, northern Illinois, and into Wisconsin are along a cold front. But to the north, we can see the higher level clouds spreading north into Canadian.
Then a sharp shift with the clouds in New York and New England dropping south along the coast.
While the rain is not there yet, Wednesday is not going to be a 'day at the beach'.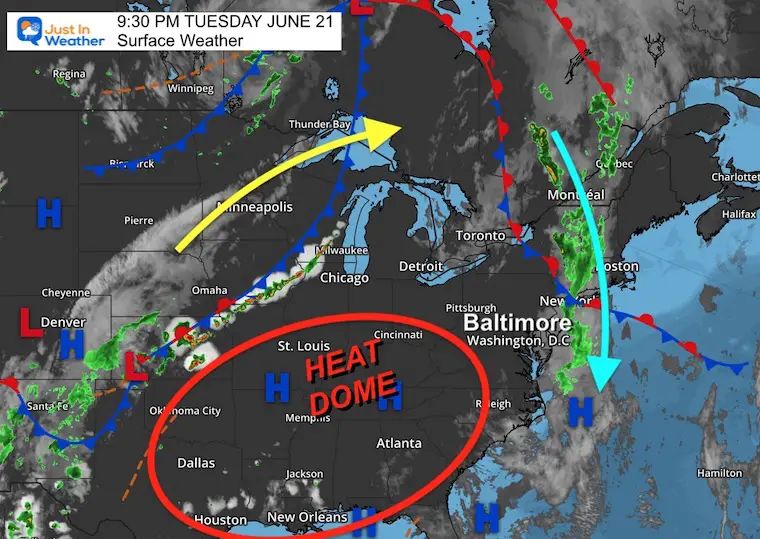 Tuesday Evening Satellite Loop
6:30 PM to 9:30 PM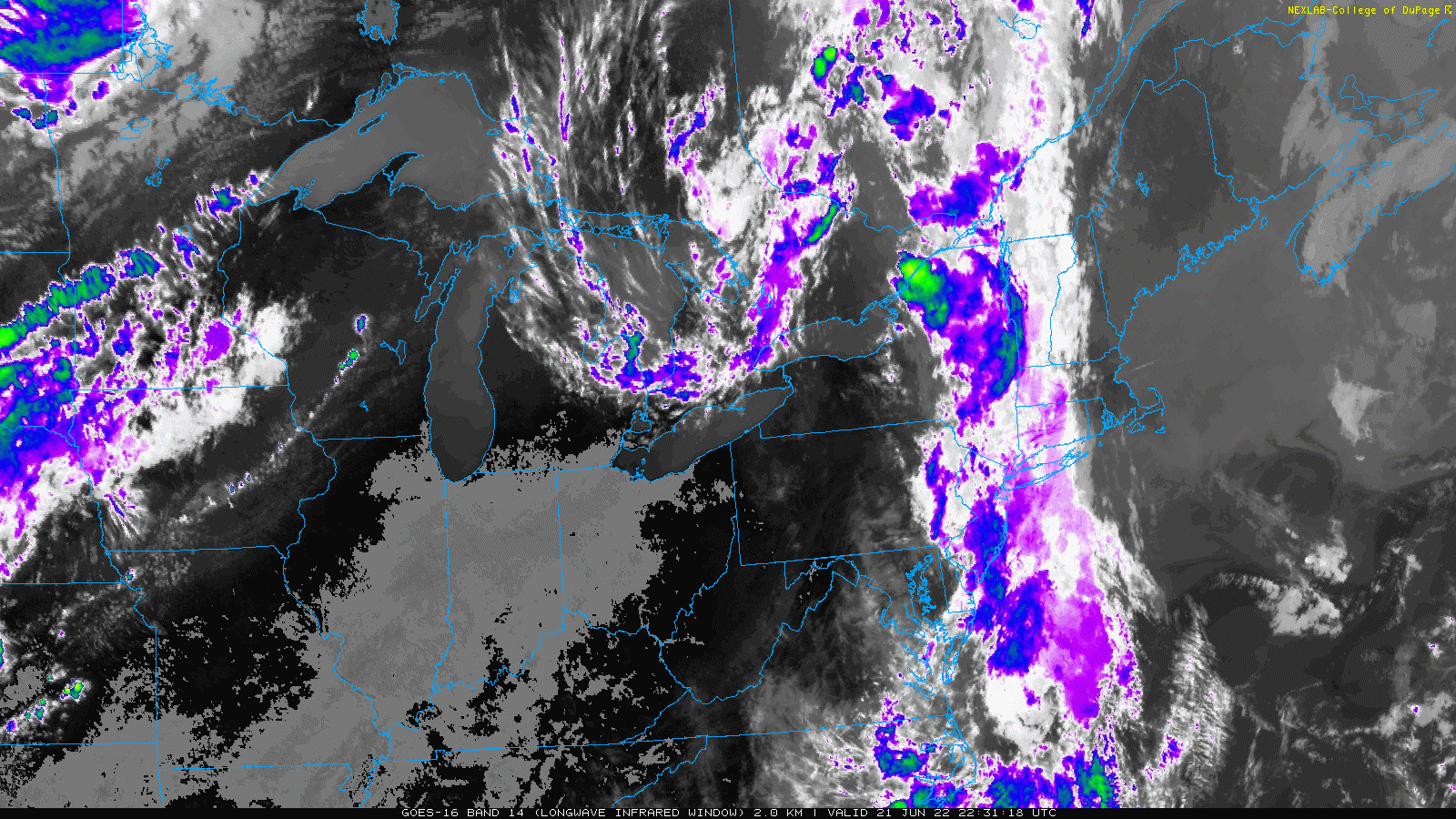 Wednesday Severe Storm Outlook
We do have the Slight Risk for severe storms in the afternoon and evening. 
The flow aloft suggests colder air and greater risk for large hail and damaging wind.. But highest where temps reach the 80s or higher during the day. That will be farther inland. 
Wednesday Evening
Temperatures
I wanted to start with the temperatures, as this helps tell the story. That northernly flow along the coast, along with expanding rain fathers west, will result in broad temperatures in the 60s.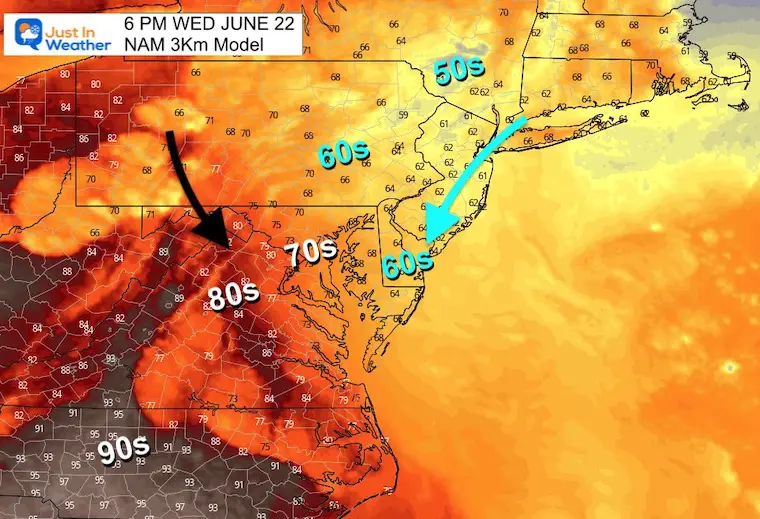 Radar Simulation Snapshot
I picked this view and timeframe to highlight the larger rain shield with a developing coastal trough, while inland the cluster of rain may bring severe storms.
Both appear to be moving in opposite directions.  The region in between is where the air mass conversion may lead to a new band of rain and storms.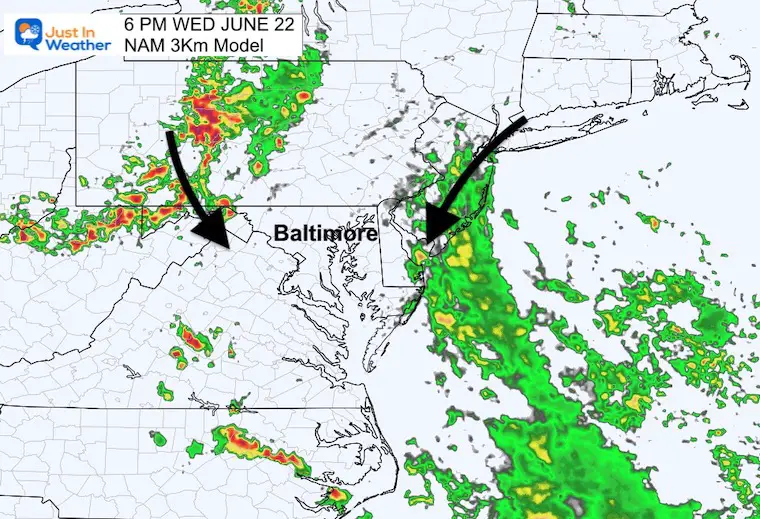 NAM 3 Km Animation
6 AM to Midnight
This longer loop shows a band of rain in the morning, then the lull before more development later in the day and at night. 
*It is important to state again that this model has underperformed lately. I do not want to over estimate any event, but we may see more cells verify on radar than shown here…   I show this for the purpose of the conversion, explained below.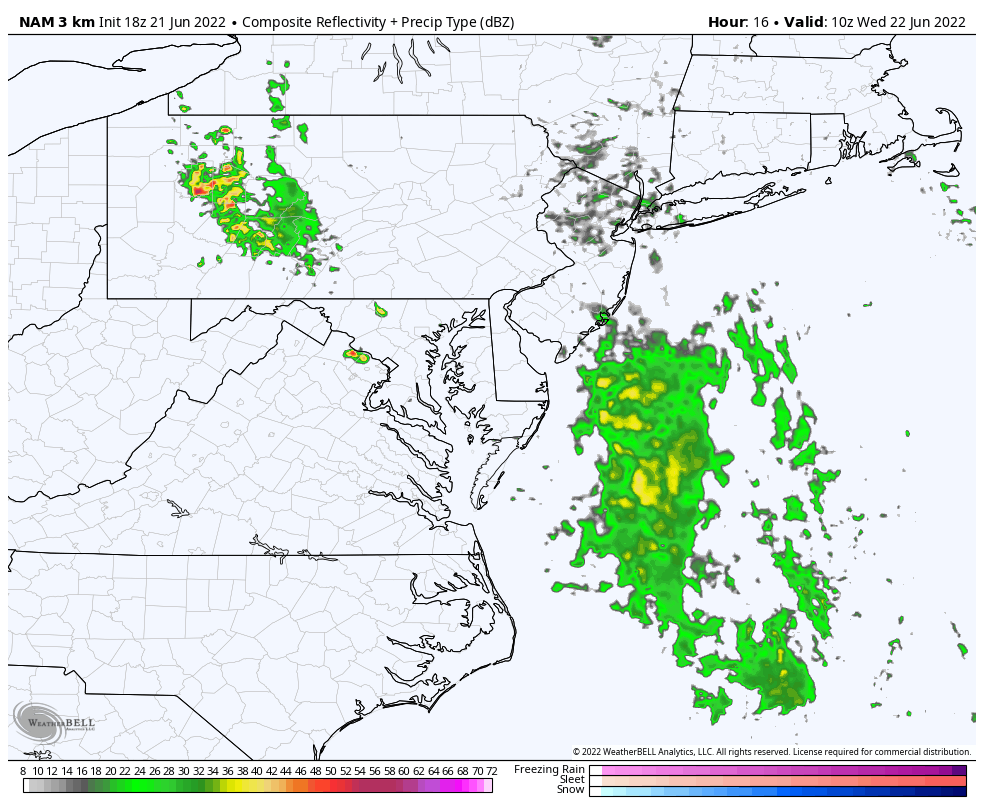 Closer Look
4 PM
This looks a little later with the mountain storm, but scattered showers extend across Delmarva and to the coast.  That may be a chilly beach spray kind of day.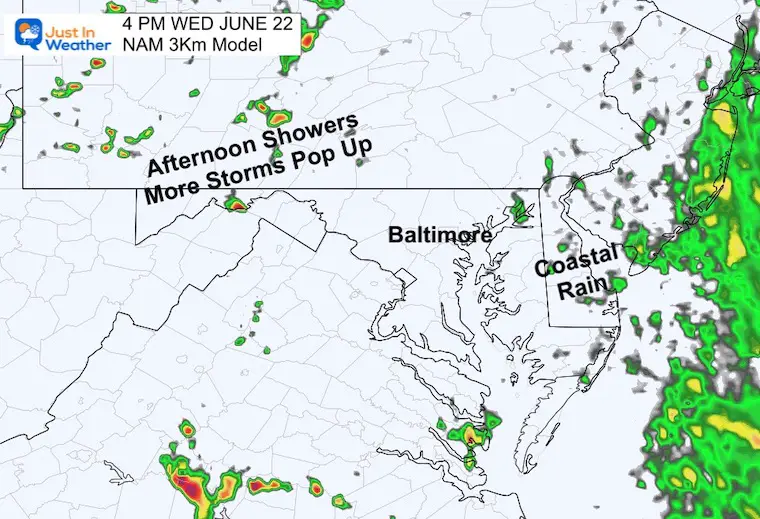 8 PM
This latest suggestion is for the severe risk to be higher west of the cities, where temps will be warmer during the day. 
But as that advances to the Southeast, the coastal rain will pivot westward. 
This is when a convergence zone may set up over central Maryland/I-83 corridor.
10 PM
That Convergence Zone in between could be interesting to evolve with uplifting from both sides and a steady band of rain resulting in the atmospheric wave.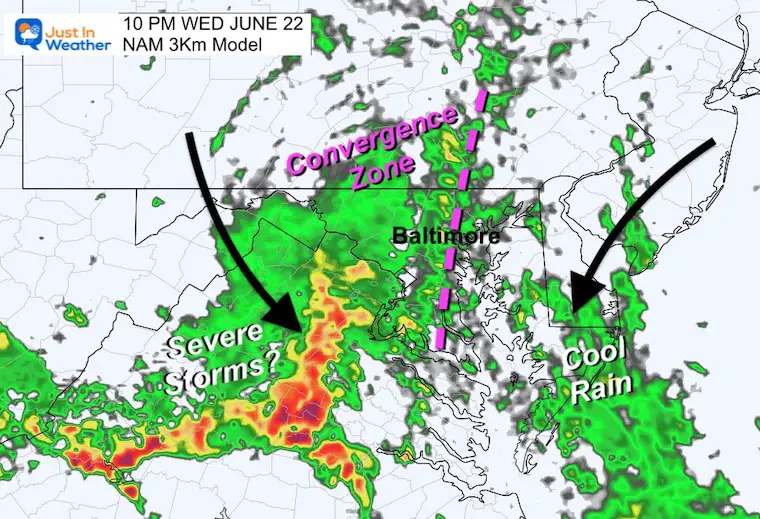 Animation: 4 PM Wednesday to 12 PM Noon Thursday
I expanded this loop to show the potential for another wave of rain into the next day. 
If this plays out, then we  may be able to improve for late Thursday and Friday.
Next Full Update Wednesday Morning
Weather posts straight to your inbox
Sign up and be the first to know!

Book Your Kayak or Paddle Boat Adventure On The North Chesapeake Bay
Hurricane Season Forecast: June 1 Through November 30
NOAA 2022 Hurricane Forecast- Above Normal Again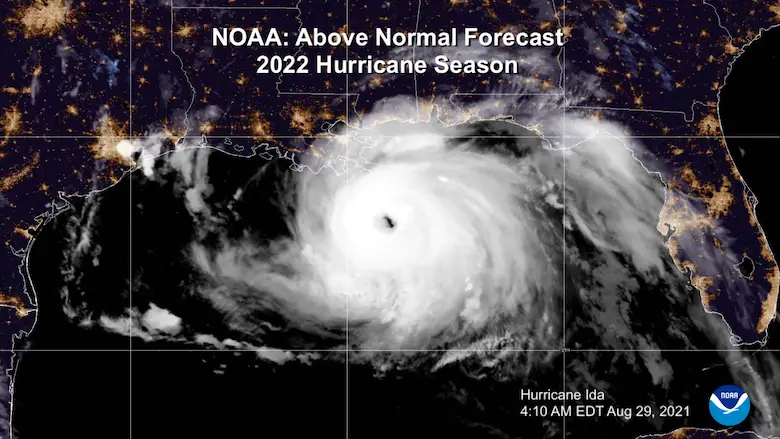 Forecast From Colorado State University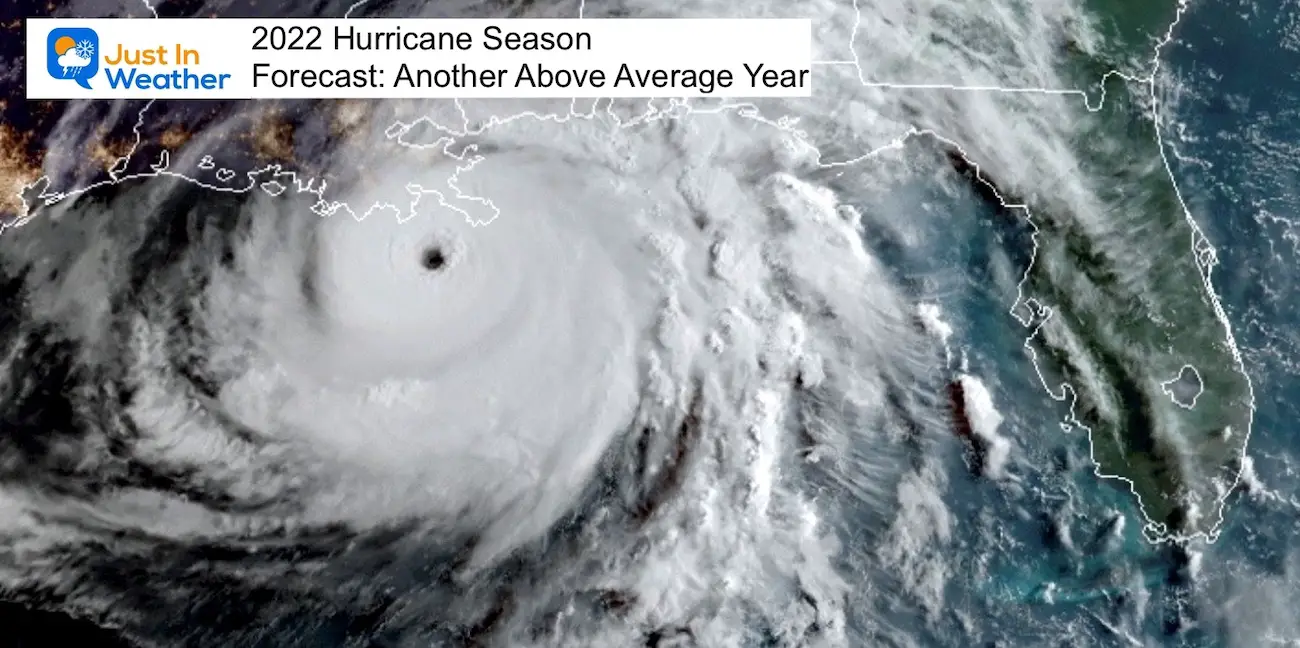 Related Posts
NOAA Study: Reducing Air Pollution INCREASED Tropical Storms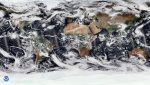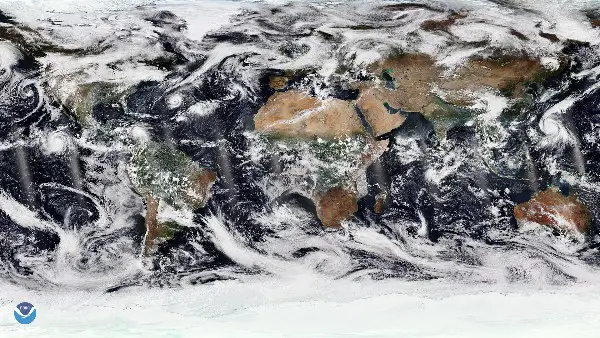 Atlantic Tropical History: Maps of Origin Regions Every 10 Days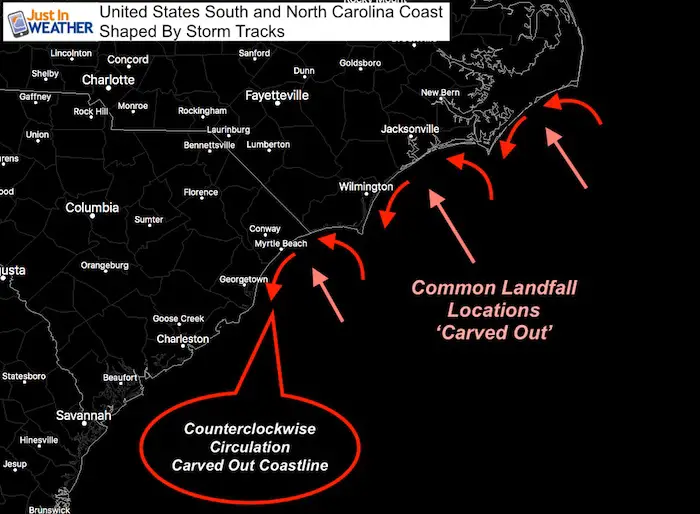 Recent Storm Reports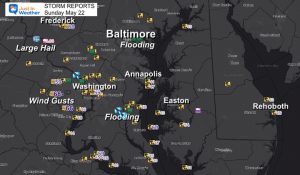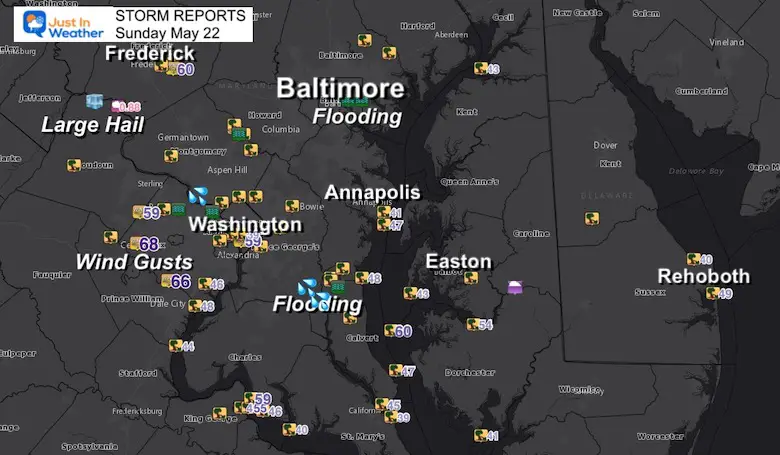 May 16 Large Hail Videos And Storm Tracking Map
Please share your thoughts, best weather pics/video, or just keep in touch via social media
*Disclaimer due to frequent questions:
I am aware there are some spelling and grammar typos. I have made a few public statements over the years, but if you are new here you may have missed it:
I have dyslexia, and found out at my second year at Cornell.  I didn't stop me from getting my meteorology degree, and being first to get the AMS CBM in the Baltimore/Washington region. 
I do miss my mistakes in my own proofreading. The autocorrect spell check on my computer sometimes does an injustice to make it worse. 
All of the maps and information are accurate. The 'wordy' stuff can get sticky. 
There is no editor that can check my work when I need it and have it ready to send out in a newsworthy timeline. 
I accept this and perhaps proves what you read is really from me…
It's part of my charm.