June 22 Severe Storm Risk Today Includes Large Hail and Flooding Rain
NOAA
climate data
Severe Weather
Forecast
Justin Berk
Jun 22, 2022
6:39 am
0
June 22 2022
Wednesday Morning Update 
Here we go again, for some of us.  A distinct split system will be affecting the region differently. Northerly winds along the coast will keep it cool with spray and developing rain. However inland will heat up to the 90s.  In between is where our metro areas will be on the edge of severe storms erupting this afternoon and evening. 
NOAA Severe Storm Outlook
A Slight Risk for storms to turn severe rainy along and west of the Bay.
Farther inland will have the higher chance due to more heat. The conditions support:
Large Hail – due to colder air aloft.
Flash Flooding – Due to training, where many storm cells roll over the same areas from North to South. Local rain totals under multiple cells may reach 1 to 3 inches.
Damaging Wind and an isolated tornado are also possible, especially on the edge of the heat line.  See below.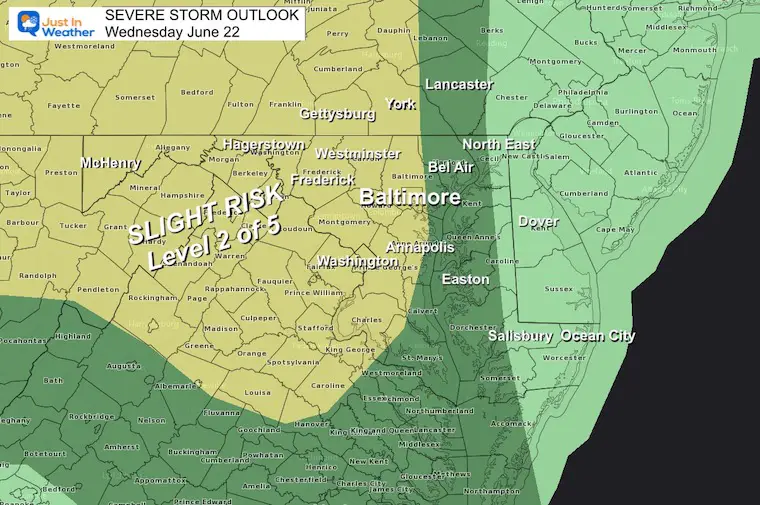 Note:
Today is a set up that shows how some model guidance is unreliable. I will show the stark difference below.
Tomorrow will be cooler, then we heat up over the weekend. 
Morning Surface Weather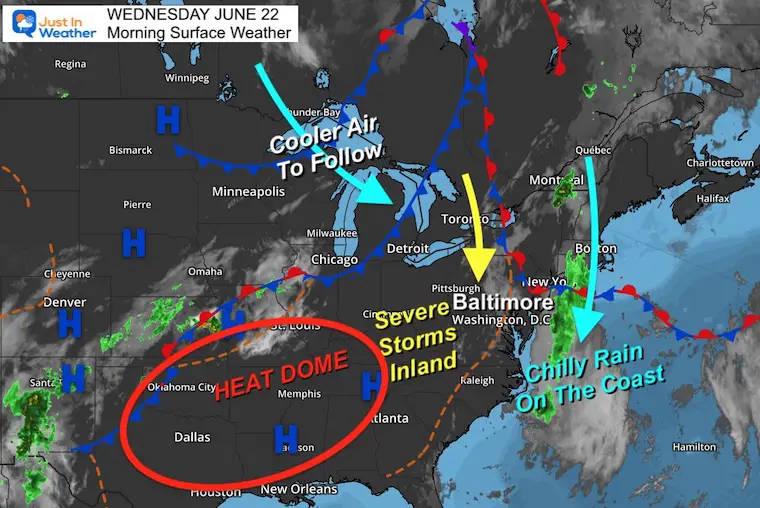 Satellite Loop 4:3o AM to 6:30 AM
Flash Flood Watch
The best chance for the heaviest rain in the 1 to 3 inch range will be west of Baltimore and Washington.
The best matches the HRRR Model simulation below, Vs the NAM 3Km you will see is showing the rain fathers east and appears to not be performing well today)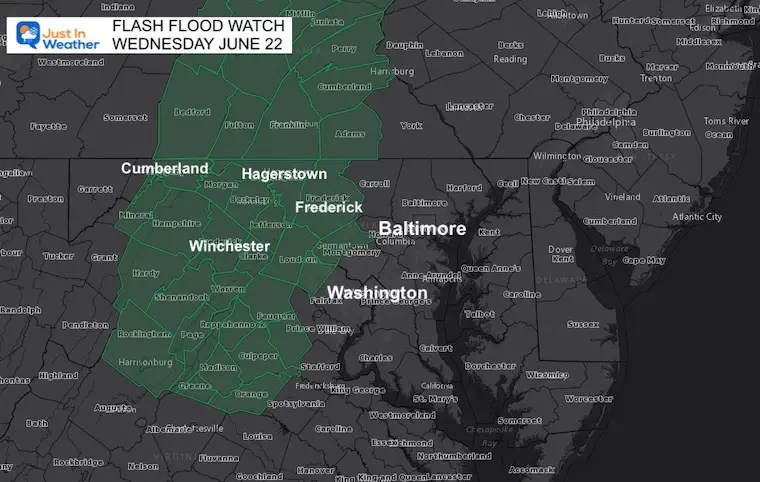 Are Your Weather Apps And Other Forecasts 

Different

?
HRRR Model Guidance
This is the product I believe has a better handle on the set up.
Here we see the flare up of storms mid afternoon, with more explosive storm cells farther inland.  
Yes, this may affect concert or outdoor plans this evening. 
Delmarva and Beaches will be cooler, and more stable. The weather there support rain moving in from along the coast.
Animation 2 PM to 10 PM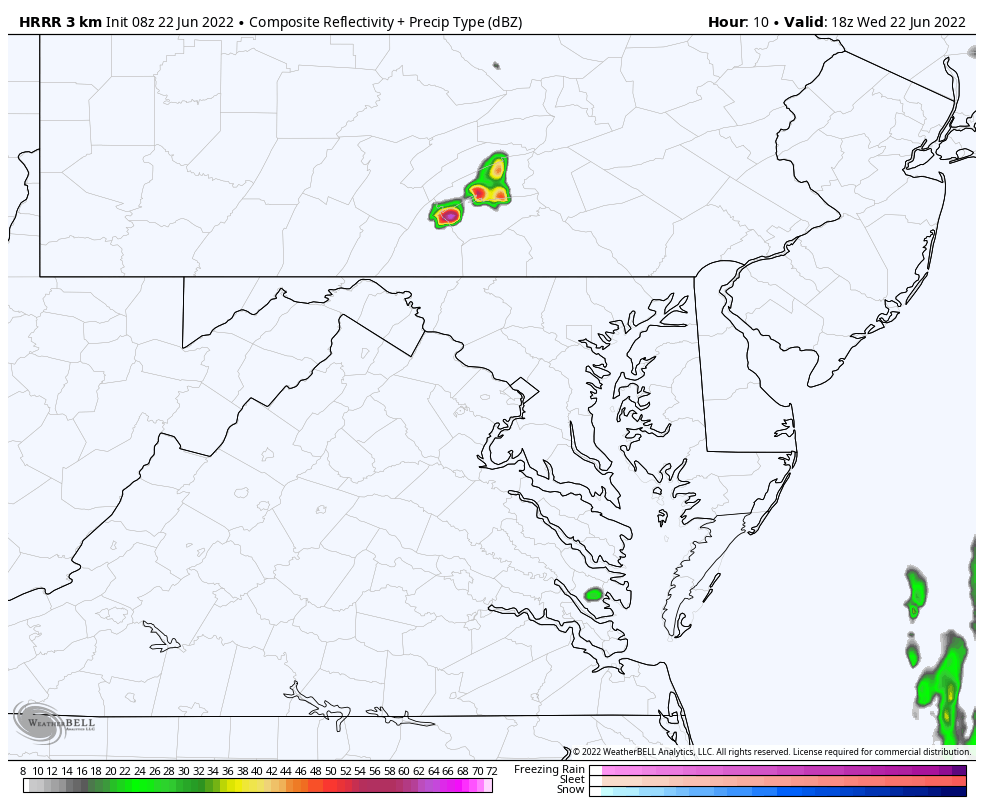 Compare To The NAM3Km Model
This product shows the eruption of storms earlier and east..  Over metro areas. If this was to verify, it would impact the early afternoon AND result in much cooler temperatures.
Animation 2 PM to 10 PM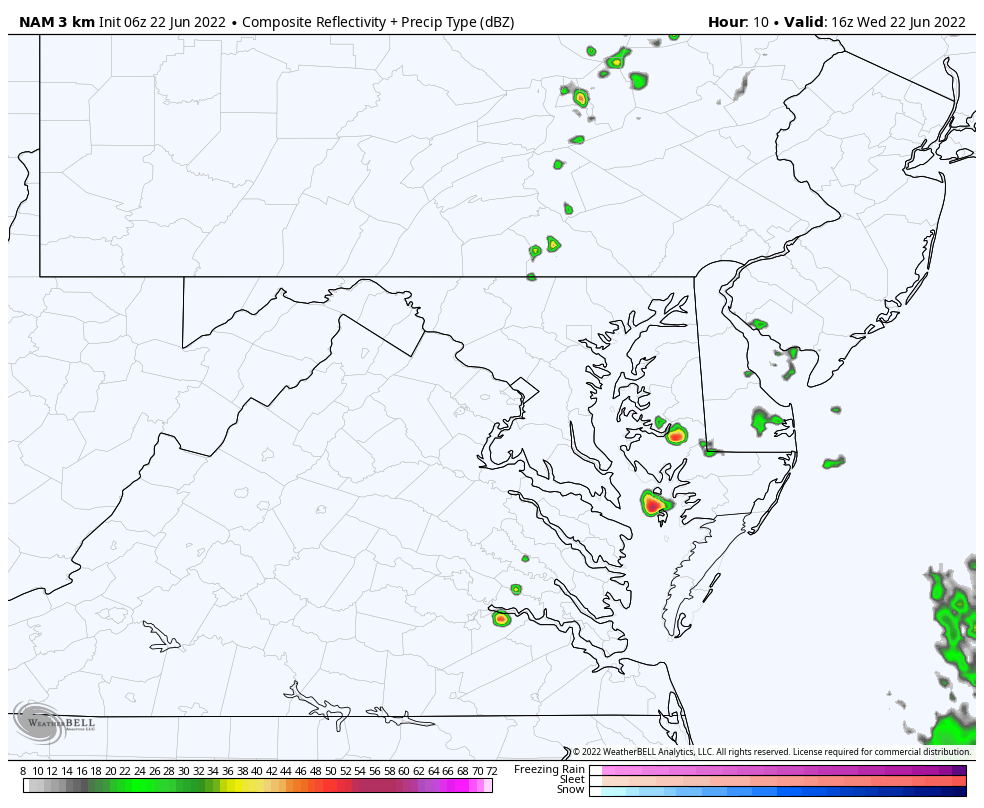 Afternoon Temperatures
Compare how different the models see the impact of the rain locations.
I think the HRRR Might be a bit high for Baltimore, but the NAM is too low with that band of rain earlier and farther east.
HRRR Model
I think this may be a bit too hot for Baltimore. But there will be a contrast of 90s to near 100ºF west and south of the city to 70s along the coast AND where the storms arrive.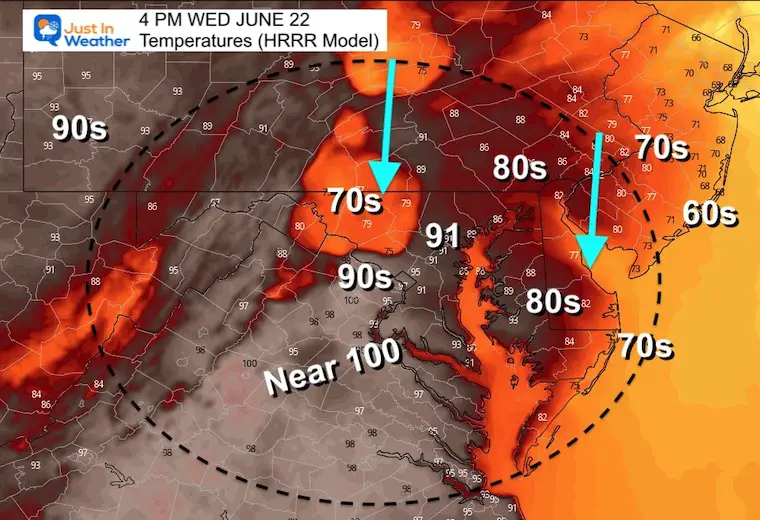 NAM 3 Km Model
This is MUCH COOLER based on the storms tracking earlier and east over the cities.
This product also keeps Delmarva and the Beaches in the 60s with more rain.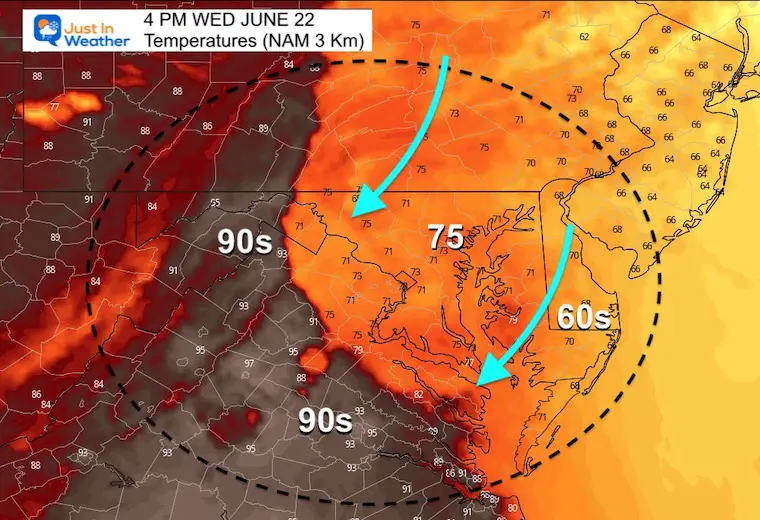 CLIMATE DATA
TODAY June 22nd
Normal Low in Baltimore:  64ºF
Record 46ºF in 1992
Normal High in Baltimore: 85ºF
Record 100ºF 1988
Thursday:
Rain expected to linger in the morning, then break up in the afternoon.However, the clouds and north wind flow will keep temps much cooler.
Morning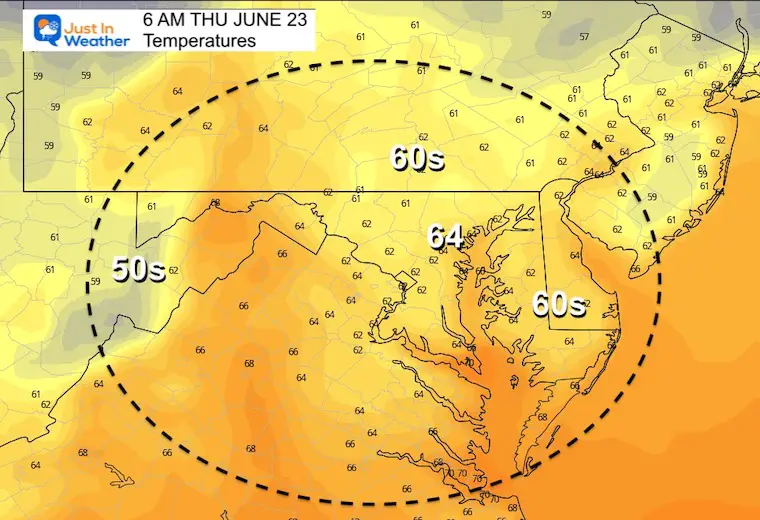 Afternoon
This might be a little too cool if we can break out some late day sun.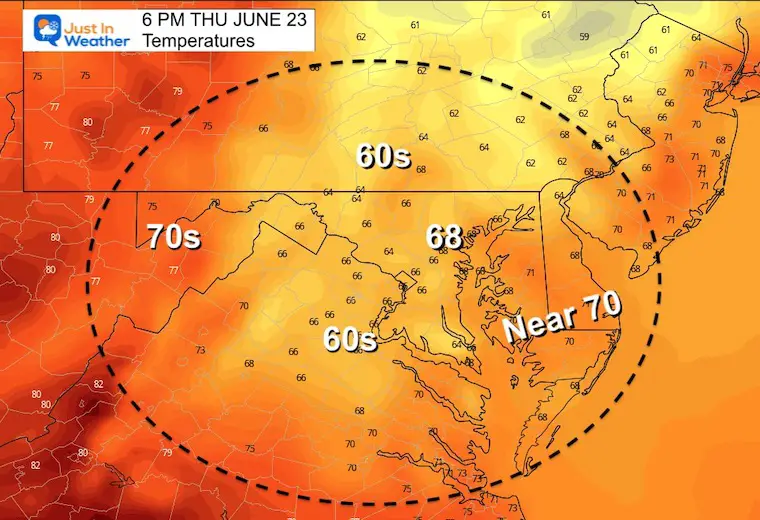 Weather posts straight to your inbox
Sign up and be the first to know!
7 Day Forecast
A cool pocket of air will follow morning rain Thursday. Then we modify and heat up this weekend. That will assist in the next round of severe storms by Sunday evening. 
The long range supports a repeat of the cooler side of the jet stream remaining dominant into early next week.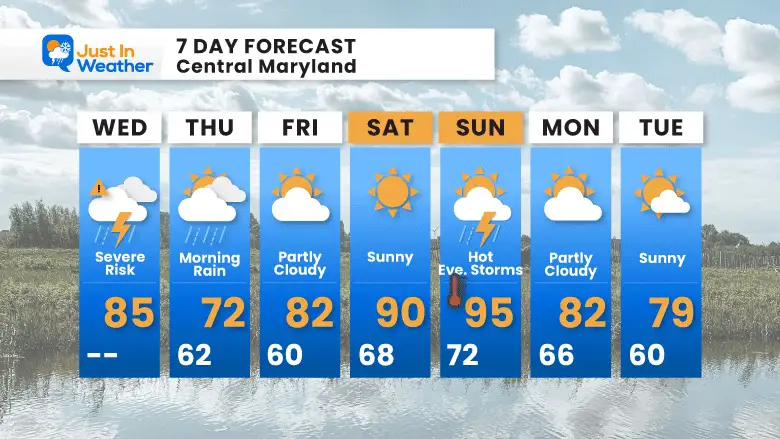 Book Your Kayak or Paddle Boat Adventure On The North Chesapeake Bay
Hurricane Season Forecast: June 1 Through November 30
NOAA 2022 Hurricane Forecast- Above Normal Again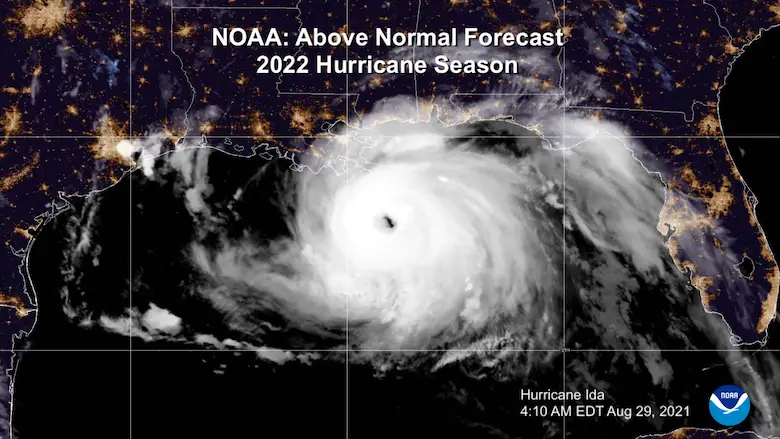 Forecast From Colorado State University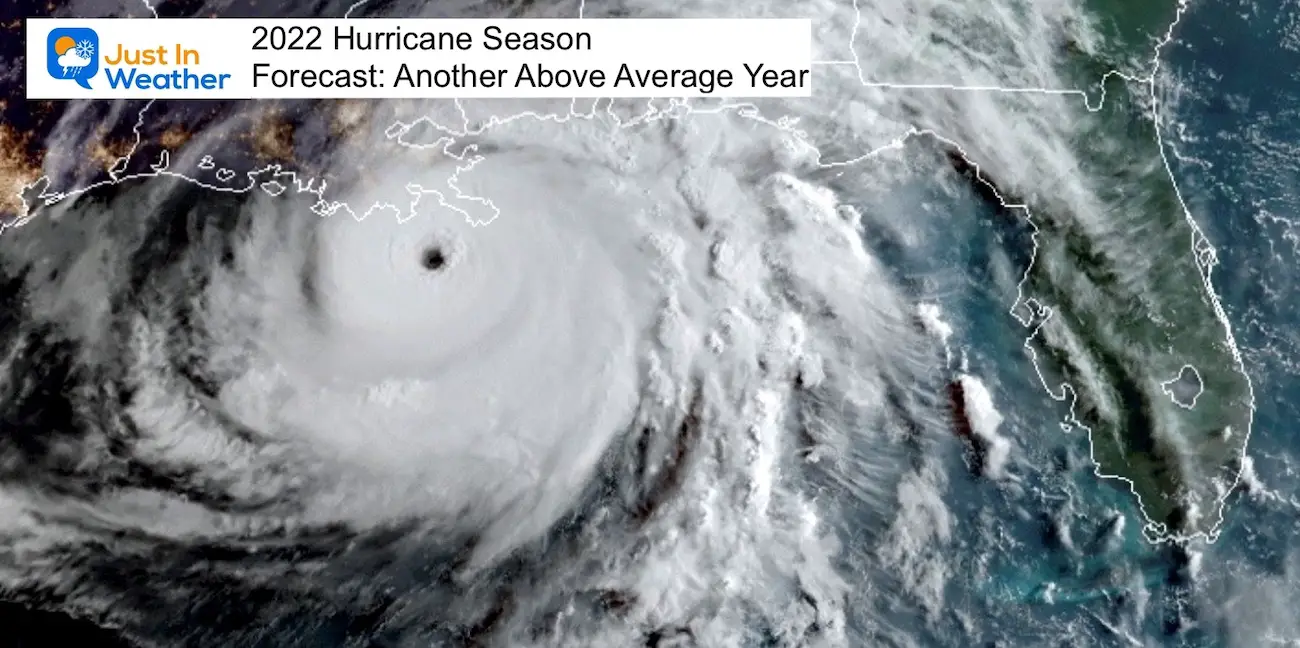 Related Posts
NOAA Study: Reducing Air Pollution INCREASED Tropical Storms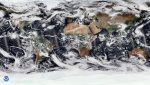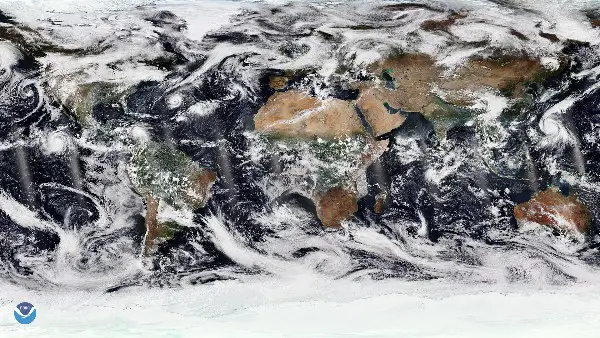 Atlantic Tropical History: Maps of Origin Regions Every 10 Days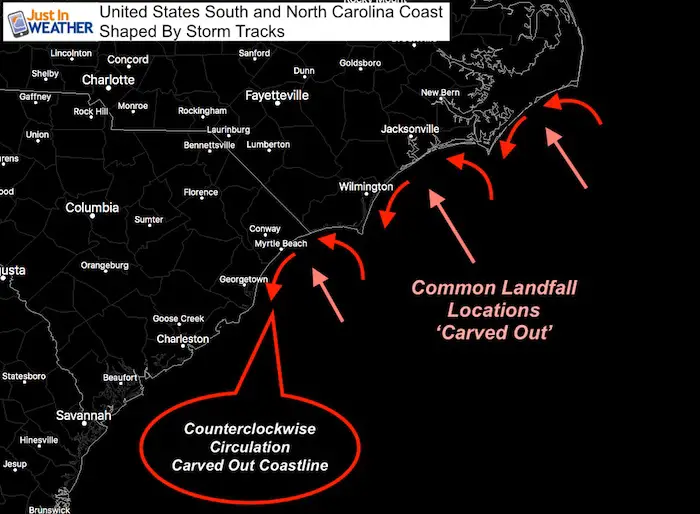 Recent Storm Reports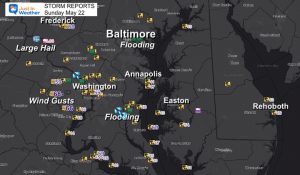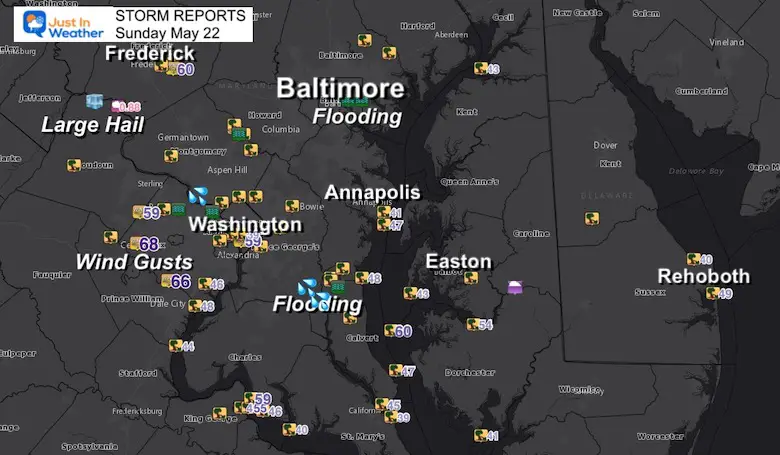 May 16 Large Hail Videos And Storm Tracking Map
Please share your thoughts, best weather pics/video, or just keep in touch via social media
*Disclaimer due to frequent questions:
I am aware there are some spelling and grammar typos. I have made a few public statements over the years, but if you are new here you may have missed it:
I have dyslexia, and found out at my second year at Cornell.  I didn't stop me from getting my meteorology degree, and being first to get the AMS CBM in the Baltimore/Washington region. 
I do miss my mistakes in my own proofreading. The autocorrect spell check on my computer sometimes does an injustice to make it worse. 
All of the maps and information are accurate. The 'wordy' stuff can get sticky. 
There is no editor that can check my work when I need it and have it ready to send out in a newsworthy timeline. 
I accept this and perhaps proves what you read is really from me…
It's part of my charm.