June 21 Summer Has Begun And We Focus On Severe Storms Tomorrow
climate data
Severe Weather
Season
Forecast
Justin Berk
Jun 21, 2022
6:39 am
0
June 21 2022
Tuesday Morning Update 
At 5:31 AM the sun's direct rays reaches the Tropic of Cancer. The northern Hemisphere is pointing towards the sun as we get the most direct rays and longest day of the year.  
The summer solstice marks the start of Astronomical Summer. While the days get a little shorter from here on out, the peak temps are usually in the middle of July. It is a similar lag to a normal day when our mid day top sun angle is followed by the hottest temps a few hours later…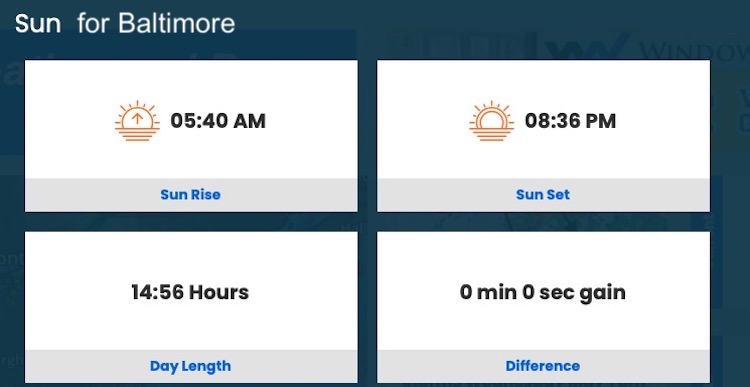 Morning Surface Weather
The weather pattern continues to pump in that northerly flow. Now we have tapped into more clouds, and a small chance for a shower today.   
Tomorrow is when it gets more active for us.  So the heat dome remains blocked to our south and west, while we get into a risk for severe storms. More on that below.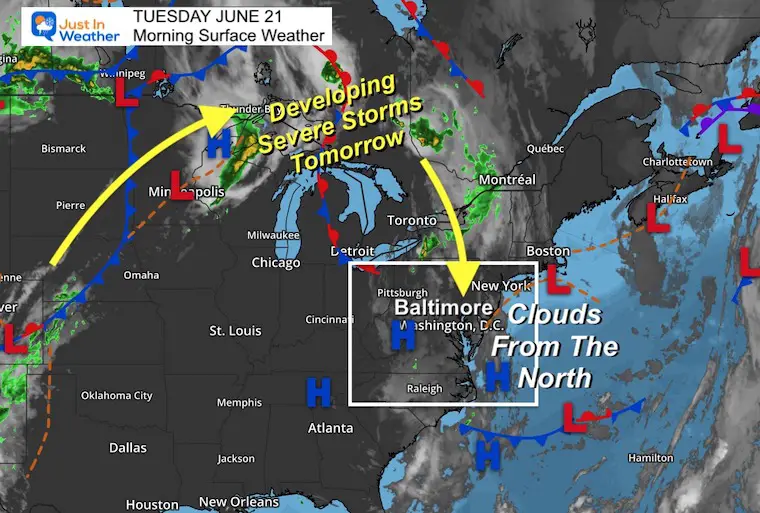 Afternoon Temperatures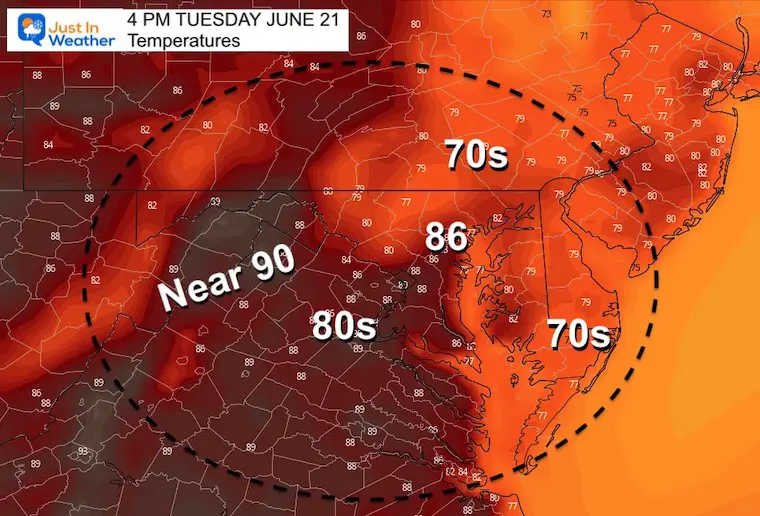 Weather posts straight to your inbox
Sign up and be the first to know!
CLIMATE DATA
TODAY June 21st
Normal Low in Baltimore:  64ºF
Record 50ºF
Normal High in Baltimore: 85ºF
Record 100ºF 2012
Wednesday:
Severe Storm Risk Day
With that northerly flow, cooler air aloft will bring the increased risk for: large hail and damming winds.
Radar Simulation:
This is looking like a busy day with some early showers, then the eruption of severe weather in the afternoon and evening. 
Main event develops AFTER 3 PM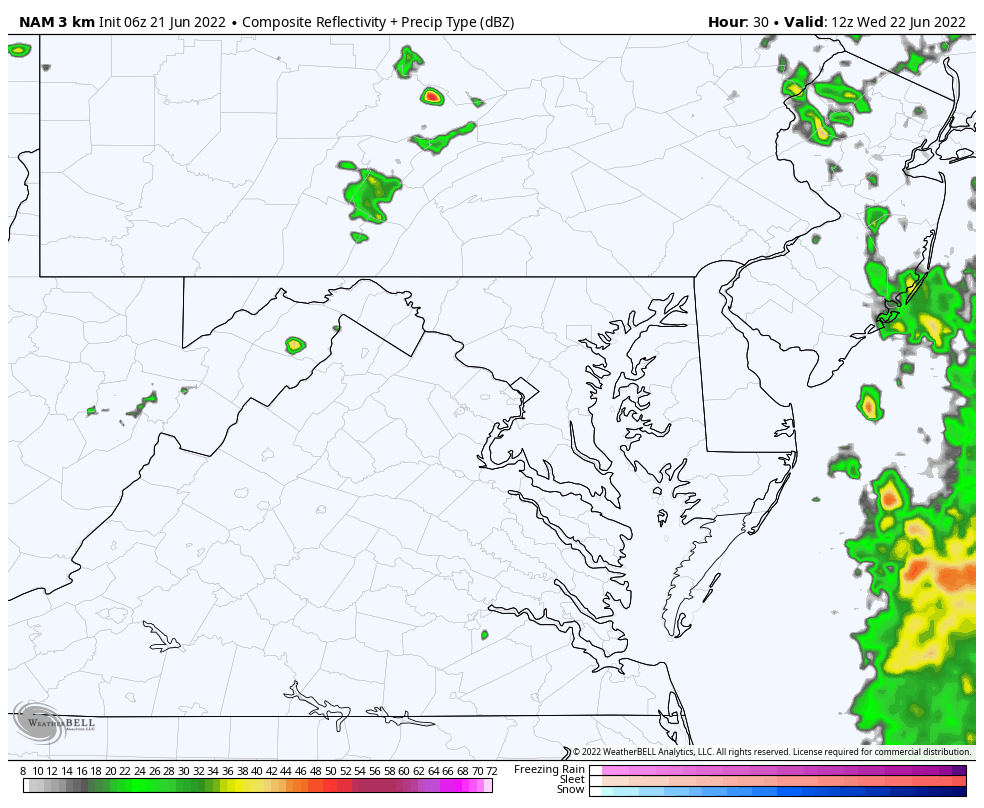 Temperatures
Morning
It will  feel a bit muggy.

Afternoon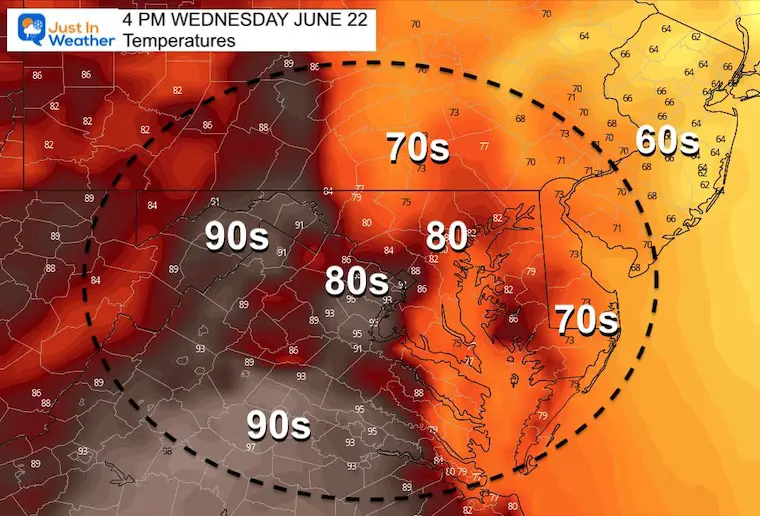 Looking Ahead: Wednesday Through Thursday
The developing rain and storms will be dropping south, feeding into developing Low Pressure that will erupt off of the coast.  This is enhance the cooler air behind it for a day.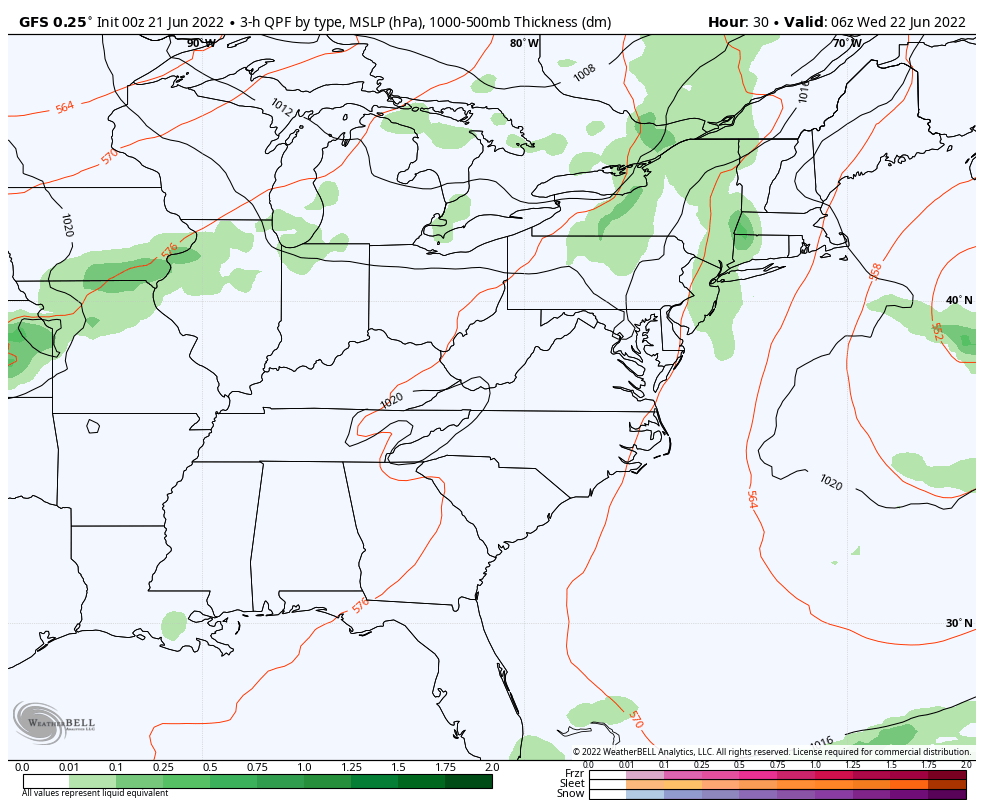 Jet Stream Through Saturday
This storm complex will be part of a retrograding trough, moving westward from the coast… resulting in a cooler Thursday.  
This will relax and bring back some summer heat over the weekend.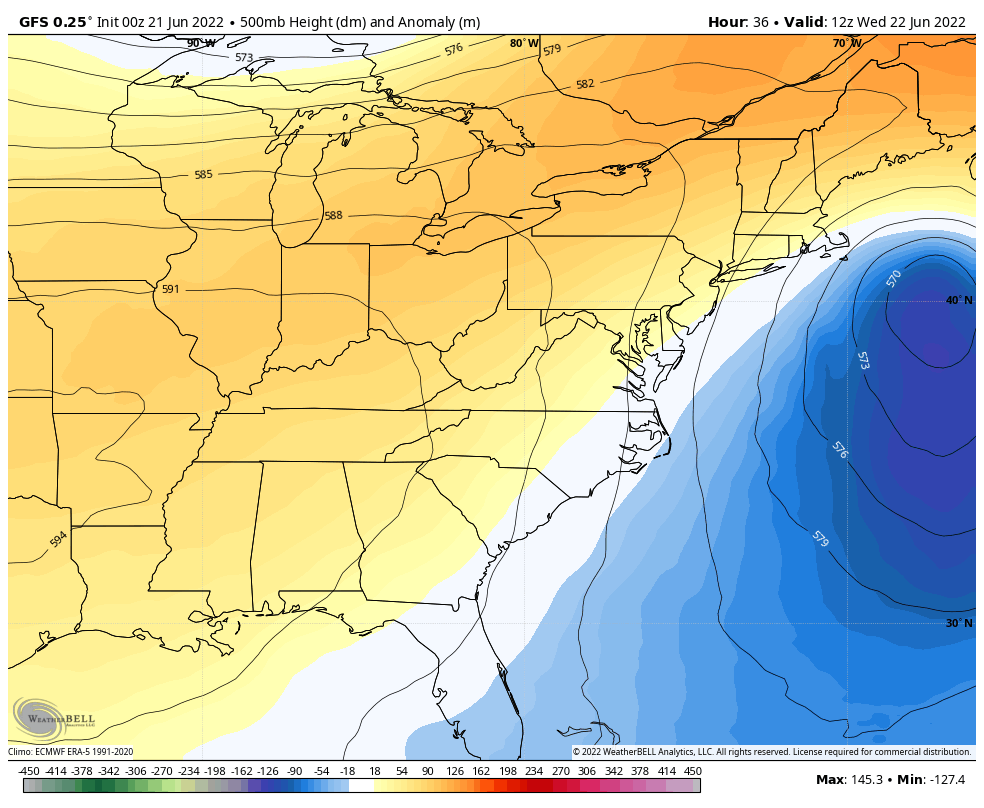 7 Day Forecast
The severe storm risk day on Wednesday will bring potential for large hail and damaging winds.
Rain may linger for the first half of Thursday, but remaining a cooler day.
Then we warm back up into the weekend.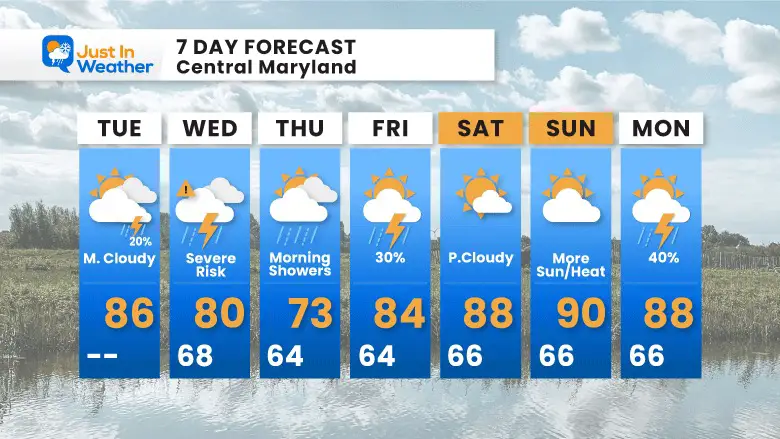 Book Your Kayak or Paddle Boat Adventure On The North Chesapeake Bay
Hurricane Season Forecast: June 1 Through November 30
NOAA 2022 Hurricane Forecast- Above Normal Again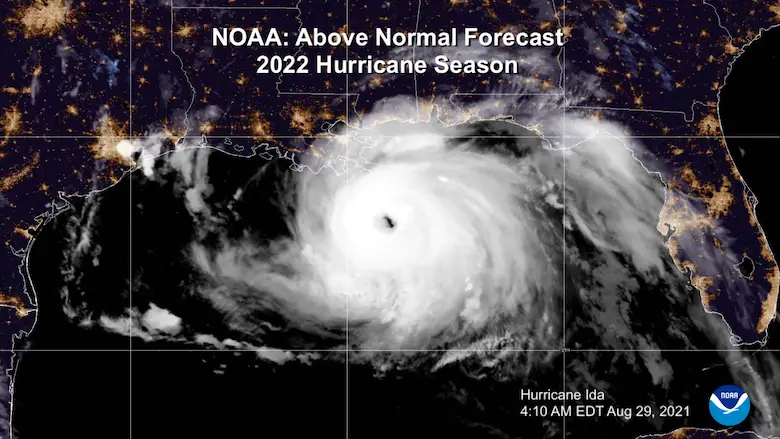 Forecast From Colorado State University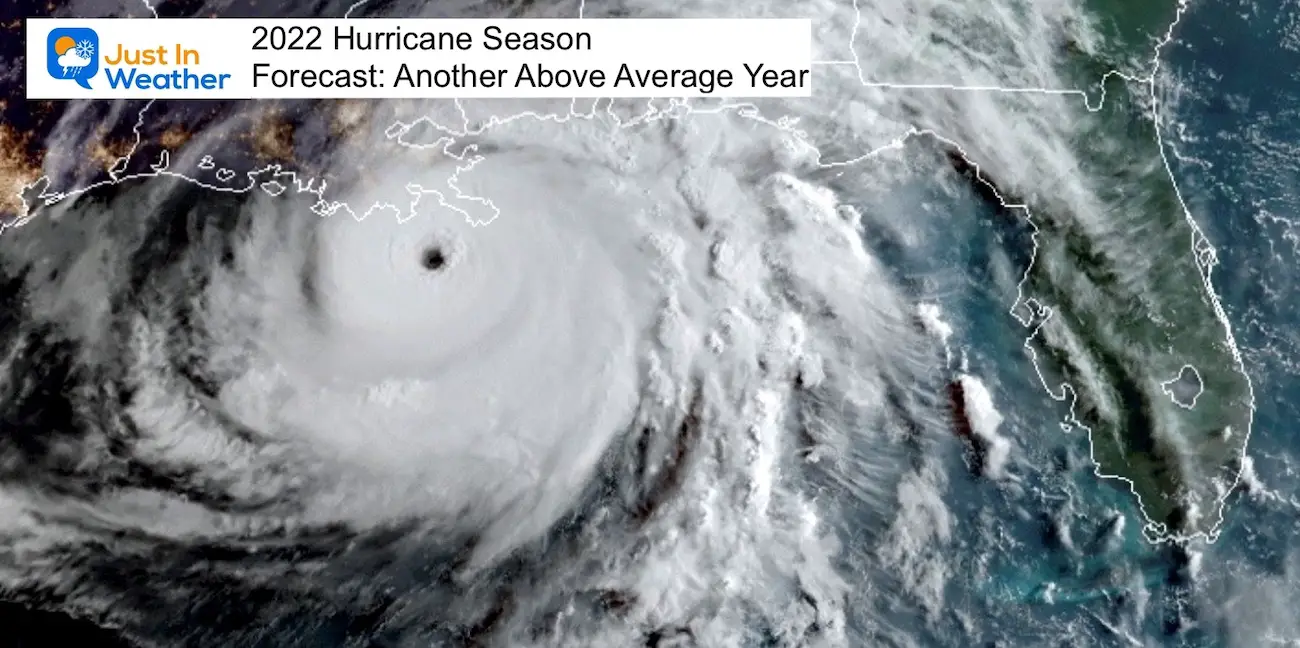 Related Posts
NOAA Study: Reducing Air Pollution INCREASED Tropical Storms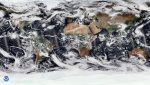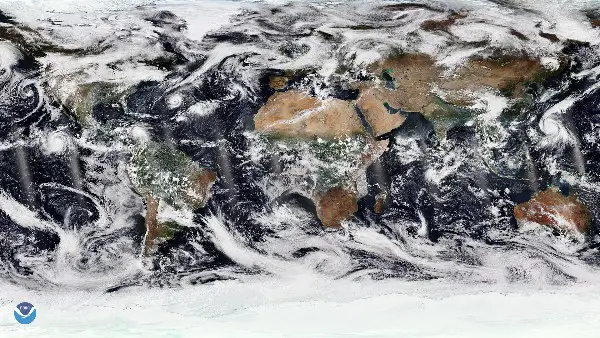 Atlantic Tropical History: Maps of Origin Regions Every 10 Days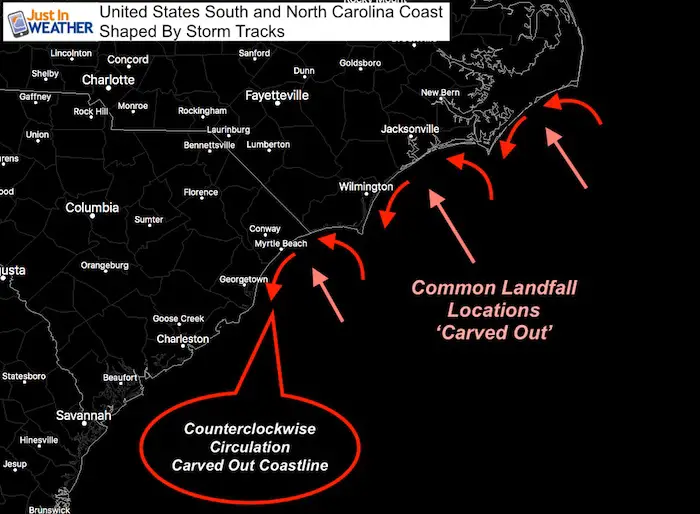 Recent Storm Reports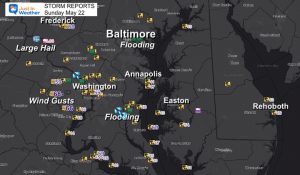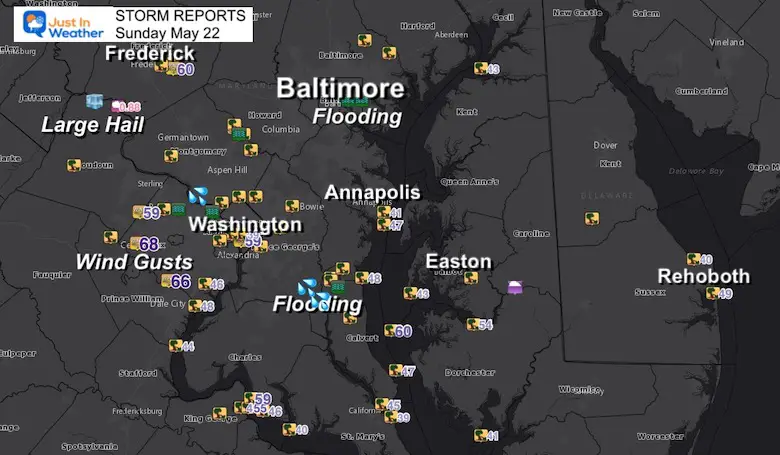 May 16 Large Hail Videos And Storm Tracking Map
Please share your thoughts, best weather pics/video, or just keep in touch via social media
*Disclaimer due to frequent questions:
I am aware there are some spelling and grammar typos. I have made a few public statements over the years, but if you are new here you may have missed it:
I have dyslexia, and found out at my second year at Cornell.  I didn't stop me from getting my meteorology degree, and being first to get the AMS CBM in the Baltimore/Washington region. 
I do miss my mistakes in my own proofreading. The autocorrect spell check on my computer sometimes does an injustice to make it worse. 
All of the maps and information are accurate. The 'wordy' stuff can get sticky. 
There is no editor that can check my work when I need it and have it ready to send out in a newsworthy timeline. 
I accept this and perhaps proves what you read is really from me…
It's part of my charm.