June 16 Morning Storms Then Edge Of Heat And Severe Storm Risk Later
NOAA
climate data
Severe Weather
Forecast
Justin Berk
Jun 16, 2022
6:32 am
0
June 16 2022
Thursday Morning Update 
The morning round of storms are still with us through noon.  The latest information I see on the high resolution guidance brings in the high heat to our western counties. This will not only make it very sticky and uncomfortable for some, but add to the fuel for severe weather later. 
Father's Day Weekend is still looking pleasant.
Morning Surface Weather
We still have storms to track this morning.
Round 2 with Severe Potential: Expected This Evening and Tonight 
NOAA Severe Storm Risk
We will track a line of storms from the Great Lakes into Central Pennsylvania. The timing and how hot we get will determine how far south into Maryland these storms may reach tonight. 
Any severe storm can produce: Large Hail, Damaging Wind, Isolated Tornado, and Flash Flooding
Alert Reminder:
A Watch may be issued for the region. This is for 'potential' over about a 6 hour period.
A Warning will be issued when there is a storm occurring to track. This will include towns in the path.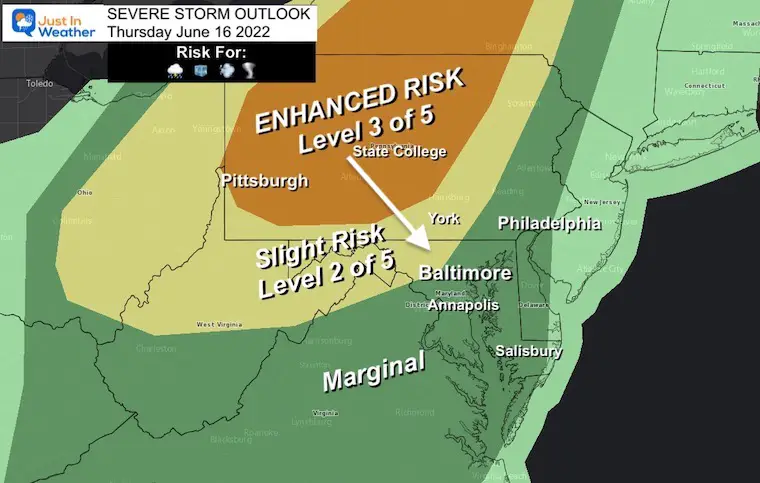 Doppler Radar Loop:
2:30 AM to 6 AM
Here we can see the development of storms 'close' to the forecast simulation I showed last night. It wasn't perfect, but pretty close.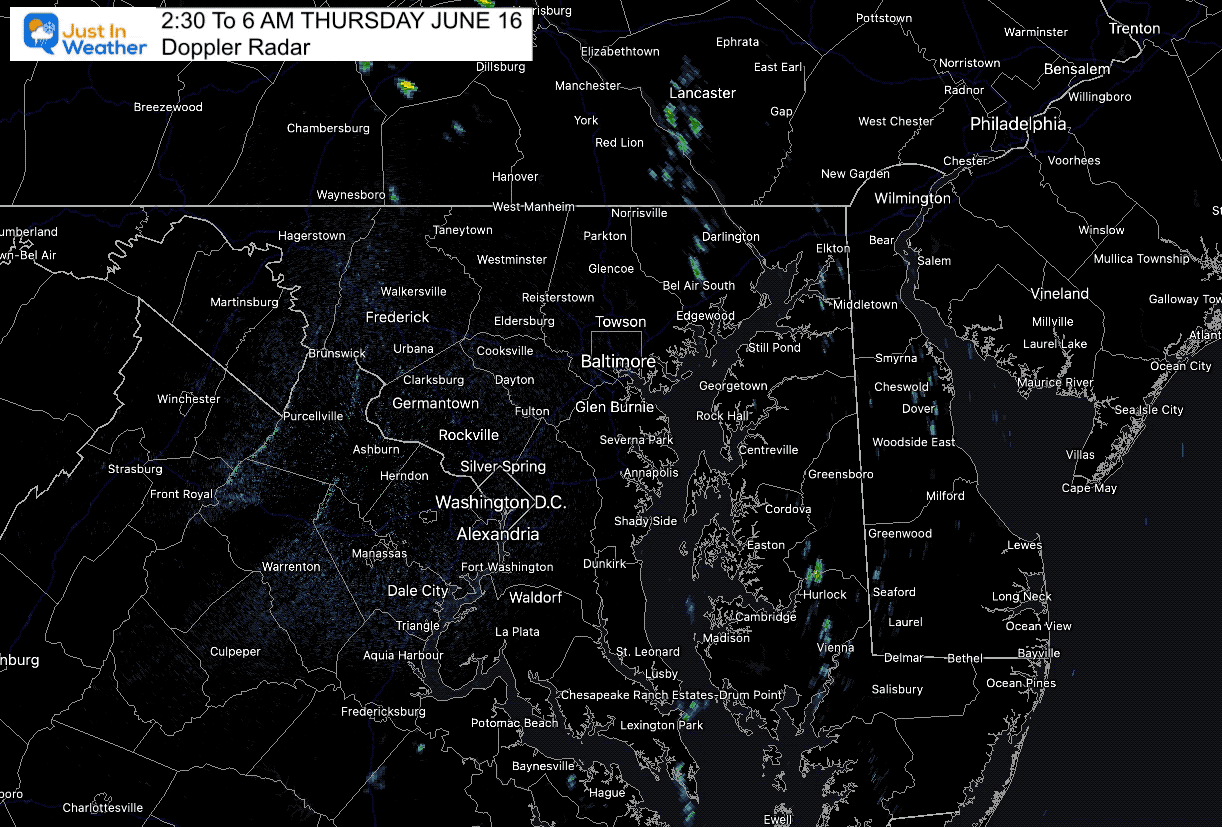 Morning Simulation
 (Through 2 PM)
A few more storms this morning…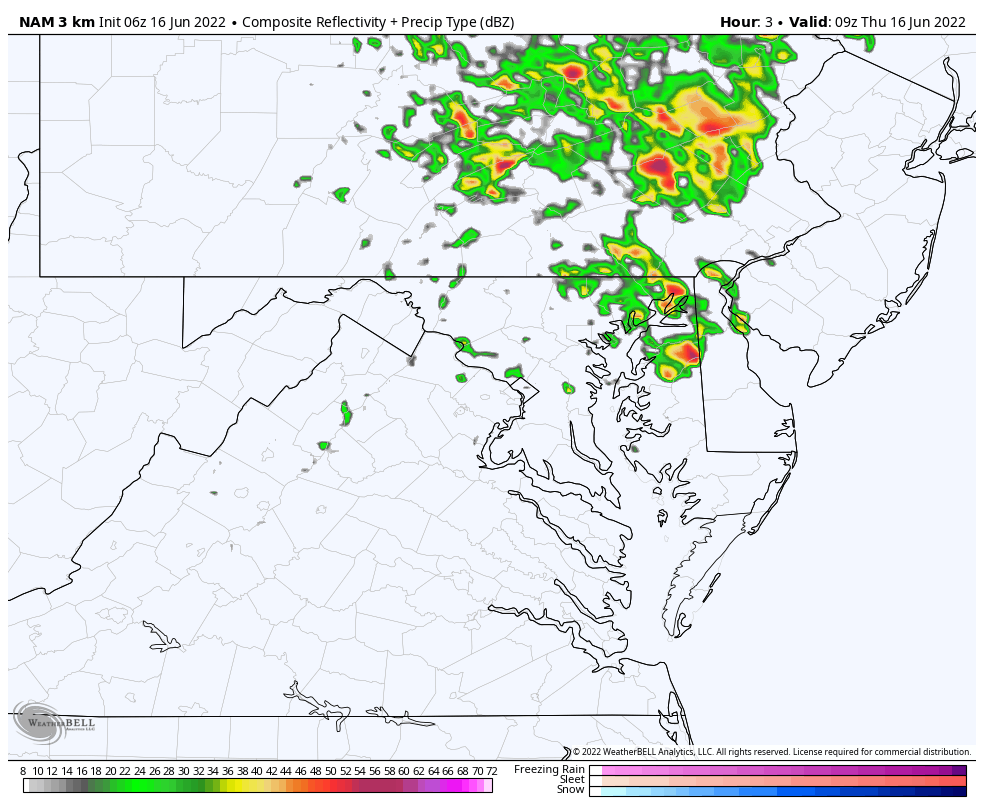 Afternoon Temperatures

 
The fringe of that Heat Dome will try to reach western Maryland and northern Virginia.  The suggestion for 100ºF is an abrupt uptick. It's one we need to consider seriously as it would introduce a higher chance for severe storms later.
Cooler air will hold over Delmarva… But metro areas in between will feel sticky.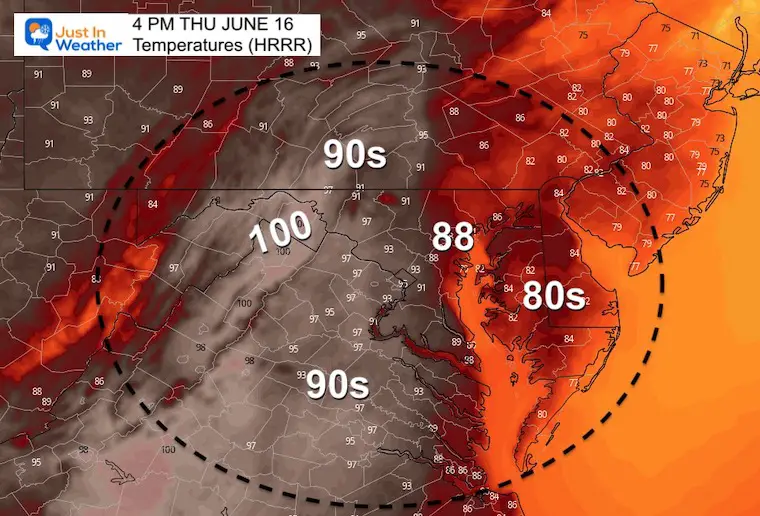 Heat Index
It will feel stick around Baltimore- to the west and north.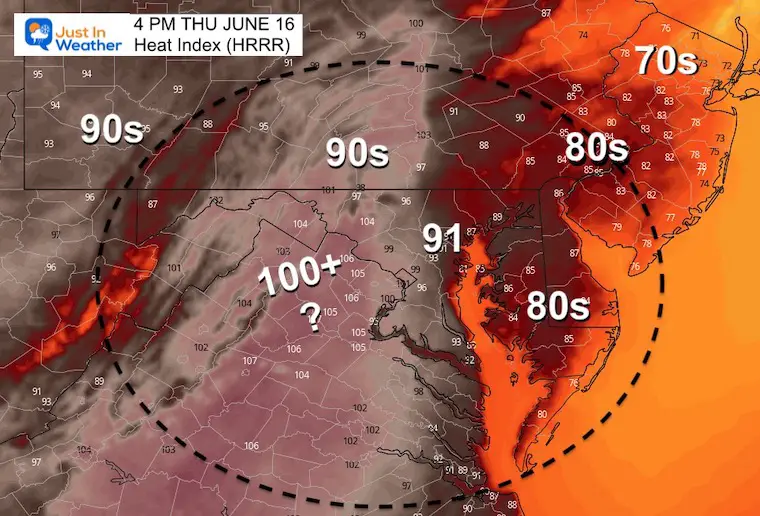 Round 2 Storms
4 PM to 11 PM
This is why I believe the Severe Risk will be expanded to more of central Maryland…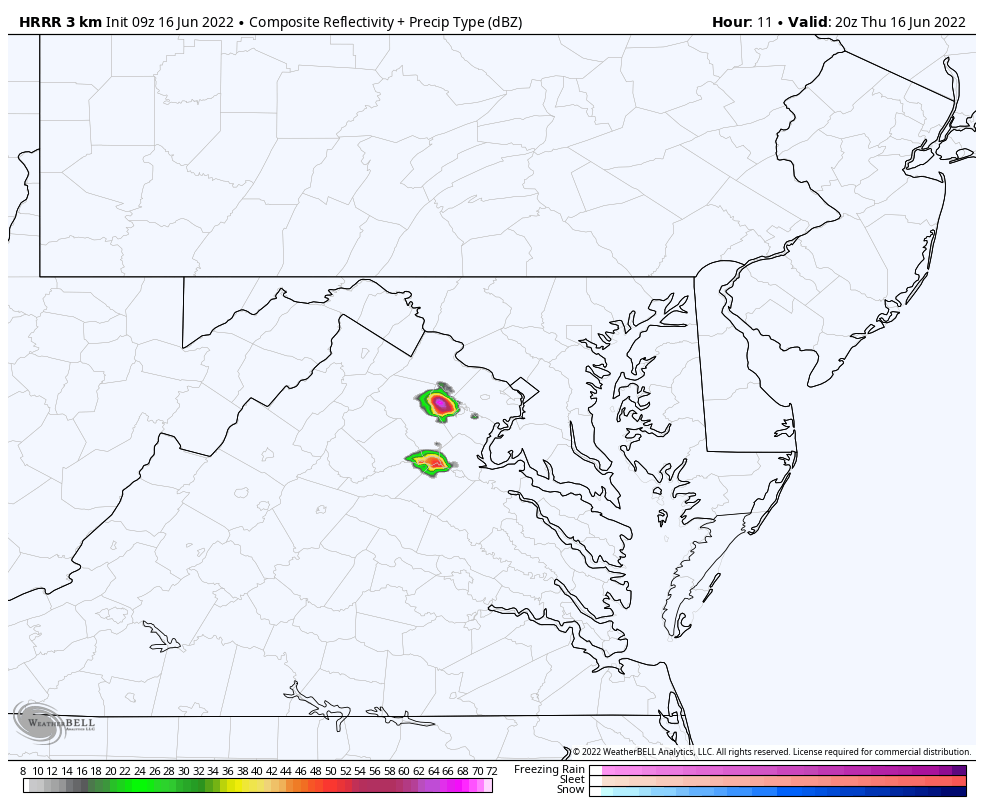 CLIMATE DATA
TODAY June 16th
Normal Low in Baltimore:  62ºF
Record 50ºF in 1961
Normal High in Baltimore: 83ºF
Record 99ºF 1991
Friday Temperatures
Morning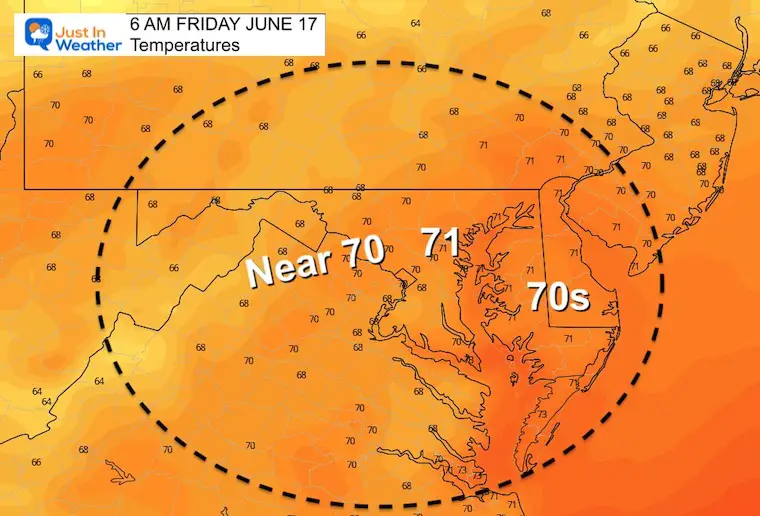 Afternoon
Hot, but less humid.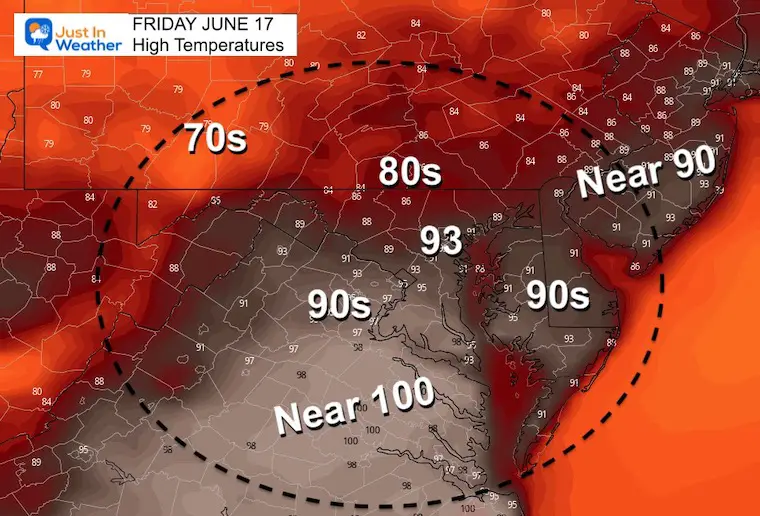 Looking Ahead: Jet Stream Animation
That pocket of cooler air this weekend will likely help morning sun build afternoon clouds… We should remain dry into the middle of next week.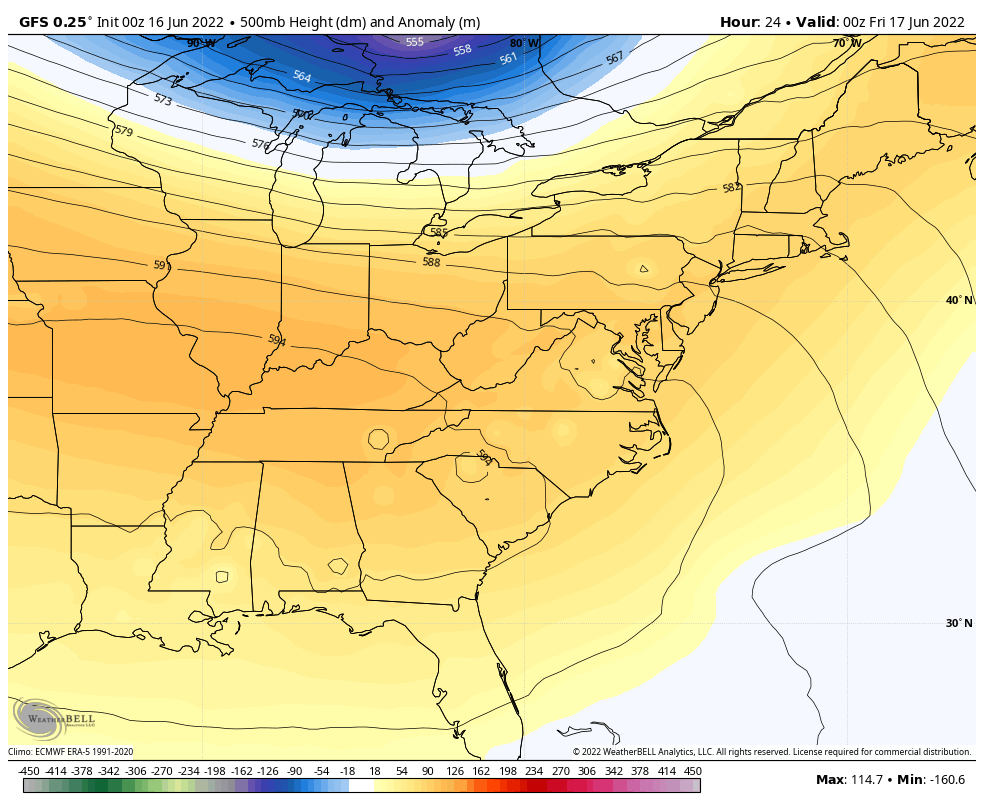 Book Your Kayak or Paddle Boat Adventure On The North Chesapeake Bay
Weather posts straight to your inbox
Sign up and be the first to know!
7 Day Forecast
With the cooler air this weekend, we may have a mix of afternoon clouds, but it will be pleasant. Next week we get back to warmer temps.  Overall, a break from the rain for a while .
Hurricane Season Forecast: June 1 Through November 30
NOAA 2022 Hurricane Forecast- Above Normal Again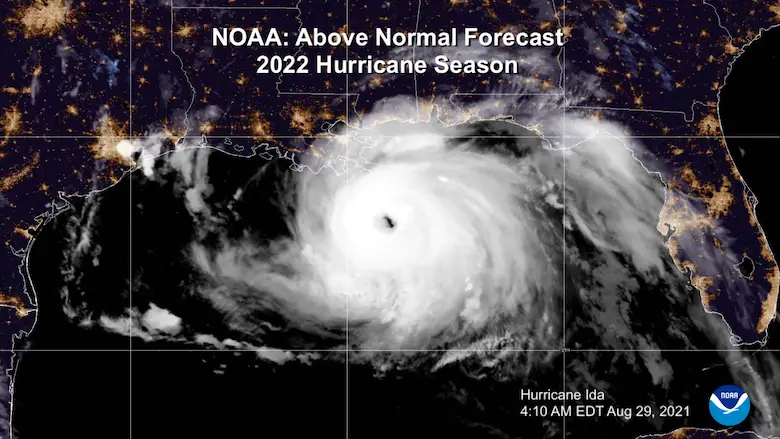 Forecast From Colorado State University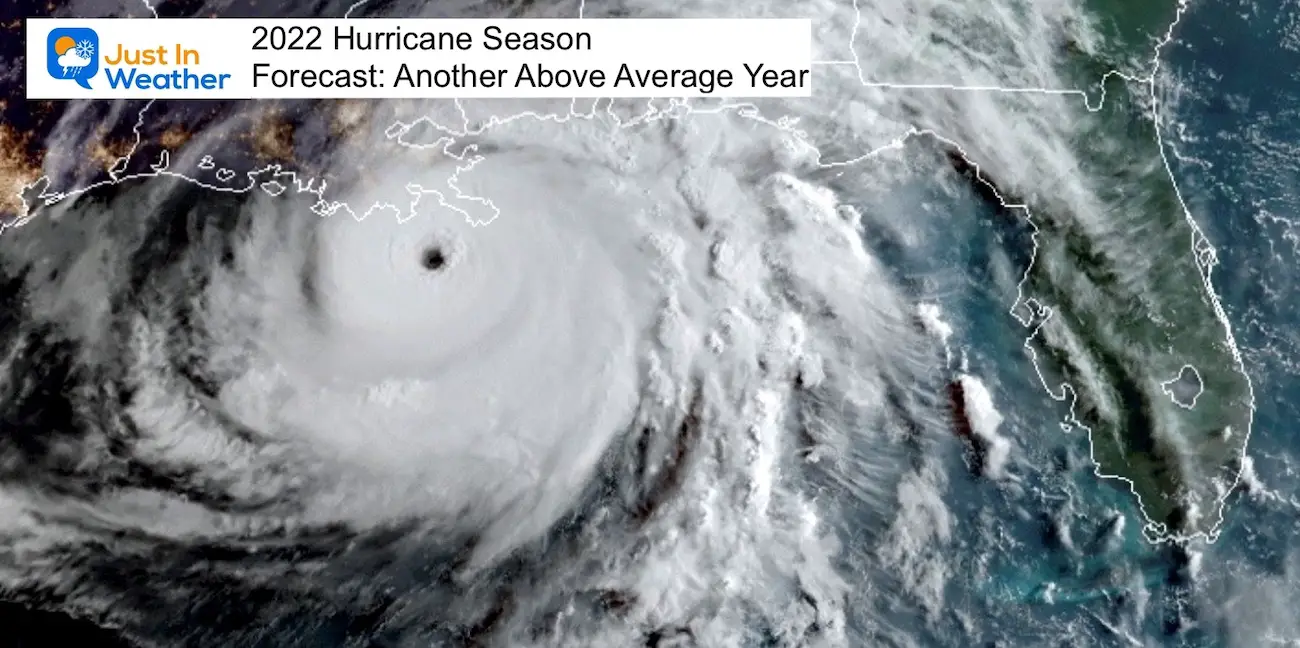 Related Posts
NOAA Study: Reducing Air Pollution INCREASED Tropical Storms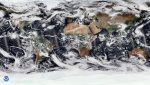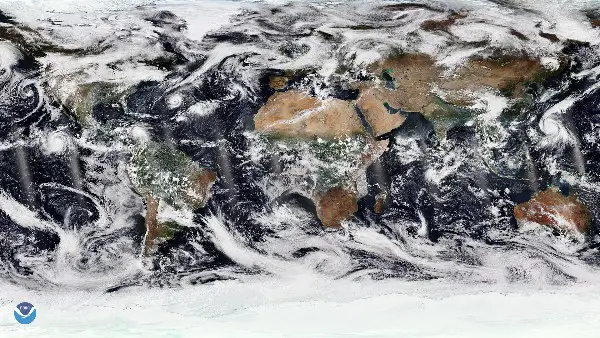 Atlantic Tropical History: Maps of Origin Regions Every 10 Days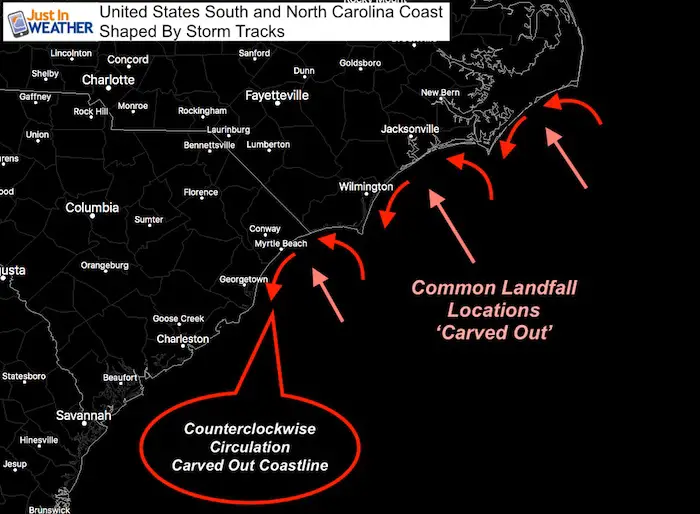 Recent Storm Reports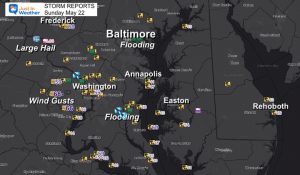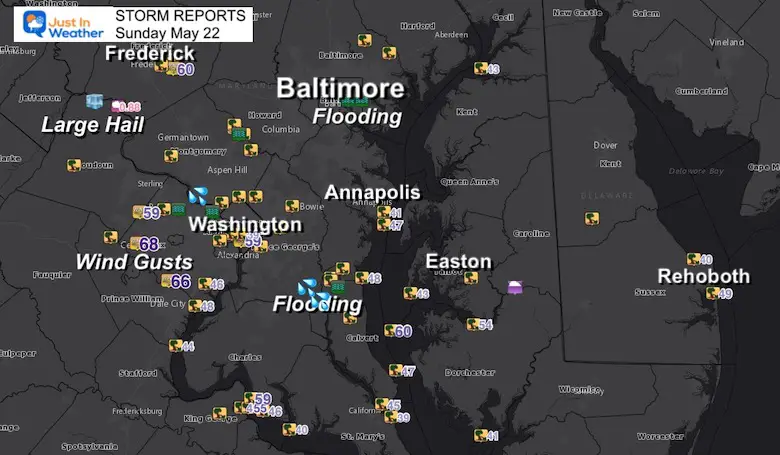 May 16 Large Hail Videos And Storm Tracking Map
Please share your thoughts, best weather pics/video, or just keep in touch via social media
*Disclaimer due to frequent questions:
I am aware there are some spelling and grammar typos. I have made a few public statements over the years, but if you are new here you may have missed it:
I have dyslexia, and found out at my second year at Cornell.  I didn't stop me from getting my meteorology degree, and being first to get the AMS CBM in the Baltimore/Washington region. 
I do miss my mistakes in my own proofreading. The autocorrect spell check on my computer sometimes does an injustice to make it worse. 
All of the maps and information are accurate. The 'wordy' stuff can get sticky. 
There is no editor that can check my work when I need it and have it ready to send out in a newsworthy timeline. 
I accept this and perhaps proves what you read is really from me…
It's part of my charm.