Freeze Warning and Frost Advisory Expanded For Wednesday Morning
Frost and Freeze
Warnings
Justin Berk
Nov 2, 2021
7:01 pm
0
Tuesday Evening November 2 2021
The cold air is on the way, and as expected the National Weather Service's expanded the Frost Advisory to cover Southern Maryland and parts of Delmarva.  This is where temperatures will drop into the 30s by dawn and allow frost to form.
The Freeze Warning is in the same inland regions we were watching for temperatures to drop below 32ºF. This includes the far inland suburbs of Baltimore and Washington. This includes a lot of central and Northern Virginia. Perhaps a chance to chill after their big election battle.
It also looks like we will repeat the conditions and possibly weather alerts for Thursday morning as well.
What to do?
It's time to bring in your sensitive plants and disconnect garden hoses. I spent a bit of time doing that chore at may house today.
Freeze Warning and Frost Advisory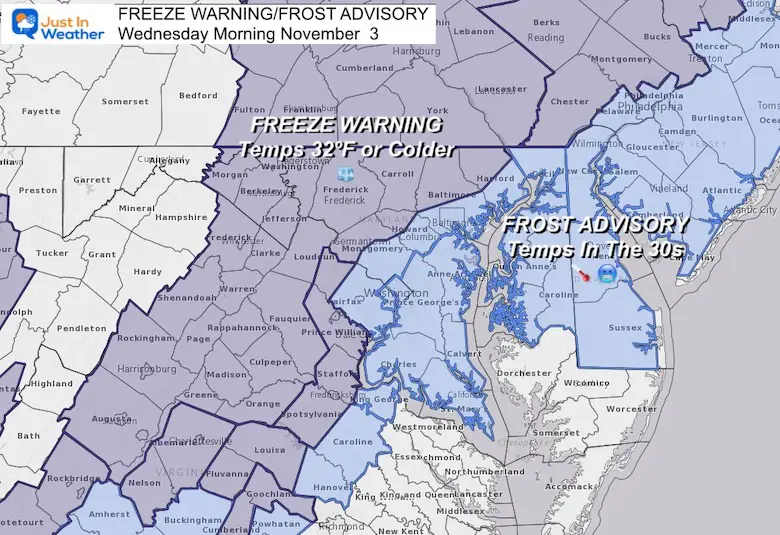 Late Day Satellite Loop
4 PM to 6:20 PM
The change in color is the transition from day to night.
After a day with clouds and a chilly rain, we can see the clearing moving in from the west. For Southern Maryland and Delmarva it will take longer to clear tonight, and thus later to temps to drop into sensitive numbers.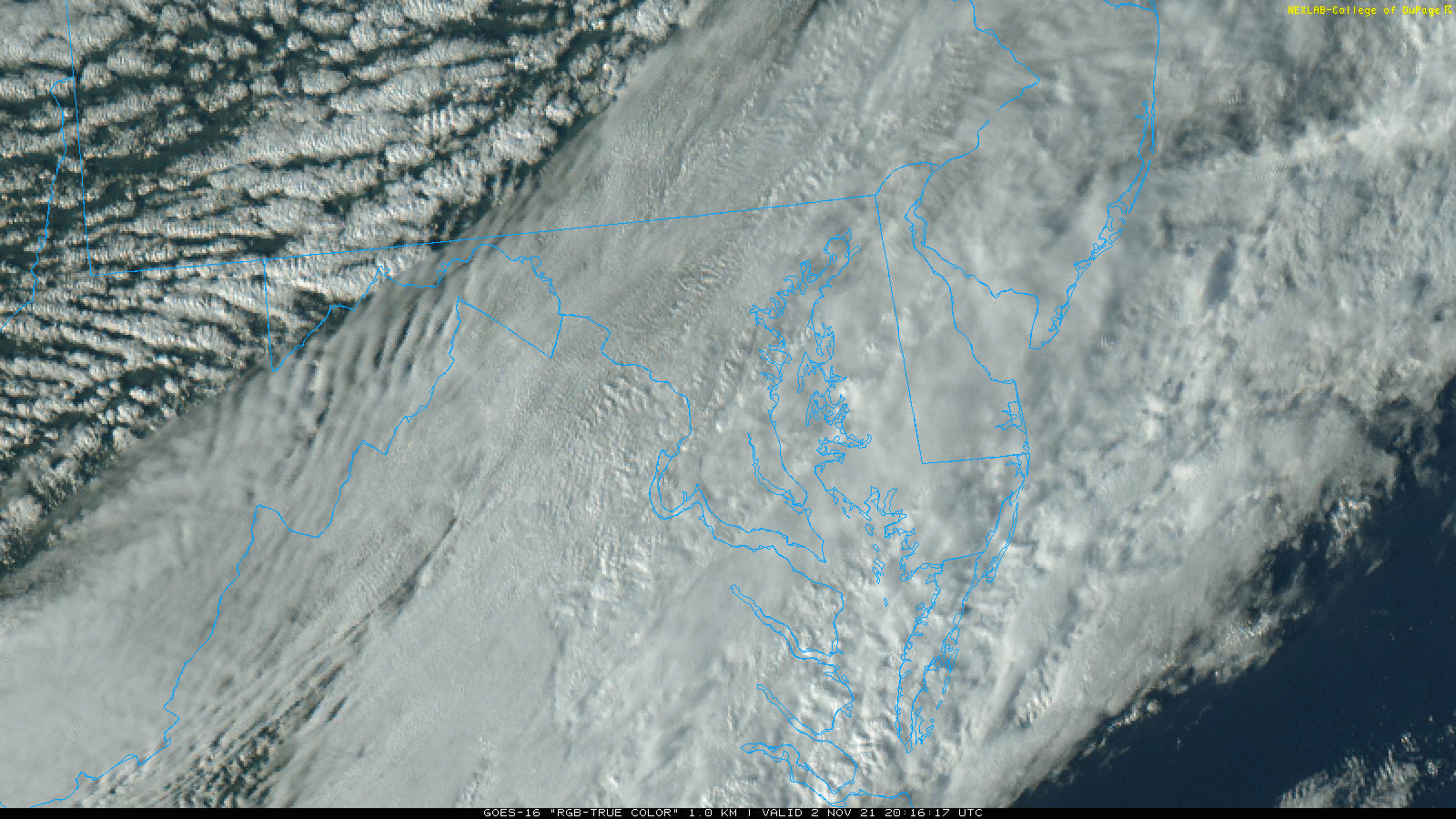 Solar Pillar At Sunset
I took this photo at sunset. This shows the clearing sky, and a solid 'ray' of light. This is an optical illusion coming from the sun over the horizon and appearing to point upwards. However it was just laying across the cloud deck.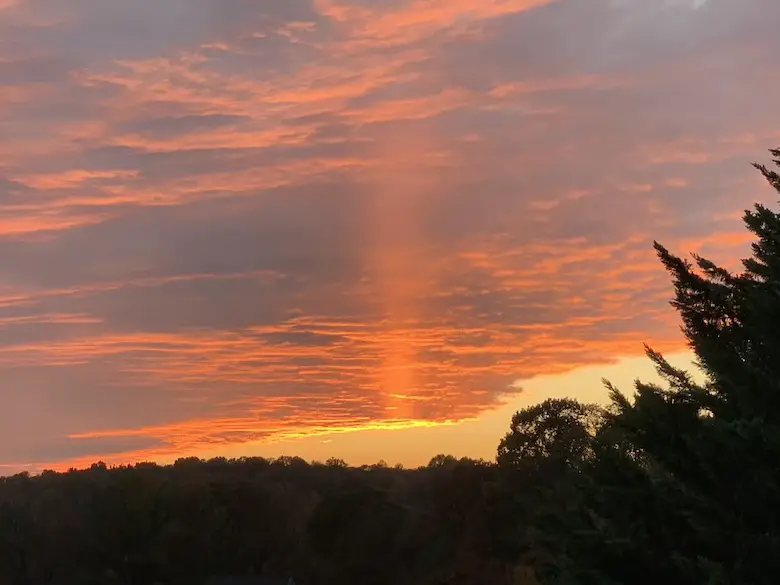 Falling Temperatures: 7 PM to 7 AM Wednesday
With nightfall and the clearing sky, we can see the temps dropping into the 30s.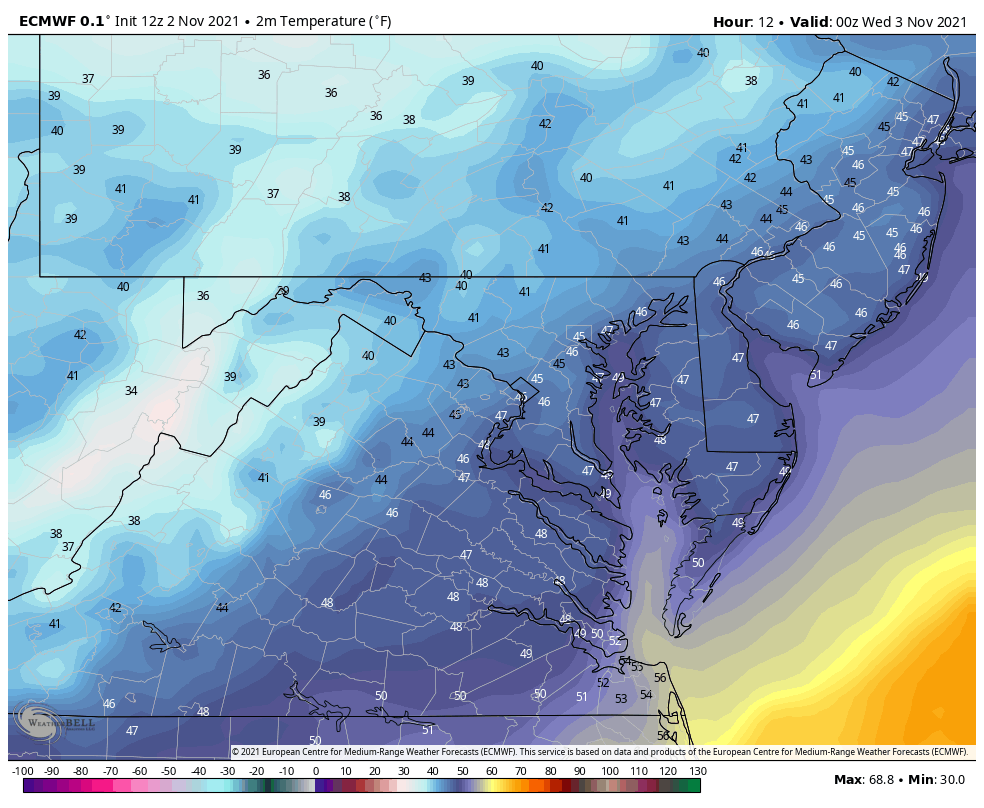 Wednesday Morning Lows
It's important to note that places by the water of the Chesapeake Bay will likely stay closer to 40ºF.
Frost: Lots of 30s into southern Maryland and on interior Delmarva.
Freeze: The freezing line may be within 10-20 miles of the line I drew here with the ECMWF Model Forecast.
Pockets of freezing in Northern Cecil, Harford, Baltimore, and western Howard County. But a better chance for widespread temps below 32ºF farther west and north into PA.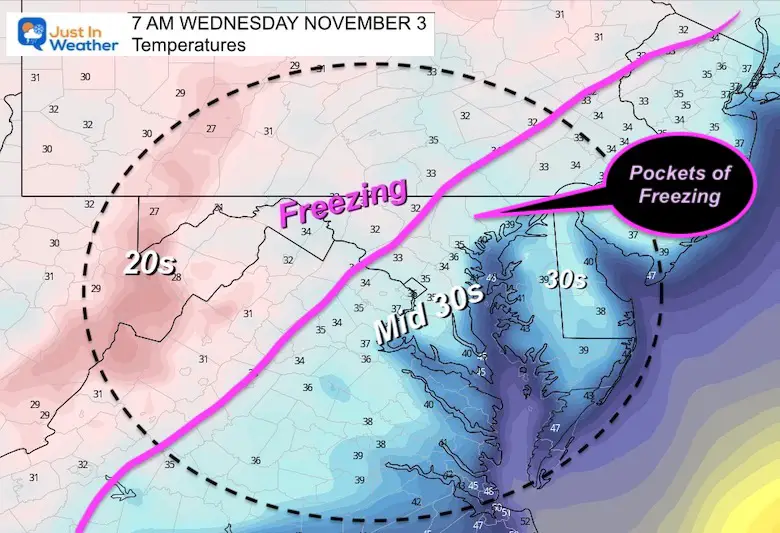 Is this late?
For many areas this is later than average years, but close to normal for others. See more here…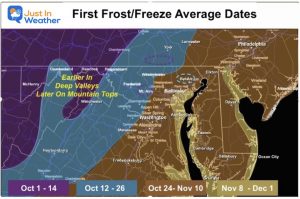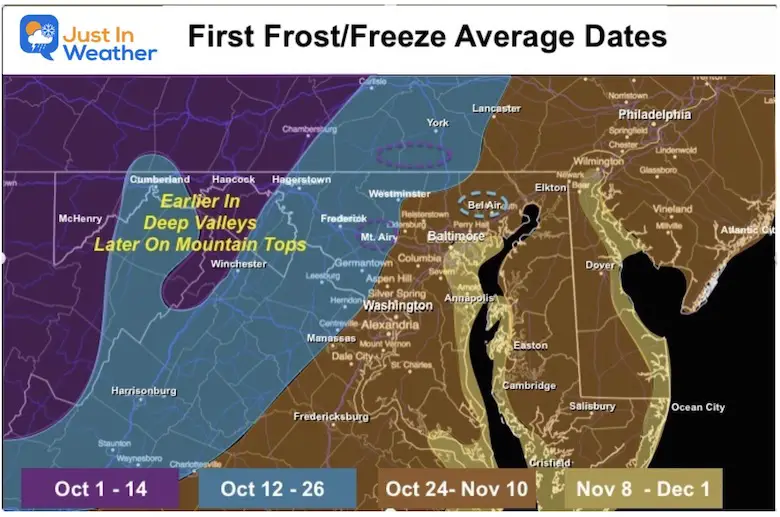 Wednesday Afternoon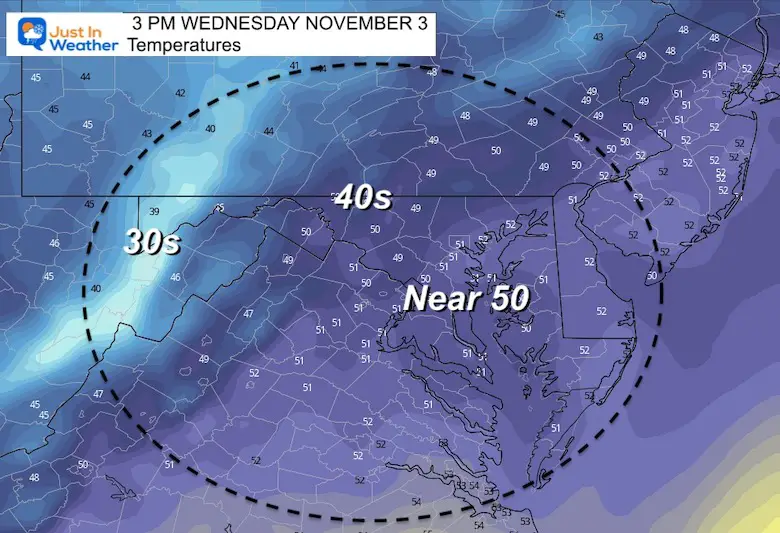 Repeat Thursday Morning?
Perhaps…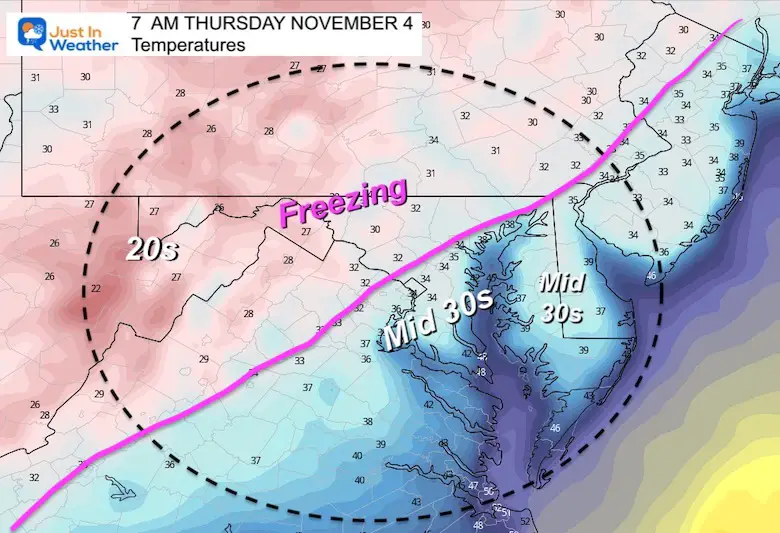 Weather posts straight to your inbox
Sign up and be the first to know!
Explore More
Also See The Winter Outlook Series:
NOAA Winter Outlook- But Read The Fine Print
Signals For Early Start To Winter In November
Winter Outlook Series: La Nina Double Dip
Nor'easters May Give Hint For Winter La Nina Pattern
Faith in the Flakes Gear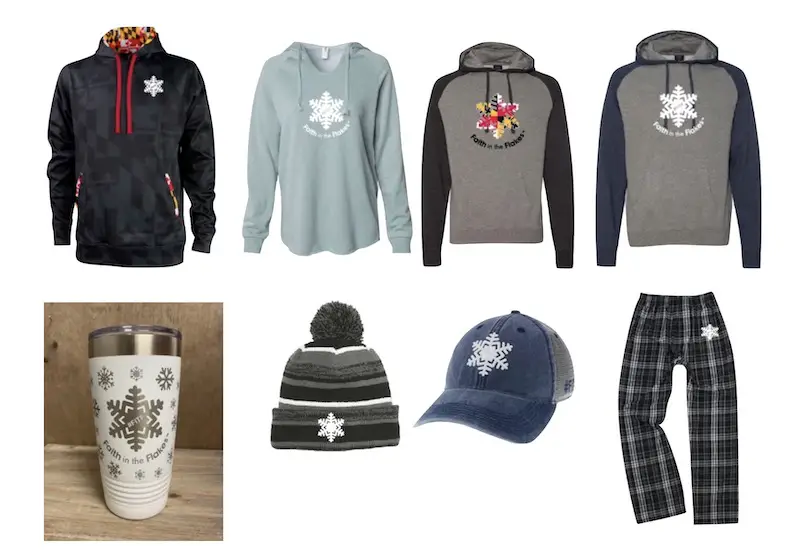 SNOWSTIX – Available Now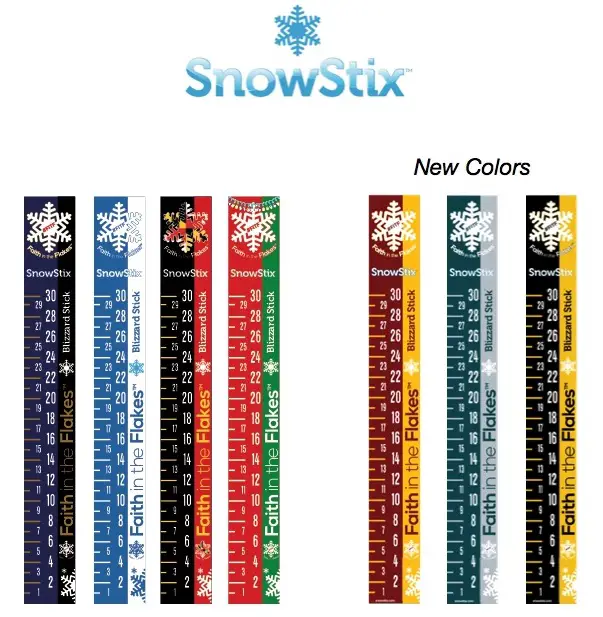 Please share your thoughts, best weather pics/video, or just keep in touch via social media