October 31 Halloween Weather Showers North Then Clearing
Forecast
Justin Berk
Oct 31, 2021
8:40 am
0
Sunday October 31
Happy Halloween!  There is a band of rain crossing Northern Maryland and Southern Pennsylvania.  This will be a morning thing, then clearing through the afternoon for most of the region. 
Trick-or-Treating weather looks great!
Week Ahead: Much cooler air on the way will bring most of us our first first, and possibly some snow in the mountains. 
About the Northern Lights… We didn't have a  chance
I only made a post on Facebook about this, because I did not think we would have a chance to see them. Well, in addition to the clouds returning last night, the event was less than forecasted. We needed a K index of 7 or higher too have lights reach this far south. That did not occur.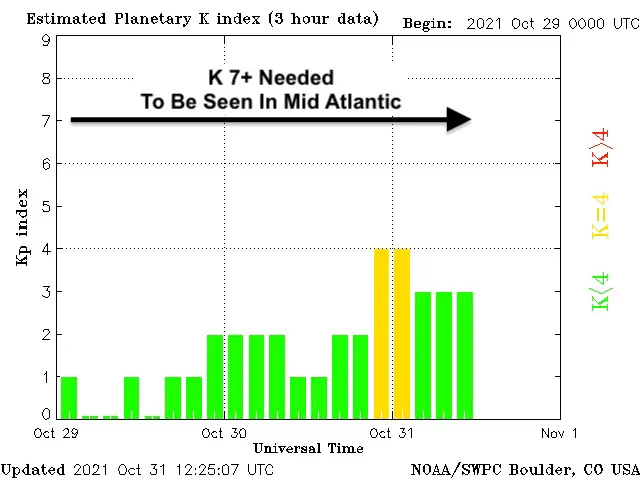 Morning Surface Weather
Our old storm is still hanging around New England. That is helping this disturbance with early rain… But that will move out by afternoon. 
The next cold front will bring much cooler weather for us. 

Morning Radar Snapshot
Moderate rain is passing through southern PA. Hanover, York, and next Lancaster will have this for up to 2 hours.
The rain breaks into showers southward in Maryland. Expect some oof this across Carroll, Northern Baltimore, Harford, and Cecil Counties this morning. It should last an hour less.
Baltimore, Annapolis, Southern Maryland, and Delmarva your morning should be dry… However there might be some patchy fog already burning off in spots.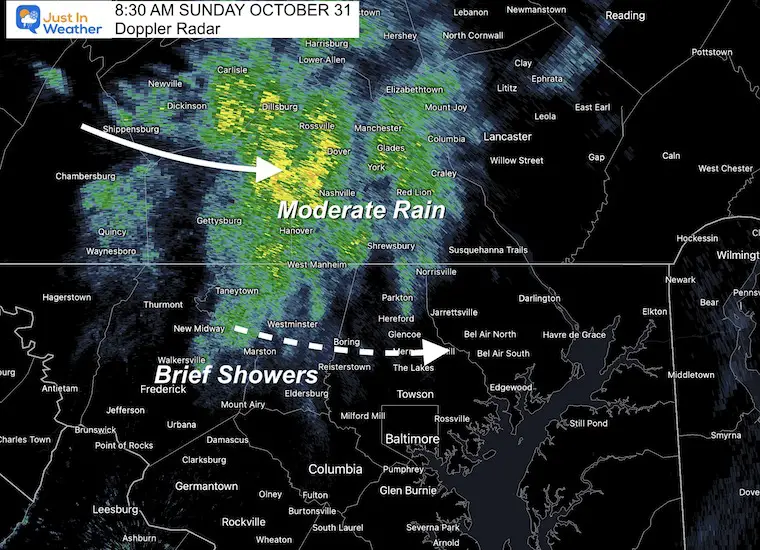 Forecast Temperatures
Afternoon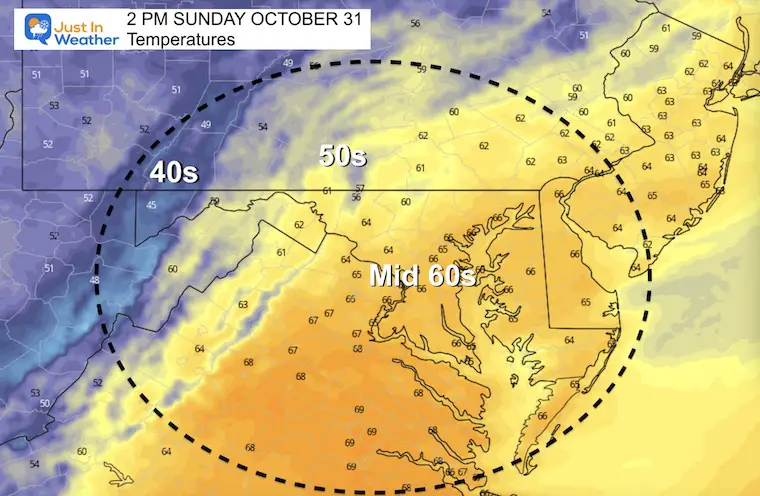 Evening: Trick-or-Treating
Weather Almanac: Climate Data
TODAY October 31
Normal Low in Baltimore:  41ºF
Record 25ºF in 1966
Normal High in Baltimore: 62ºF
Record 85º F 1946

Monday
Morning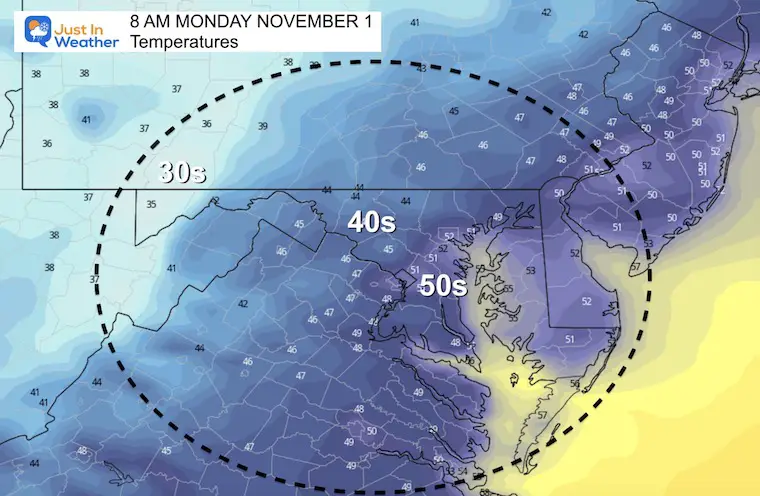 Afternoon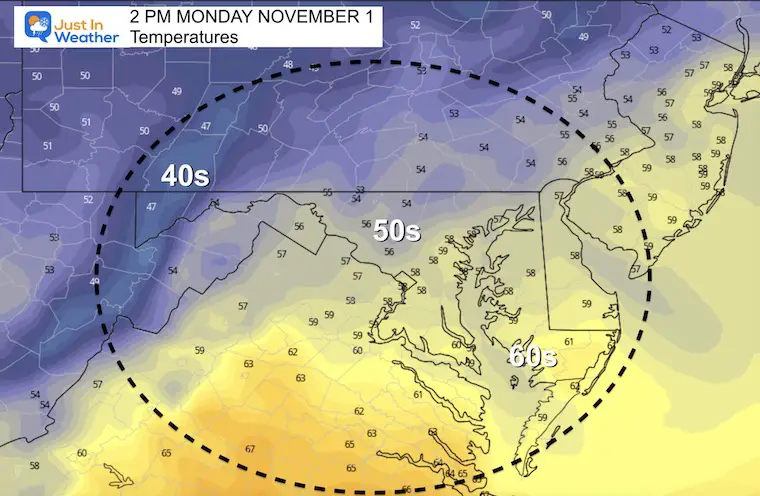 Next Rain Events:
Tuesday:
This wil bring in rain showers, with a band of snow (blue) in the mountains that should include Garrett County to Snowshoe.
End Of Week Storm
It looks like we are in a pattern of  Friday storms.
Here we see the event starting Thursday and lasting into Saturday.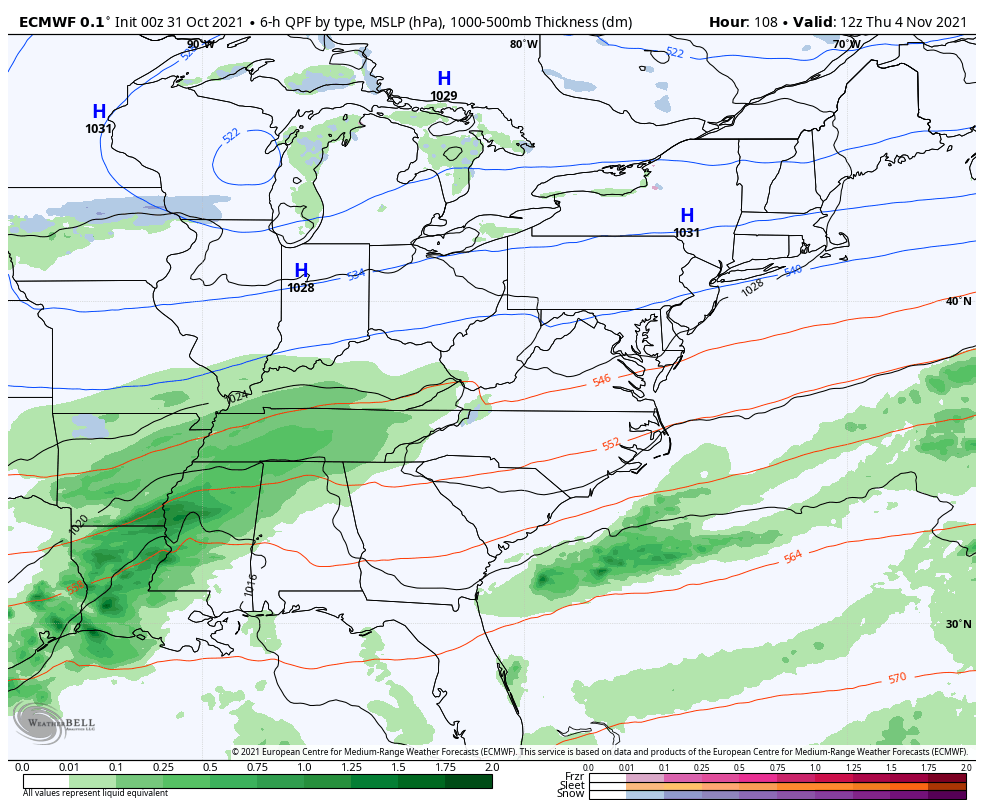 7 Day Forecast
Quick moving systems next week will reinforce colder air.  The event on Tuesday has some models bringing snow to the nearby mountains. 
Frost is likely a few mornings this week. It is November, so we are overdue!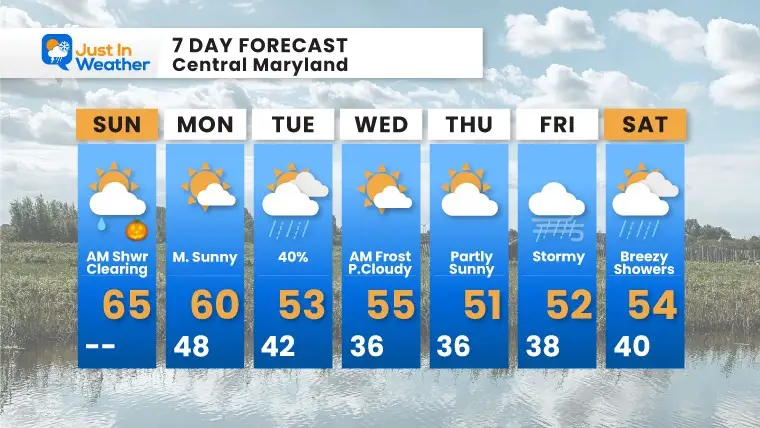 Also See The Winter Outlook Series:
NOAA Winter Outlook- But Read The Fine Print
Signals For Early Start To Winter In November
Winter Outlook Series: La Nina Double Dip
Nor'easters May Give Hint For Winter La Nina Pattern
Faith in the Flakes Gear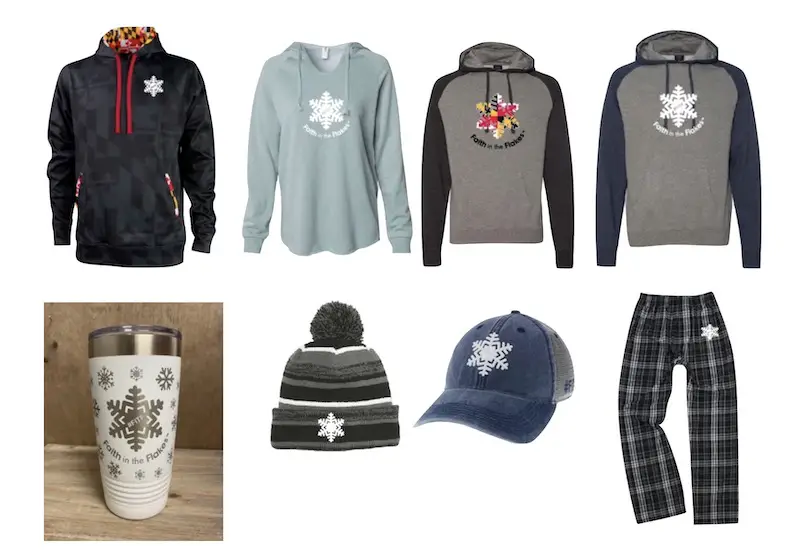 SNOWSTIX – Available Now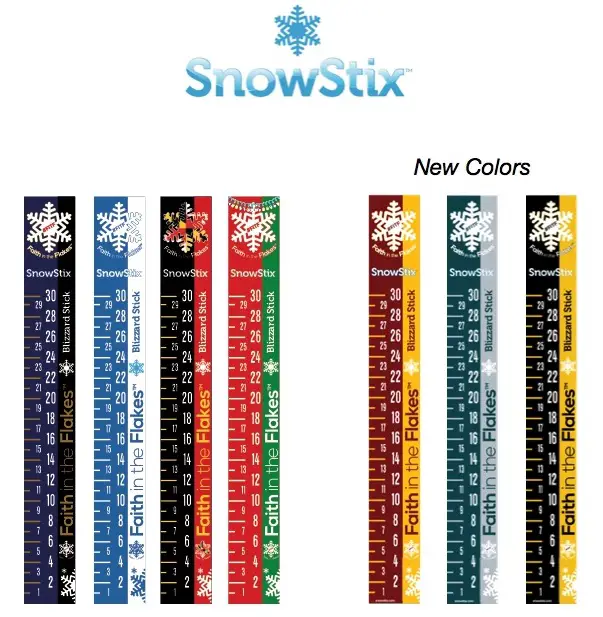 Please share your thoughts, best weather pics/video, or just keep in touch via social media