November Starts Cooler With Some Frost Or Freeze And Mountain Snow
Outlook
Justin Berk
Oct 31, 2021
9:13 pm
0
October 31 2021
I don't want to scare you on the night of Halloween, but a lot of our region will have the first frost, if not first freeze this week.
With the Trick-or-Treaters are gone, and  asyour clean up the Halloween decorations, you may want to add one more thing to your list.  It's time to bring sensitive plants indoors, and disconnect garden hoses. 
November is going to turn colder than average. We will feel the impacts by Wednesday morning, when a widespread frost and possibly a freeze is likely inland from the water.   
The system that will bring it cold air, precedes it on Tuesday. It will be a cool rain for most of us, but there may be enough cold air with system, so snow could fall in the mountains of western Maryland and West Virginia. 
The core of the chilly air will settle in Thursday morning, then we might have to watch for another end of week storm. 
Temperature Outlook: Early November
This outlook from NOAA shows the likelihood of cooler temps, not the actually depth of cold air.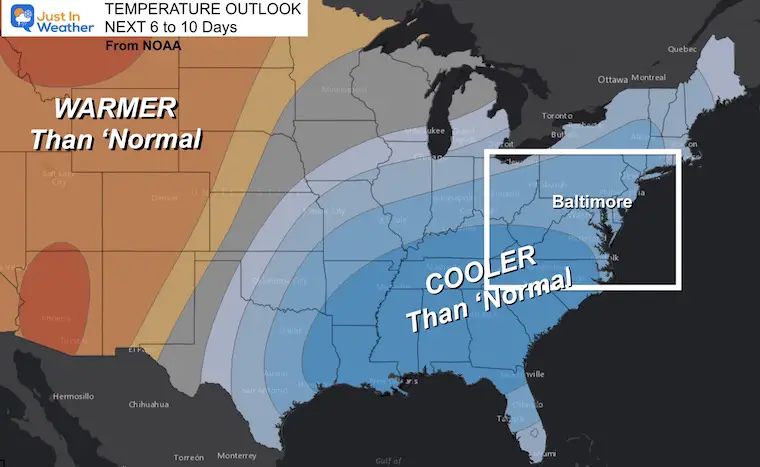 Jet Stream Animation
This air pattern shows the heights of the 500mb level, roughly 18,000 Ft up.  Here we can see the cool trough settling in, and helping to feed into the next storm.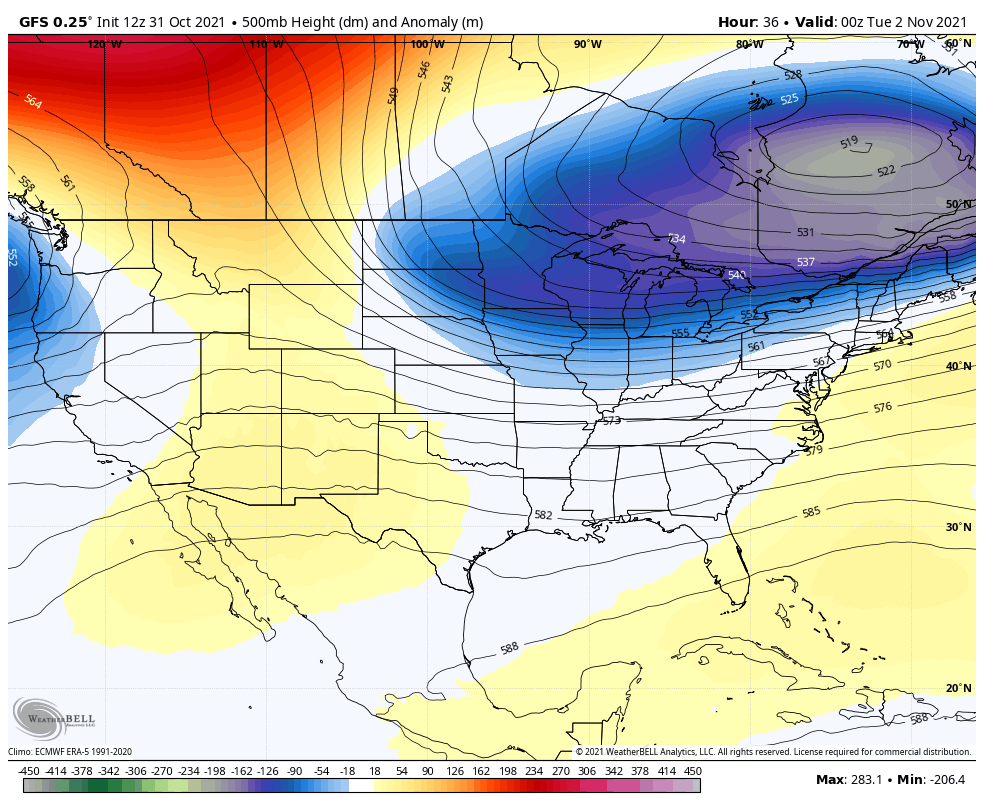 Surface Outlook
First a look at the temperatures, then the two weather systems that will bring rain, and some high elevation snow. 
Temperatures
Wednesday Morning
This forecast plot shows temps near or below freezing for the 'normally colder inland suburbs' North and Wet of the cities.
A sharp line from low 40s in the cities and by the water of the Bay to the 30s inland.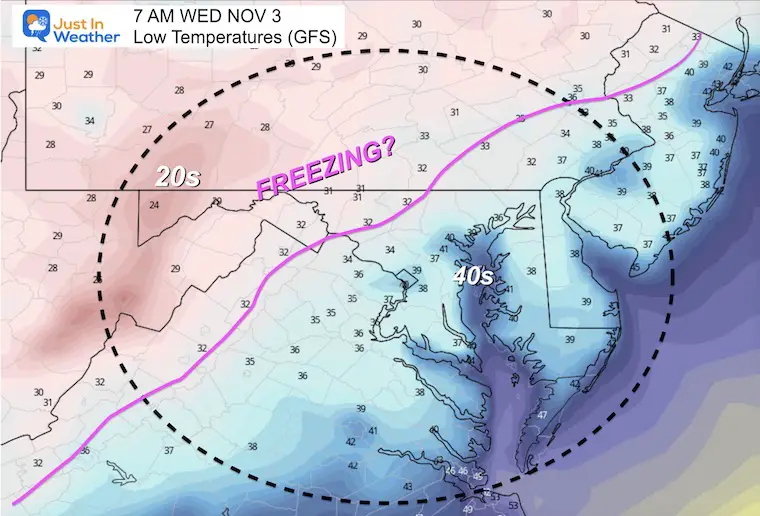 Wednesday Afternoon
Temps will remain below average in the afternoon.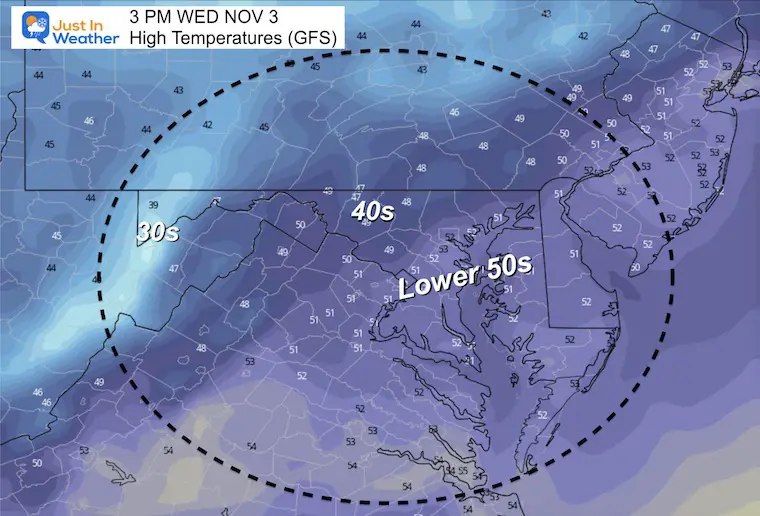 Thursday Morning
This looks similar to the morning before with the set up for 30s and even below freezing.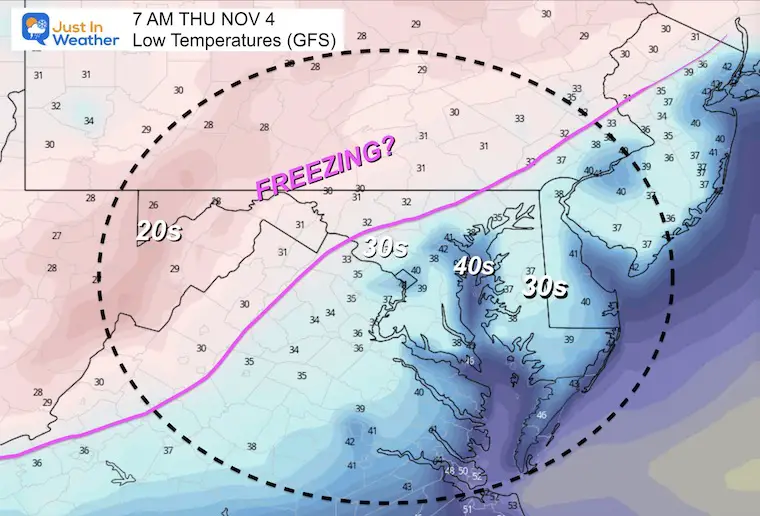 Thursday Afternoon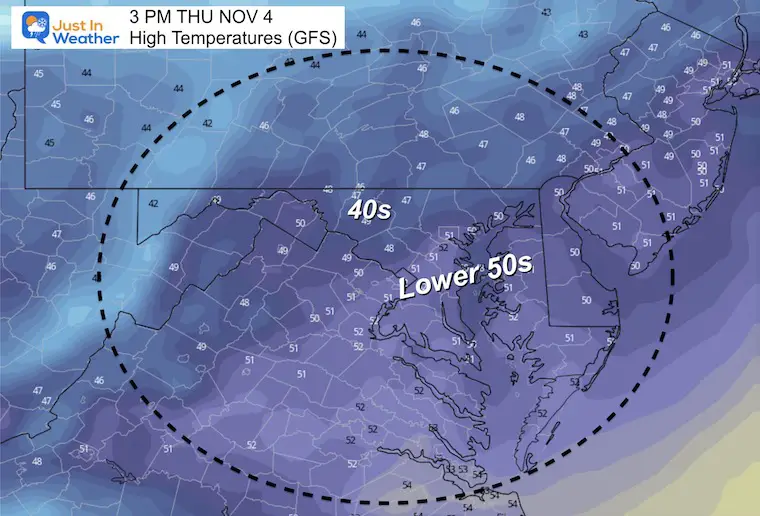 Weather Systems
Tuesday Rain and High Elevation Snow?
This is the little system that will precede the cold air.  
Snow (blue) is likely above 2,000 Ft elevation, and some places may get stickage.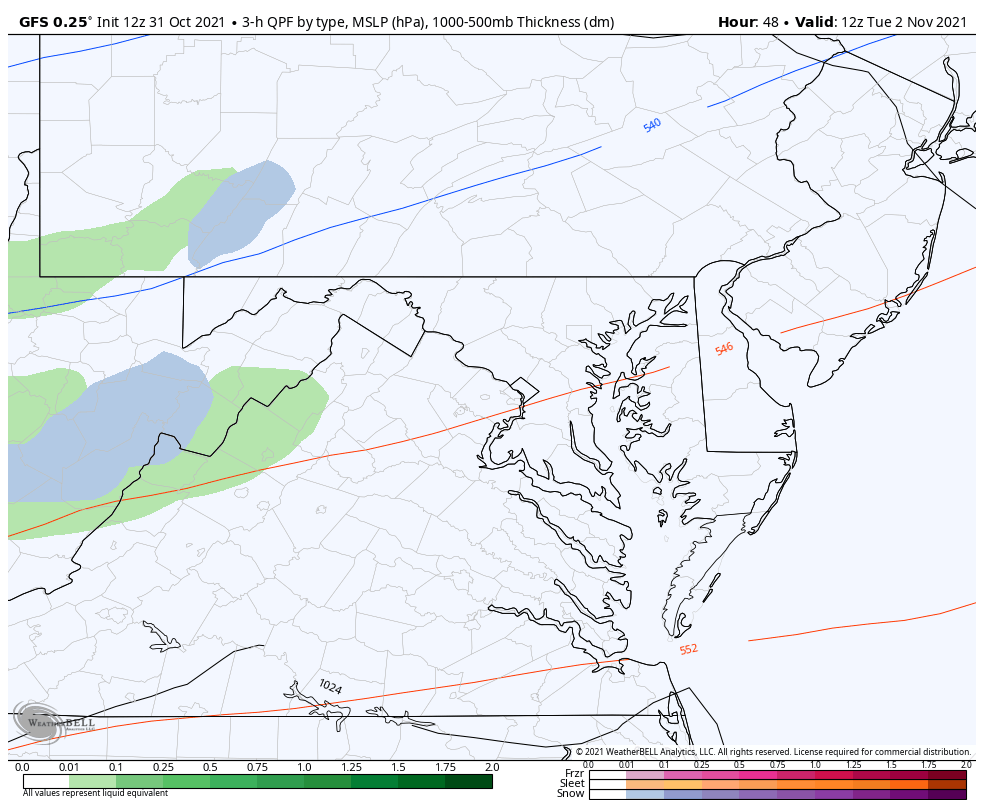 Snowfall Forecast
This early expectation is dependent on intensity overcoming the warmer ground, but it's possible the mountains get between 0.5 and 2 inches. 
FITF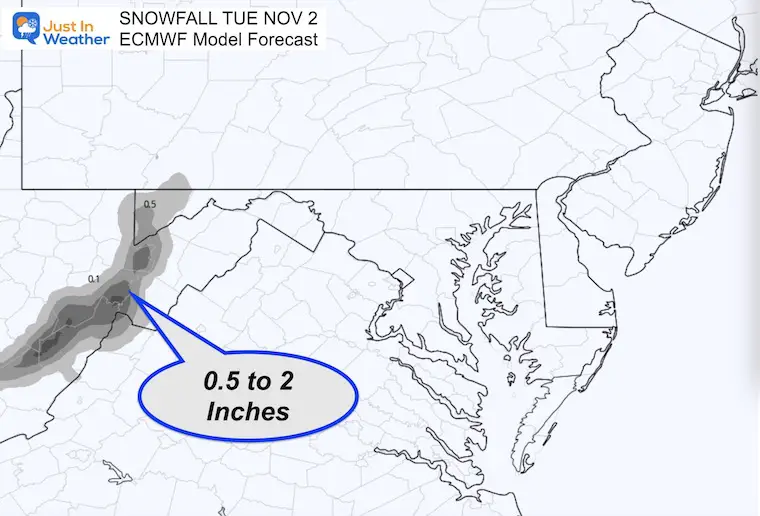 End of Week Storm?
Well, it was looking like it, but the new model guidance today seems to have lost this system. In the winter we can run into a phantom storm potential disappearing only tom come back when within  days.  So I will still pay attention to the end of week 'potential'.
I will have a full update in my Monday morning report.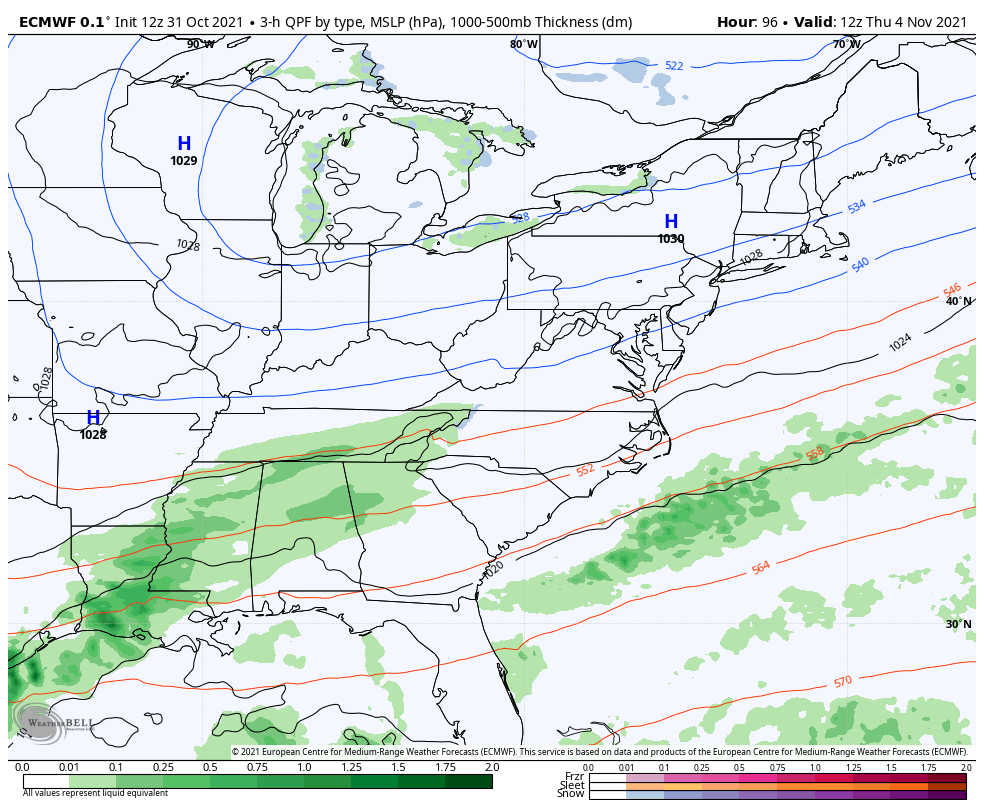 Faith in the Flakes Gear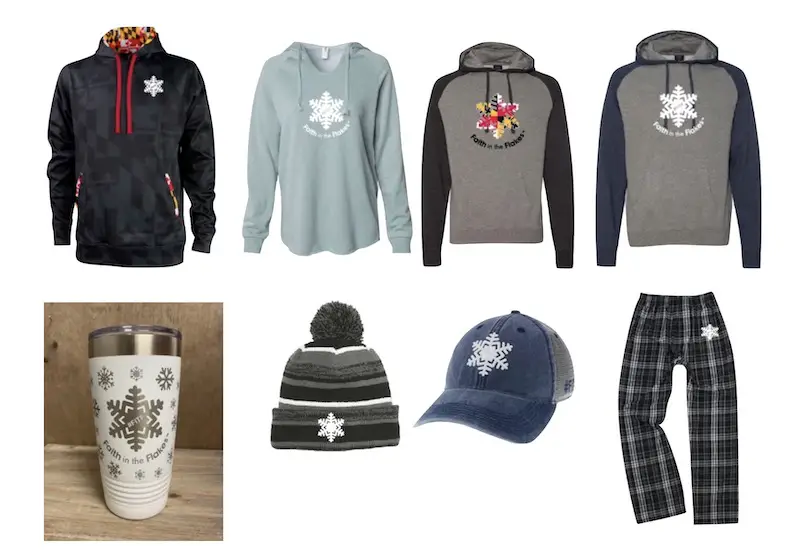 SNOWSTIX – Available Now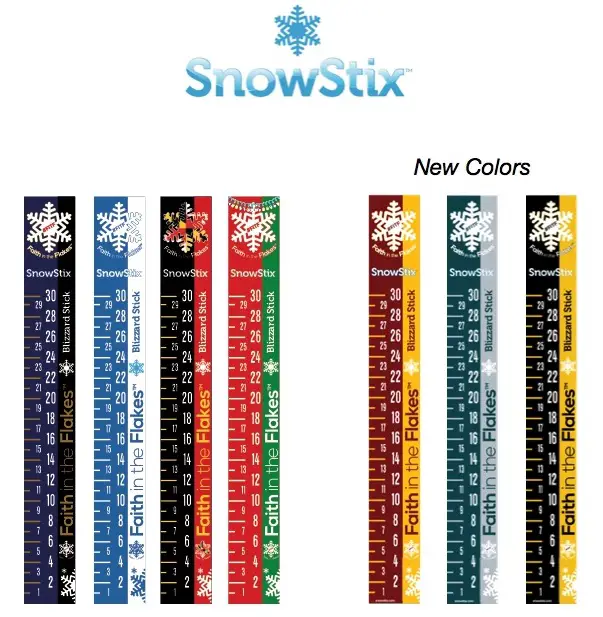 Please share your thoughts, best weather pics/video, or just keep in touch via social media