Watching The Nor'easter Develop This Afternoon
Coastal Storm
atmospheric memory
Forecast
Justin Berk
Oct 26, 2021
1:09 pm
0
Tuesday October 26 2021
The Nor'easter that has been advertised is just getting cranking now.  At first glance, the surface weather map looks quite busy with a few surface Low Pressure centers identified. However, the main event is more evident on the satellite loop entering the afternoon. 
Here is a look at the conditions across the Northeast US to plot and track the Nor'easter forming. This includes satellite loop, surface measurements, forecast animation and interactive wind widget (at the bottom).
Email Updates
Sign up for my newsletter and get alerted on each update in your inbox.
Weather posts straight to your inbox
Sign up and be the first to know!
Mesoscale Analysis
Refer back to the satellite loop and the Surface Weather map below below.
This is a raw look at the surface pressure and wind flow from the noon observations. Maryland and our main forecast region is in the black box.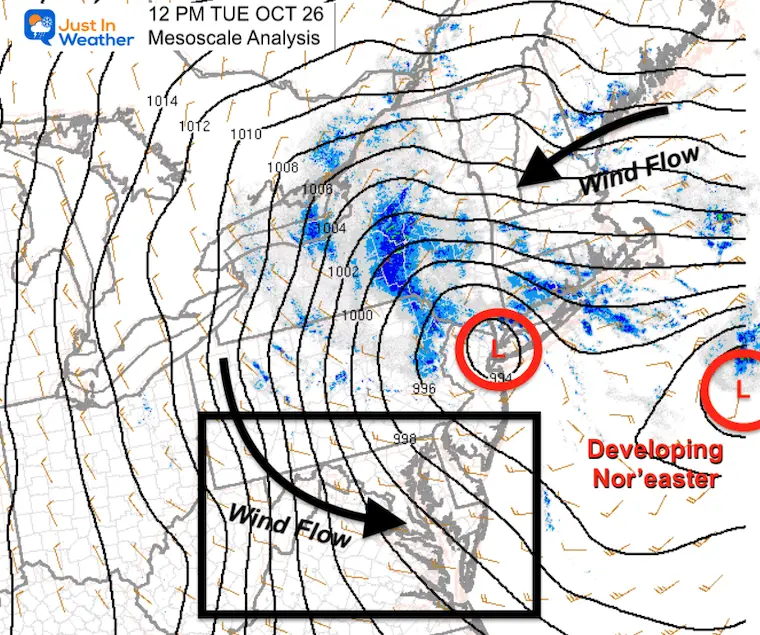 True Color Visible Satellite Loop
10:21 AM to 12:21 PM
The broad circulation here is dominated by the developing Surface Low south of Cape Cod. There is a clearing in the core, with the clouds wrapping quickly around it.
Surface Map
The is the combined view of satellite, surface pressure, fronts, radar, and annotated wind flow.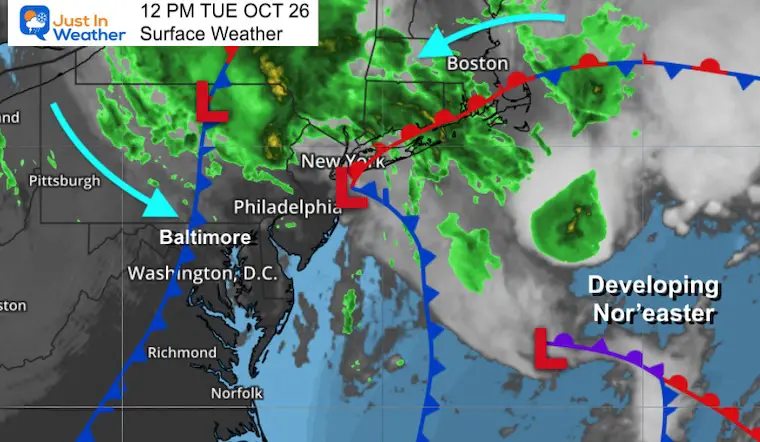 Surface Wind Observations
A lot of stations began to report winds over 20 and 30 mph.
Winds will continue to increase as the storm develops and then retrogrades back closer to the coast.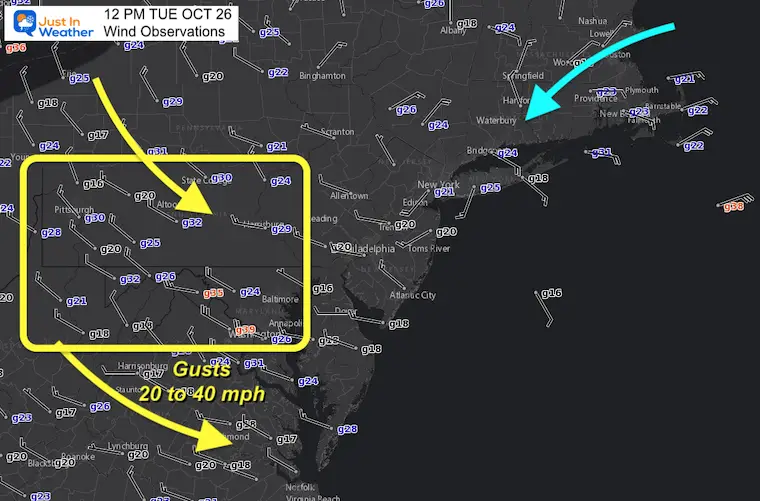 Wind Forecast
Reminder that we are expecting gusts between 45 and 50 mph this afternoon. 
Strong winds are likely to continue Wednesday as the Low retrogrades (loops backwards to the west).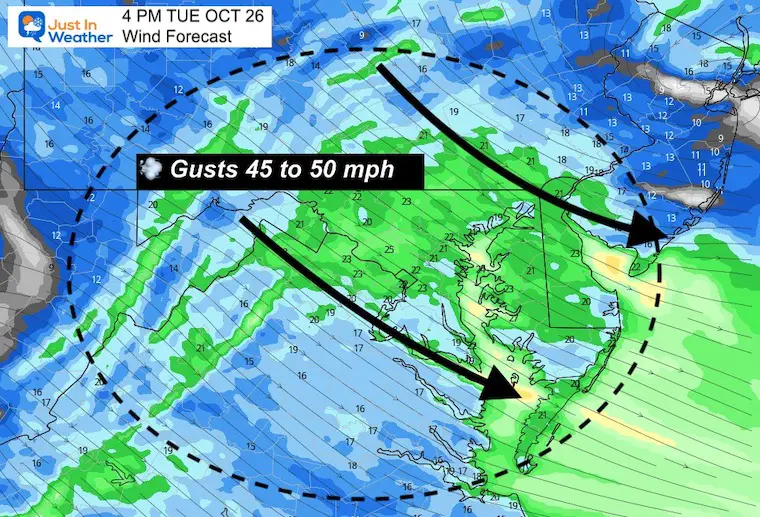 Temperatures
 – Will Get Colder
While it has remained mild in the 60s for most metro areas, 40s and 30s linger in the mountains. Western Maryland's Garrett has dropped into the 30s.
The winds will help drop our temps during the day and tonight. 
Forecast Maps
GFS Animation
Here is the retrograde I mentioned. Watch the Surface Low loop back to the west, then south, then swing out to east to the open ocean by Wednesday night.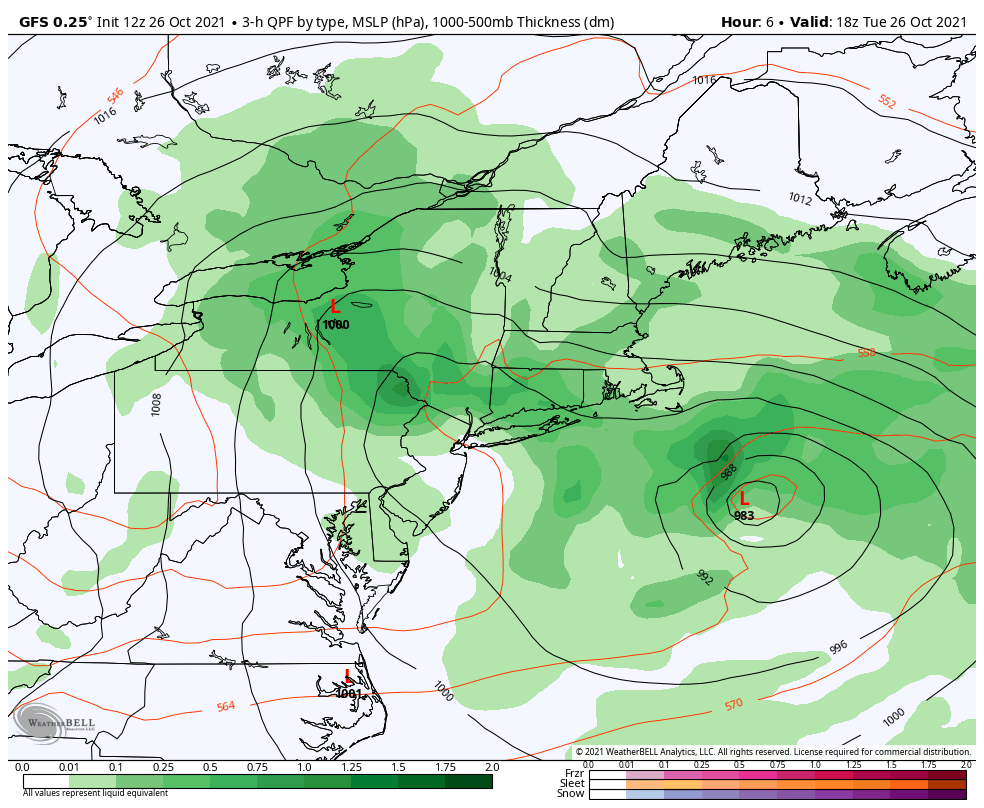 Wind Widget
Use the slider to control the forecast time and track that Storm Center.
Pinch and slide to zoom in and see the winds in any area.
Also See:
NOAA Winter Outlook- But Read The Fine Print
Signals For Early Start To Winter In November
Winter Outlook Series: La Nina Double Dip
Nor'easters May Give Hint For Winter La Nina Pattern
Email Updates
Please make sure you sign up for my newsletter.
Weather posts straight to your inbox
Sign up and be the first to know!
Faith in the Flakes Gear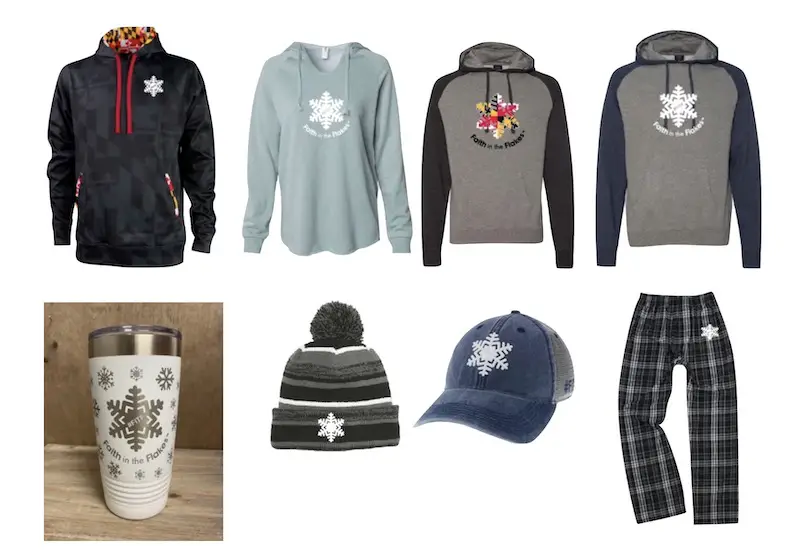 SNOWSTIX – Available Now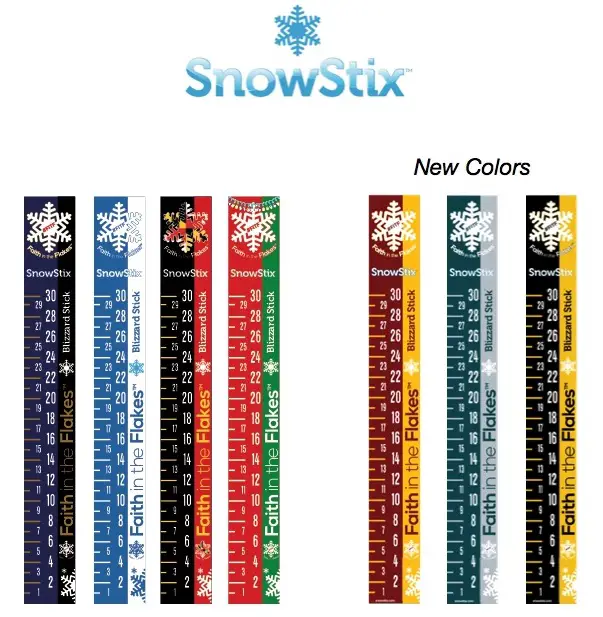 Please share your thoughts, best weather pics/video, or just keep in touch via social media