October 26 Wind Advisory With Nor'easter Forming Off Coast
wind
Forecast
Warnings
Justin Berk
Oct 26, 2021
6:47 am
0
Tuesday October 26
Heavy rain and strong winds erupted yesterday, and enhanced as to moved into Northeastern Maryland. Widespread wind damage reports between Baltimore, Harford, and Cecil Counties.
Wind Advisory issued today in Maryland. It may/should expand into PA/DE.
Today, the strongest winds will develop during the afternoon as a Nor'easter develops off of the coast.  Most of the rain will be in New England, but a few showers may pass by, and temps get cooler during the afternoon. 
Our next storm will arrive Friday. 
What to wear?
Jacket: A few rain showers, stronger winds make the afternoon cooler.
Wind Damage Reports: From Monday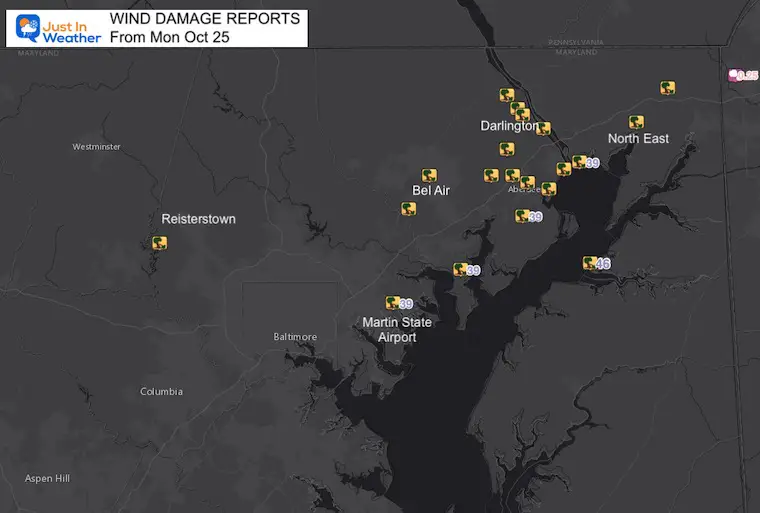 Wind Advisory Today
All counties west of the Chesapeake Bay through Maryland. Northern Virginia, and West Virginia.
That is a Gale Warning on the Chesapeake and Delaware Bays.  Stay alert to wind restrictions on bridges and 'advisories' to be expanded to the counties north and east.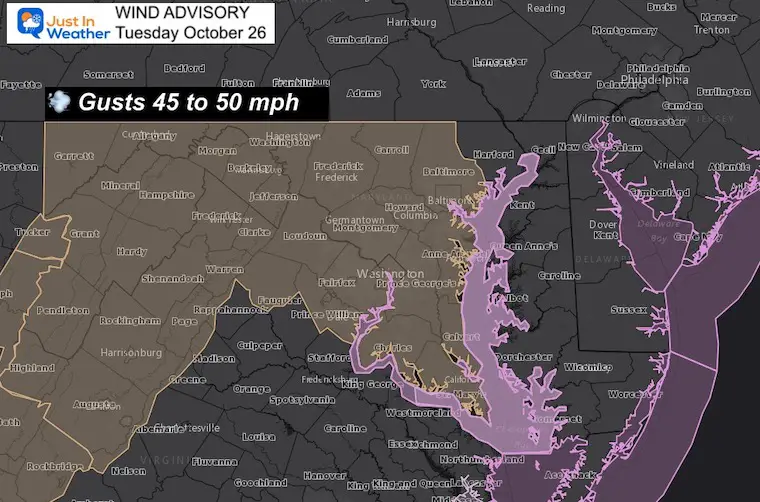 Wind Forecast
This product is showing the steady winds, but gusts will reach 40 to 50 mph.  Considering the even spread, nearby NWS offices may expand the Wind Advisory to their regions in southern PA , Delmarva, and NJ.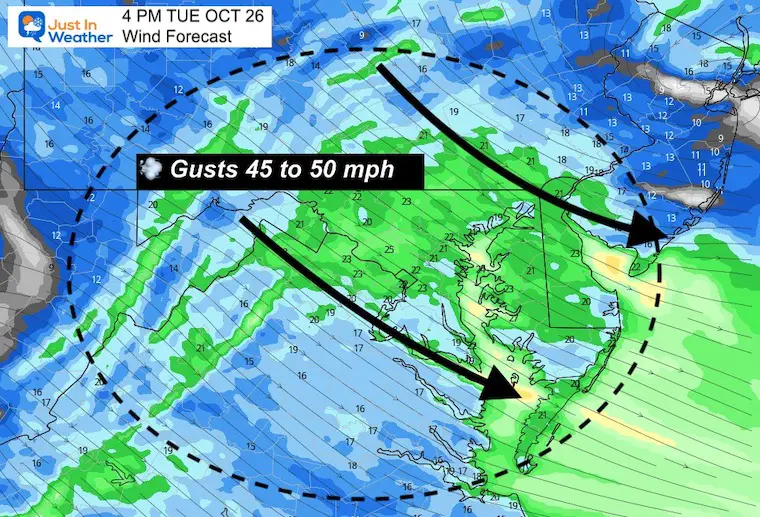 Temperature Forecast: 7 AM to 5 PM
I wanted to show this animation to highlight the fall of temps into the 50s during the afternoon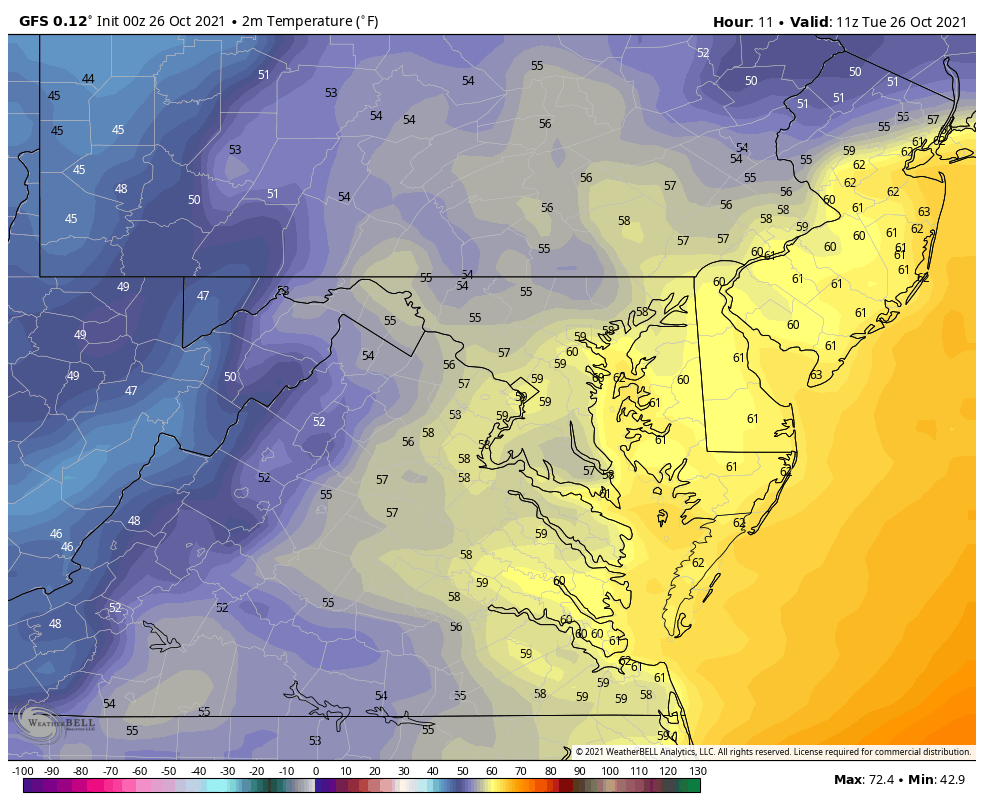 Satellite Loop
A classic comma shape is forming off of the coast with the developing Nor'easter.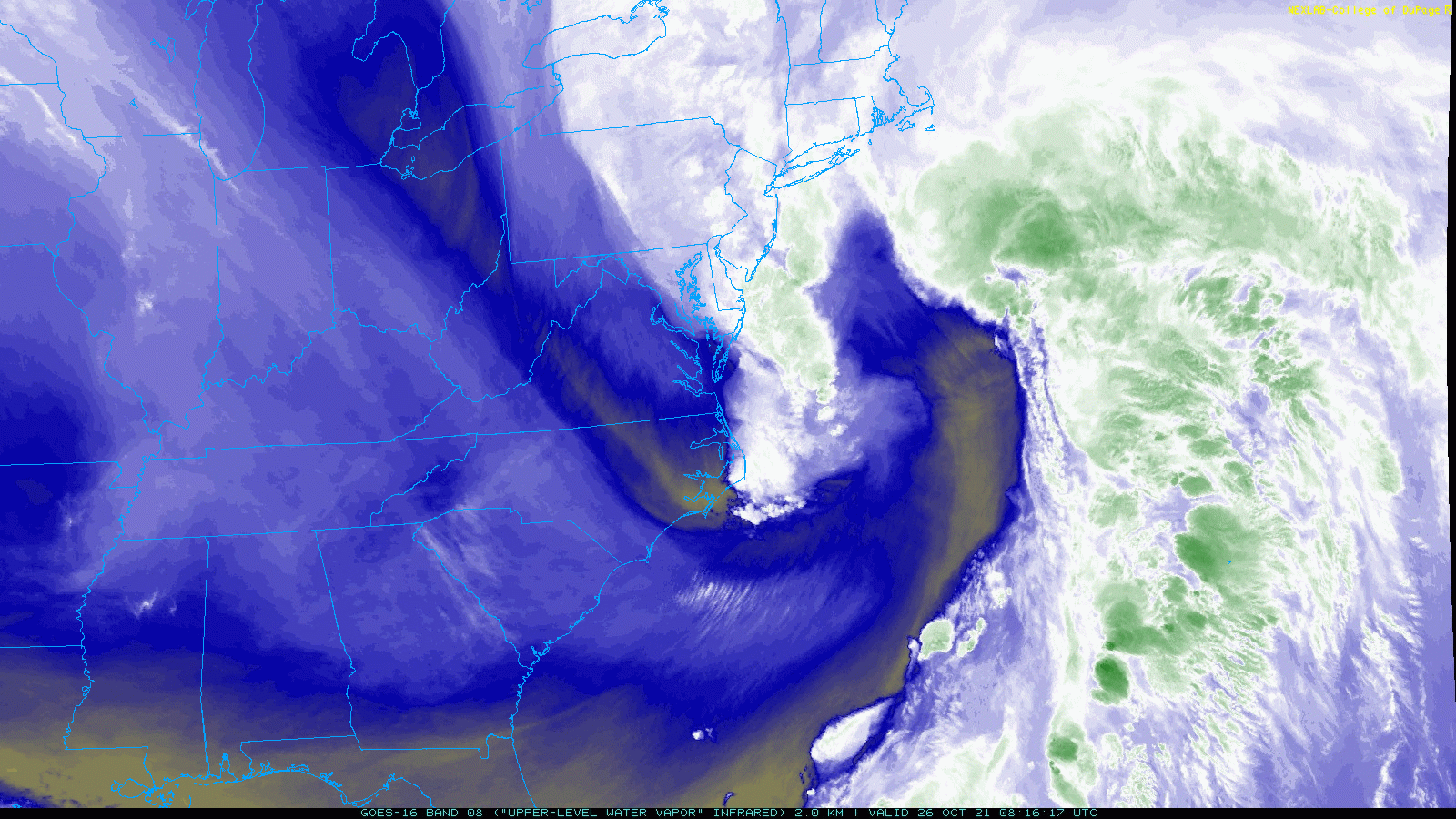 Morning Surface Weather
A lot of energy in the atmosphere will be combining forces to develop a Nor'easter. That will be the reason for the increased winds.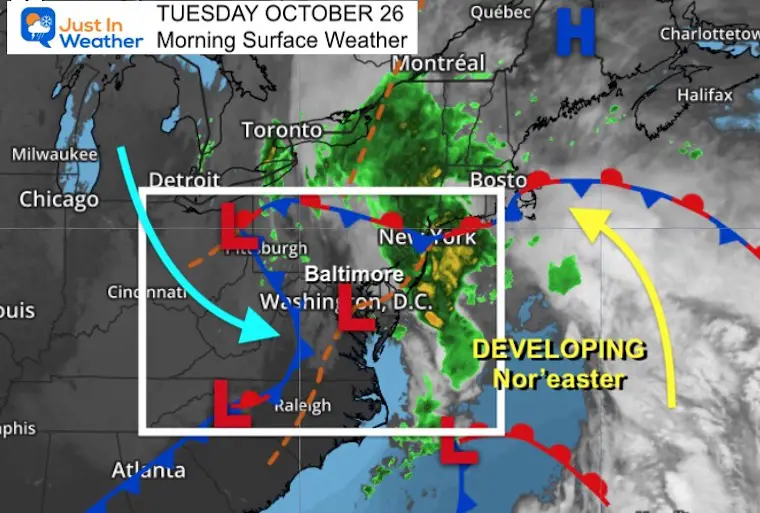 Weather Almanac: Climate Data
TODAY October 26
Normal Low in Baltimore:  42ºF
Record 27ºF in 1952
Normal High in Baltimore: 64ºF
Record 81º F 1978
Also See:
NOAA Winter Outlook- But Read The Fine Print
Signals For Early Start To Winter In November
Winter Outlook Series: La Nina Double Dip
Nor'easters May Give Hint For Winter La Nina Pattern

Forecast Animation: Wednesday Morning to Friday Afternoon
As the first storm departs, the next one cross the nation with another severe outbreak in the southern Plains. That will reach us with heavy rain on Friday.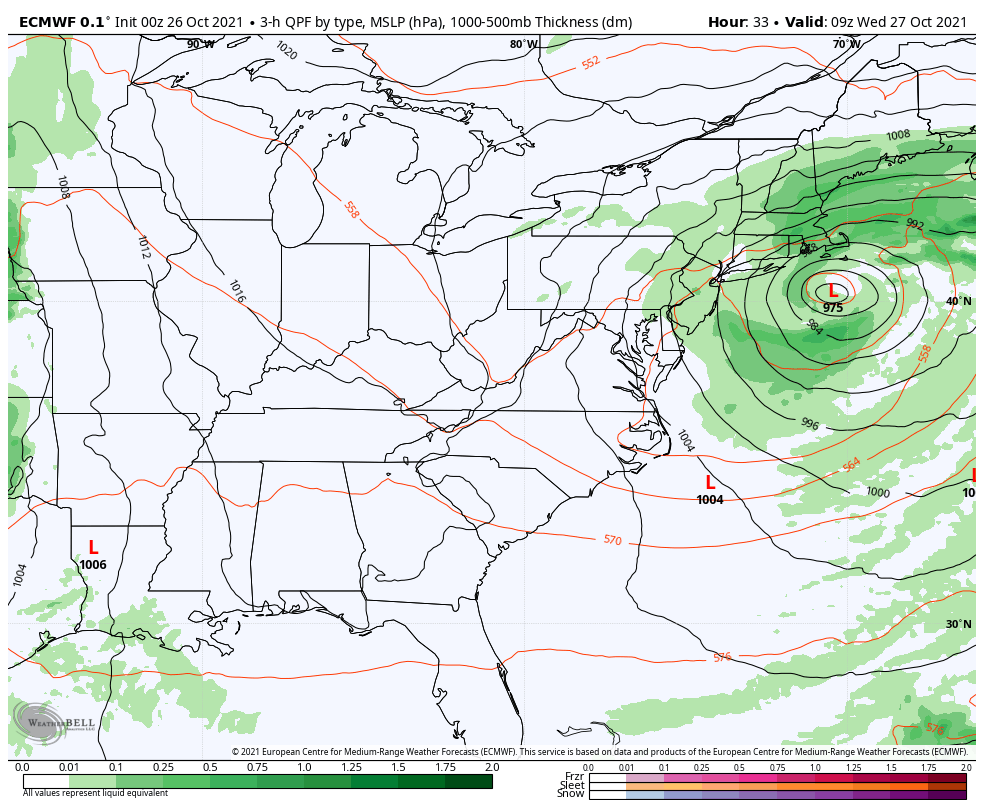 7 Day Forecast
Finally, this looks seasonal in the 60s. The impacts of the first storm linger into Wednesday. The next storm will arrive Friday and linger with cool winds and showers over the weekend.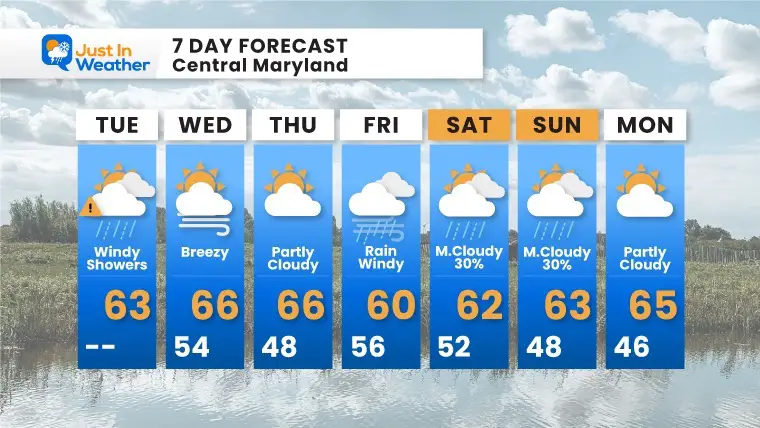 Email Updates
Please make sure you sign up for my newsletter.
Weather posts straight to your inbox
Sign up and be the first to know!
Faith in the Flakes Gear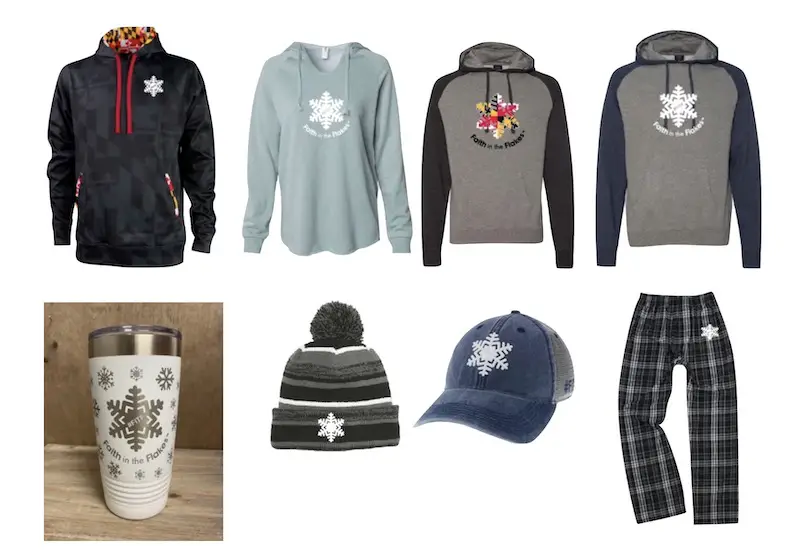 SNOWSTIX – Available Now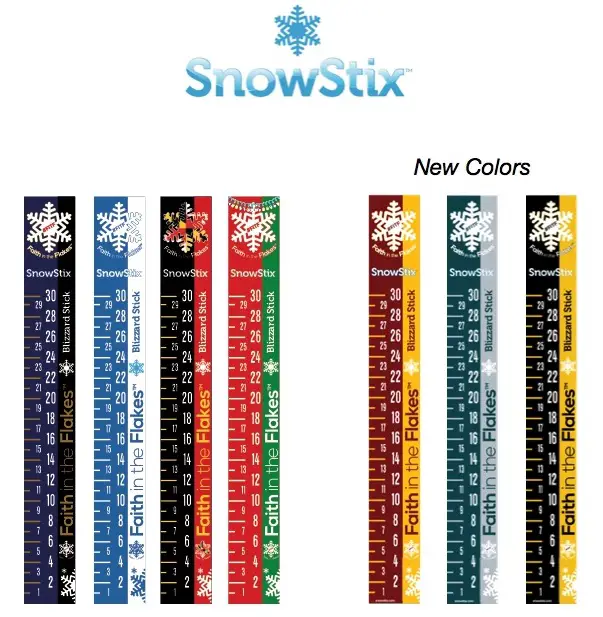 Please share your thoughts, best weather pics/video, or just keep in touch via social media