October 23 Cool Weekend And Stormy Next Week
Forecast
Justin Berk
Oct 23, 2021
8:03 am
0
Saturday October 23
The cool temperatures this weekend is just a reality check. Thermometers will be close to average for a few days.  Meanwhile a disturbance may bring some showers this afternoon, and also limit how chilly it may get Sunday morning. So my call for possible frost will not be as widespread.
What will impact all of us will be the track of massive Pacific storms that reach us later this week.  This is a pattern changer and will bring us cold rain.
Morning Surface Weather
A quick moving system is tracking to the Northeast. The better chance for showers will be in the afternoon west and north of Baltimore. But some stray showers may pop up in other areas.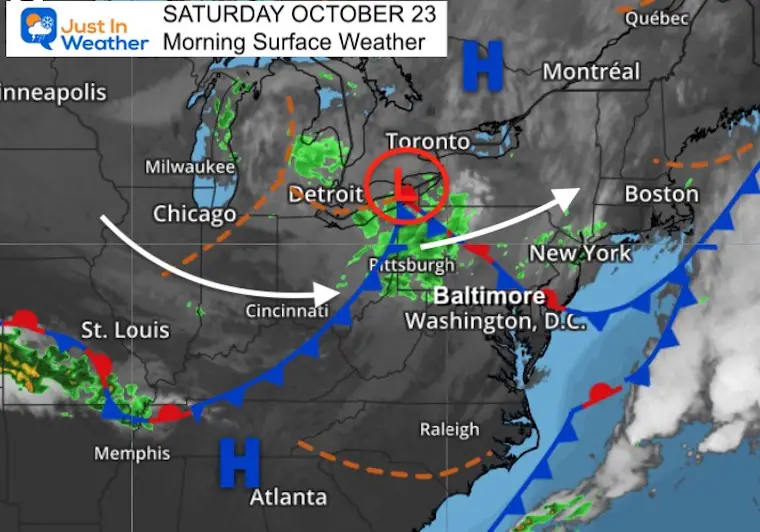 Radar Simulation: Noon to 8 PM
Most of the day will be dry, but there will be showers this afternoon. I will track any developments on the Live Updates page.

Weather posts straight to your inbox
Sign up and be the first to know!
Afternoon Temperatures
These numbers will be close to seasonal averages for this date.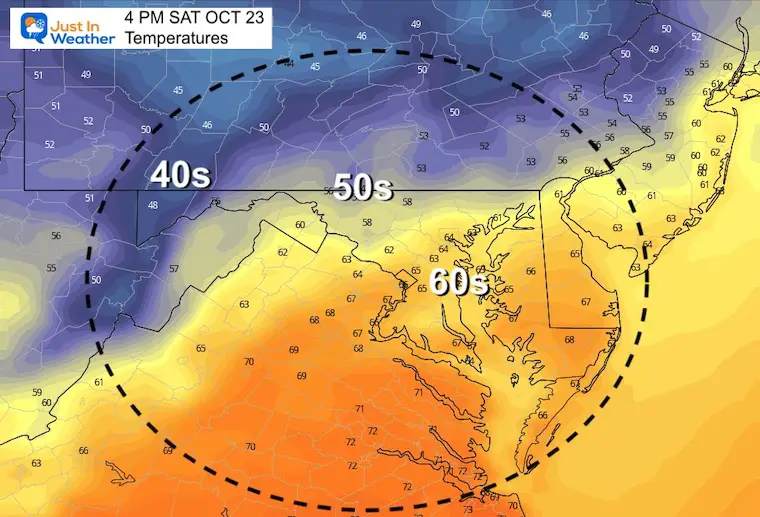 Weather Almanac: Climate Data
TODAY October 23
Normal Low in Baltimore:  43ºF
Record 28ºF in 1997
Normal High in Baltimore: 65ºF
Record 91º F 1947
Also See:
NOAA Winter Outlook- But Read The Fine Print
Signals For Early Start To Winter In November
Winter Outlook Series: La Nina Double Dip
Full Hunter's Moon May Appear Full For 3 Nights
Waterspout Among Top 10 Storm Photos Saturday
Temperatures Sunday
Morning
Frost may still develop, but it will more likely be farther inland and not as close as I earlier had suggested. We will get there soon enough.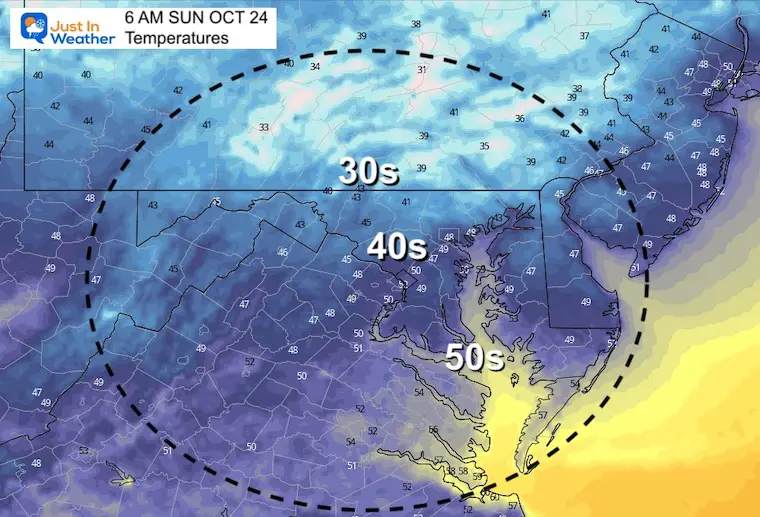 Afternoon
We will get a little push of milder air…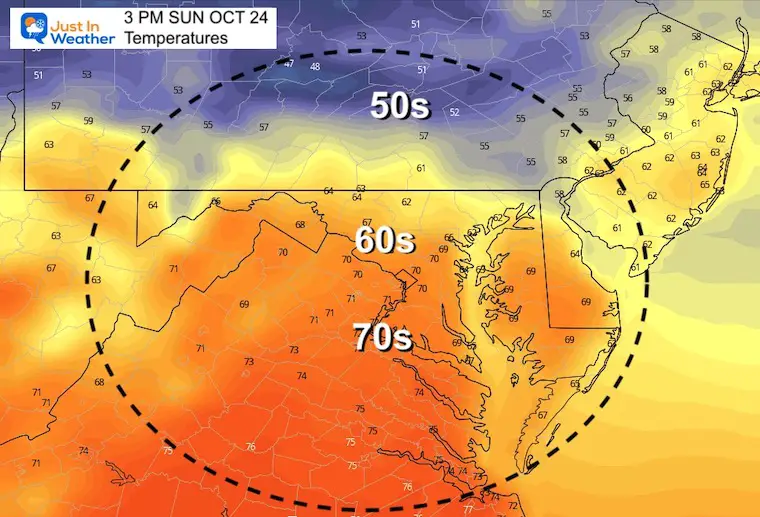 Looking Ahead
A series of very strong storms is moving off of the Pacific Ocean into the western US. These are monster Bombs with waves over 30 Ft, surfaces winds on the coast over 80 mph, rainfall 5 to 10 inches, and feet of mountain snow.
The track of these systems will reach us next week. That will bring us a few rain events, along with cooler temps.
The most prominent will be at the end of the work week.
Jet Stream Animation
Sunday through Saturday
This helps display the track of that trough/storm pattern from the Pacific NW to the Eastern US (blue and green shading).
Jet Stream Snapshots
Sunday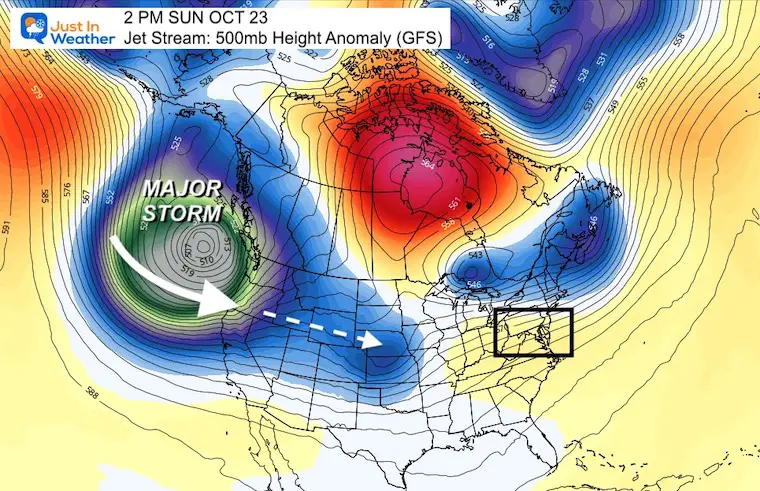 Friday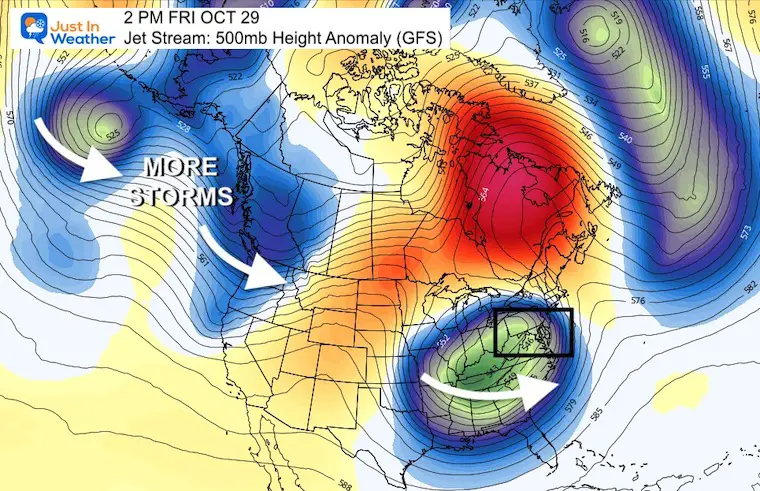 Closer Look On Friday 
This is when we should get the hit from that west coast storm, and possibly with for redevelopment on the coast.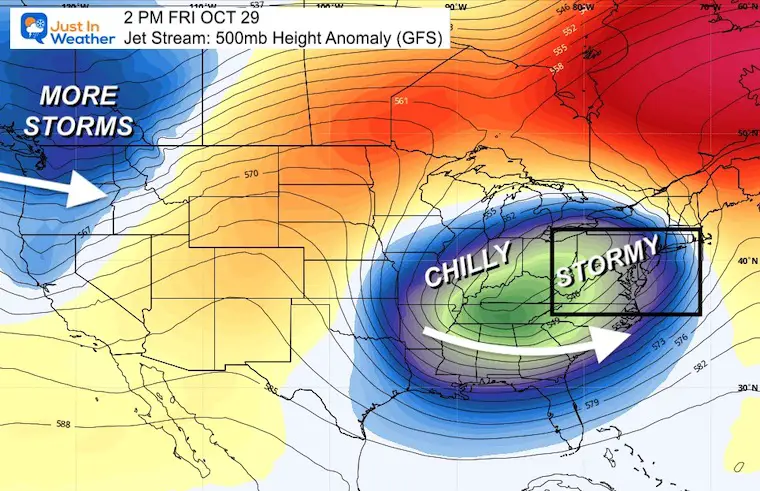 Storm Animation
Thursday through Saturday
A complex pattern of Low Pressures will be worth extra attention during the week. This may redevelop a coastal Nor'easter into next weekend.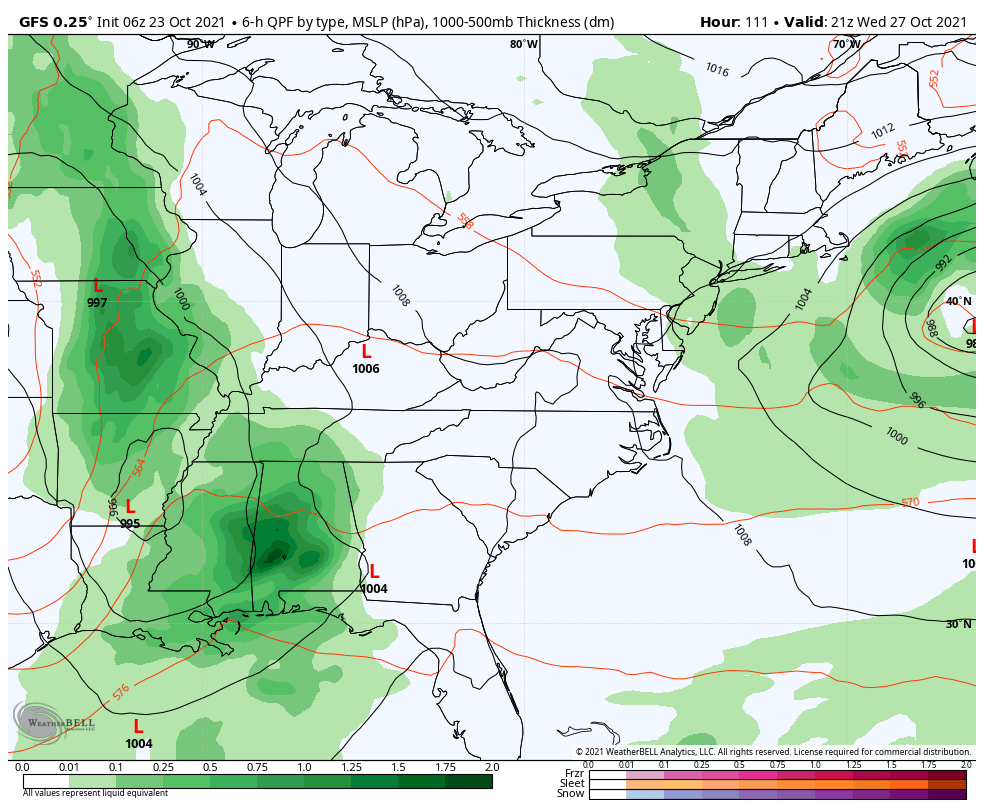 7 Day Forecast
The coverage and intensity of the rain/wind at the end of the week will be subject to change with more scrutiny as we get closer.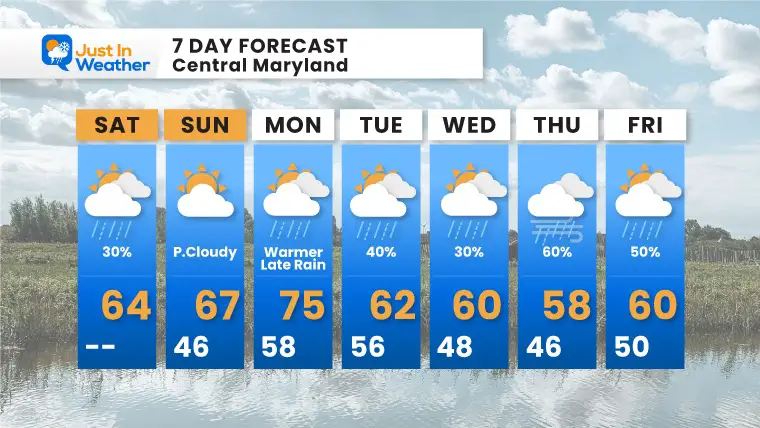 Faith in the Flakes Gear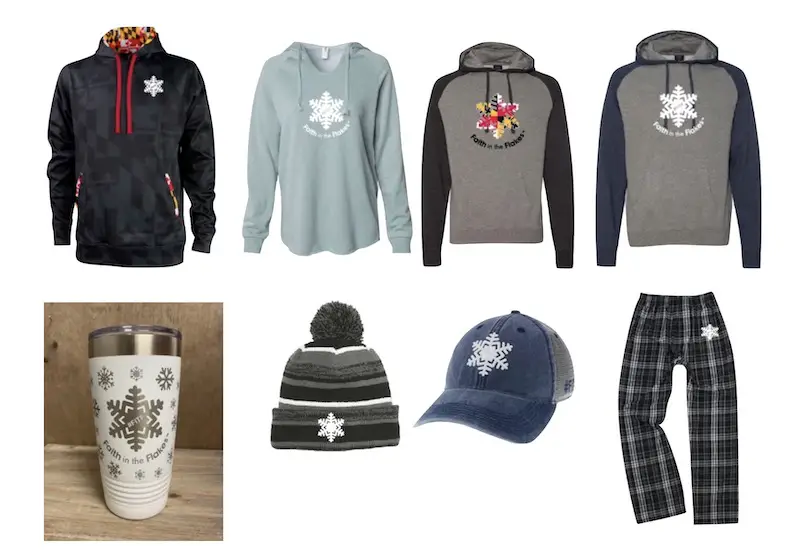 SNOWSTIX – Available Now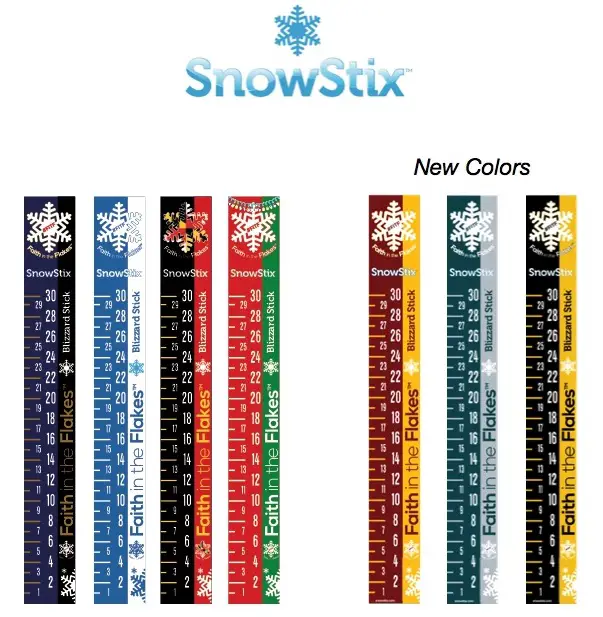 Please share your thoughts, best weather pics/video, or just keep in touch via social media
---
Email Updates
Please make sure you sign up for my newsletter.
See the SUBSCRIBE button at the bottom of the page.
This way you will get an email to make sure you are notified with each new post.