December 8 Fog Limited More Sun And Maybe Flurries Saturday
Maryland Weather
climate data
Forecast
Justin Berk
Dec 8, 2022
6:17 am
0
December 8 2022
Thursday Morning Update 
The good news is that we are starting to shake things up and get out of this rut. There are some areas of  fog this morning, but it is patchy and NOT widespread.  This will lead the way to breaks of sun today and Friday. 
Remember that chance of snow I kept referring to? It looks like that event will be trying and dying. I'll show the push into Saturday morning now and reduced it to just flurries. We still may see some flakes, but not much more than ambience. 
Remember that pattern shift to winter? It will try next week. Comparing the Euro to the GFS we can see it, but one brings it in sooner.
Headlines
Today: Fog is patchy this morning, Some breaks of sun today.
Tomorrow: More sun
Saturday: Morning flurries possible
Morning Visibility
Areas of fog around Frederick and very thick fog around the Chesapeake Bay south of the Bay Bridge.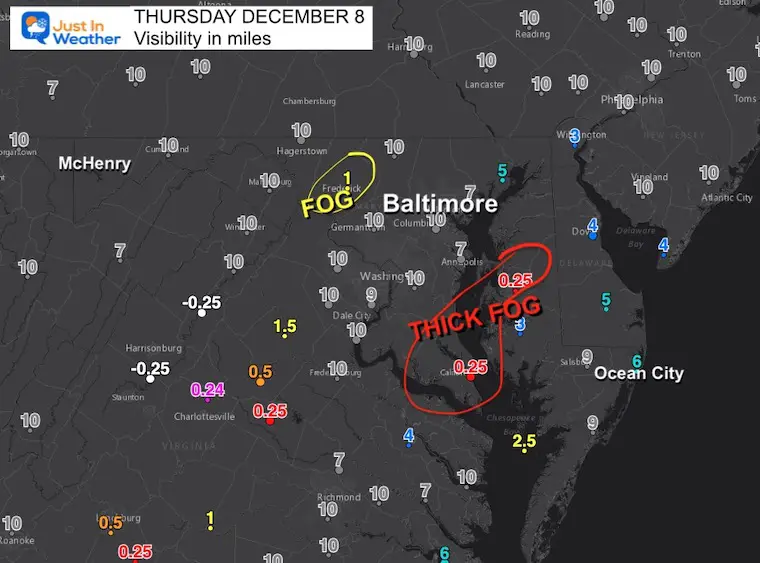 Morning Temperatures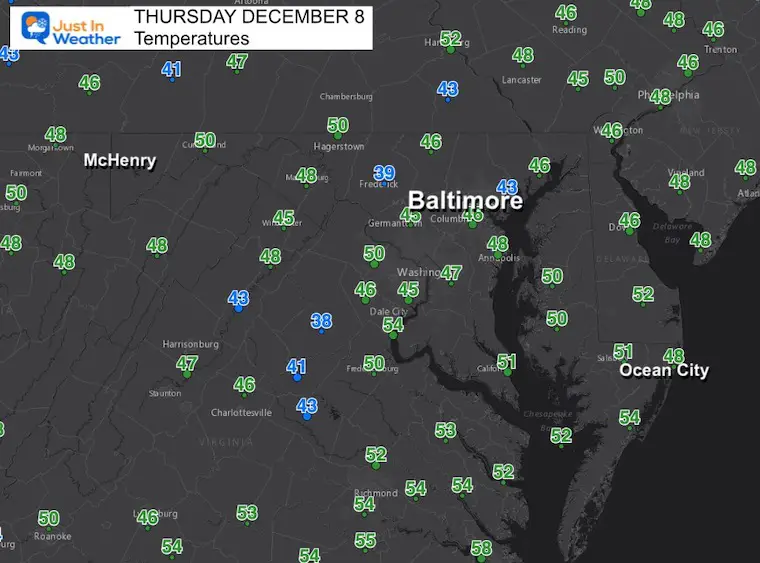 Morning Surface Weather
This may look a little busy as I've added extra numbers. These are temperature reports, which show our mild air.  We can also see the cold air in the northern plains, where single digits and below zero numbers are showing up.  
That source of cold air is expected to help trigger a severe weather outbreak next week as it attempts to drop south.  
The extreme outlook will eventually bring some of that cold our way… The challenge now is determining when.
Afternoon Temperatures
We should get some breaks of sunshine..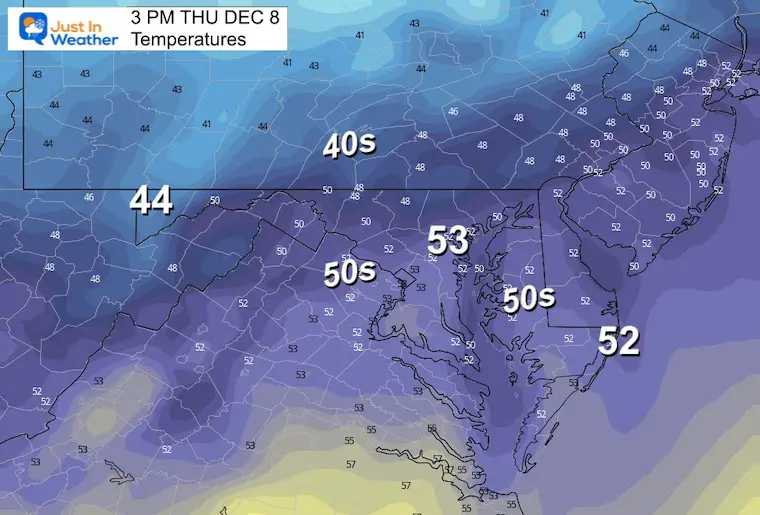 Subscribe for eMail Updates
Weather posts straight to your inbox
Sign up and be the first to know!
CLIMATE DATA
TODAY December 8
Normal Low in Baltimore:  31ºF
Record 10ºF in 1882
SNOW: 4.1 inches in 1989
Normal High in Baltimore: 50ºF
Record 74ºF 1980
Also Explore:
Friday Temperatures
Morning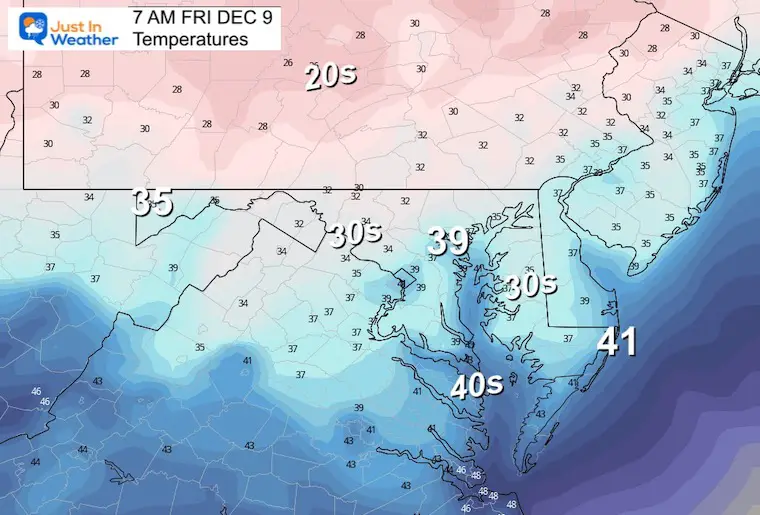 Afternoon
WE should end up mostly sunny, but there will be a mix with high clouds.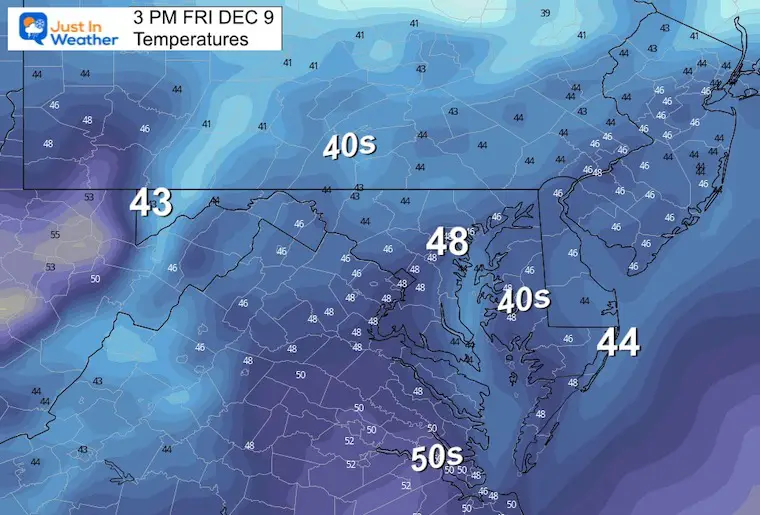 Looking Ahead
ECMWF Model: Friday Afternoon to Monday Afternoon 
The energy swinging through will run into some dry air.  We still see an attempt for snow showers or flurries into parts of the area on Saturday morning. I've left in flurries for the morning, but ambient and not amounting to an issue. 
Rain showers may develop again on Sunday.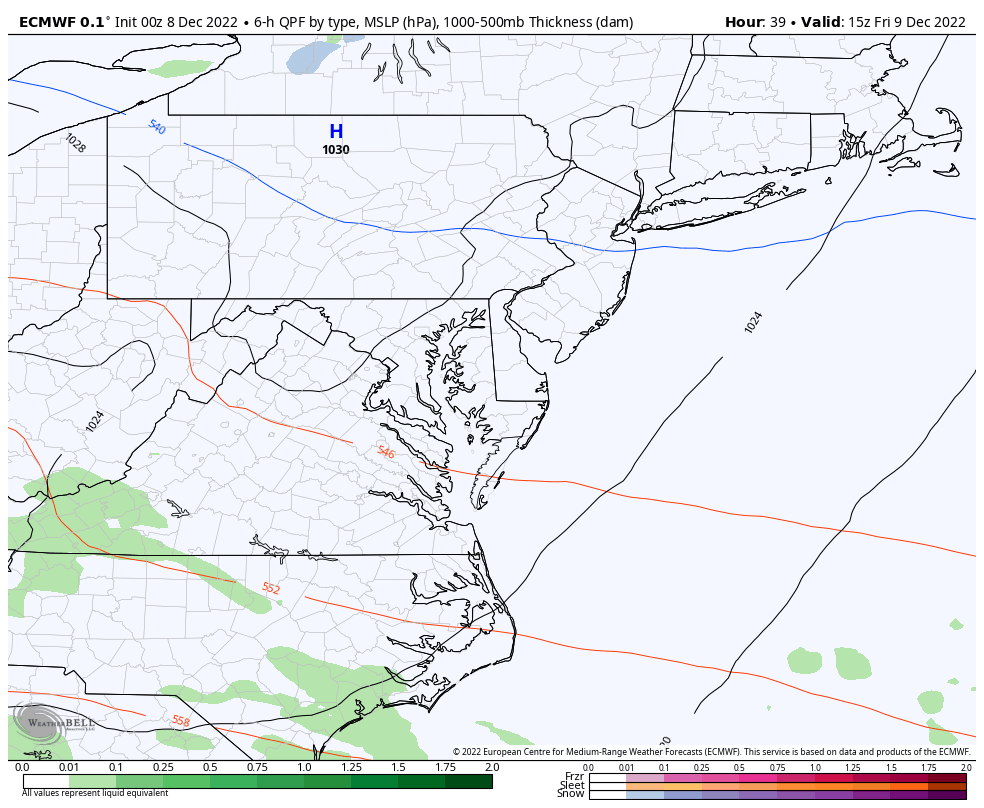 Jet Stream: Sunday Dec 11 to Saturday Dec 17
The European Model compared to the GFS Model. Both show that deep cold air dropping south and moving east.  
The drop south will contrast with warm air in the southern plains for a severe weather outbreak there next week. As for us getting in to the cold, the Euro brings it in much sooner.
European Model Simulation 
This brings in the core of cold air to the eastern US by the end of next week.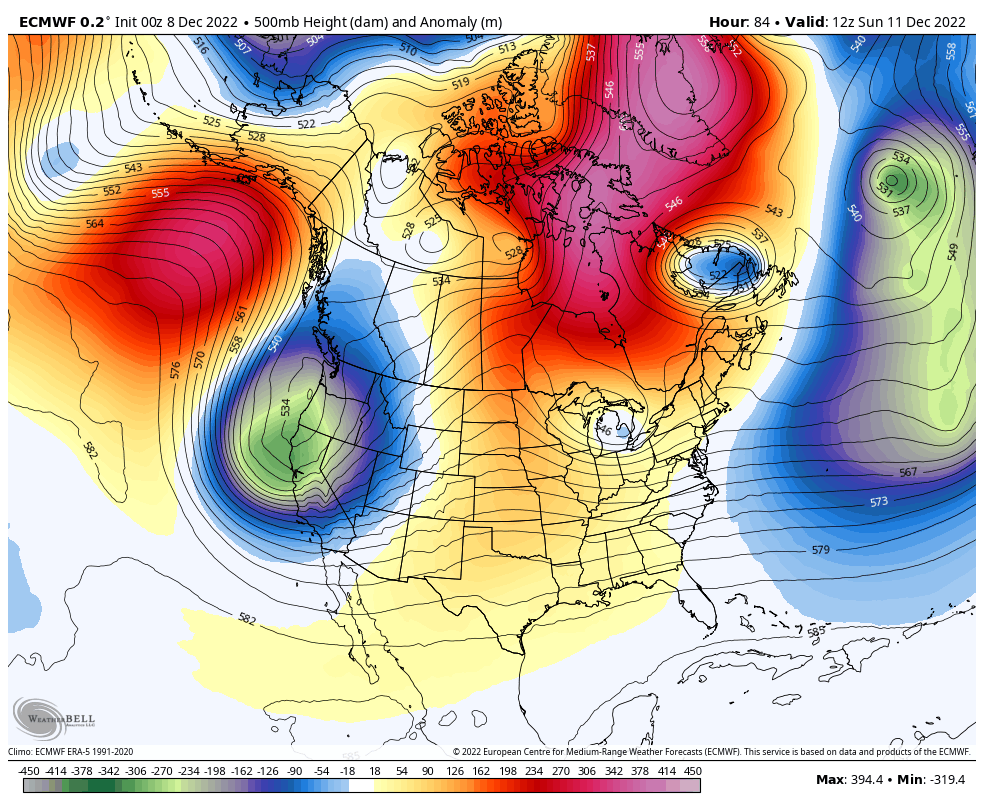 GFS Model Simulation
This does bring in some, but not the core of the cold air to the eastern US over next weekend.
7 Day Forecast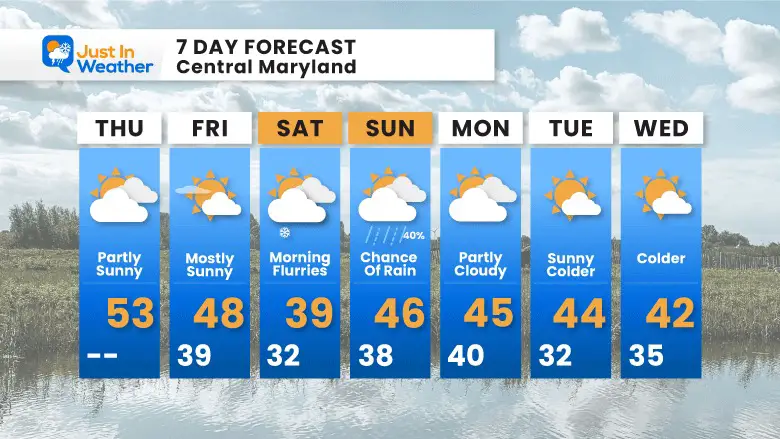 My Winter Outlook: Not A Typical La Niña!
I see many factors to support colder influence with multiple systems. Early and later in winter. Check it out.
Winter Outlook 2023 For Snow Not Typical La Niña Plus Polar Vortex Disruption
Also See The Winter Outlook Series:
Atmospheric Memory Suggests Active Winter Storm Pattern Outlook
Winter Outlook 2023 From NOAA Very Different Than Farmers Almanacs
Farmer's Almanac Comparison
Winter Outlook 2023 Early Look At Snow From Two Farmers Almanacs
Triple Dip La Niña Winter
CONNECTION TO WINTER?
If you want a snowy winter, this is what you might want to look for in the rest of the tropical season. (You might be seeing a lot of commercial snow removal people out this Winter).
Record August For No Named Tropical Storms: Closer Look At Snow Following
Wooly Bear Caterpillars
Persimmon Seeds
Click to see Top 20 and MORE
Winter Weather Folklore Top 20 And More Outlook Signals From Nature For Cold And Snow
Faith in the Flakes Gear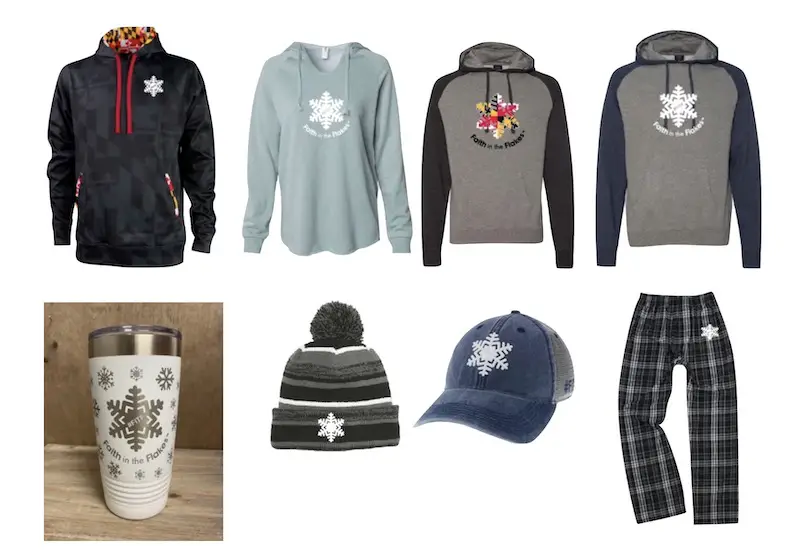 SNOWSTIX – Available Now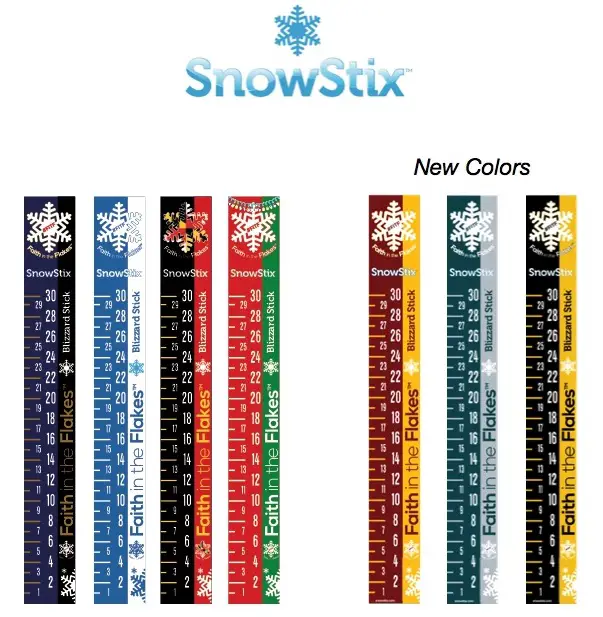 Normals And Records: Maryland and Baltimore Climate History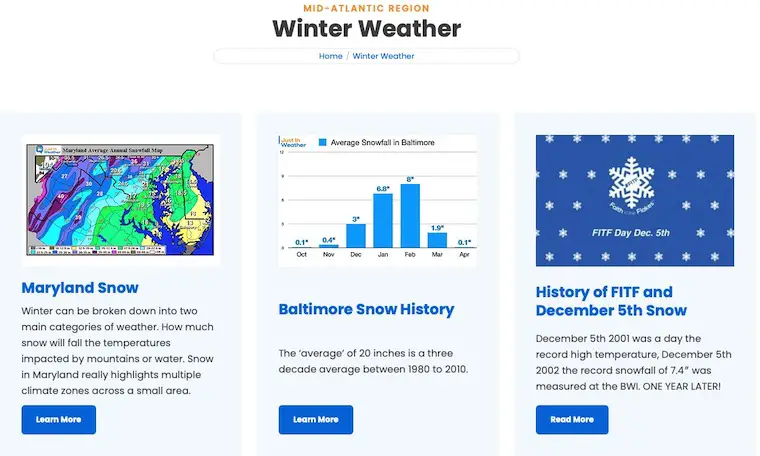 STEM Assemblies/In School Fields Trips Are Back
Click to see more and 'Book' a visit to your school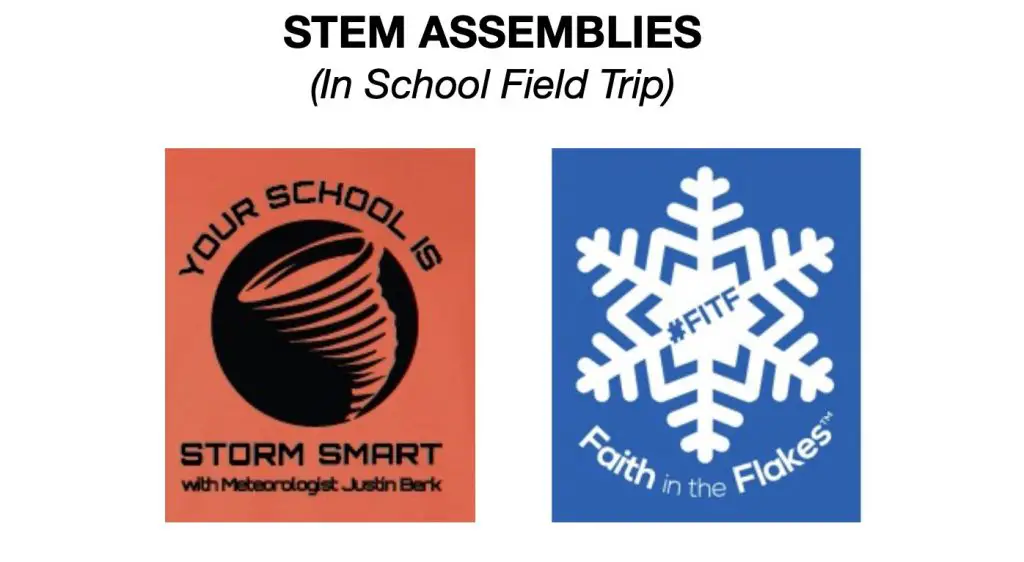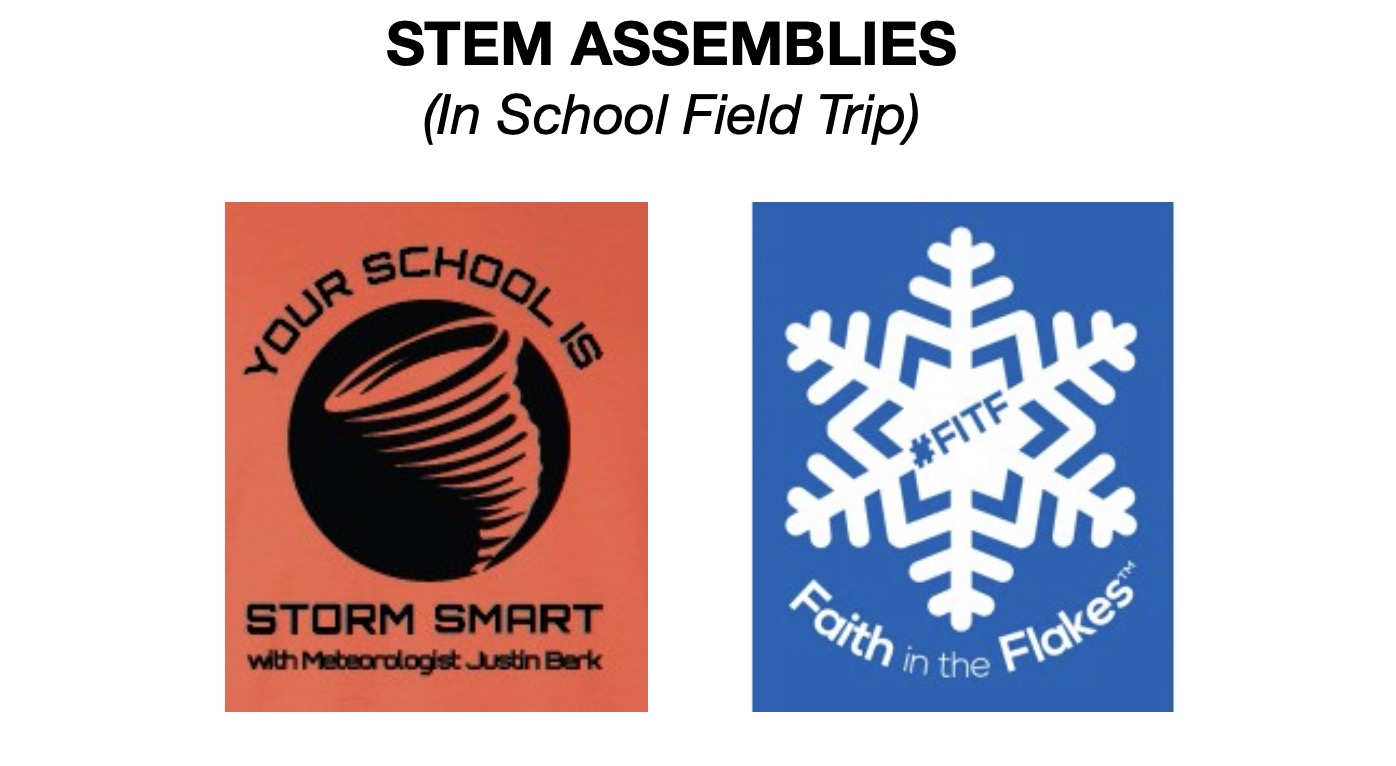 Please share your thoughts, best weather pics/videos, or just keep in touch via social media