December 7 Thick Fog And Spotty Rain This Morning
Maryland Weather
climate data
rain timeline
Forecast
Justin Berk
Dec 7, 2022
6:25 am
0
December 7 2022
Wednesday Morning Update 
The weather system we had yesterday is still here. The added moisture and convoluted warm front has forced a wedge of colder and damp air. The result has been some very thick fog in parts of the region, which will impact travel. 
Headlines
Today: Thick Fog This Morning, Bands Of Rain
Tomorrow: Mild
Friday: Late Day Rain/Light Mix Inland Overnight

 
Morning Visibility
Numbers listed in miles: Thick fog will affect travel around and north of Baltimore.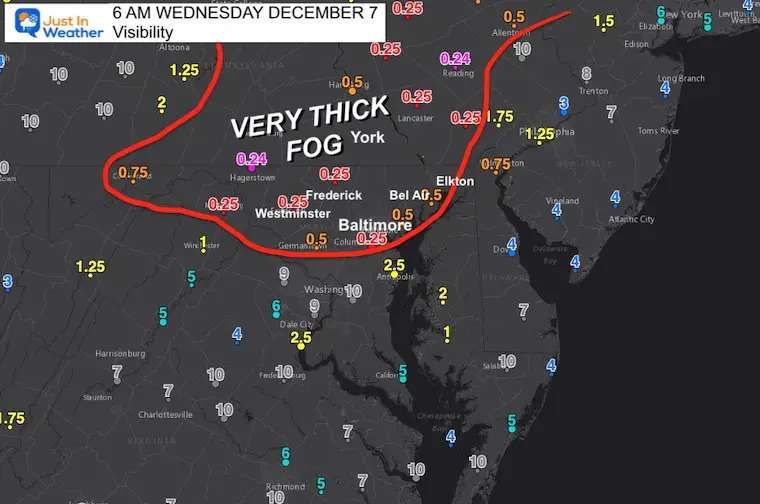 Morning Temperatures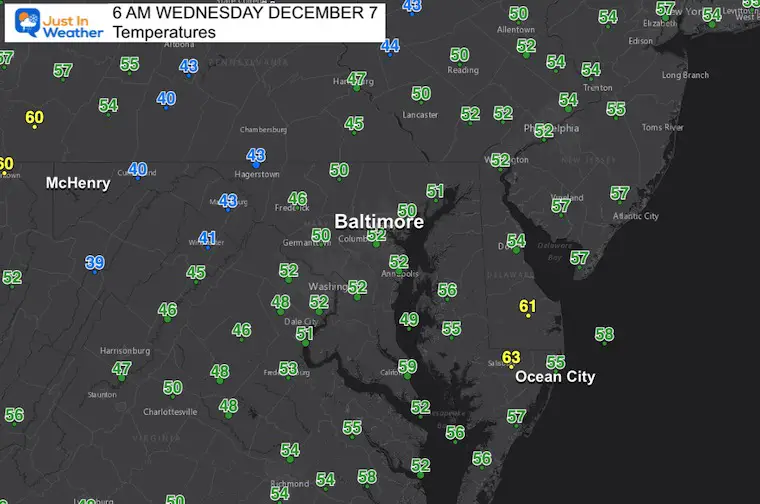 Morning Surface Weather
The thick fog is located in the 'wedge' of colder air where the warm front has not been able to push through yet. 
One band of rain to the north, and another will pass across our southern areas.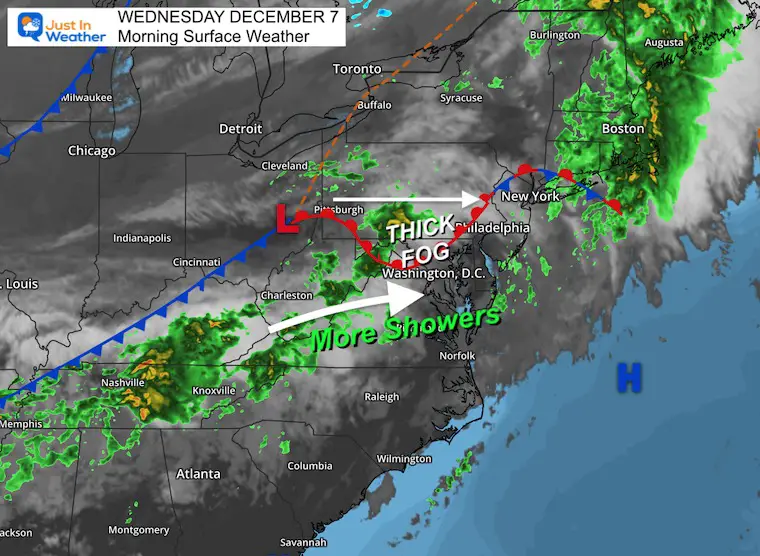 Live Radar Widget
Use the controls to zoom and shift the view.
Radar Simulation
7 AM to 7 PM
The HRRR Model has continued to show that northern rain band diminishing. However, it has looked stronger on radar than the model has shown, so our local Southern PA area may still get that with an attempt to push in warmer air. To the South: A steady rain is more likely to pass near and south of Rt 50 then across the Bay mid day.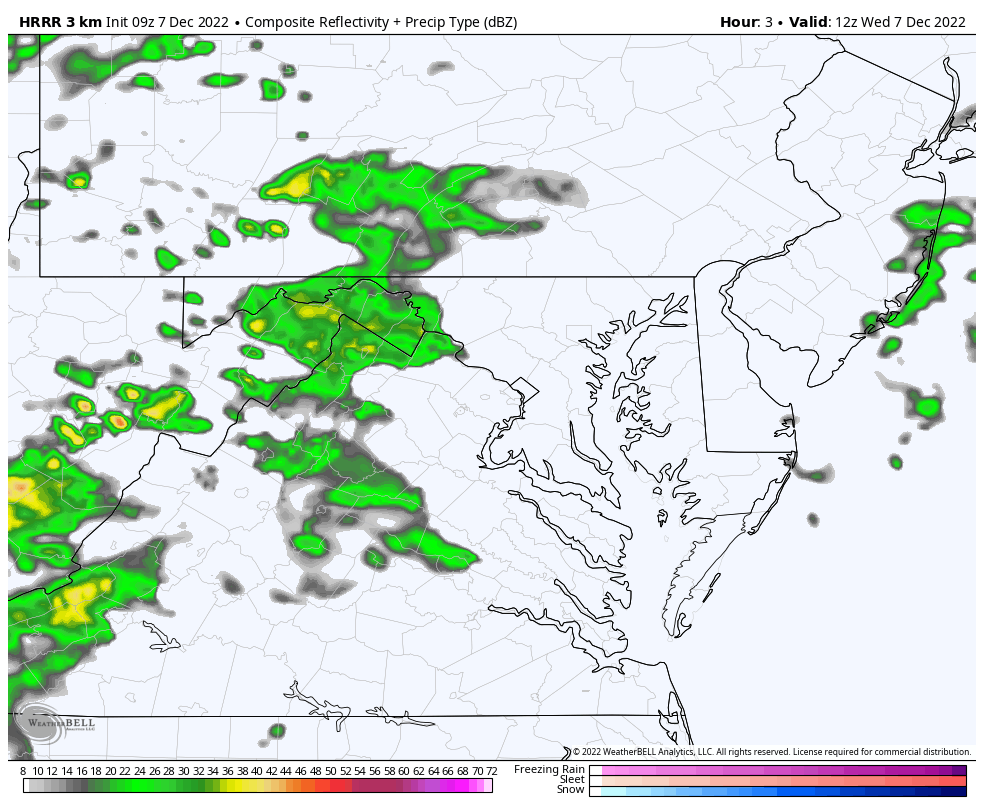 Afternoon Temperatures
If we can get the fog to lift, temps will warm to the upper 50s and near 60ºF today.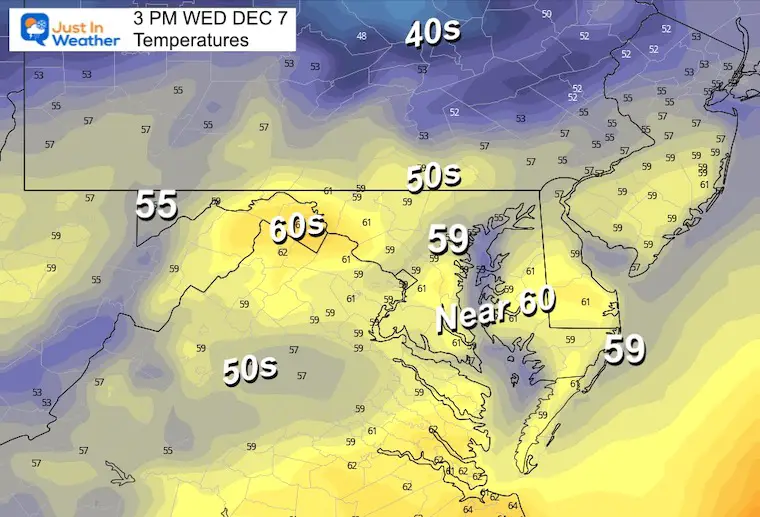 Subscribe to for eMail Alerts
Weather posts straight to your inbox
Sign up and be the first to know!
CLIMATE DATA
TODAY December 7
Normal Low in Baltimore:  31ºF
Record 6ºF in 2002
SNOW: 0.8 inches in 1969
Normal High in Baltimore: 50ºF
Record 77ºF 1998
Thursday Temperatures
Morning
Not much movement on the thermometers.
Afternoon
Still a little above average.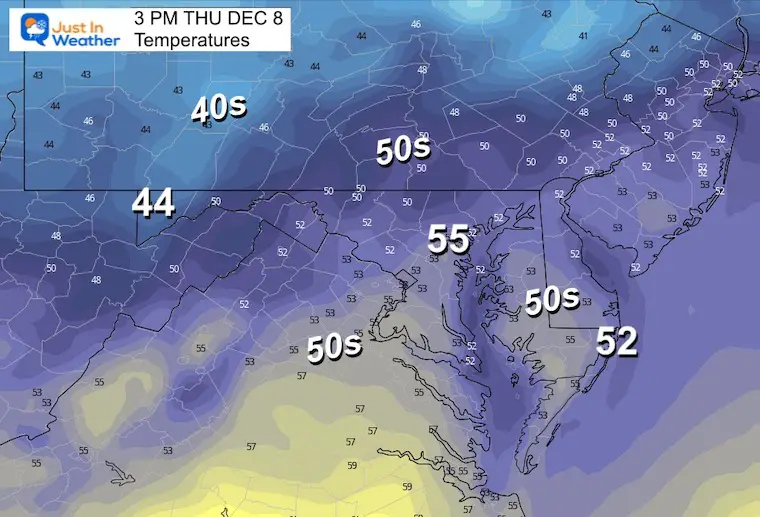 Looking Ahead
ECMWF Model: Through Friday Evening
After today's rain, we will watch the next impulse for Friday. I have stopped this at 10 PM Friday night with light snow entering the middle of our region. 
I have been following this event for the anticipation of the magic with a first snowfall. It has been a light event and not expected to amount to much, let alone stick. The latest run looks very light, but I am still not 'calling' it until later today for what I believe we can legitimately expect. So, we will watch together. 
Last Night I Showed This
The GFS Model had joined the European Model. This is simply to show the chance of snow falling in central Maryland. Not an indication of stickage or amounts.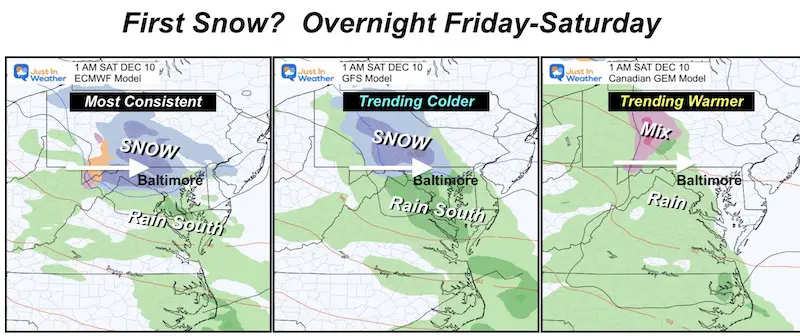 Jet Stream: Sunday Dec 11 to Friday Dec 16
The European Model shows the evolution of the cold air. The attempt this weekend is the reason for the Friday night and Sunday event, but seems to be running into a challenge. Next week we see a stronger force resulting in cold air dominating the Eastern US.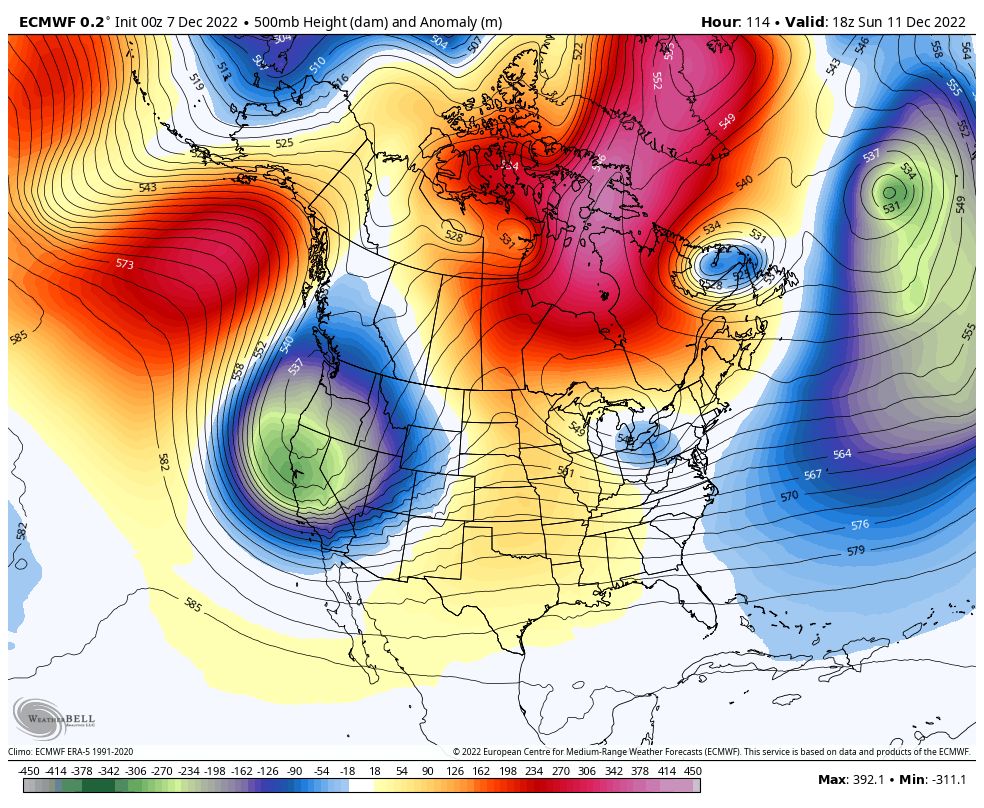 7 Day Forecast
I need to reinforce that I am still tracking the chance for light snow overnight Friday night, but it will be in the dark hours and a light event.
Waiting for the very cold air? So am I. The jet steam I showed above indicates it is on the way… just out of the scope of this 7-Day outlook.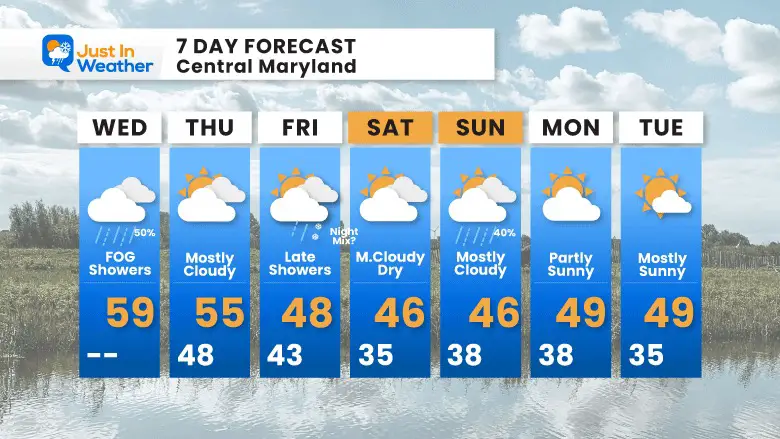 My Winter Outlook: Not A Typical La Niña!
I see many factors to support colder influence with multiple systems. Early and later in winter. Check it out.
Winter Outlook 2023 For Snow Not Typical La Niña Plus Polar Vortex Disruption
Also See The Winter Outlook Series:
Atmospheric Memory Suggests Active Winter Storm Pattern Outlook
Winter Outlook 2023 From NOAA Very Different Than Farmers Almanacs
Farmer's Almanac Comparison
Winter Outlook 2023 Early Look At Snow From Two Farmers Almanacs
Triple Dip La Niña Winter
CONNECTION TO WINTER?
If you want a snowy winter, this is what you might want to look for in the rest of the tropical season. (You might be seeing a lot of commercial snow removal people out this Winter).
Record August For No Named Tropical Storms: Closer Look At Snow Following
Wooly Bear Caterpillars
Persimmon Seeds
Click to see Top 20 and MORE
Winter Weather Folklore Top 20 And More Outlook Signals From Nature For Cold And Snow
Faith in the Flakes Gear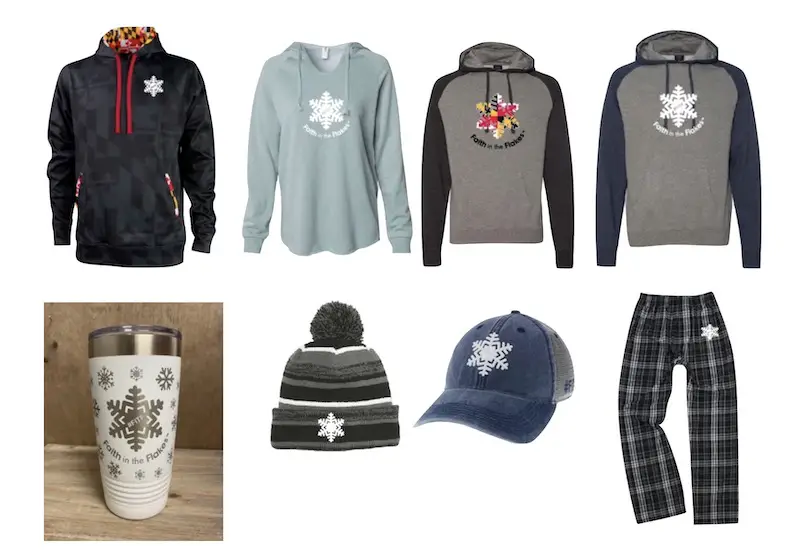 SNOWSTIX – Available Now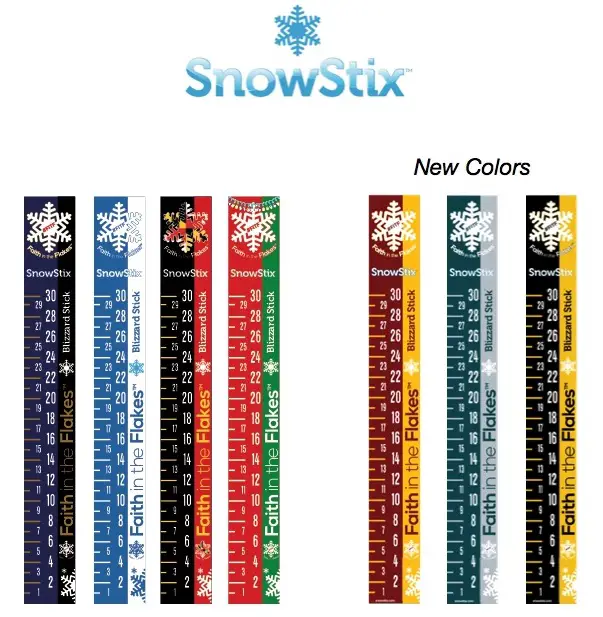 Normals And Records: Maryland and Baltimore Climate History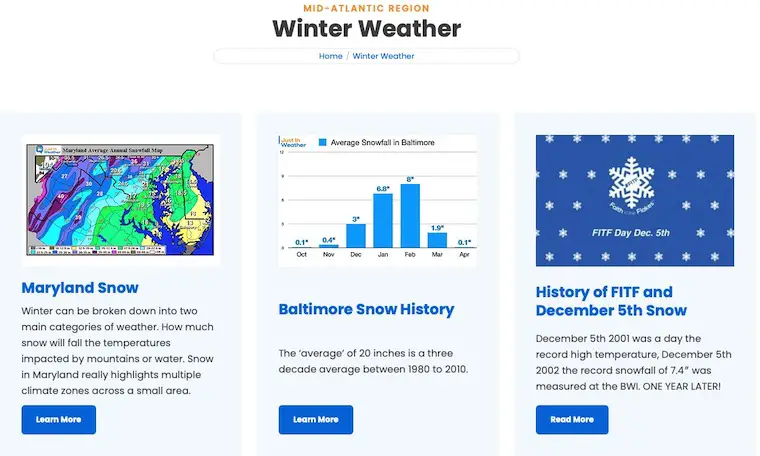 STEM Assemblies/In School Fields Trips Are Back
Click to see more and 'Book' a visit to your school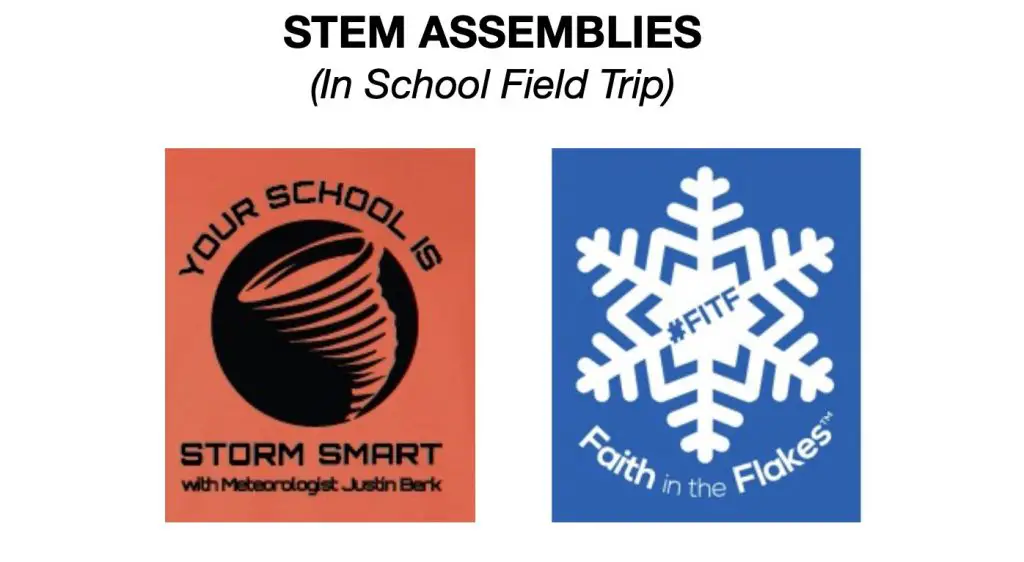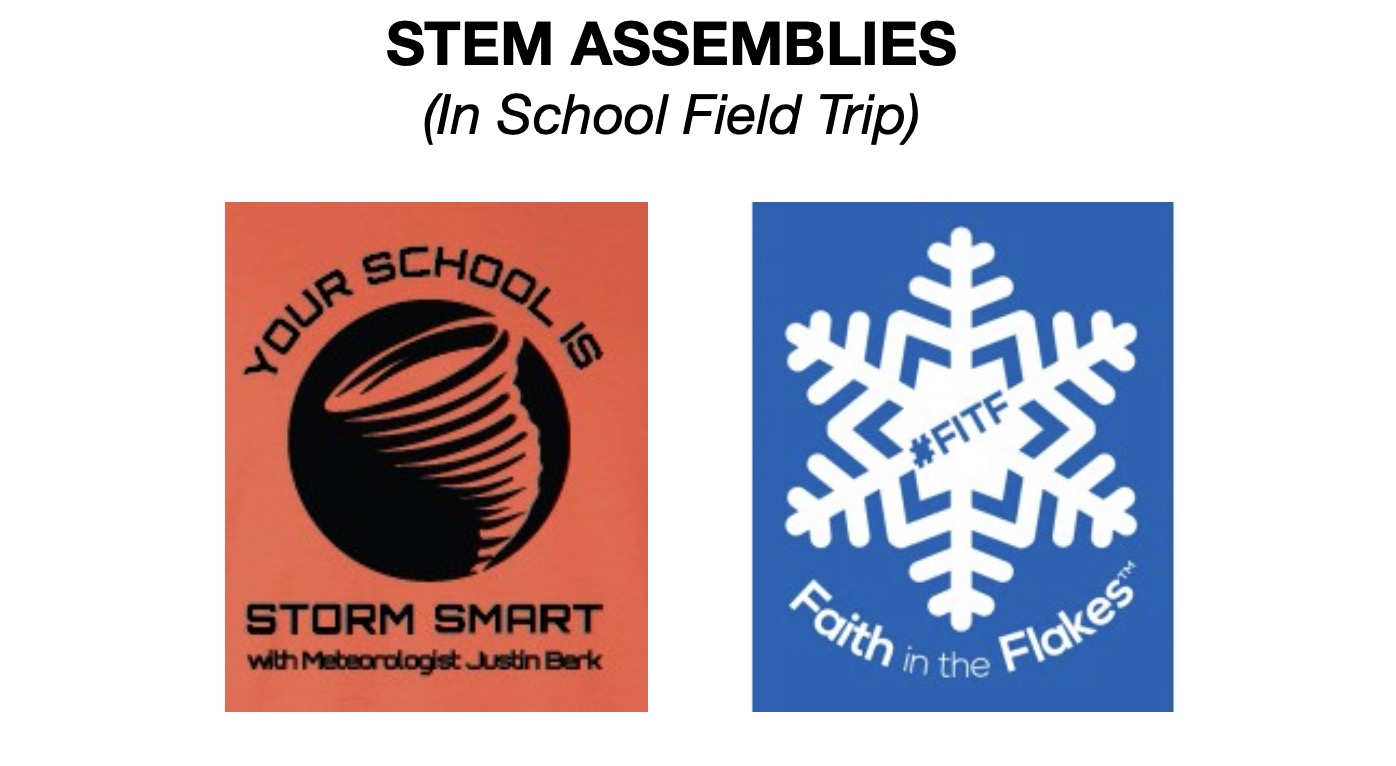 Please share your thoughts, best weather pics/videos, or just keep in touch via social media