Tuesday Night Update: European Model Consistent With Snow As GFS Joins In Friday Night
Maryland Weather
Outlook
Winter Weather
Forecast
Justin Berk
Dec 6, 2022
8:11 pm
0
December 6 2022
Tuesday Night Update 
I want to repeat what I wrote in my afternoon report, which showed the GFS Model trending colder. As you read the following, please note this is a one model update to follow in the series of reports for signals of winter weather. This is expected to be a light precipitation event, but the timing could lead to the first stickage of snow for some areas.
This is NOT a forecast and definitely not a promise. But if we continue to see snow on the Wednesday model suite, then we can take this seriously. Always use extra caution with the first event of the winter season. 
What we see is that the European Model has been consistent for 3 days showing snow to start the weekend. Earlier I showed the American GFS Model, (which had been the warmest of our three main model guidance packages), is now showing a colder intrusion and some nearby snow entering the weekend.
Model Comparison: Two Out Of Three Ain't Bad
European ECMWF: Consistently showing snow
GFS: Was the warmest, now trending colder
Canadian GEM: Was the middle, now the warmer rain model.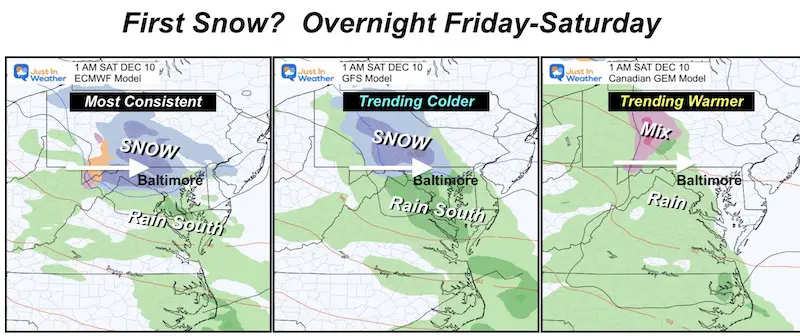 Tuesday Evening Surface Weather
This complex frontal boundary and cold air damming is the reason for our rain, drizzle, and fog today. More will continue on Wednesday.  See the forecast animation below to see how this track is teed up for the next system to develop and head our way Friday.
There is plenty of cold air in the Northern Plains just waiting for something to push it east.
ECMWF Model Simulation: Wednesday Morning To Saturday Afternoon
I am sorry to say, but more drizzle and showers will continue on Wednesday. Thursday will be our break, then on Friday showers try to return late.
The 'show' if you will, is expected to be late Friday and overnight, ending before sunrise on Saturday. I will show a close up view below.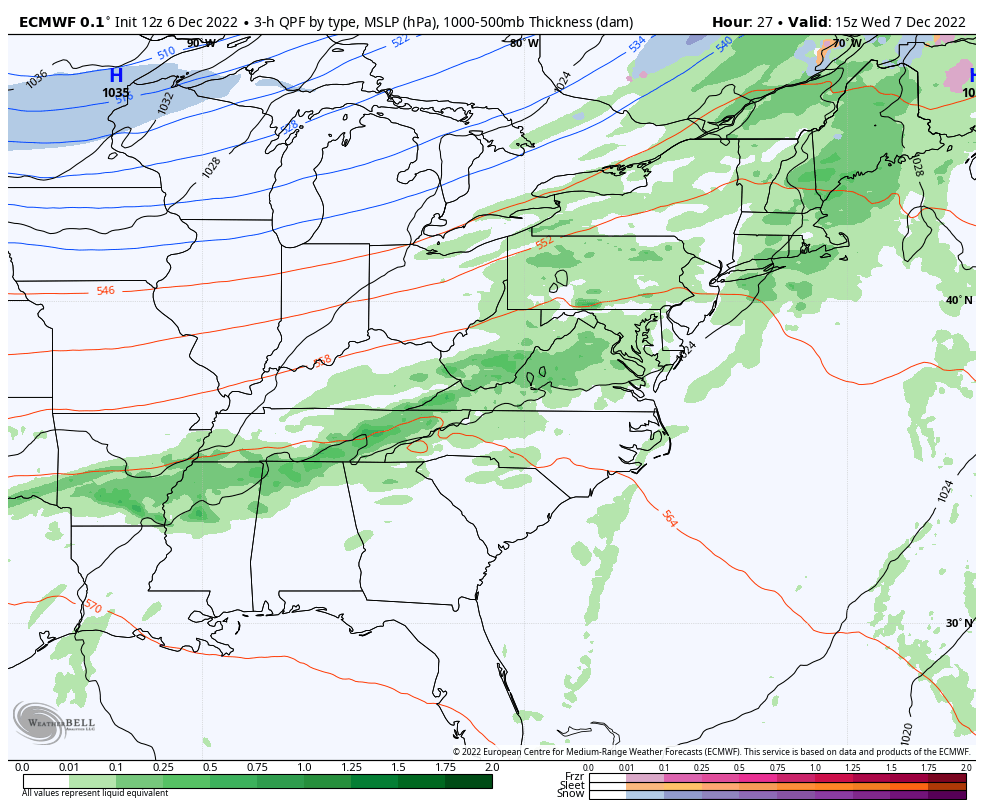 Close Up ECMWF: Friday 1 PM to Saturday 1 PM
See the time stamps below to highlight the key frames for snow and where is more likely to see it.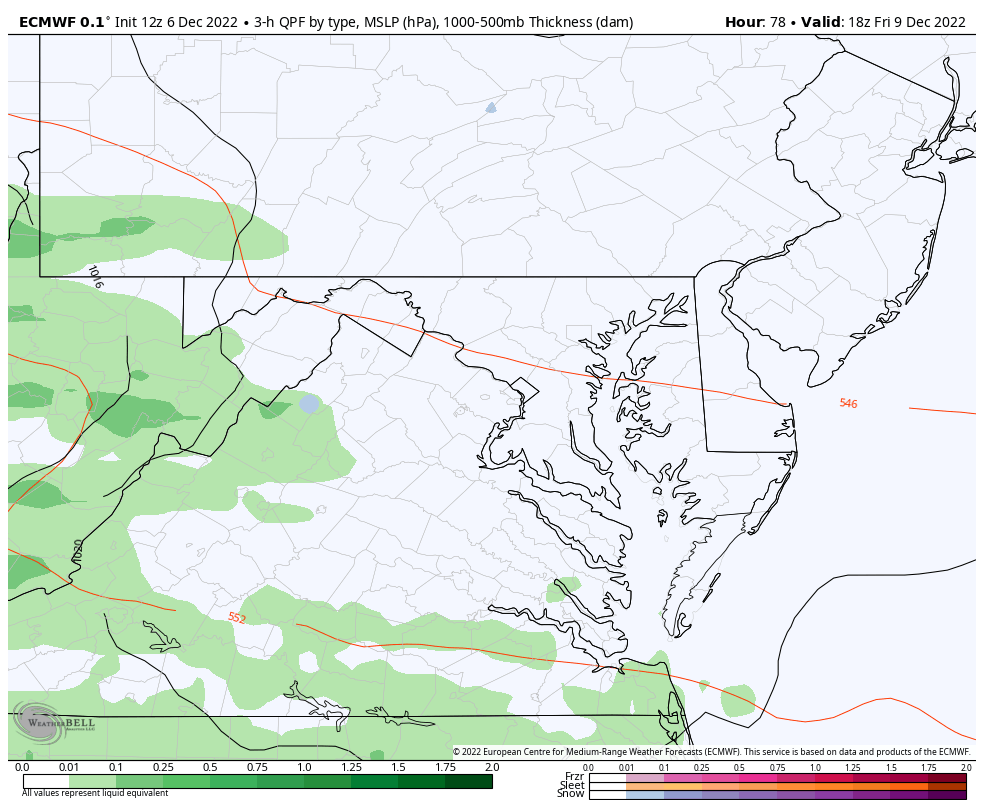 Friday Night
While some flakes are shown to mix in the afternoon, this night time frame highlights mainly near and north of I-70 with the best chance for light snow. 
Steadier snow in the mountains of PA, while an icy mix in far western Maryland.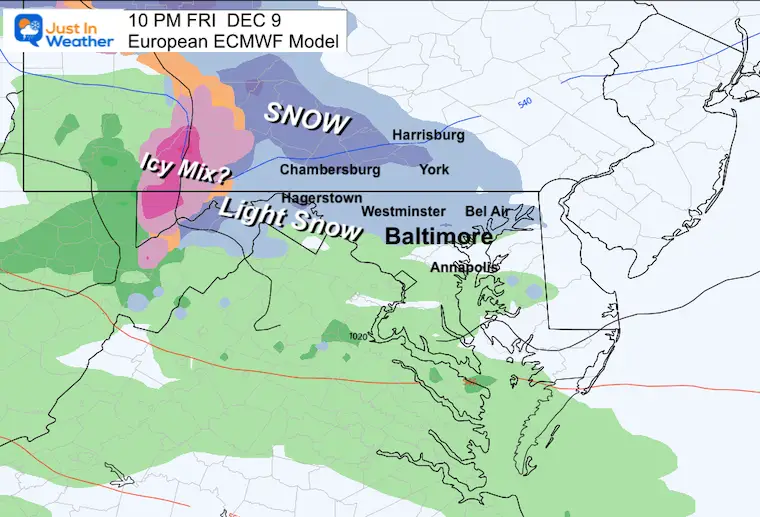 EARLY Saturday Morning
1 AM
If this model is correct, the heaviest snow will fall overnight, for a couple of hours. This may include Carroll, western Howard and Montgomery, to Frederick Counties and the mountains. Plus north into Southern Pennsylvania.
Temps will be marginal for stickage, with the best chance on grassy areas to at least get a coating to some minor accumulation.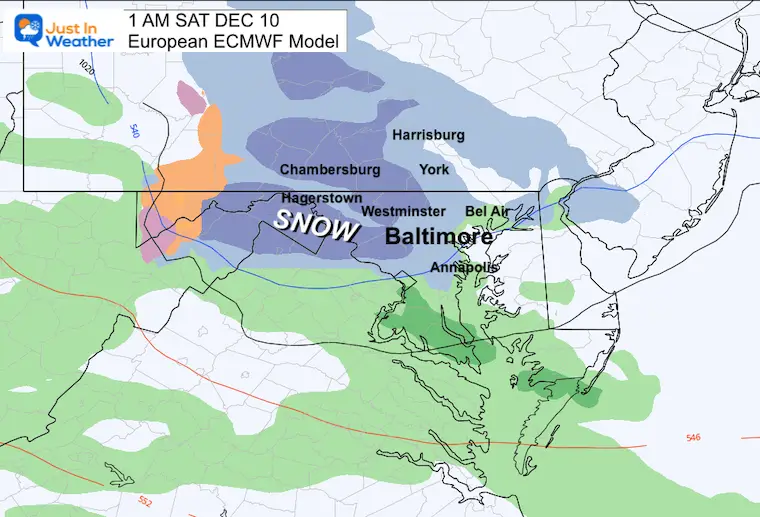 4 AM
The signal for snow around the Baltimore beltway, but really hard to suggest much will stick around the city.  Getting flakes to actually fall here is the first challenge.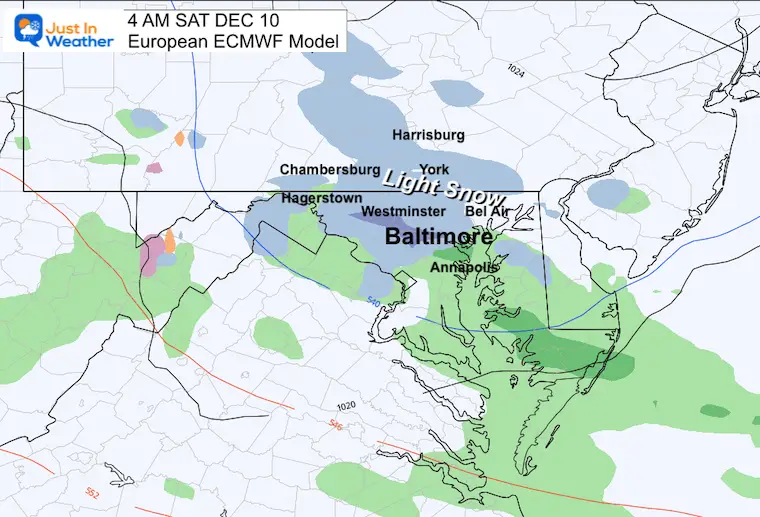 7 AM
This quick system will be done!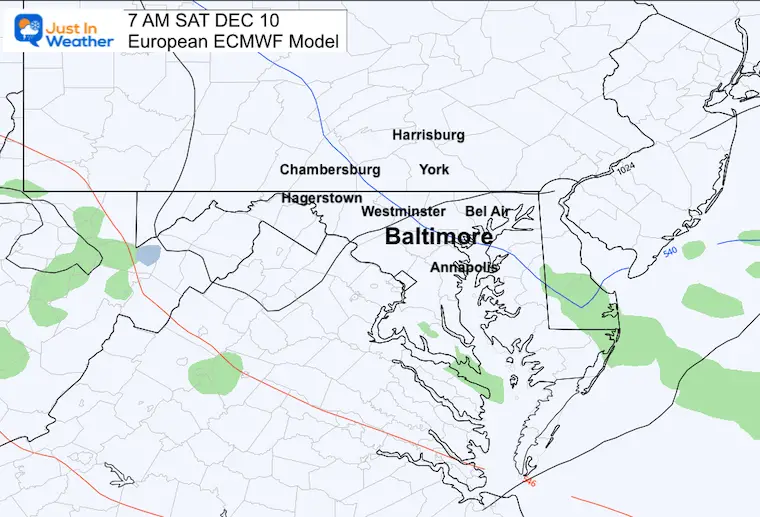 Low Temperatures
If we follow this European solution, then the bulk of the region will remain just above freezing. That would mean roads stay wet, but grassy areas could get stickage.
The exceptions may be the higher elevations of northern Frederick County, and icy in far western Maryland.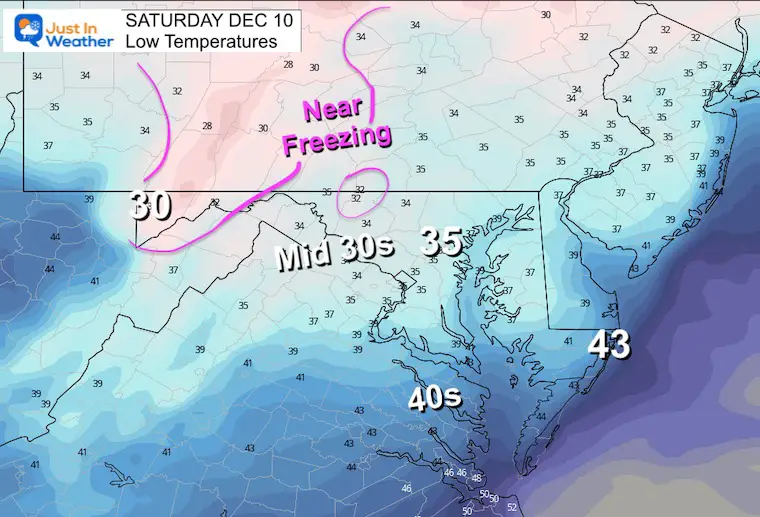 Notes:
Simplifying the model suite, we see a 2/3 chance or snow to fall Friday night. Generally speaking it would be a light event for a few hours, but perhaps a brief moderate snow falling after midnight inland.
This is just an inside look at the latest model update. It is NOT a promise, nor should it be.
What I have seen and been showing you are the trends. The European Model has shown a steady hand, adding more confidence. With the American GFS Model following in line, there is more support to buy into the belief in the snow.  That GFS is the model most weather apps use, so if your area is in the snow zone, it could have it shown up on your app already or soon.
I always use extra caution with the first winter event.  If we continue to see snow and the consistency on the Wednesday model runs, then I will feel more comfortable starting to suggest any impact. 
Faith in the Flakes.
FITF 
Subscribe For eMail Updates
Weather posts straight to your inbox
Sign up and be the first to know!
NEW REPORTS
Comparing The Snow In Decembers With Similar Patterns
Comparing December Cold Pattern Forecast To Snow In Similar Analog Years
December Outlook Trending Colder For Start Of Meteorological Winter
NEW Faith In The Flakes Gear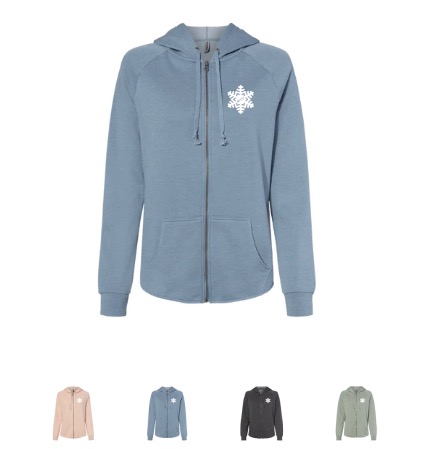 My Winter Outlook: Not A Typical La Niña!
I see many factors to support colder influence with multiple systems. Early and later in winter. Check it out.
Winter Outlook 2023 For Snow Not Typical La Niña Plus Polar Vortex Disruption
Also See The Winter Outlook Series:
Atmospheric Memory Suggests Active Winter Storm Pattern Outlook
Winter Outlook 2023 From NOAA Very Different Than Farmers Almanacs
Farmer's Almanac Comparison
Winter Outlook 2023 Early Look At Snow From Two Farmers Almanacs
Triple Dip La Niña Winter
CONNECTION TO WINTER?
If you want a snowy winter, this is what you might want to look for in the rest of the tropical season. (You might be seeing a lot of commercial snow removal people out this Winter).
Record August For No Named Tropical Storms: Closer Look At Snow Following
Wooly Bear Caterpillars
Persimmon Seeds
Click to see Top 20 and MORE
Winter Weather Folklore Top 20 And More Outlook Signals From Nature For Cold And Snow
Faith in the Flakes Gear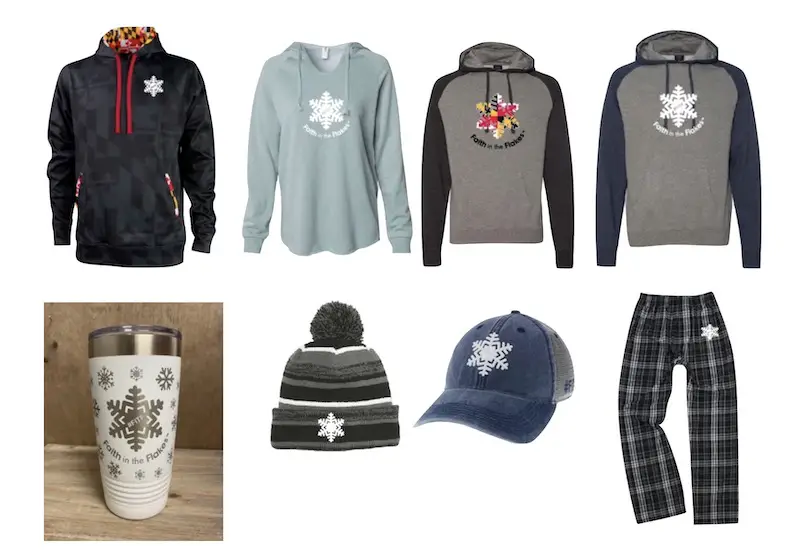 SNOWSTIX – Available Now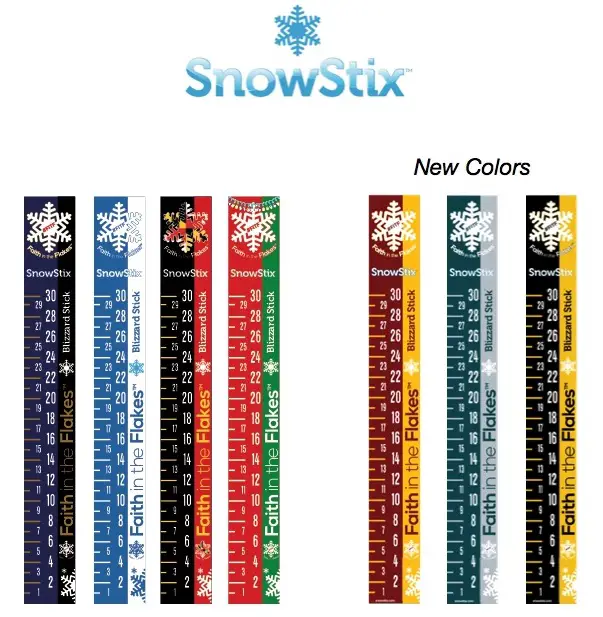 Normals And Records: Maryland and Baltimore Climate History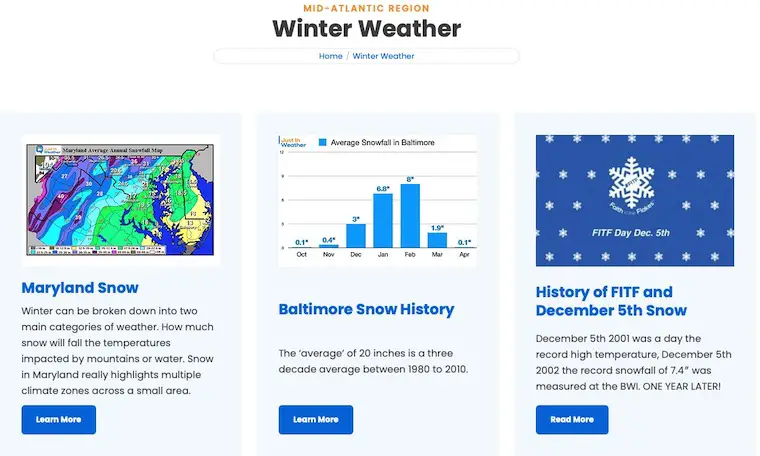 STEM Assemblies/In School Fields Trips Are Back
Click to see more and 'Book' a visit to your school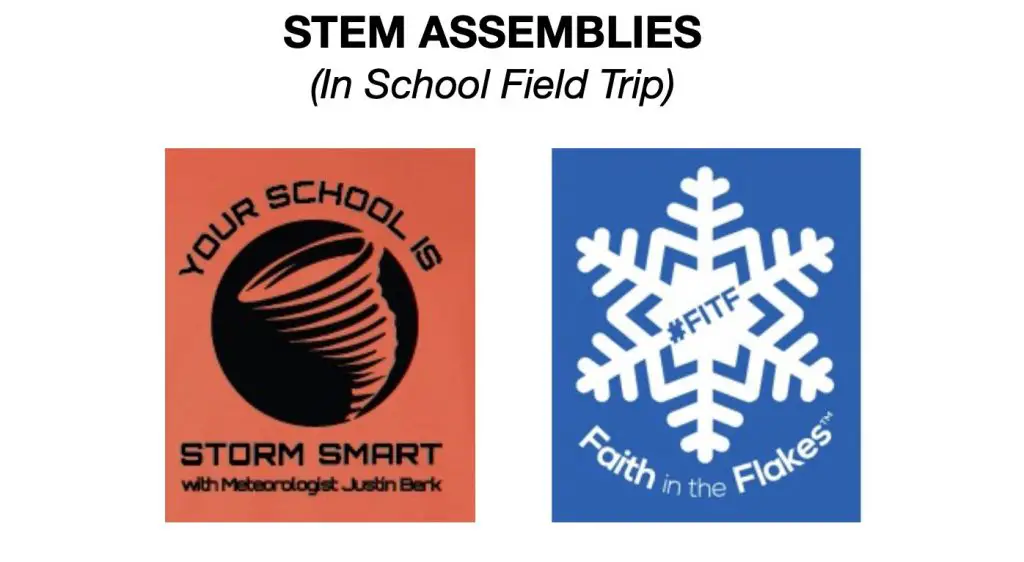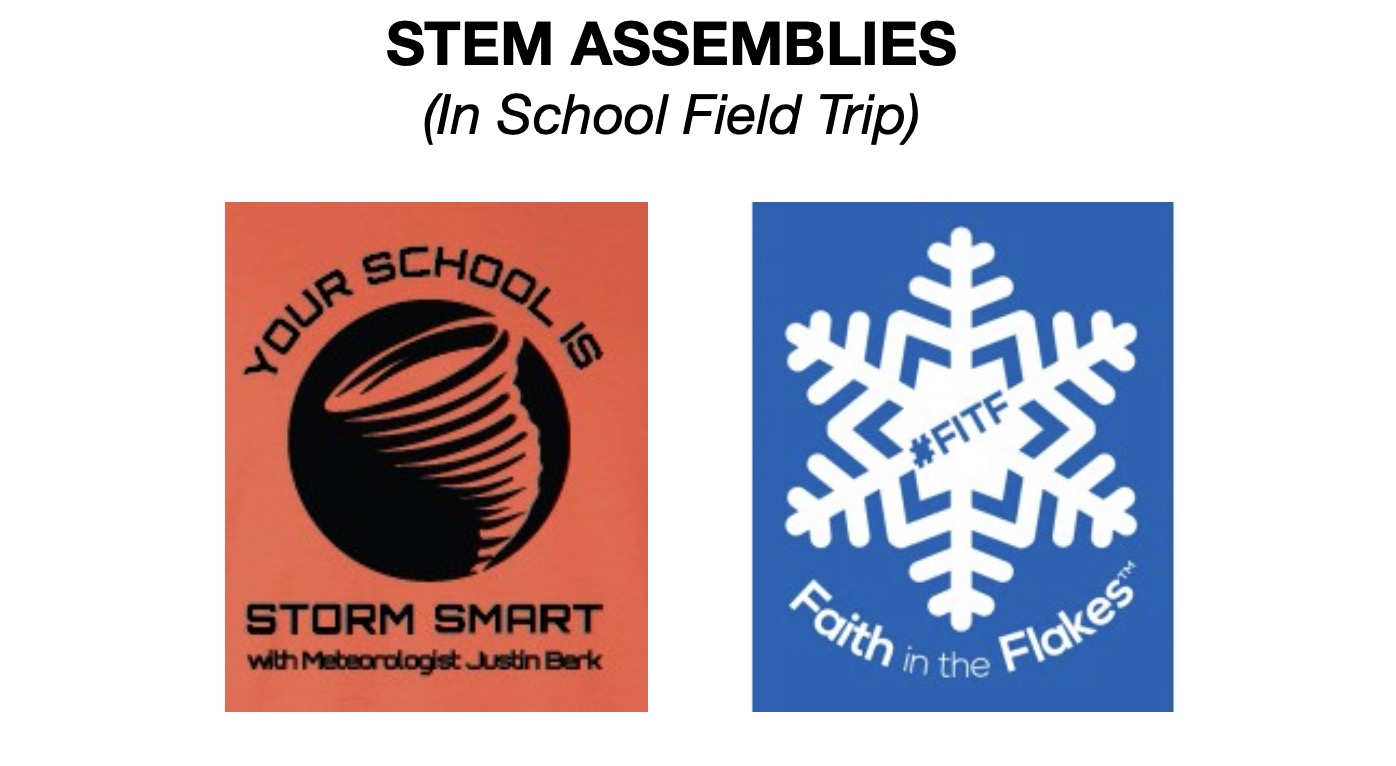 Please share your thoughts, best weather pics/videos, or just keep in touch via social media