Chilly Weather Outlook Will Match Arrival Of Fall This Week
Maryland Weather
Outlook
climate data
Season
Forecast
Justin Berk
Sep 20, 2022
8:03 pm
0
Tuesday Evening September 20 
Are you ready for a break from this late summer heat? In the Mid Atlantic we have had a string of days in the mid to upper 80s, and that is about to change. In fact, a cold front will arrive on Thursday, the same day as the Autumnal Equinox. So Fall Officially begins at 9:03 PM September 22, and it will truly feel like it on Friday. This new pattern will also push Major Hurricane Fiona off the coast, along with newly named Tropical Storm Gaston. See that forecast below. 
Here's a quick look at the weather transition 
NOAA Temperature Outlook
The 6 to 10 day outlook for next week, starting Monday September 26, looks well below average. It is important to note that there may be some blips along the way, but the overall trend is going lower in a hurry!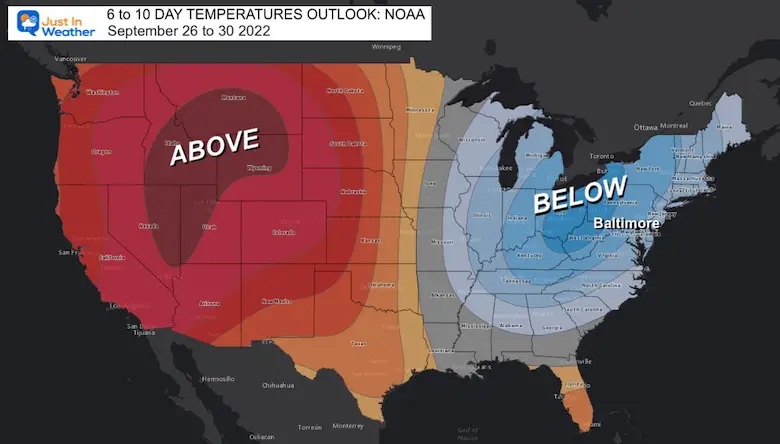 In Baltimore, 'average high' is in the mid 70s, but we may struggle to reach the 60s for a few days. Meanwhile, overnight lows will be in the 40s for many inland areas, especially away from the water.  The first 30s and frost deep in the mountains may also be on tap next week. 
Cold Front Thursday:
If you have been following my reports, then this may sound familiar: Models have been underplaying the timing and intensity of rain.  So the simulation below may not look like, much, which is why I have not plotted specifics yet. I simply want to show the movement and behavior of the rain with the front.
Radar Simulation: 8 AM to 8 PM Thursday
NAM 3 Km Model
Showers will develop mid morning in and around Baltimore, then intensify as it pushes into southern Maryland by later in the afternoon.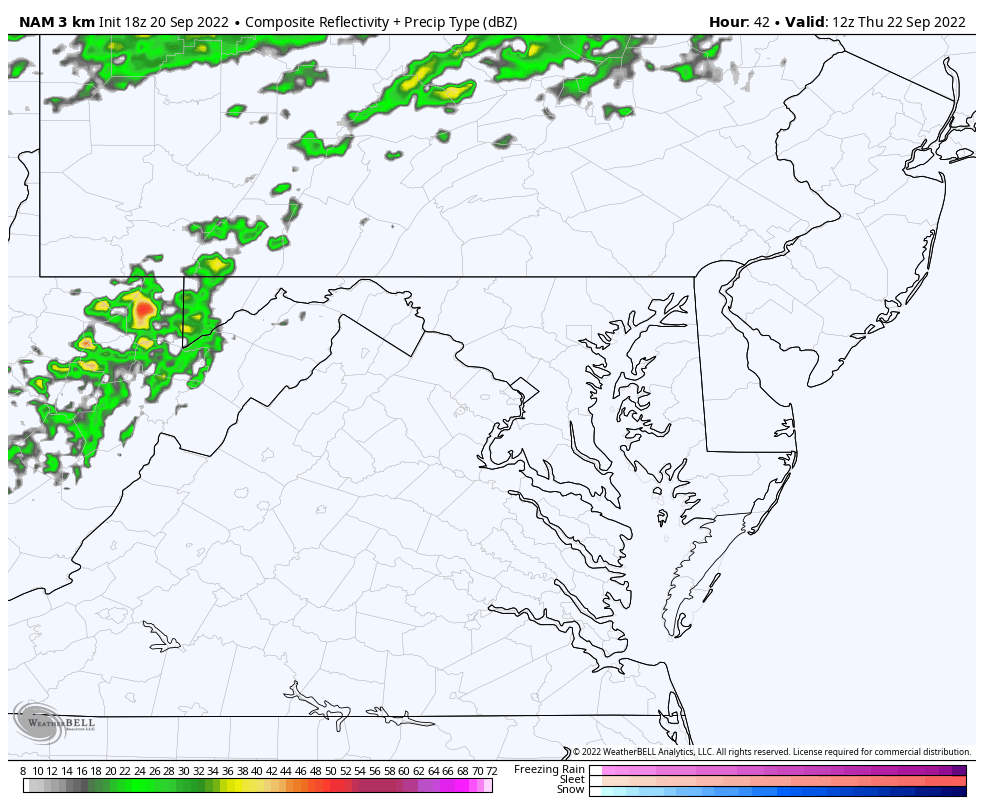 Wind Forecast: 8 AM to Midnight
Snapshot at 6 PM:
Winds from the Northwest will be 20 to 30 mph, with higher gusts.
Temperatures: 8 AM Thursday to 8 AM Friday
Ahead of the front temps will be well above average, but by Friday morning they will drop by at least 20 degrees.
Friday Morning Snapshot
Lower 50s for the cities, but 40s just inland, west and north. Plus even parts of interior Delmarva. 
Farther west, 30s are very likely in McHenry by Deep Creek Lake (elevation around 2,500 Ft). They may see the first frost of the season in Garrett County this week.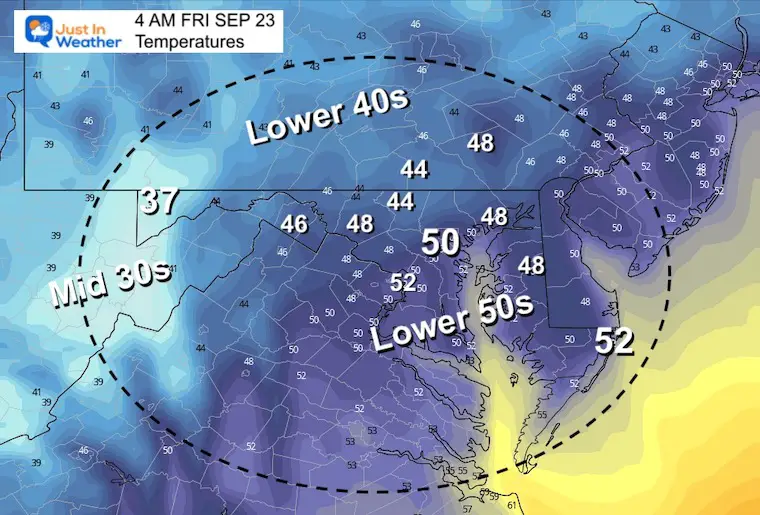 Temperatures Outlook
European Model Plot for Baltimore at BWI. It will be cooler, especially in the mornings inland away from the water.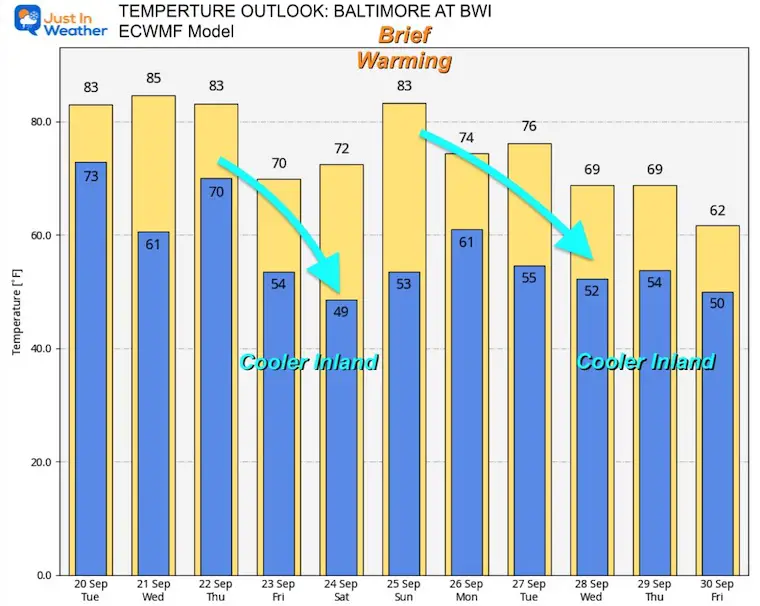 Weather Outlook: Pushing Hurricane Fiona Away
ECMWF Model 8 AM Thu to 8 PM Fri
That cold front will also sweep the coast and help turn Major Hurricane Fiona away from the US. That storm is forecast to reach Category 4 intensity and track closer to Bermuda.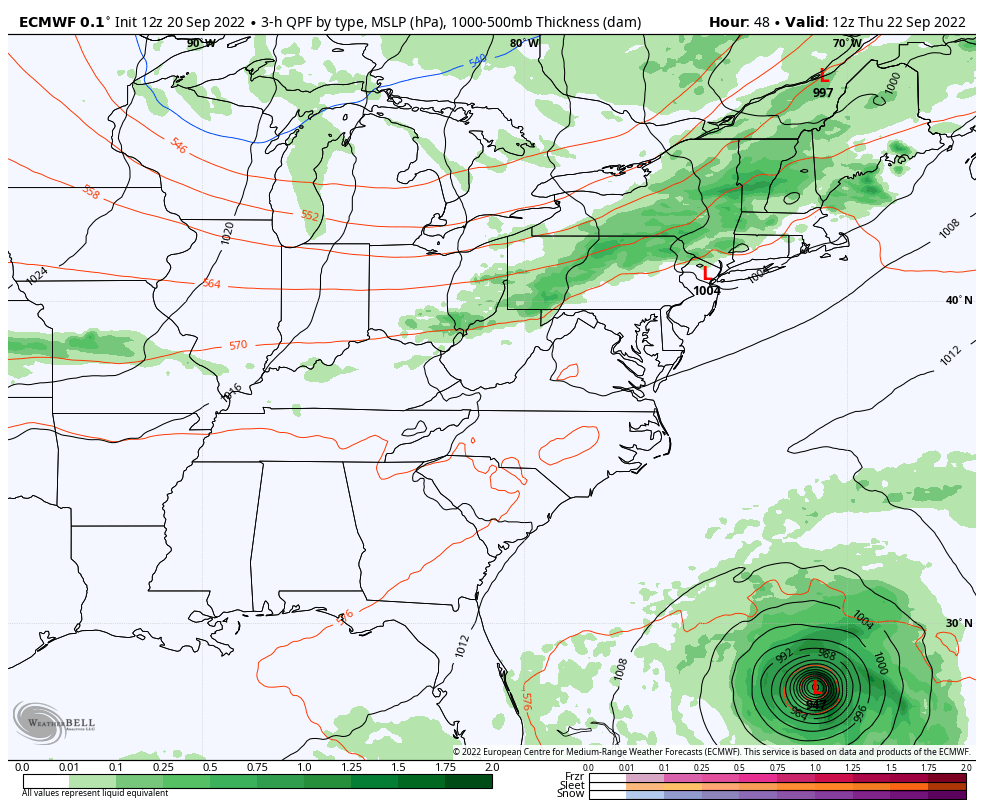 Hurricane Fiona Track
Hurricane Fiona is forecast to become a Category 4, then track close to Bermuda. 
The US East Coast will get rip currents and beach erosion.
Newly named Tropical Storm Gaston is farther east in the central Atlantic and no threat to land.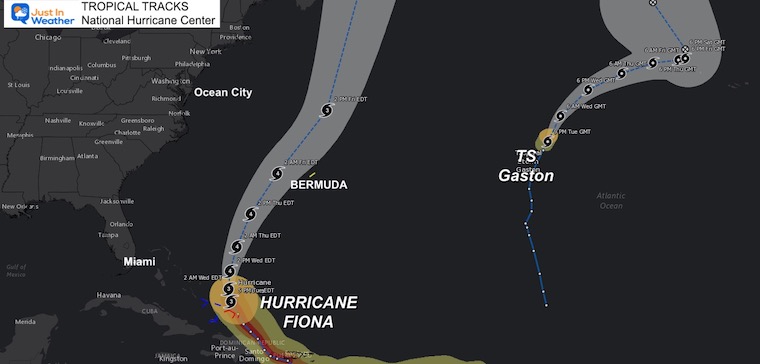 Weather posts straight to your inbox
Sign up and be the first to know!
September Begins Meteorological Autumn
Climate Data/Weather Stats For The Month
September Starts Meteorological Autumn: Weather Climate Stats For Maryland at Baltimore
STEM Assemblies/In School Fields Trips Are Back
Click to see more and 'Book' a visit to your school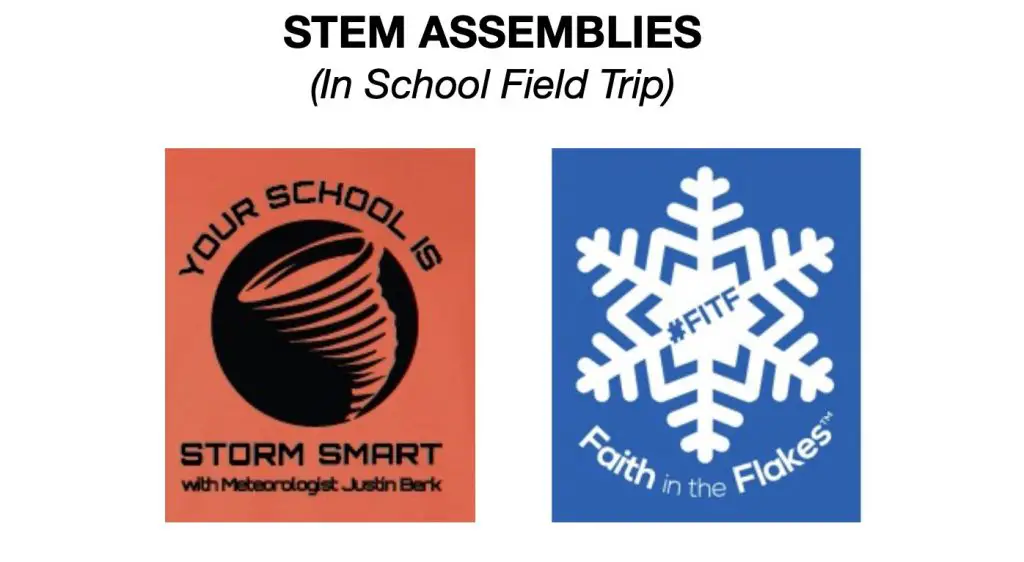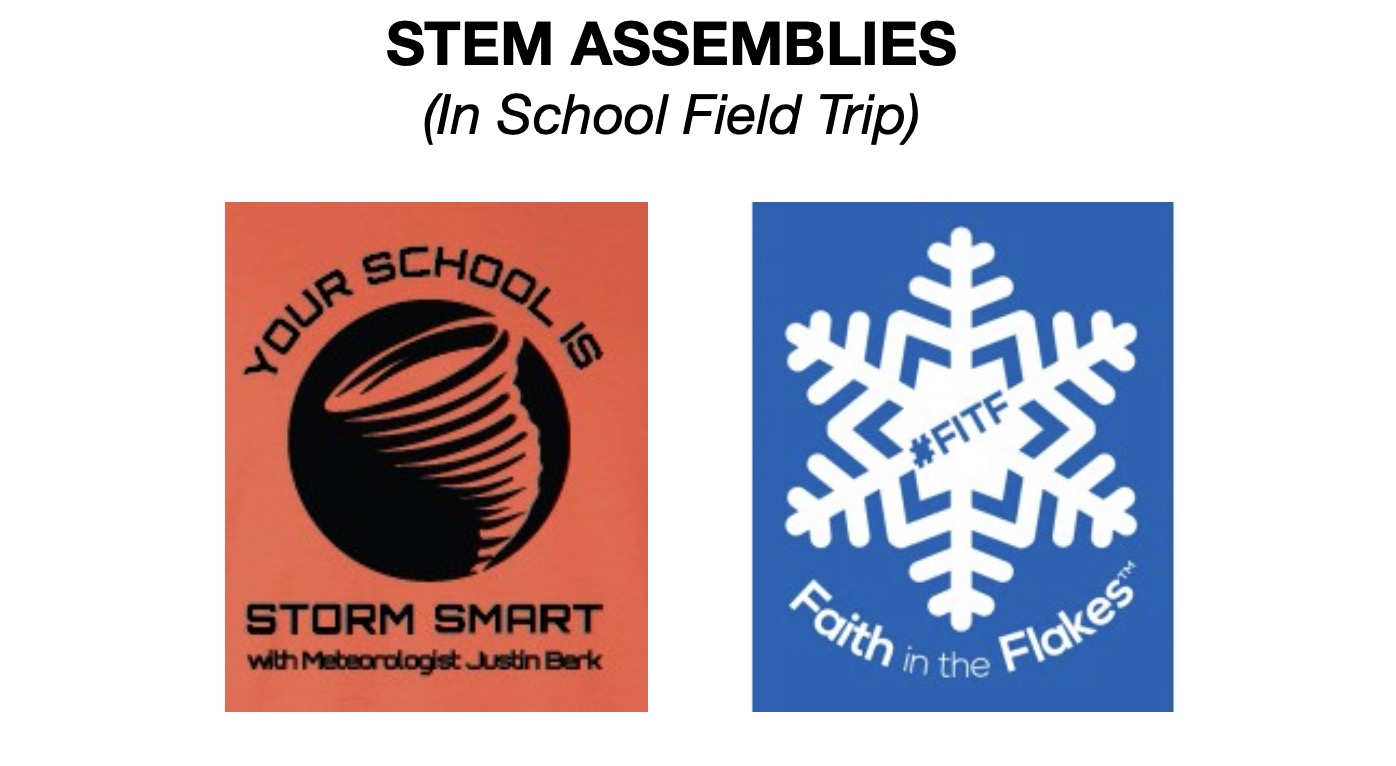 In Case You Missed It: Seem Early Winter Outlooks
Winter Outlook 2023 Early Look At Snow From Two Farmers Almanacs
COMPARE TO THE
 

PAST

If you want a snowy winter, this is what you might want to look for in the rest of the tropical season.
Record August For No Named Tropical Storms: Closer Look At Snow Following
Hurricane Season Forecast: June 1 Through November 30
NOAA 2022 Hurricane Forecast- Above Normal Again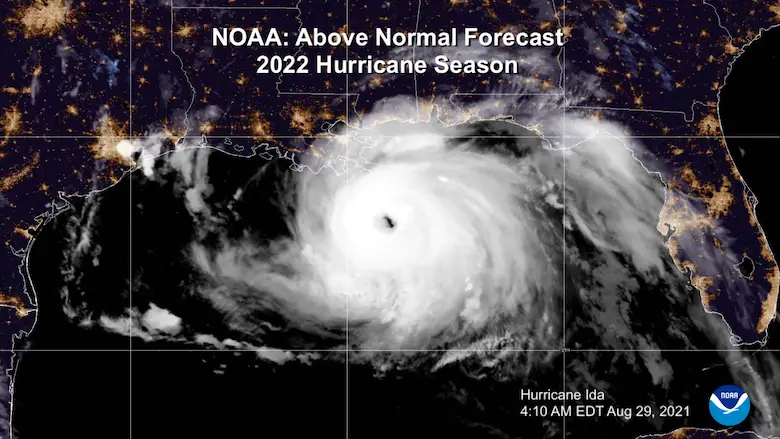 Forecast From Colorado State University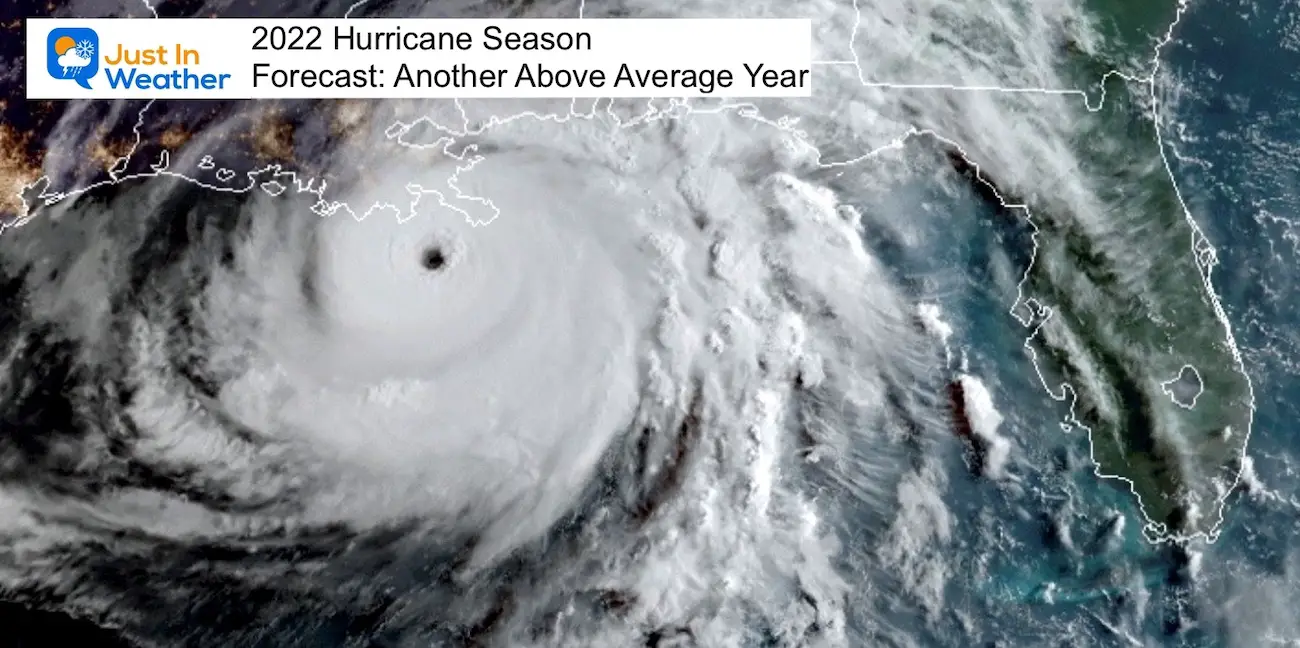 Related Posts
NOAA Study: Reducing Air Pollution INCREASED Tropical Storms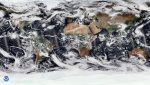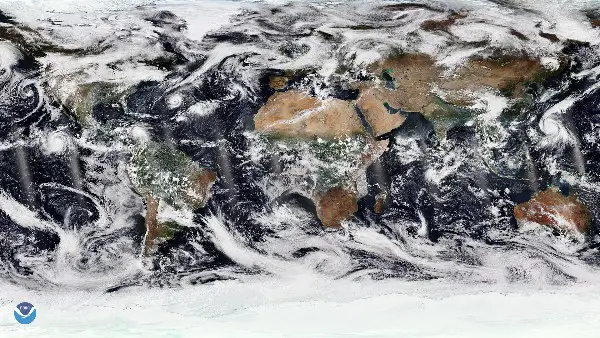 Atlantic Tropical History: Maps of Origin Regions Every 10 Days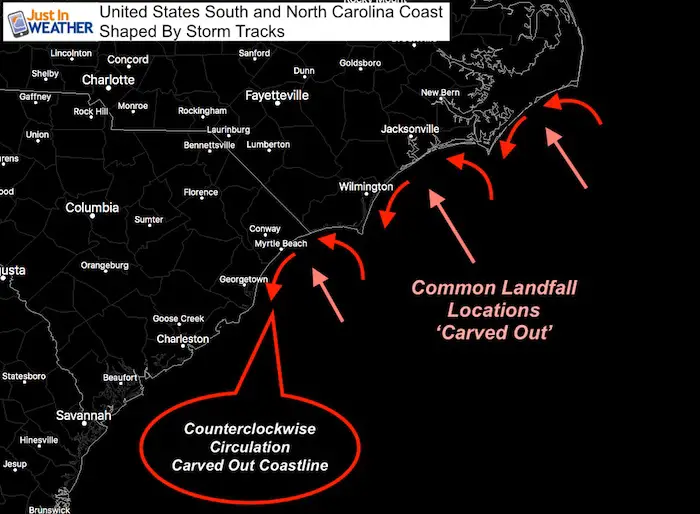 Rainbow Ice Cave In Mt Rainier
Rainbow Ice Cave In Mt. Rainier A Very Rare Find: Photos And Video
Please share your thoughts, best weather pics/videos, or just keep in touch via social media