September 6 Heavy Rain And Flooding This Morning
Flooding
climate data
Forecast
Warnings
Justin Berk
Sep 6, 2022
6:24 am
0
September 6 2022
Tuesday Morning Update 
This storm has organized better overnight and with that brought a more concentrated band of rain.  The heaviest rain will be this morning and as a result there has been some flooding. Doppler Radar has estimated 1.5 to 3 inches of rain has fallen. An additional inch is possible for many through noon.
This cold front will help to push the rain to the coast, but more showers may pop in the afternoon and tonight.  Then we spend a few days with Low Pressure off the coast keeping us with a cooler breeze.
Morning Temperatures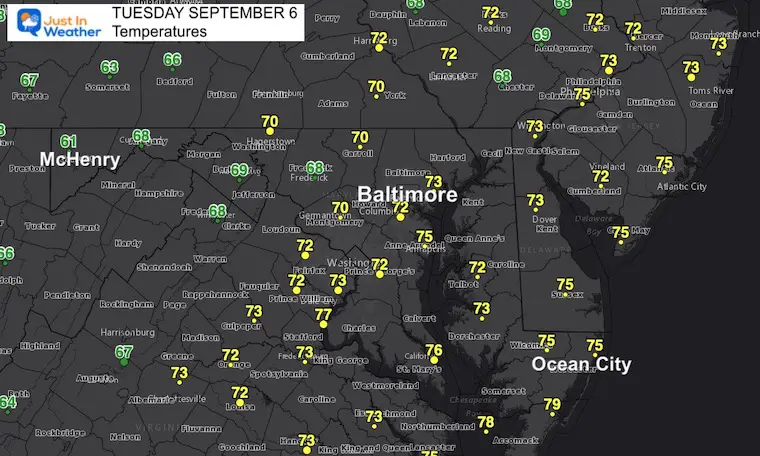 Doppler Radar Snapshot: 6:20 AM
The heavier rain is right on schedule for the morning commute.  Live Radar Widget is below…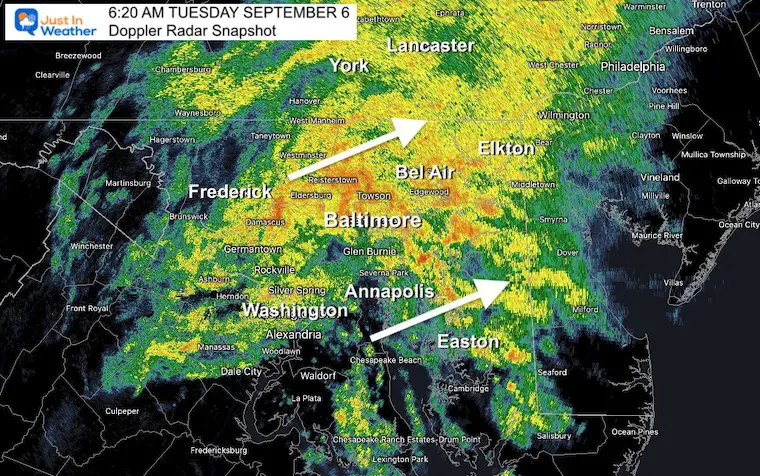 Morning Surface Weather
Low Pressure is centered in Central Maryland and this cold front is helping to give it extra spin as it gets a push to the coast. 
More on the Flood Alert below.
LIVE RADAR WIDGET
Flood Warning and Watch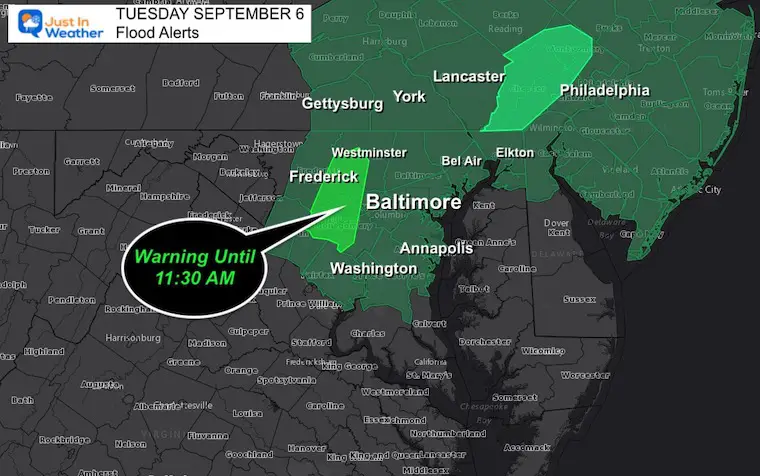 NWS Warning Info: 
AT 532 AM EDT, DOPPLER RADAR INDICATED HEAVY RAIN THAT IS
RESULTING 1 TO 1.5 INCHES PER HOUR. FLOODING IS ONGOING OR
EXPECTED TO BEGIN SHORTLY IN THE WARNED AREA. BETWEEN 1.5 AND
3 INCHES OF RAIN HAVE FALLEN.
– ADDITIONAL RAINFALL AMOUNTS OF 0.5 TO 1.5 INCHES ARE POSSIBLE
IN THE WARNED AREA.
– SOME LOCATIONS THAT WILL EXPERIENCE FLOODING INCLUDE…
GERMANTOWN… FREDERICK…
ROCKVILLE… GAITHERSBURG…
LEESBURG… OLNEY…
WESTMINSTER… DAMASCUS…
LOWES ISLAND… POOLESVILLE…
ASPEN HILL… POTOMAC…
NORTH BETHESDA… MONTGOMERY VILLAGE…
NORTH POTOMAC… BALLENGER CREEK…
REDLAND… GREAT FALLS…
MOUNT AIRY… WALKERSVILLE…
Radar Snapshot
The action this morning has been around Pittsburgh to State College, with more back in central Ohio. This is the active region that will slowly creep east today, but likely miss metro Baltimore to the Beaches. 
Radar Simulation: HRRR Model 8 AM to 10 PM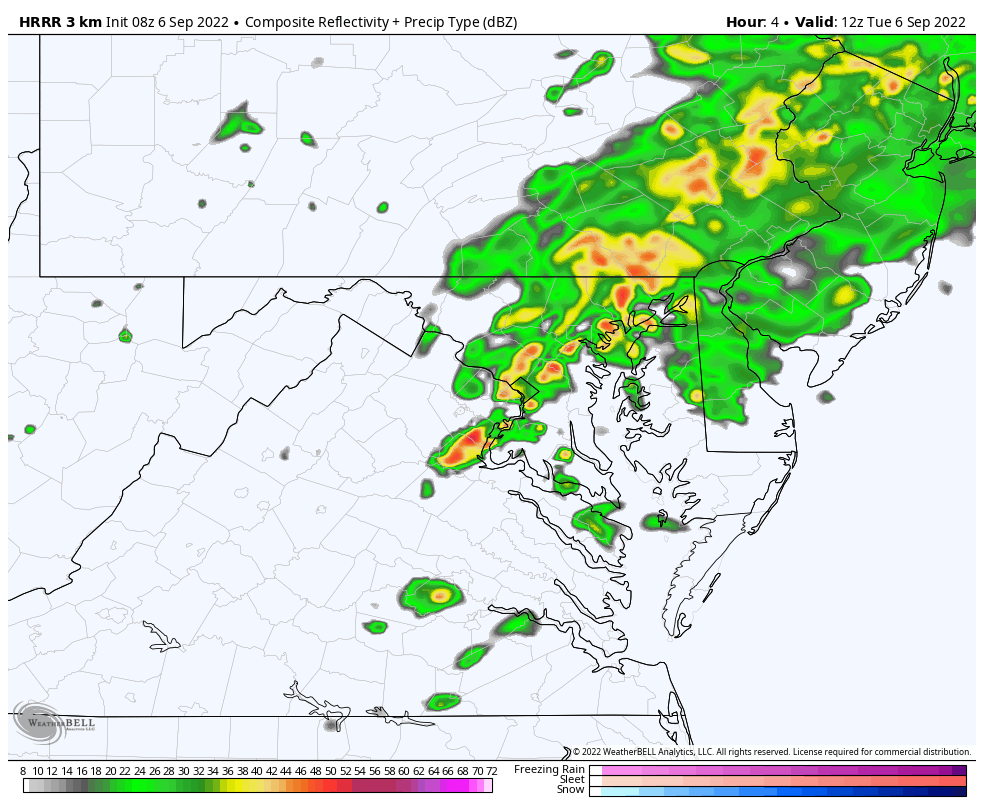 Afternoon Temperatures:
Temps may get a little bounce with a few peaks of sun afternoon.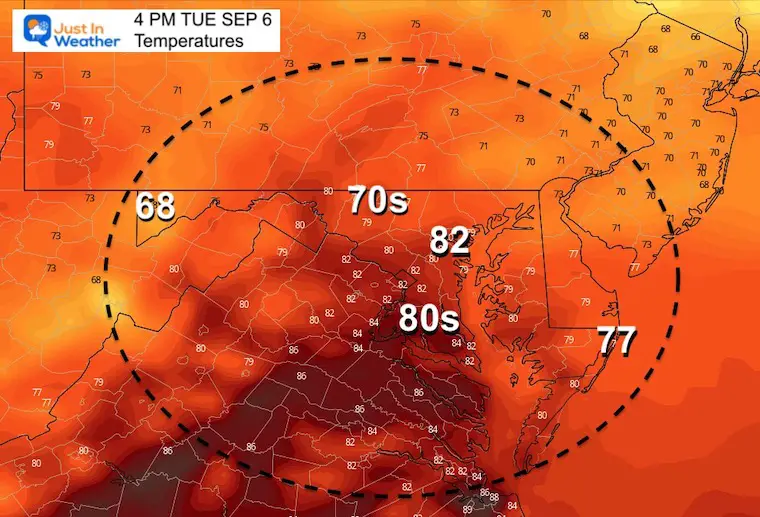 CLIMATE DATA
TODAY September 6
Normal Low in Baltimore:  62ºF
Record 46ºF in 1962
Normal High in Baltimore: 83ºF
Record 98ºF 1983
September Begins Meteorological Autumn
Climate Data/Weather Stats For The Month
September Starts Meteorological Autumn: Weather Climate Stats For Maryland at Baltimore
Weather posts straight to your inbox
Sign up and be the first to know!
Wednesday Temperatures
Morning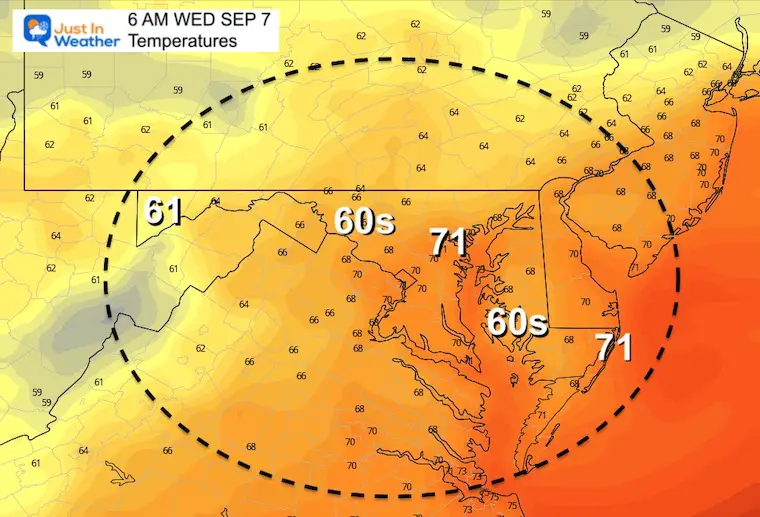 Afternoon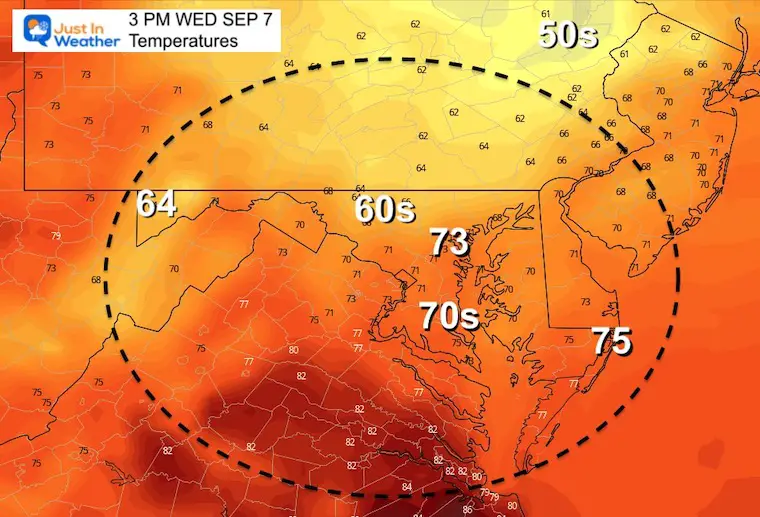 Wind Forecast
A firm Northeast breeze will keep cool and damp air in place. This will hold temps down and keep the risk of more clouds and showers all day.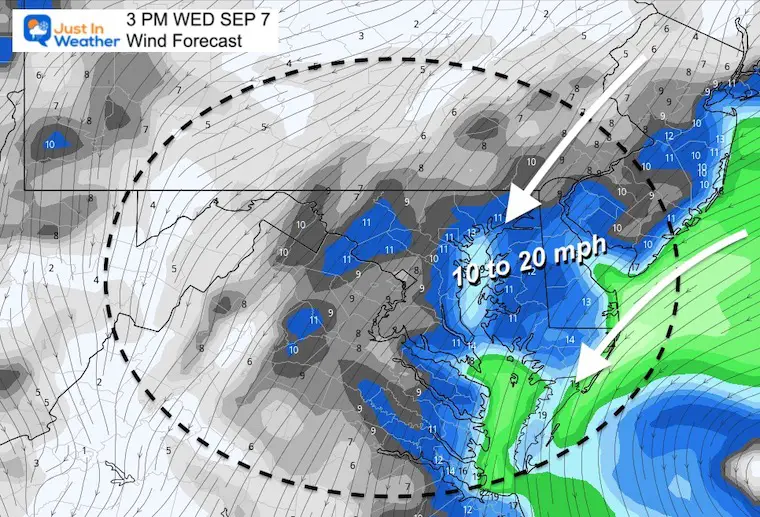 Wind Forecast: Tuesday Afternoon to Friday Afternoon
This helps show the developing storm forming off the coast and nearly stalling for a day, then slowly moving away and losing its grip on us.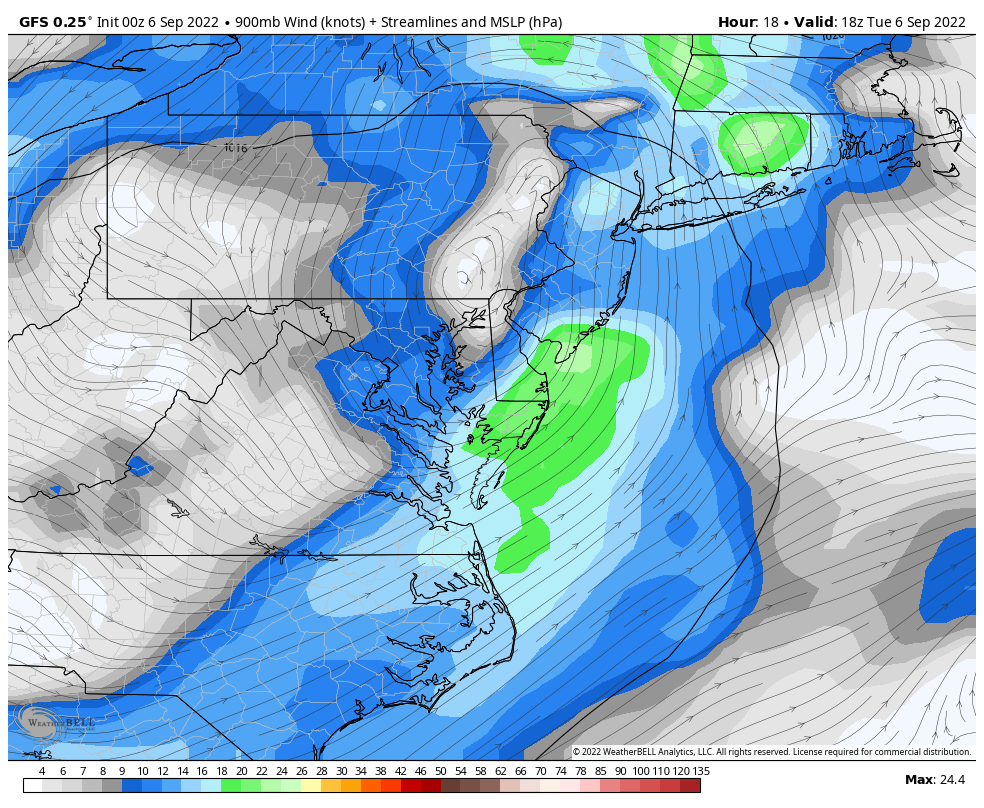 7 Day Forecast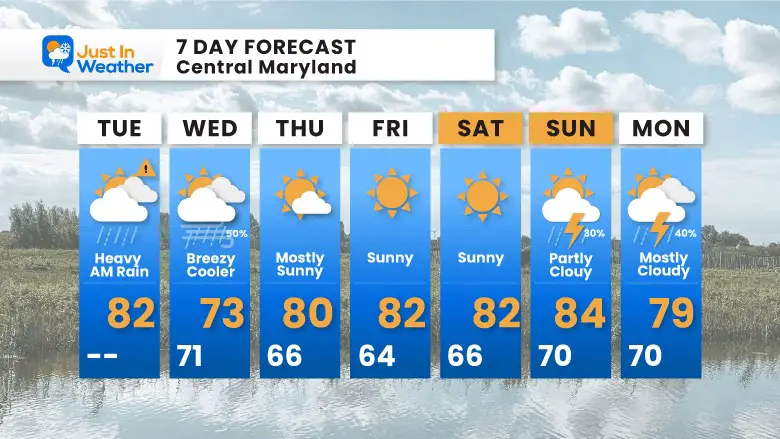 STEM Assemblies/In School Fields Trips Are Back
Click to see more and 'Book' a visit to your school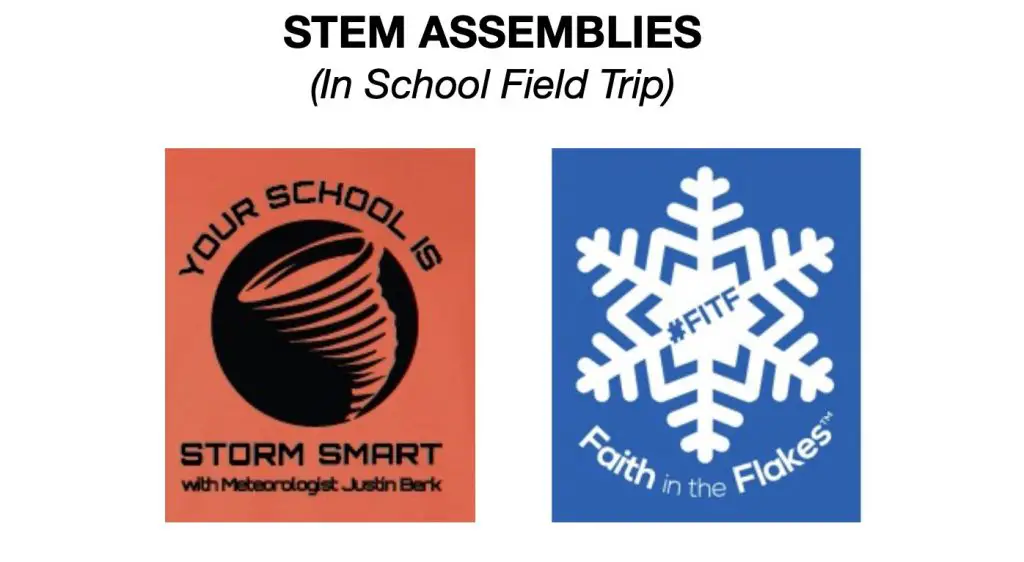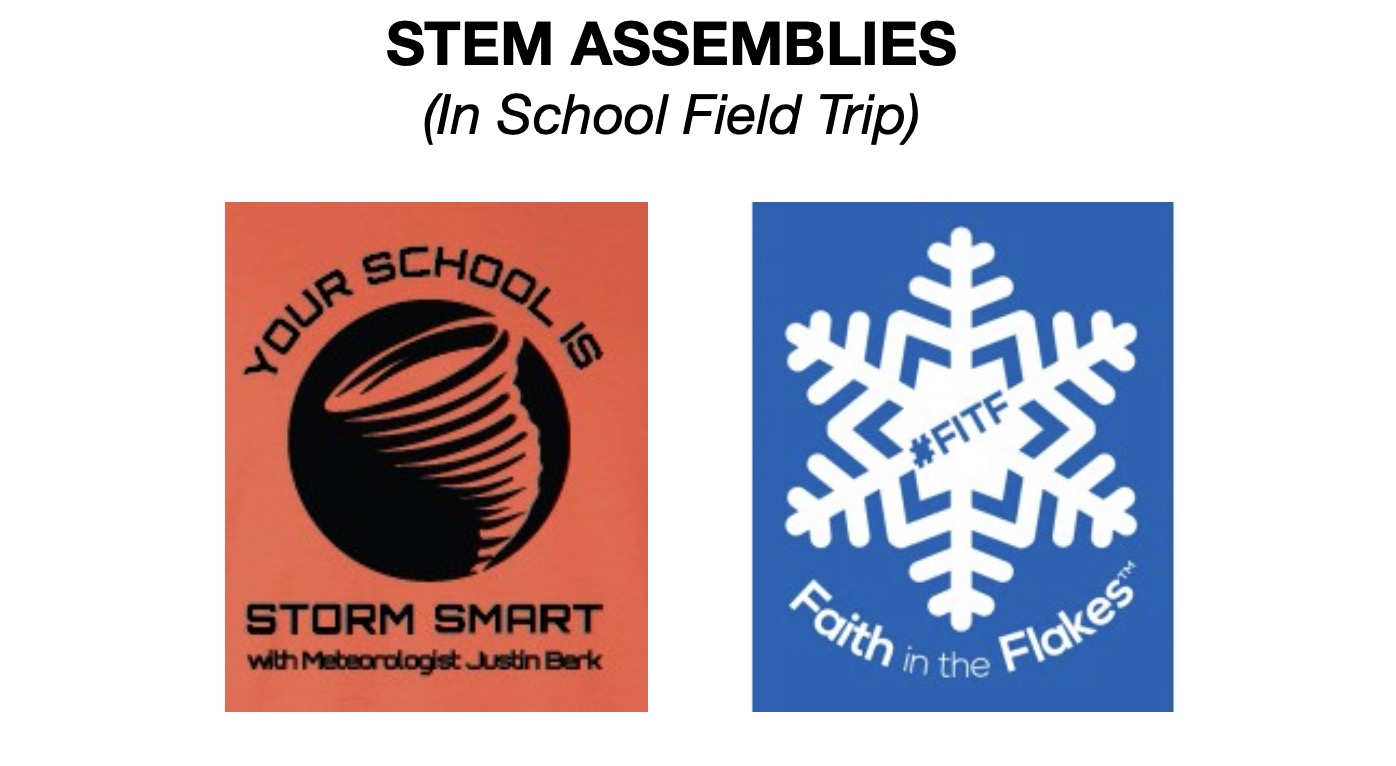 COMPARE TO THE  PAST
If you want a snowy winter, this is why you might want to look for in the rest of the tropical season.
Record August For No Named Tropical Storms: Closer Look At Snow Following
Hurricane Season Forecast: June 1 Through November 30
NOAA 2022 Hurricane Forecast- Above Normal Again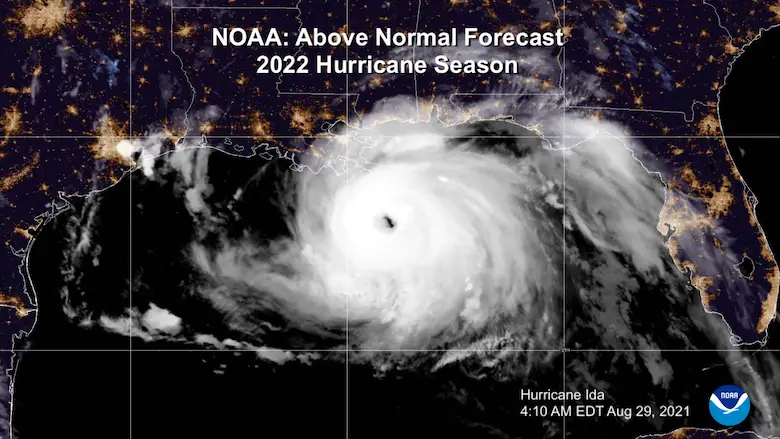 Forecast From Colorado State University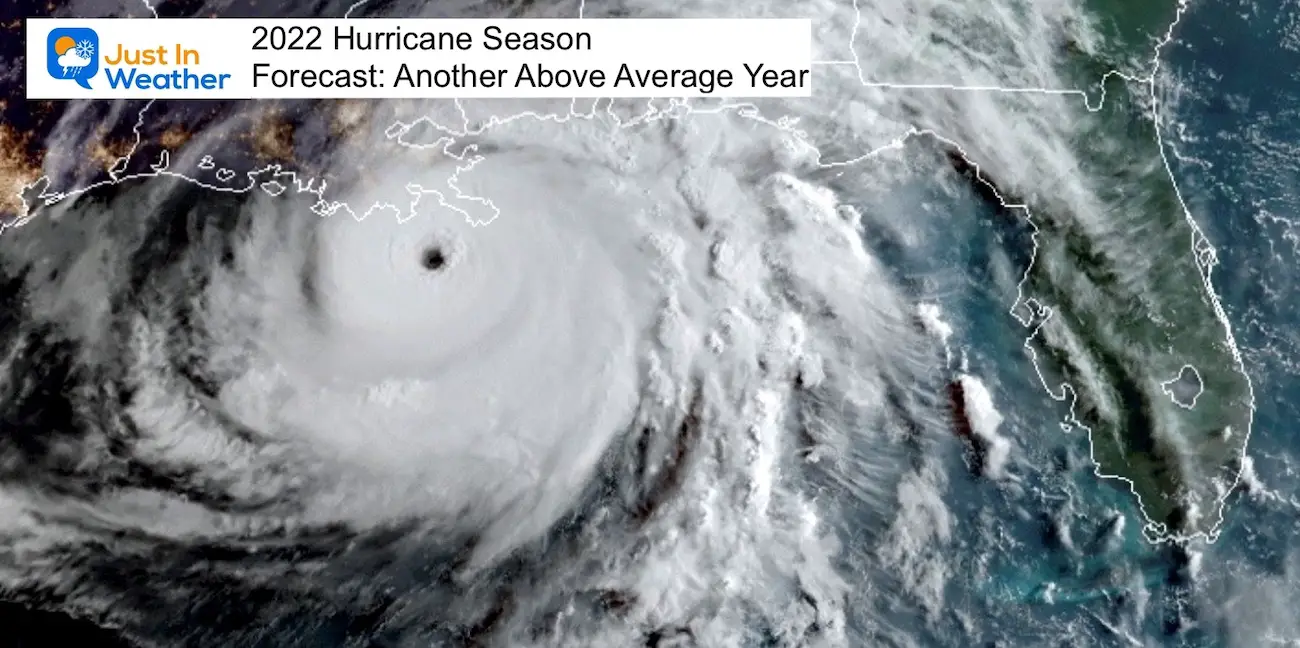 Related Posts
NOAA Study: Reducing Air Pollution INCREASED Tropical Storms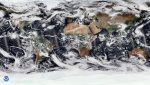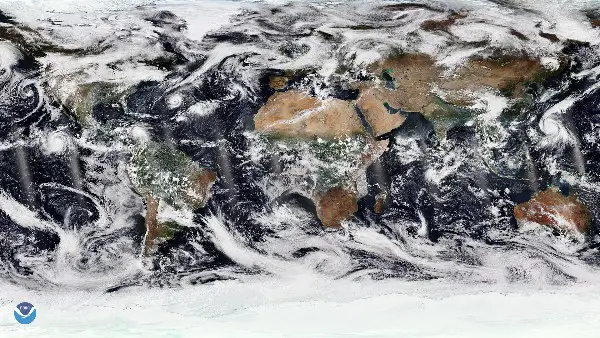 Atlantic Tropical History: Maps of Origin Regions Every 10 Days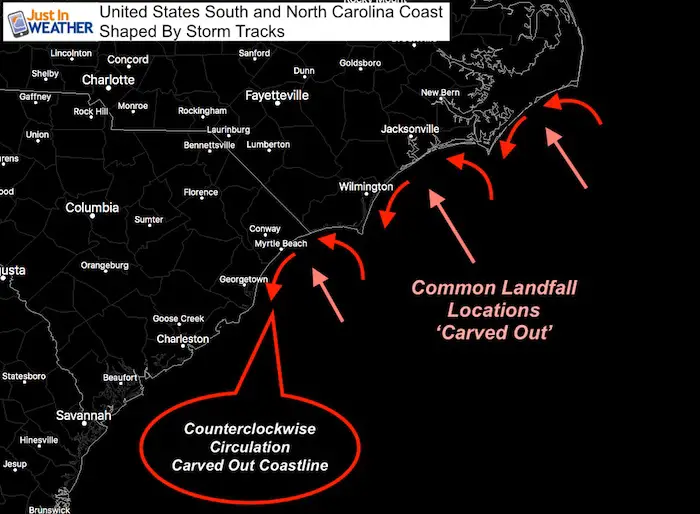 Rainbow Ice Cave In Mt Rainier
Rainbow Ice Cave In Mt. Rainier A Very Rare Find: Photos And Video
Please share your thoughts, best weather pics/videos, or just keep in touch via social media