October 1 Sunny Sunday And Climate Highlights For The Month
Maryland Weather
climate data
Forecast
Justin Berk
Oct 1, 2023
7:27 am
0
October 1, 2023
Sunday Morning Update
Today is the day! If you have been stuck under the cloud cover you will join the rest of the region that has experienced a break into sunshine. This is the time of year when the lower temperatures at night can help to produce areas of thick morning fog, especially around the water of the Bay or reservoirs.
While the week ahead will be quiet, it may signal the trend of us having weather patterns that last almost a week at a time.
The change will come next weekend, when we may reach a long period of cool and unsettled weather. Such is Fall and eventually the cooler weather will win.
Morning Surface Weather
The remnant Low (ghost) of Ophelia is finally pulling away. Hopefully for good.
High Pressure is moving in and will have a grip on the Eastern US for most of the week ahead.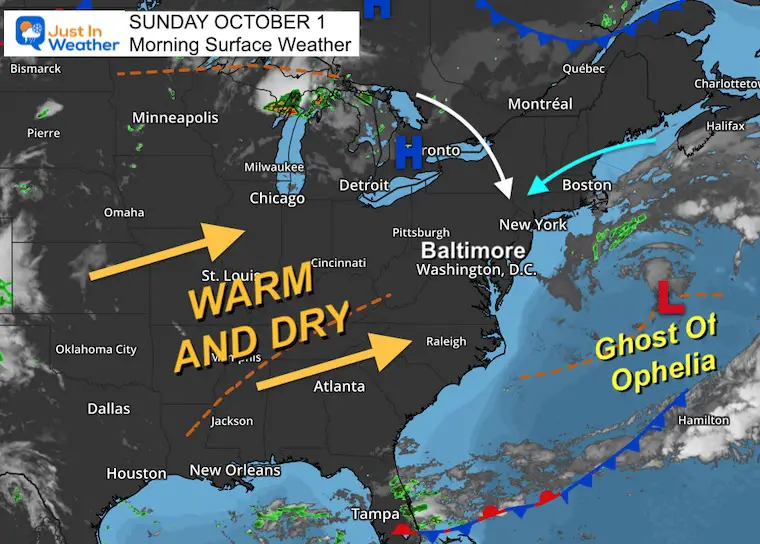 Afternoon Temperatures 
Many areas will see sunshine and warm into the 70s. Near 80ºF around Baltimore parts of central Maryland.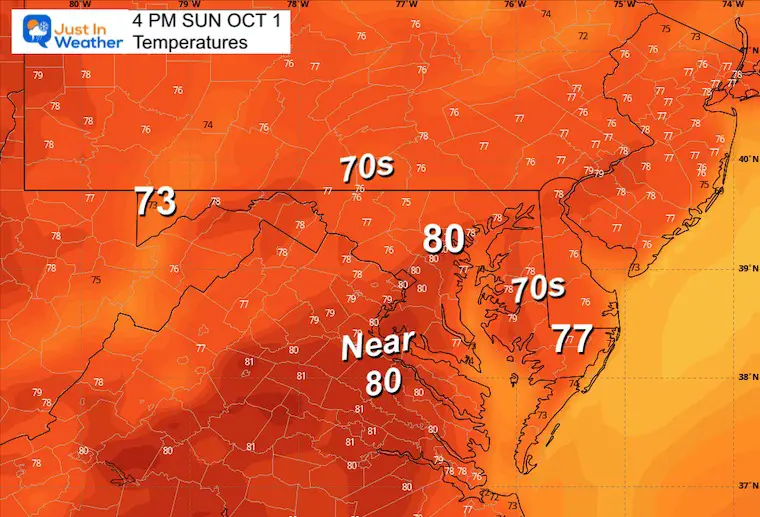 RE5PECT – Shirts and Hoodies
In case you missed it, my friends helped me make this tribute to Brooks Robinson. Proceeds will go to Boys and Girls Clubs of America. He played Little League with them in Little Rock before moving to Baltimore.
Click here or the image to get yours:
Sizes: T's in Kids, Ladies(District), Unisex(Next Level), plus Hoodies (SportTek)!
CLIMATE DATA: Baltimore
TODAY October 1
Sunrise at 7:02 AM
Sunset at 6:50 PM
Normal Low in Baltimore:  53ºF
Record 36ºF in 1947
Normal High in Baltimore: 74ºF
Record 91ºF 1941
OCTOBER CLIMATE HIGHLIGHTS
By October 31: Highs Average 63ºF; Lows Average 41ºF
Baltimore Temperature Extremes
Coldest 25ºF
Hottest 98ºF
Wettest 9.23" in 2005
Snow: On 9 Dates
Earliest Trace: October 9, 1903
Earliest Measured Snow:
0.3" October 10 in 1979
Additional Measured Snow
1.3" October 19-20 in 1940
MOST SNOW
2.4" October 30 in 1925
Full Moon: October 28 = Hunter's Moon
New Reports:
Subscribe for eMail Alerts
Weather posts straight to your inbox
Sign up and be the first to know!
Monday
If your area is prone to morning fog (by the bay, a reservoir, or a valley) you may see some to start the day. Then the sun will dominate and warm the afternoon up quickly.
Morning
Temperatures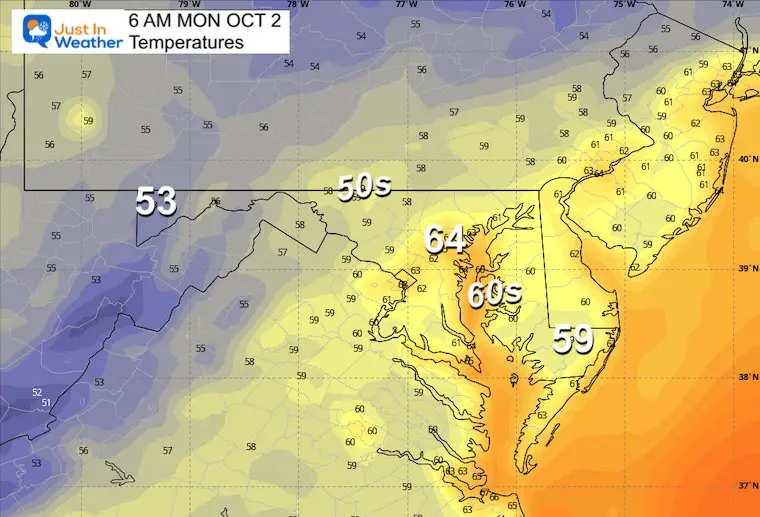 Afternoon
Temperatures
Looking Ahead: NOAA Temperature Outlooks
This is the simplest way to look at the weather pattern ahead.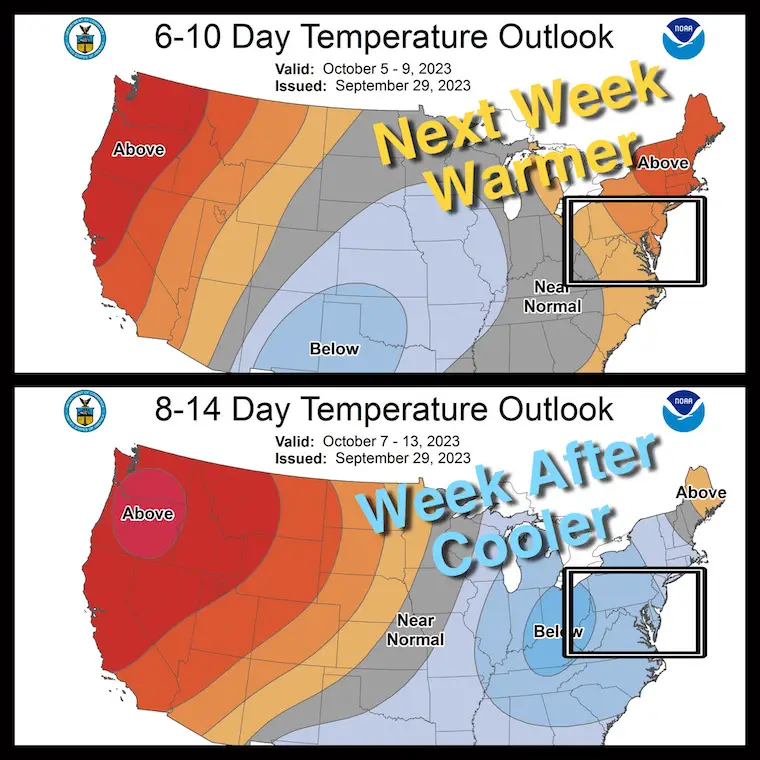 Jet Stream 
Snapshots
Tuesday
Our surge of warmer and second Summer is relative. Afternoon Temps will be in the lower to middle 80s.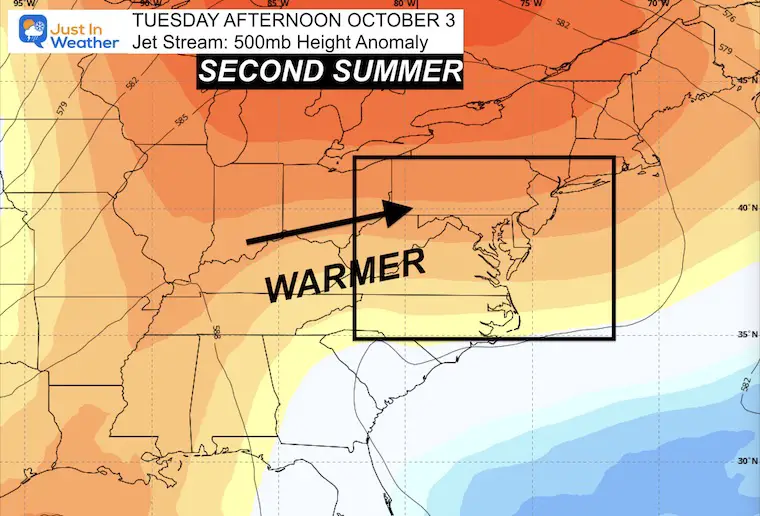 Saturday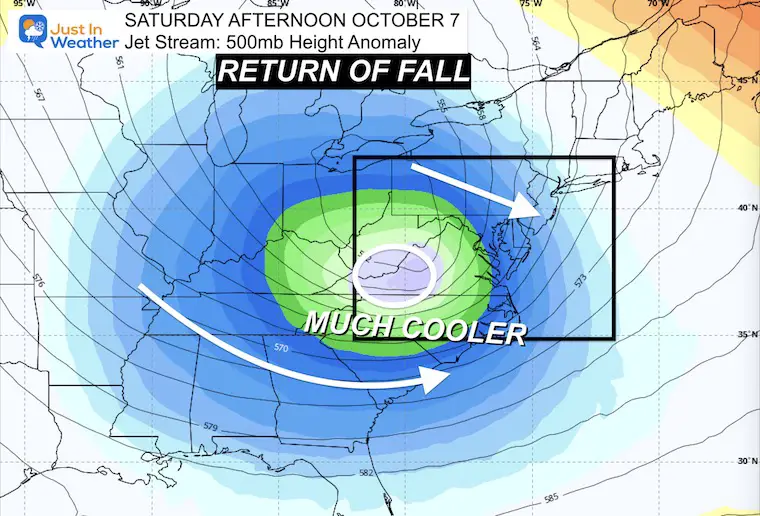 Animation: Sunday to Next Saturday
After we kick this trough off the coast, a ridge with High Pressure will build in a warmer air mass all week. The next modification will be noticeable next weekend. That is the pattern change that will truly make it feel like Autumn.
Rain Forecast
Thursday Through Saturday
7 Day Forecast
Today begins our taste of a second summer. Sunny afternoons will bring most areas into the mid-70s to near 80ºF.  Better chance for the lower 80s during the week.
The next weather system will arrive at the end of the week with showers Friday and rain more likely to usher in the chilly air Saturday…. what is not shown here will be the 60s that will follow.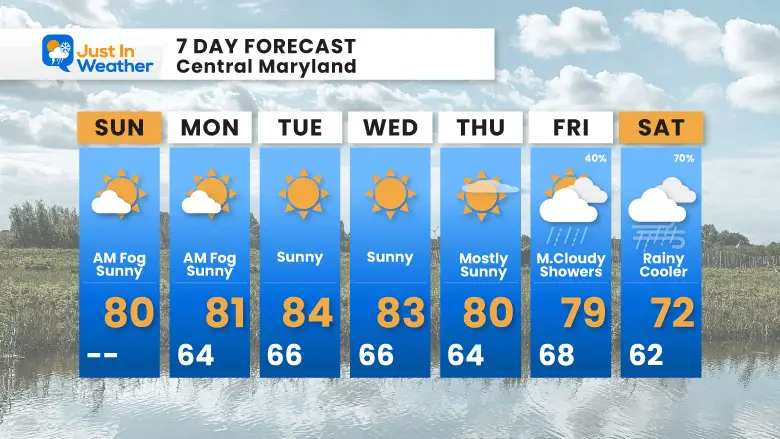 Subscribe for eMail Alerts
Weather posts straight to your inbox
Sign up and be the first to know!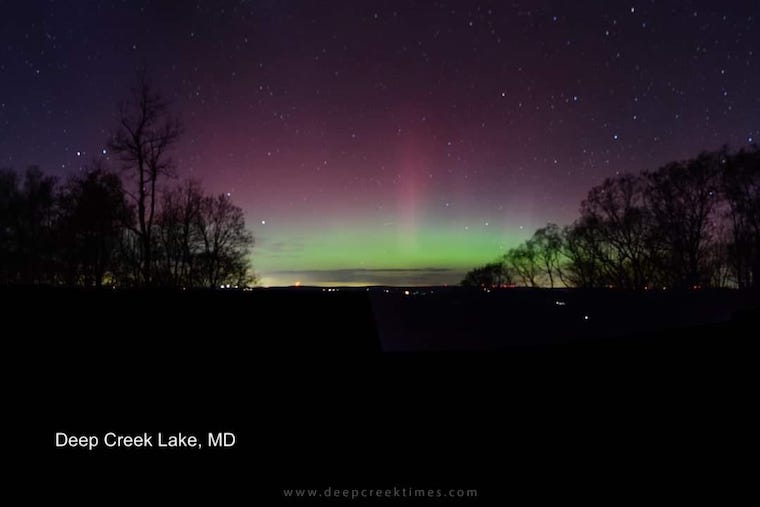 Please share your thoughts and best weather pics/videos, or just keep in touch via social media
RESTATING MY MESSAGE ABOUT DYSLEXIA
I am aware there are some spelling and grammar typos and occasional other glitches. I take responsibility for my mistakes and even the computer glitches I may miss. I have made a few public statements over the years, but if you are new here, you may have missed it: I have dyslexia and found out during my second year at Cornell University. It didn't stop me from getting my meteorology degree and being the first to get the AMS CBM in the Baltimore/Washington region. One of my professors told me that I had made it that far without knowing and to not let it be a crutch going forward. That was Mark Wysocki, and he was absolutely correct! I do miss my mistakes in my own proofreading. The autocorrect spell check on my computer sometimes does an injustice to make it worse. I also can make mistakes in forecasting. No one is perfect at predicting the future. All of the maps and information are accurate. The 'wordy' stuff can get sticky.  There has been no editor who can check my work when I need it and have it ready to send out in a newsworthy timeline. Barbara Werner is a member of the web team that helps me maintain this site. She has taken it upon herself to edit typos when she is available. That could be AFTER you read this. I accept this and perhaps proves what you read is really from me… It's part of my charm.
#FITF