Tropical Storm Ophelia Made Landfall Saturday Morning In North Carolina: Inland Warnings
storm surge
Maryland Weather
National Hurricane Center
Forecast
Tropics
Warnings
Justin Berk
Sep 23, 2023
7:32 am
0
September 23 Saturday Morning Update
Tropical Storm Ophelia has made landfall on this first day of Fall. Winds peaked at 70mph, so it was almost a hurricane. However, it ran out of water when it reached Emerald Isle, MC at 6:15 AM EST. Cape Lookout, NC recorded sustained winds of 61 mph with a gust to 73 mph.
Winds have pushed over 60 mph as far north as Bethany Beach, Delaware. More local look below.
National Hurricane Center Update 6:20 AM
LOCATION…34.7N 77.0W
ABOUT 25 MI…45 KM WNW OF CAPE LOOKOUT NORTH CAROLINA
ABOUT 75 MI…120 KM NE OF CAPE FEAR NORTH CAROLINA
MAXIMUM SUSTAINED WINDS…70 MPH…110 KM/H
PRESENT MOVEMENT…NNW OR 345 DEGREES AT 9 MPH…15 KM/H
MINIMUM CENTRAL PRESSURE…981 MB…28.97 INCHES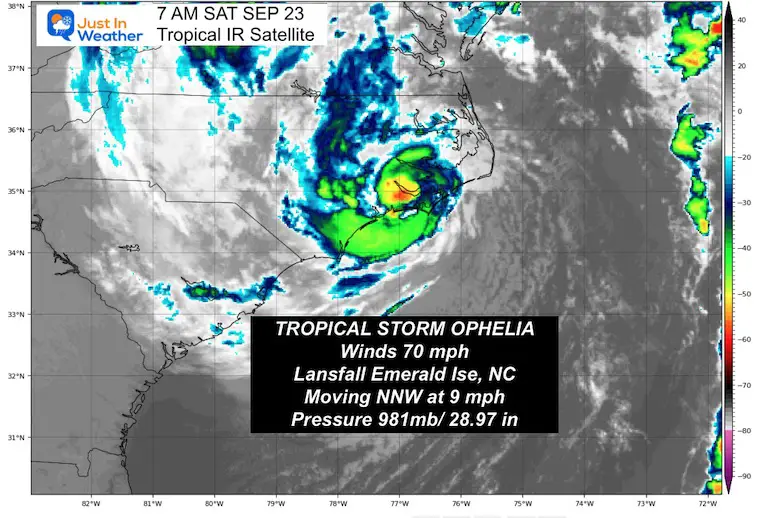 STORM NOTES
It is important to note that this is a large storm as tropical storm-force winds extend 310 miles from the center.  In addition to saltwater flooding (storm surge), and freshwater flooding (rainfall), there may be isolated tornadoes near the center.
Wind Advisories reach into northern Maryland. That wind direction will push higher water to the WEST SIDE of the Chesapeake Bay (sloshing), until Sunday morning. More below.
Water on the Bay will rise today and reach its highest levels with high tides tonight and Sunday morning. See the tide tables and a link to find more below.
The storm will weaken quickly, so the path over Maryland on Sunday will actually be mostly for rain and wind direction. The wind speed will be much higher today, and lower tomorrow.
Local Wind Gusts at 7 AM
Peak winds have topped 60 mph off the Delaware Beaches!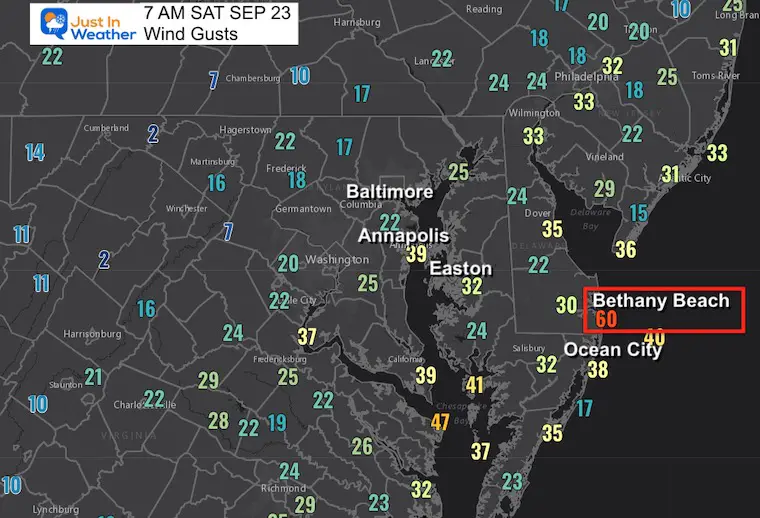 Live Radar Interactive Widget
Bands of heavy rain extend into central Maryland, with higher rain into Pennsylvania as of 7 AM. This image is live and interactive so it will update when you use it.
Saturday Morning Surface Weather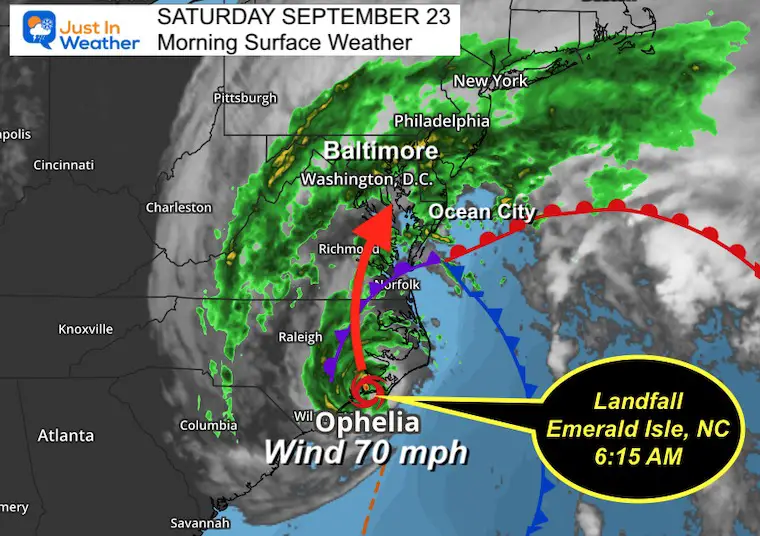 Satellite Loop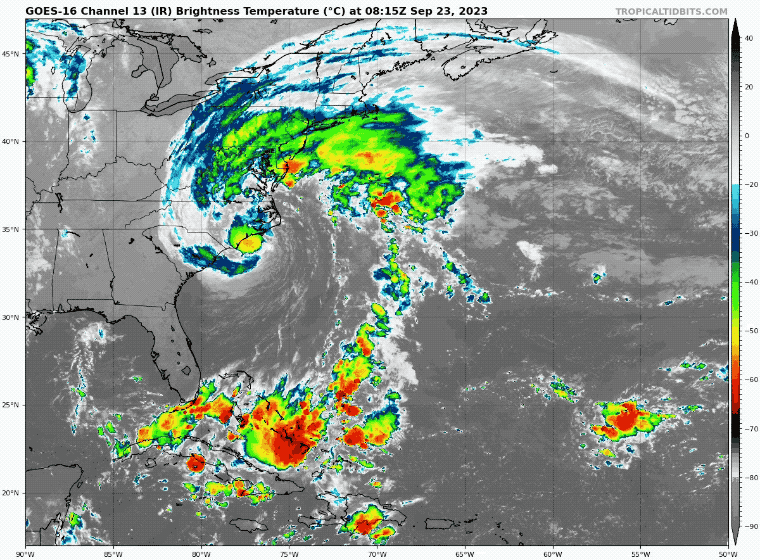 Tropical Storm Warning AND NHC Forecast Map
This track has shifted a little to cross the Chesapeake Bay SOUTH of Baltimore. It will be slowing down in forward speed AND wind speed. It will be downgraded to a Tropical Depression when it reaches Maryland.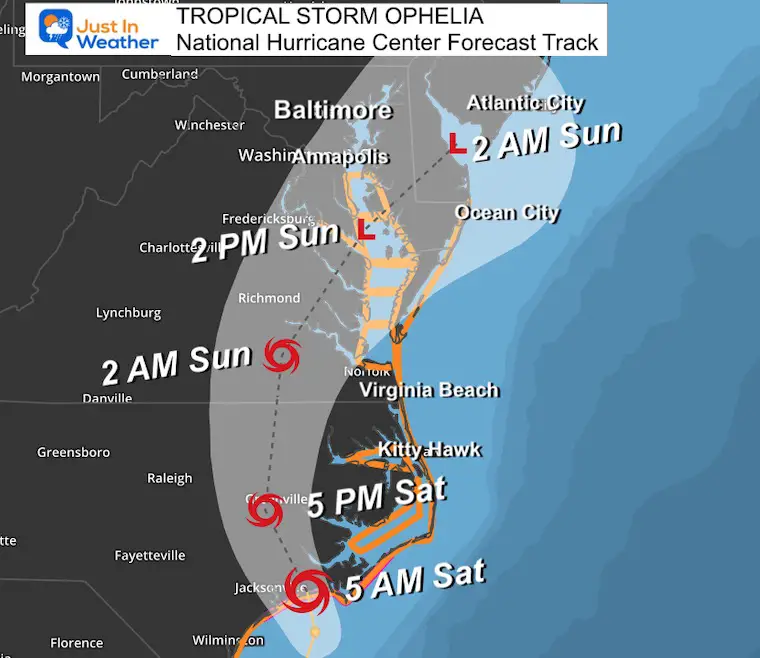 SUMMARY OF WATCHES AND WARNINGS IN EFFECT:
A Hurricane Watch is in effect for…
* North of Surf City, North Carolina to Ocracoke Inlet, North Carolina
A Storm Surge Warning is in effect for…
* Beaufort Inlet, North Carolina to Chincoteague, Virginia
* Chesapeake Bay south of Colonial Beach, Virginia
* Neuse and Pamlico Rivers
* Portions of Pamlico and Albemarle Sounds
A Tropical Storm Warning is in effect for…
* Cape Fear, North Carolina to Fenwick Island, Delaware
* Albemarle and Pamlico Sounds
* Tidal Potomac south of Cobb Island
* Chesapeake Bay south of North Beach
A Storm Surge Watch is in effect for…
* Surf City, North Carolina to Beaufort Inlet, North Carolina
* Remainder of Pamlico and Albemarle Sounds
Local Warning Maps
Tropical Storm Warning
Maryland: Calvert, St. Mary's, Dorchester, Wicomico, Somerset, and Worcester.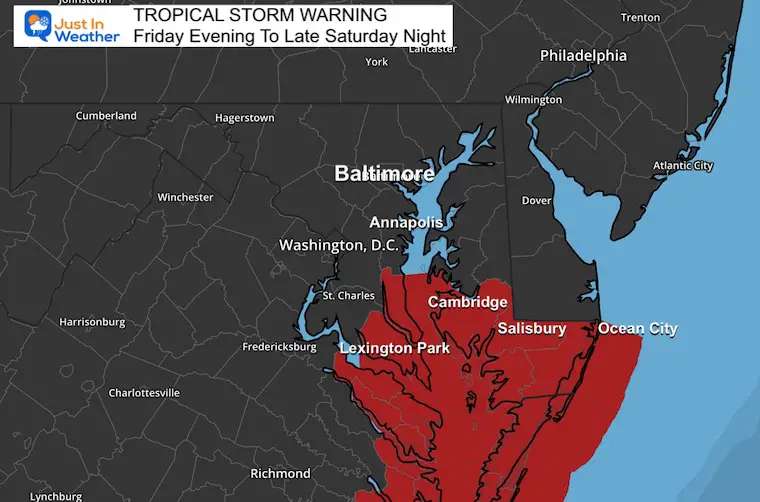 Wind Advisory: Inland Winds up to 50 mph. Beaches up to 60 mph.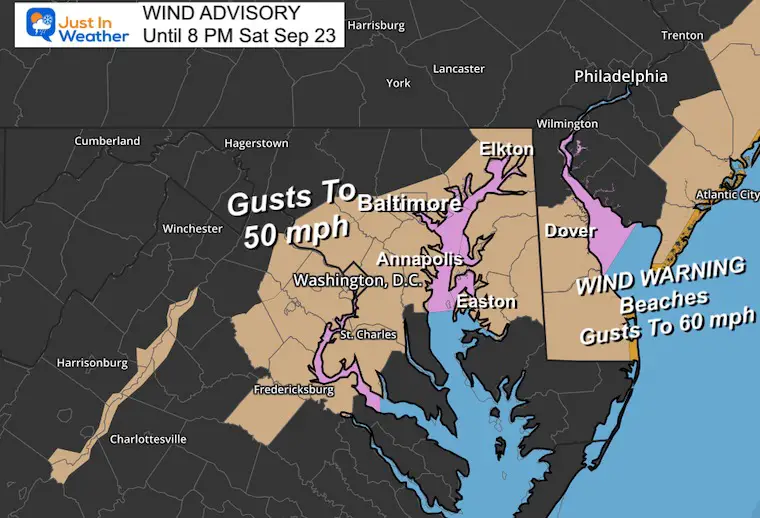 Flood Advisories
There are two types of flooding:
Salt Water Flooding: Storm Surge 2 to 3 Feet on the Chesapeake Bay.
Fresh Water Flooding: Heavy Rainfall mostly 1 to 3 inches. Some spots up to 5 inches.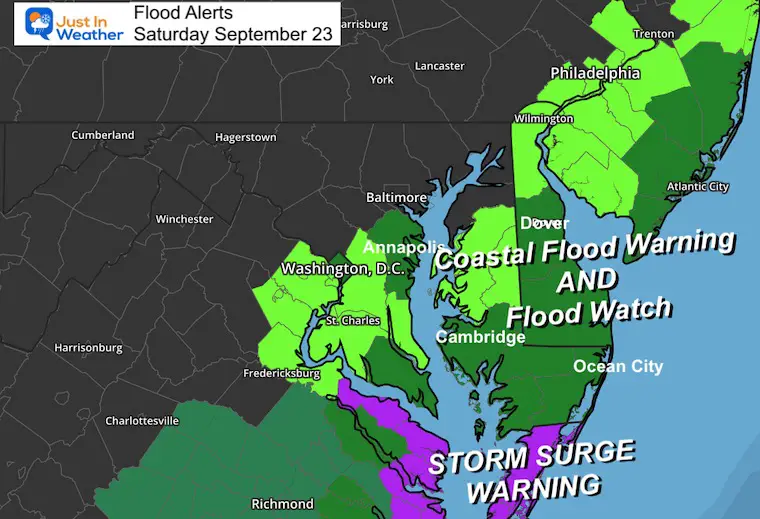 Quick Local Notes
Storm Surge Inundation
2 to 3 Feet on the Western Shore Of the Chesapeake Bay and Potomac River. Highest at High Tide on Saturday.
The HIGHEST WATER may be on Saturday Evening and Overnight!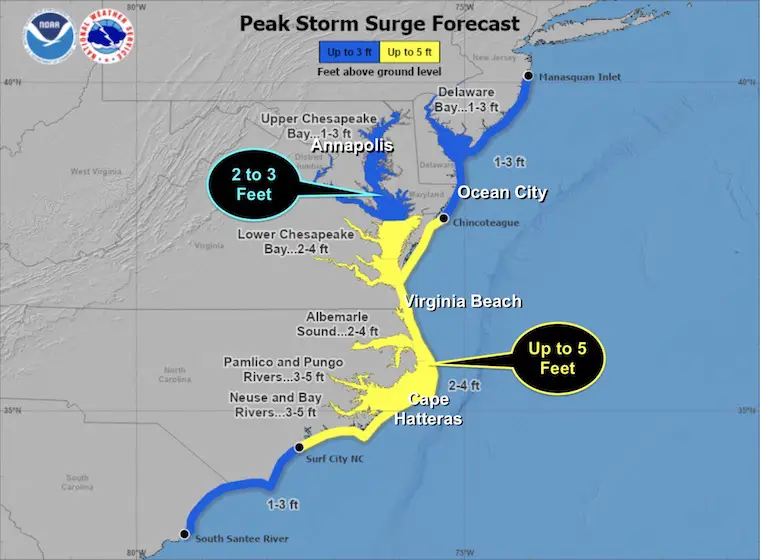 Rainfall
Average 1 to 3 inches. Some spots up to 5 inches.
With the shifted inland track, a broader area of moderate rain will expand to some of the fort ridges of the Appalachian Mountains.
Forecast Animation
GFS Model Saturday Morning To Monday Morning
The heavy rain will be to the north of the center with the bands. So you may have lulls at times.  It will be concentrated closer to the Low as we go through Sunday and Monday.

Wind Forecast Saturday Morning To Monday Morning
Notice that as the central Circulation enters Virginia and Maryland it will weaken a lot!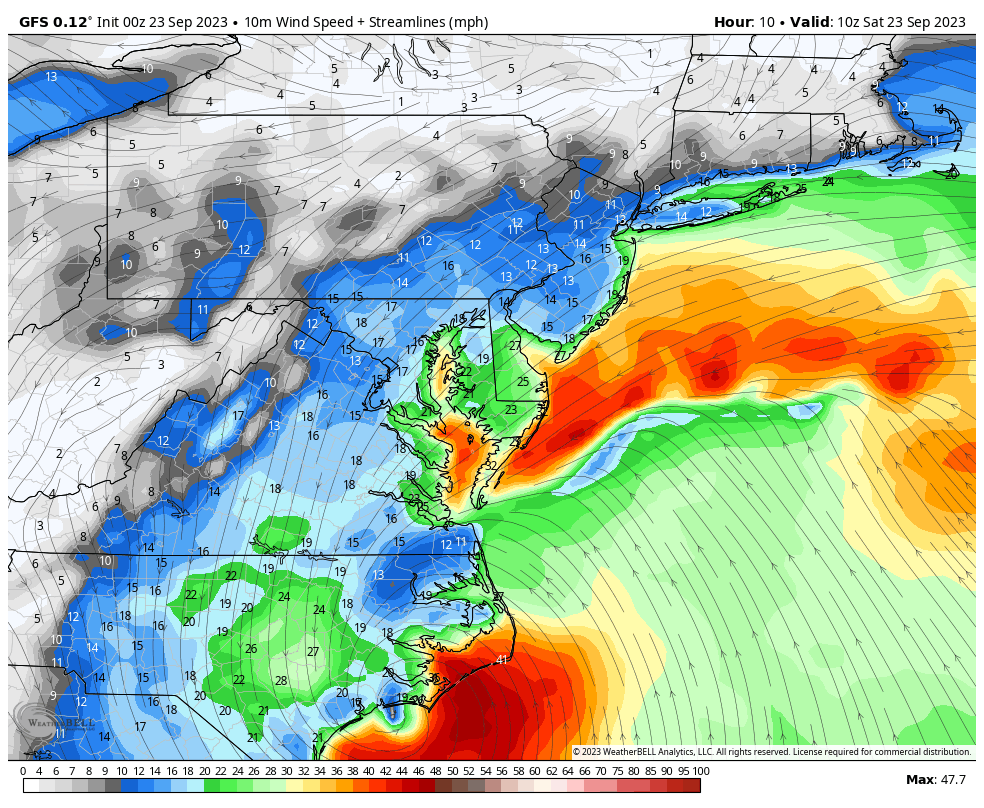 Key Timeframe Weather Maps
Saturday Afternoon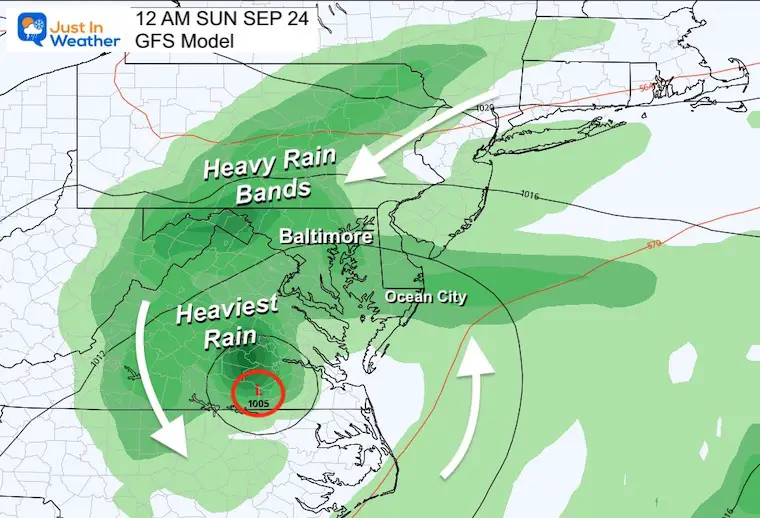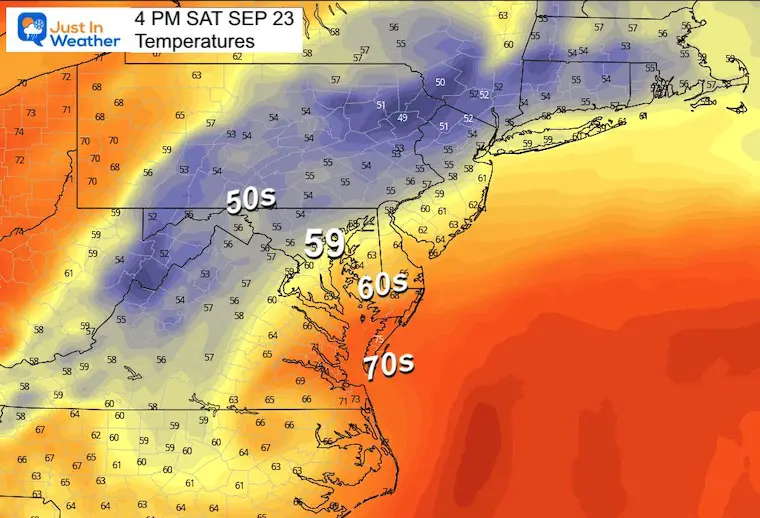 Saturday Midnight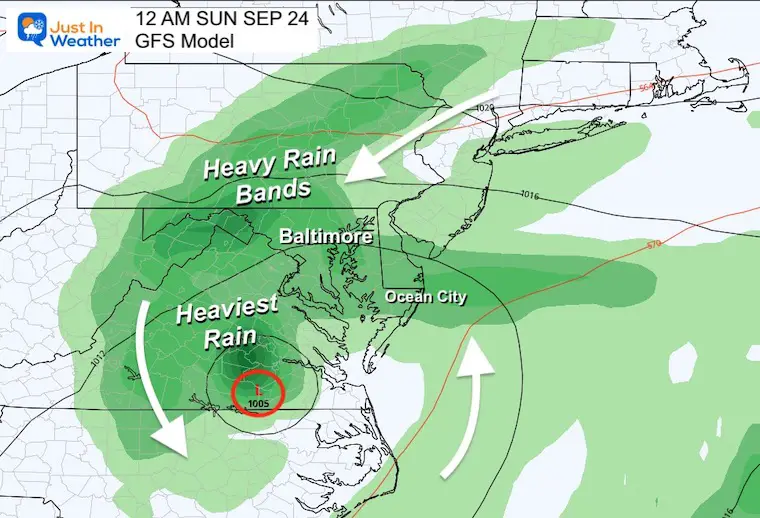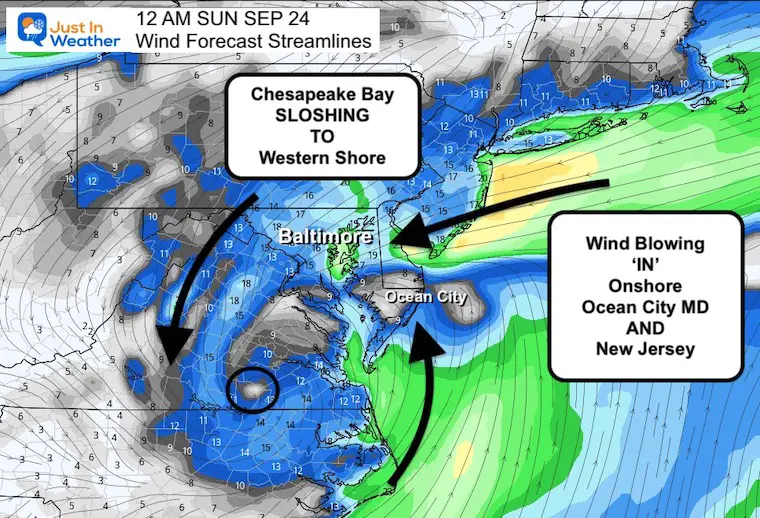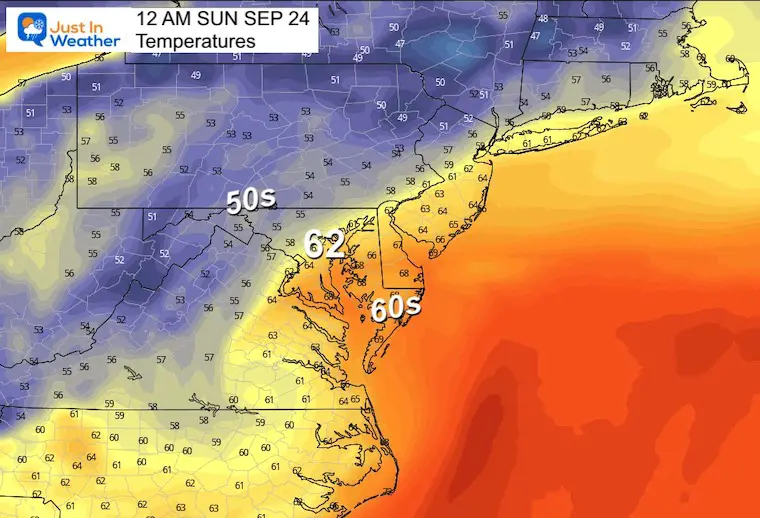 Sunday Morning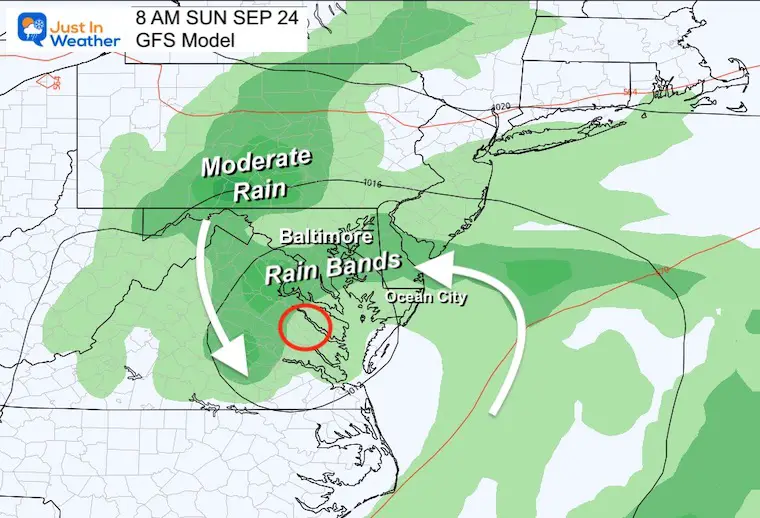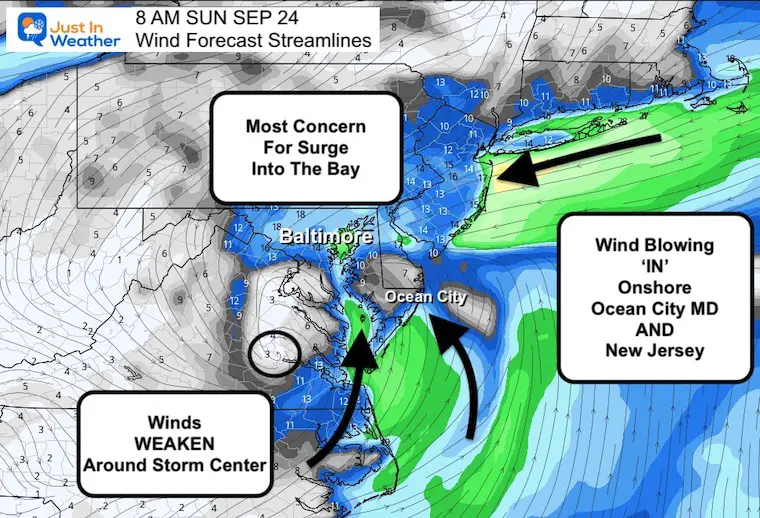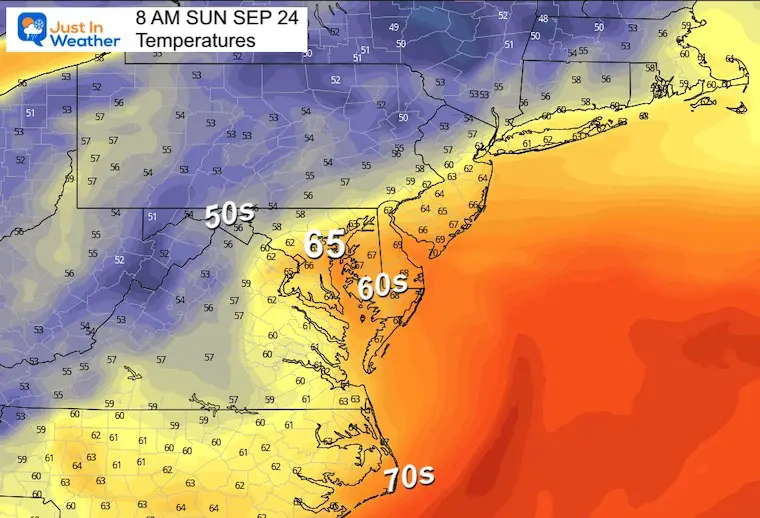 Sunday Afternoon
Still may be some rain and chilly breezes for both Ravens and Commanders football games. But Ophelia is likely to be downgraded to a depression by then with much less wind.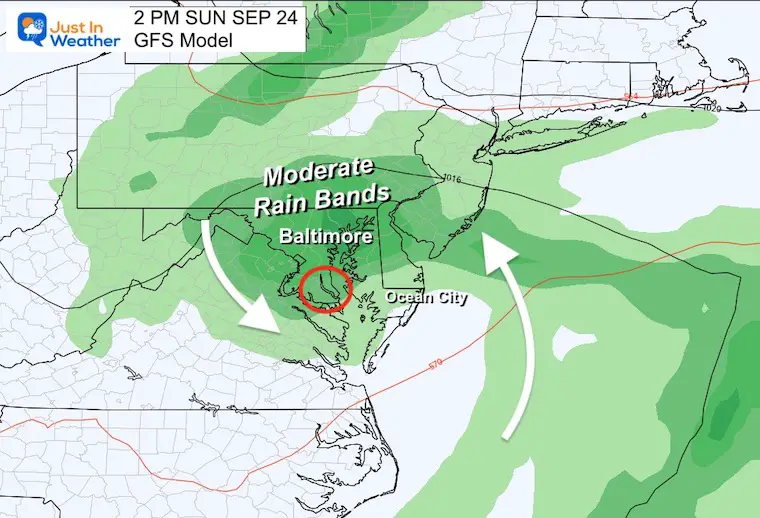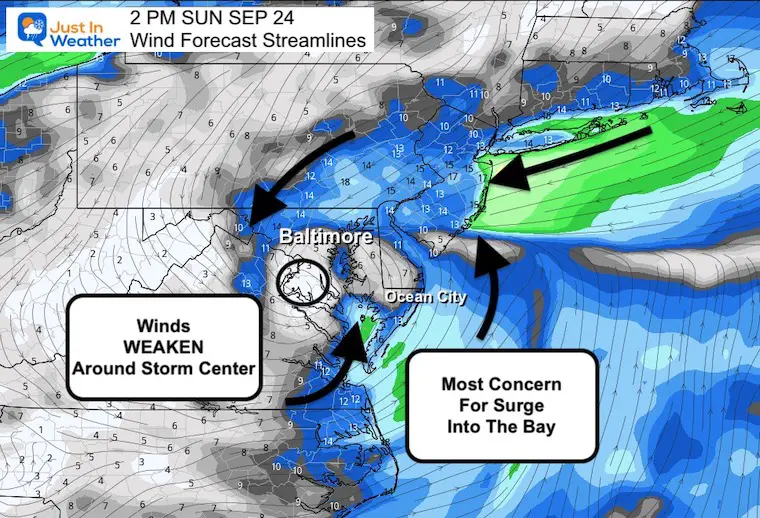 Monday Morning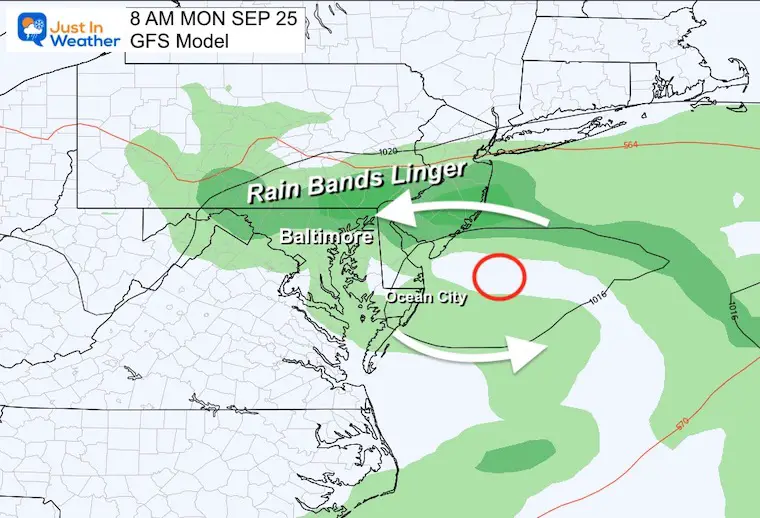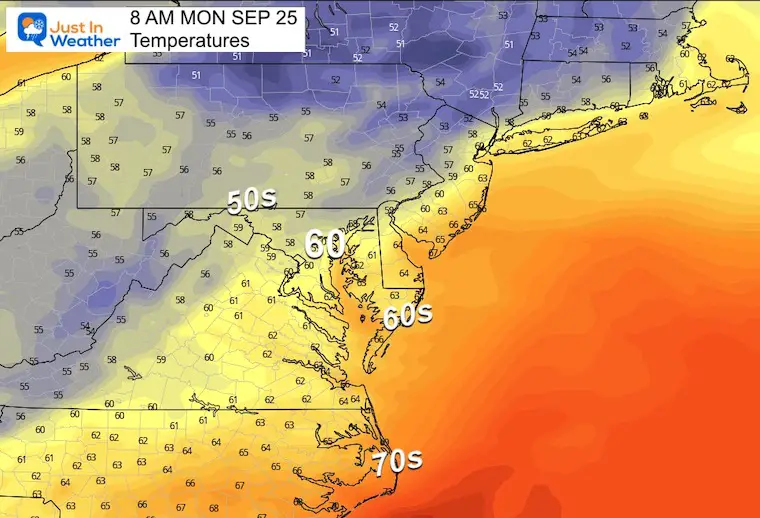 High Tide Tables
Three Key Points Of Interest. The High Tide Saturday night is the one where we may see the highest water.
Additional Tables for Maryland can be generated here: Saltwater Tides
Baltimore: Fort McHenry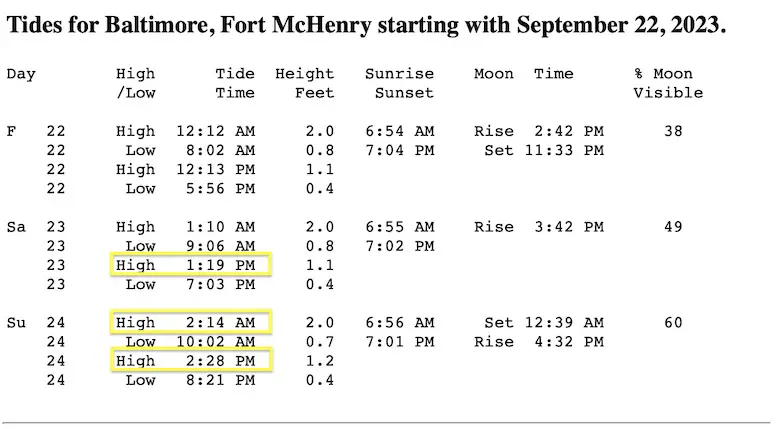 Annapolis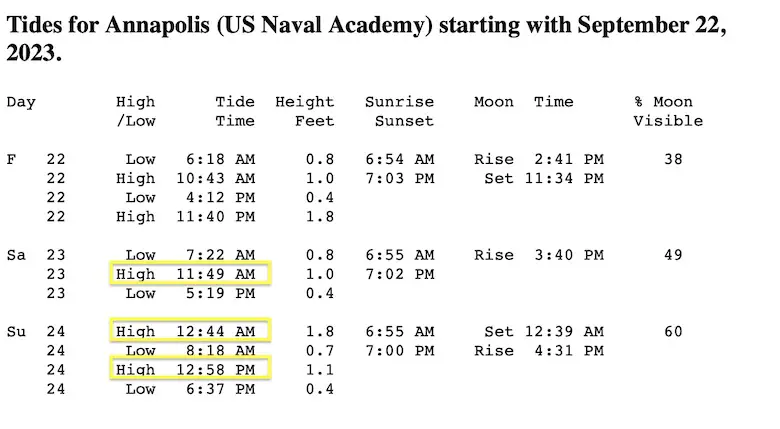 Ocean City Inlet
Flooding here is likely all day Saturday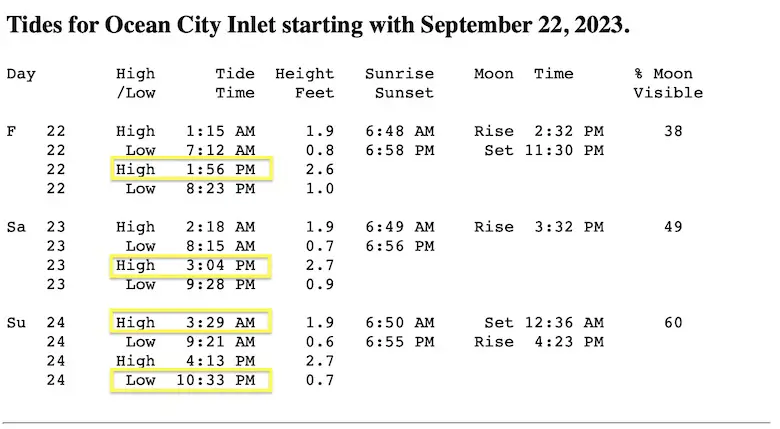 Rainfall Forecast POTENTIAL NEW RAINFALL
Computer model guidance is a suggestion. This should be seen as a range and not precise expectations. It also is missing the rain that has already fallen.
Additional Note On Airline Travel: Plan for delays with this major storm that is a Tropical Storm. This storm will have high winds at the surface, and even more turbulence aloft.
I do not know how your flight will be affected. I have seen planes fly on schedule in bad weather, and postponed for minimal impact. It is important to consider not only the weather at your airport, but also where the plane came from and where it is going.
Any delays or rerouting can cascade like dominoes on an already delicate system.
WINDY WIDGET
New Reports:
Subscribe for eMail Alerts
Weather posts straight to your inbox
Sign up and be the first to know!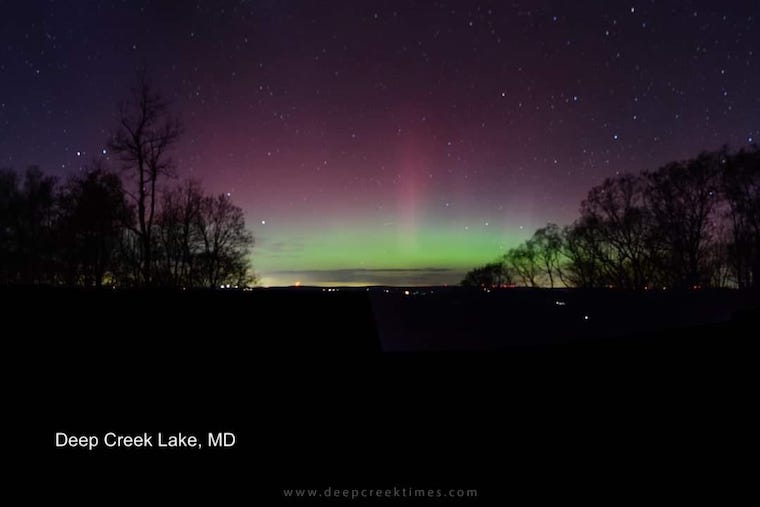 Please share your thoughts and best weather pics/videos, or just keep in touch via social media
RESTATING MY MESSAGE ABOUT DYSLEXIA
I am aware there are some spelling and grammar typos and occasional other glitches. I take responsibility for my mistakes and even the computer glitches I may miss. I have made a few public statements over the years, but if you are new here, you may have missed it: I have dyslexia and found out during my second year at Cornell University. It didn't stop me from getting my meteorology degree and being the first to get the AMS CBM in the Baltimore/Washington region. One of my professors told me that I had made it that far without knowing and to not let it be a crutch going forward. That was Mark Wysocki, and he was absolutely correct! I do miss my mistakes in my own proofreading. The autocorrect spell check on my computer sometimes does an injustice to make it worse. I also can make mistakes in forecasting. No one is perfect at predicting the future. All of the maps and information are accurate. The 'wordy' stuff can get sticky.  There has been no editor who can check my work when I need it and have it ready to send out in a newsworthy timeline. Barbara Werner is a member of the web team that helps me maintain this site. She has taken it upon herself to edit typos when she is available. That could be AFTER you read this. I accept this and perhaps proves what you read is really from me… It's part of my charm.
#FITF