Tropical Storm Warning Expanded To Southern Maryland For Saturday Hit
storm surge
Maryland Weather
National Hurricane Center
Forecast
Tropics
Warnings
Justin Berk
Sep 21, 2023
9:07 pm
0
September 21 Thursday Night Update
If you have been reading my updates all week, this validates the extra attention. If this is your first visit, I will do my best to explain this storm impact. The National Hurricane Center has amped up its attention in a hurry today, and we may have a named storm by Friday. It is not at this time, but NHC is posting advisories. I will have the latest look below.
A Tropical Storm Warning includes Southern Maryland in addition to Ocean City and points south to North Carolina.
I should add that with any tropical system there is also a risk for quick spin up EF-0 or EF-1 tornadoes.
Gale Warning extends through Northern Chesapeake Bay. Additional advisories for Storm Surge and Coastal Flooding extend up the Chesapeake Bay.
In Central Maryland and metro Washington/Virginia, The National Weather Service issued a Hurricane Local Statement. This led to some anxiety in the public, but it was explaining the weather situation. Inland we do expect high winds and heavy rain with some flooding. The winds could reach 50 mph, so use any free time on Friday to secure outdoor items. Tree limbs and power lines may come down.
Also below I have posted the Windy Interactive Widget so you can track the storm timeline.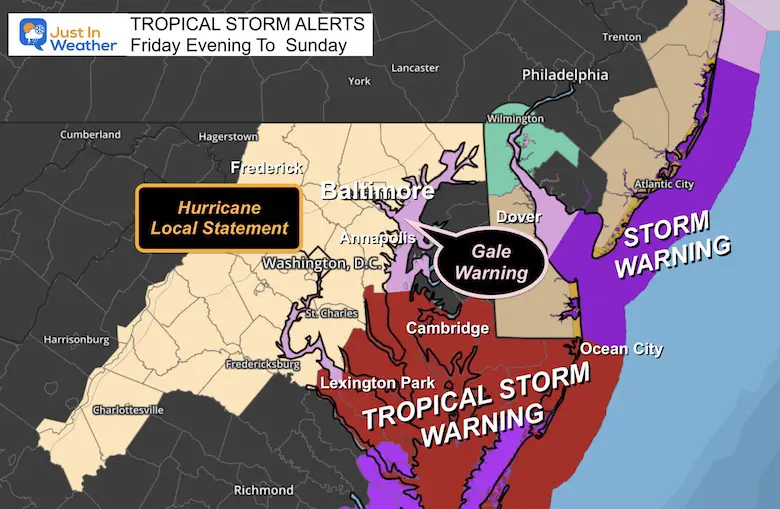 IMPORTANT NOTE
This is NOT the same as Hurricane Isabel in 2003. It was once a powerful Major Hurricane that had wave memory of that intensity for a few days after it weakened. That was the main issue. This storm (not named yet) is just trying to become a tropical storm which is less intense. It will only have a day or two on the water to generate waves, but not enough time or strength to compare to the intensity.
It may be bad, just not that bad. I hope that eases any anxiety.
Quick Local Notes
Storm Surge Inundation
2 to 3 Feet on the Western Shore of the Chesapeake Bay and Potomac River. Highest at High Tide on Saturday.
The HIGHEST WATER may be Saturday Evening and Overnight!
Rainfall (map below)
Average 1 to 3 inches. Some spots up to 5 inches.
Highest rainfall will be near and east/south of I-95.
Less rain will fall west and north.
National Hurricane Center Update 8 PM
LOCATION…29.5N 75.6W
ABOUT 340 MI…550 KM SE OF CHARLESTON SOUTH CAROLINA
ABOUT 395 MI…635 KM S OF CAPE HATTERAS NORTH CAROLINA
MAXIMUM SUSTAINED WINDS…35 MPH…55 KM/H
PRESENT MOVEMENT…N OR 10 DEGREES AT 7 MPH…11 KM/H
MINIMUM CENTRAL PRESSURE…1009 MB…29.80 INCHES
Satellite Loop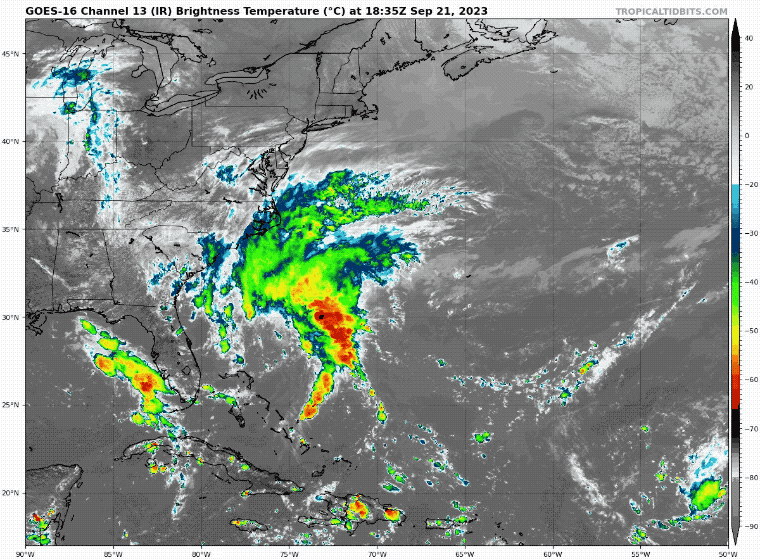 Tropical Storm Warning AND NHC Forecast Map
This has not been named yet. If it does, it may be on Friday and will be called Ophelia.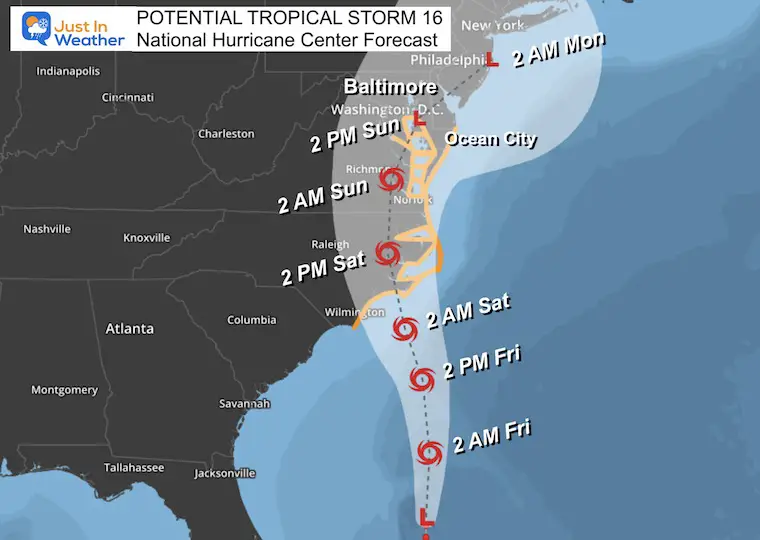 Forecast Animation
GFS Model 8 AM Friday to 11 PM Sunday
Last night I compared computer models with the American GFS being the most consistent and the European ECMWF showing a miss. That has since joined in, but I will continue to focus on the GFS out of respect as it may continue to do the best job.
Mid-Atlantic Highlight:
Friday: Breezy and cloudy Rain into Southern Maryland after dark.
Saturday: Rain all day! Strong winds all day!
Sunday: Low Pressure crawls over central Maryland. Lingering rain showers and chilly, with less wind.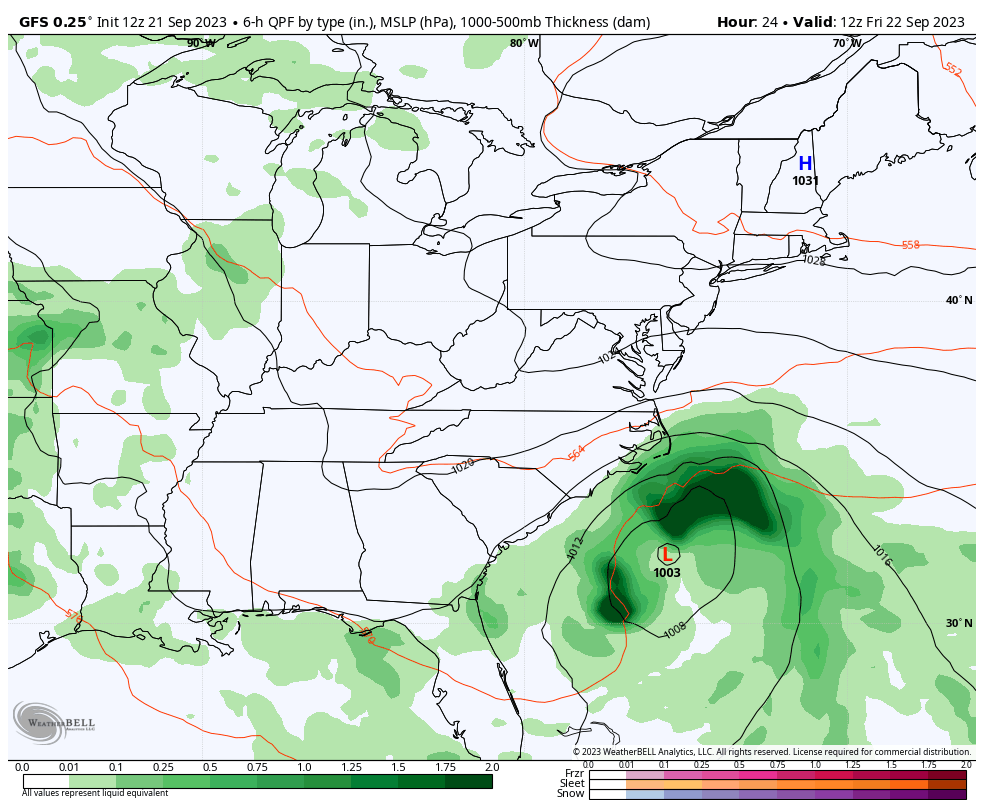 Storm Surge Forecast
A Storm Surge Warning is in effect for…
* Duck, North Carolina to Chincoteague Virginia
* Chesapeake Bay south of Windmill Point
* Neuse River, Pamlico River, and portions of Pamlico Sound
* Portions of the Albemarle Sound
A Storm Surge Watch is in effect for…
* Surf City NC to Duck NC
* Chesapeake Bay north of Windmill Point to Smith Point
* Tidal Potomac south of Colonial Beach
* Remainder of the Albemarle and Pamlico Sounds
Storm Surge On The Chesapeake Bay:
The map below shows a forecast of 2 to 3 feet. This is on top of tidal swings.  The storm track is similar to Isabel (west of the Bay), which is undesirable as it would pull more water north.
Winds will be FROM the Northeast, while water may rise FROM the Southeast. Not perfectly aligned, but converging ON THE WESTERN SIDE OF THE BAY.
Local Storm Maps
You will notice this does not match the timing on the NHC Forecast Track.  These models handle the storm differently and since I believe it will not be a pure tropical cyclone, it may be best to allow for the colder influence these models pick up on.
8 PM Friday
Rain just beginning in Southern Maryland and the beaches. Inland metro areas will be cloudy and breezy, but dry.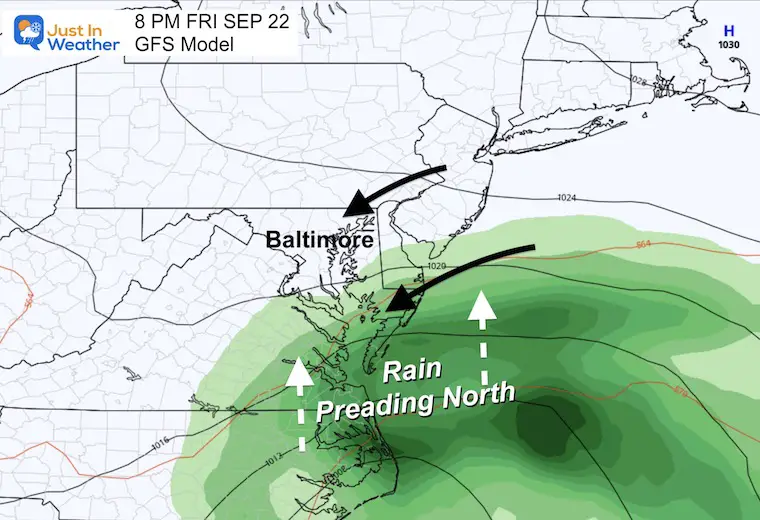 Wind Forecast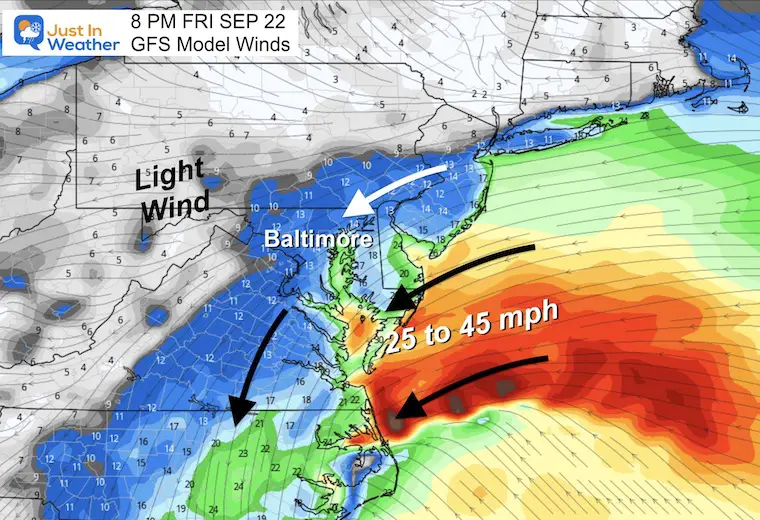 8 AM Saturday
Here we see the central Low Pressure/Tropical Storm onshore in Eastern North Carolina.
Most of our region should wake up to moderate rain and gusty winds.
Wind Forecast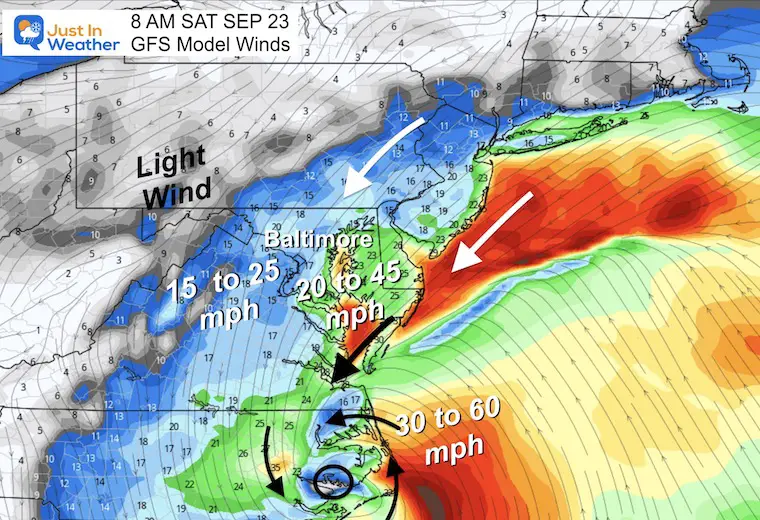 Saturday Afternoon Winds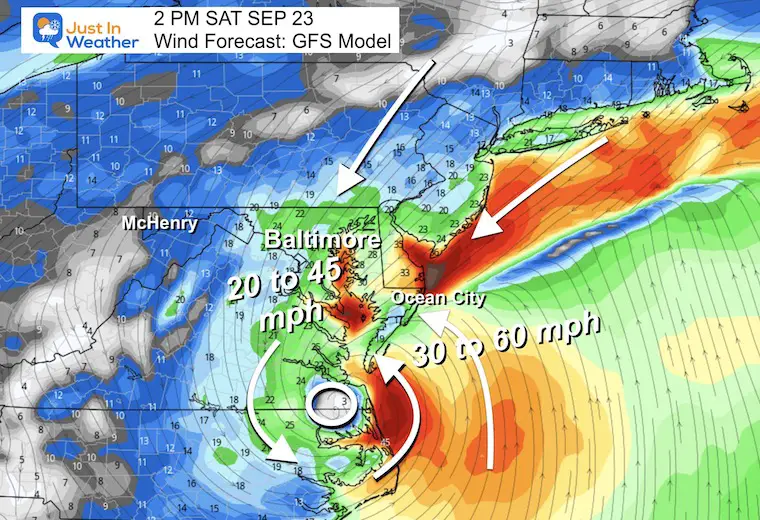 8 PM Saturday
Here we see central Low Pressure/Tropical Storm near Williamsburg, VA. If this verifies, it will bring the highest water up the Chesapeake Bay lasting overnight.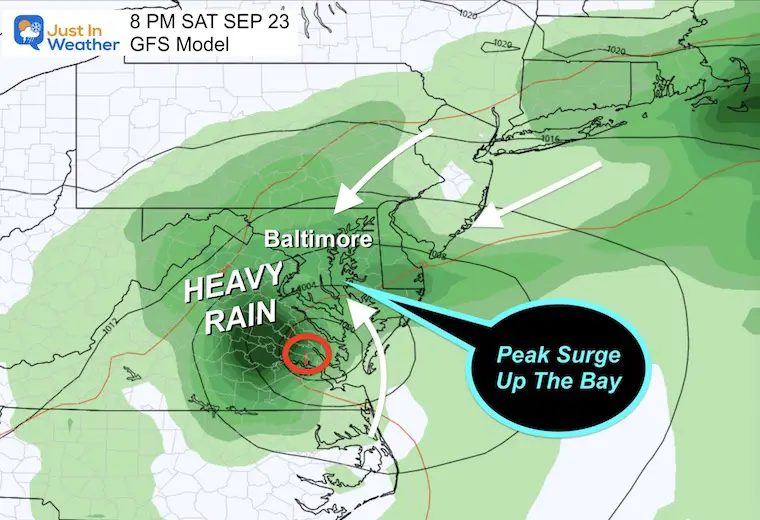 Wind Forecast
It is important to note that the storm circulation may not match the surface wind flow. But both will converge on the Western Shore of the Chesapeake Bay.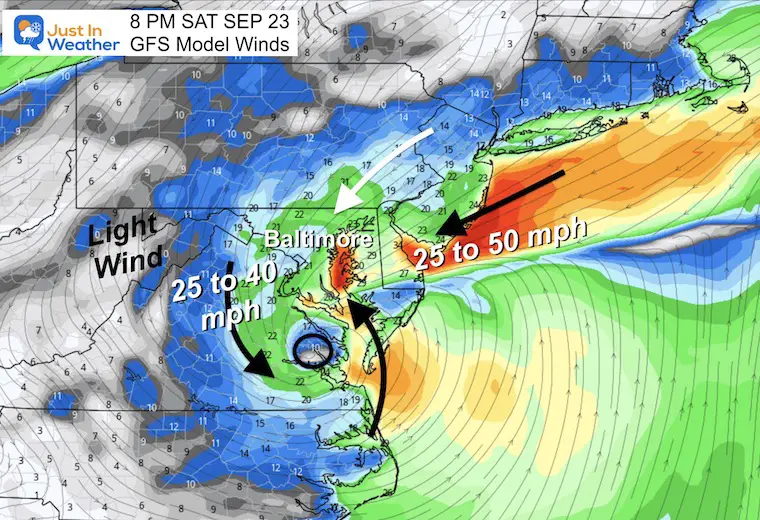 8 AM Sunday
The core circulation will weaken after slowly moving inland. It may be located around Washington DC. The winds will ease and the lingering rain will gradually taper to showers.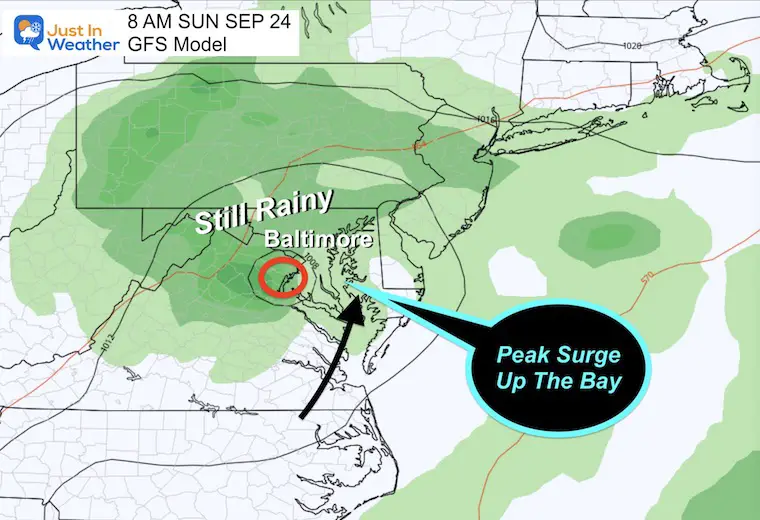 Wind Forecast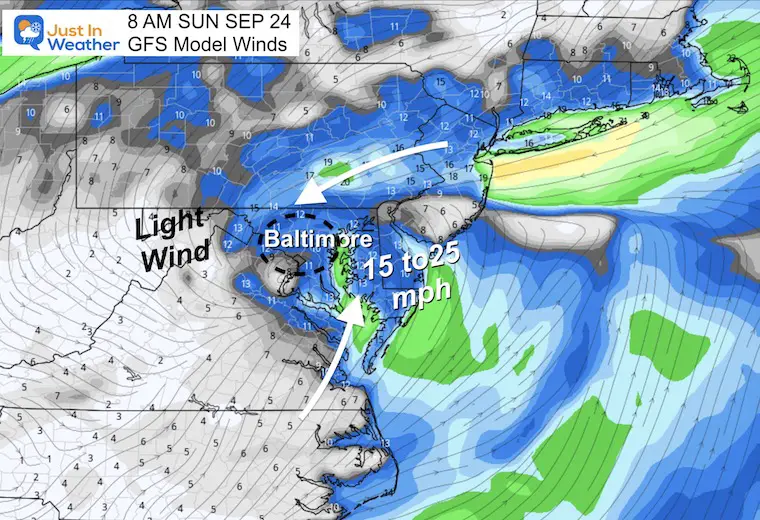 2 PM Sunday
The broad remnant Low Pressure will keep periods of rain with chilly air (60s) for the Ravens (Baltimore) AND Commanders (Landover) Games.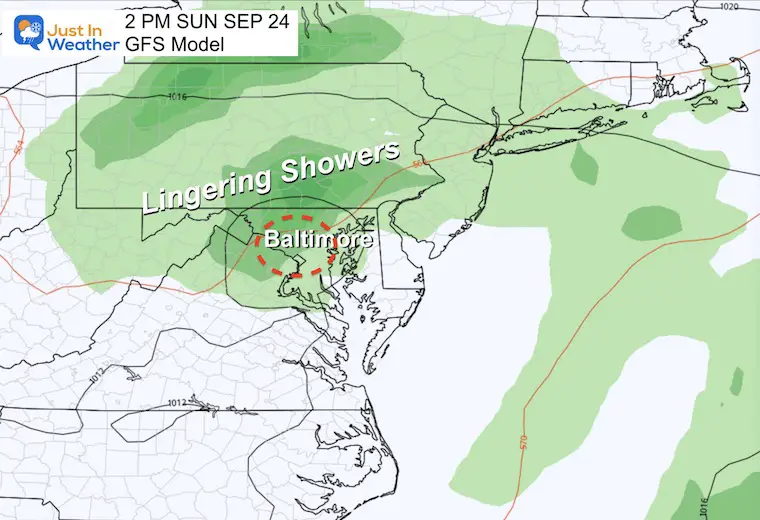 Wind Forecast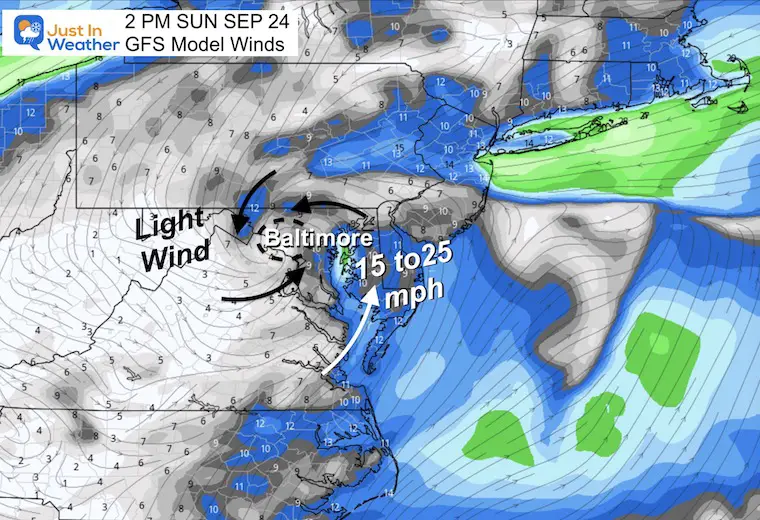 Storm Animation Friday Afternoon to Monday Night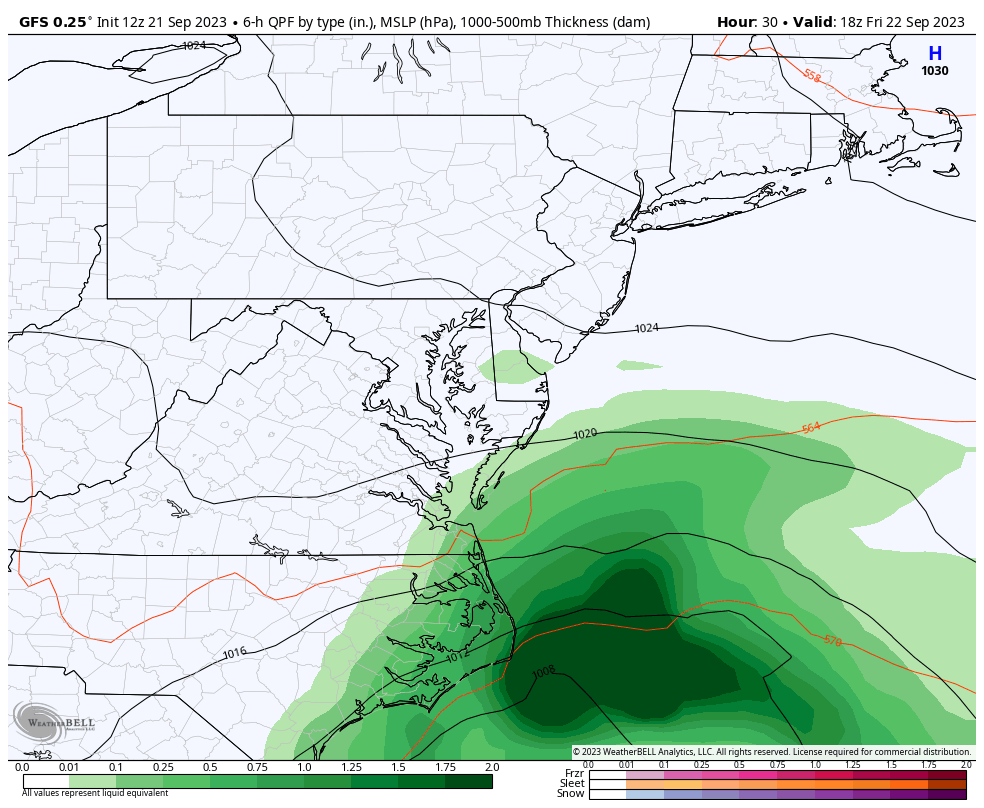 Rainfall Forecast POTENTIAL
Computer model guidance is a suggestion. This should be seen as a range and not precise expectations.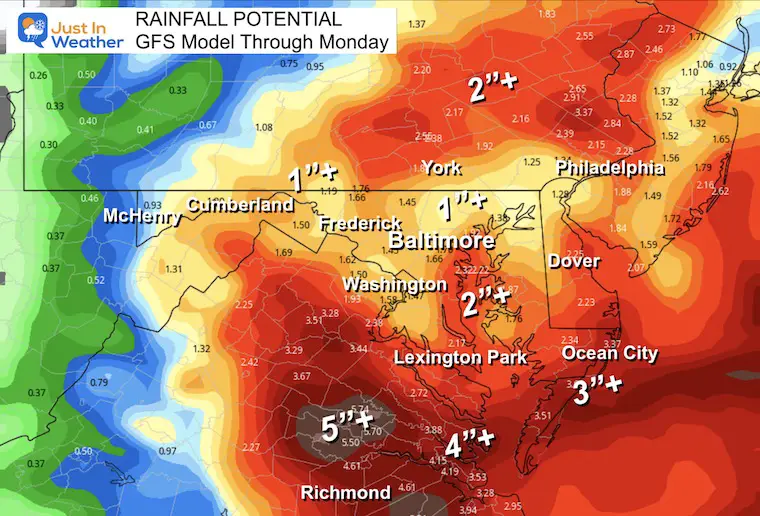 Additional Note On Airline Travel:
Plan for delays with this major storm which could be a Tropical Storm. This storm will have high winds at the surface, and even more turbulence aloft.
I do not know how your flight will be affected. I have seen planes fly on schedule in bad weather, and postponed for minimal impact. It is important to consider not only the weather at your airport but also where the plane came from and where it is going.
Any delays or rerouting can cascade like dominoes on an already delicate system.
WINDY WIDGET
Ocean Wave Model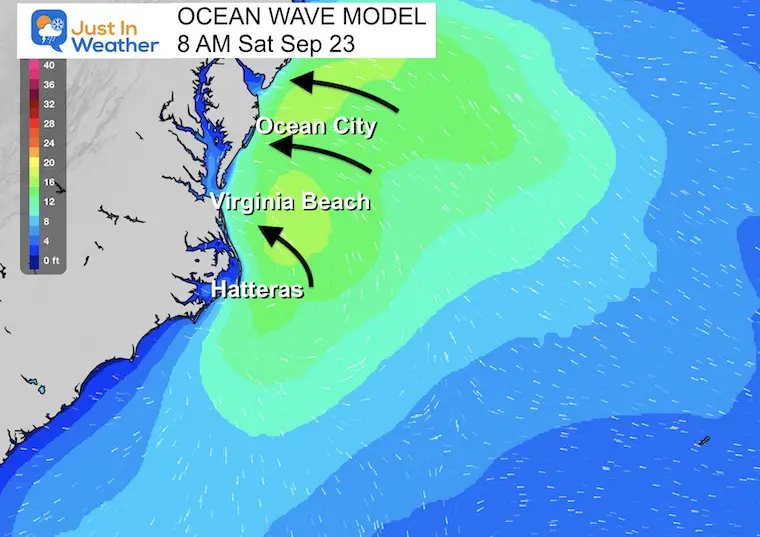 Tropical Storm Warning Statement for Ocean City, MD
    – LATEST LOCAL FORECAST: Equivalent Tropical Storm force wind
        – Peak Wind Forecast: 30-40 mph with gusts to 55 mph
        – Window for Tropical Storm force winds: early Saturday morning until Saturday morning
    – THREAT TO LIFE AND PROPERTY THAT INCLUDES TYPICAL FORECAST
      UNCERTAINTY IN TRACK, SIZE AND INTENSITY: Potential for wind 39 to 57 mph
        – PLAN: Plan for hazardous wind of equivalent tropical storm force.
        – PREPARE: Efforts to protect property should now be underway. Prepare for limited wind damage.
        – ACT: Act now to complete preparations before the wind becomes hazardous.
    – POTENTIAL IMPACTS: Limited
        – Damage to porches, awnings, carports, sheds, and unanchored mobile homes. Unsecured lightweight objects blown about.
        – Many large tree limbs broken off. A few trees snapped or uprooted, especially if soils are saturated. Some roadway signs will sustain damage.
        – A few roads will be impassable from debris. Hazardous driving conditions on bridges and other elevated roadways.
        – Scattered power and communications outages.
* STORM SURGE
    – LATEST LOCAL FORECAST: Localized storm surge possible
        – Peak Storm Surge Inundation: The potential for 1-3 feet above ground somewhere within surge prone areas
        – Window of concern: Friday evening until Sunday morning
    – THREAT TO LIFE AND PROPERTY THAT INCLUDES TYPICAL FORECAST
      UNCERTAINTY IN TRACK, SIZE AND INTENSITY: Potential for storm surge flooding greater than 1 foot above ground
        – PLAN: Plan for storm surge flooding greater than 1 foot above ground.
        – PREPARE: Complete preparations for storm surge flooding, especially in low-lying vulnerable areas, before conditions become unsafe.
        – ACT: Leave immediately if evacuation orders are given for your area.
    – POTENTIAL IMPACTS: Limited
        – Widespread storm surge flooding of vulnerable areas will result in an elevated threat of property damage to homes and businesses near the waterfront and shoreline.
        – Sections of low-lying vulnerable roads, parking lots and property will likely become flooded. Driving conditions could become dangerous in places where flooding covers the road.
        – Moderate to severe beach erosion is likely, including heavy surf possibly breaching dunes, especially in vulnerable locations. Strong and dangerous rip currents are likely.
        – Minor to moderate damage to marinas, docks, boardwalks, and piers is likely. A few small craft broken away from moorings.
* FLOODING RAIN
    – LATEST LOCAL FORECAST:
        – Peak Rainfall Amounts: 2-4 inches, with locally higher amounts
    – THREAT TO LIFE AND PROPERTY THAT INCLUDES TYPICAL FORECAST
      UNCERTAINTY IN TRACK, SIZE AND INTENSITY: Potential for moderate flooding rain
        – PLAN: Emergency plans should include the potential for moderate flooding from heavy rain. Evacuations and rescues are possible.
        – PREPARE: Consider protective actions if you are in an area vulnerable to flooding.
        – ACT: Heed any flood watches and warnings. Failure to take action may result in serious injury or loss of life.
    – POTENTIAL IMPACTS: Significant
        – Flooding from heavy rainfall may prompt evacuations and rescues
        – Rivers and tributaries may quickly become swollen, with swift currents, and overspill their banks. Small streams, creeks, and ditches overflow.
        – Flood waters can enter some structures and/or weaken foundations. Some areas may experience areas of rapid inundation at underpasses, low-lying spots, and poor drainage areas. Some streets and parking lots take on moving water as storm drains and retention ponds overflow. Driving conditions become hazardous. Some road and bridge closures are expected.
* TORNADO
    – LATEST LOCAL FORECAST:
        – Situation is unfavorable for tornadoes
    – THREAT TO LIFE AND PROPERTY THAT INCLUDES TYPICAL FORECAST
      UNCERTAINTY IN TRACK, SIZE AND INTENSITY: Tornadoes not expected
        – PLAN: Tornadoes are not expected. Showers and thunderstorms with gusty winds may still occur.
        – PREPARE: Little to no preparations needed to protect against tornadoes at this time. Keep informed of the latest tornado situation.
        – ACT: Listen for changes in the forecast.
    – POTENTIAL IMPACTS: Little to None
        – Little to no potential impacts from tornadoes.
EARLIER IN AUGUST: Maryland Trek 10 For These Kids
I will have a follow-up and recap on our amazing week shortly.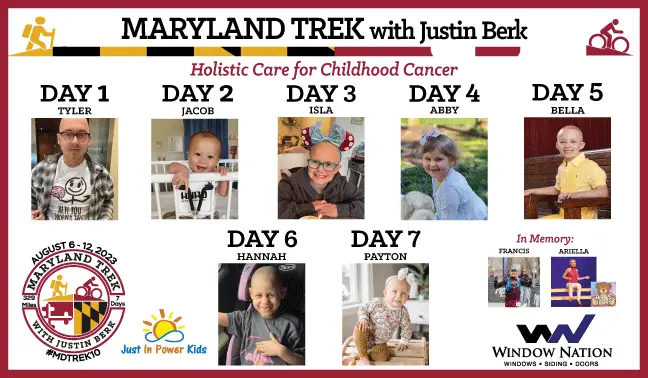 New Reports:
Subscribe for eMail Alerts
Weather posts straight to your inbox
Sign up and be the first to know!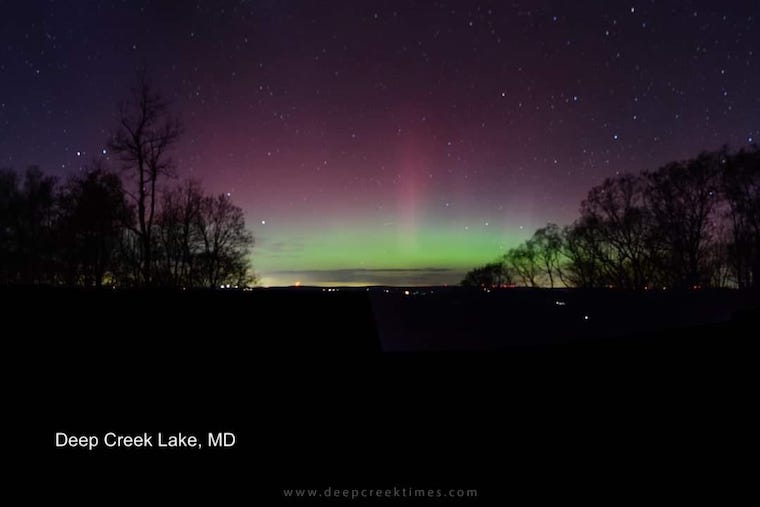 Please share your thoughts and best weather pics/videos, or just keep in touch via social media
RESTATING MY MESSAGE ABOUT DYSLEXIA
I am aware there are some spelling and grammar typos and occasional other glitches. I take responsibility for my mistakes and even the computer glitches I may miss. I have made a few public statements over the years, but if you are new here, you may have missed it: I have dyslexia and found out during my second year at Cornell University. It didn't stop me from getting my meteorology degree and being the first to get the AMS CBM in the Baltimore/Washington region. One of my professors told me that I had made it that far without knowing and to not let it be a crutch going forward. That was Mark Wysocki, and he was absolutely correct! I do miss my mistakes in my own proofreading. The autocorrect spell check on my computer sometimes does an injustice to make it worse. I also can make mistakes in forecasting. No one is perfect at predicting the future. All of the maps and information are accurate. The 'wordy' stuff can get sticky.  There has been no editor who can check my work when I need it and have it ready to send out in a newsworthy timeline. Barbara Werner is a member of the web team that helps me maintain this site. She has taken it upon herself to edit typos when she is available. That could be AFTER you read this. I accept this and perhaps proves what you read is really from me… It's part of my charm.
#FITF