January 25 Wintry Mix North: Snow Timeline And Profile Maps
Maryland Weather
climate data
Winter Weather
Forecast
Warnings
Justin Berk
Jan 25, 2023
6:07 am
0
January 25 2023
Wednesday Morning Report
The storm today is potent! It will bring snow to a large area of the US, many for the first time this season. Metro Baltimore and the Mid Atlantic will once again be on the edge and mostly rain. We still need to consider the inland suburbs that will get a thump of snow briefly at the start.
If you are in the snow zone locally, the most likely timing is between 9 AM and Noon. If you see snow, stay put and it will melt and turn to all rain this afternoon. What we really need are temps in the upper 20s to near 30ºF for a decent snow event.  With the recent mild weather and barely at freezing, it will take a burst of snow to overwhelm the ground and stick.
Please see my new Profile Map and Forecast Models that help explain the situation.
Headlines
Today: Thump of Snow INLAND 9 AM to Noon
Brief Stickage Inland
Rain Cities: T'Storm This Evening
Winter Weather Advisory:
Frederick MD/westward; Southern Pennsylvania!
At this point, the arrival may be 9 AM to Noon, limiting any impact.  The urban and southern areas are likely to be mostly rain, but could get some mix at the very start.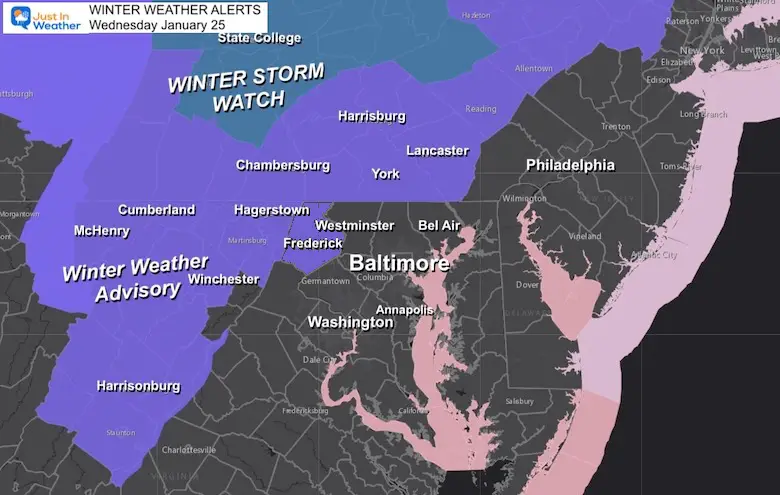 Traveling Snow Profiles
Local: Maryland 140
Northwest of Baltimore to northern Frederick County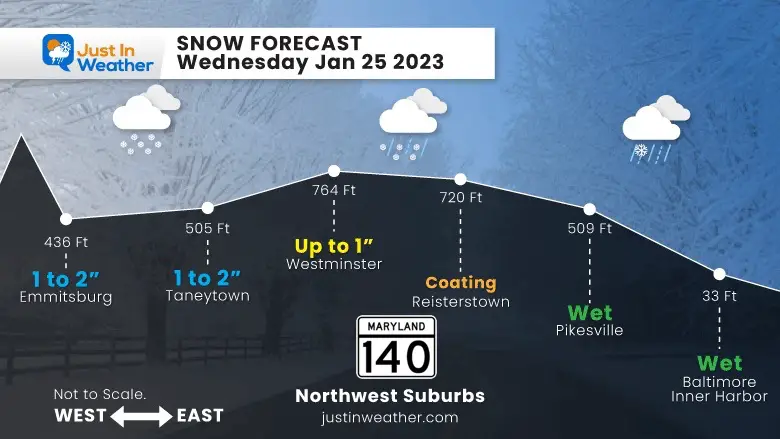 Interstate 70 to 68
Between Baltimore Beltway and Garrett County MD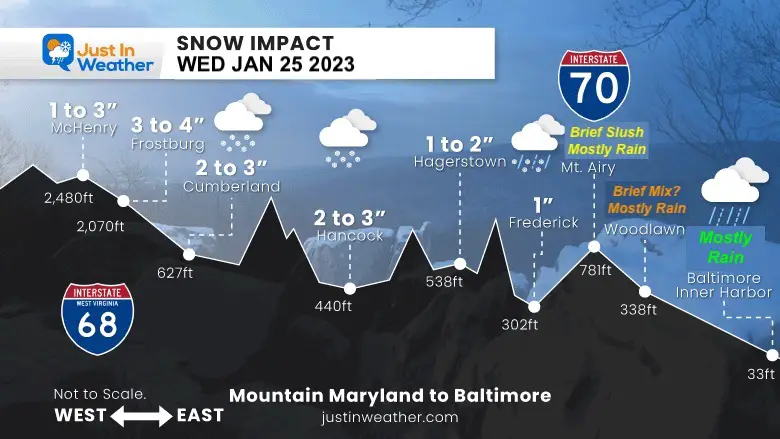 Morning Temperatures
There are colder pockets surrounding these main locations. See the spotlight on Carroll County, MD below.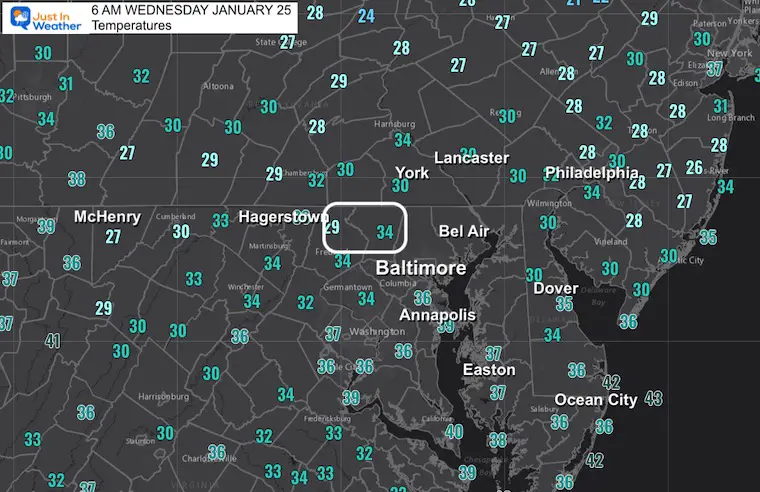 Local Focus: Carroll County, MD
That Westminster location is deceiving as many areas surrounding the county in all directions are still below freezing.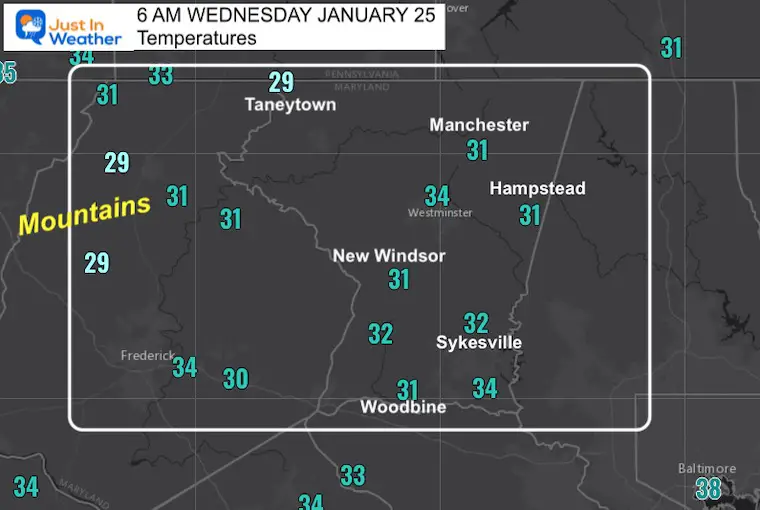 Morning Surface Weather
Snow has shown up on local radar already in the hills, but not reaching the ground yet.
This is a Winter Storm entity, even if we miss out on the snow. Plenty will fall in the Ohio Valley, Central PA, and New England.
Severe storms will erupt across the Southeast US.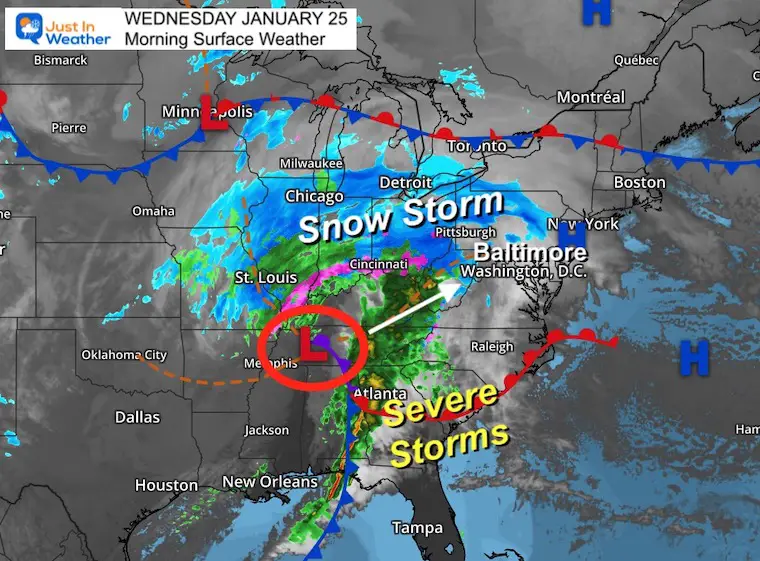 Temperatures at 11 AM
I chose this arbitrary time to highlight the mild trend. So with snow falling, many areas in that zone will be above 32ºF.
A heavy snow THUMP can briefly overtake a warm ground, but patience will allow melting.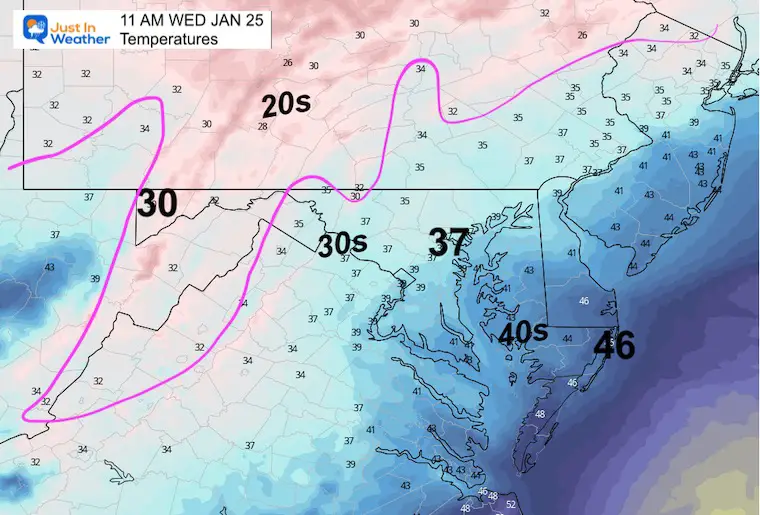 Snow/Rain Tracking
Canadian GEM Model
This shows the arrival locally between 10 AM and 1 PM
We still should apply a buffer of 1 to 2 hours for model error (slow)
10 AM
1 PM
Snow/Rain Tracking
European ECMWF Model
This also shows the arrival locally between 10 AM and 1 PM
We still should apply a buffer of 1 to 2 hours for model error (slow)
10 AM
1 PM
HRRR Model
I've marked up the area where the product still suggests possible edge of snow (slushy).
NAM 3 m Model
12 PM- Noon
This is too late for the arrival in my opinion.
11 PM – Tonight
I chose this product to highlight since it does the best job suggesting the heavy rain and possible thunderstorms.
Evening Temperatures
Notice that metro areas area get into the 40s.
Eastern Shore gets into the 50s, with 60s nearby around Norfolk, VA.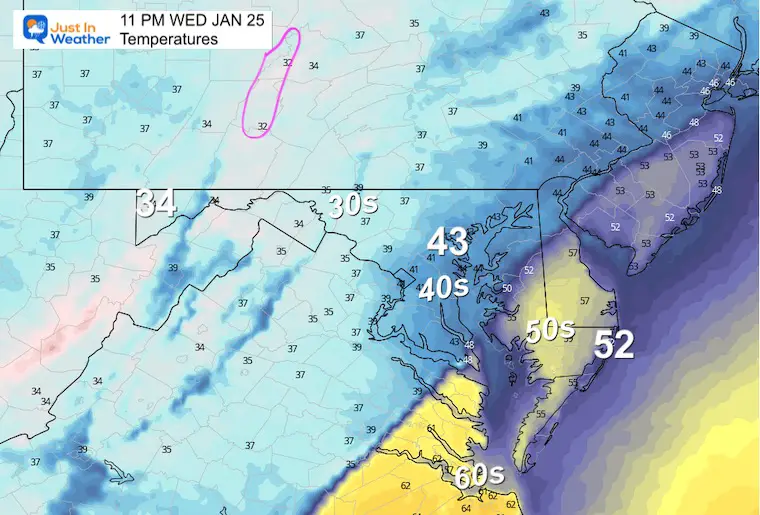 Note:
Yesterday I highlighted the GFS Model with a rare win for timing the snow in Arkansas. Overall, this product is failing and I will limit sharing plots until the problems can be resolved.
Before we blame the 'American Models', the NAM 3 Km and HRRR Models are also American. Those are high resolution and best used in the short range for the day of, or even one day ahead.
Subscribe for eMail Alerts
Weather posts straight to your inbox
Sign up and be the first to know!
Climate Trivia
Latest Measurable Snow In Baltimore
Today Will Tie 3rd Latest
Feb 21 in 1973 (50 years ago)
Feb 6 in 1914 (109 years ago)
Jan 25 in 1992 ( 31 years ago)
Jan 25 in 1901 ( 122 years ago)
Jan 24 in 2023 (So Far Confirmed)
Jan 23 in 1966 (57 years ago)
Jan 21 in 1907 (116 years ago)
CLIMATE DATA
TODAY January 25
Normal Low in Baltimore:  25ºF
Record 0ºF in 1983
SNOW: 9.3" 1909
Normal High in Baltimore: 45ºF
Record 72ºF 1964
Friday Weather
Winds may gust over 40 mph
Temperatures
7 AM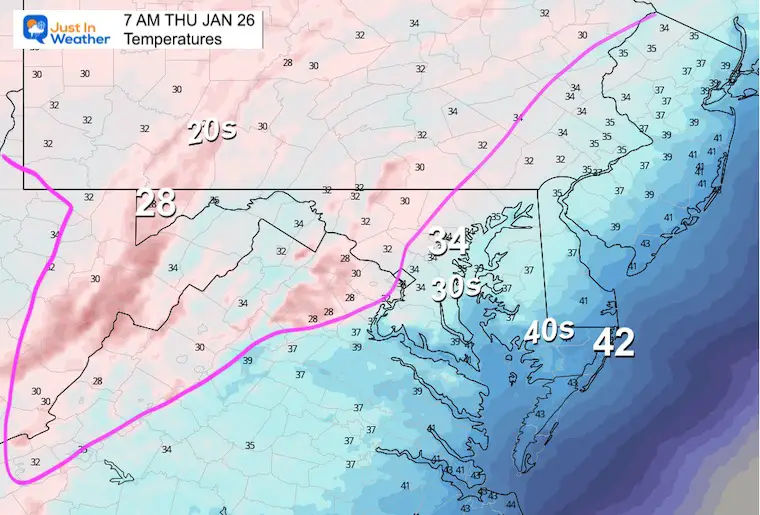 Afternoon High Temperatures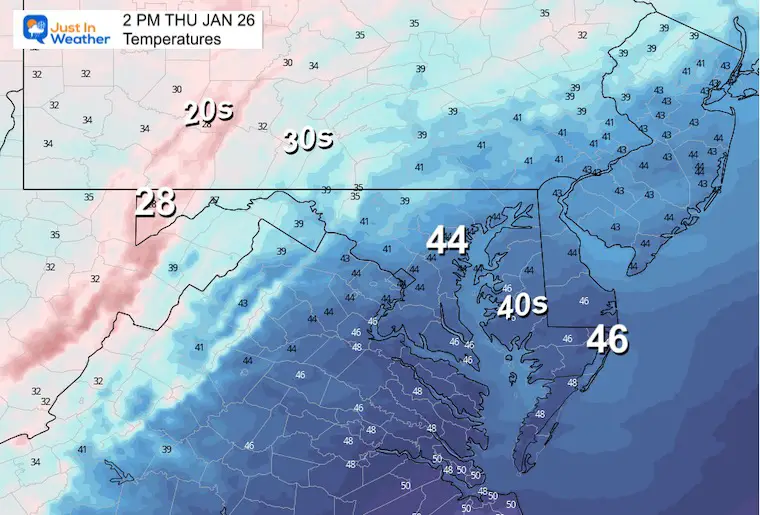 7 Day Forecast
Brief disturbances will pass through Friday and Sunday, but nothing major in sight. We will continue to see mild weather, then look to the second week of February for the next 'potential' push of winter.
That is all the pattern shows us for now.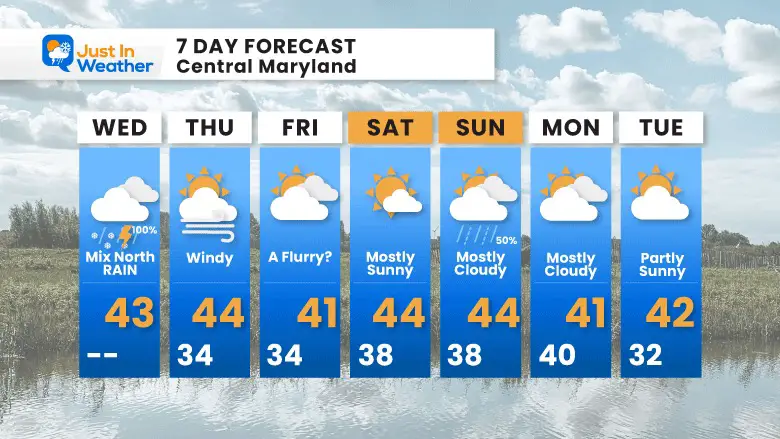 Also See:
Winter History: Low Snow And Late Starts
See my research based on Baltimore data since 1883.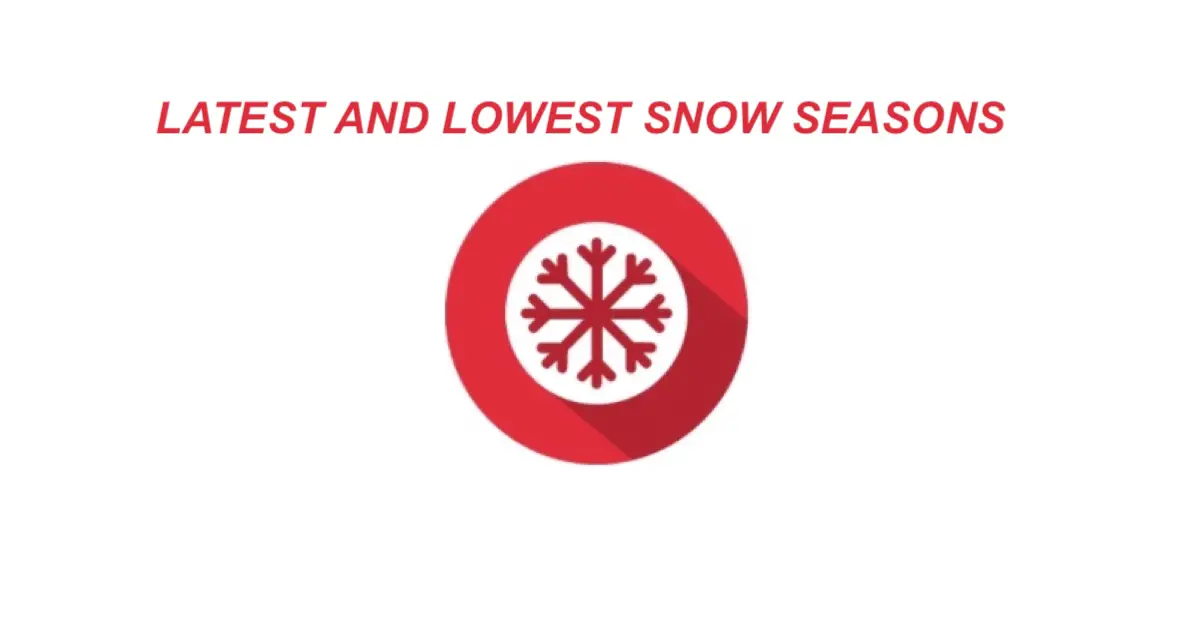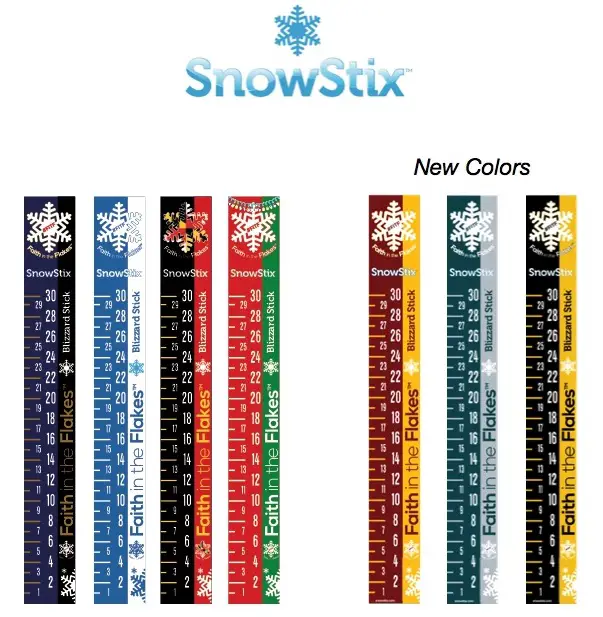 STEM Assemblies/In School Fields Trips Are Back
Click to see more and 'Book' a visit to your school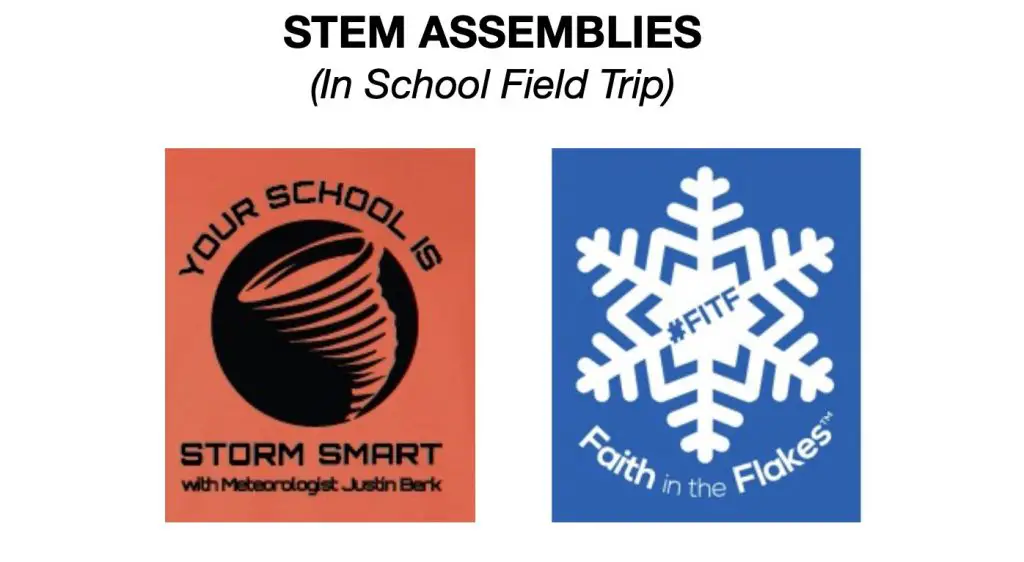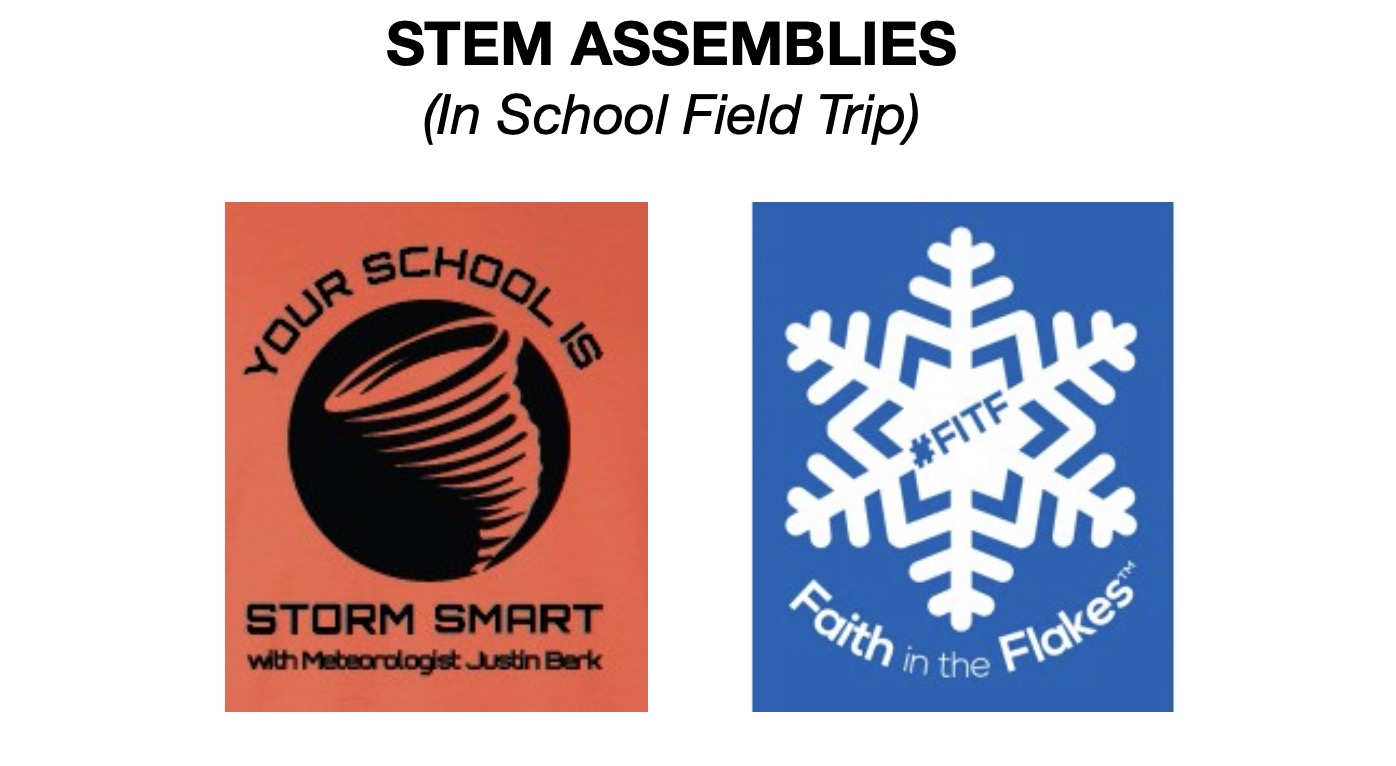 My Winter Outlook: Not A Typical La Niña!
I see many factors to support colder influence with multiple systems. Early and later in winter. Check it out.
Winter Outlook 2023 For Snow Not Typical La Niña Plus Polar Vortex Disruption
Also See The Winter Outlook Series:
Atmospheric Memory Suggests Active Winter Storm Pattern Outlook
Winter Outlook 2023 From NOAA Very Different Than Farmers Almanacs
Farmer's Almanac Comparison
Winter Outlook 2023 Early Look At Snow From Two Farmers Almanacs
Triple Dip La Niña Winter
CONNECTION TO WINTER?
If you want a snowy winter, this is what you might want to look for in the rest of the tropical season. (You might be seeing a lot of commercial snow removal people out this Winter).
Record August For No Named Tropical Storms: Closer Look At Snow Following
Wooly Bear Caterpillars
Persimmon Seeds
Click to see Top 20 and MORE
Winter Weather Folklore Top 20 And More Outlook Signals From Nature For Cold And Snow
Normals And Records: Maryland and Baltimore Climate History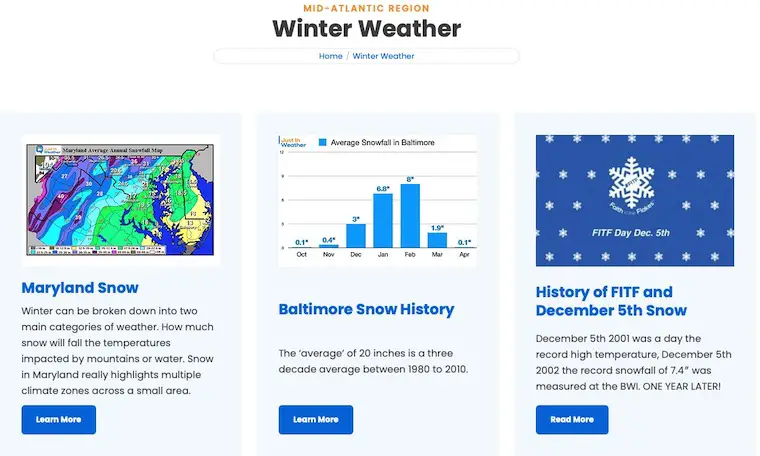 Please share your thoughts, best weather pics/videos, or just keep in touch via social media