Wednesday Morning Winter Mix: Two American Models Still Split On Timing And Impact
snow forecast
Maryland Weather
Winter Weather
Forecast
Warnings
Justin Berk
Jan 24, 2023
12:05 pm
0
January 24, 2023
Tuesday Mid-Day Update
The marginal winter event for our region on Wednesday would be minor in a normal winter. This is a rare winter, however, so it is worth the attention since we are out of practice on how to handle this.  The added concern is the timing, as I have been saying for a few days.  Now we can see the contrast between the two American Computer Models. I will break them down below but add the caution that more data is arriving now. I also want to share what I will be focusing on with my work.
Concern Time: 7 AM to 11 AM Wednesday
Getting the arrival time may impact the commute conditions and some schools.  One or two hours off can make or break this forecast and inclement weather policy calls. It is possible this arrives at the tail end or after school busses, then changes to rain before the afternoon ride.  That is part of the challenge.
Comparing Models
The GFS Model (still under scrutiny) is faster, thus tapping in and holding cold air longer.
The NAM Model is the higher resolution but has an error of being 1 to 2 hours slow, which is later. This allows 'warm enough air' to expand north and limit any winter impact on our region.
Note: Due to the model error, I am purposely comparing off hours. The GFS 7 AM to the NAM 8 AM; The GFS 10 AM to the NAM 11 AM.
Early Morning
The GFS Model is much faster, allowing the leading band to be snow. This would be associated with an upper-level warm front. I've seen this followed by a lull, then the main shield of precipitation arriving later.
The NAM Model is delayed with the leading edge of snow near and west of Cumberland.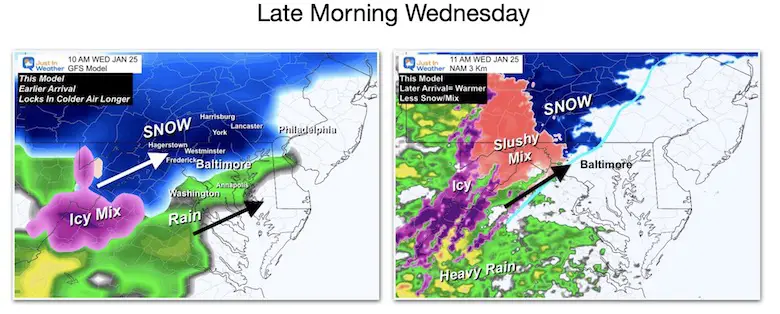 Late Morning
The GFS has a solid coverage of snow including metro Baltimore (please note the temps above freezing below).
The NAM Model is simply much slower, barely reaching Northern Carroll County in Maryland and York County in PA. Metro Baltimore not yet (per this model).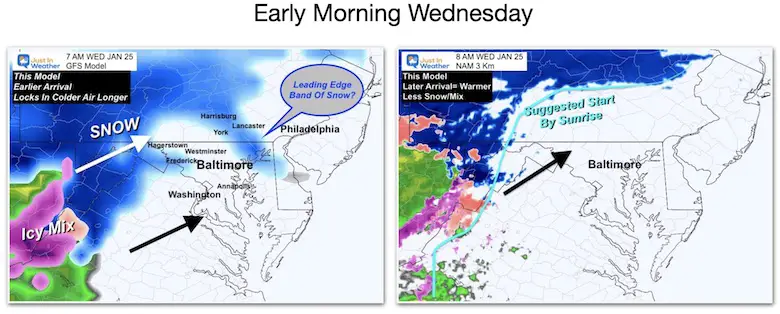 Closer Look At Each Model Below
Weather Alerts from NWS
UPDATED MAP!
I still think Frederick to Westminster may get added or have worthwhile impact for a bit. Stay close for updates.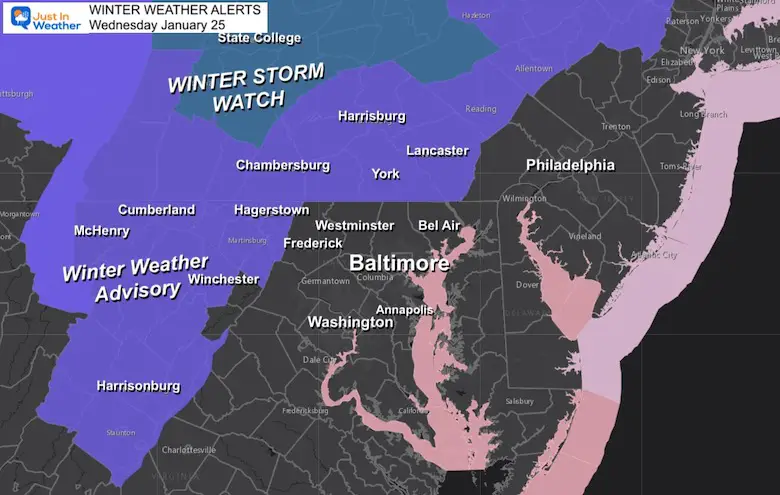 My Suggested Impact
This map is the same as I posted last night. I am keeping this up for consistency. I will post a snow map in my evening report.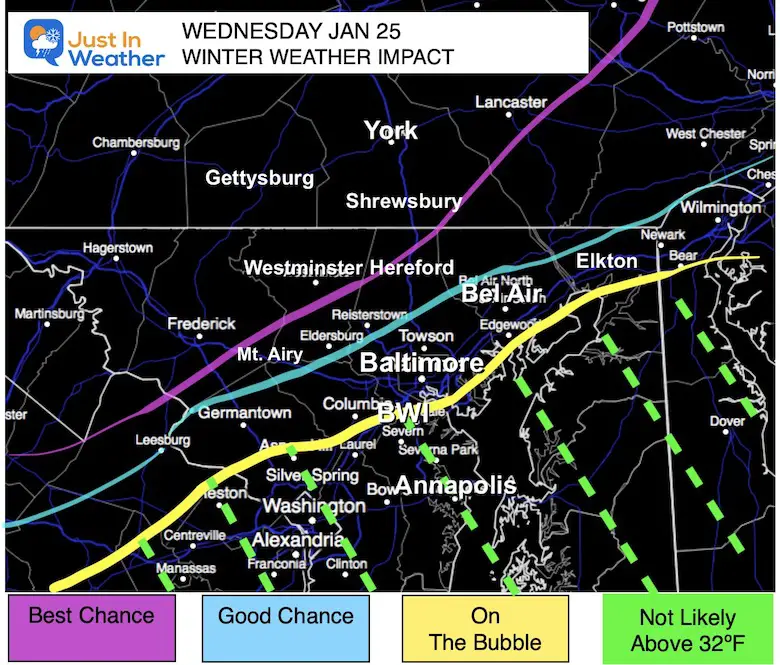 AFTERNOON UPDATE
I posted this on social media…
Afternoon Model Analysis Comparing latest plots:
1 PM (18Z) to Doppler Radar centered in Little Rock, AR.
GFS Model = closest to verifying!
Euro SLOW (older run/having mainframe issues).
Canadian GEM is ALSO TOO SLOW.
GFS Model has been the fastest to bring snow to MD on Wed AM and hold cold.
*TIMING IS KEY and a few hours earlier will make or break the impact for our region. I am trying to be overly cautious, but this does fit the models bias running too slow.
This was my recent update. I will have more later.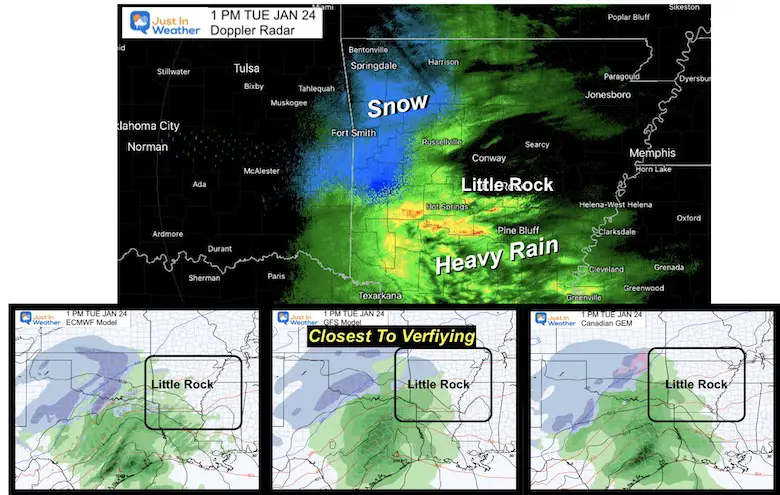 TUESDAY NIGHT UPDATE
Click here for the Full Report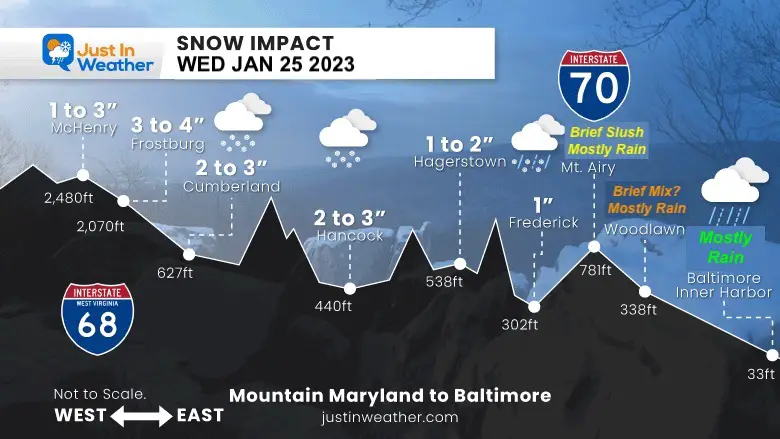 Animation
The Warmer Solution: For Argument's Sake
I don't want you to think I am biased towards the cold model… So let's use the warmer NAM as the baseline.  Compare to the GFS Model Snapshots below.
NAM 6 AM to Midnight
The later arrival allows more warm air, and mostly heavy rain in the afternoon and evening.
Snapshots
8 AM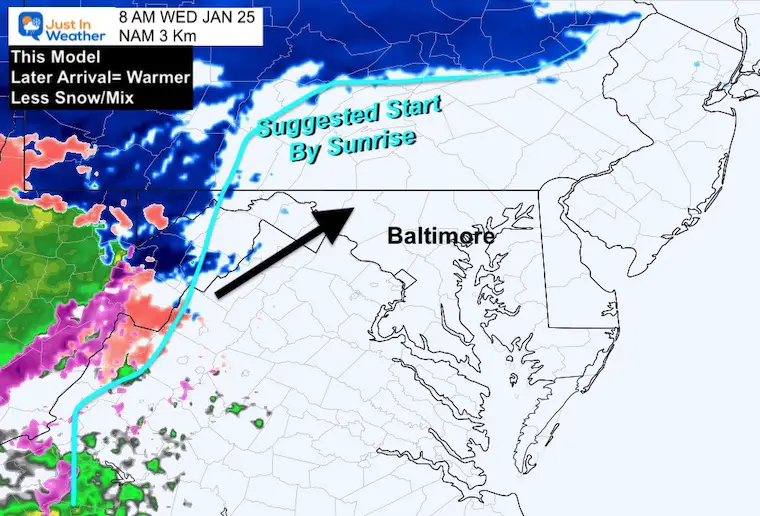 11 AM
Suggested first flakes for the Northwest hills seems late.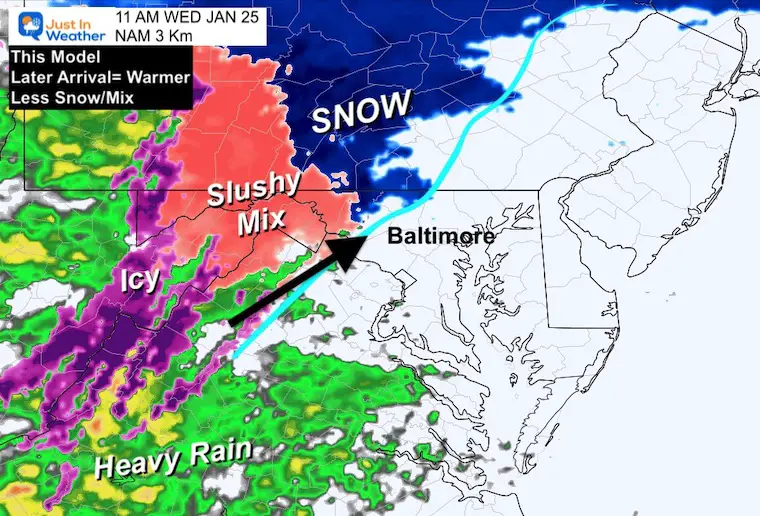 12 PM
This noon plot seems a little too late for the onset in metro areas.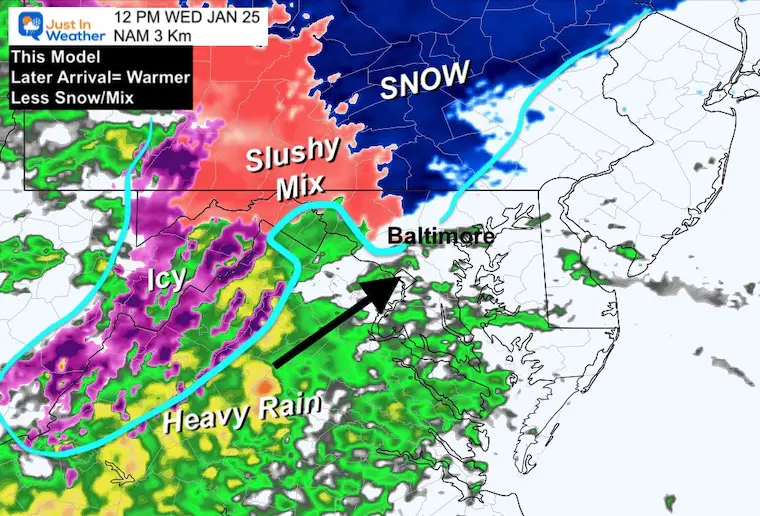 2 PM
I do agree with the expansion of moderate to heavy rain.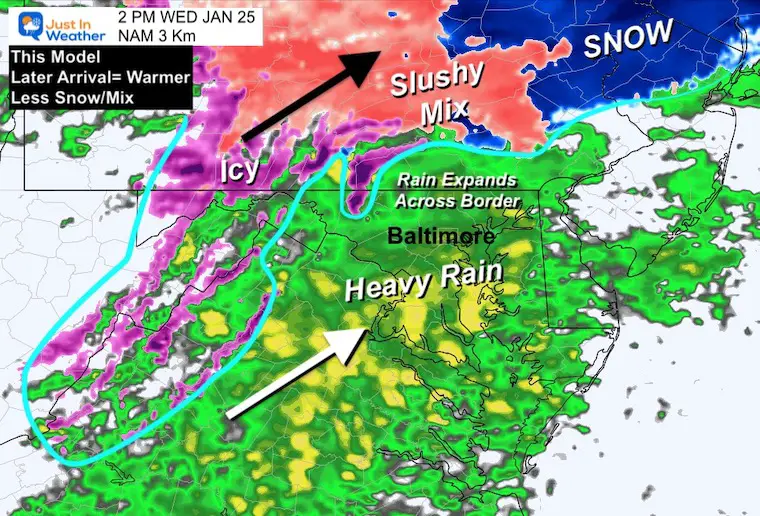 GFS Model Snapshots
This may be too aggressive with the cold air.
7 AM
This suggests a leading band of snow by sunrise into Northeast Maryland based on a mid-level warm front at cloud level.  Then a lull for a few hours between the main shield of snow/rain.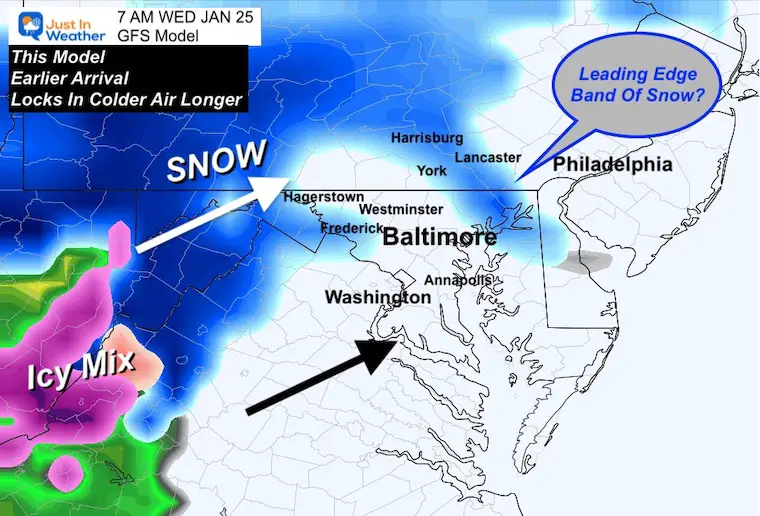 10 AM
This is very aggressive with the bulk of snow. With this arriving earlier, it allows the marginal cold air to be tapped and held a few extra hours.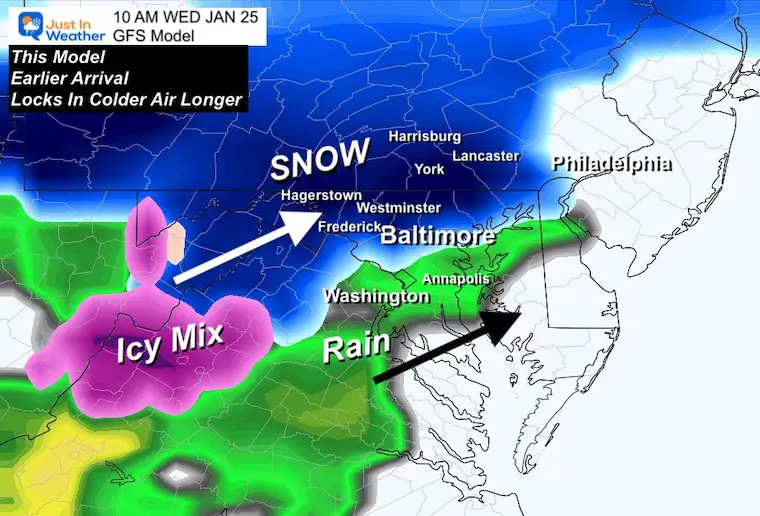 1 PM
This does hold the snow in northern Maryland, but compare to the temperatures below, if this verifies it would be slushy with wet roads.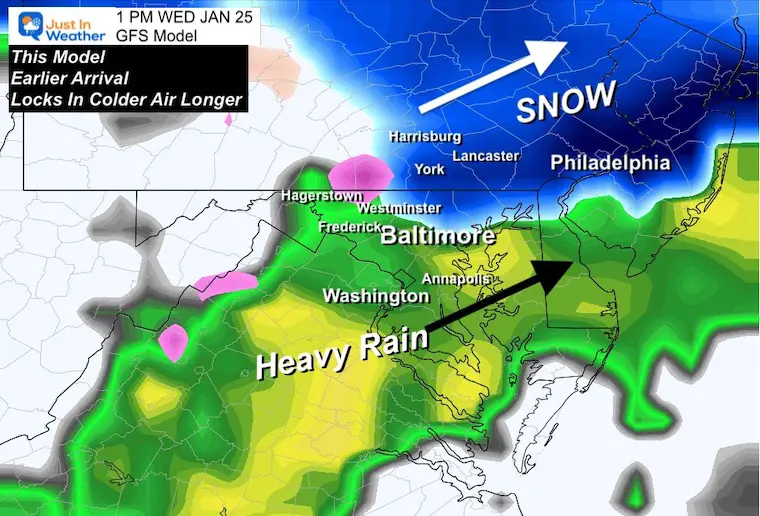 Temperatures
These are based on the GFS Model, so when comparing the snow maps… look for the 32ºF line for the best chance for stickage and accumulation.  That matches up with my suggested impact map above.
7 AM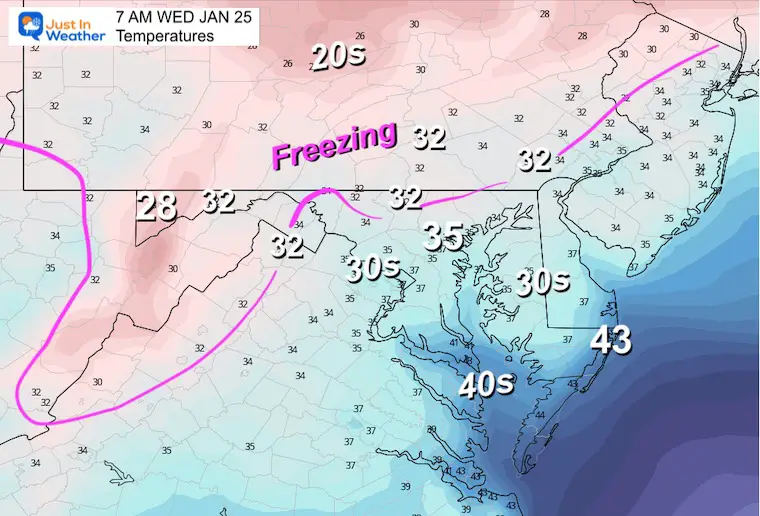 10 AM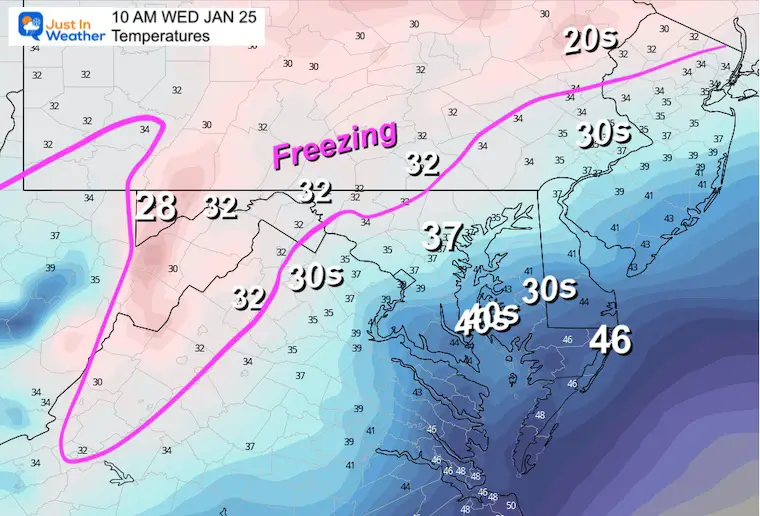 1 PM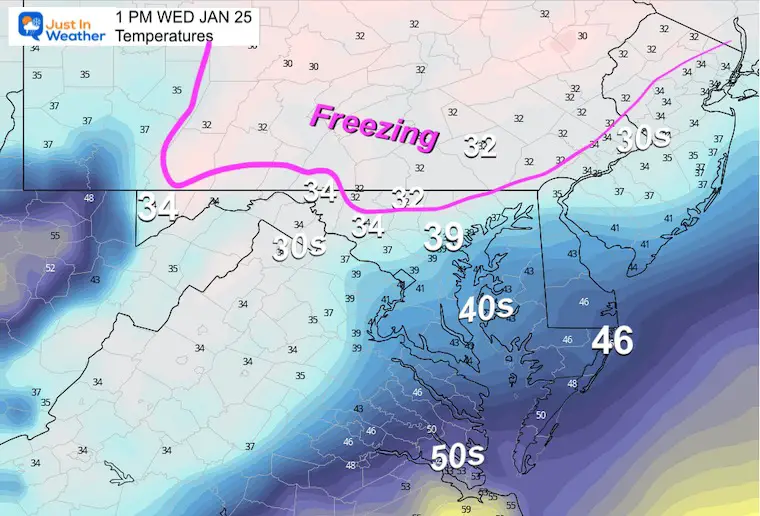 4 PM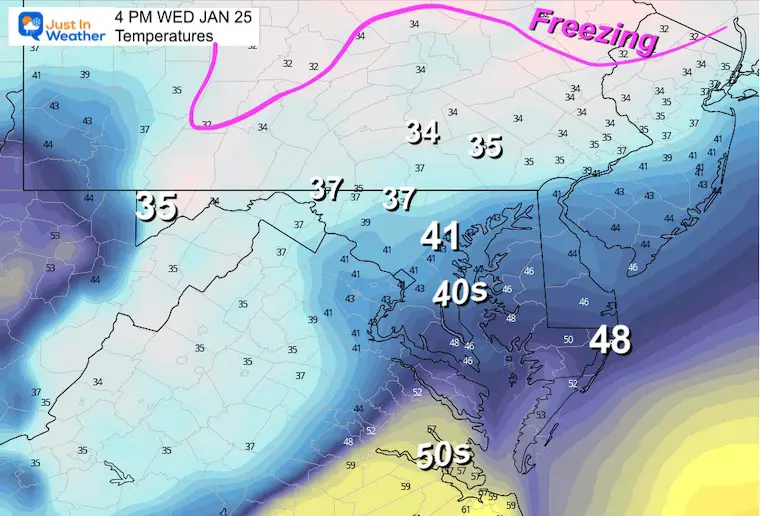 My Take Away:
TIMING!  I will be watching for the Canadian and European Model package to fully display.  I am looking more for any consistency or trends on speed.
This afternoon I will be doing a nowcasting analysis. Over a few hours I will be comparing each model to the variation of both radar and ground observations for the leading edge of precipitation.
I am inclined to find a middle ground between these two outputs. The GFS might be too aggressive, while the NAM is a little too slow and warm.
I also would lean more pessimistically against higher snow totals, due to the ground temps AND timing extending to midday.
We will turn to all rain in the afternoon.
The National Weather Service is likely to post some advisories for Maryland, Northern Virginia, and West Virginia. I will pass along what I see when that data arrives.
Subscribe for eMail Alerts
Weather posts straight to your inbox
Sign up and be the first to know!
Also See:
Winter History: Low Snow And Late Starts
See my research based on Baltimore data since 1883.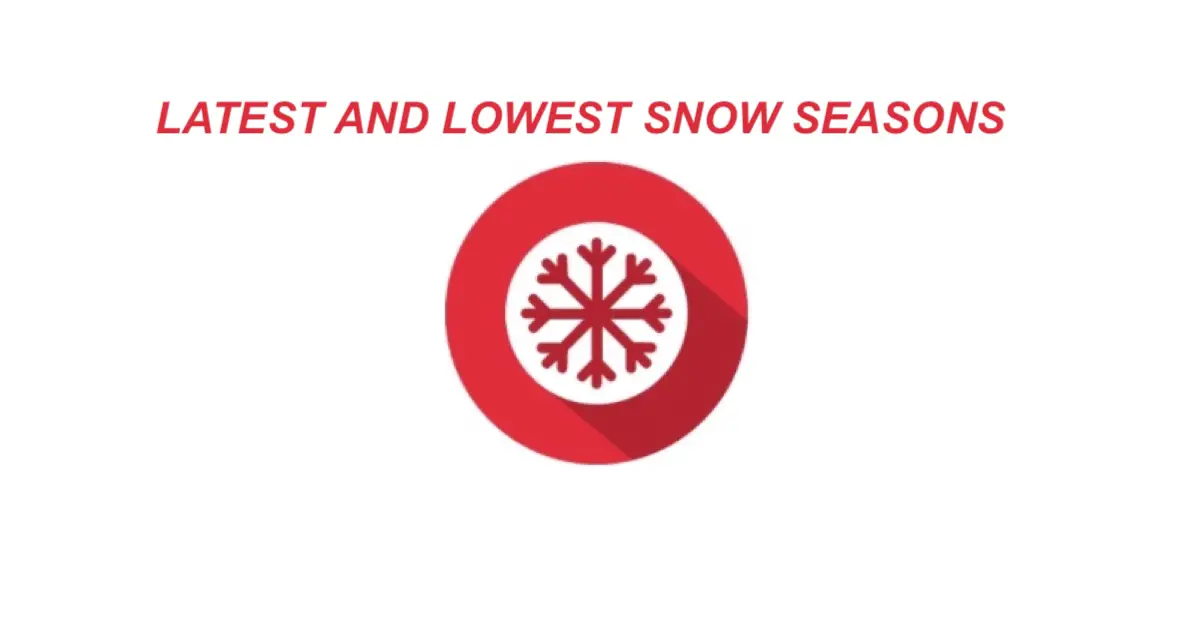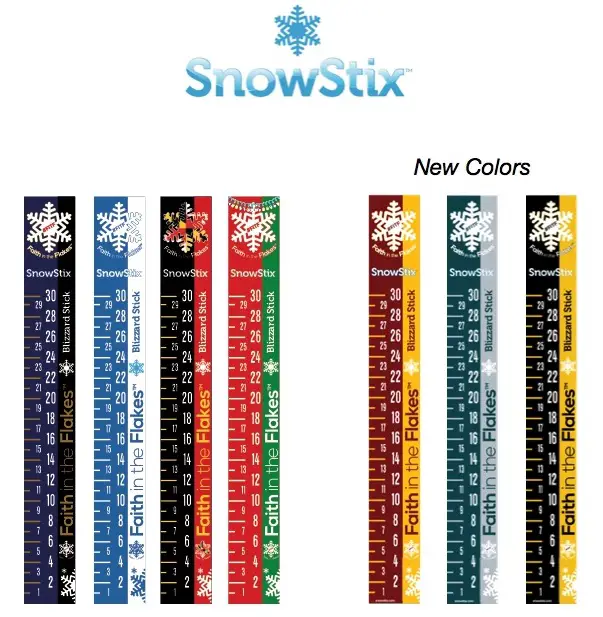 STEM Assemblies/In School Fields Trips Are Back
Click to see more and 'Book' a visit to your school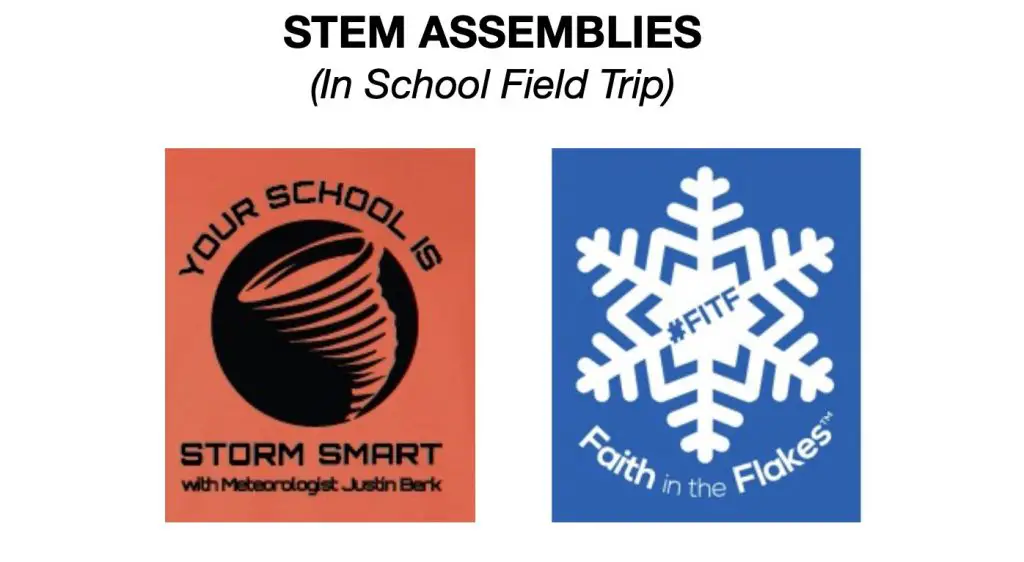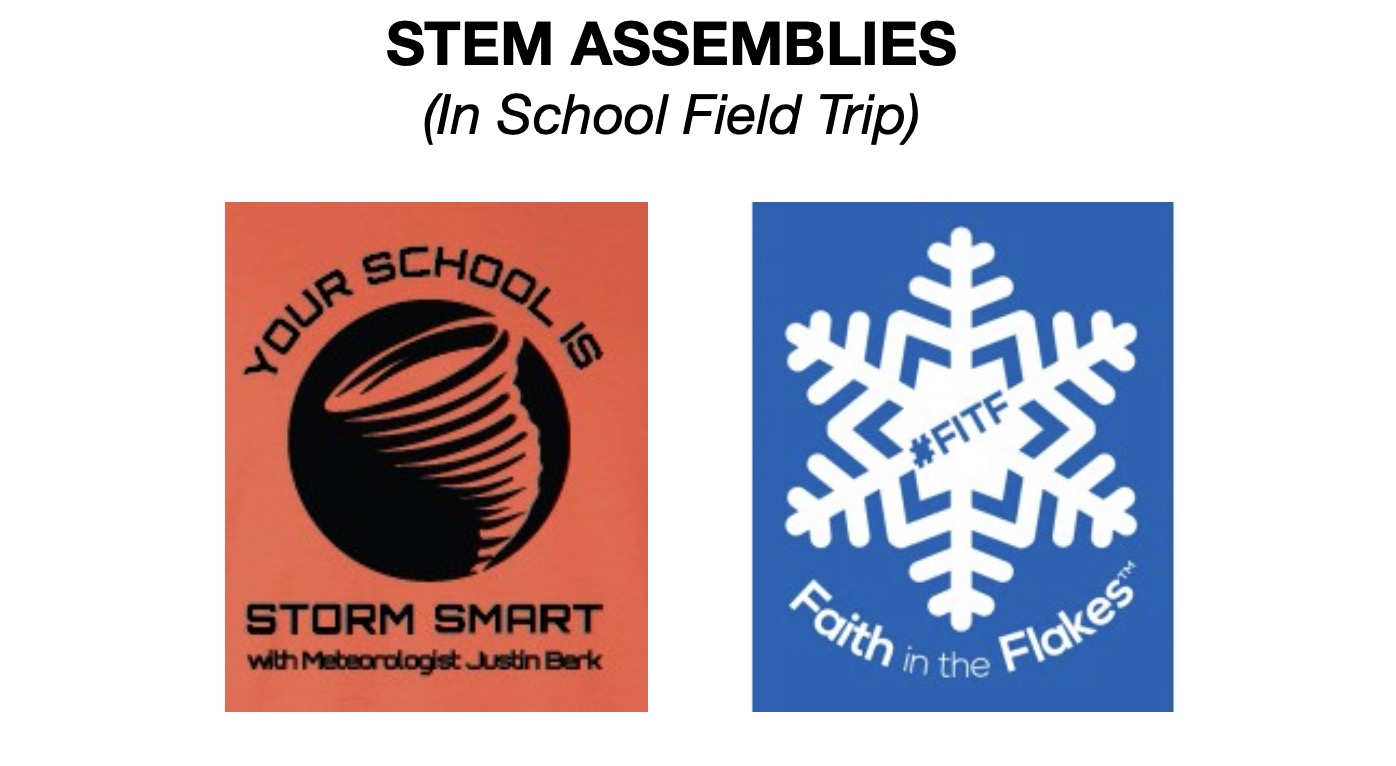 My Winter Outlook: Not A Typical La Niña!
I see many factors to support colder influence with multiple systems. Early and later in winter. Check it out.
Winter Outlook 2023 For Snow Not Typical La Niña Plus Polar Vortex Disruption
Also See The Winter Outlook Series:
Atmospheric Memory Suggests Active Winter Storm Pattern Outlook
Winter Outlook 2023 From NOAA Very Different Than Farmers Almanacs
Farmer's Almanac Comparison
Winter Outlook 2023 Early Look At Snow From Two Farmers Almanacs
Triple Dip La Niña Winter
CONNECTION TO WINTER?
If you want a snowy winter, this is what you might want to look for in the rest of the tropical season. (You might be seeing a lot of commercial snow removal people out this Winter).
Record August For No Named Tropical Storms: Closer Look At Snow Following
Wooly Bear Caterpillars
Persimmon Seeds
Click to see Top 20 and MORE
Winter Weather Folklore Top 20 And More Outlook Signals From Nature For Cold And Snow
Normals And Records: Maryland and Baltimore Climate History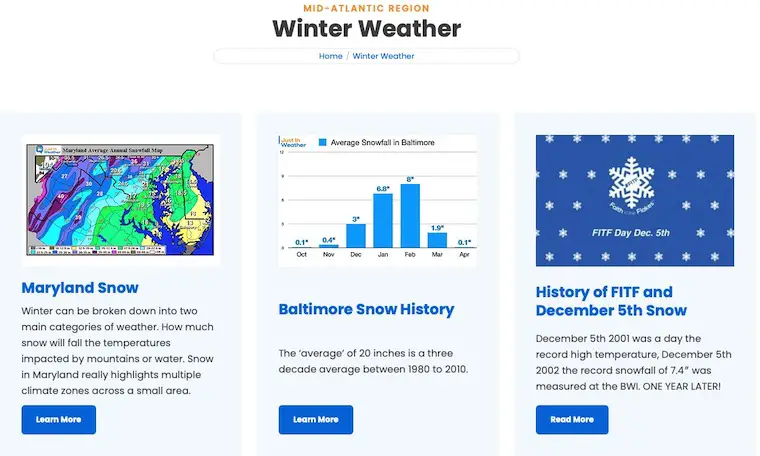 Please share your thoughts, best weather pics/videos, or just keep in touch via social media