January 24 Breezy Today Winter Weather Wednesday
Maryland Weather
climate data
Winter Weather
Forecast
Warnings
Justin Berk
Jan 24, 2023
6:43 am
0
January 24 2023
Tuesday Morning Report
Today will be dry and a bit breezy, so while mild there will be a bit of a wind chill. The main issue is the winter event on the way tomorrow. The timing is key to determine whether it can catch up to the early morning cold. The tendency has been for precipitation to arrive a little faster than the models show, which would mean a little more snow and possible stickage on roads.
Winter Weather Advisory: Southern Pennsylvania. I have a map and suggestions where in Maryland, VA, and WV may get added.
At this point, the arrival may be 7 AM to 11 AM, limiting any impact.  Below is a look at the models and my thoughts. Metro Baltimore and north have the better chance. The urban and southern areas are likely to be mostly rain.
Headlines
Today: Breezy
Wednesday: Snow (NW) Morning To All Rain
North: Some Stickage
Cities and South: Wet/Mostly Rain
Climate Trivia
Latest Measurable Snow In Baltimore
Today 5th Latest
Feb 21 in 1973 (50 years ago)

Feb 6 in 1914 (109 years ago)

Jan 25 in 1992 ( 31 years ago)

Jan 25 in 1901 ( 122 years ago)

Jan 23 in 2023 CURRENT

Jan 23 in 1966 (57 years ago)
Morning Temperatures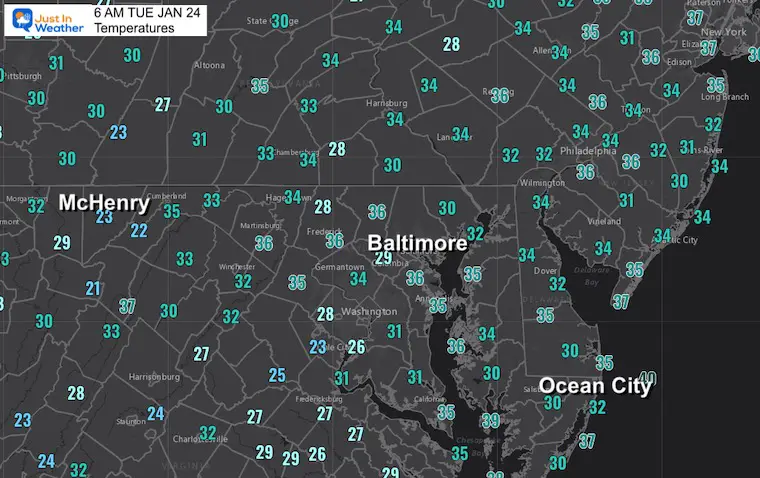 Morning Surface Weather
Our next storm is located in Texas this morning. Colder air with a cold front along the Canadian border is going to try and expand southeast.  This is a matter of timing and location. How far and deep can that cold air reach when the storm arrives….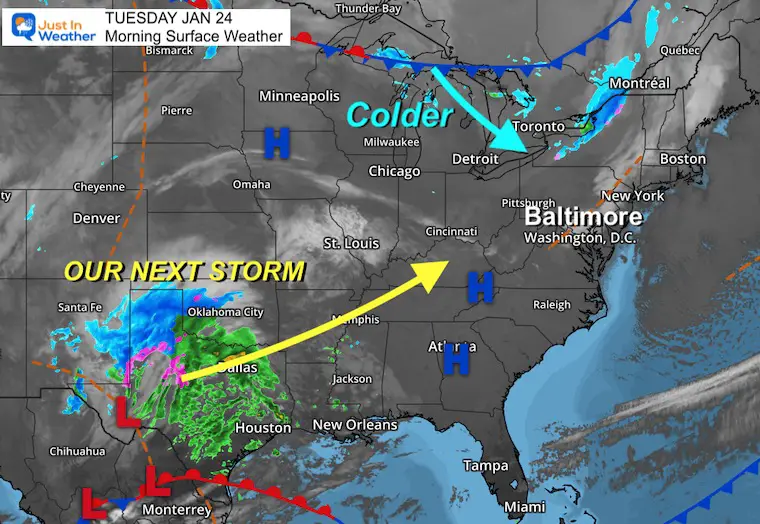 Wind
 

Simulation: 8 AM to 8 PM

Winds will be 10 to 20 mph.

Afternoon Temperatures
Once again a little above average.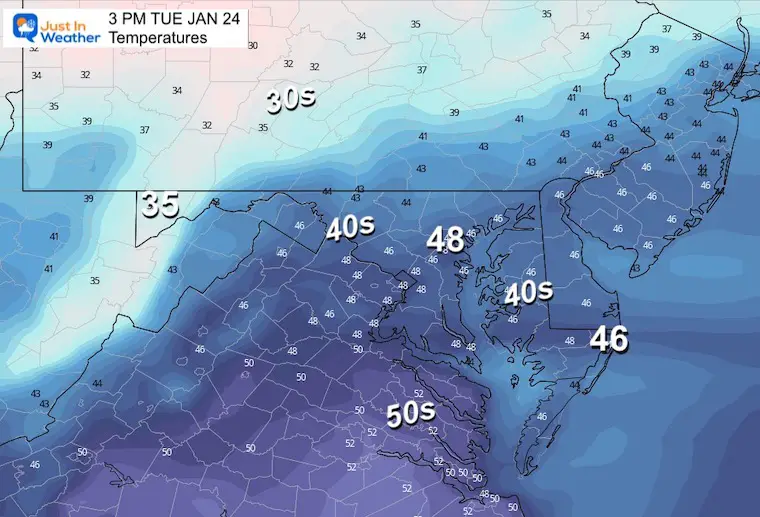 Wind Chill
Not much, but noticeable.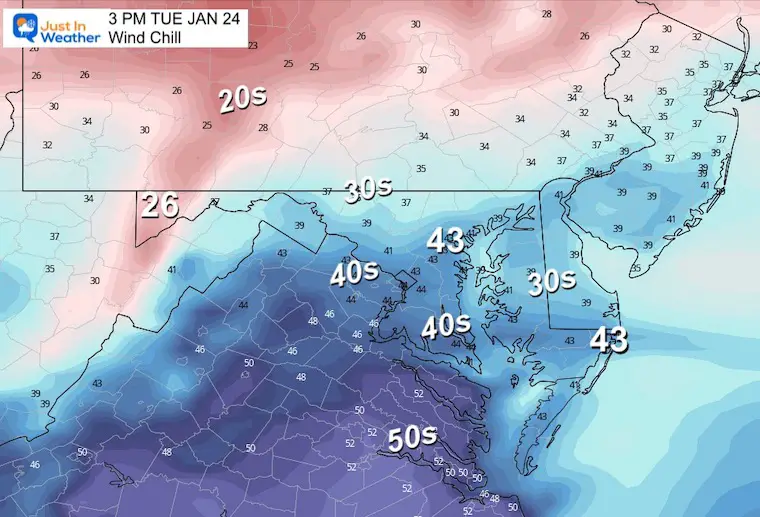 Subscribe for eMail Alerts
Weather posts straight to your inbox
Sign up and be the first to know!
CLIMATE DATA
TODAY January 24
Normal Low in Baltimore:  25ºF
Record 4ºF in 1983
SNOW: 8.4" 1966
Normal High in Baltimore: 43ºF
Record 71ºF 2015
Also See:
Winter History: Low Snow And Late Starts
See my research based on Baltimore data since 1883.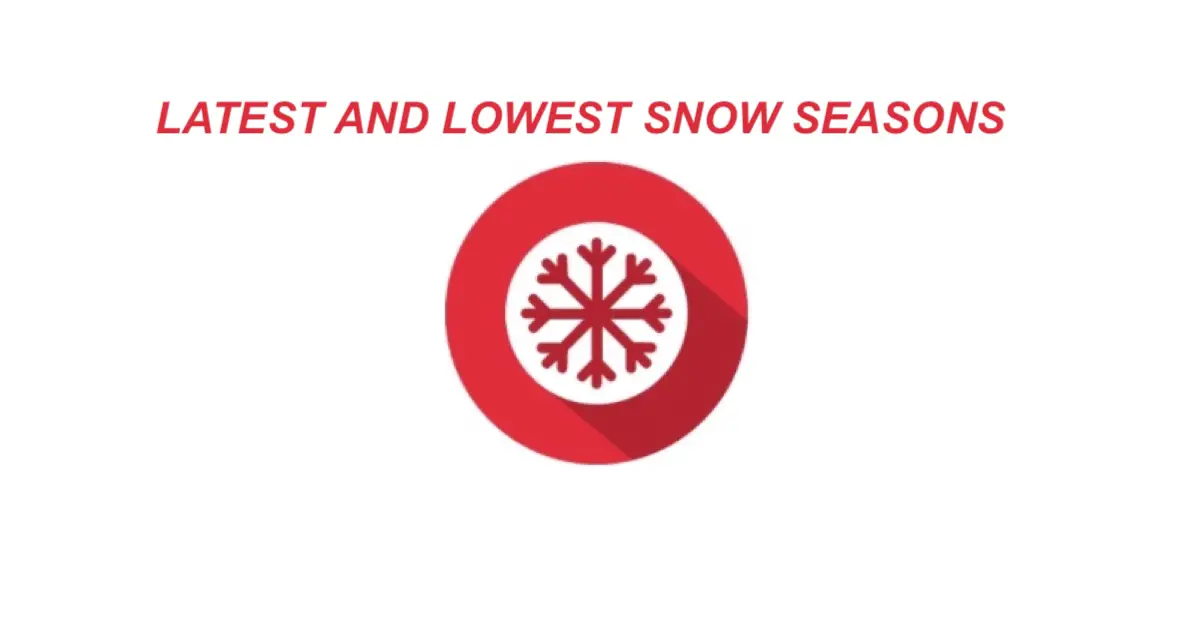 Wednesday Weather
Winter Weather Alerts
At this point, NWS State College has put out their alerts for Pennsylvania. NWS in Sterling VA covers most of Maryland, VA, and WV. I believe the area highlighted may (not promised) have some advisories posted today. Pay attention for any updates and I will share during the day.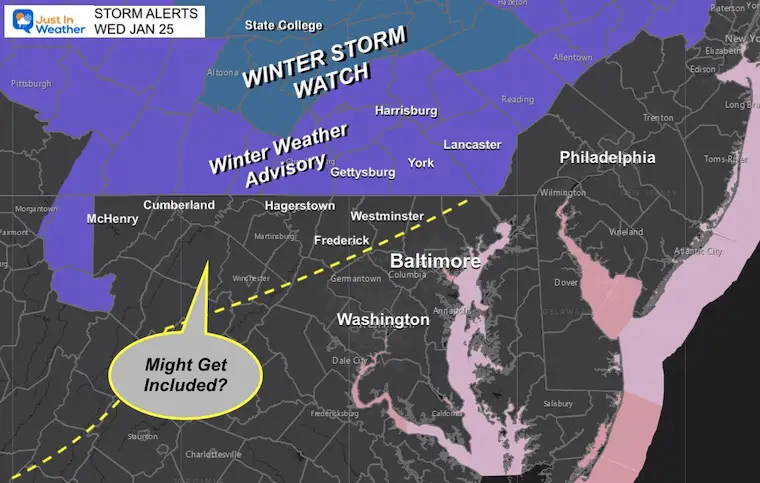 Who Will Get Snow?
I'm showing my comfort level at this point on the map below.
Timing will be KEY!  At this point, the models are trying to bring this in after sunrise to midday. Should we end up with a faster arrival closer to, or before sunrise, there will be more cold air in place to expand the snow coverage.
Impact Chances (my thoughts)
If you saw some snow yesterday morning (Monday), then you have a better chance to see it again Wednesday.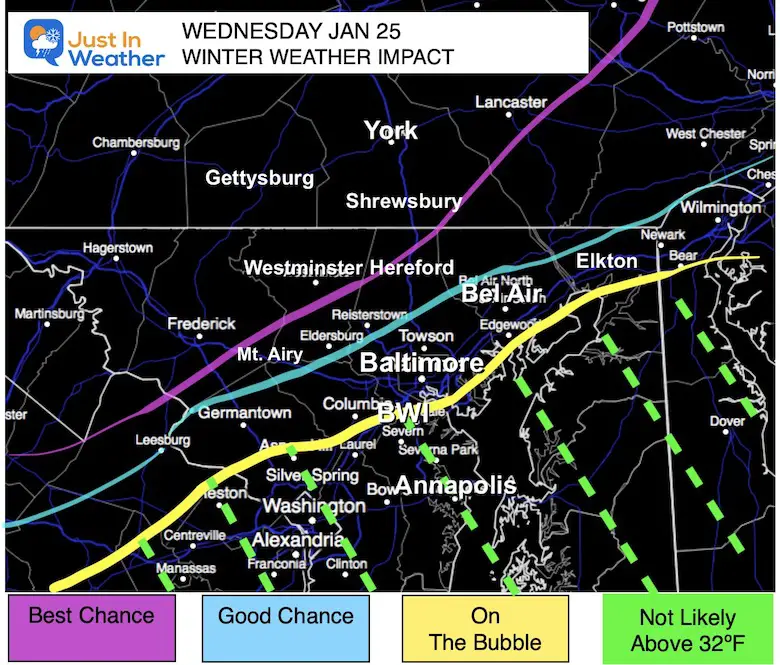 Best Chance Includes: Martinsburg, Hagerstown, Frederick, Westminster, York, and Lancaster.
Good Chance: Mt. Airy, Eldersburg, Hereford…
On The Bubble: Germantown, Columbia, Baltimore, Bel Air, Elkton, even Metro Philadelphia off the edge of the map.
Not Likely: South and East of BWI. This includes Essex, Annapolis, Washington, Southern Maryland, and most of the Eastern Shore.
Storm Animation
ECMWF Model 7 AM WED to 7 PM THU
Timing is Key. Earlier would allow for colder air to team up and bring more snow.  Later would be a little warmer and more rain through metro Baltimore. It will gradually mix and change to all rain for the colder hills and mountains. More snow will hold in central and northern Pennsylvania.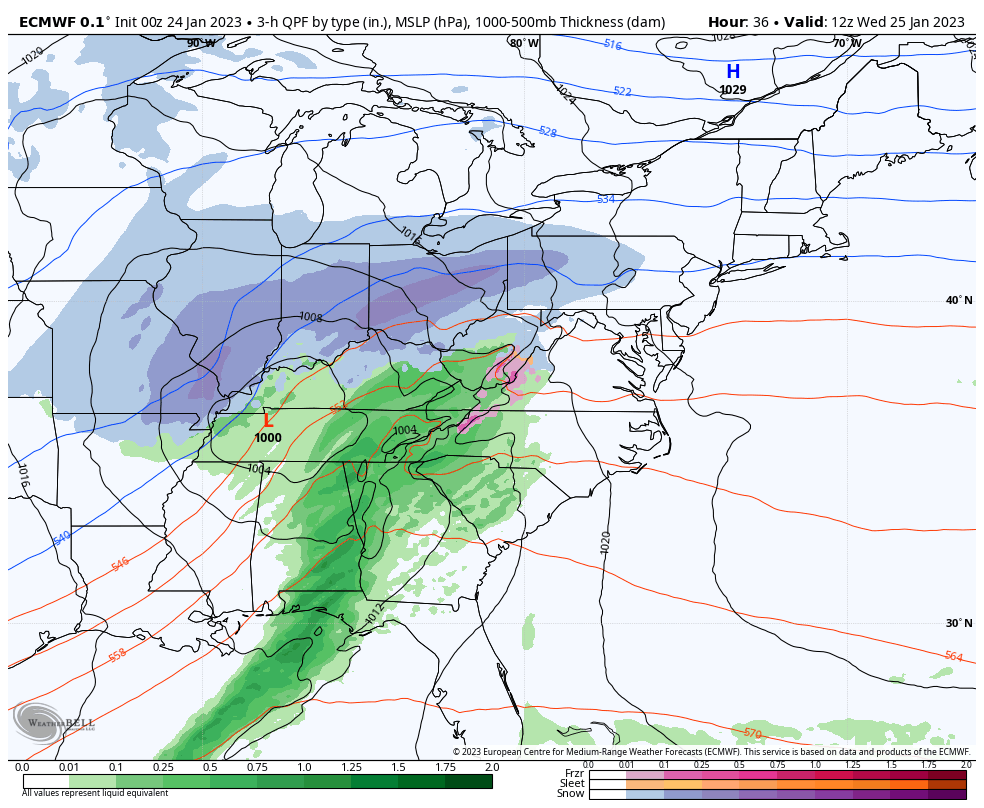 Model Comparison
ECMWF
Between 7 AM and 10 AM for the arrival shown, entering metro Baltimore with flurries while steady impact snow in the mountains.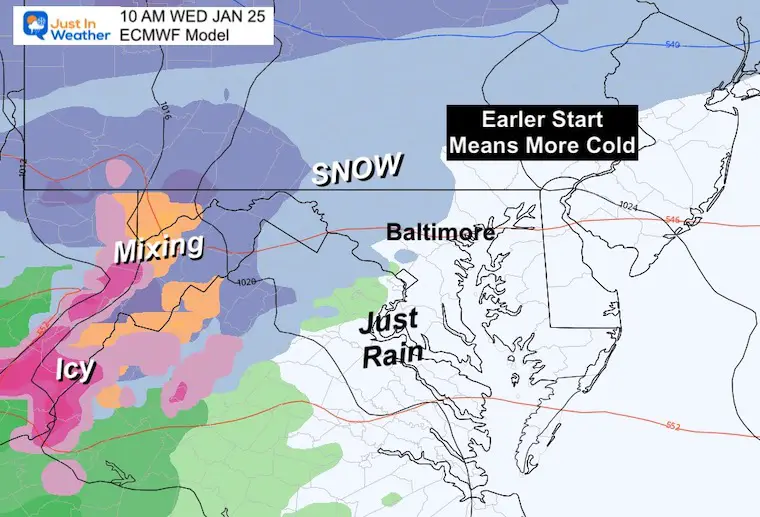 GFS Model
This is a little faster, thus showing light snow into central Maryland between 7 AM and 10 AM.
Canadian GEM Model
This is a little later between 10 AM to 1 PM. The mix line splits through central Maryland with a mix west.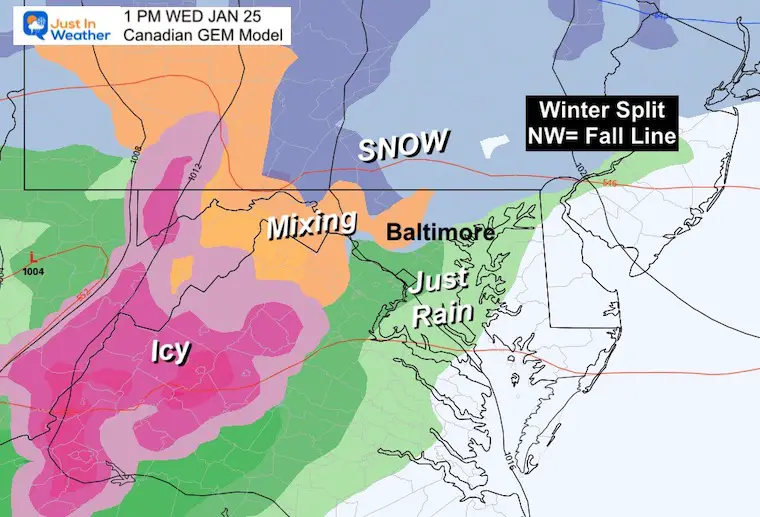 NAM 3Km
This is later and allows for enough warming to bring mostly rain into central Maryland. The mix or snow is confined to near the PA line and north.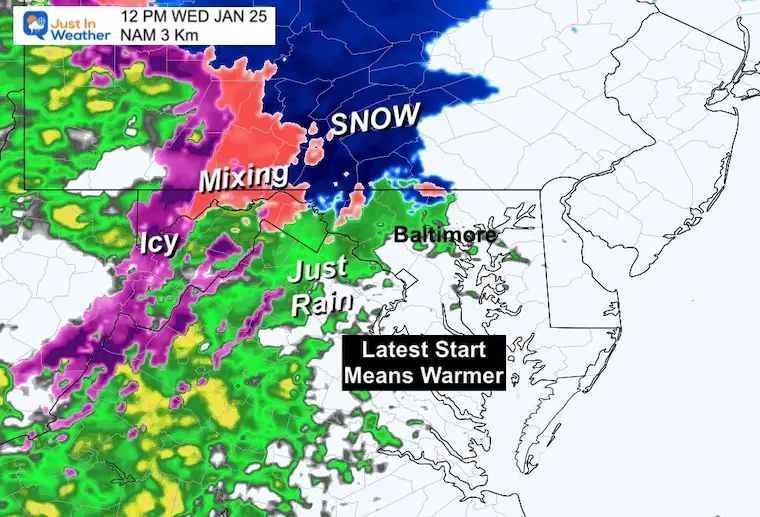 Temperatures
Timing is KEY to try and catch up to the cold air, but it will be warming slowly into the afternoon and night.
7 AM
The freezing temps reach into much of Maryland..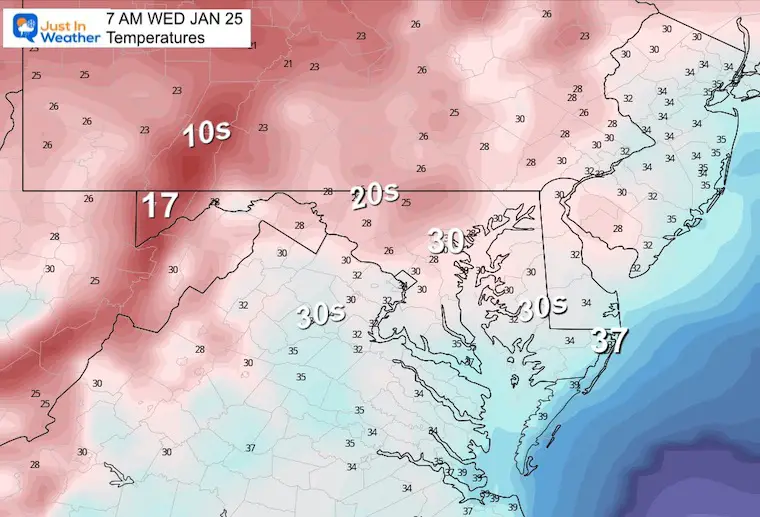 Evening High Temperatures
Temps will continue to slowly warm all afternoon and into the night.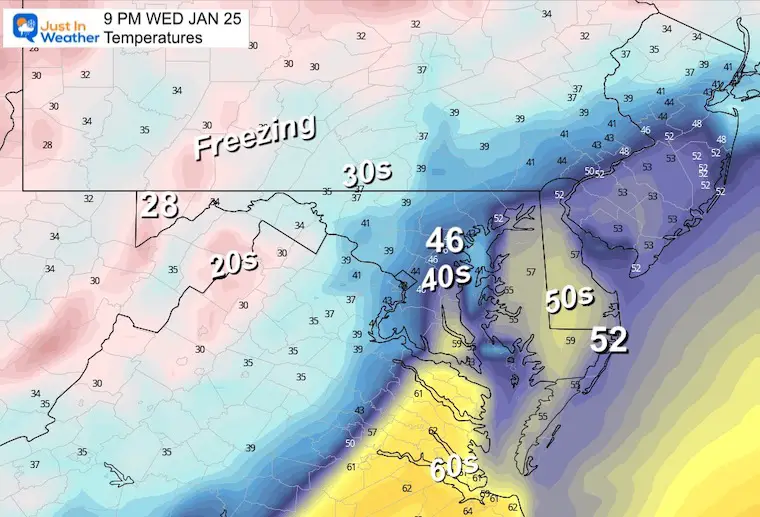 7 Day Forecast
Some upper level energy behind this storm may allow for some flurries. That is the best I've got as temps remain mostly above freezing in metro areas during the afternoons.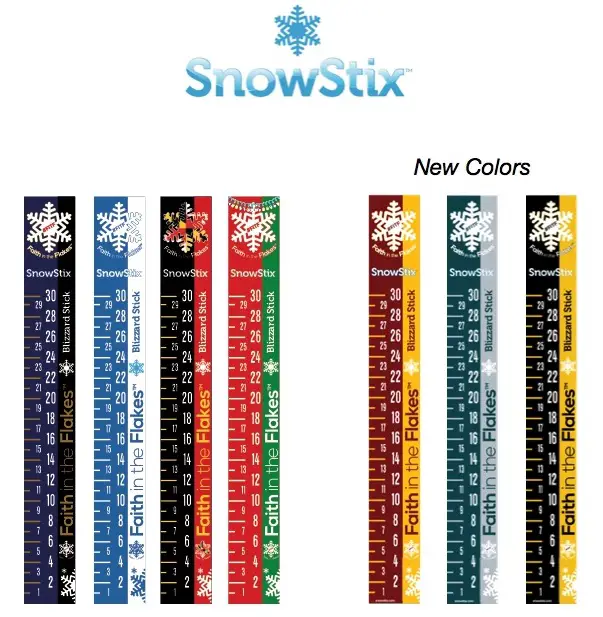 STEM Assemblies/In School Fields Trips Are Back
Click to see more and 'Book' a visit to your school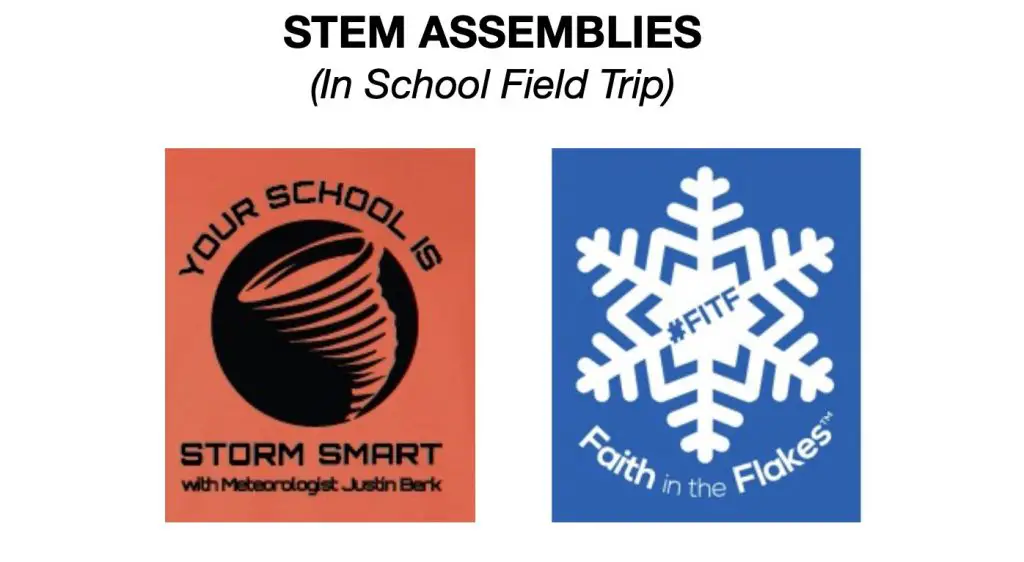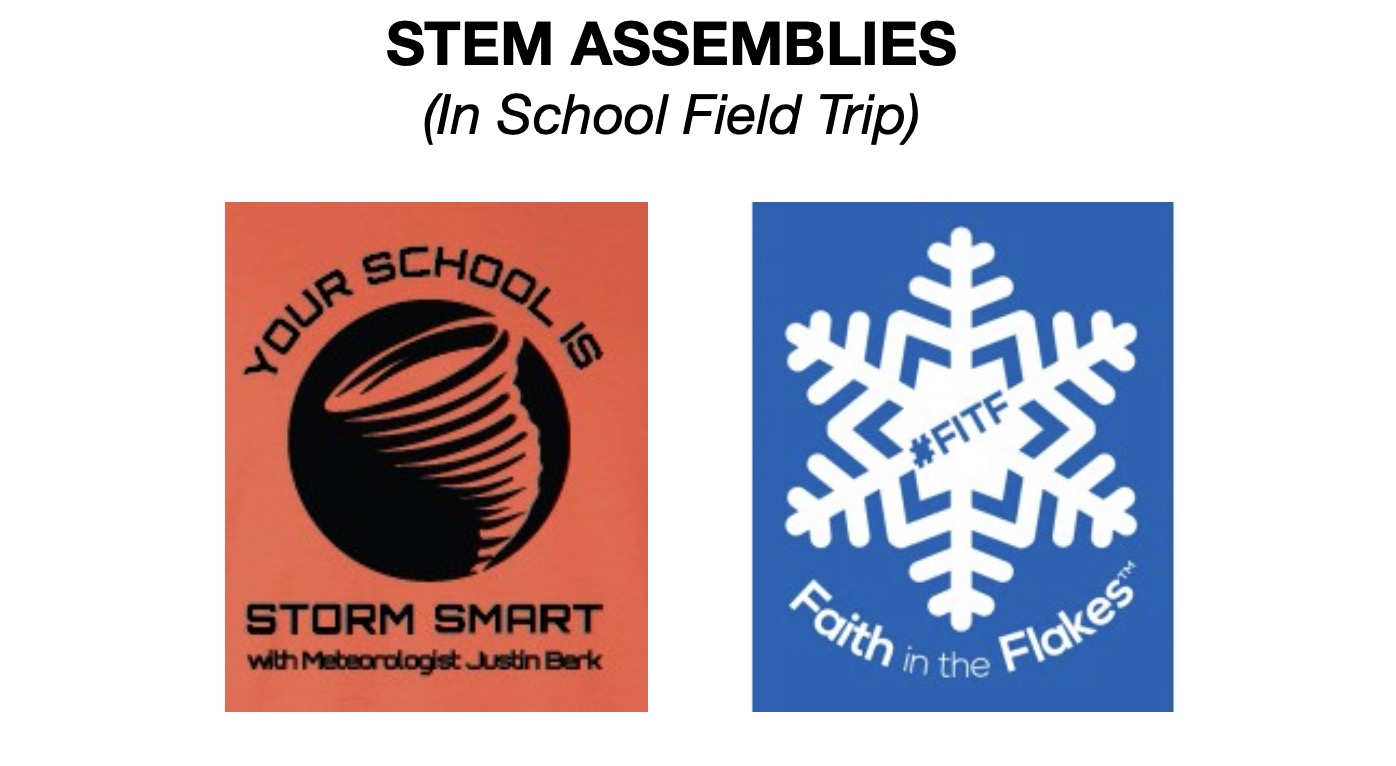 My Winter Outlook: Not A Typical La Niña!
I see many factors to support colder influence with multiple systems. Early and later in winter. Check it out.
Winter Outlook 2023 For Snow Not Typical La Niña Plus Polar Vortex Disruption
Also See The Winter Outlook Series:
Atmospheric Memory Suggests Active Winter Storm Pattern Outlook
Winter Outlook 2023 From NOAA Very Different Than Farmers Almanacs
Farmer's Almanac Comparison
Winter Outlook 2023 Early Look At Snow From Two Farmers Almanacs
Triple Dip La Niña Winter
CONNECTION TO WINTER?
If you want a snowy winter, this is what you might want to look for in the rest of the tropical season. (You might be seeing a lot of commercial snow removal people out this Winter).
Record August For No Named Tropical Storms: Closer Look At Snow Following
Wooly Bear Caterpillars
Persimmon Seeds
Click to see Top 20 and MORE
Winter Weather Folklore Top 20 And More Outlook Signals From Nature For Cold And Snow
Normals And Records: Maryland and Baltimore Climate History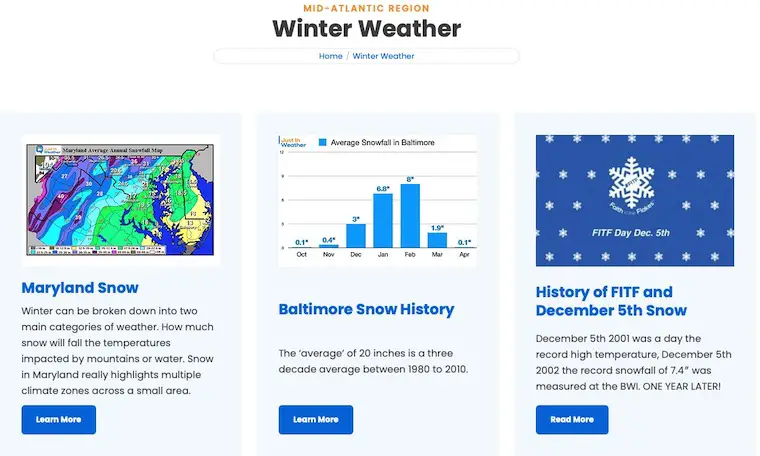 Please share your thoughts, best weather pics/videos, or just keep in touch via social media