How The Winter Weather Pattern May Develop In Early December
La Nina
NOAA
Polar Vortex
Outlook
Winter Weather
Justin Berk
Nov 27, 2022
8:39 pm
0
November 27 2022
Sunday Night Update
With the Thanksgiving Holiday Weekend behind us and many in full holiday mode, we can now shift our weather focus to December and the start of our winter weather pattern.   If you read my Winter Outlook, I highlighted many features that support a change in December. It will take some time to establish and I want to shed some light on how I believe it will evolve. 
We will have some hints of colder air brought back with moderation over the next week. But the long-wave or global signals are pointing HARD to a dramatic shift. There are some analog years such as December 1989 which was exceptionally snowy, but the rest of that winter was lame for us. I do not see an exact repeat.
I cannot promise a White Christmas, but there is a much better than average chance we see snow in the Mid Atlantic well before then. Please let me explain:
(Please forgive me for oversimplifying this. If I got too detailed I would chase many away)
Jet Stream: North American View
December 1 to December 7 – ECMWF Model
The 500mb Level is around 18,000 Ft above the ground. These Heights show that pressure at different levels. In Short:
Blue/Green = Troughs at lower heights and colder air.
Red/Purple = Ridges at higher lights and warmer air.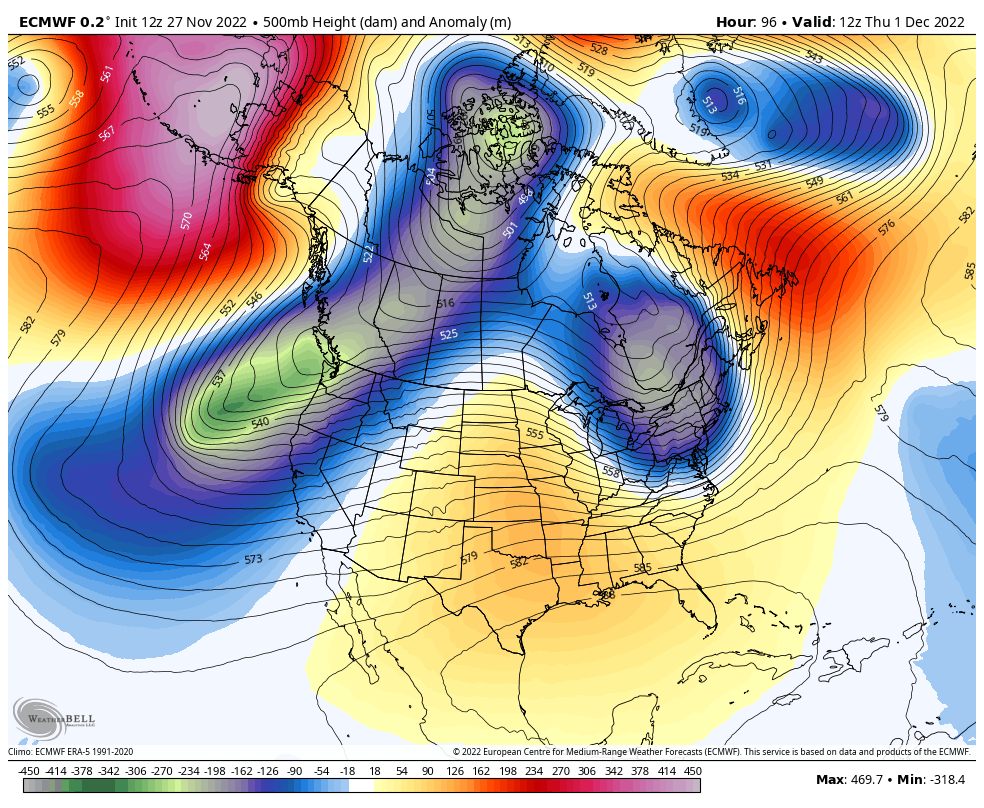 Key Timeframes
December 1
A little trough will swing through behind our next storm. It will be cold for a day or two, but can't last yet.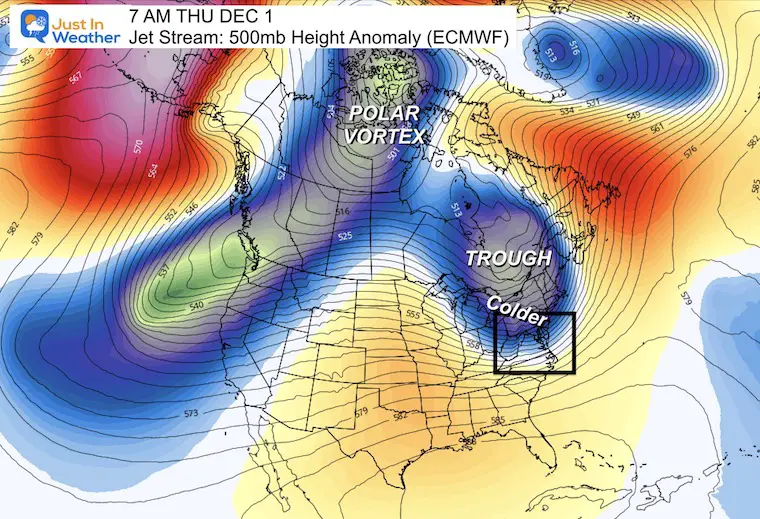 December 3
A Ridge for the Eastern 3rd of the US will build back near to slightly warmer than average temperatures.
The Polar Vortex may split, but still have a primary circulation in northern Canada. This will drop south as a new trough from the Pacific and enter the NW US.
December 7 – Game Changer?
The North Atlantic Oscillation (NAO) is expected to take a DEEP DIVE to numbers not seen in many years. I will show those charts below…
This set up is strong High Pressure near Greenland with Deep Low Pressure to the south around the 40 Lat/ 40 Long location.  A Negative NAO (-NAO) is measured with Pressure at 40N Lat minus the Pressure at 60N Lat.  The more negative, then the stronger the cold air flow to the eastern US.
In addition, here we see the Polar Vortex dislodged south of the North Pole and possibly beginning to wobble. THAT is what enhances arctic air masses across the continent. 
We also begin to see another trough in the Pacific, which may be part of an uptick in that source region for more storms.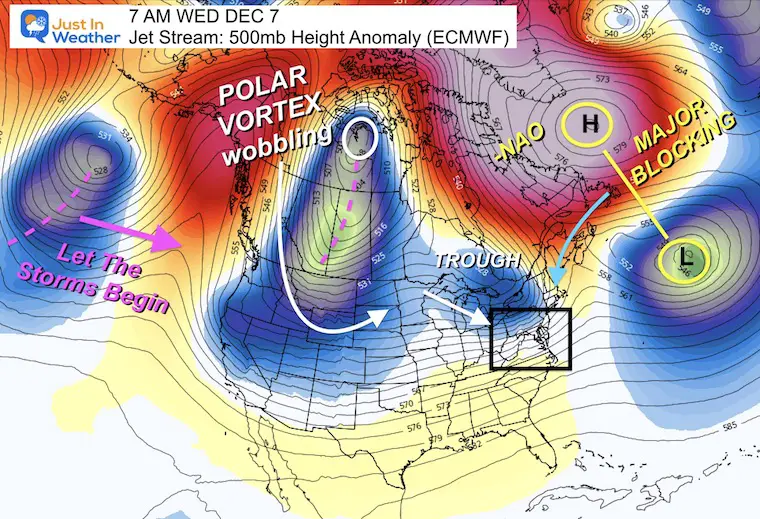 NEW REPORT
Winter Outlook 2023 For Snow Not Typical La Niña Plus Polar Vortex Disruption
Weather posts straight to your inbox
Sign up and be the first to know!
Charts
All of these indexes were discussed in my Winter Outlook.  A brief background on these features can be found in the Global Patterns section of the Winter Pages.
North Atlantic Oscillation Through Dec 7
GFS Model
This trends from -1 to -4.2 around Dec 5, but brings it back up….
ECWMF (European) Model
This is the more impressive plot and this model has a better reputation or long range outlooks. 
This forecast drops the index to -5 as it bottoms out or continues this "Day After Tomorrow" trend by Dec 7.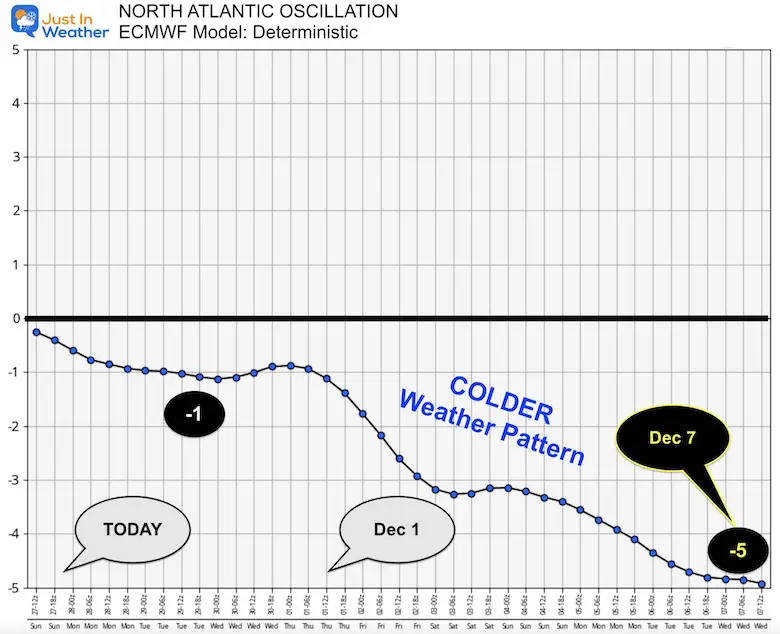 Arctic Oscillation
The NAO is part of this calculation. Here we see the drop from -1 today to -2 starting December, then to -4 by the end of the period. Another signal of a colder pattern!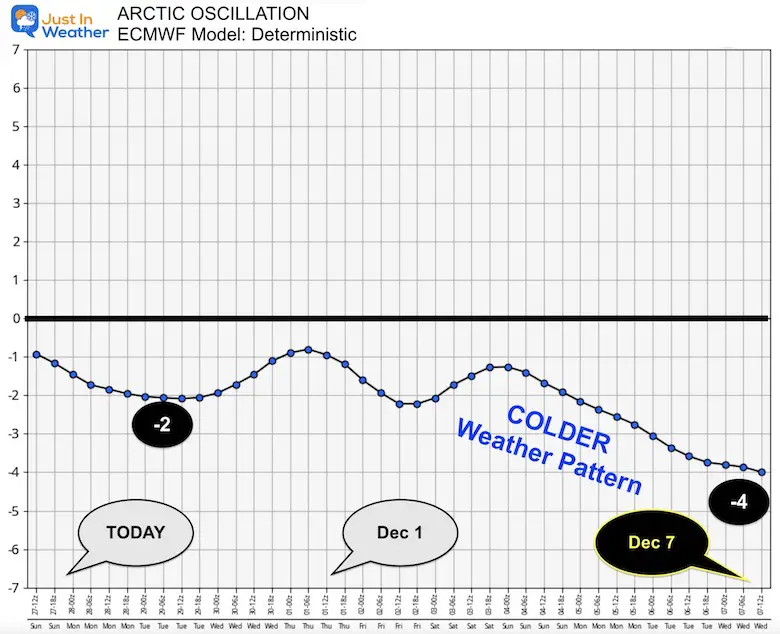 Pacific North American Oscillation
This index needs to measure "positive' to feature more storms. This forecast is not there yet, but trending towards neutral will support more storms in the pipeline.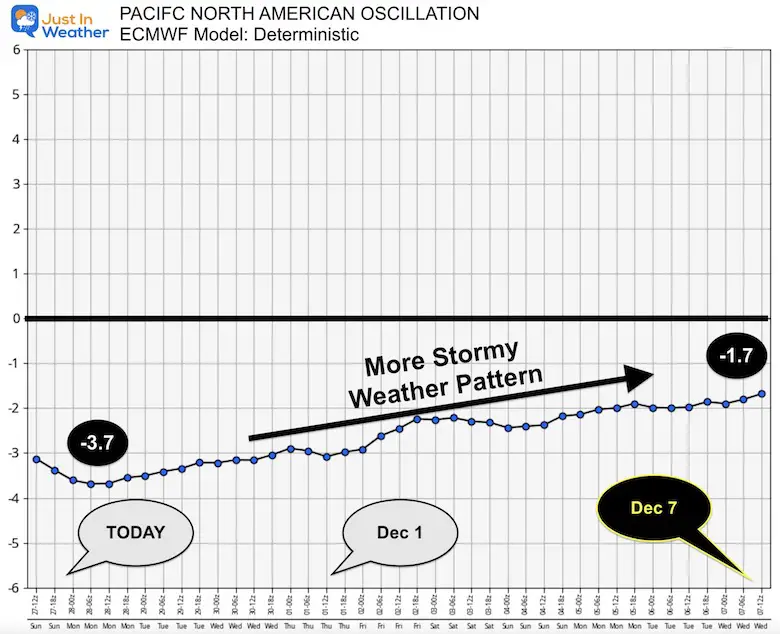 Across The Globe:
Madden-Julian Oscillation (MJO)
The forecast for the first week of December is Phase 8 – the location of the south Pacific tropical activity. There has been a correlation to that location (8) with more active storm development off the east coast of the US.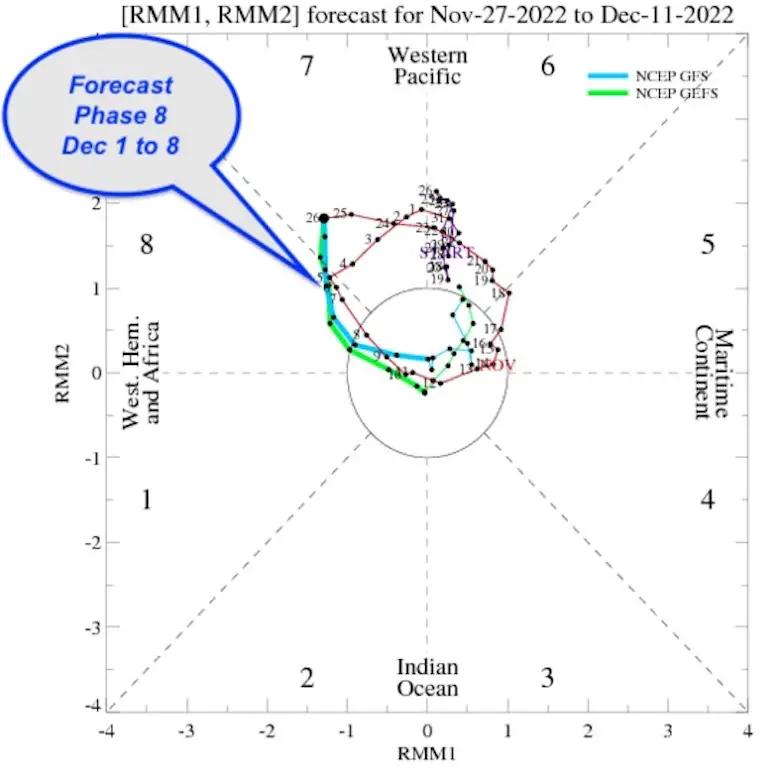 Summary:
If you want cold and stormy, the pieces around the globe are setting up to boost the odds by the second week of December. I would look for December 6 to 14 for the first winter event in our region. That is not a promise for your location… just a region wide favorable setting. 
Looking Farther Ahead:
La Niña
This colder phase of the tropical waters in the Pacific Ocean is in the 3rd year in a row. That is the Triple-Dip I wrote about earlier.
A La Niña is not favorable to high snow for the Mid Atlantic…. 
Sea Surface Temperature (SST) Anomalies
August 31 to November 16
This is the trend above (orange) or below (blue) normal. The cooler water is dominating….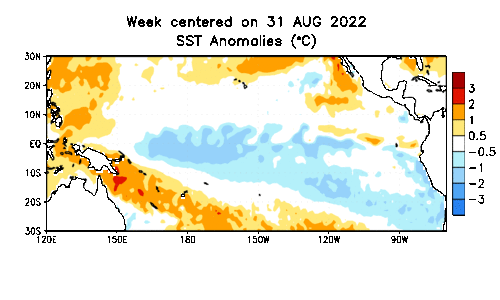 In my Winter Outlook, I suggested the increasing odds of La Niña ending for the second half of winter.
Latest Assessment from NOAA's Climate Prediction Center
Average SST shows the Colder Water dominating the equatorial Pacific.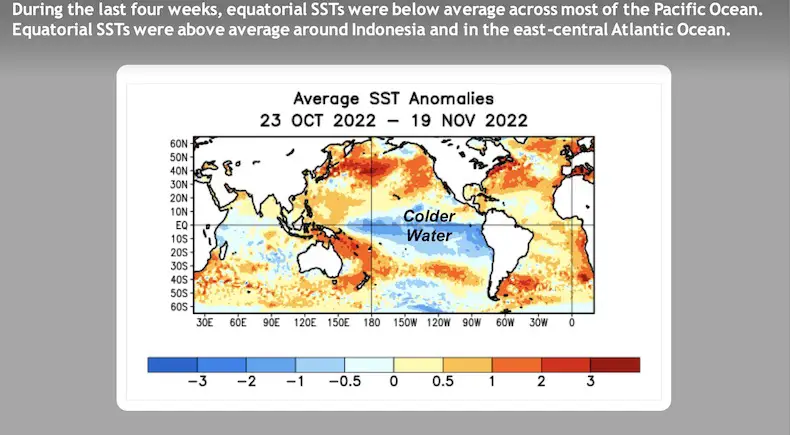 TRENDING WARMER
Here is the change from October 19 to November 16
There has been a hint of some warming above seasonal climate norms. This may be the signal of the beginning of the end of this extended La Niña….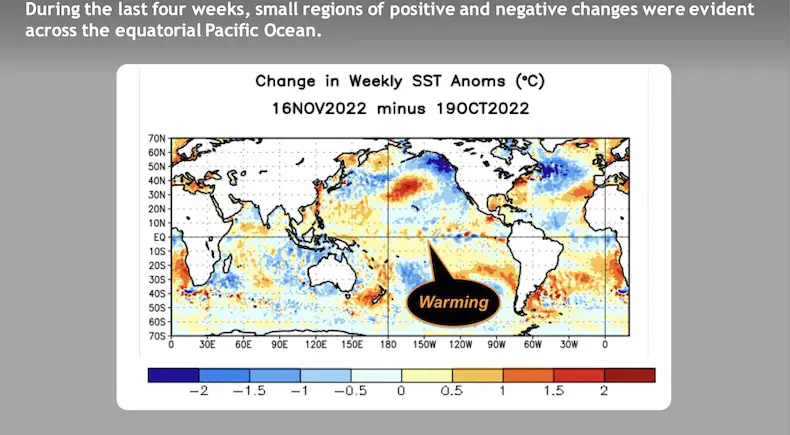 There is a GREATER THAN 50% chance La Niña ends before the end of winter. That will add an increased potential for active winter storms for the eastern US February into March. 
Maybe this will be a December to Remember and validate my Winter Forecast for near to slightly above normal snow. 
Faith in the Flakes. 
NEW Faith In The Flakes Gear
Through
 

Cyber Monday
20% Off All Items

Faith in the Flakes Gear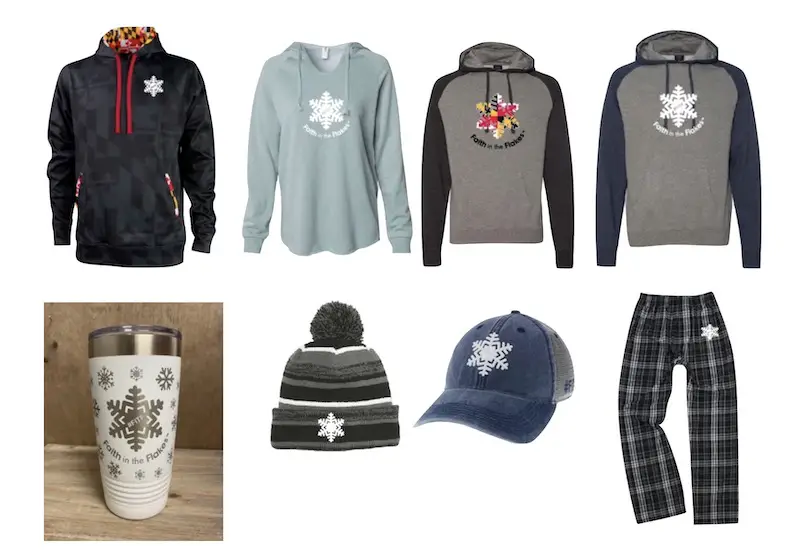 SNOWSTIX – Available Now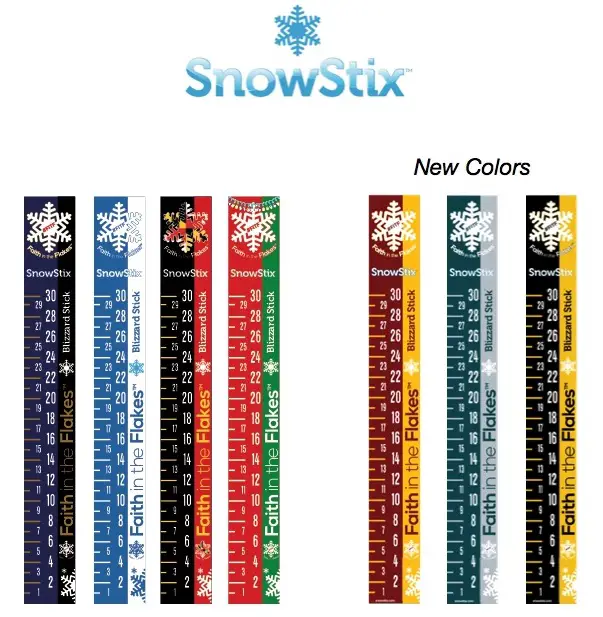 Normals And Records: Maryland and Baltimore Climate History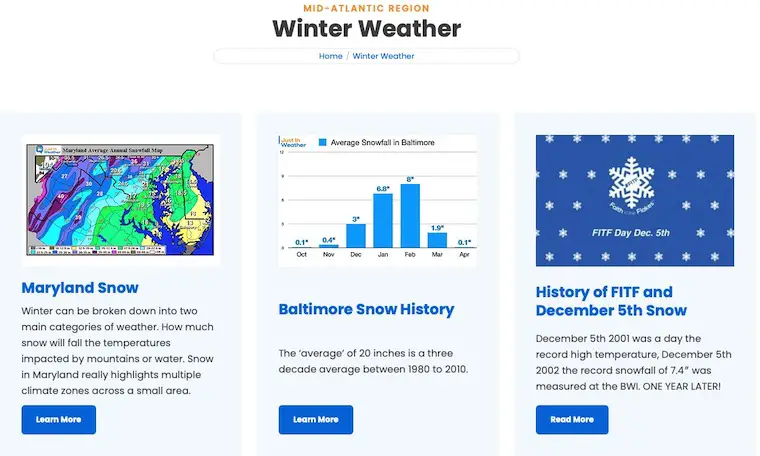 Also See The Winter Outlook Series:
Atmospheric Memory Suggests Active Winter Storm Pattern Outlook
Winter Outlook 2023 From NOAA Very Different Than Farmers Almanacs
Farmer's Almanac Comparison
Winter Outlook 2023 Early Look At Snow From Two Farmers Almanacs
Triple Dip La Niña Winter
CONNECTION TO WINTER?
If you want a snowy winter, this is what you might want to look for in the rest of the tropical season. (You might be seeing a lot of commercial snow removal people out this Winter).
Record August For No Named Tropical Storms: Closer Look At Snow Following
Wooly Bear Caterpillars
Persimmon Seeds
Click to see Top 20 and MORE
Winter Weather Folklore Top 20 And More Outlook Signals From Nature For Cold And Snow
STEM Assemblies/In School Fields Trips Are Back
Click to see more and 'Book' a visit to your school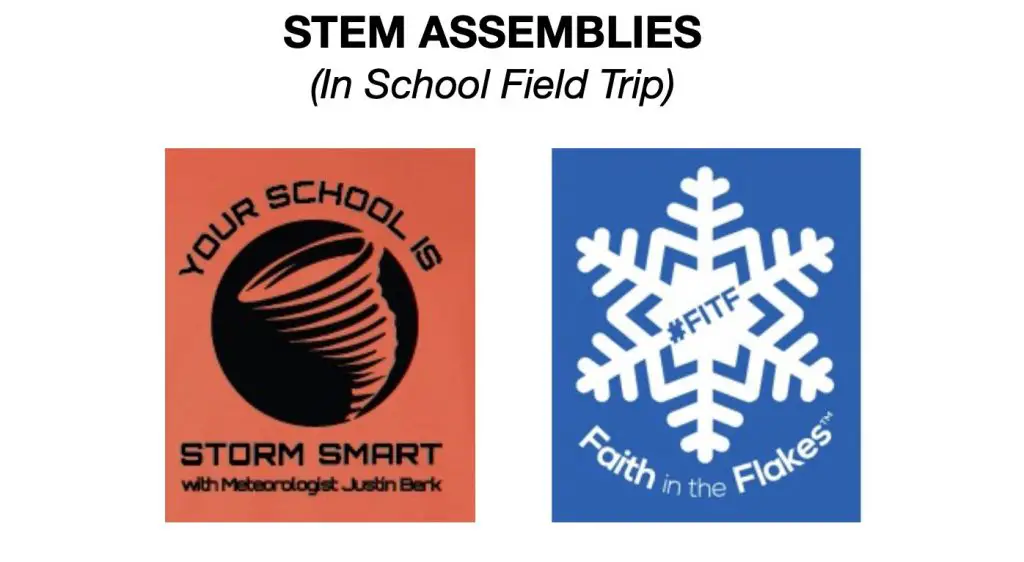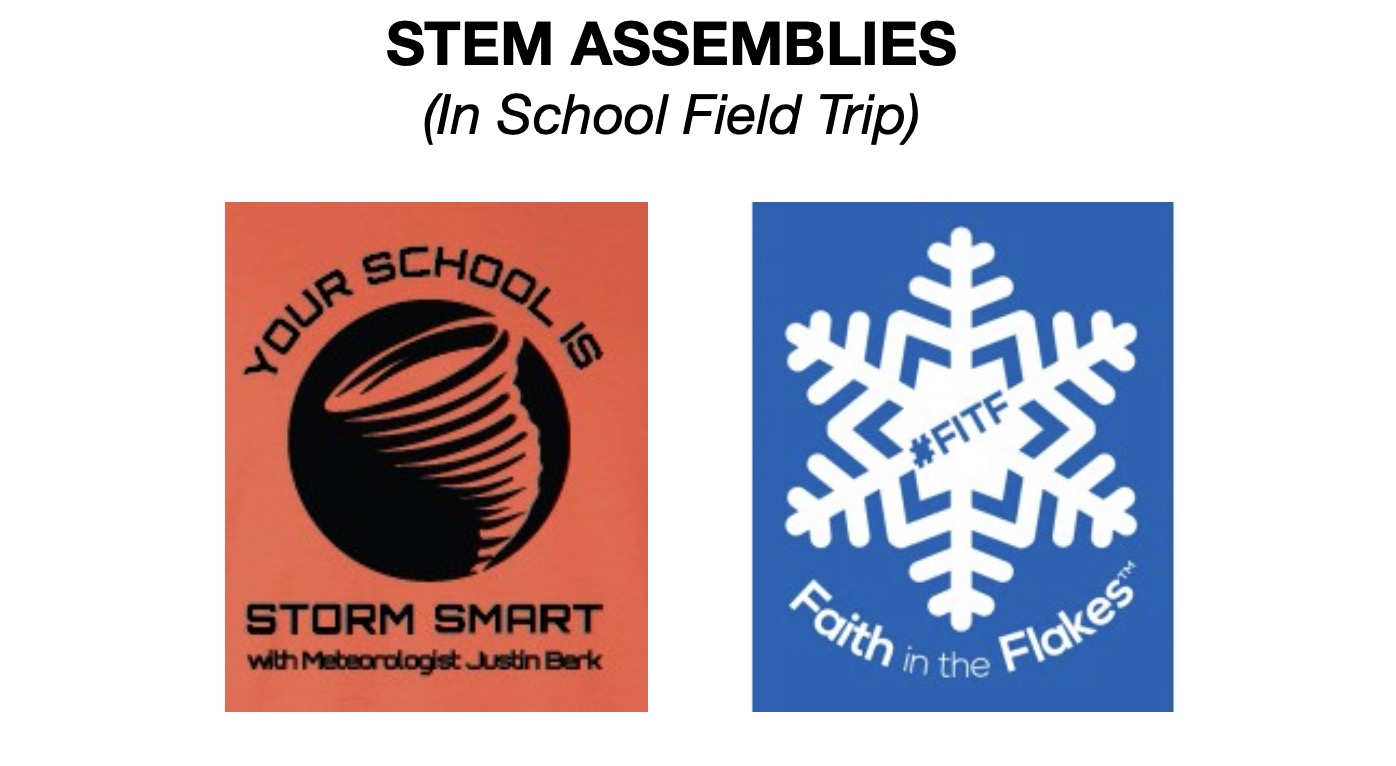 Please share your thoughts, best weather pics/videos, or just keep in touch via social media