November 19 Snow Video From Buffalo And Local Record Cold
snow report
National Weather Service
climate data
Forecast
video
Justin Berk
Nov 19, 2022
7:39 am
0
November 19 2022
Saturday Morning Update 
Cold air has settled in, and it brought widespread flurries and snow showers for us yesterday. This morning we have a jet stream producing early clouds, which I will show on satellite. Tomorrow we get a reinforcing shot of cold air that may lead to a record cold afternoon for Baltimore and the Mid Atlantic. More on that and our Thanksgiving outlook below. 
Morning Surface Weather
Lake Effect Snow continues as the narrow bands will be shifting NORTH of Buffalo, then back south into the high total zones later today.
We have a jet streak, which is a band of fast winds aloft producing clouds in the Mid Atlantic. This should fade by the afternoon yielding more sun. Then the reinforcing colder air arrives tomorrow. More on that below.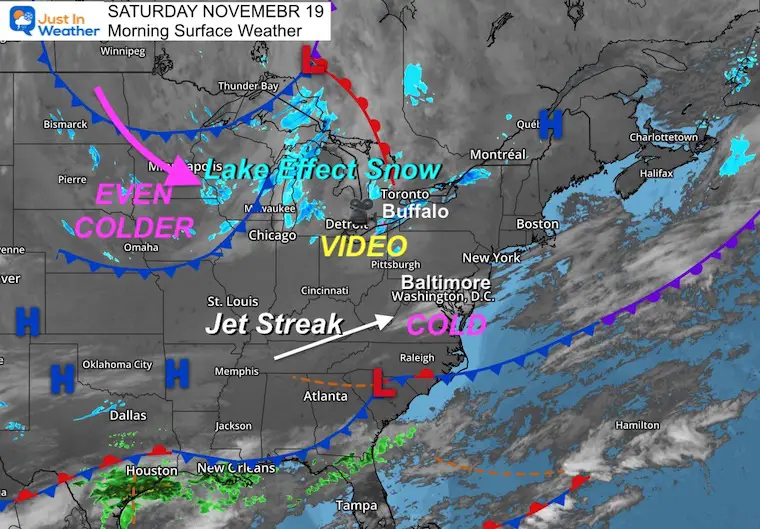 Jet Streak On Satellite
This band of clouds (ending at 7:30 AM) across northern Virginia to Central Maryland and Delaware is from faster winds aloft.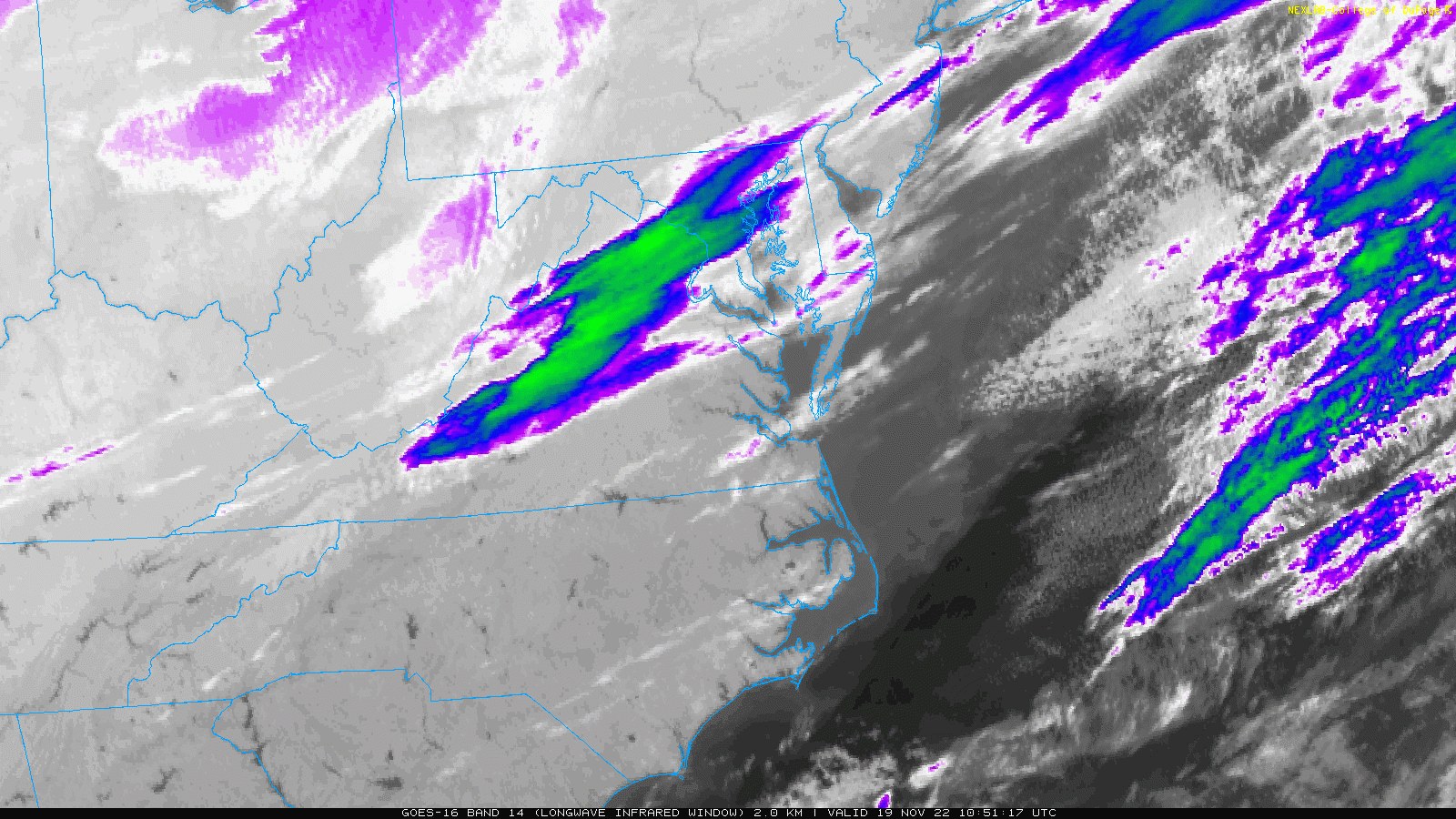 Lake Effect Snow in New York
The big news continues to be Lake Effect Snow in Western New York, especially south of Buffalo. It is amazing to consider that over 5 feet of snow has fallen in a few places, which includes Orchard Park (home of the Buffalo Bills) with 66 inches! There is an investigation to confirm if that was in a 24 hour period. If it holds up, it will be a new record for New York State. So I gathered a few videos and photos for eye candy, however it is becoming a dangerous situation.  Two people have died shoveling snow, and now there is fear of roofs collapsing with the weight of the snow.
Totals As Of Saturday Morning
71 inches – Natural Bridge
66 inches – Orchard Park
65 inches – Blasdell
61 inches – Hamburg
57 inches – Watertown

 

54.4 inches – East Aurora
50 inches – Eden

 

48 inches – Marilla

 
Record Today Already: Buffalo received 14 inches of snow between midnight and sunrise, setting a daily record. There will be more today!
Snow Wall Glowing At Night
This amazing look at the the edge of a Lake Effect Snow Band over Buffalo was captured by Dan Vogan
Have you ever seen a wall of snow glow? It's the difference between calm and getting pummeled with flakes! South Buffalo is enjoying a break. The Buffalo Skyline is to the far right. @spann @weatherchannel @FOXWeatherDesk @Ginger_Zee @US_Stormwatch @NWSBUFFALO pic.twitter.com/GpVNj2do8W

— Dave Vogan (@Dave_WX) November 19, 2022
Snow Wall Closing In
Watch as the Lake Effect Snow Band moves into Buffalo leading to instant White Out conditions. The time lapse from Andy Parker
Whiteout whacks Buffalo, NY with zero visibility in a matter of minutes! @TomNiziol @JimCantore @foxweather @weatherchannel @WeatherNation @WBEN pic.twitter.com/sdlPjd8u3G

— Andy Parker (@andyparkertv) November 18, 2022
Nearly 6 Ft Of Snow On The Other Side Of the Garage Door
Approaching 6 feet of snow here in Hamburg! #BuffaloStorm2022 #BuffaloNY #Buffalo #buffalosnow #buffalolakeeffect #LakeEffectSnow pic.twitter.com/NvehaEmFf5

— BuffaloWeather (@weather_buffalo) November 19, 2022
Buffalo Bills: This is why the game was moved
If you missed my post on Facebook or Twitter, check this out from Highmark Stadium
National Weather Service Office Trolling
This was my favorite from Miami 
66″ of snow in Orchard Park, NY! That is nearly halfway up the 12ft tall storm surge pole outside our office!!
We won't complain about watching the historic lake effect event unfold from our snowless 75°F paradise. 🌴😎 https://t.co/g4TWA83z8r pic.twitter.com/xBrl2qloBH

— NWS Miami (@NWSMiami) November 19, 2022
Also See: Top 10 Lake Effect Snow Events In Buffalo
Click this image for more on that, as I focus on our local weather below.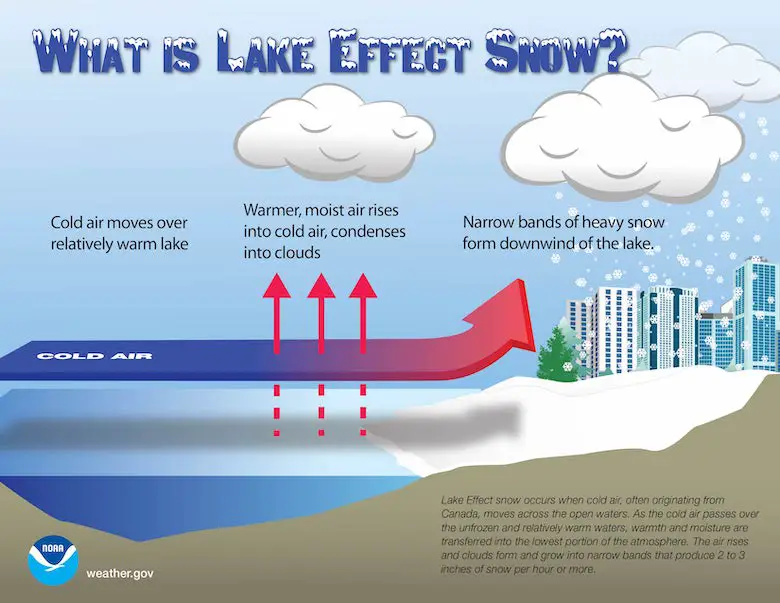 LOCAL WEATHER
Morning Temps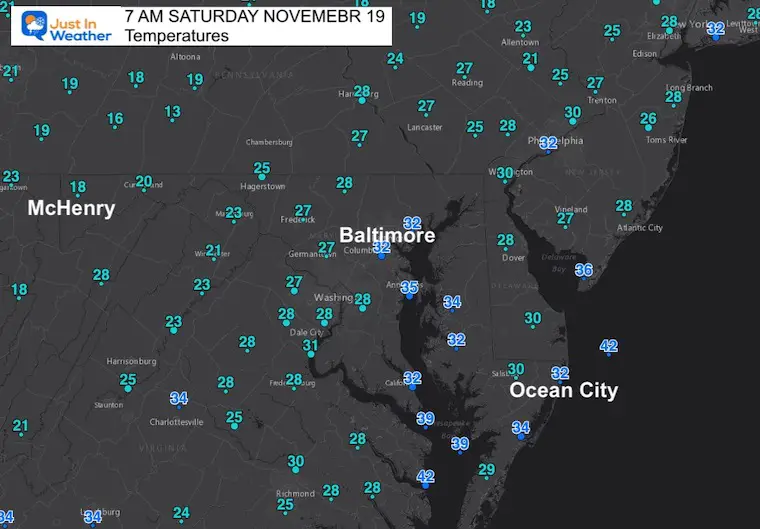 Temperatures Afternoon
Mid 40s for most of the metro region and Delmarva. Inland will be in the 30s, with 20s in the snow covered areas of the high mountains.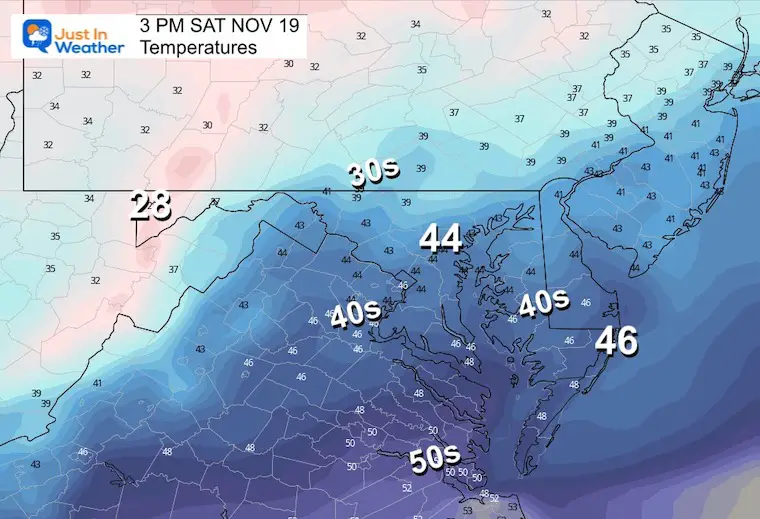 Wind Chills
Most of the region will feel like the 30s or colder.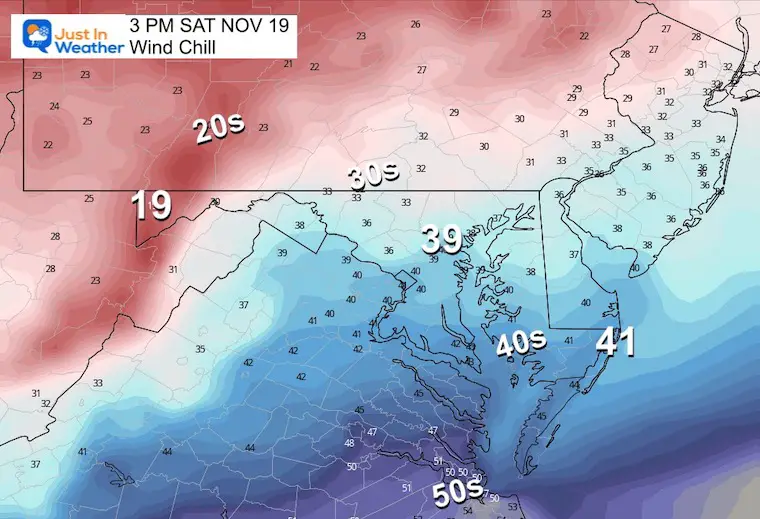 Have you been missing some of my reports?
Two ways to get notified more often:
Sign Up For My Newsletter
Weather posts straight to your inbox
Sign up and be the first to know!
ALSO on Facebook
They keep changing the settings… Go to my page wall and click this button to mark it as *Favorites
Click this image to get to my page wall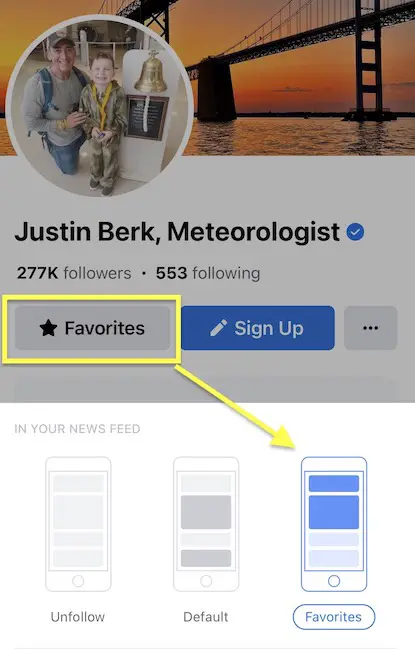 CLIMATE DATA
TODAY November 19
Normal Low in Baltimore:  36ºF
Record 19ºF in 2014
SNOW: 2" in 1955
Normal High in Baltimore: 56ºF
Record 77ºF 1928
Wind Forecast:
Steady winds 10 to 20 mph, with gusts up to 30 mph!

Sunday Morning
Near or below freezing. This is NOT the record cold. That will be later in the day.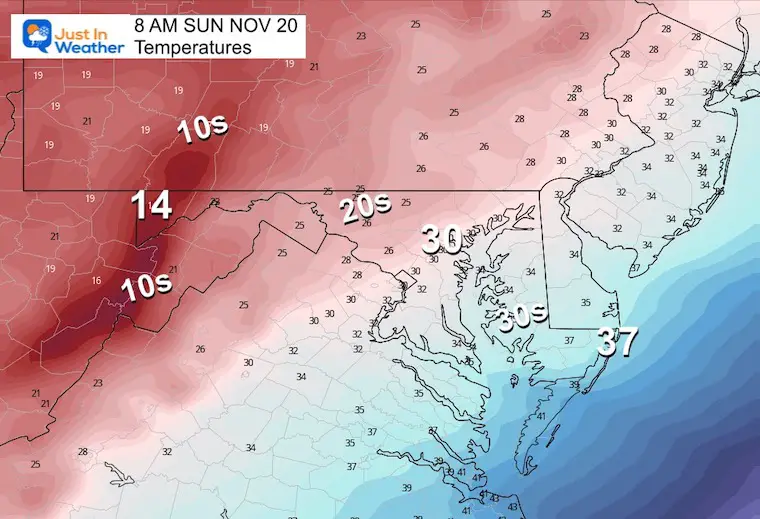 Sunday Afternoon
The record COLDEST AFTERNOON (MAX TEMP) was 38ºF in 1984.  This 35ºF forecast for BWI would set a new record!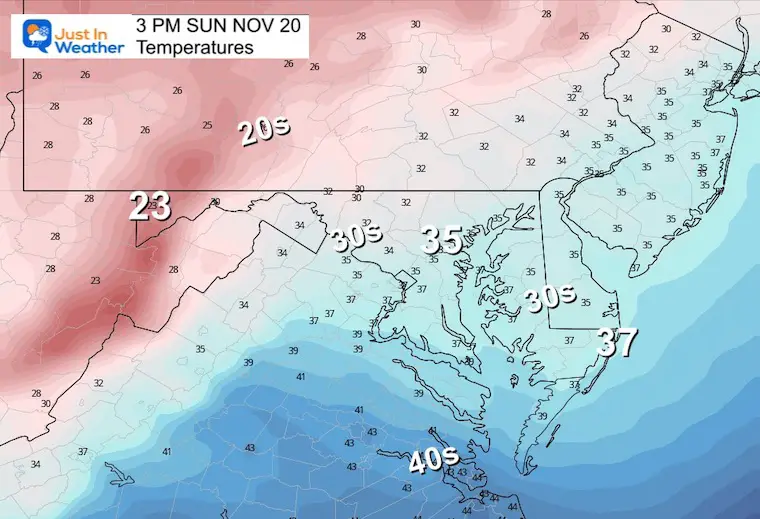 Wind Chill
If you are going to the Ravens Game, it will be COLD!  Dress for January and consider extra socks and pocket/hand heaters.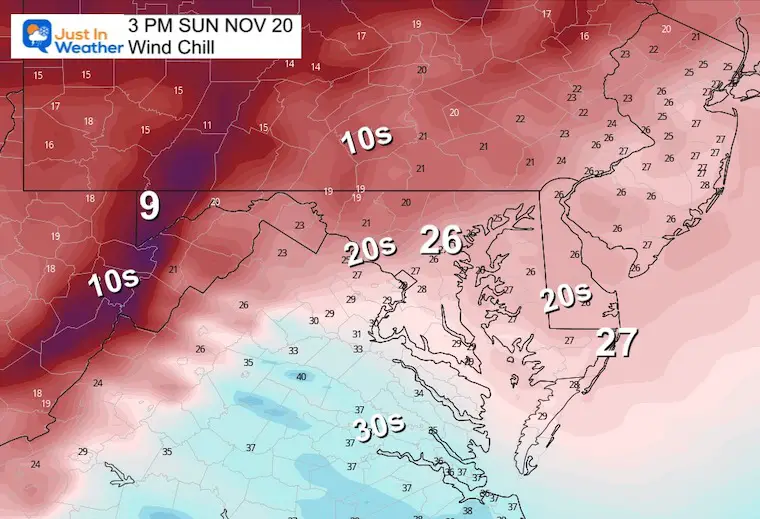 Thanksgiving Storm Outlook
I wrote a report a few days ago showing the GFS Model with a snow and ice mix for our region. I did expect it to change, and it has. I still expect some more fluctuations as a very active jet stream will look like winter. 
There is no promise for snow here, but I would still pay close attention to the computer guidance as this evolves…
Both the American and European Models show that storm for Friday bringing us rain and inland snow.  That cold air is potent and still may shift the storm track. It may also produce snow showers next weekend to follow which is not getting picked up on yet.
GFS
1PM WED to 1 PM FRI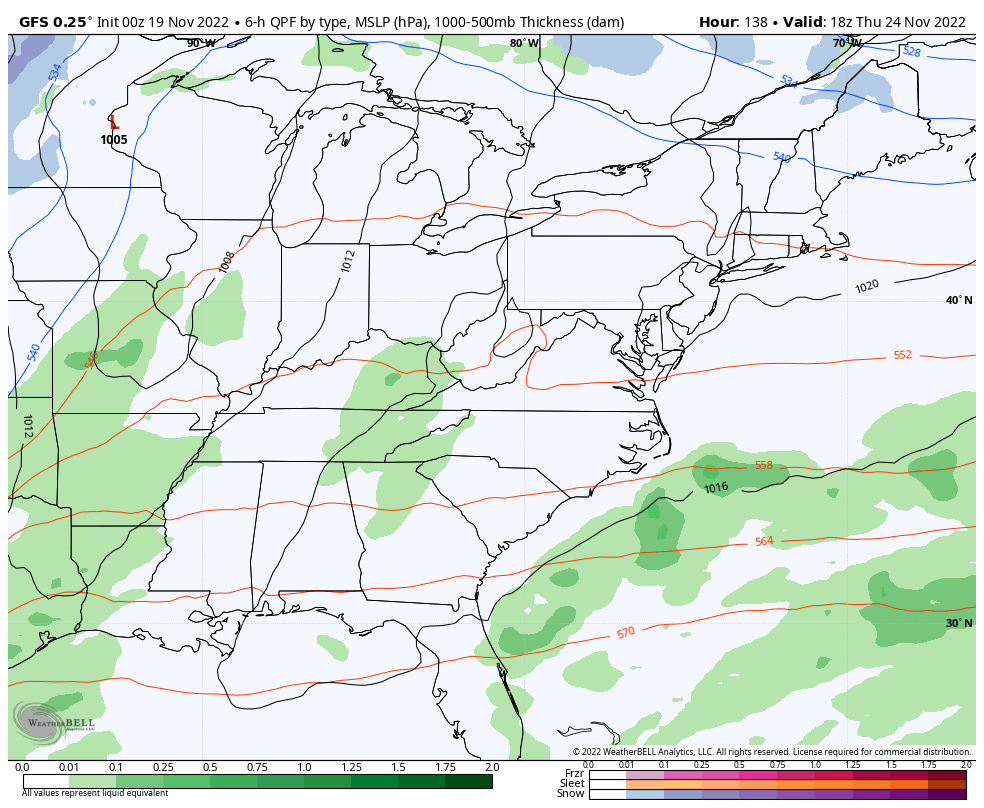 ECMWF- European Model
1PM WED to 1 PM FRI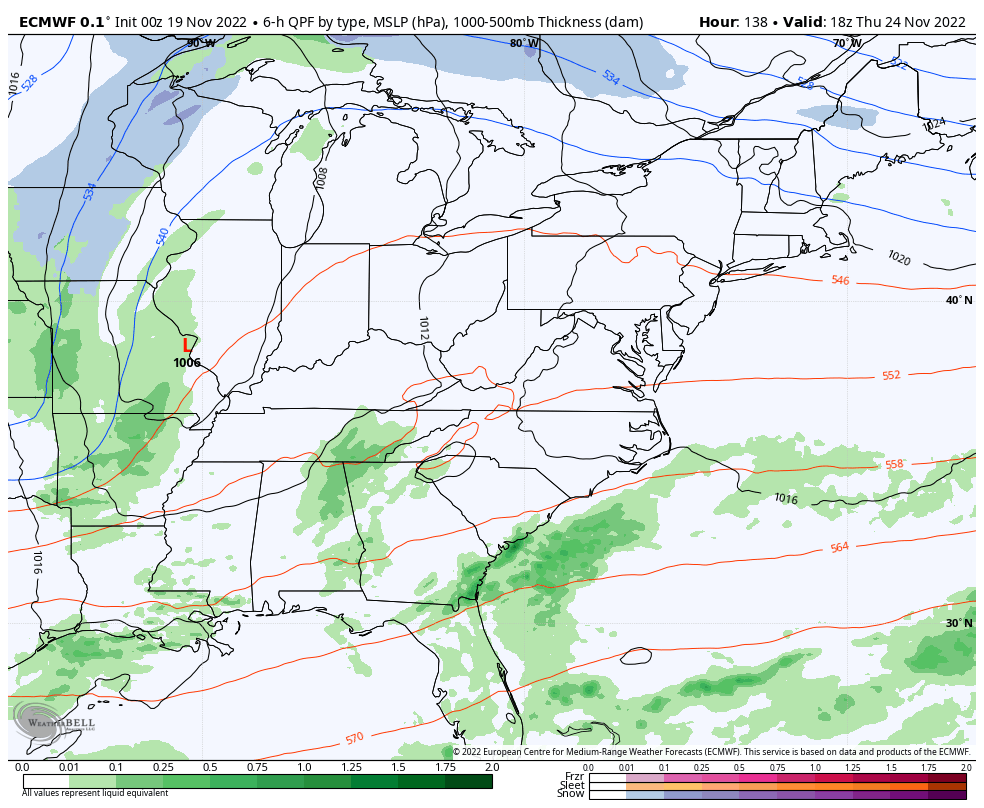 7 Day Forecast
Faith in the Flakes Gear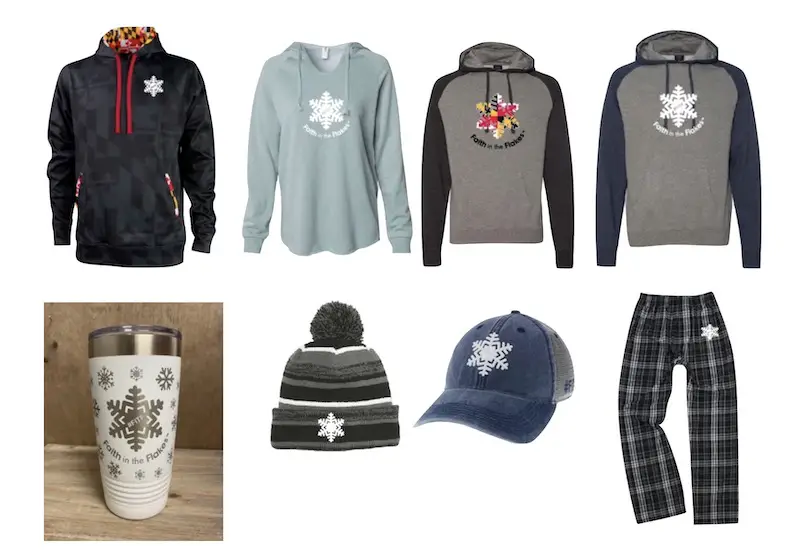 SNOWSTIX – Available Now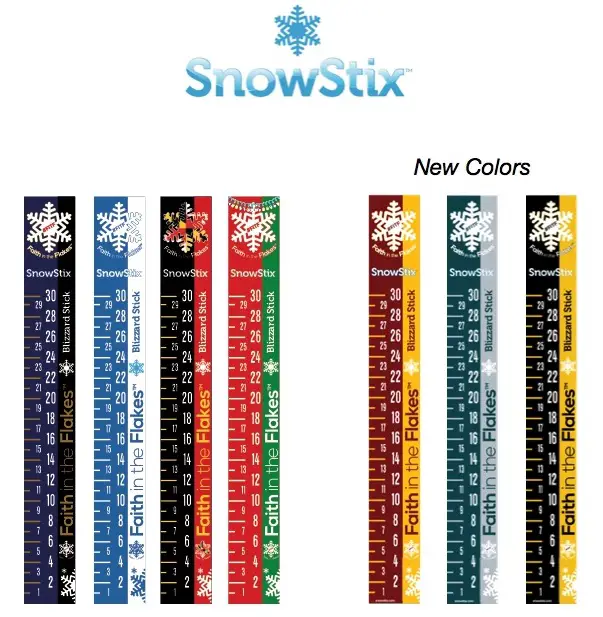 Also See: Winter Outlook Series:
Winter Outlook 2023 From NOAA Very Different Than Farmers Almanacs
ALSO, SEE THESE OTHER WINTER OUTLOOK REPORTS
Farmer's Almanac Comparison
Winter Outlook 2023 Early Look At Snow From Two Farmers Almanacs
Triple Dip La Niña Winter
CONNECTION TO WINTER?
If you want a snowy winter, this is what you might want to look for in the rest of the tropical season. (You might be seeing a lot of commercial snow removal people out this Winter).
Record August For No Named Tropical Storms: Closer Look At Snow Following
Wooly Bear Caterpillars
Persimmon Seeds
Click to see Top 20 and MORE
Winter Weather Folklore Top 20 And More Outlook Signals From Nature For Cold And Snow
Normals And Records: Maryland and Baltimore Climate History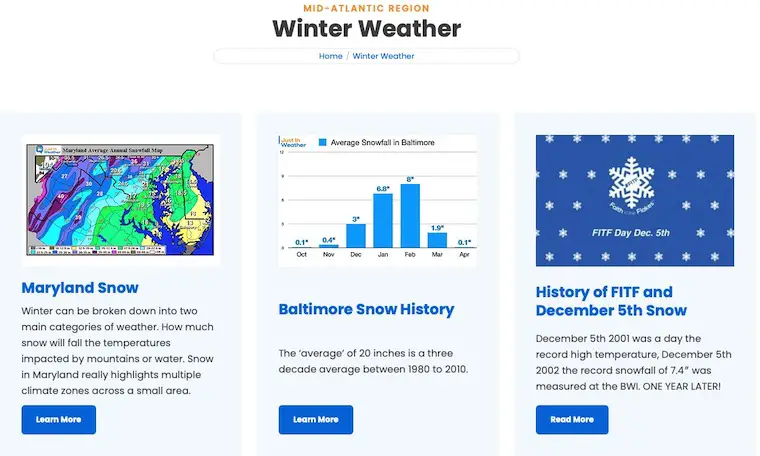 STEM Assemblies/In School Fields Trips Are Back
Click to see more and 'Book' a visit to your school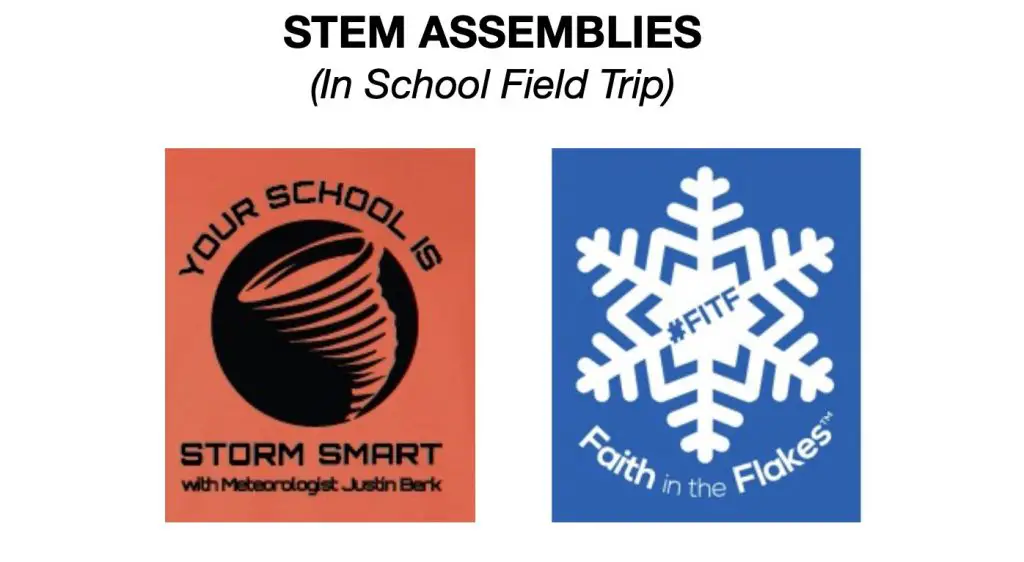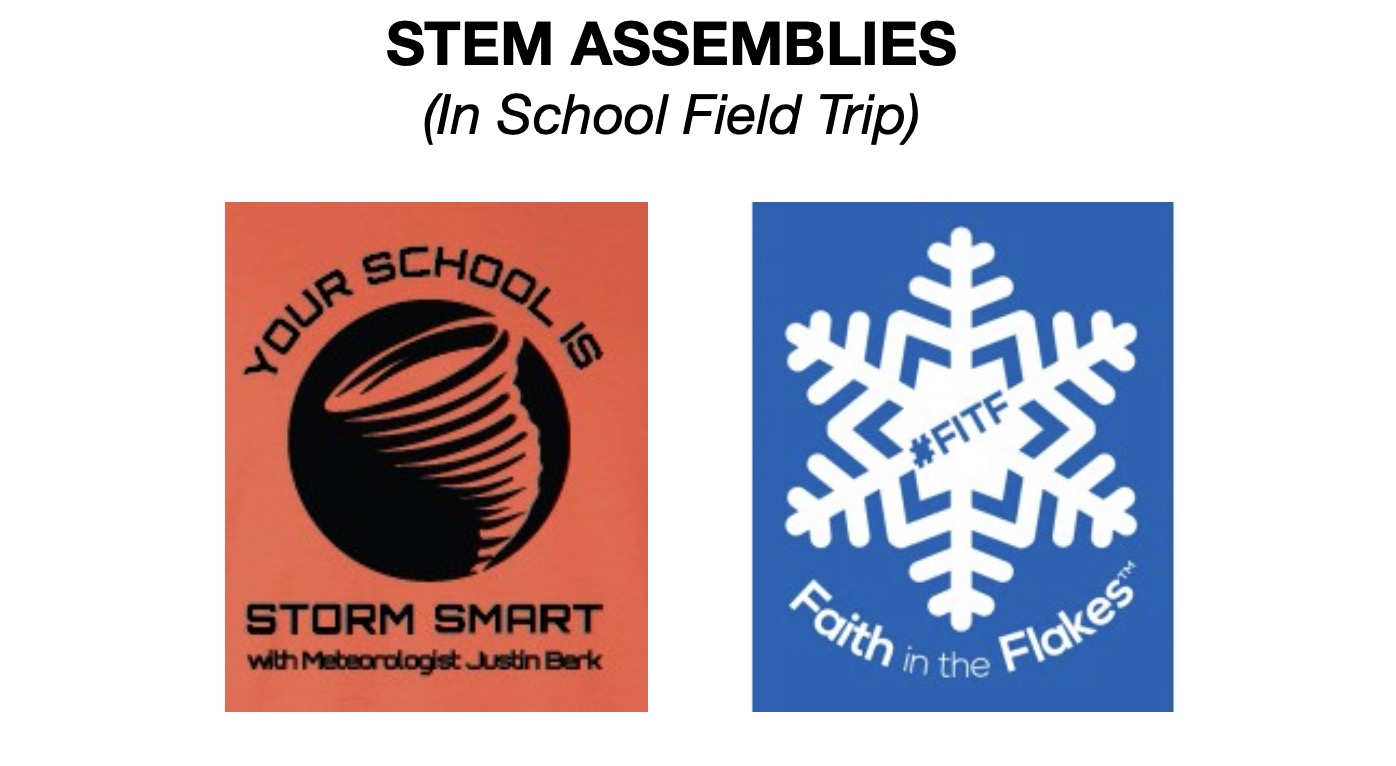 Please share your thoughts, best weather pics/videos, or just keep in touch via social media