November 18 Cold Winds And Snow Showers Later Today
Maryland Weather
climate data
Winter Weather
Forecast
Justin Berk
Nov 18, 2022
6:25 am
0
November 18 2022
Friday Morning Update 
There is a lot of attention on the Lake Effect Snow in Buffalo, but that same energy is what has brought us colder air. A cold front will reinforce the cold air and also allow a band of snow showers to pass through some of our region today. In this case near and north of Baltimore.
The cold air is in place and strong winds will persist. Yesterday winds gusted between 35 and 50 mph. Today may be just a little less intense.
Morning Temps
Morning Surface Weather
Lake Effect Snow – This is a very localized event.
A cold front will pass through this afternoon and bring a band of snow showers east of the mountains. This will include parts of metro Baltimore into southern Pennsylvania. What follows will be a very cold weekend.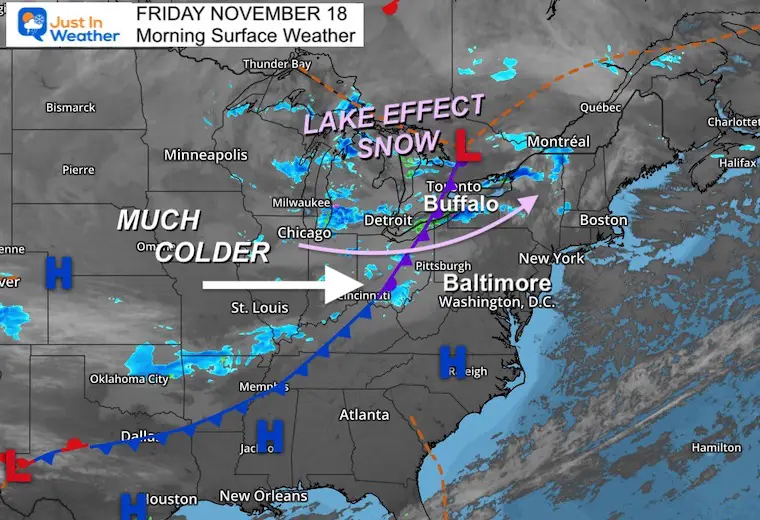 Also See: Top 10 Lake Effect Snow Events In Buffalo
Click this image for more on that, as I focus on our local weather below. 
Have you been missing some of my reports?
Two ways to get notified more often:
Sign Up For My Newsletter
Weather posts straight to your inbox
Sign up and be the first to know!
ALSO on Facebook
They keep changing the settings… Go to my page wall and click this button to mark it as *Favorites
Click this image to get to my page wall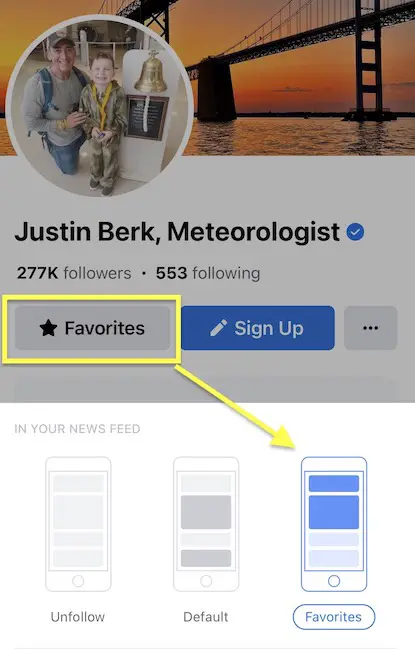 Snow Forecast Animation
NAM 3 Km 2 PM to 10 PM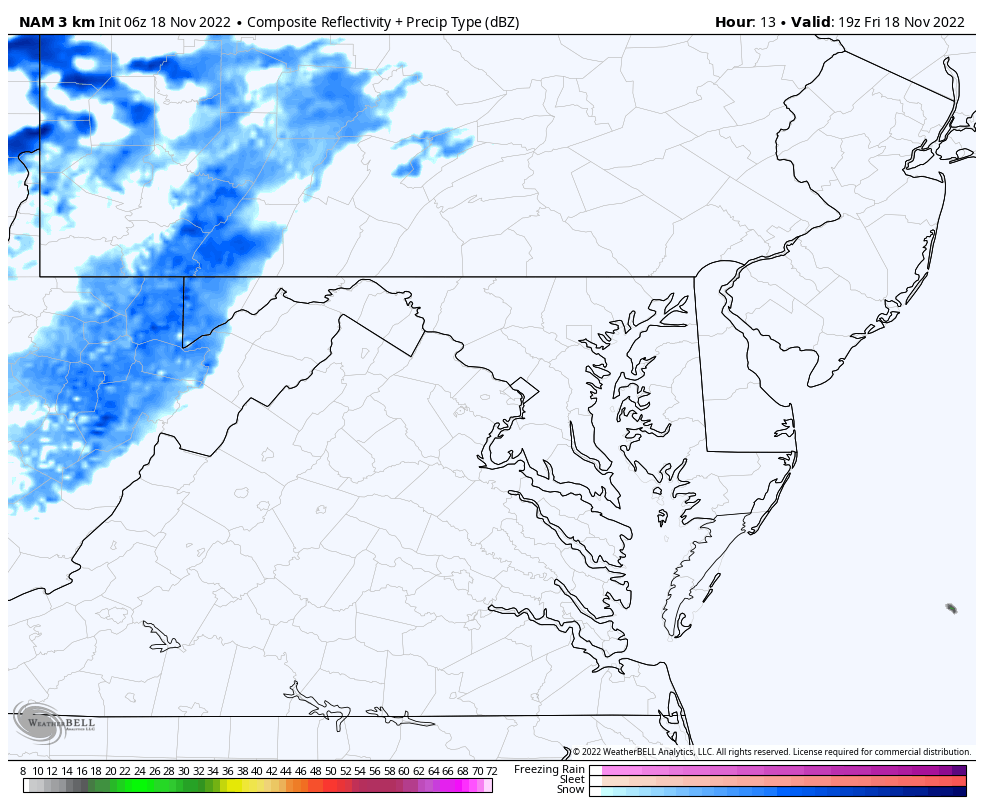 Snapshots
4 PM
Watching the cold front bring snow showers between Hagerstown and Frederick.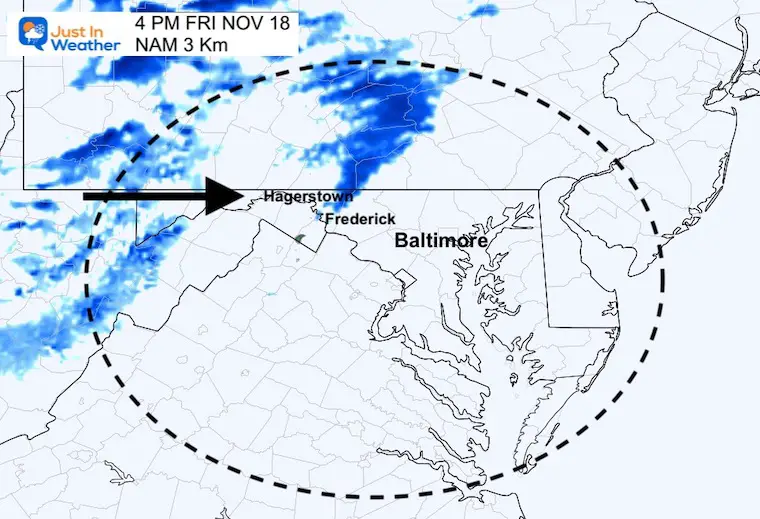 5 PM
Snow showers in Frederick and Carroll Counties in Maryland, approaching The Hereford Zone and up through York.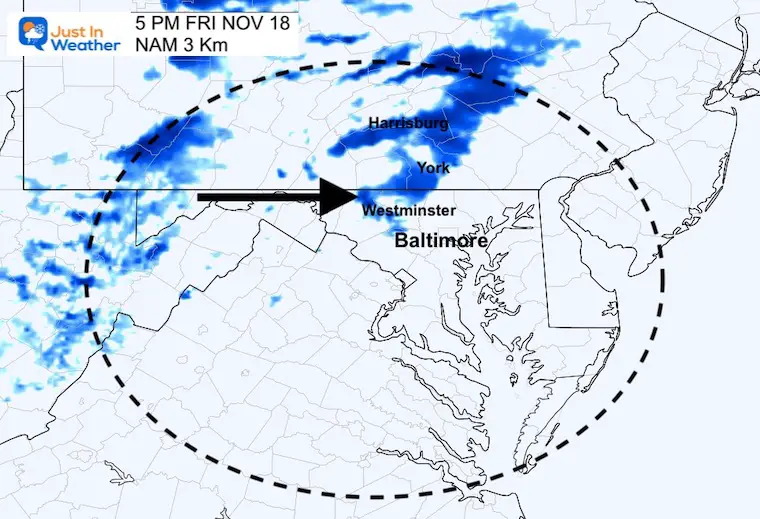 6 PM
Snow showers along and across the Maryland line into Pennsylvania.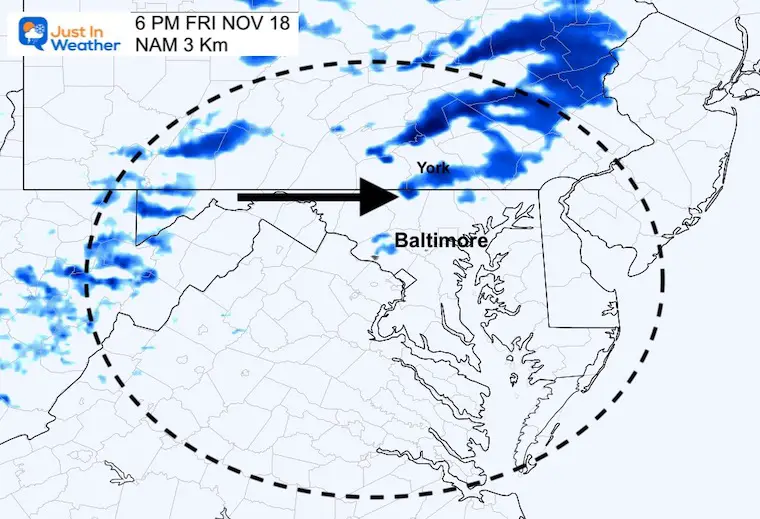 7 PM
Metro Baltimore may get some rain mixed with the snow showers… especially downtown and near the water.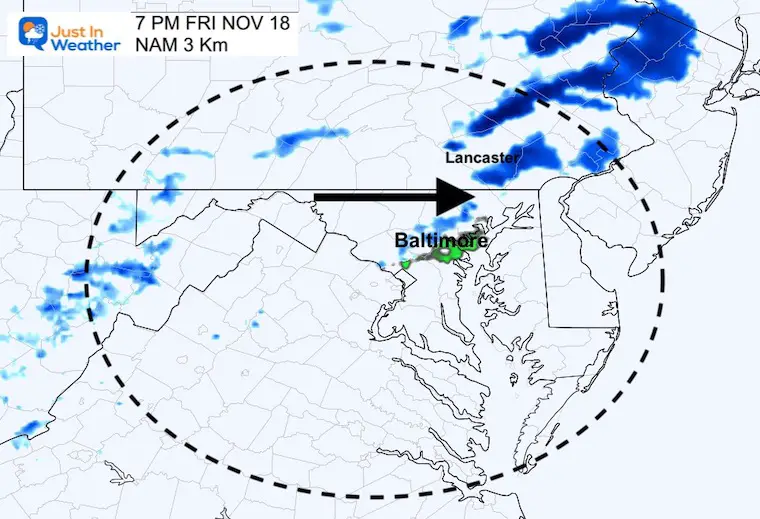 8 PM
Snow showers for Wilmington and Philadelphia. There might be some rain mixed in on the upper Eastern Shore.
Temperature Forecast Afternoon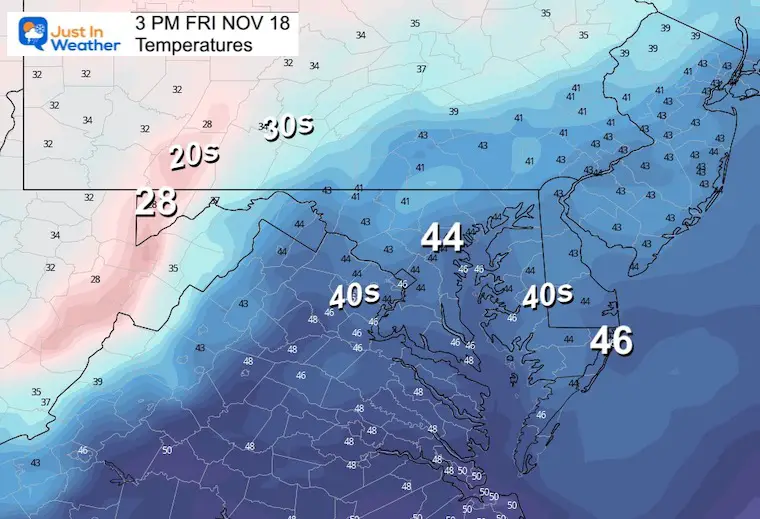 Wind Forecast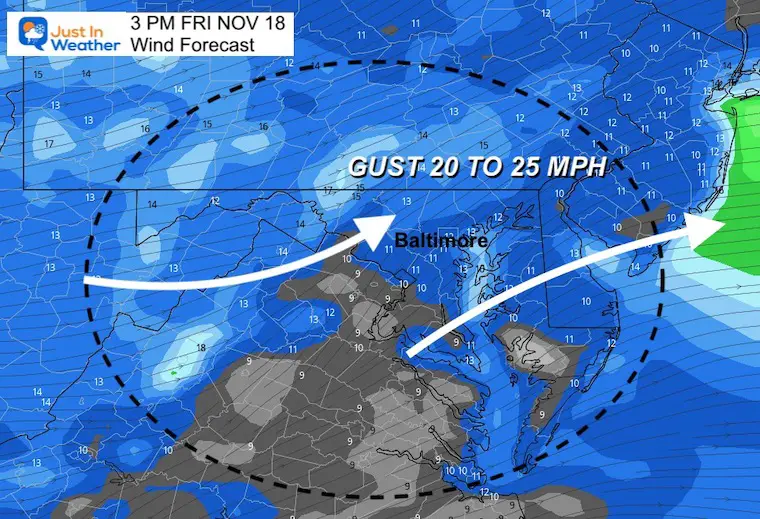 Wind Chills
CLIMATE DATA
TODAY November 18
Normal Low in Baltimore:  36ºF
Record 20ºF in 1959
SNOW: Trace 2008
Normal High in Baltimore: 56ºF
Record 78ºF 1938
Saturday Morning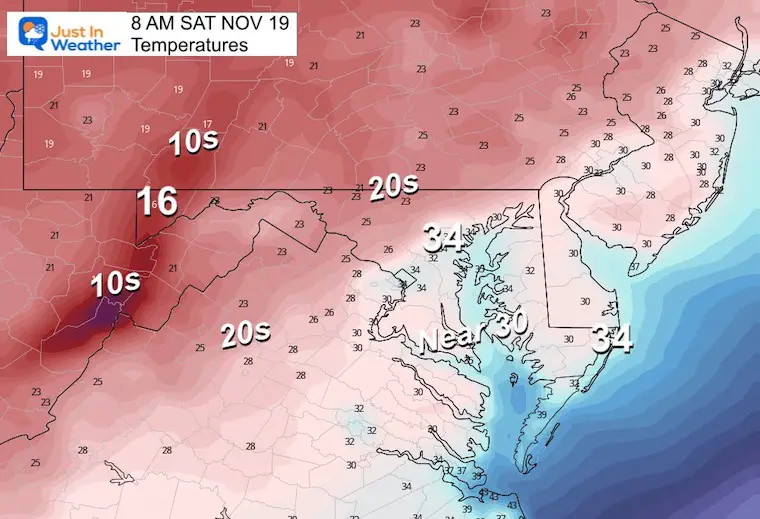 Saturday Afternoon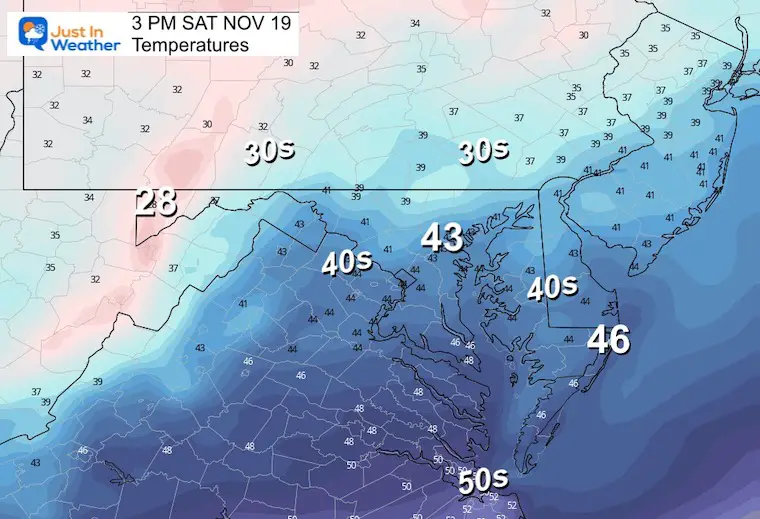 Jet Stream: 500mb Height Anomaly
Monday Morning To Friday Evening
A warming trend with quiet weather leading up to Thanksgiving Thursday. 
We may see rain showers on Thanksgiving, followed by colder air and a possible storm into the holiday weekend.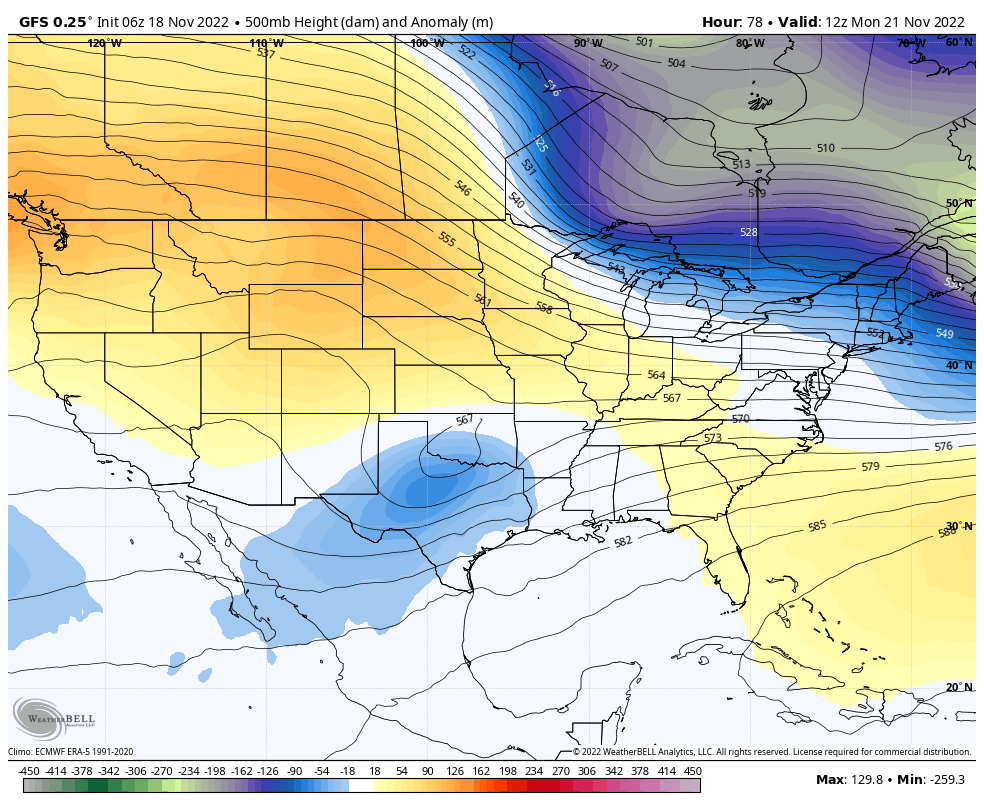 7 Day Forecast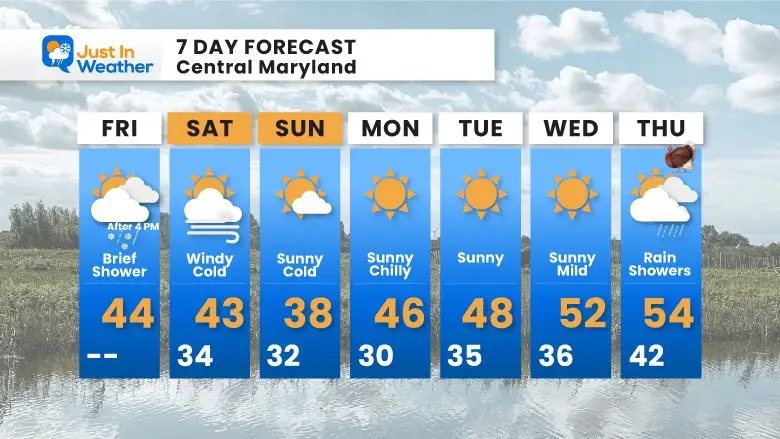 Faith in the Flakes Gear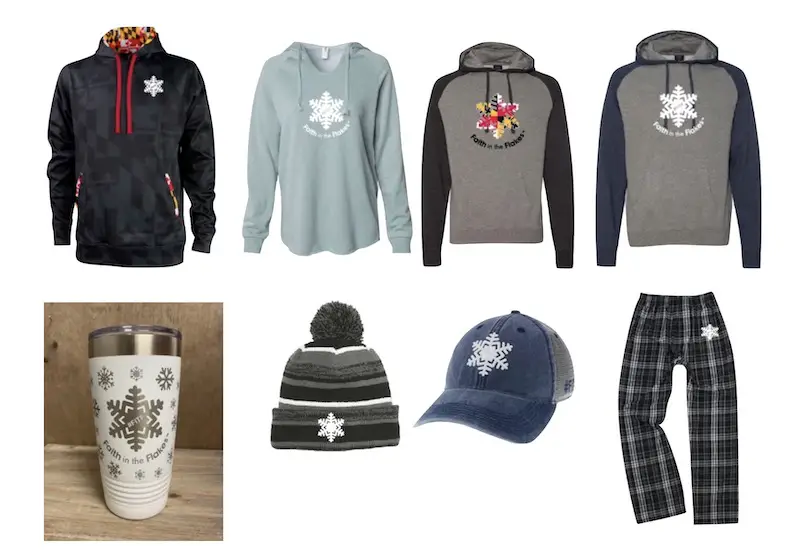 SNOWSTIX – Available Now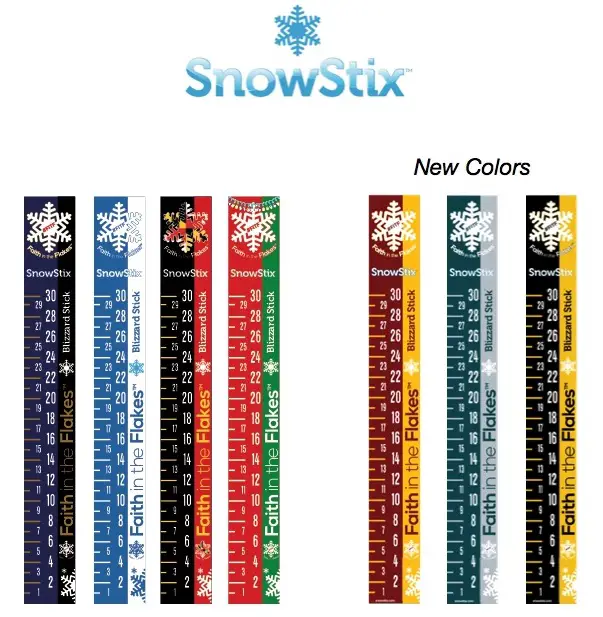 Also See: Winter Outlook Series:
Winter Outlook 2023 From NOAA Very Different Than Farmers Almanacs
ALSO, SEE THESE OTHER WINTER OUTLOOK REPORTS
Farmer's Almanac Comparison
Winter Outlook 2023 Early Look At Snow From Two Farmers Almanacs
Triple Dip La Niña Winter
CONNECTION TO WINTER?
If you want a snowy winter, this is what you might want to look for in the rest of the tropical season. (You might be seeing a lot of commercial snow removal people out this Winter).
Record August For No Named Tropical Storms: Closer Look At Snow Following
Wooly Bear Caterpillars
Persimmon Seeds
Click to see Top 20 and MORE
Winter Weather Folklore Top 20 And More Outlook Signals From Nature For Cold And Snow
Normals And Records: Maryland and Baltimore Climate History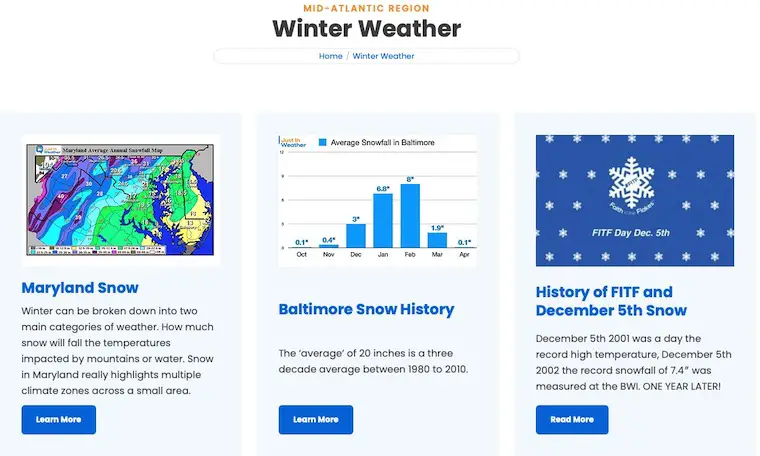 STEM Assemblies/In School Fields Trips Are Back
Click to see more and 'Book' a visit to your school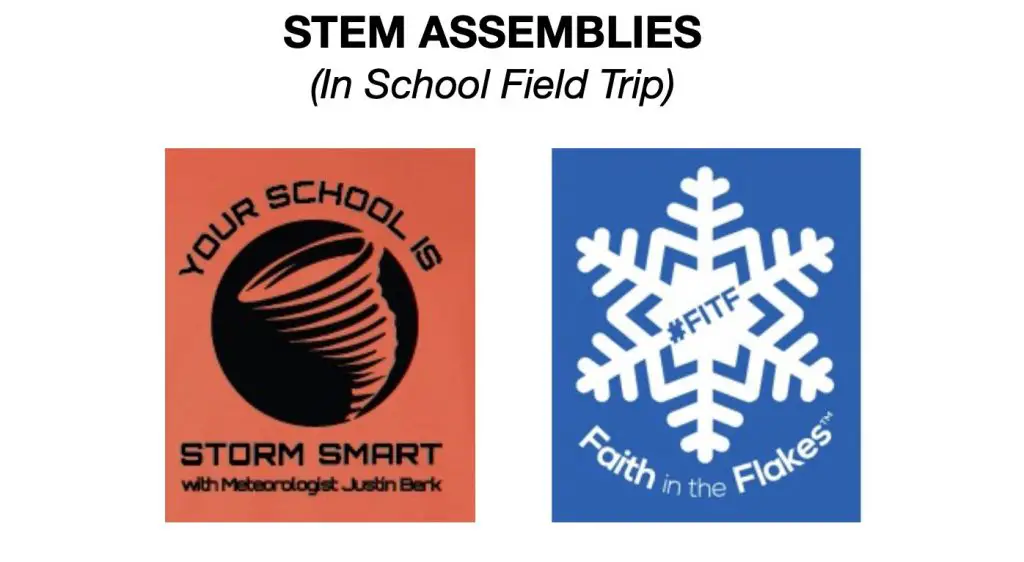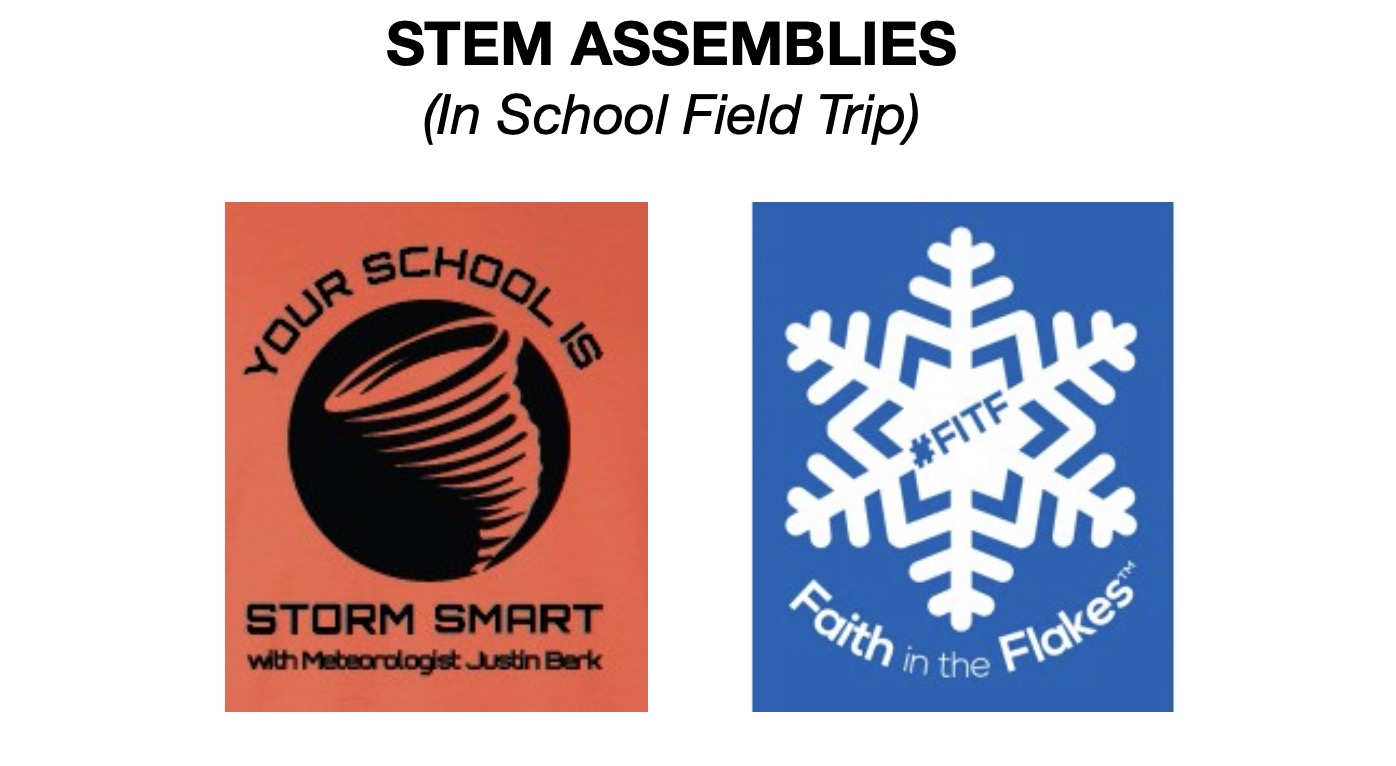 Please share your thoughts, best weather pics/videos, or just keep in touch via social media