October 4 Ian Nor'easter: Rain And Wind Again Plus NEW OC Flood Video
Coastal Storm
climate data
Forecast
Warnings
Justin Berk
Oct 4, 2022
6:09 am
0
October 4, 2022
Tuesday Morning Update 
It's still there! The Ghost of former Hurricane Ian continues as a stalled Nor'easter off the Mid Atlantic coast, now even closer to Ocean City. In fact, we can see the center of circulation getting very close to the coast in the wind forecast animation below. 
This brings us yet another day with rain and chilly winds. Temps may actually be cooler this afternoon than yesterday. But some improvement begins tomorrow.
The steady onshore flow has brought multiple rounds of flooding at each high tide cycle, in addition to beach erosion. Here is NEW VIDEO I shared on my Facebook page from Cindy Kelly. This was at Edgewater Avenue in Ocean City, Maryland.
Flooding In Ocean City Maryland
Need a Flood Restoration company?
New Warnings and Advisories
The focus today will be mostly about the water.
Small Craft Advisory for the northern Chesapeake Bay
Gale Warning for the southern Chesapeake Bay and Ocean Coast
Coastal Flooding: Beach Areas both Atlantic and Bay sides through Maryland, Delaware, and southern New Jersey.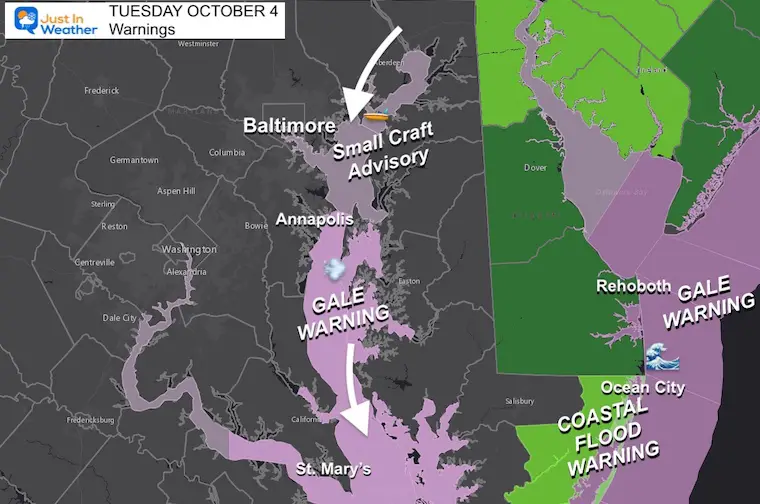 Satellite Loop
This Ghost of Ian Nor'easter continues to spin and pivot rain back inland.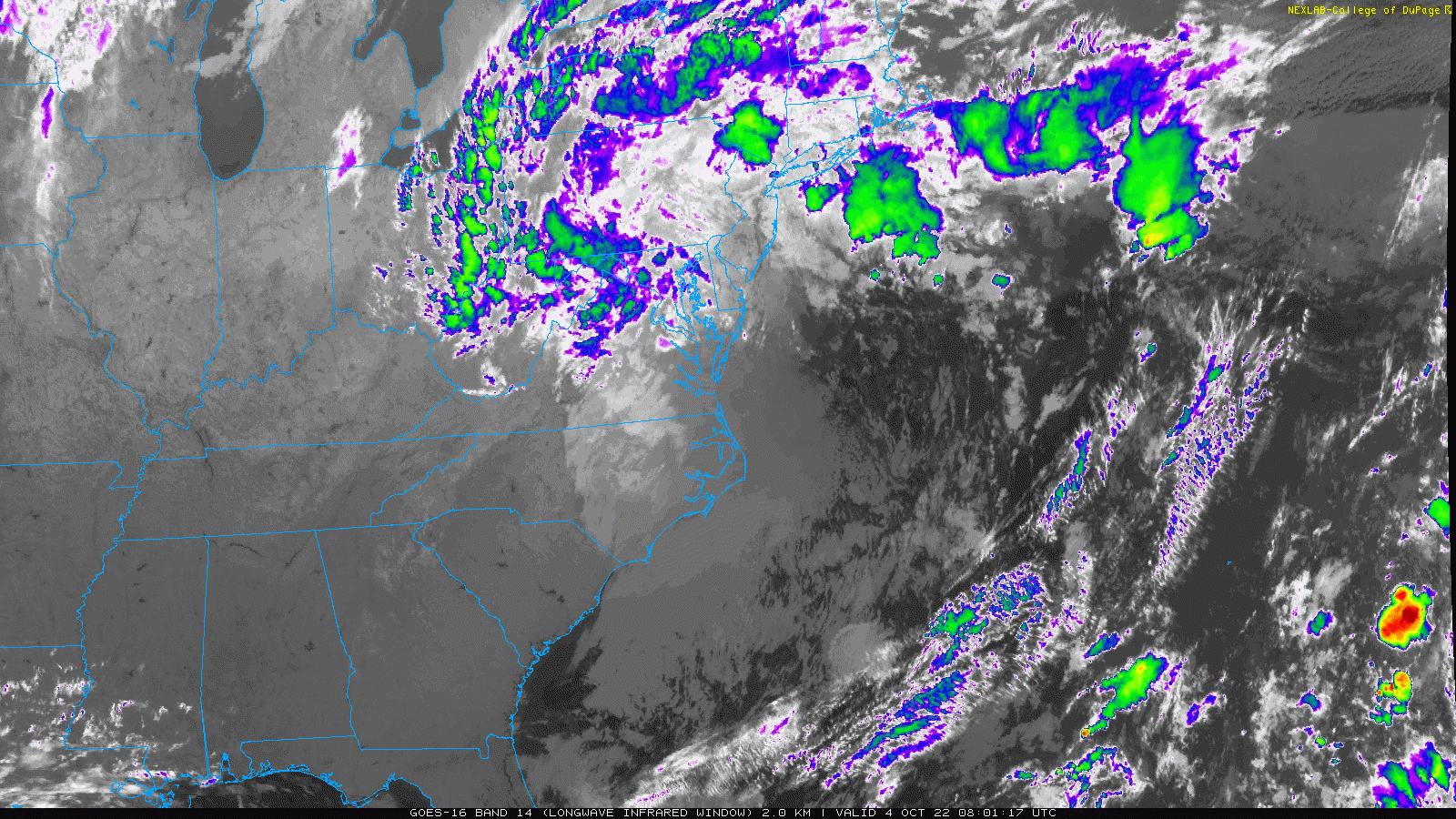 Morning Surface Weather
The Ghost of Ian continues as a stalled Nor'easter off the coast. The circulation will be closer to the coast today, which we can see in the wind streamline forecast below.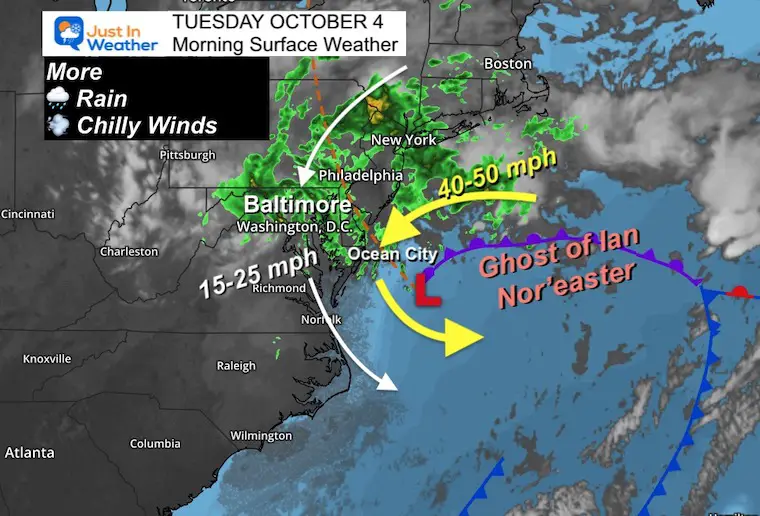 Streamline Winds at 8 AM
Winds will be mostly from the North. This will keep us chilly AND push water out of the Bay. The strongest winds will continue to be along the water and especially by the Atlantic Coast.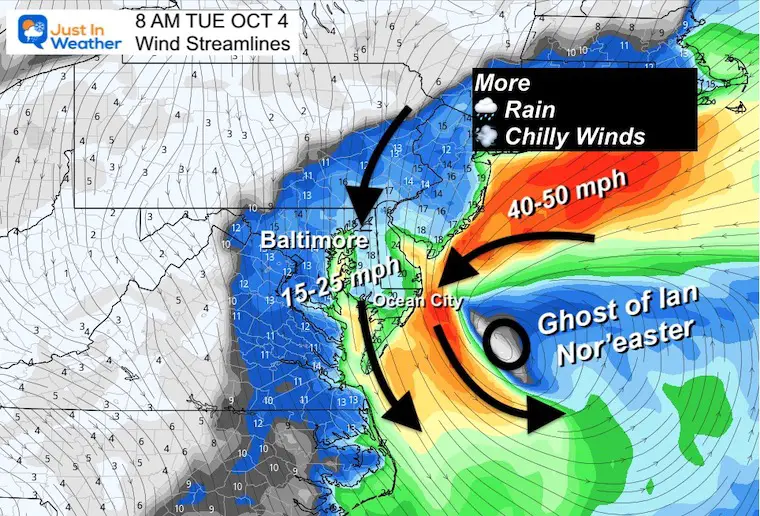 Wind Forecast
8 AM Tue to Midnight
Watch the center circulation (no longer an eye) retrograde westward and get very close to the coast later today.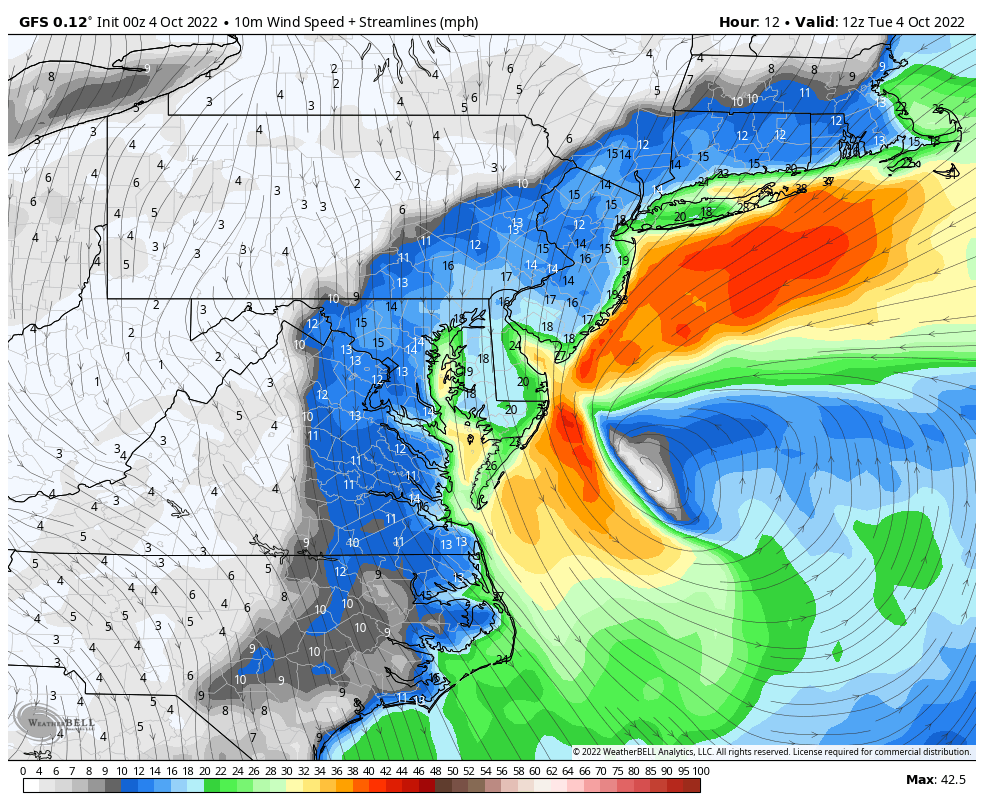 Live Radar
Rain Forecast Simulations: 8 AM to 8 PM
Steady rain will continue with the storm spinning off the coast.  Heavier rain will fall near the Bay and across Delmarva in bands through the afternoon. Notice how it breaks up farther inland. Also, the rain seems to fall apart by tonight. This is the signal of this storm coming to a close… soon.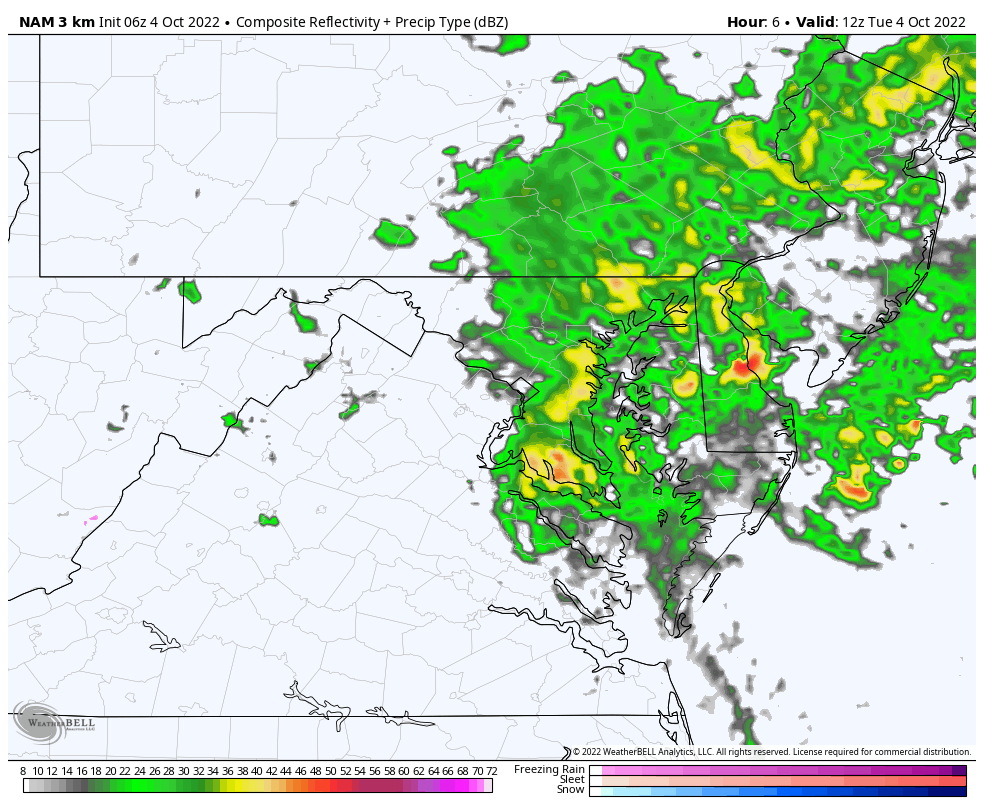 Temperatures
Morning Temperatures
Not much movement on the thermometers again today. Plan for a wet day with mid 40s to lower 50s in the afternoon. 
4 PM
Remaining chilly!

CLIMATE DATA
TODAY October 4
Normal Low in Baltimore:  51ºF
Record 31ºF in 1974
Normal High in Baltimore: 73ºF
Record 92ºF 1954
Weather posts straight to your inbox
Sign up and be the first to know!
Join Us Next Monday October 10 For Our Golf Tournament
Brought In Part By JP's Custom Home Painting
The weather WILL BE BETTER THEN!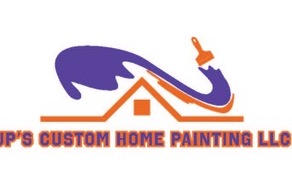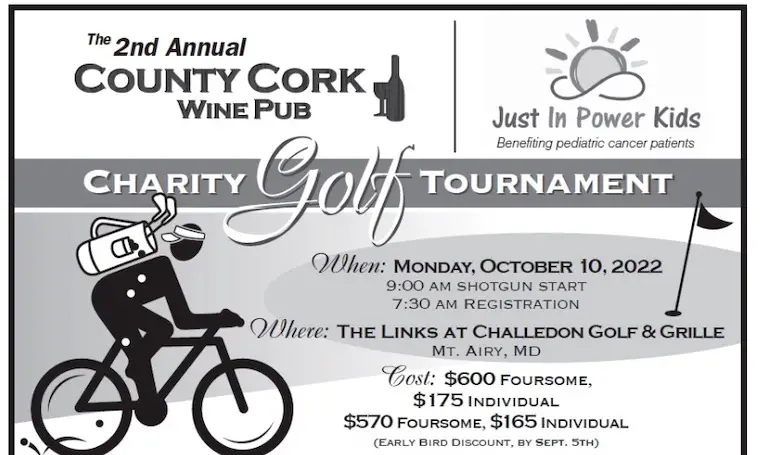 STORM EVOLUTION: GFS Model
8 AM Tue to 8 PM Wed
After skirting the coast today, the Low Pressure will finally break down and move away tomorrow.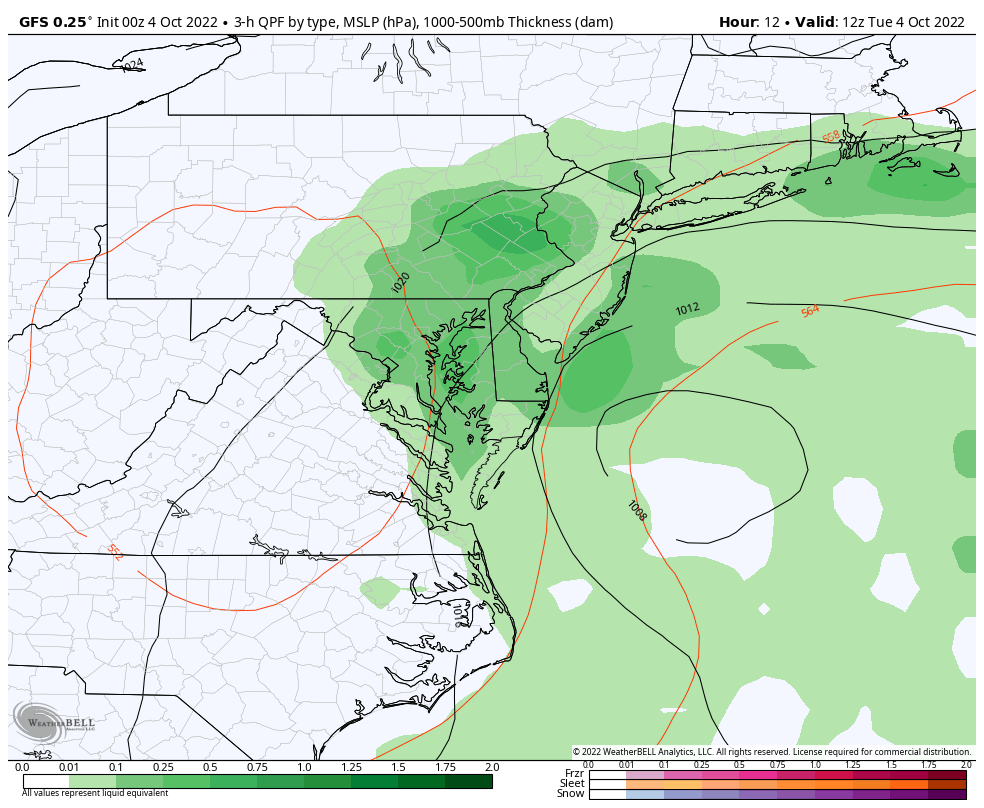 Additional Rainfall Through Wednesday
A few pockets may still receive another 1 to 2 inches all depending on how these bands of rain set up around the Chesapeake Bay.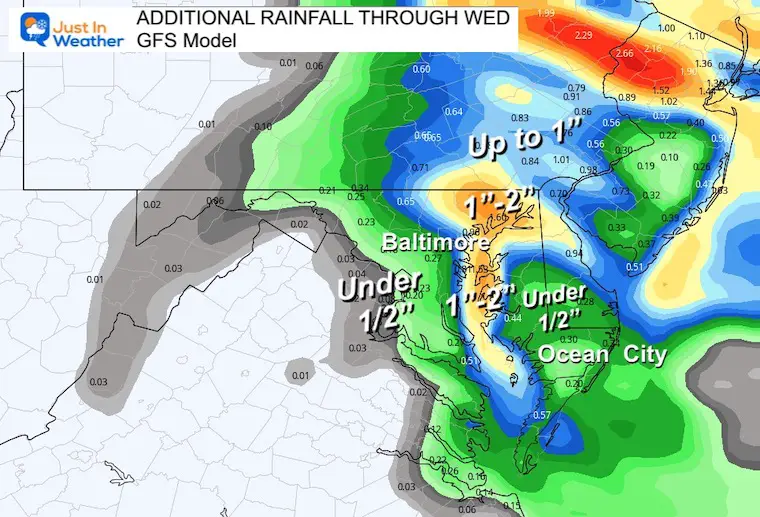 Temperatures Tuesday
Morning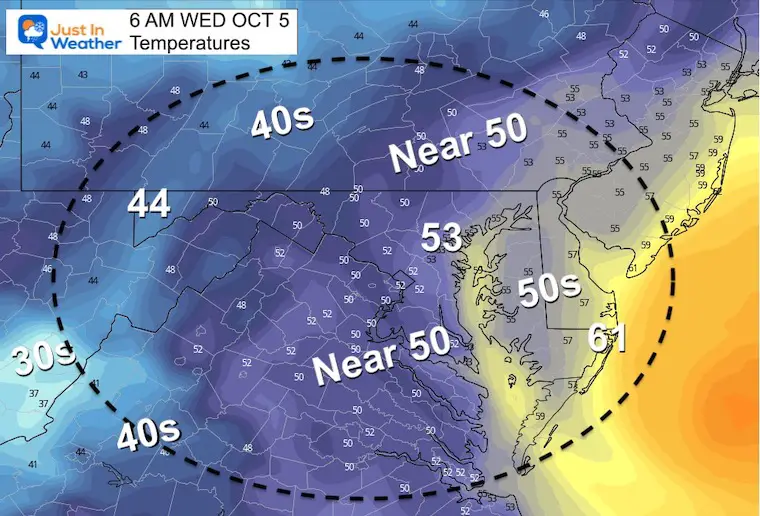 Afternoon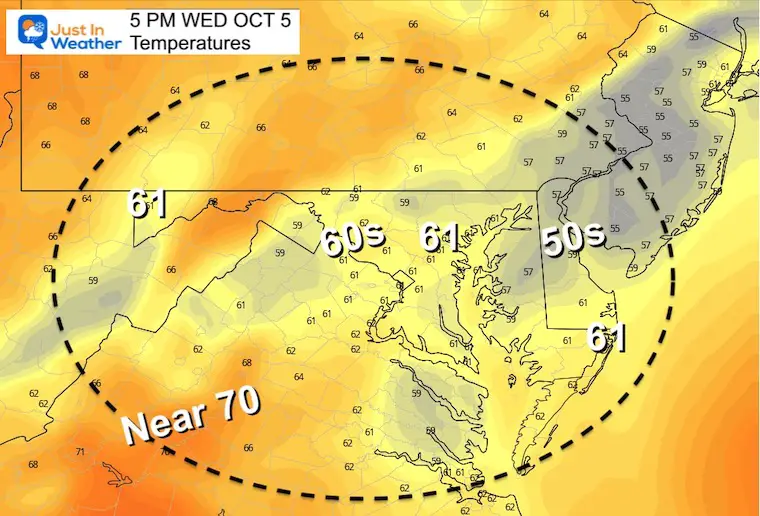 7 Day Forecast
After the Nor'easter moves away, we will get at least two warmer days. However, a new cold front will arrive later Friday, resulting in a chilly (but dry) weekend. If you are riding in the Seagull Century at Salisbury, it will be windy at times.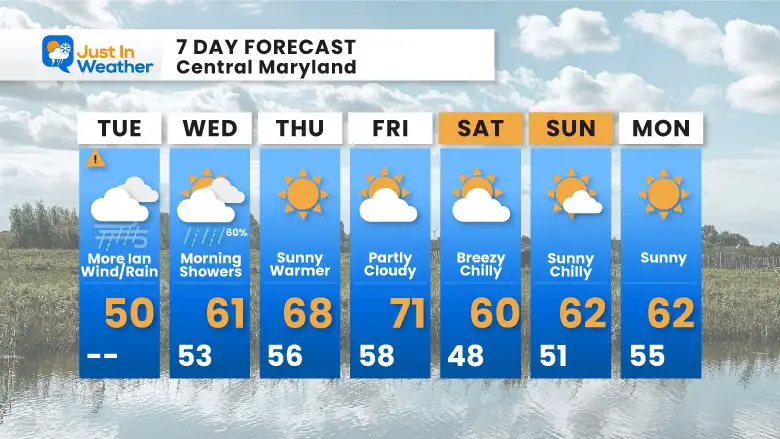 PATTERN CHANGER?
Hurricane Ian May Help Cooler Pattern Change: Monitor For Atmospheric Memory This Winter
CONNECTION TO WINTER?
If you want a snowy winter, this is what you might want to look for in the rest of the tropical season.
Record August For No Named Tropical Storms: Closer Look At Snow Following
Hurricane Season Forecast: June 1 Through November 30
NOAA 2022 Hurricane Forecast- Above Normal Again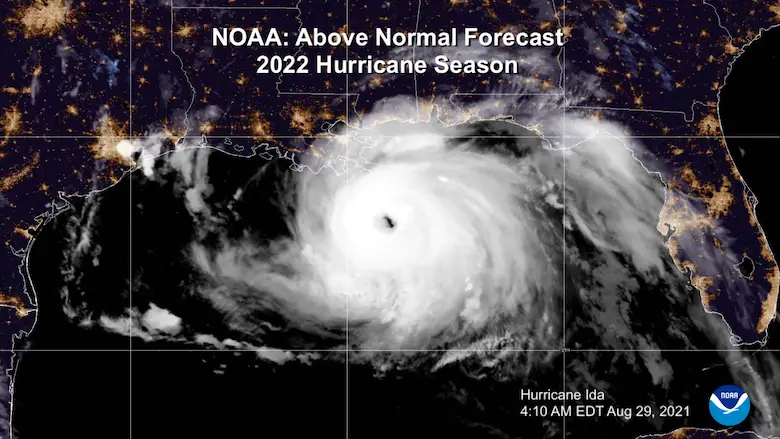 Related Posts
NOAA Study: Reducing Air Pollution INCREASED Tropical Storms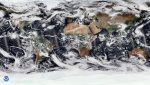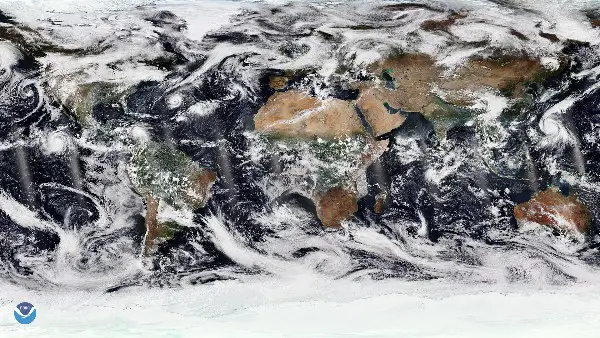 Atlantic Tropical History: Maps of Origin Regions Every 10 Days

Please share your thoughts, best weather pics/videos, or just keep in touch via social media
STEM Assemblies/In School Fields Trips Are Back
Click to see more and 'Book' a visit to your school