Ian To Get Second Life As Nor'easter On Mid Atlantic Coast
Coastal Storm
Maryland Weather
atmospheric memory
wind
Tropics
Warnings
Justin Berk
Oct 1, 2022
8:49 pm
0
Saturday Night Update: October 1 2022
Ian is no longer a tropical system, but it may have a second life as a NEW nor'easter forming in a few days off the Mid Atlantic US. The circulation hammered Florida as the 5th strongest landfalling hurricane on record and may turn out to be the costliest disaster on record. While heavy rain is the status tonight, the next phase may lead to additional beach erosion for Maryland, Delaware, and the entire Mid Atlantic in the days ahead.
Saturday Night Set Up
Low Pressure in south central Virginia is the remains of Hurricane Ian's eye. We often call these remnant circulations the 'ghost of' to maintain that name integrity as we follow it well after it lost topical characteristics.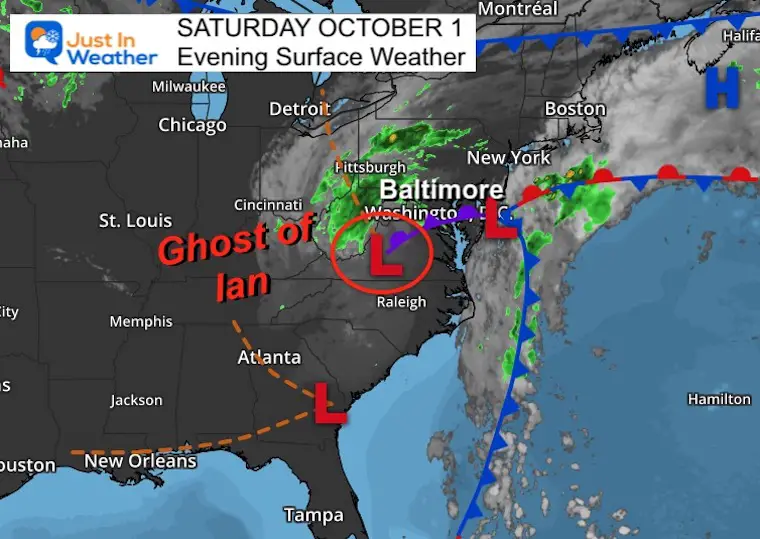 Satellite Loop
We can see the spin seemingly stuck over Virginia and West Virginia. It will begin to shift east Sunday. With some help from a cool pocket of air in the jet stream and gradient with warm water off the east coast, this will develop into a NEW STORM off the Mid Atlantic coast.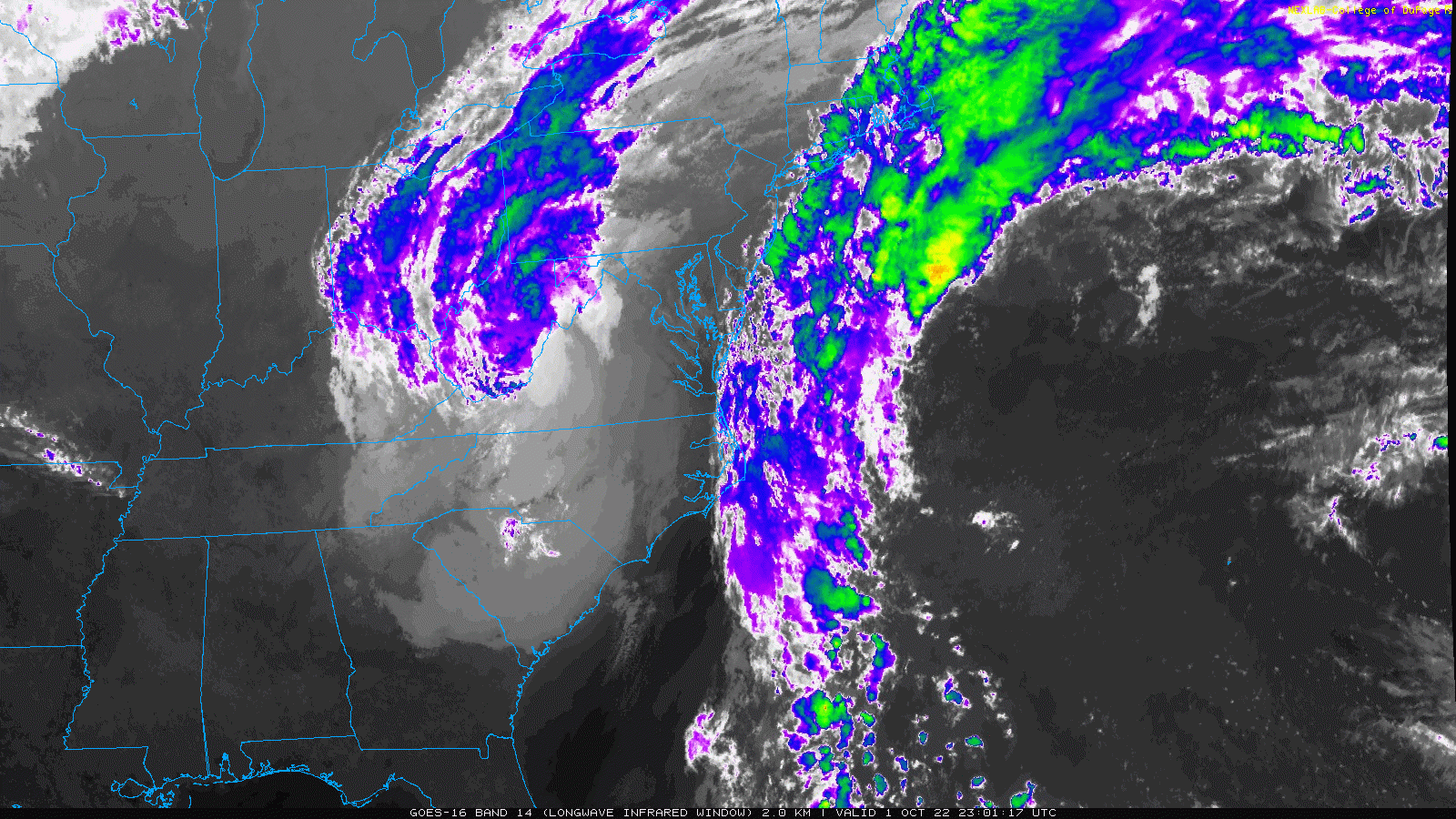 New Coastal Storm By Tuesday!
Let's jump to what it may look like, then back up and watch the maps in motion to show how it will evolve. 
Tuesday Morning October 4
Jet Stream: 
This cool pocket of air aloft is cut off from the main jet stream. This will slowly wander to the coast between Sunday and Tuesday while keeping our region chilly, unsettled, and wet.
Snow Lovers: If this pattern repeats in winter, it would very beneficial to snow outlooks. I am storing this in my Atmospheric Memory File and maintaining Faith in the Flakes (#FITF).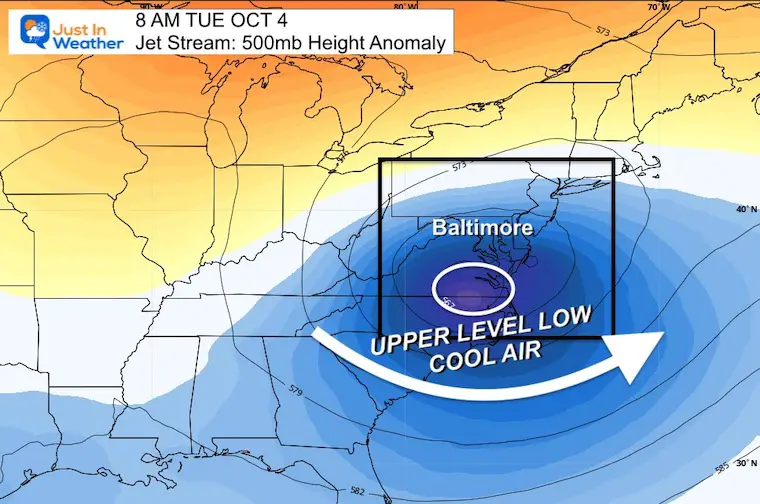 Surface Low
This is where we will watch the developing Low spin up quickly. See the animation below. 
Note: The Upper Low above and the Surface Low are nearly stacked.  That is a recipe for quick development over the warmer water, just not tropical. It will be like a Nor'easter.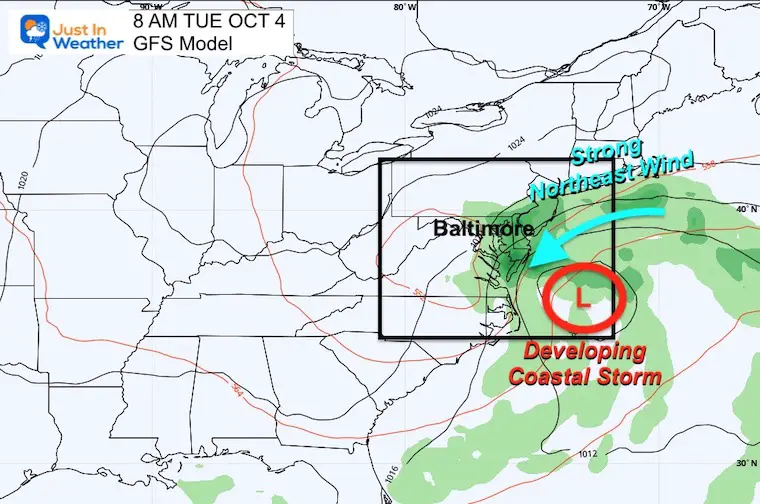 Storm Developing Animations
8 AM Sunday to 8 PM Wednesday
Jet Stream: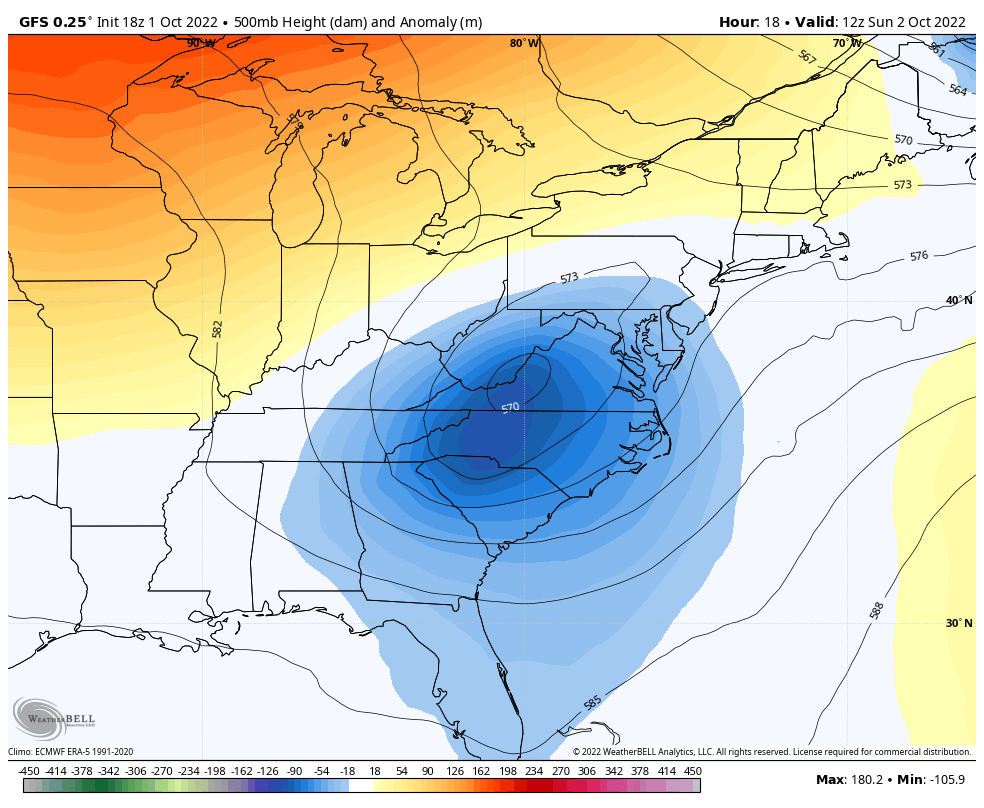 Surface Low and Rainfall:
UPDATE: Click Here For The
Monday Morning Report On The Nor'easter 
October 3 Ian Nor'easter: Rain And Wind Advisories: New Beach Flood Video From Ocean City
Wind Forecast: Streamline Flow
8 AM Sun to 8 PM Tue
This shows the circulation at the surface. 
This will increase Sunday evening through Tuesday.
The stronger winds will be across Delmarva and along the coast… 
Snapshot Tuesday Morning
Steady winds will be from the North and Northeast. This will keep our temps cool, and drain water out of the Chesapeake Bay.  The tide cycles will get lower…
Beaches on the ocean side will experience a few more days of pounding waves and erosion.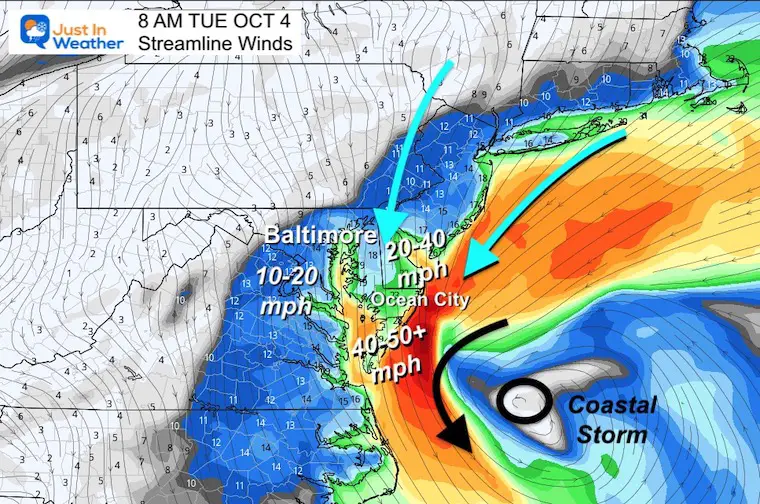 Weather Advisories
Wind Advisory: UPDATED TO INCLUDE ANNAPOLIS
This is mainly Delmarva and the coastline. But stay tuned for any further expansion inland.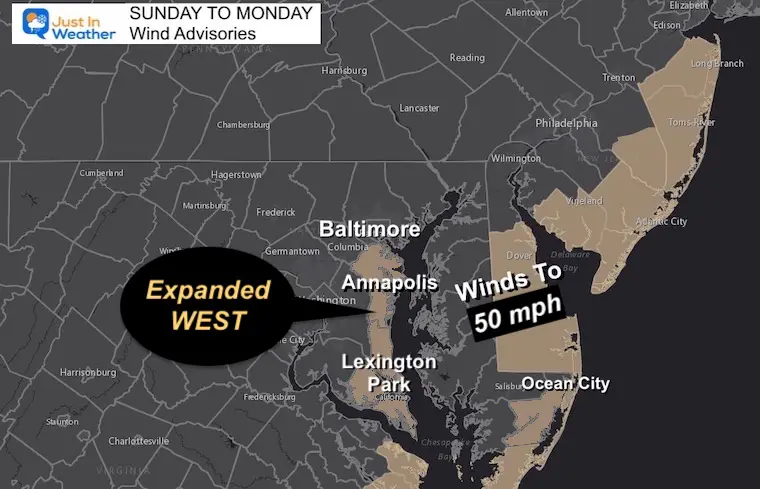 Marine: Small Craft and Gale Storm Warning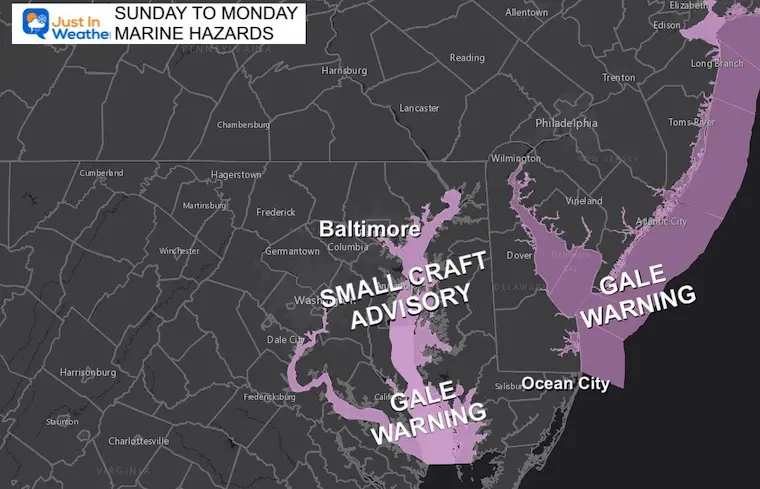 Potential 'Additional' Rainfall
This is the GFS Model, and I know there will be some variation among the guidance with this next phase of the event. I will show the contrast tomorrow. This is simply for an idea of what could fall for flood prone areas around the Chesapeake Bay and Delmarva.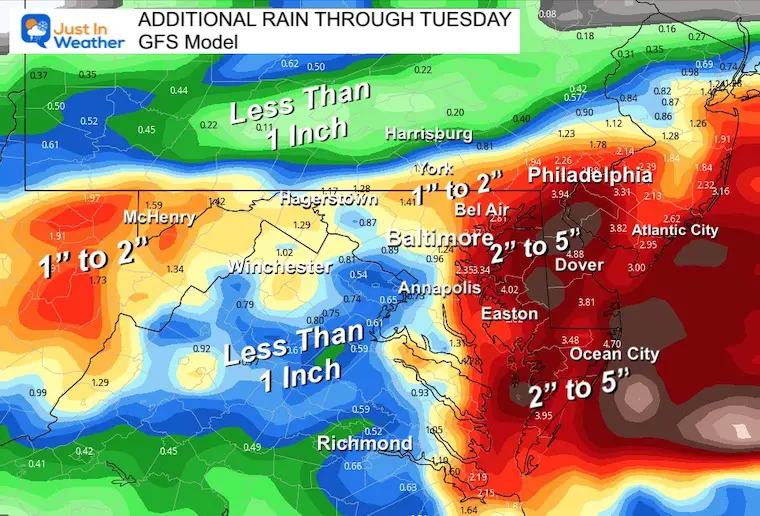 In Case You Missed This…
Fort Myers Landfall Update: A person was in that floating house…
Weather posts straight to your inbox
Sign up and be the first to know!
PATTERN CHANGER?
Hurricane Ian May Help Cooler Pattern Change: Monitor For Atmospheric Memory This Winter
CONNECTION TO WINTER?
If you want a snowy winter, this is what you might want to look for in the rest of the tropical season.
Record August For No Named Tropical Storms: Closer Look At Snow Following
Hurricane Season Forecast: June 1 Through November 30
NOAA 2022 Hurricane Forecast- Above Normal Again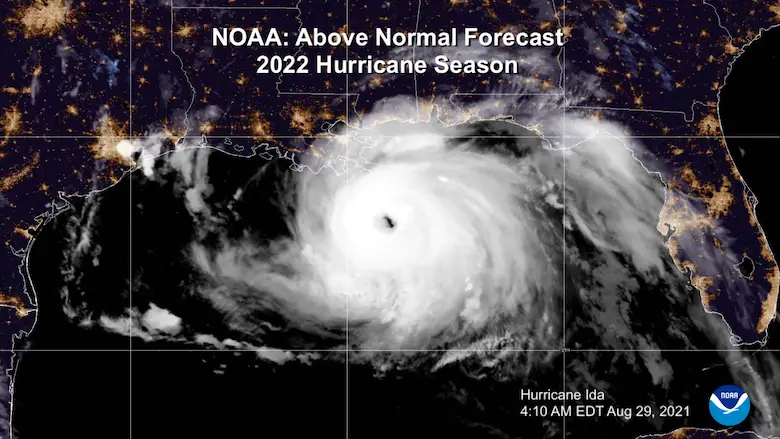 Related Posts
NOAA Study: Reducing Air Pollution INCREASED Tropical Storms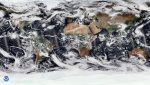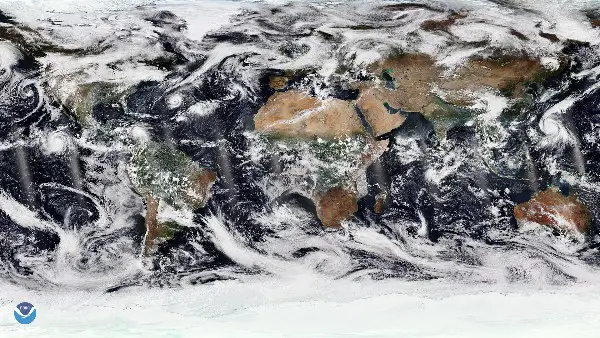 Atlantic Tropical History: Maps of Origin Regions Every 10 Days

Please share your thoughts, best weather pics/videos, or just keep in touch via social media
STEM Assemblies/In School Fields Trips Are Back
Click to see more and 'Book' a visit to your school