Hurricane Ian To Make Landfall Northeast Of Charleston SC This Afternoon
storm surge
rain timeline
National Hurricane Center
Tropics
Warnings
Justin Berk
Sep 30, 2022
11:30 am
0
Friday Morning September 30 2022
At 11 AM Hurricane Ian continued to trend to the right side of the forecast cone. In this case, that will put the eye on land to the Northeast of Charleston, SC. They are in the heaviest rain, but the peak storm storm surge will be farther up the coast. There are new maps to highlight this and the impact up the coast below.
Here is a quick look at the movement on radar and satellite this morning.
Hurricane Ian Doppler Radar Loop
9 AM to 10:40 AM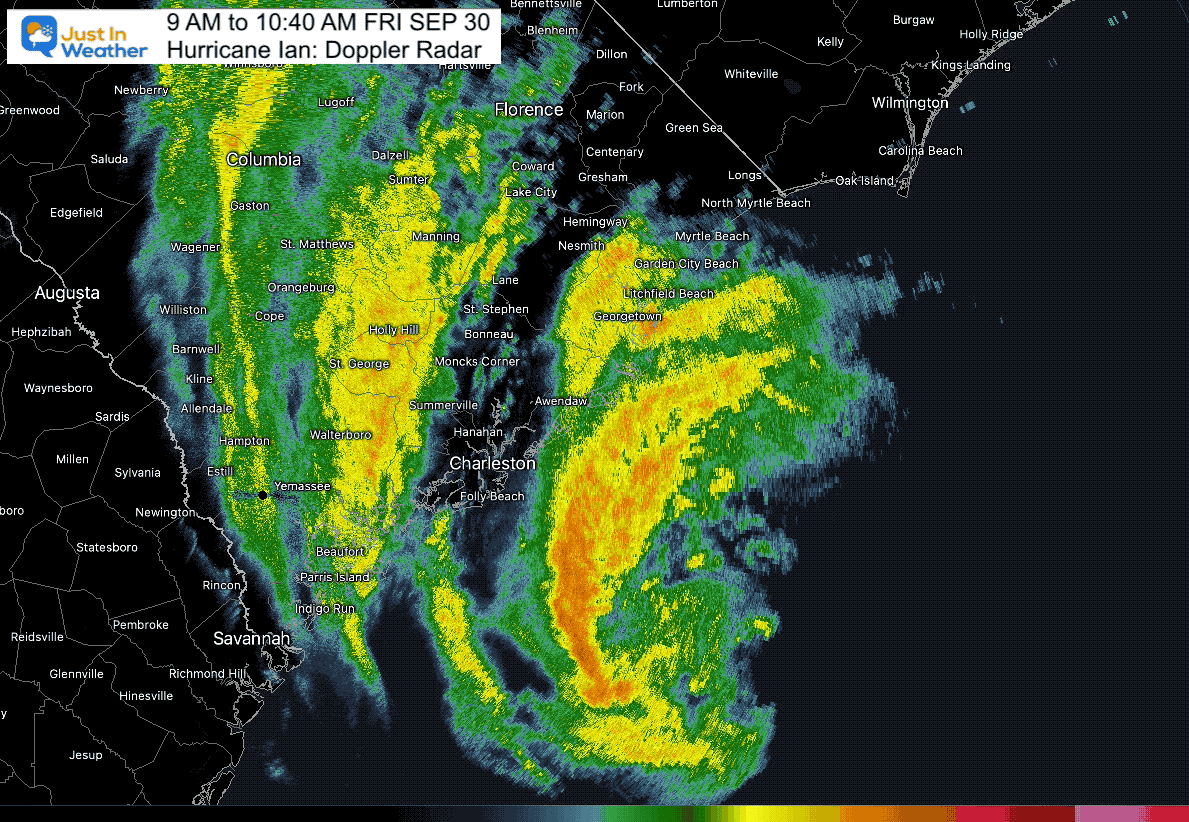 Doppler Radar Snapshot
Based on the location of the eye and the track, landfall is a little later…  between 12 PM and 2 PM.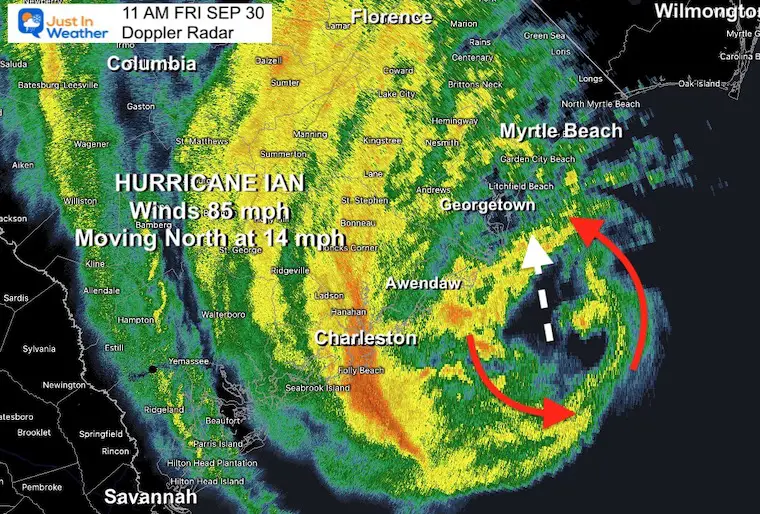 Updated Landfall Forecast
Location most likely between Awendaw and Georgetown, SC. Timing between 12 PM and 2 PM.
This also moved the target zone of onshore winds farther north. That is away from Charleston but higher for Awendaw, Myrtle Beach, and even Wilmington.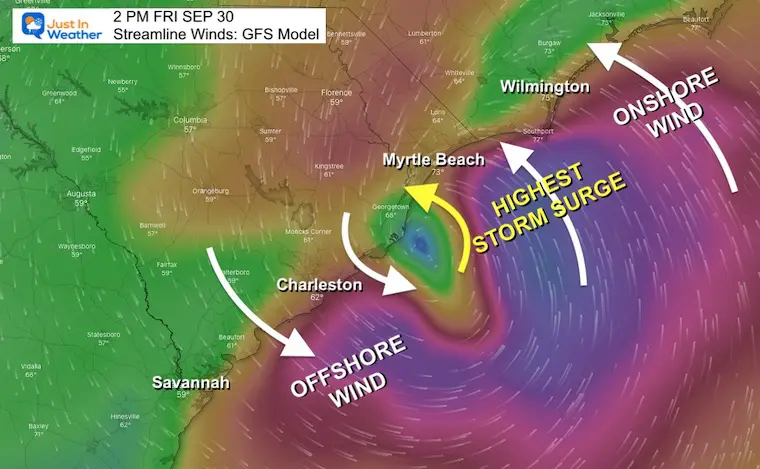 Ian: Sep 30 Friday Morning
Quick Stats at 11 AM
Winds are 85 mph
Moving to the North at 14 mph
Located

 

60 miles SSE of Charleston, SC
HUGE SIZE
Hurricane Force Winds extends 70 miles from the center.
Tropical Storm force winds extend 275 miles from the center.
IR Satellite Loop
The winds are stronger at 85 mph.  However, the satellite image shows that it is losing its tropical characteristics, and is no longer symmetrical. The cloud and wind field has stretched out to the north as it interacts with land of the Eastern US and Canadian High Pressure.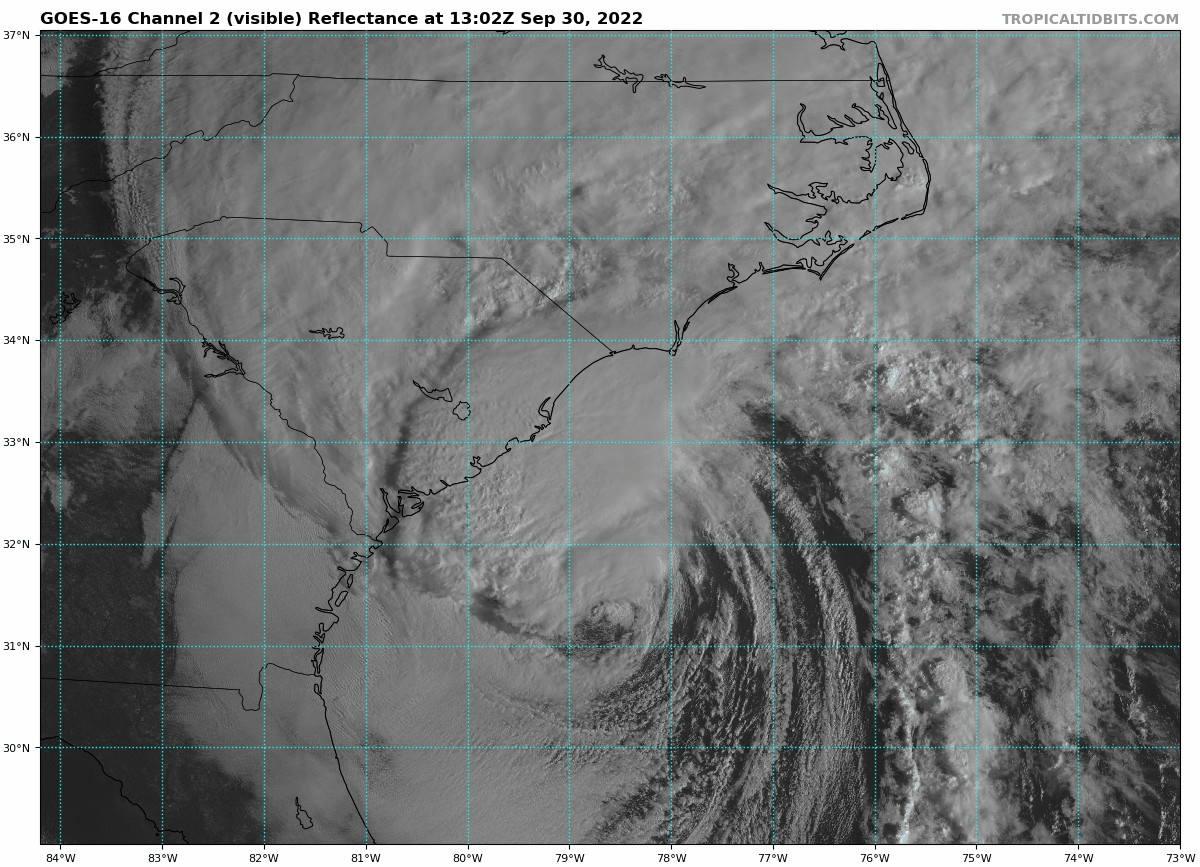 LIVE RADAR/LIGHTNING WIDGET
RAINFALL: Ian is expected to produce the following storm total rainfall:
* Northeast South Carolina: 4 to 8 inches, with local maxima of 12 inches.
* Central South Carolina, North Carolina, and southern Virginia: 3 to 6 inches with local maxima of 8 inches
Storm Simulation
2 PM Fri to 8 AM Sat – NAM 3 Km Model
Rain should end for the landfall locations by midnight. Heavier rain will spread inland and north.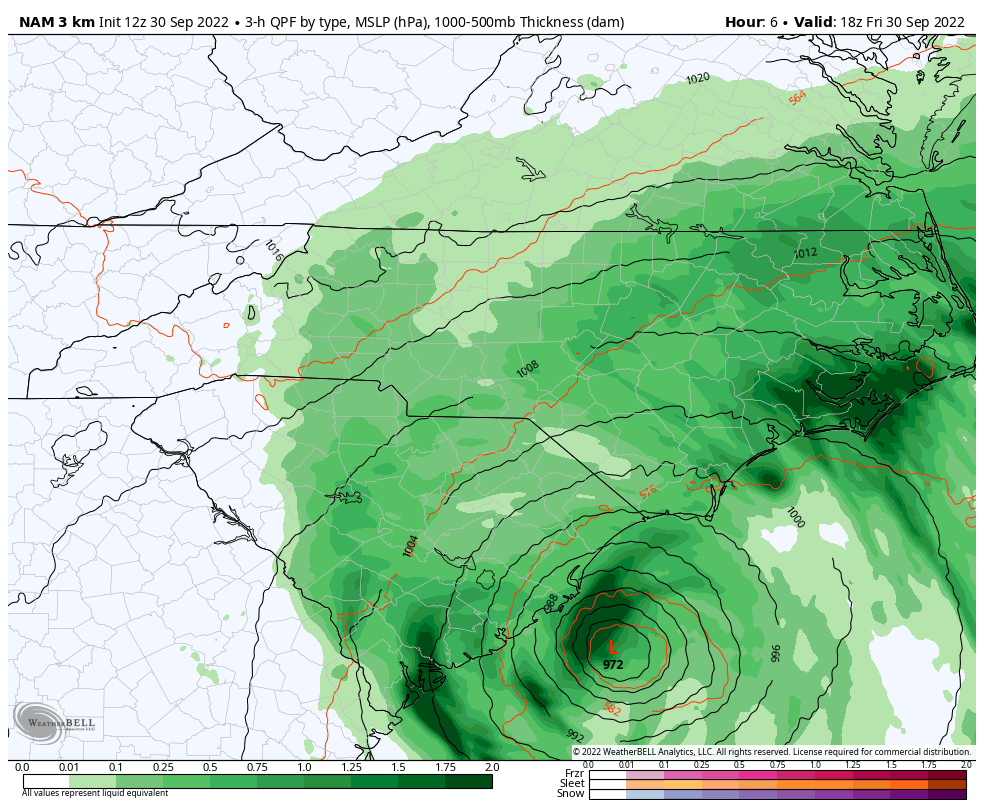 Forecast Winds
2 PM Fri to 8 AM Sat – NAM 3 Km Model
This will move through faster than when it crossed Florida. So improvement is expected on the coast later tonight and Saturday morning.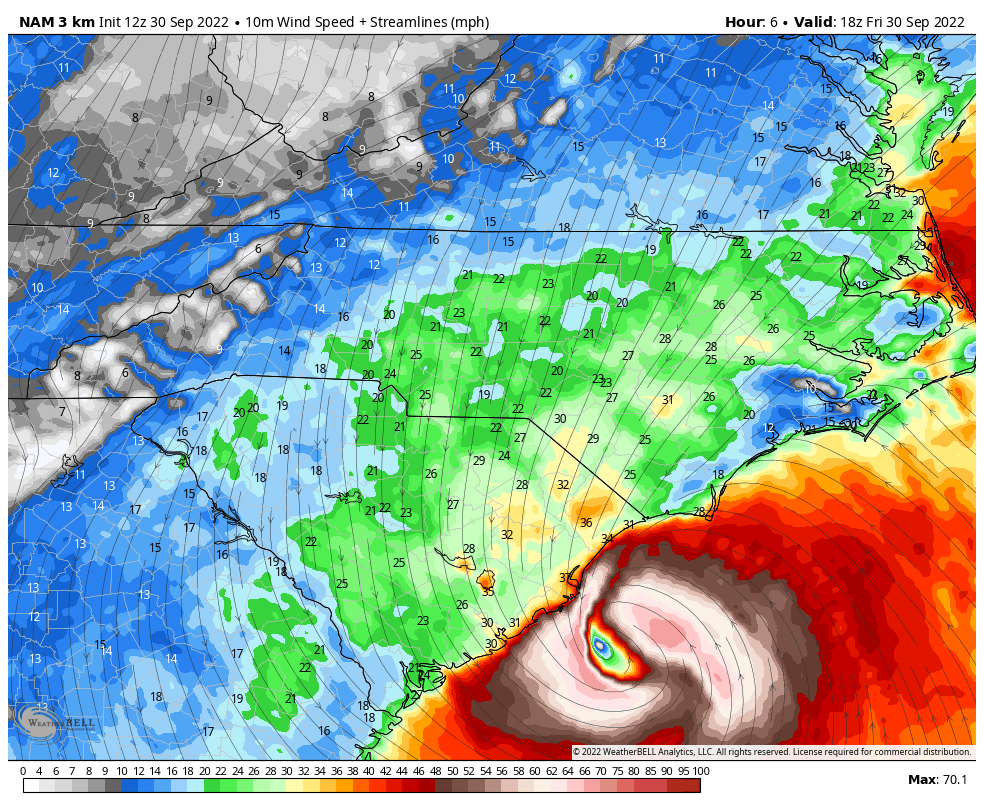 National Hurricane Center Track/Cone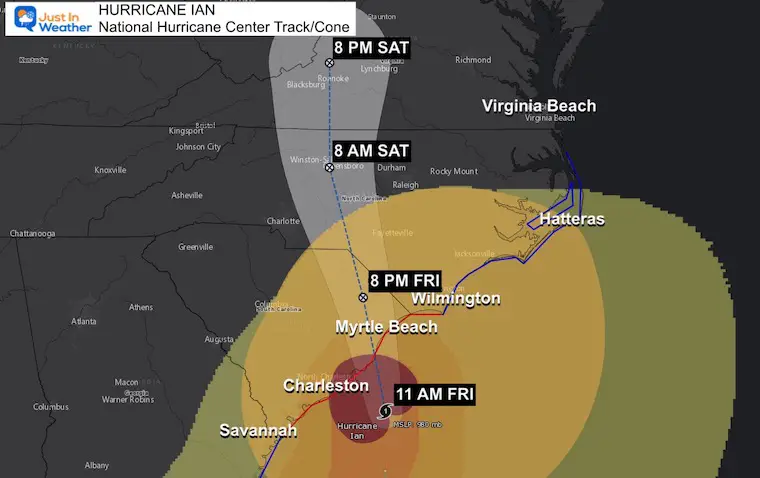 A Storm Surge Warning is in effect for…
* Savannah River to Cape Fear North Carolina
* Neuse River North Carolina
* St. Johns River Florida
A Hurricane Warning is in effect for…
* Savannah River to Cape Fear North Carolina
A Tropical Storm Warning is in effect for…
* Altamaha Sound Georgia to Savannah River
* Cape Fear to Duck North Carolina
* Pamlico Sound
A Storm Surge Watch is in effect for…
* North of Cape Fear to Duck North Carolina
* Pamlico River
* Cape Fear River
A Hurricane Watch is in effect for…
* East of Cape Fear to Surf City North Carolina
Wind And Storm Surge Focus
The most destructive part of a landfalling hurricane is the storm surge. We just saw that in Florida (and I have included two videos on the pop out box here on this page).  
Here is a look at landfall northeast Charleston SC… That means less surge for them but higher water for Myrtle Beach and Wilmington, NC.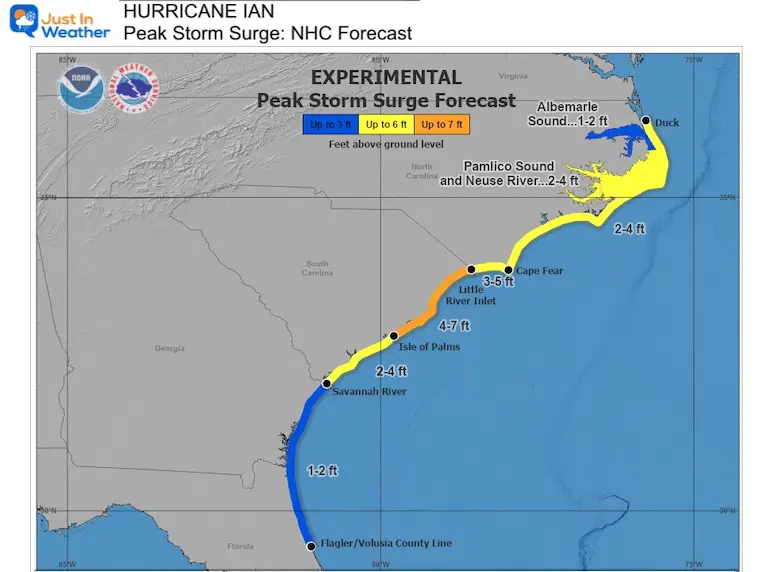 Storm Surge Forecast
STORM SURGE: The combination of storm surge and the tide will cause normally dry areas near the coast to be flooded by rising waters moving inland from the shoreline.  The water could reach the following heights above ground somewhere in the indicated areas if the peak surge occurs at the time of high tide…
* Isle of the Palms to Little River Inlet…4-7 ft
* Little River Inlet to Cape Fear…3-5 ft
* Savannah River to Isle of the Palms…2-4 ft
* Cape Fear River…2-4 ft
* East of Cape Fear to Duck, including Pamlico and Neuse Rivers…2-4 ft
* Flagler/Volusia County Line to Savannah River…1-2 ft
* Albemarle Sound…1-2 ft
EXPLORE MORE:
See how the Carolina Coastline was shaped by thousands of years of storms and how is can catch more or get protected further up the coast. 
How Hurricanes Interact With Land And Helped Shape The US East Coast
Mid Atlantic View
4 PM Fri to 8 AM Sat – NAM 3 Km Model
-I will have our Maryland Update shortly-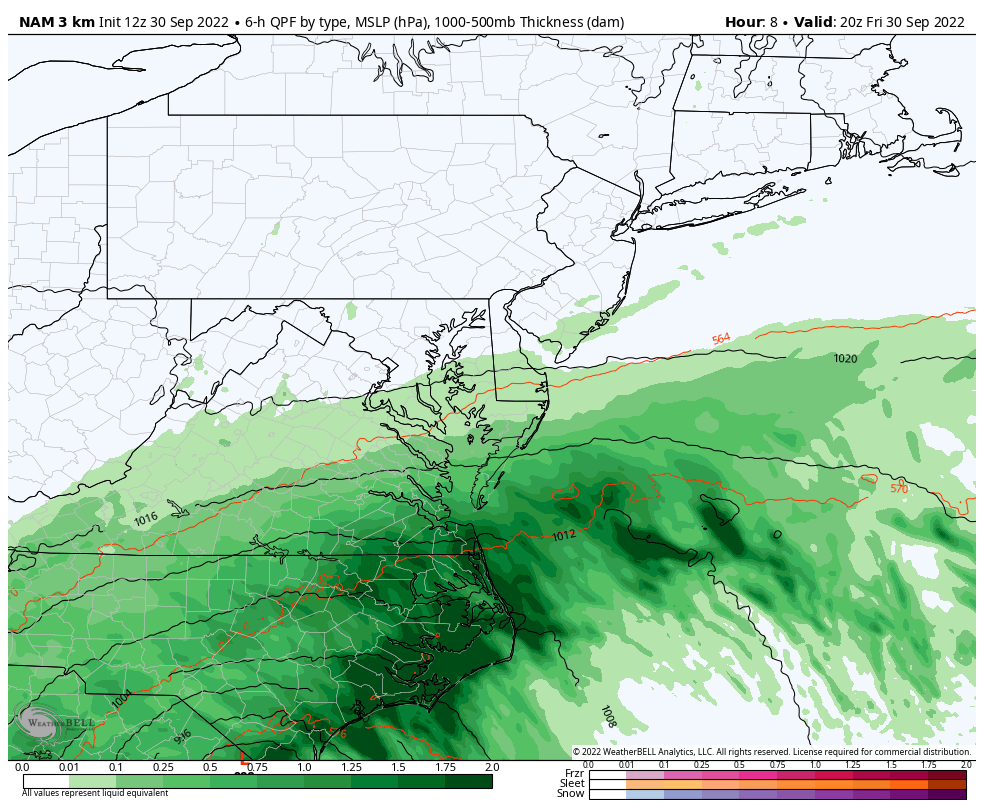 Maryland and Mid Atlantic:
Before my next update, this was my report last night:
Hurricane Ian Impact On Maryland and Mid Atlantic This Weekend
Top 5 Landfalling Storms With Winds 155 mph or Higher Include: 
185 mph in 1935 – Labor Day Day (unnamed)
175 mph in 1969 – Camile
165 mph in 1992 – Andrew
160 mph in 2018 – Michael
155 mph in 2023 – Ian
Storm Name History/Retirement
Since 1954, 94 storms have had their names retired.
I named storms are 13 of them.
Since 2000, 44 storm names were retired.
Of them, 11 began with the letter I. This is going to be number 12.
Weather posts straight to your inbox
Sign up and be the first to know!
PATTERN CHANGER?
Hurricane Ian May Help Cooler Pattern Change: Monitor For Atmospheric Memory This Winter
CONNECTION TO WINTER?
If you want a snowy winter, this is what you might want to look for in the rest of the tropical season.
Record August For No Named Tropical Storms: Closer Look At Snow Following
Hurricane Season Forecast: June 1 Through November 30
NOAA 2022 Hurricane Forecast- Above Normal Again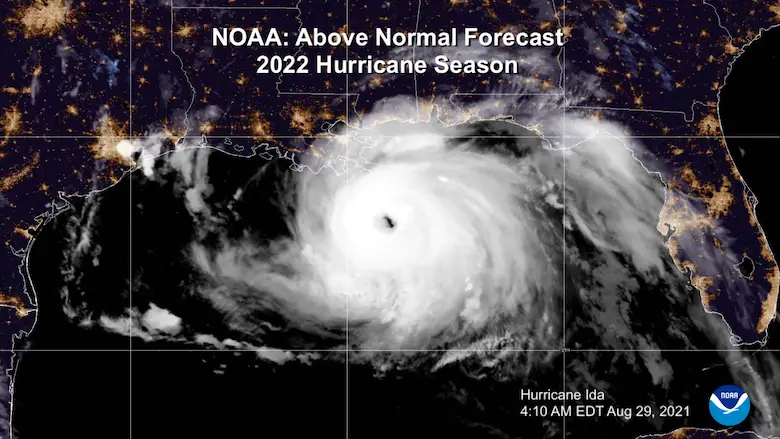 Related Posts
NOAA Study: Reducing Air Pollution INCREASED Tropical Storms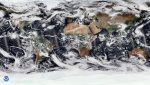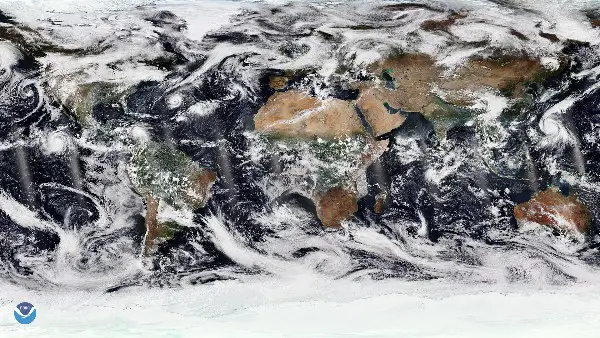 Atlantic Tropical History: Maps of Origin Regions Every 10 Days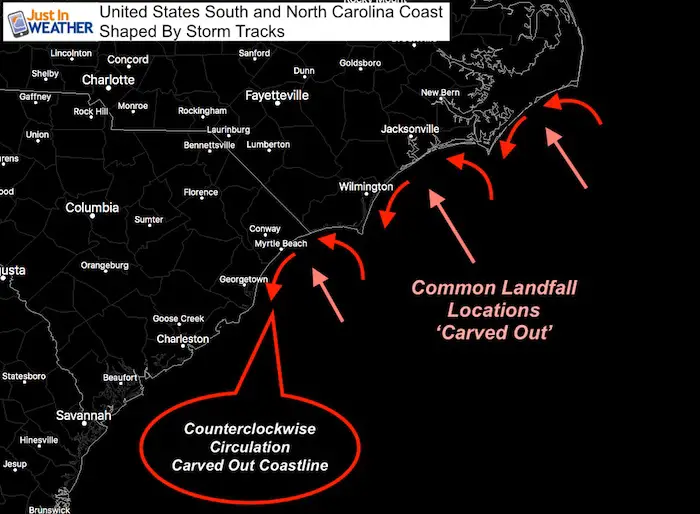 Please share your thoughts, best weather pics/videos, or just keep in touch via social media
STEM Assemblies/In School Fields Trips Are Back
Click to see more and 'Book' a visit to your school