Hurricane Fiona UPGRADED: Live Radar On Puerto Rico For Landfall
National Hurricane Center
Forecast
Tropics
Warnings
Justin Berk
Sep 18, 2022
1:21 pm
0
Sunday September 18, 2022
Afternoon Update
Fiona has been upgraded to a hurricane this morning. This is fitting the forecast just in time for landfall on Puerto Rico later today. The northern edge of the storm is scraping the southern part of the island right now! With respect to motion, this is the STRONGEST part of the storm and will continue to pound the island with a slow track.  The forecast does have some places getting over 25 inches of rain.
ALERT: ALL OF PUERTO RICO IS WITHOUT POWER
As of 2:45 PM EST, island Governor Pedro Pierluisi confirmed that massive blackout after President Biden declared an emergency.
This is a serious situation with major flooding, mudslides, and power outages that may last a long time.
*Landfall Happened on Puerto Rico already *
Winds at the 5 PM advisory were 85 , making this a Category 1 storm. It was moving to the West-Northwest at 9 mph.
While this may not seem that bad, because the islands are used to tropical cyclones, the slow moment, close proximity, and long duration is making this a worst case for Puerto Rico.
I will post LIVE UPDATES in this post. The next National Hurricane Center Advisory.
Satellite Loops
See the sequence images tracking the storm today.
Snapshot at 1 PM EST
Location plotted at 50 miles south of St. Croix and 80 miles Southeast of Ponce, Puerto Rico. It is expected to track on the west side of Puerto Rico and east side of the Dominican Republic.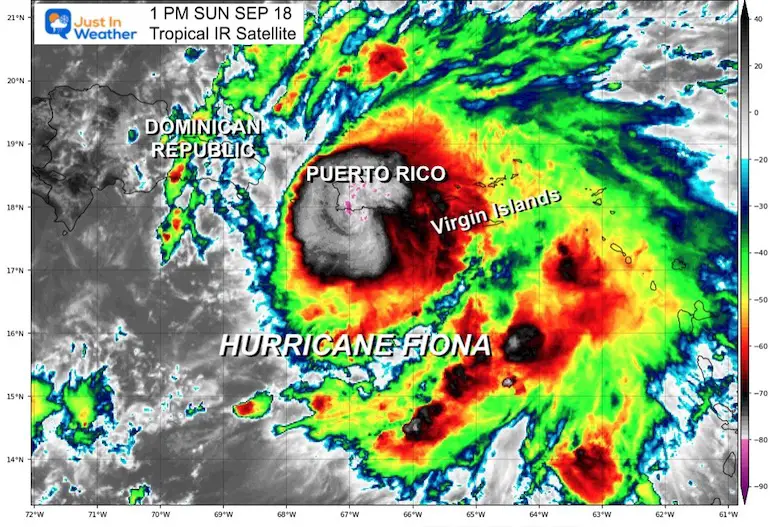 Evening Rainfall
📡 💦 👀 Rainfall up to 25" inches TOP SPOT on Puerto Rico (so far)#Fiona Rainfall Estimated by Doppler as of 9 PM Sun Sep 18 pic.twitter.com/JhrEK82UR2

— Justin Berk (@JustinWeather) September 19, 2022
5 PM From The National Hurricane Center
The eye of Fiona made landfall over extreme southwestern Puerto 
Rico around 1920 UTC, and the center of the hurricane is now moving 
into the Mona Passage between Puerto Rico and the Dominican 
Republic.  
Earlier observations from Hurricane Hunter aircraft and 
WSR-88D radar velocity data indicate that the maximum winds were 
near 75 kt.  




Since there has been little change in the organization 
of the system since the aircraft missions earlier today, the 
intensity is kept at that value for now.  




A NOAA Saildrone went 
through the eye of Hurricane Fiona earlier today and the data from 
that vessel indicated a minimum central pressure of 986 mb.  
Another Air Force Hurricane Hunter mission into Fiona is scheduled 
for this evening.
On the forecast track, the center 
of Fiona will move near the northern coast of the Dominican 
Republic tonight and Monday, and near or to the east of the Turks 
and Caicos Islands on Tuesday.
LIVE RADAR: WEATHER WIDGET
Use the controls to zoom, pan/recenter, and loop the images.
Sunday Evening Latest Info…
8 PM Update From The National Hurricane Center
...CENTER OF FIONA HEADING FOR THE EASTERN DOMINICAN REPUBLIC...
...HEAVY RAINFALL AND CATASTROPHIC FLOODING CONTINUES ACROSS MUCH 
OF PUERTO RICO...
...FIONA NOW MOVING JUST WEST OF PUERTO RICO AND HEADING FOR THE
EASTERN DOMINICAN REPUBLIC...
...CAUSING CATASTROPHIC FLOODING...


SUMMARY OF 800 PM AST...0000 UTC...INFORMATION
----------------------------------------------
LOCATION...18.1N 67.8W
ABOUT 45 MI...70 KM W OF MAYAGUEZ PUERTO RICO
ABOUT 50 MI...85 KM SE OF PUNTA CANA DOMINICAN REPUBLIC
MAXIMUM SUSTAINED WINDS...85 MPH...140 KM/H
PRESENT MOVEMENT...NW OR 305 DEGREES AT 9 MPH...15 KM/H
MINIMUM CENTRAL PRESSURE...984 MB...29.06 INCHES

Hurricane Fiona 
Winds are 85 mph
Moving to the WNW 9 mph (slowed down from yesterday)
Hurricane Force Winds: Extend 30 miles from the center.
Tropical Storm Force Winds:" Extend 140 miles from the center
A sustained wind of 44 mph (70 km/h) with a gust to 55 mph (89 km/h) has been measured at Los Mareas in Puerto Rico within the past couple of hours.
The minimum central pressure estimated from Air Force Reserve reconnaissance aircraft data is 984 mb (29.06 inches).
From NOAA/National Hurricane Center
SUMMARY OF WATCHES AND WARNINGS IN EFFECT:
A Hurricane Warning is in effect for…
* Puerto Rico, including Vieques and Culebra
* The coast of the Dominican Republic from Cabo Caucedo to Cabo Frances Viejo
A Hurricane Watch is in effect for…
* U.S. Virgin Islands
* North coast of the Dominican Republic from Cabo Frances Viejo westward to Puerto Plata
A Tropical Storm Warning is in effect for…
* U.S. Virgin Islands
* British Virgin Islands
* North coast of the Dominican Republic from Cabo Frances Viejo westward to Puerto Plata
A Tropical Storm Watch is in effect for…
* South coast of the Dominican Republic west of Cabo Caucedo to Barahona
* Turks and Caicos Islands
* Southeastern Bahamas
Forecast Track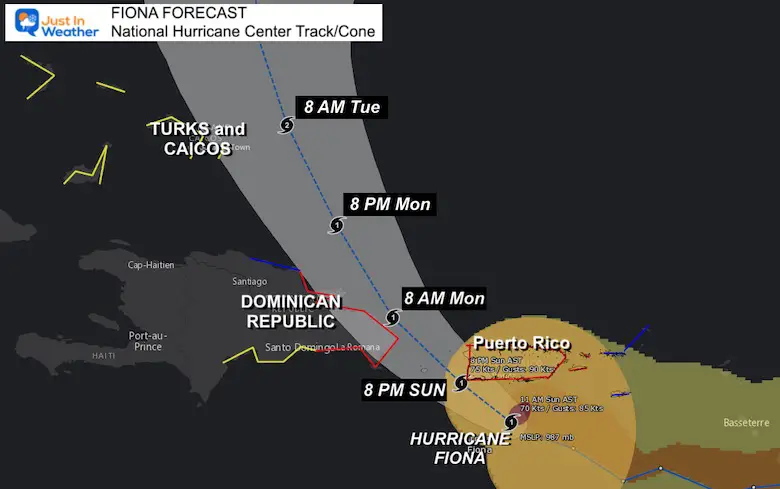 FORECAST DETAILS:
RAINFALL:  Fiona is forecast to produce the following rainfall:
Leeward Islands: Additional 2 inches or less.
British and U.S. Virgin Islands: 4 to 6 inches, maximum of 10 inches on St. Croix.
Puerto Rico: 12 to 16 inches with local maximum of 25 inches, particularly across eastern and southern Puerto Rico.
Northern and Eastern Dominican Republic: 4 to 8 inches with local maximum 12 inches, particularly near the far east coast.
Rest of Dominican Republic and Haiti: 1 to 3 inches.
Turks and Caicos: 3 to 6 inches.
These rains will produce life-threatening flash flooding and urban flooding across Puerto Rico and the eastern Dominican Republic, along with mudslides and landslides in areas of higher terrain.
STORM SURGE:  The combination of storm surge and the tide will cause normally dry areas near the coast to be flooded by rising waters moving inland from the shoreline.  The water could reach the following heights above ground somewhere in the indicated areas if onshore winds and the peak surge occur at the time of high tide…
Southern coast of Puerto Rico…1 to 3 ft
Vieques and Culebra…1 to 3 ft
U.S. Virgin Islands…1 to 2 ft
Forecast Intensity
There is NOW a lot more support for this to reach at least become a Category 2 Hurricane AFTER passing north of Puerto Rico.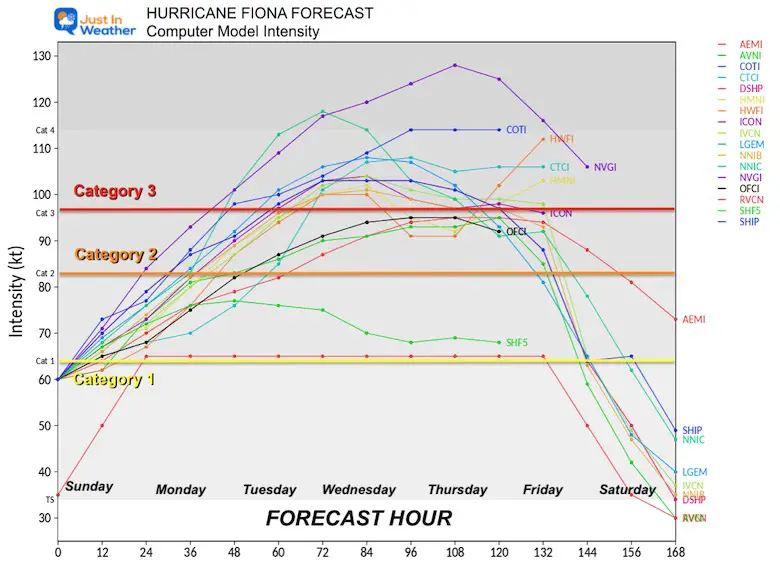 Tropical Forecast Track/Cone
Wide View Forecast
Most ensembles show this curving through the Bahamas then east of the US coast towards Bermuda. While it may miss the US east coast, it will produce dangerous rip currents and beach erosion through the Mid Atlantic shoreline.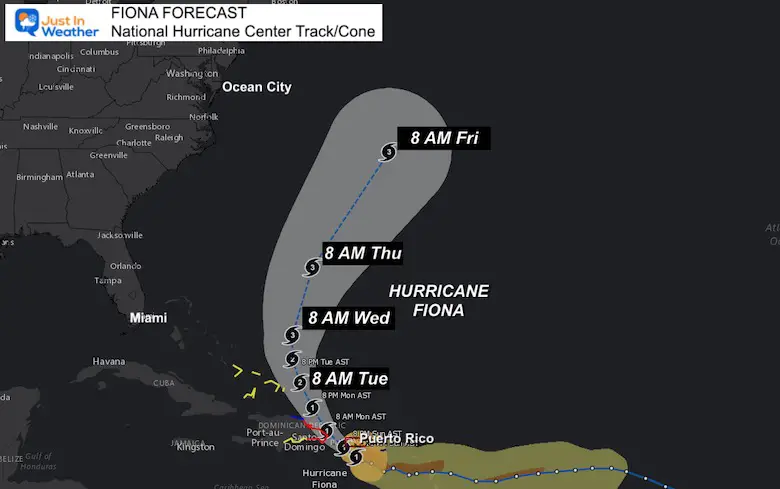 INTERACTIVE WIND FORECAST: NHC Forecast
Use the slider at the bottom of the viewer to adjust the time.  You can adjust the view to zoom in or pan the map.
Weather posts straight to your inbox
Sign up and be the first to know!
EXPLORE MORE
Atlantic Tropical History: Maps of Origin Regions Every 10 Days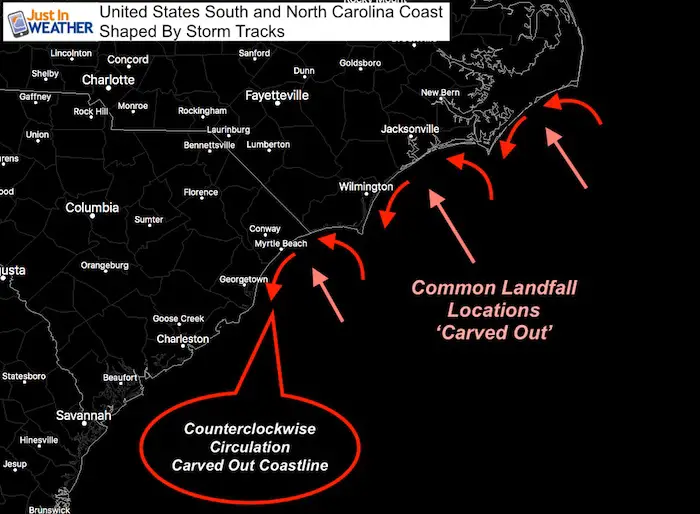 NOAA Study: Reducing Air Pollution INCREASED Tropical Storms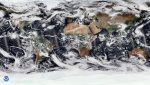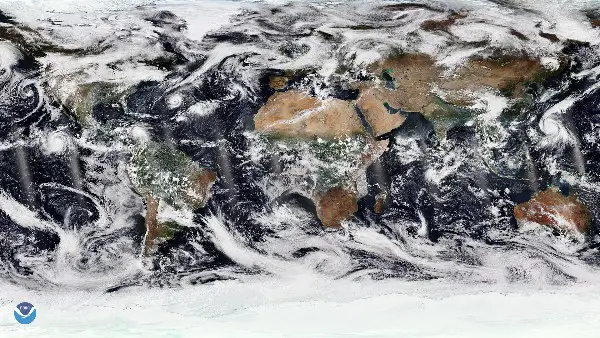 COMPARE TO THE
 

PAST

If you want a snowy winter, this is what you might want to look for in the rest of the tropical season.
Record August For No Named Tropical Storms: Closer Look At Snow Following
Hurricane Season Forecast: June 1 Through November 30
NOAA 2022 Hurricane Forecast- Above Normal Again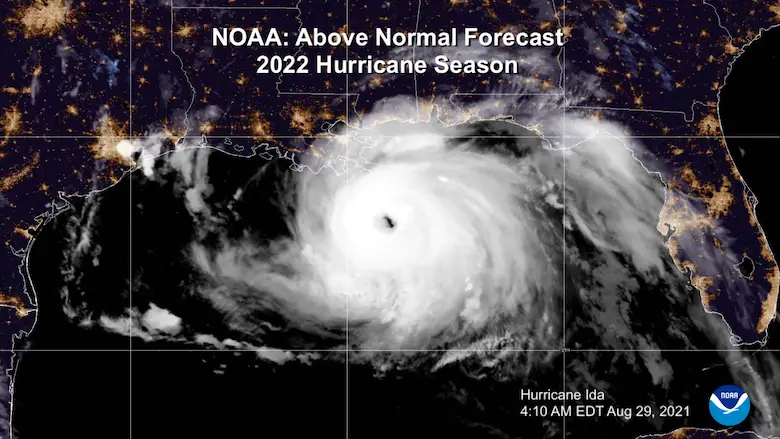 Forecast From Colorado State University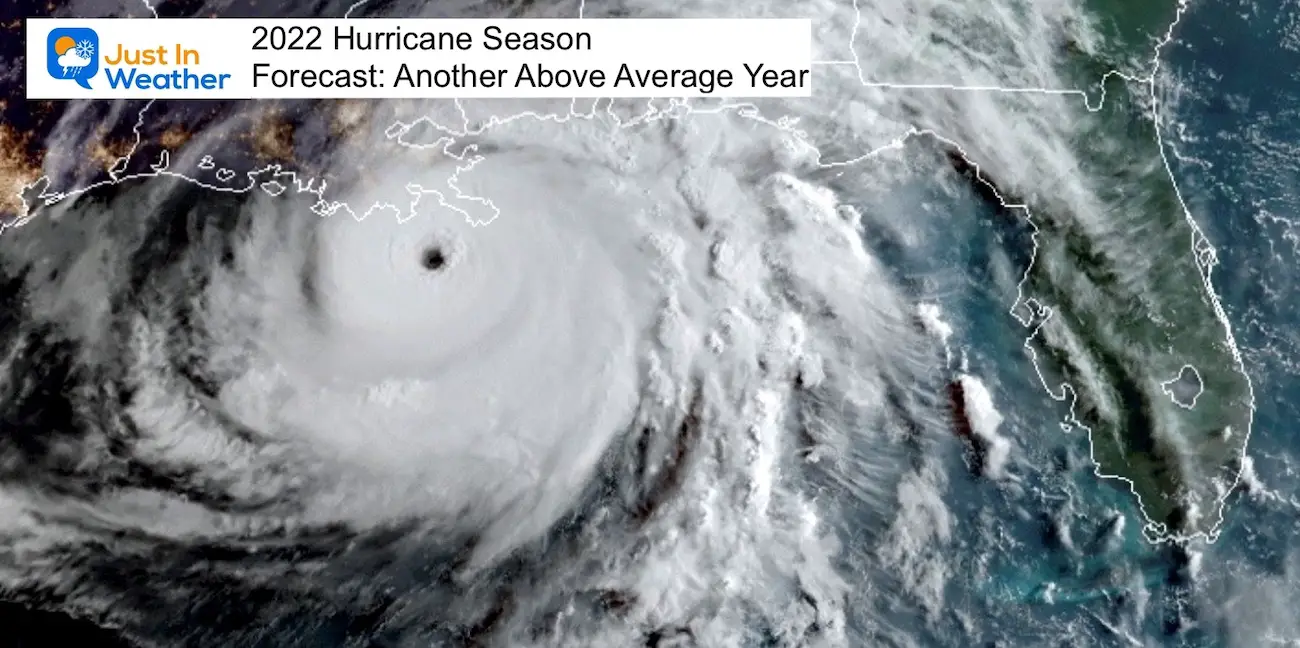 Please share your thoughts, best weather pics/videos, or just keep in touch via social media
STEM Assemblies/In School Fields Trips Are Back
Click to see more and 'Book' a visit to your school