Afternoon Storms: Wednesday Radar Simulations And Live Widget
Maryland Weather
Severe Weather
Forecast
Justin Berk
Jul 27, 2022
2:17 pm
0
July 27 2022
Wednesday Afternoon Update
We are still under the influence boundary that will try to send showers our way. This nearly stalled, otherwise known as a quasi-stationary front, has waves of disturbances that can triggers clusters or lines of rain and storms. 
These are not easy to track, especially in the current environment of poorly performing short range computer model guidance.  That is why I have made not of 'suggestions' rather than any promises.  Yesterday for example failed to fully materialize. 
Today, it does look like one of these impulses will move though with a line of showers and thunderstorms.  We can already see showers developing (at 2 PM).
At best guess, metro areas can expect this to arrive between 4 PM and 7 PM.  Below is the comparison to show the similarities and differences between the NAM 3 Km and HRRR Models, plus the Love Radar and Lightning Widget to track right here.
Afternoon Set Up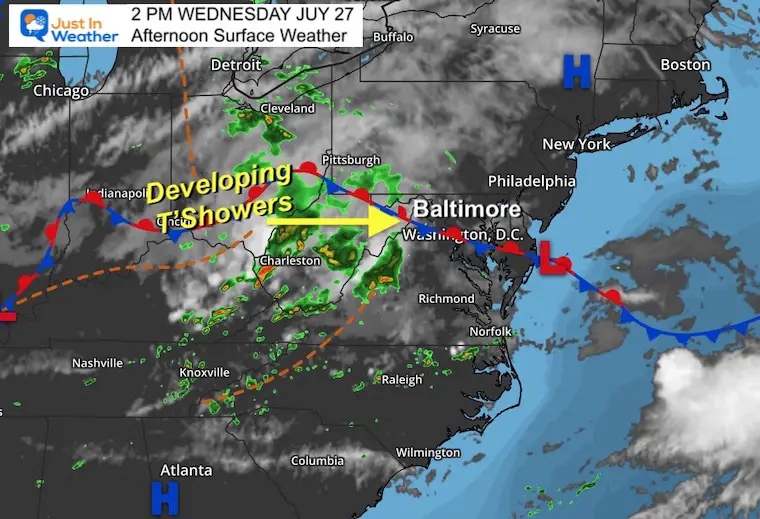 Doppler Radar Snapshot
Already seeing some showers developing in the mountains south of Hagerstown. Watch this region to shift east… which is closer to the NAM 3 Km timing below.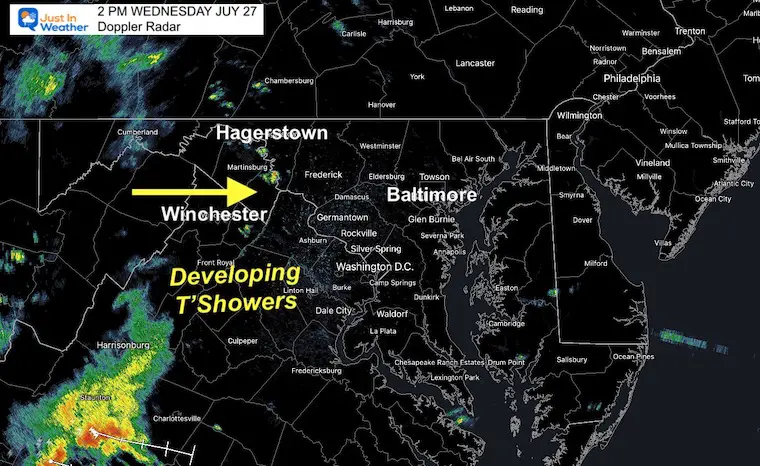 Short Range Forecasting
The good news is that there is some agreement with the two short range models. The difference is the timing. Here we see developing storms into metro Washington and Baltimore.
NAM 3 Km Model: (earlier) Close to 5 PM

HRRR Model: (later) Closer to 7 PM
See the animation of each product below the Live Radar/Lightning Widget
NAM 3 Km
 (earlier for metro areas)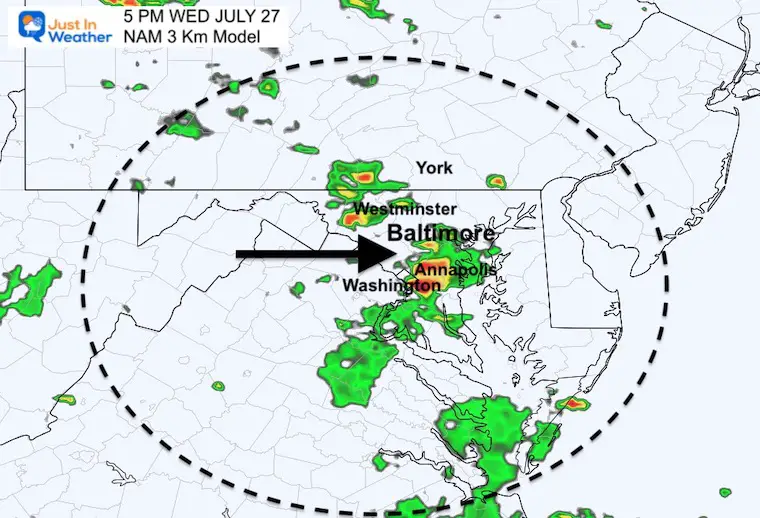 HRRR Model 
(2 hours later for metro areas)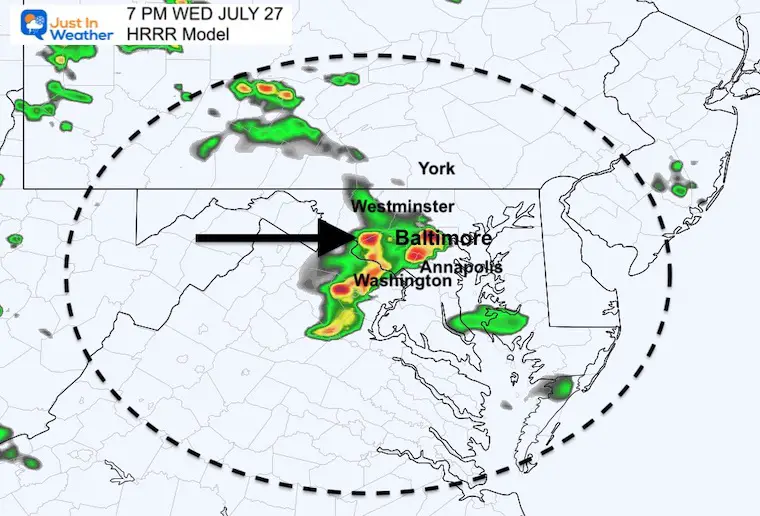 Live Lightning and Radar Widget
Radar Simualtions..
Here we can see both models in motion supporting a brief flare up then scattered showers through midnight. 
NAM 3 Km: 2 PM to Midnight 
HRRR Model 2 PM to Midnight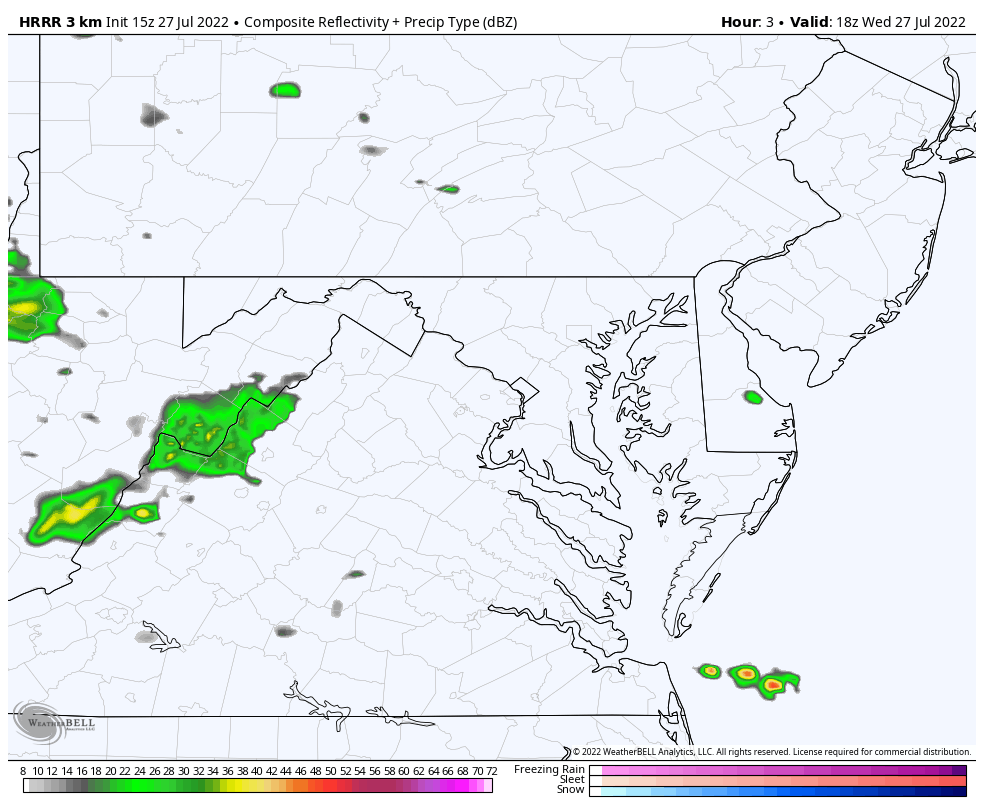 NOTICE:
Maryland Trek 9 Begins 4 Days From Today!
I will continue to post weather daily, but my attention will be shifting next week:
My all volunteer team will be hiking and biking 329 from the summit of Wisp to Ocean City in 7 days. We will be sharing the stories of kids in and post cancer treatment and need your support!
This includes donation (100% goes to programs at Just In Power Kids)
Simply Follow Posts on Facebook with a Like, Comment, and or share.
(click the images for info on the event)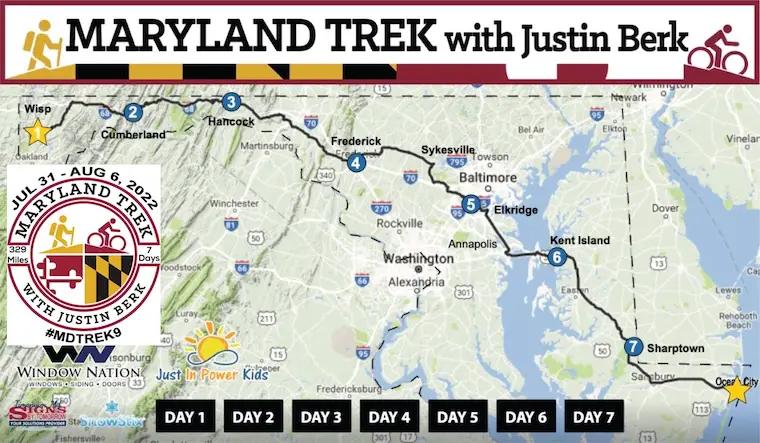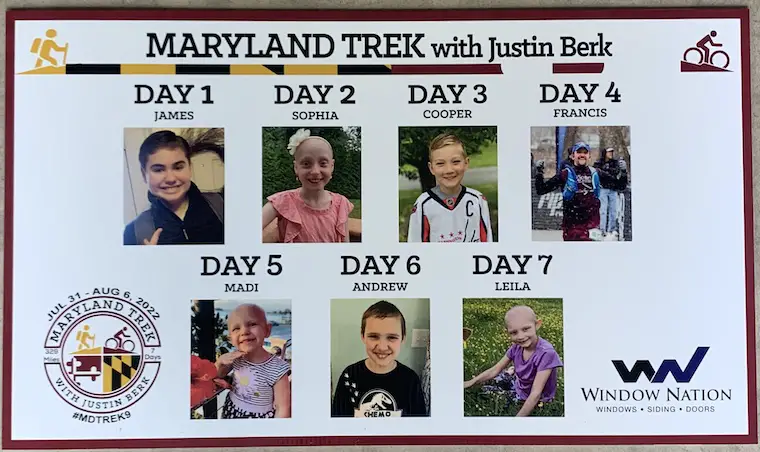 7 Day Forecast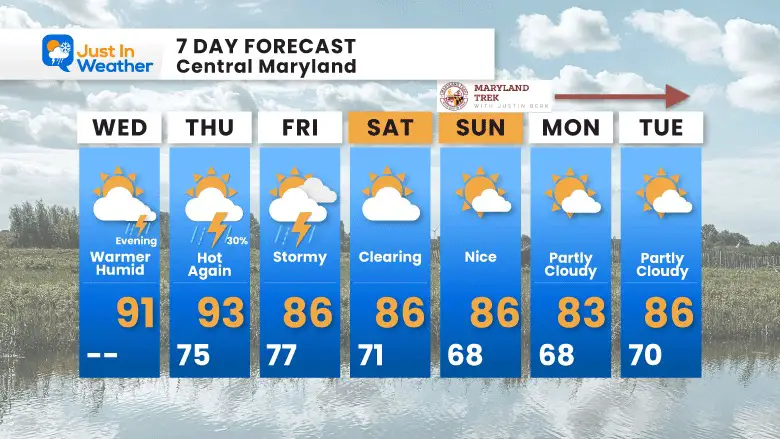 Hurricane Season Forecast: June 1 Through November 30
NOAA 2022 Hurricane Forecast- Above Normal Again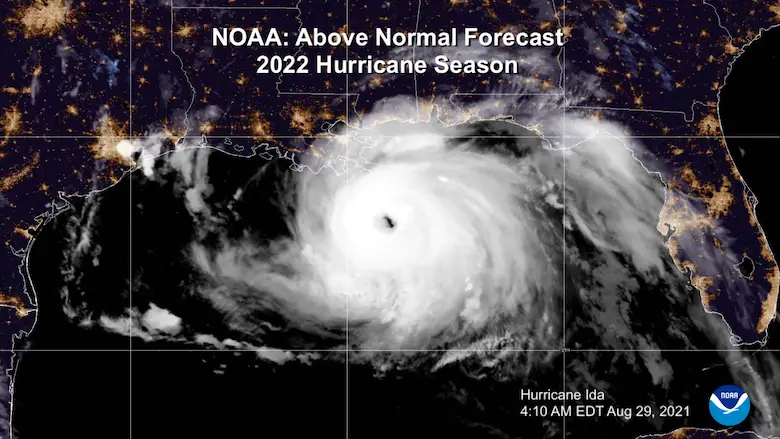 Forecast From Colorado State University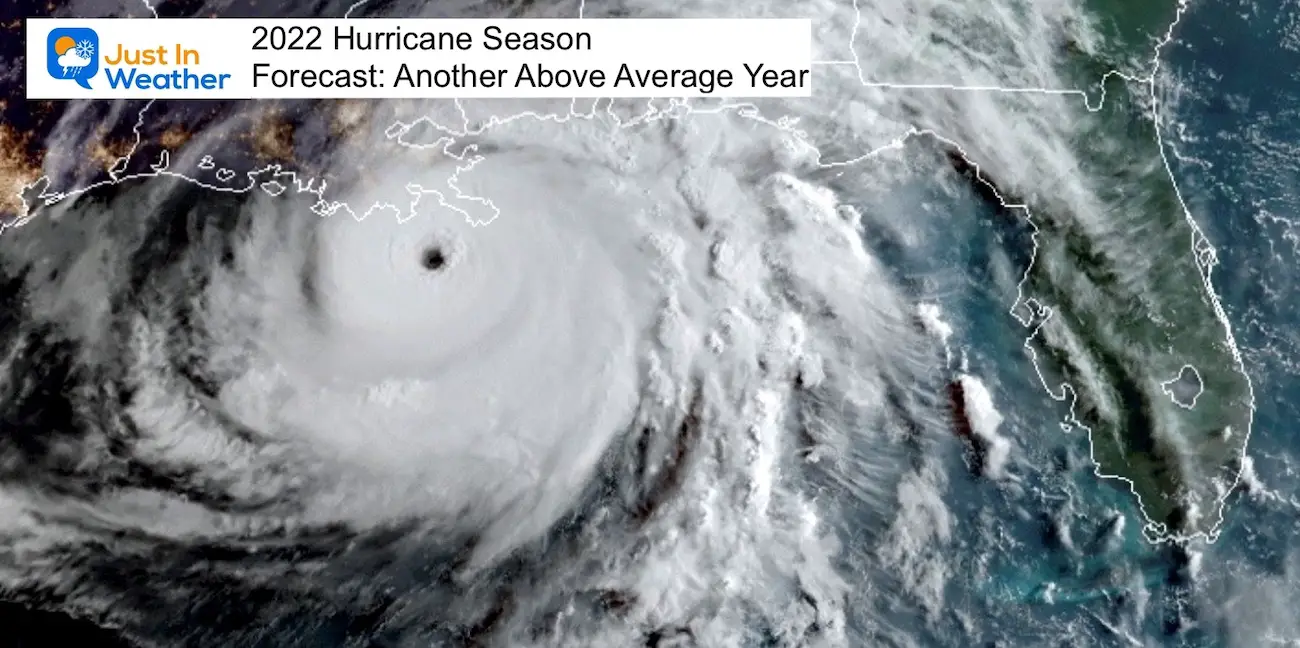 Related Posts
NOAA Study: Reducing Air Pollution INCREASED Tropical Storms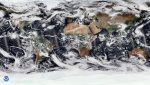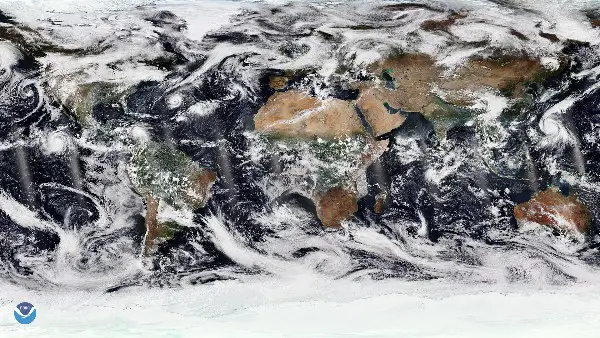 Atlantic Tropical History: Maps of Origin Regions Every 10 Days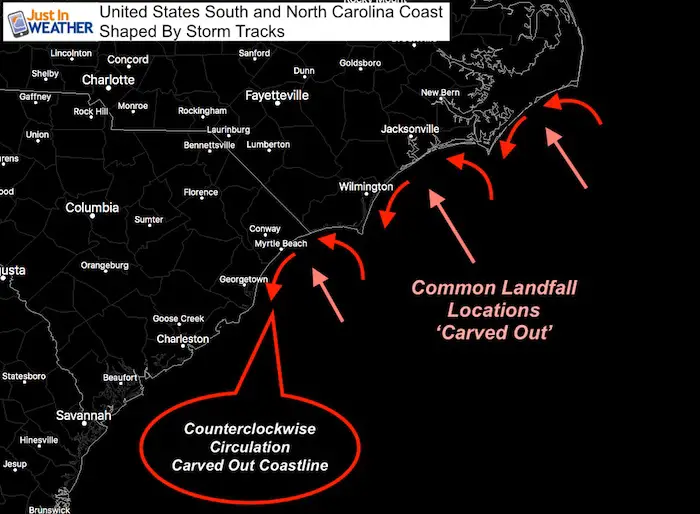 Recent Storm Reports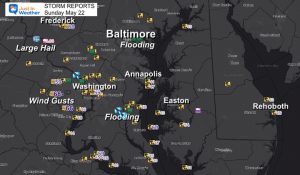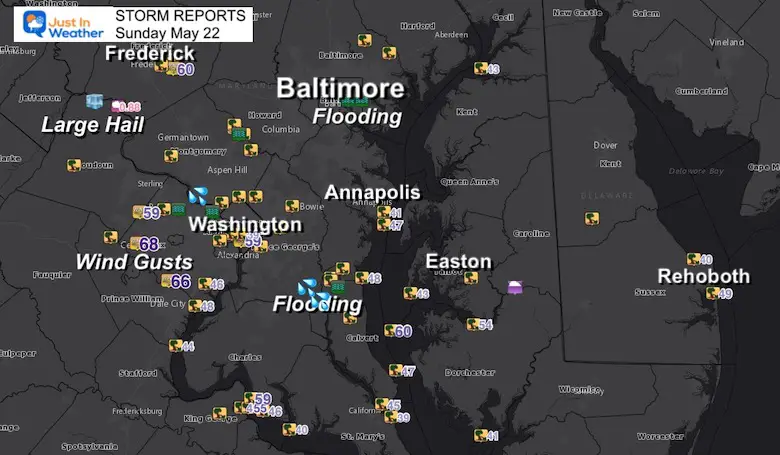 May 16 Large Hail Videos And Storm Tracking Map
Please share your thoughts, best weather pics/video, or just keep in touch via social media
*Disclaimer due to frequent questions:
I am aware there are some spelling and grammar typos. I have made a few public statements over the years, but if you are new here you may have missed it:
I have dyslexia, and found out at my second year at Cornell.  I didn't stop me from getting my meteorology degree, and being first to get the AMS CBM in the Baltimore/Washington region. 
I do miss my mistakes in my own proofreading. The autocorrect spell check on my computer sometimes does an injustice to make it worse. 
All of the maps and information are accurate. The 'wordy' stuff can get sticky. 
There is no editor that can check my work when I need it and have it ready to send out in a newsworthy timeline. 
I accept this and perhaps proves what you read is really from me…
It's part of my charm.