September 24 Ophelia Post Tropical Sunday Morning Lingering Rain And Local Flooding
Maryland Weather
climate data
rain timeline
Forecast
Warnings
Justin Berk
Sep 24, 2023
7:31 am
0
September 24, 2023
Sunday Morning Update
Overnight Ophelia was further downgraded to Post Tropical. It is now being treated as Low Pressure and lived up to the flooding forecast overnight. There was a push of high water that led to flooding in Annapolis and other western parts of the Chesapeake Bay. We will track the next high tide cycle below.
There has also been additional rainfall and gusty winds to down trees overnight.
This report will include the forecast today for the local football games AND into Monday. Also the outlook into next weekend.
Rainfall Estimate So Far
I have seen many say they have been underwhelmed by the storm so far. While it has mostly behaved as expected, there was more rain overnight. That brings us to these totals estimated by Doppler Radar as we begin today. This is close to the forecast with still more falling.
As of 6 AM: Central Maryland/Northern Virginia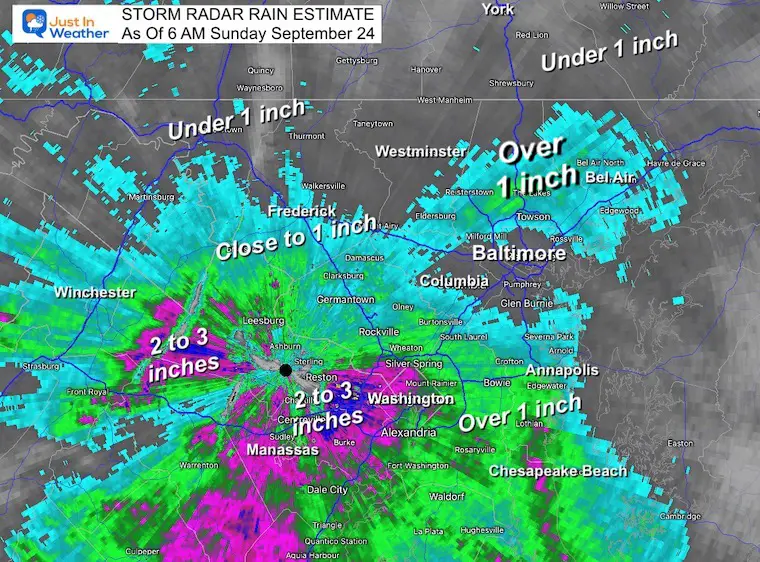 As of 6 AM: Lower Eastern Shore and Beaches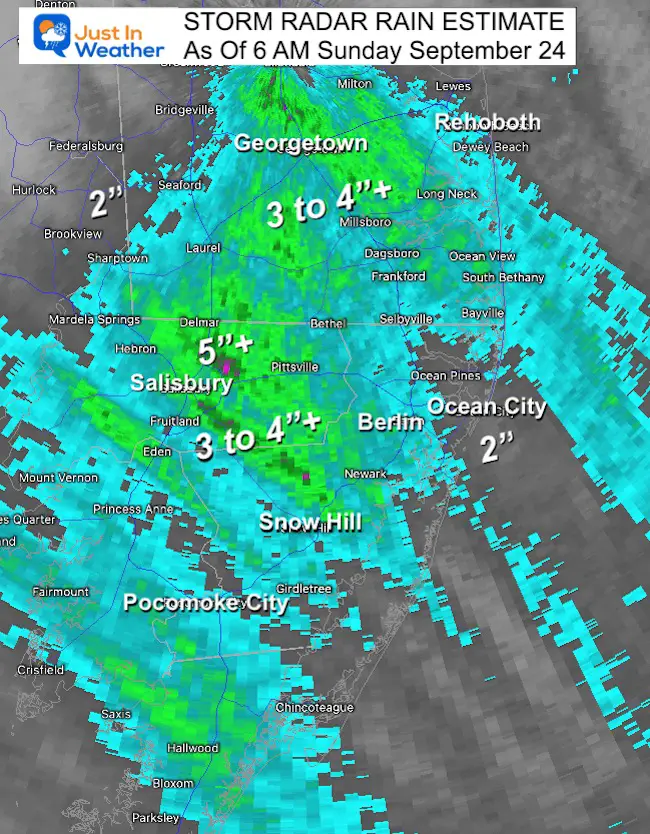 Live Radar: Interactive Widget
Sunday morning's main push has kept the heavier rain farther west of the Bay.
Morning Surface Weather
The remnant Low of Ophelia is located in Northern Virginia.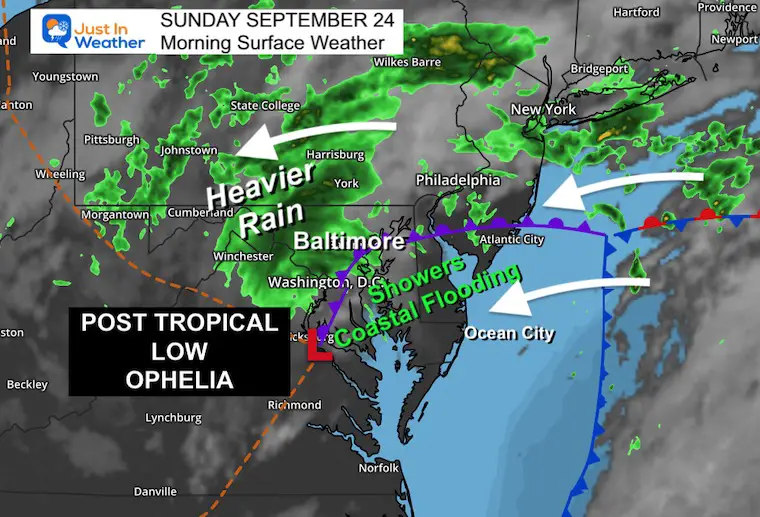 Satellite Loop
We can see the circulation of Post Tropical Storm Ophelia. The storm has weakened but still brought high water into the Chesapeake Bay.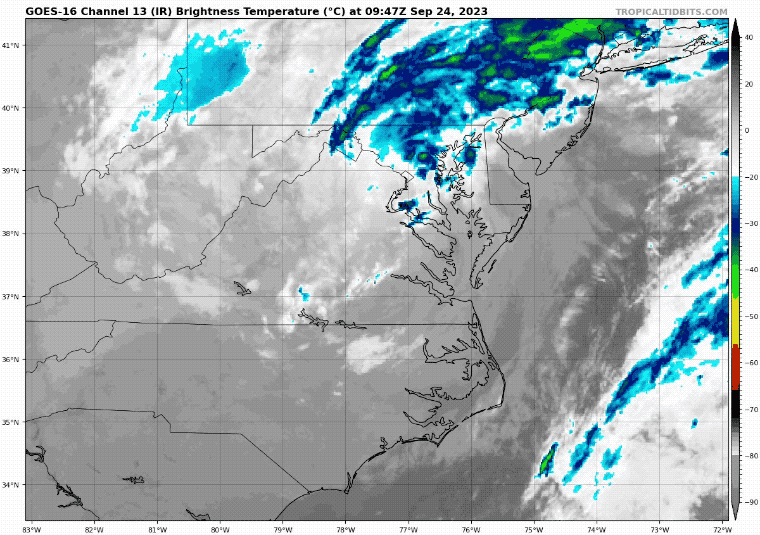 Flood Alerts
Coastal Flood Warning: Anne Arundel County; Lower Eastern Shore; Beaches
Coastal Flood Advisory: Baltimore and Harford Counties
Next High Tides Today:
Solomons Island at 9:50 AM

Annapolis at 12:58 PM

Baltimore at 2:48 PM

Ocean City at 4:13 PM
Find More Locations at Salt Water Tide Charts for Maryland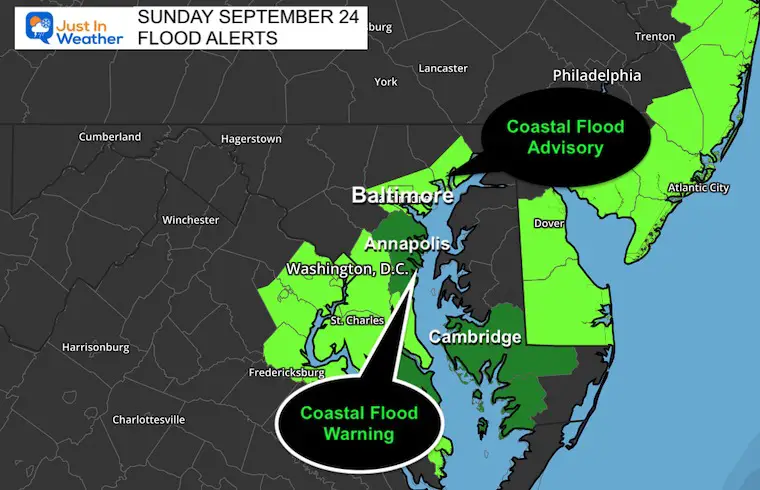 Forecast Maps
Radar Simulation 8 AM to 8 PM
The storm will slowly push the steady rain north into Pennsylvania. There may be lingering showers around Baltimore.
Wind Forecast 8 AM to 8 PM
Under the Low, the winds will be light. The steady winds will be to the north where the rain will continue in Pennsylvania and New Jersey.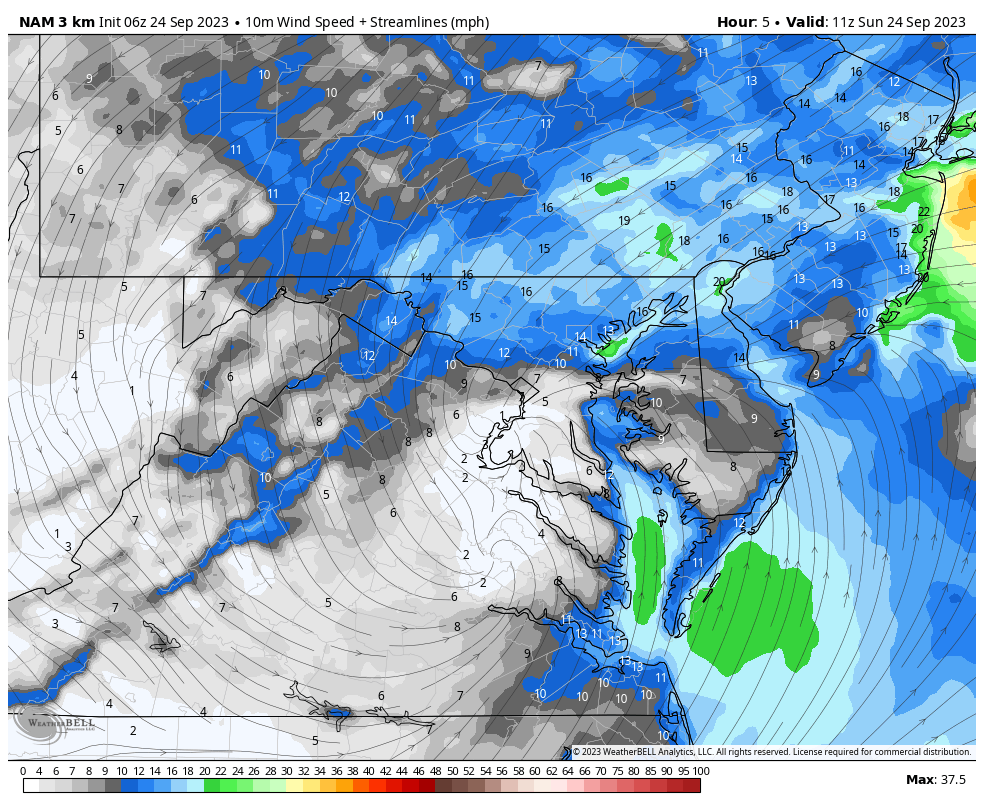 Game Forecast Snapshots
It will be better in Washington for the Commanders and Nationals doubleheader.
Baltimore may have lingering rain showers.
1 PM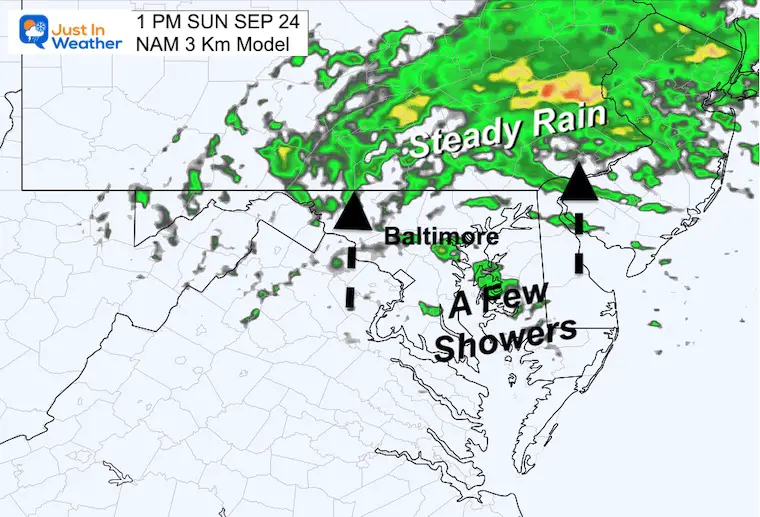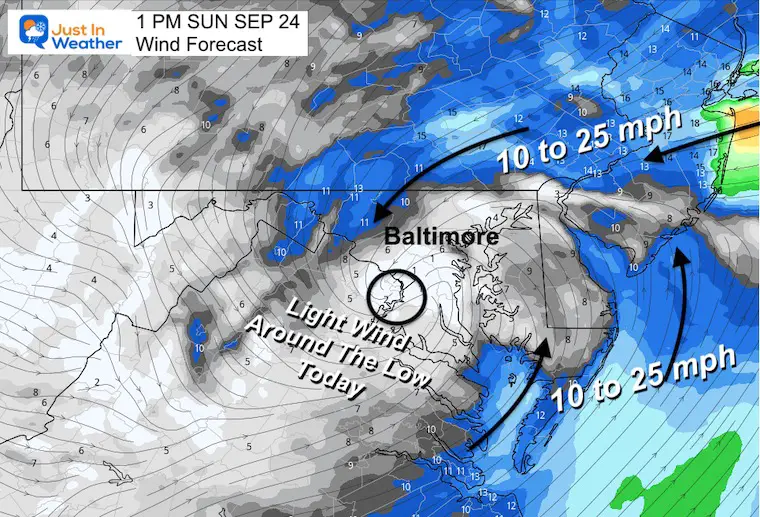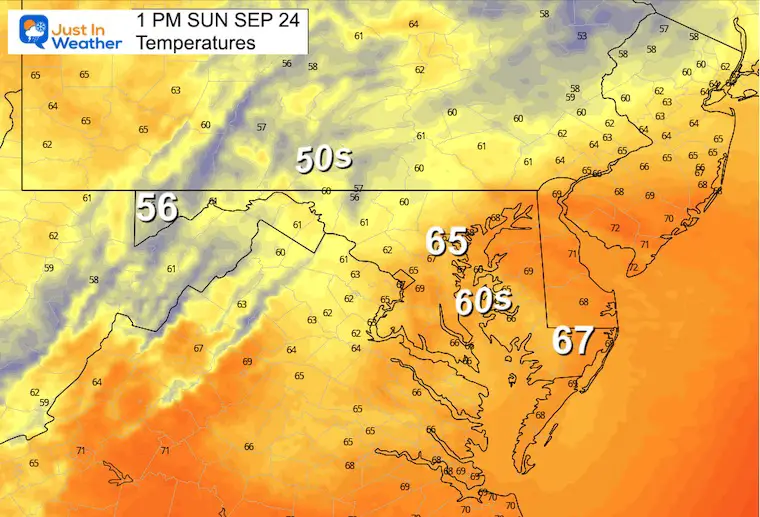 4 PM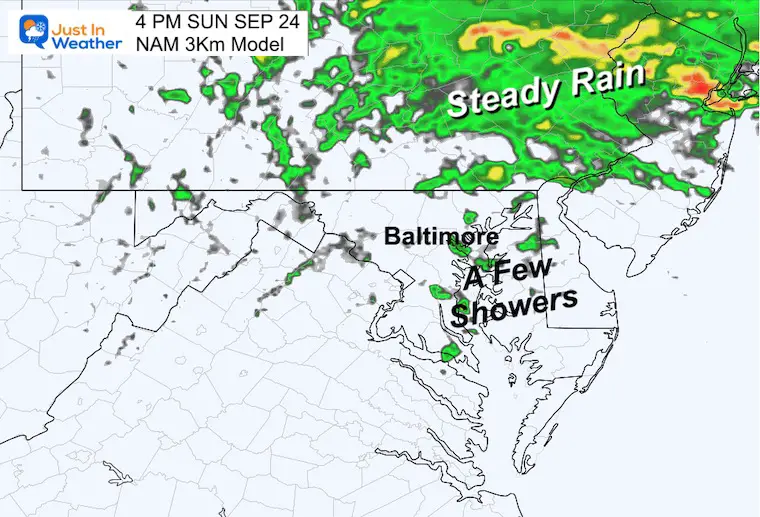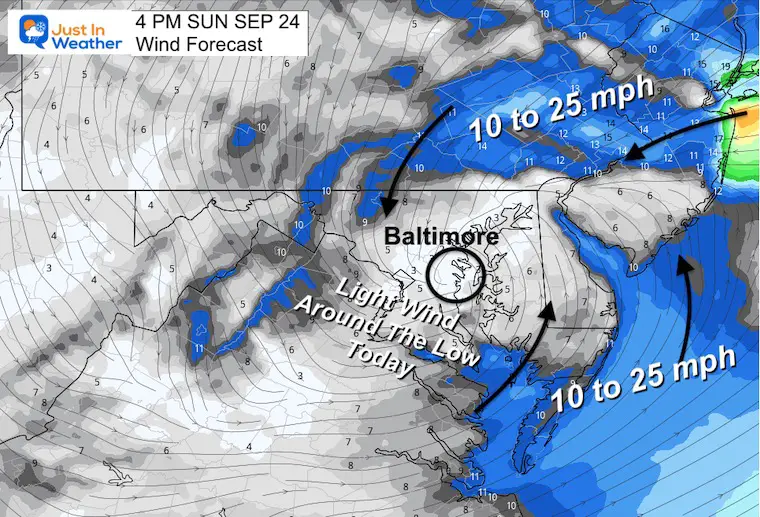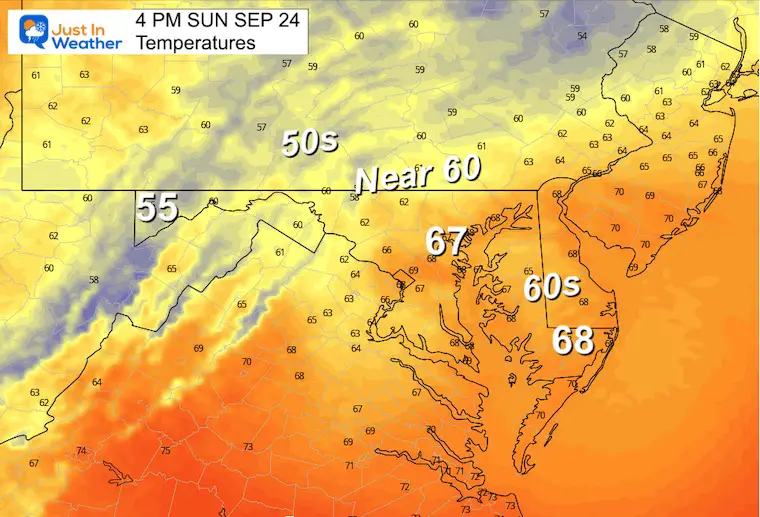 CLIMATE DATA: Baltimore
TODAY September 24
Sunrise at 6:56 AM
Sunset at 7:01 PM
Normal Low in Baltimore:  56ºF
Record 39ºF in 1962
Normal High in Baltimore: 77ºF
Record 95ºF 1970
New Reports:
Subscribe for eMail Alerts
Weather posts straight to your inbox
Sign up and be the first to know!
Monday
The remnant Low of Ophelia will be hanging off the Delmarva coast for a few days.
Steady rain into metro New York and Southern New England.
Strong winds continue to batter beaches, especially in New Jersey.
Rain showers may continue near Baltimore to the local beaches.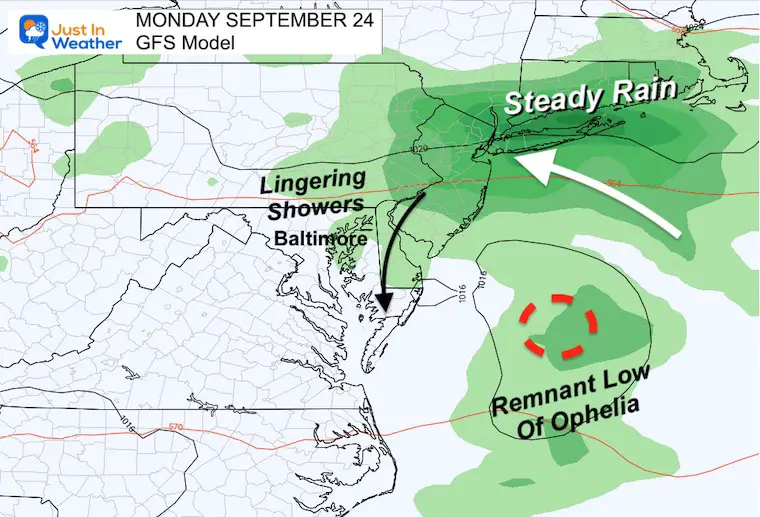 Temperatures: Remaining Chilly
Morning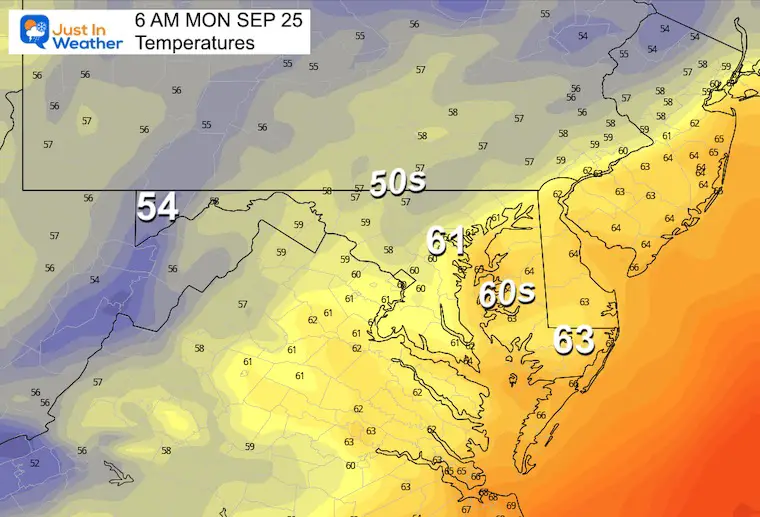 Afternoon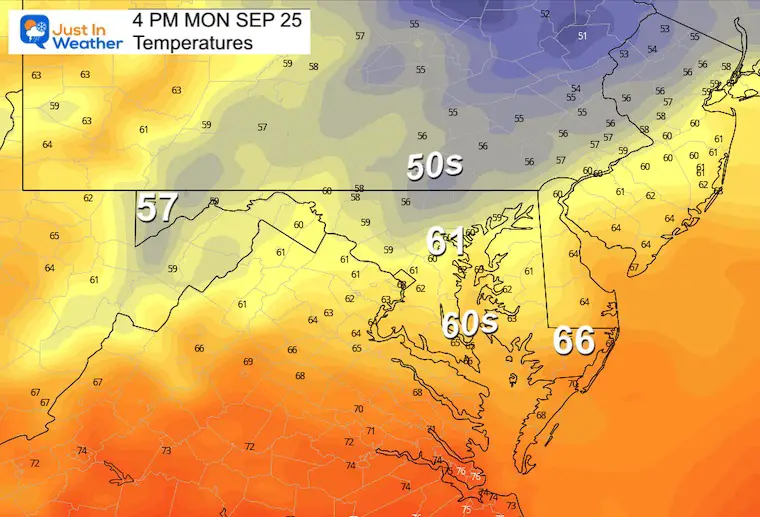 Looking Ahead: Something interesting is trying to form with the remains of Ophelia
Jet Stream
Sunday, Sep 24 to Sunday Night October 1
The remnant Low may try to regenerate next weekend.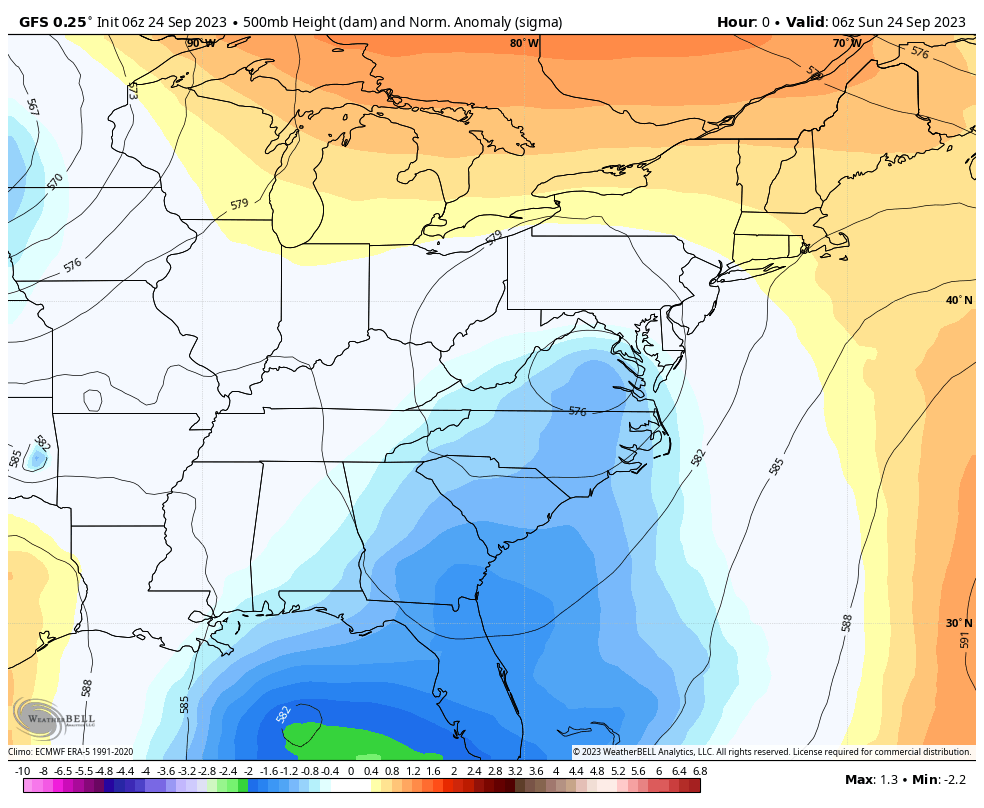 Surface Simulation
Sunday, Sep 24 to Sunday Night October 1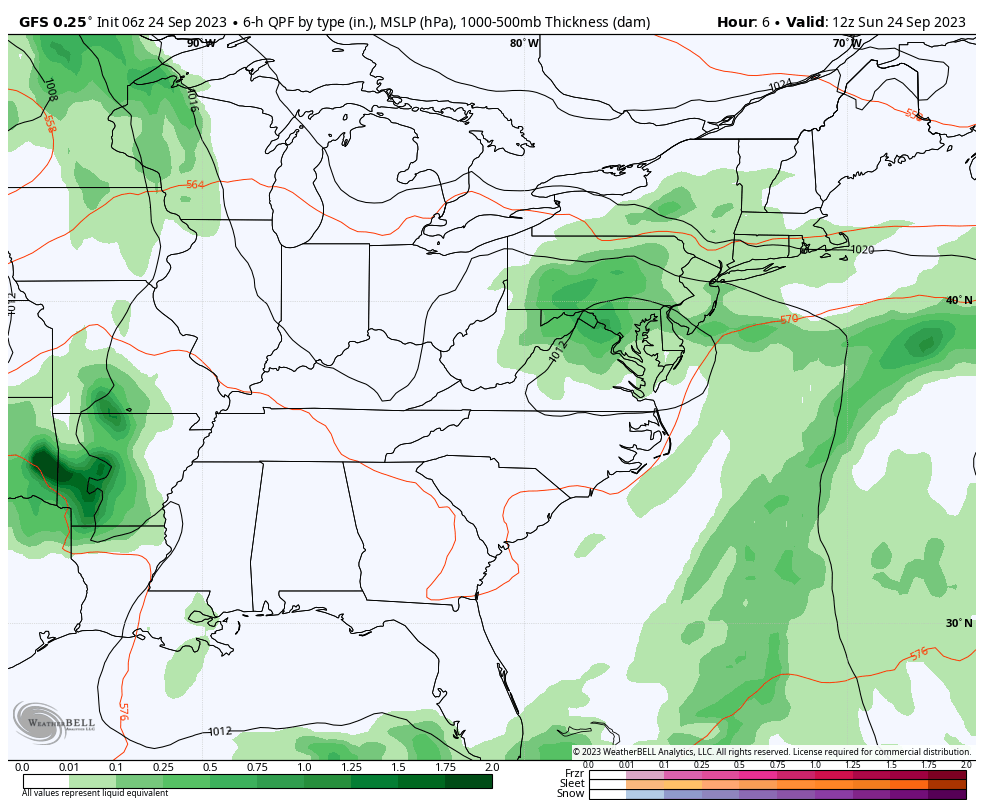 7 Day Forecast
This week will remain cool. Showers are still possible through Tuesday, then improving and returning to the 70s later in the week.
The storm next weekend is a wild card. I would not promise it yet… just something to watch.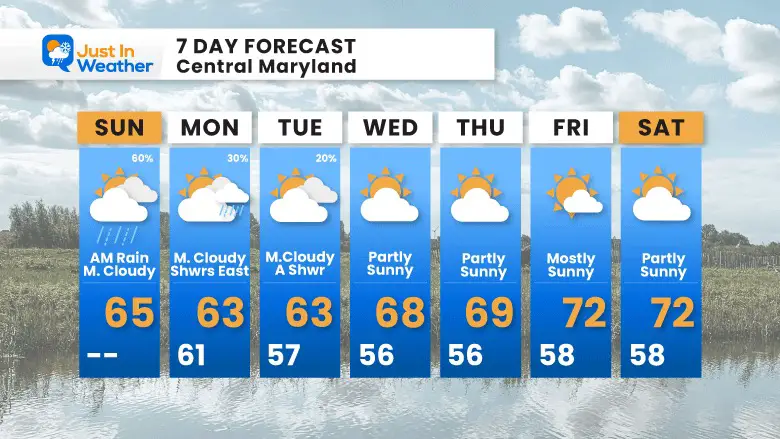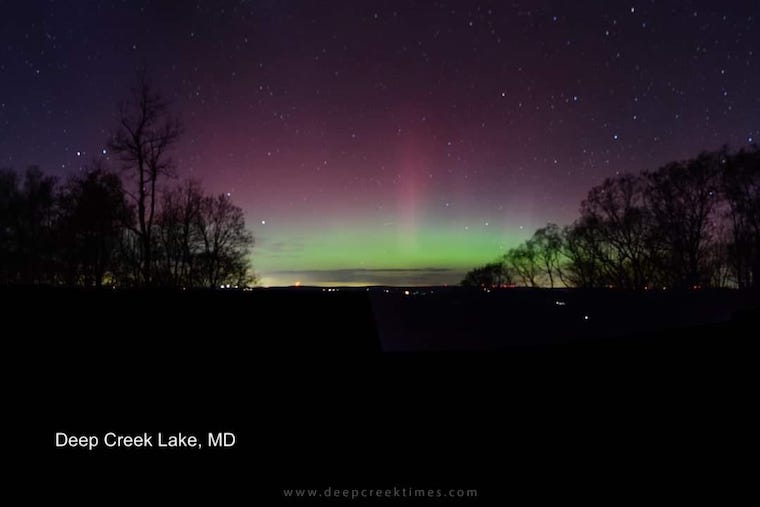 Please share your thoughts and best weather pics/videos, or just keep in touch via social media
RESTATING MY MESSAGE ABOUT DYSLEXIA
I am aware there are some spelling and grammar typos and occasional other glitches. I take responsibility for my mistakes and even the computer glitches I may miss. I have made a few public statements over the years, but if you are new here, you may have missed it: I have dyslexia and found out during my second year at Cornell University. It didn't stop me from getting my meteorology degree and being the first to get the AMS CBM in the Baltimore/Washington region. One of my professors told me that I had made it that far without knowing and to not let it be a crutch going forward. That was Mark Wysocki, and he was absolutely correct! I do miss my mistakes in my own proofreading. The autocorrect spell check on my computer sometimes does an injustice to make it worse. I also can make mistakes in forecasting. No one is perfect at predicting the future. All of the maps and information are accurate. The 'wordy' stuff can get sticky.  There has been no editor who can check my work when I need it and have it ready to send out in a newsworthy timeline. Barbara Werner is a member of the web team that helps me maintain this site. She has taken it upon herself to edit typos when she is available. That could be AFTER you read this. I accept this and perhaps proves what you read is really from me… It's part of my charm.
#FITF