Tropical Storm Arlene Named First Storm Of Season In Gulf of Mexico
NOAA
National Hurricane Center
Forecast
Tropics
Justin Berk
Jun 2, 2023
2:20 pm
0
Friday, June 2, 2023
Well, that didn't take long. The Atlantic Hurricane Season just began yesterday and we already have our first named storm. Tropical Storm Arlene has been identified by The National Hurricane Center this afternoon.
It was actually The Air Force Reconnaissance flight that recorded the required circulation and wind speed needed to name the storm.
Tropical Storm Arlene Satellite
Maximum winds are 40 mph. The wind field extends 70 miles from the center of circulation.
This is drifting southward at 5 mph but is expected to increase in forward speed tonight.
The environment to the south is not favorable. Upper-level wind shear is likely to diminish this to a depression tomorrow.

Official Status Report: 2 PM Advisory
LOCATION…26.7N 86.2W
ABOUT 265 MI…425 KM W OF FT. MYERS FLORIDA
ABOUT 340 MI…550 KM NNW OF THE WESTERN TIP OF CUBA
MAXIMUM SUSTAINED WINDS…40 MPH…65 KM/H
PRESENT MOVEMENT…S OR 175 DEGREES AT 5 MPH…7 KM/H
MINIMUM CENTRAL PRESSURE…1002 MB…29.59 INCHES
No Warnings In Effect
Visible Satellite Loop
3 hours ending 1:30 PM
Notice the circulation is on the south side of the bulk of clouds. This is not a symmetrical or healthy storm.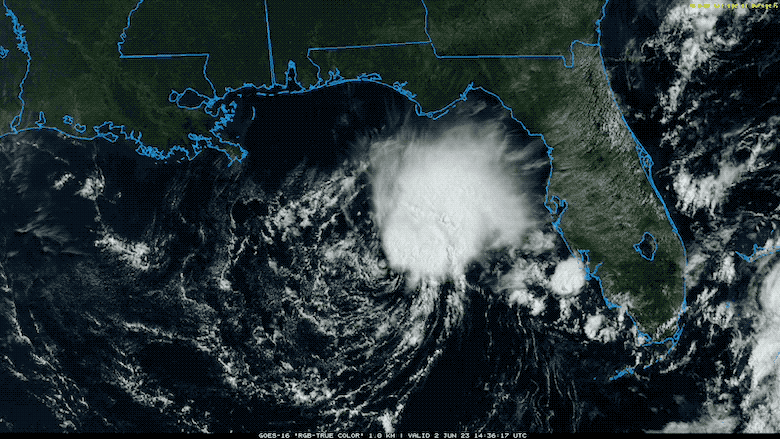 Infrared Satellite Loop
3 hours ending 1:30 PM
We can see the surface circulation better here, with the higher cloud tops color enhanced and blatantly north of the center. This represents the current wind shear in place.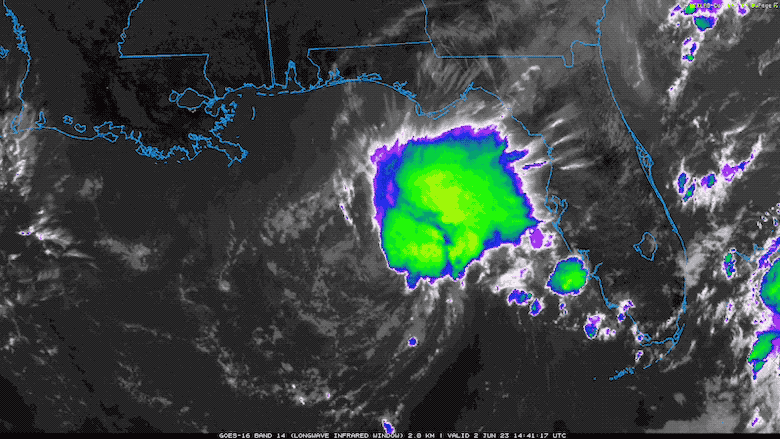 ---
EXPLORE MORE
An El Niño will produce more wind shear and less storms.
---
Forecast Animation: HWRF Model
The track south includes a path over Cuba. In addition to the Upper Level Wind Shear, this landfall would lead to more weakening.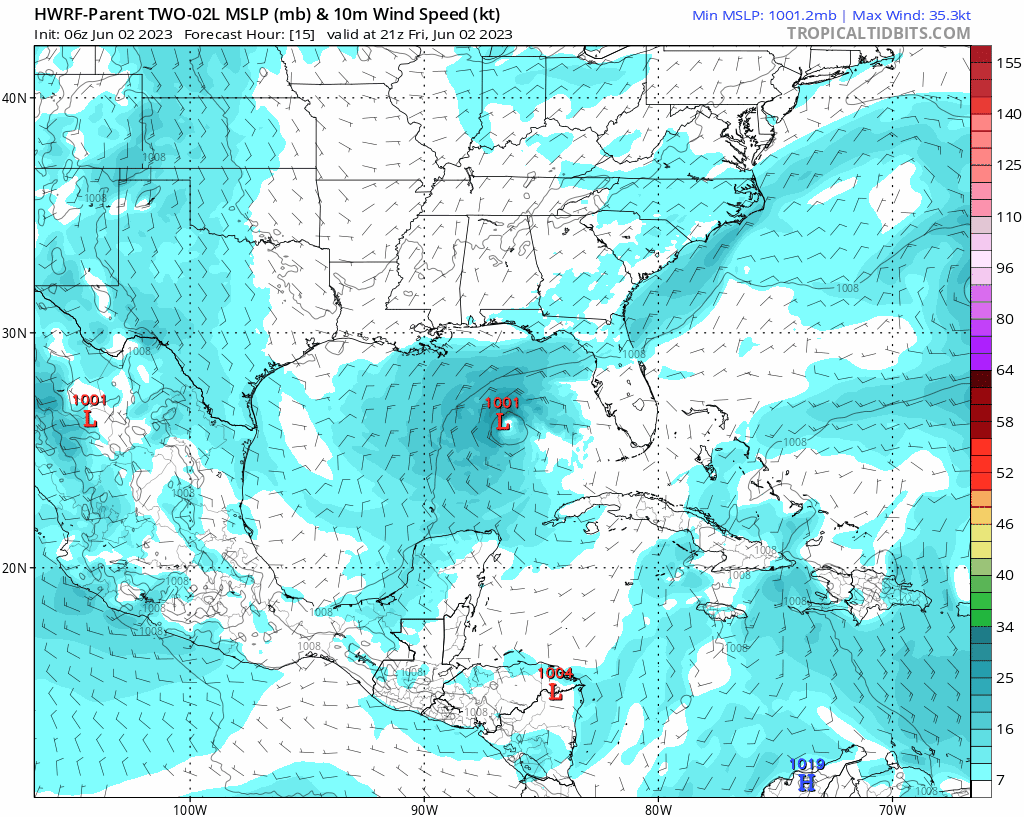 Forecast Model Guidance
The collection of model forecast plots all point to a southward track and little influence on the US. The GFS Model points to a track over Cuba, which will further weaken the storm. The majority of plots keep it over water. While still weakening the storm, those would bring more rain to Southern Florida in a few days.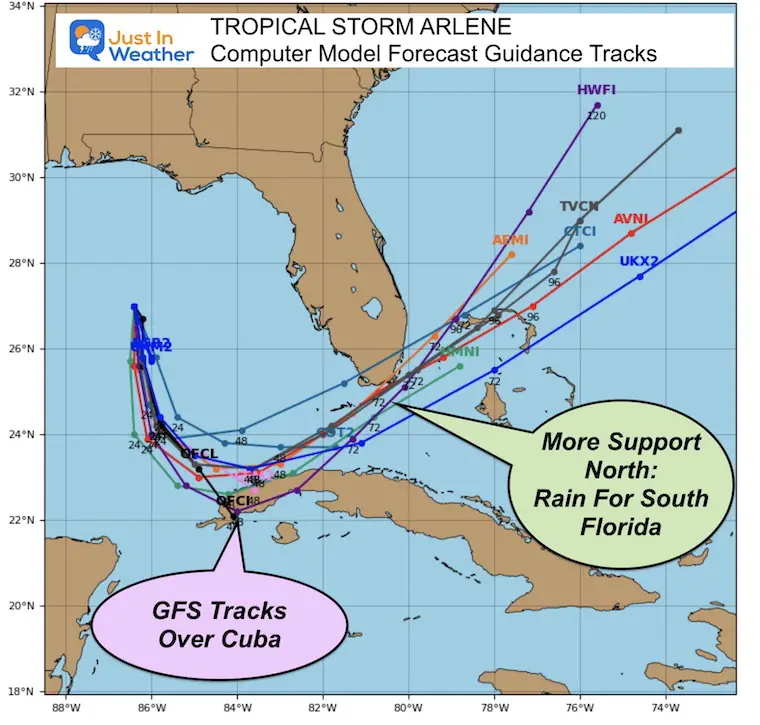 National Hurricane Center Official Forecast Map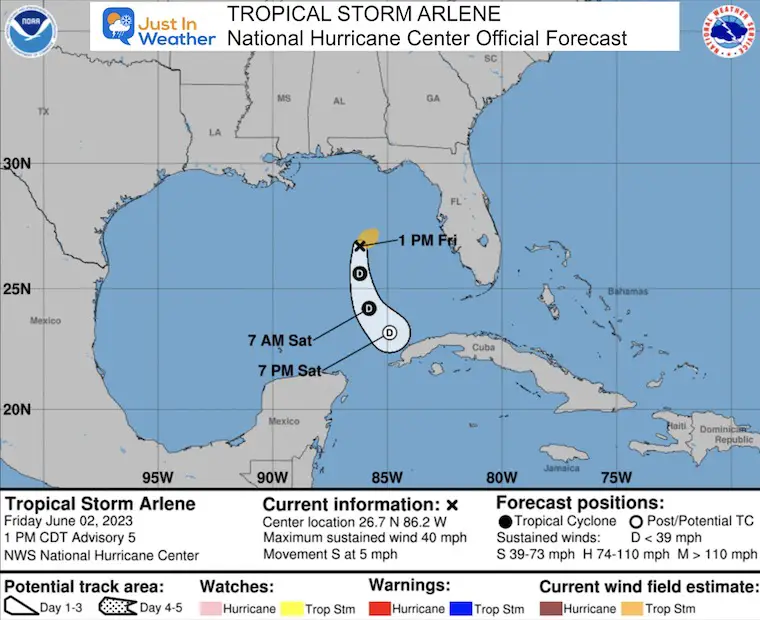 Subscribe for eMail Alerts
Weather posts straight to your inbox
Sign up and be the first to know!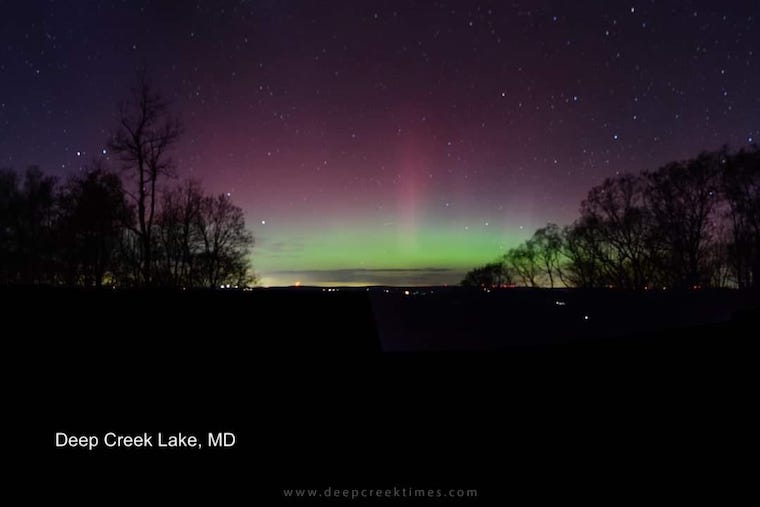 Please share your thoughts, best weather pics/videos, or just keep in touch via social media
RESTATING MY MESSAGE ABOUT DYSLEXIA
I am aware there are some spelling and grammar typos, and occasional other glitches. I take responsibility for my mistakes, and even the computer glitches I may miss. I have made a few public statements over the years, but if you are new here you may have missed it: I have dyslexia, and found out during my second year at Cornell University. It didn't stop me from getting my meteorology degree, and being first to get the AMS CBM in the Baltimore/Washington region. One of my professors told me that I had made it that far without knowing, and to not let it be a crutch going forward. That was Mark Wysocki and he was absolutely correct! I do miss my mistakes in my own proofreading. The autocorrect spell check on my computer sometimes does an injustice to make it worse. I also can make mistakes in forecasting. No one is perfect predicting the future. All of the maps and information are accurate. The 'wordy' stuff can get sticky.  There has been no editor that can check my work when I needed it and have it ready to send out in a newsworthy timeline. Barbara Werner is a member of the web team that helps me maintain this site. She has taken it upon herself to edit typos, when she is able. That could be AFTER you read this. I accept this and perhaps proves what you read is really from me… It's part of my charm.
#FITF