May 22 Weather Warm Then Turning Cooler: Watching Tropics For Memorial Day Weeknd
Maryland Weather
climate data
Forecast
Tropics
Justin Berk
May 22, 2023
6:15 am
0
May 22, 2023
Monday Morning Update
Today is my dad's 80th birthday and I am glad to say our weather will be quiet as I ease back in to my work routine.
I am back to work after a few days off hiking up a 10,000 Ft mountain in Southern California. If you missed my updates on Facebook, I will put together a recap and my videos this week.
I will have some extra time to work on this as our weather will be quiet. That is until this weekend. There is a tropical disturbance that may get close to the US coast and head in our direction for the holiday weekend. We will have something off in the distance to focus on.
Temperatures at 6 AM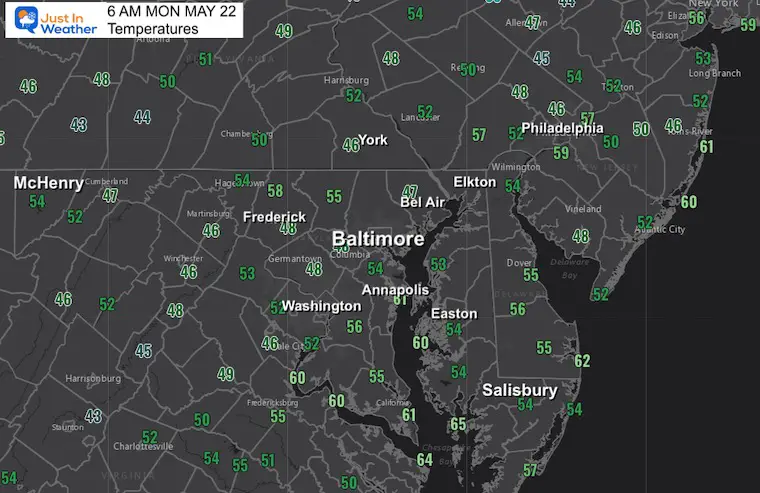 Morning Surface Weather
We will see increasing clouds today as a cold front approaches from the north. There is not a lot of moisture with it, so we do not expect rain. However, the temperatures will drop.
The National Hurricane Center has identified a tropical disturbance that will track towards the Bahamas. The upper level winds will help pull this closer to the Southeast US coast and perhaps into our region over the Memorial Day Holiday Weekend.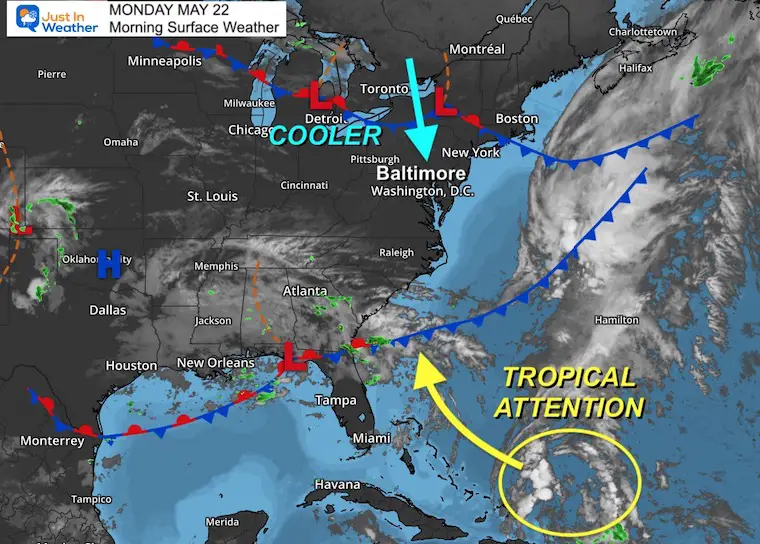 Afternoon Temperatures
With the rain passing south and less expansive, temps will end up warmer than first thought.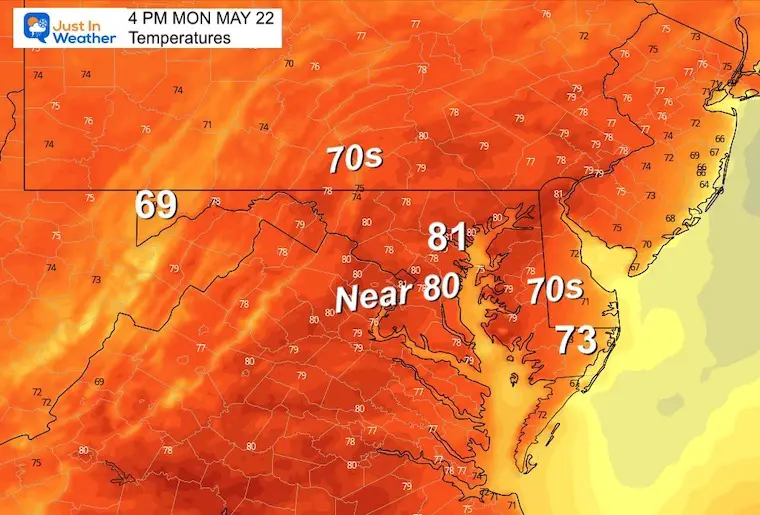 Subscribe for eMail Alerts
Weather posts straight to your inbox
Sign up and be the first to know!
CLIMATE DATA
TODAY May 22
Normal Low in Baltimore:  55ºF
Record 35ºF in 2002
Normal High in Baltimore: 77ºF
Record 99ºF 1941
Tuesday Weather
The cooler air mass will be in place.
Temperatures
Morning
Afternoon
Looking Ahead
Jet Stream: Tuesday to Sunday Night
A large trough of cooler air will dominate the Eastern US. This will bring cooler temperatures for the week and into the weekend. This will also help steer the tropical disturbance from the Bahamas up the coast.
Snapshot Friday
The Deep Trough in the Southeast US will help to steer the tropical disturbance along the coast…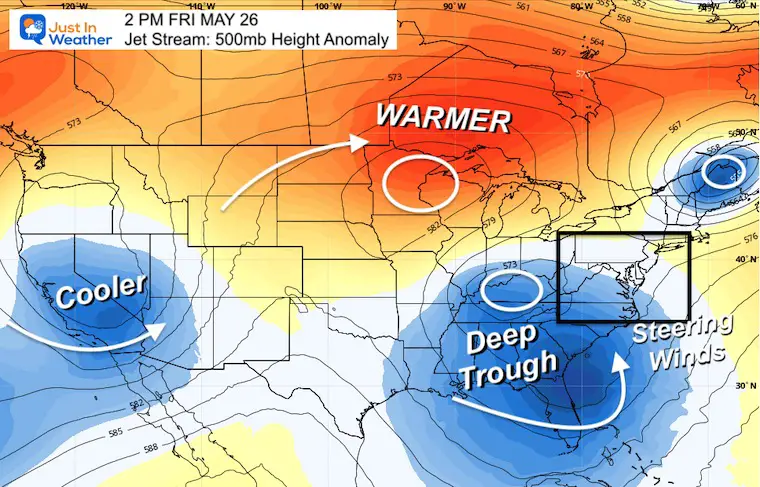 Wet Holiday Weekend?
Thursday To Memorial Day Monday
Close attention on a tropical disturbance moving up the coast. There are a lot of uncertainties with this, however, it is worth paying attention to for the chance of rain, cooler winds off the ocean, and high water/waves on the coast and into The Chesapeake Bay.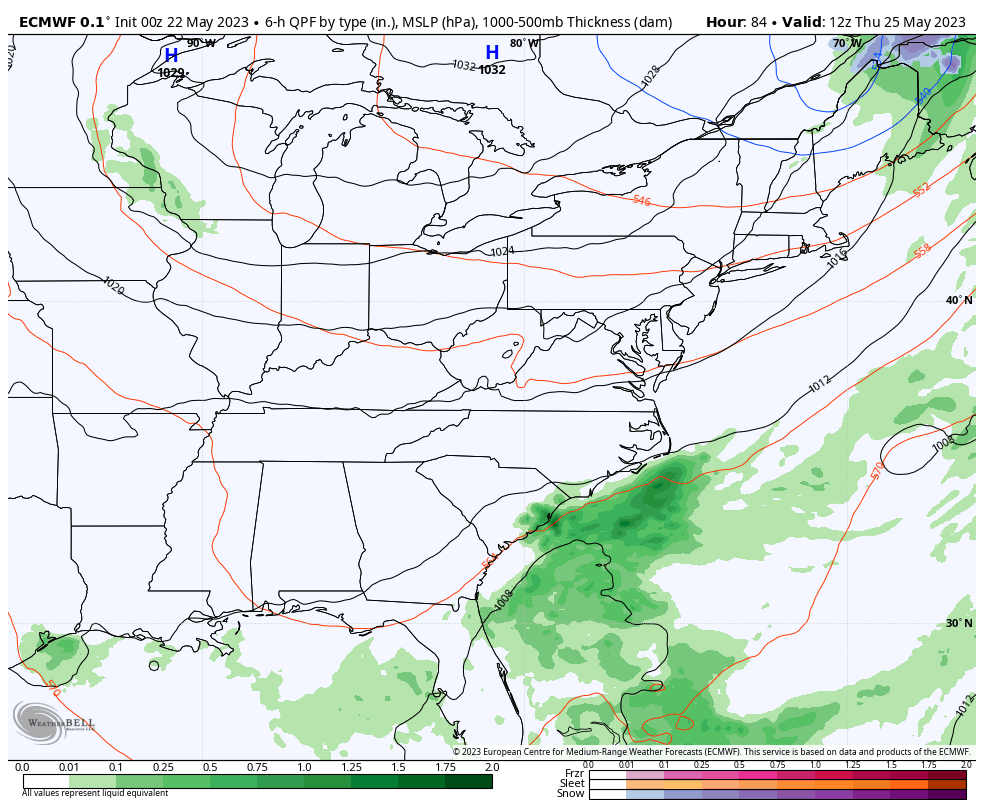 Snapshot Saturday
During the weekend this Low Pressure will be part of a larger upper air unsettled pattern. So the expanded field of clouds and cooler temps will make for a cooler unofficial start to the summer season.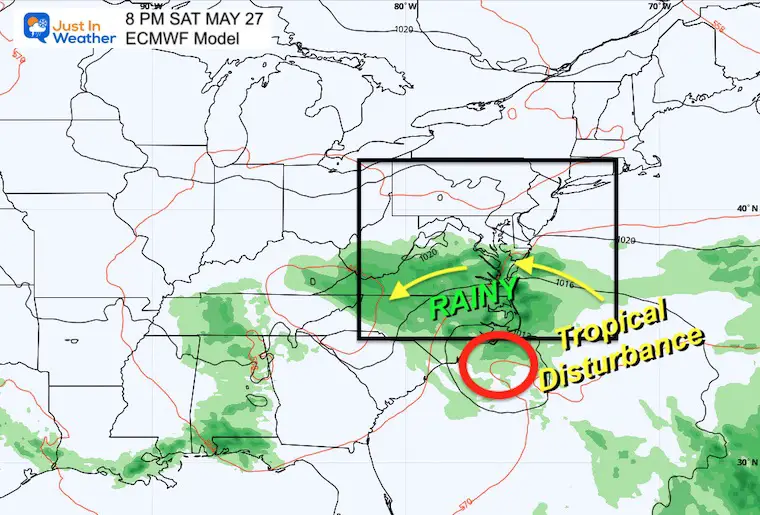 7 Day Forecast
Temperatures will take a step backwards this week first from the cooler air arriving form the North. Then we will see if the tropical disturbance will move up the coast into the holiday weekend.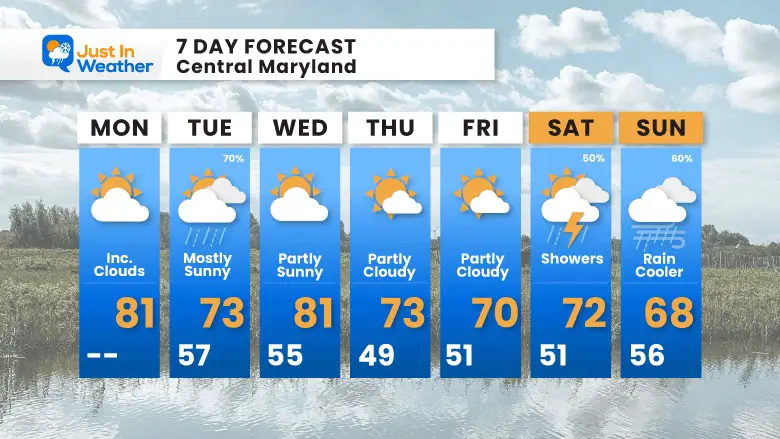 OTHER REPORTS:
NEW: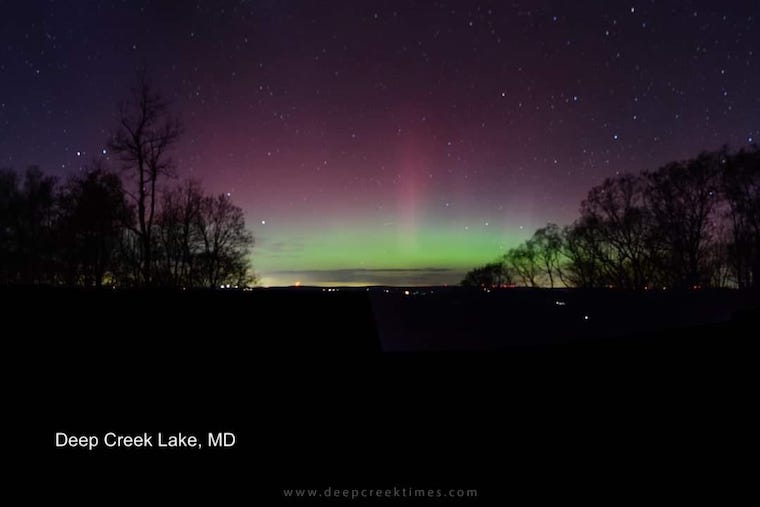 STEM Assemblies/In School Fields Trips Are Back
Click to see more and 'Book' a visit to your school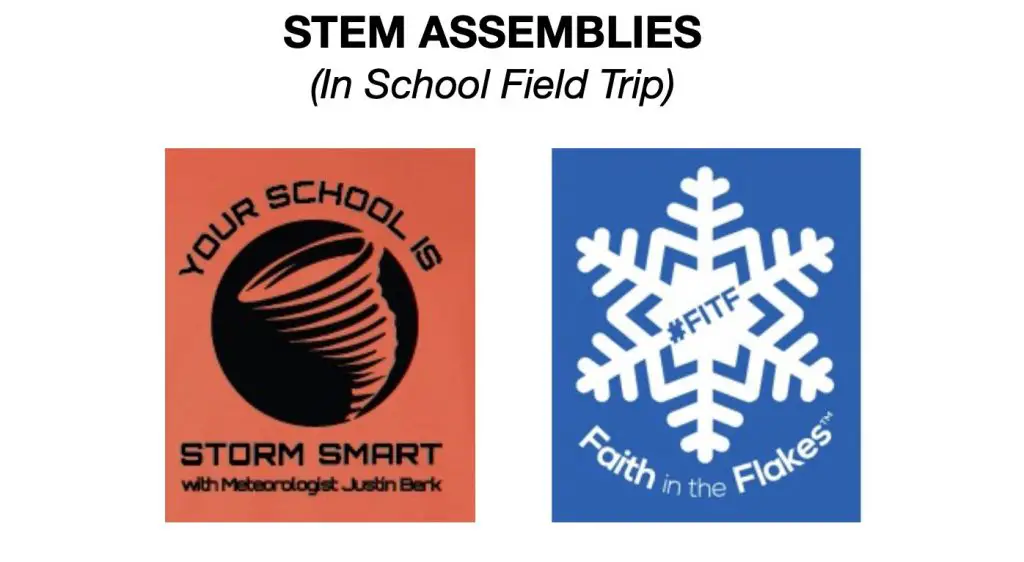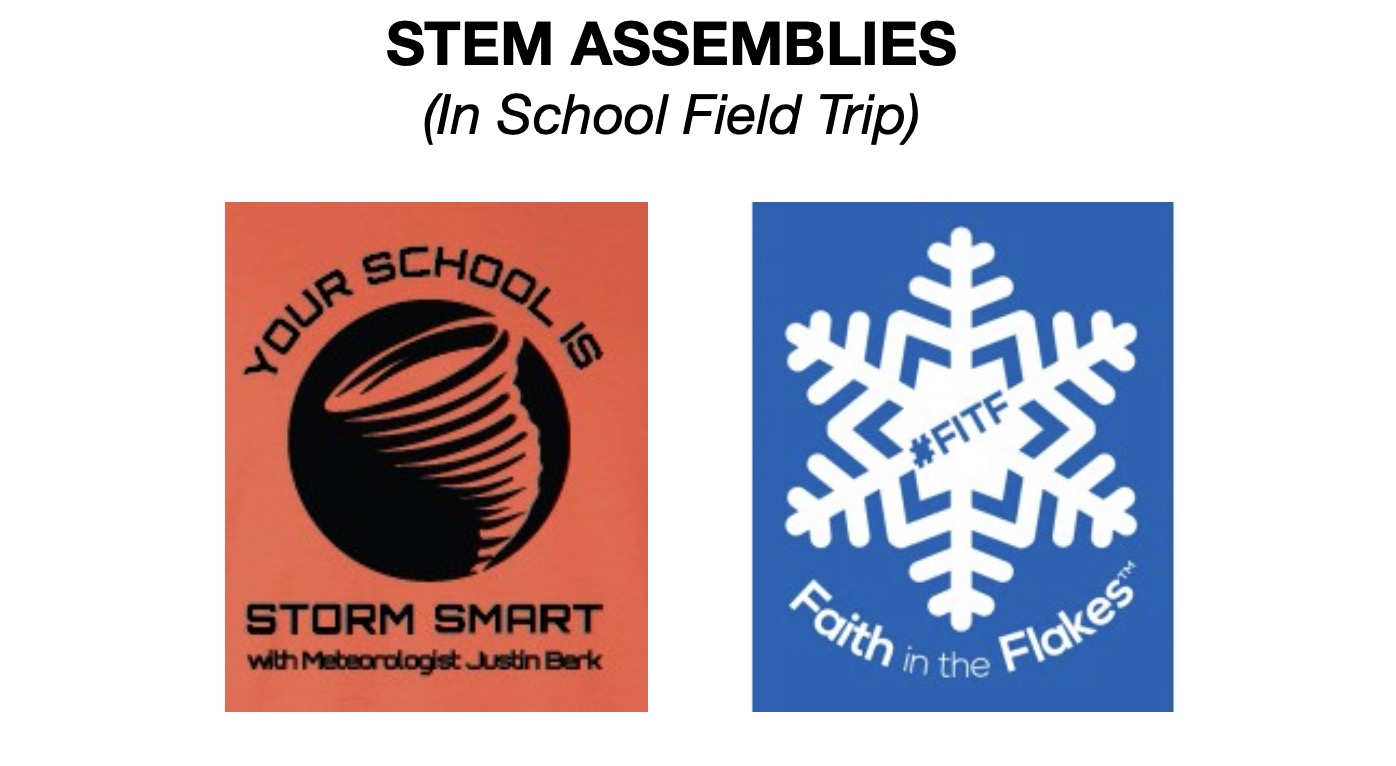 Please share your thoughts, best weather pics/videos, or just keep in touch via social media
RESTATING MY MESSAGE ABOUT DYSLEXIA
I am aware there are some spelling and grammar typos, and occasional other glitches. I take responsibility for my mistakes, and even the computer glitches I may miss. I have made a few public statements over the years, but if you are new here you may have missed it: I have dyslexia, and found out during my second year at Cornell University. It didn't stop me from getting my meteorology degree, and being first to get the AMS CBM in the Baltimore/Washington region. One of my professors told me that I had made it that far without knowing, and to not let it be a crutch going forward. That was Mark Wysocki and he was absolutely correct! I do miss my mistakes in my own proofreading. The autocorrect spell check on my computer sometimes does an injustice to make it worse. I also can make mistakes in forecasting. No one is perfect predicting the future. All of the maps and information are accurate. The 'wordy' stuff can get sticky.  There has been no editor that can check my work when I needed it and have it ready to send out in a newsworthy timeline. Barbara Werner is a member of the web team that helps me maintain this site. She has taken it upon herself to edit typos, when she is able. That could be AFTER you read this. I accept this and perhaps proves what you read is really from me… It's part of my charm.
#FITF
Subscribe for eMail Alerts
Weather posts straight to your inbox
Sign up and be the first to know!