Cherry Blossoms Near Peak Bloom In Washington DC This Week
Cherry Blossoms
climate data
Justin Berk
Mar 21, 2023
7:53 pm
0
March 21, 2023
It is officially Spring and we have moved beyond the latest cold spell.  So after this record low snow winter and one of the warmest seasons on record, the Cherry Blossoms are close to peak bloom around the Washington, DC Tidal Basin.
Peak Bloom is defined as 70% of the cherry blossom flowers around the Tidal Basin. As of today (March 21), the National Parks Service has not yet declared 'Peak', but as we can see it looks very close.  This photo was yesterday from Chris Fukuda.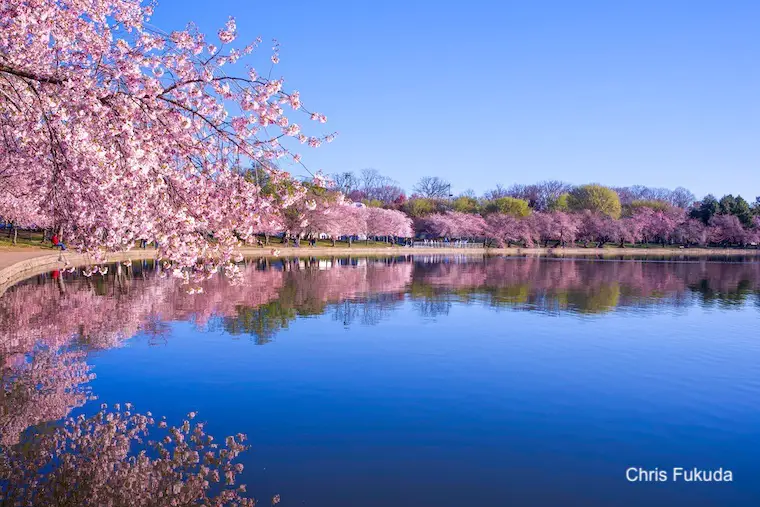 In 1912, 3,000 cherry trees were gifted to the Unites States from Japan. They were planted around the Tidal Basin, which now is home to the Jefferson, MLK, and FDR Memorials.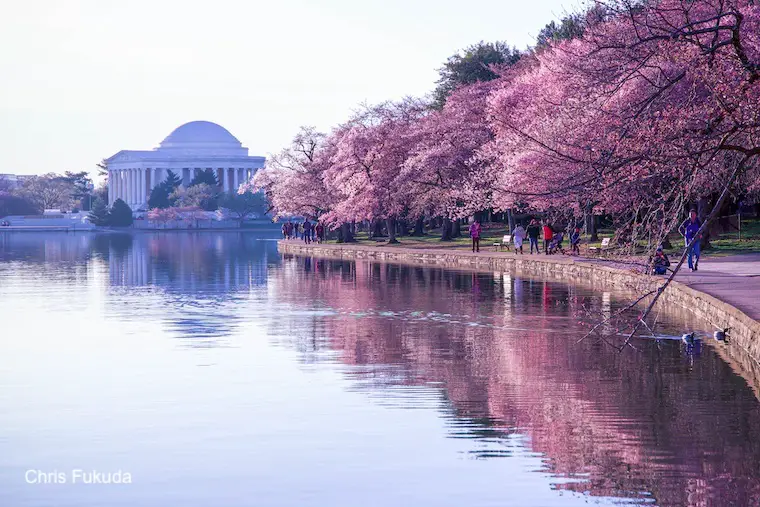 Looking towards the Washington Monument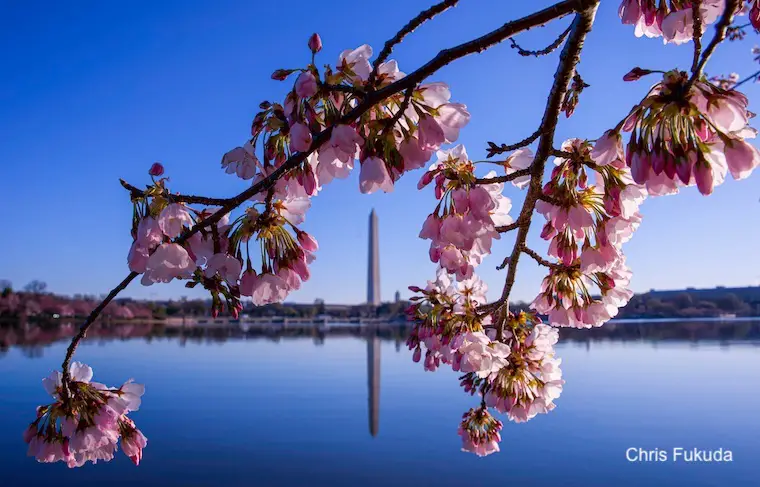 Considering the unusually warm winter, a chilly March has slowed down the process. We are already one day later than last year's peak and one week later than the record earliest March 15, 1990. Meanwhile, the latest was April 18, 1958. That was after a winter with nearly double the average snowfall.
It is hard to imagine that we have not reached Peak Bloom yet. If The National Parks Service does not declare it on Wednesday, March 22, it will certainly be before the end of the week.
Has There Been A Noticeable Change In Peak Date?
Here is a look at Peak Bloom over the past 10 years
2023 – Later than March 21
2022 – March 21
2021 – March 28
2020 – March 20
2019 – April 1
2018 – April 5
2017 – March 25 (half the blossoms lost to a late frost)
2016 – March 25
2015 – April 10
2014 – April 10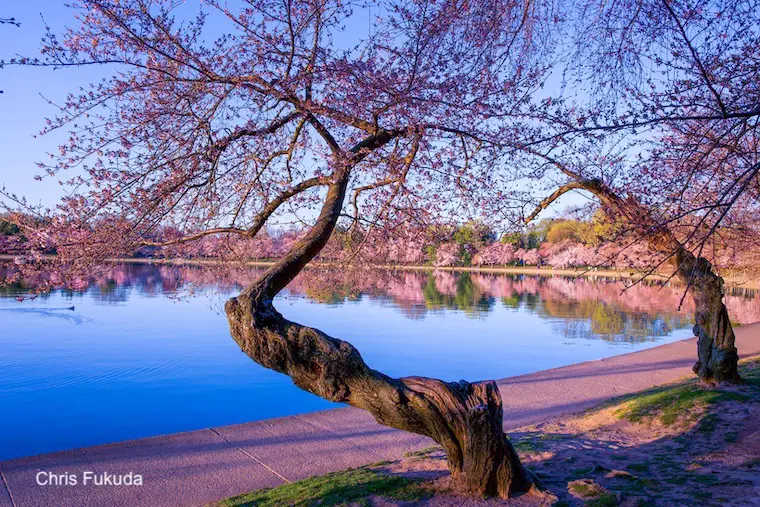 More Photos
I suggest following Chris Fukuda if you are on Twitter.
Yesterdays #CherryBlossom #sunrise in #WashingtonDC was amazing! @CherryBlossFest @NationalMallNPS @USAsunrise @sunset_wx @capitalweather @CapitalPhotog @NatGeoPhotos @StormHour @ThePhotoHour @spann @JimCantore @camdenwalker @JustinWeather @PoPville @washingtonian @washingtondc pic.twitter.com/BfRQx7CPpt

— Chris Fukuda | Photographer 📸 | DMV Wx (@Chris_FukudaWx) March 17, 2023
Live Web Cam
Click here to see multiple interactive cameras from EarthCam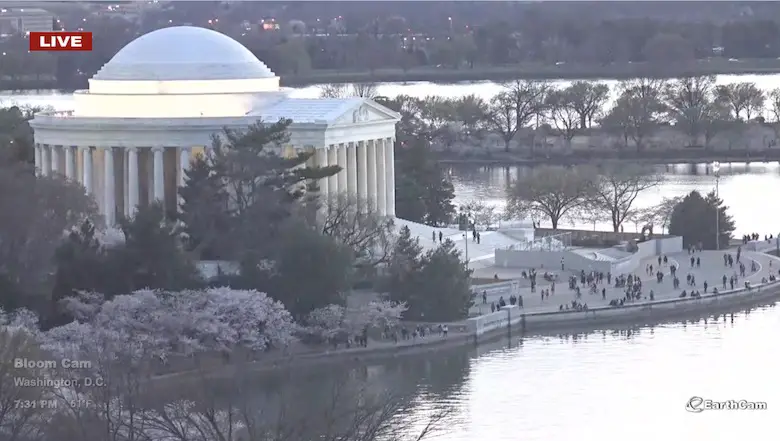 Also on Twitter: National Mall, National Parks Service
We're not at peak bloom yet, but that doesn't mean it's not pretty. If you're planning on taking sunrise pictures at the Tidal Basin, you won't be disappointed… or lonely. Expect crowds in the park every day this week as more blossoms open. #cherryblossom #WashingtonDC 🌸🌸🌸 pic.twitter.com/KJCHQRC9yI

— National Mall NPS (@NationalMallNPS) March 21, 2023
Subscribe for eMail Alerts
Weather posts straight to your inbox
Sign up and be the first to know!
Also See:
Cherry Blossom Watch- March 21 Update
REPORTS: (click to read more)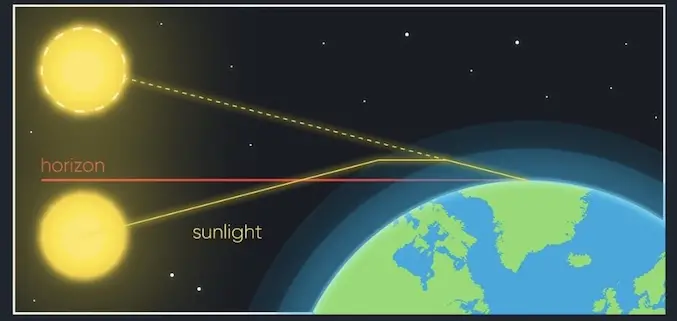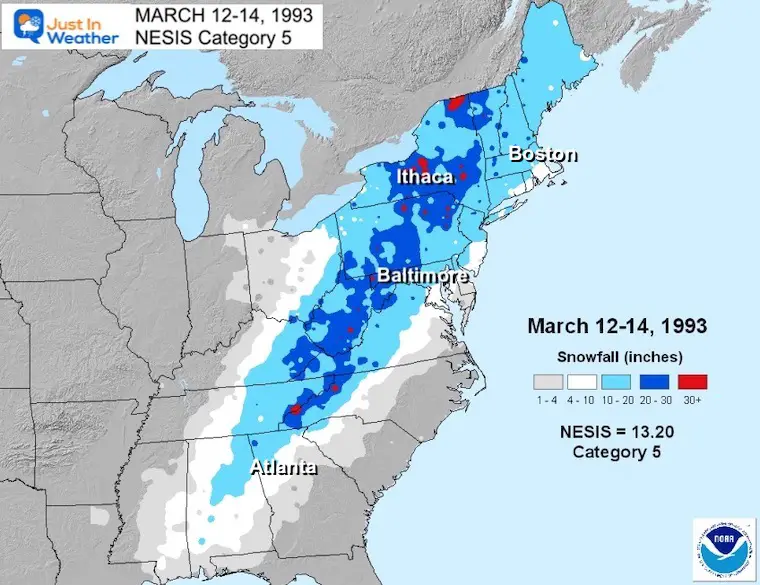 Subscribe for eMail Alerts
Weather posts straight to your inbox
Sign up and be the first to know!
IN CASE YOU MISSED IT
My REALISTIC Expectations for the COLD OUTLOOK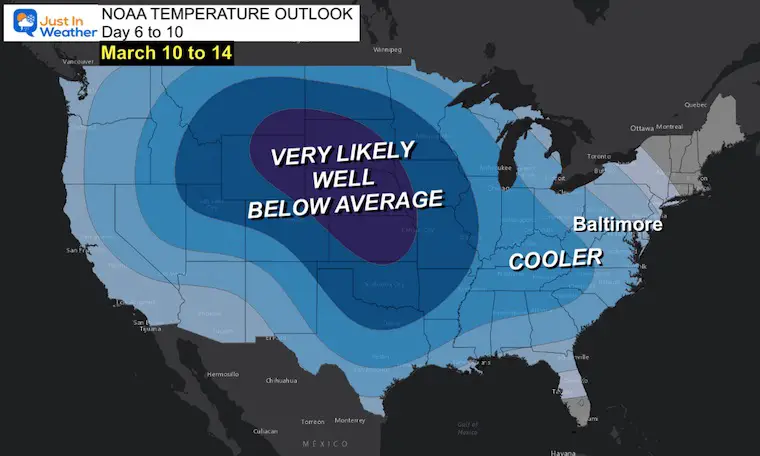 Winter History: Low Snow And Late Starts
See my research based on Baltimore data since 1883.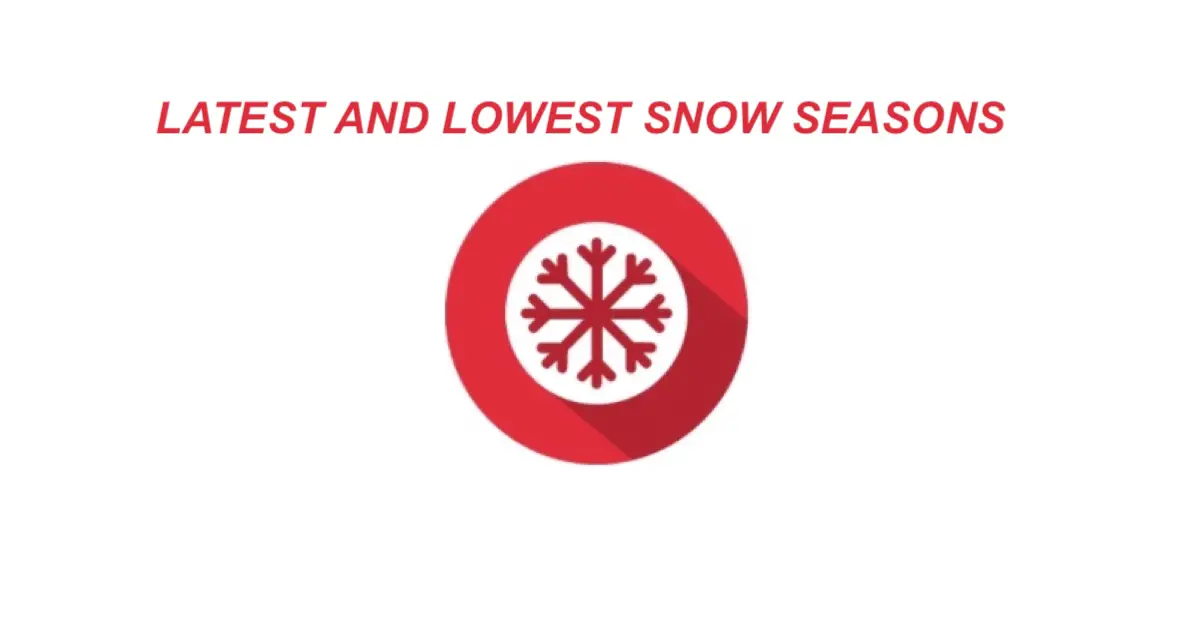 RESTATING MY MESSAGE ABOUT DYSLEXIA
I am aware there are some spelling and grammar typos, and occasional other glitches. I take responsibility for my mistakes, and even the computer glitches I may miss.
I have made a few public statements over the years, but if you are new here you may have missed it:
I have dyslexia, and found out during my second year at Cornell University. It didn't stop me from getting my meteorology degree, and being first to get the AMS CBM in the Baltimore/Washington region. One of my professors told me that I had made it that far without knowing, and to not let it be a crutch going forward. That was Mark Wysocki and he was absolutely correct!
I do miss my mistakes in my own proofreading. The autocorrect spell check on my computer sometimes does an injustice to make it worse. I also can make mistakes in forecasting. No one is perfect predicting the future.
All of the maps and information are accurate. The 'wordy' stuff can get sticky. 
There has been no editor that can check my work when I needed it and have it ready to send out in a newsworthy timeline. Barbara Werner is a member of the web team that helps me maintain this site. She has taken it upon herself to edit typos, when she is able. That could be AFTER you read this.
I accept this and perhaps proves what you read is really from me…
It's part of my charm.
#FITF
STEM Assemblies/In School Fields Trips Are Back
Click to see more and 'Book' a visit to your school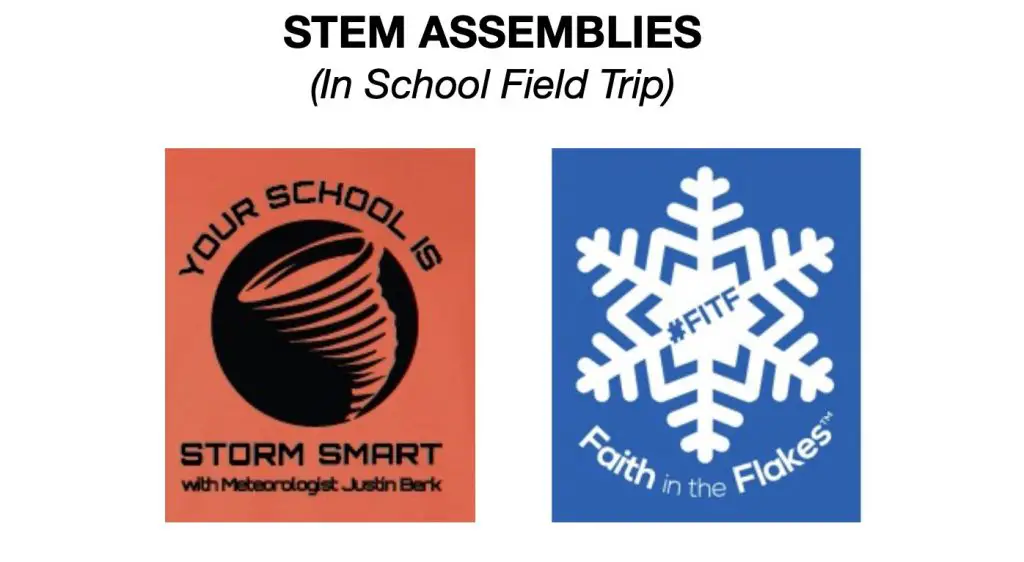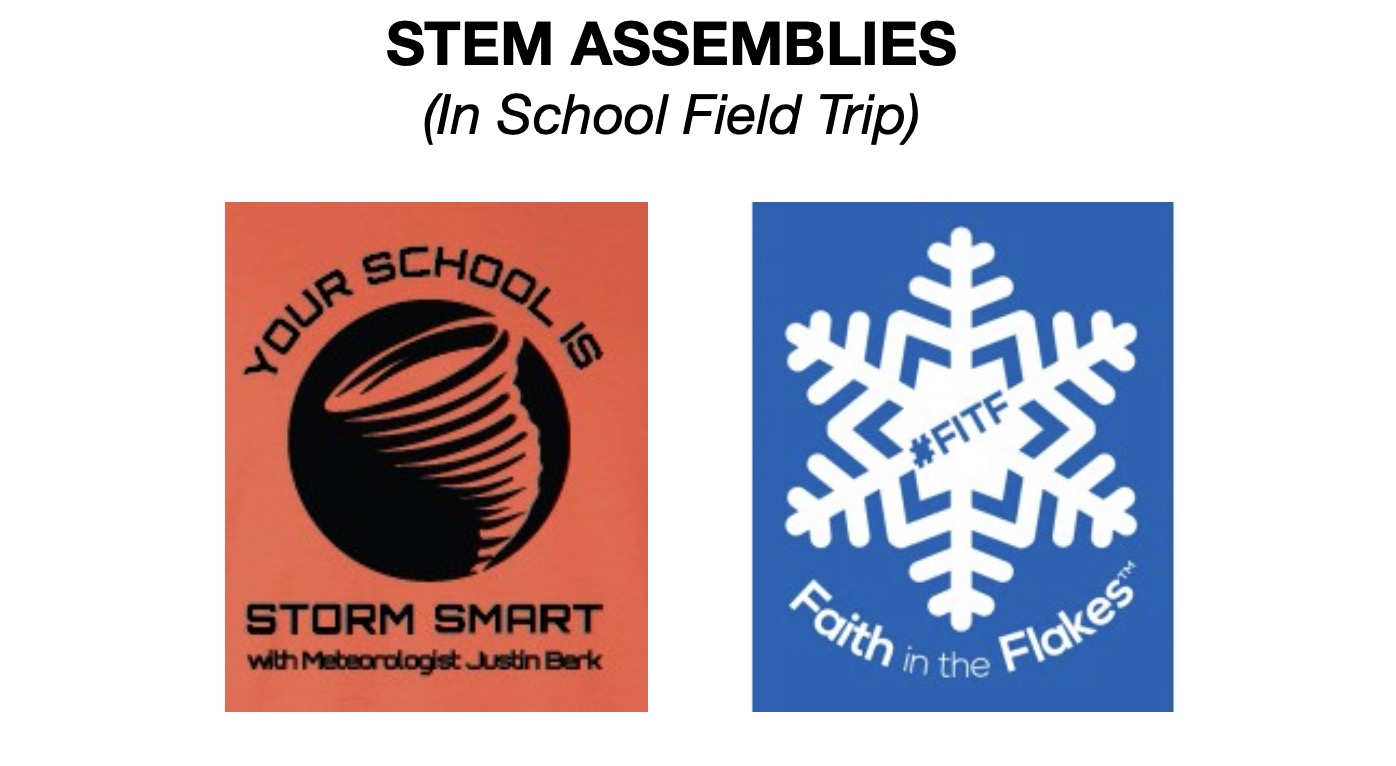 Normals And Records: Maryland and Baltimore Climate History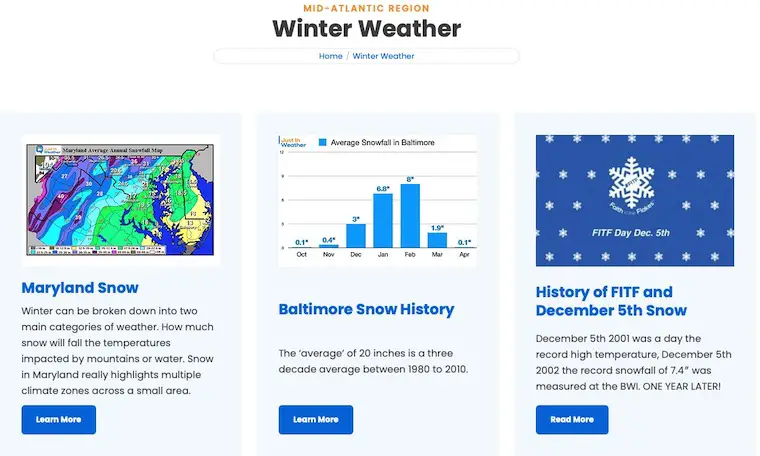 Please share your thoughts, best weather pics/videos, or just keep in touch via social media