November 20 Record Cold Today And Thanksgiving Weekend Outlook
NFL Football Game
Maryland Weather
climate data
Record Weather
Winter Weather
Forecast
Justin Berk
Nov 20, 2022
7:33 am
0
November 20 2022
Sunday Morning Update 
The core of the cold air has arrived. You may have noticed the wind pounding outside already. The final surge in this event has pushed through with a burst of wind overnight. As soon as we get the sun shining, this will mix the atmosphere and develop more wind into the afternoon. Combine this with the cold air mass and the thermometer will struggle. In fact, the high temperatures may have already been reached.
For Baltimore, that was 36ºF between 4:30 AM and 5:30 AM.  The thermometer at BWI may struggle to get back there this afternoon. So if this holds or is matched, it will break the old record for COLDEST DAY (Nov 20) set at 38ºF in 1984
For the 71,000 people expected at the Ravens Game today in Baltimore, BUNDLE UP! It will feel very cold, especially when standing or sitting outside for a few hours.
Extreme Weather
Top Wind Gusts and Low Wind Chills This Morning
From NWS Baltimore/Washington Region
MARYLAND
Wind gusts in mph
  Blackwalnut Harbor       39   430 AM 11/20  WXFLOW
…Frederick County…
  Sabillasville 3 SSW      47   439 AM 11/20  AWOS
…Garrett County…
  I-68 At Us 219           46   339 AM 11/20  MESOWEST
VIRGINIA
…Augusta County…
  Afton 3 SW               53   205 AM 11/20  Mesonet
WEST VIRGINIA
…Berkeley County…
  Martinsburg Arpt         40   409 AM 11/20  ASOS
…Grant County…
  Petersburg 1 W           45  1120 PM 11/19  AWOS
…Mineral County…
  Cumberland Reg           39   435 AM 11/20  AWOS
…Pendleton County…
  Upper Tract              47  1117 PM 11/19  RAWS
*************************WIND CHILL*************************
LOCATION                 WIND      TIME/DATE  COMMENTS
                        CHILL       MEASURED
                      (deg F)
MARYLAND
…Garrett County…
  Frostburg 5 WNW        -6.0   440 AM 11/20  Wind Chill
  I-68 At Us 219         -5.0   439 AM 11/20  Wind Chill
  Accident 2 NNE         -4.0   445 AM 11/20  Wind Chill
  Garrett County Airpo   -2.0   435 AM 11/20  Wind Chill
  McHenry                -1.0   445 AM 11/20  Wind Chill
VIRGINIA
…Highland County…
  Monterey               -1.0   430 AM 11/20  Wind Chill
WEST VIRGINIA
…Hampshire County…
  Slanesville           -14.0  1049 PM 11/19  Wind Chill
Morning Temps at 7 AM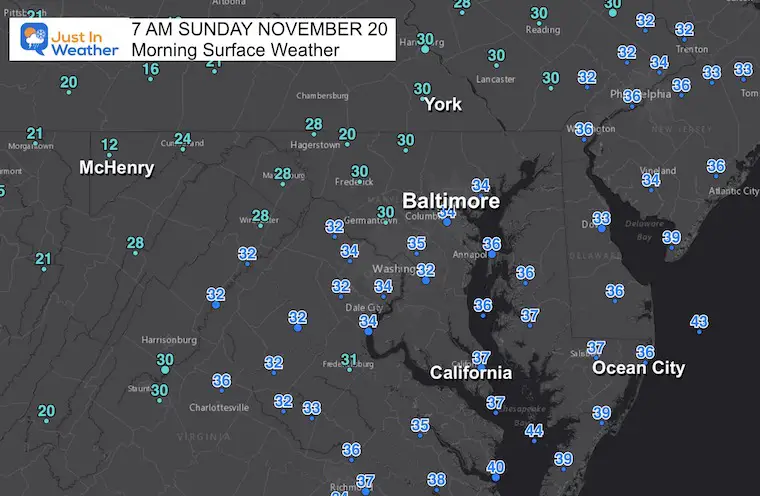 Morning Surface Weather
These winds are the final push form this cold air mass.  These same winds are still producing Lake Effect Snow, however the winds have shifted and the intensity is not the same as the last few days.
In case You Missed This…
My Lake Effect Snow Posts Yesterday
Record Snow At Orchard Park
Wind Forecast: 7 AM to 7 PM
Steady, strong winds will last much of the day, but begin to settle down late afternoon and evening. 
3 PM Snapshots
Wind Speed
Steady winds 10 to 20 mph

Wind Gusts
Peak Winds up to 30 mph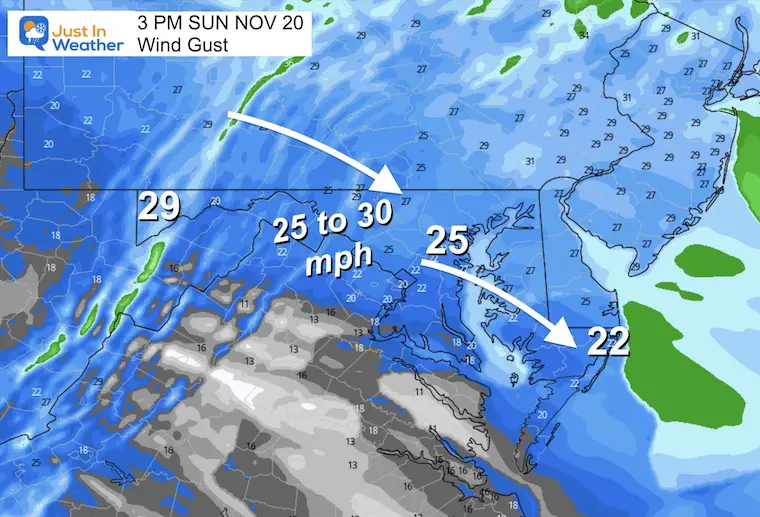 Temperatures Afternoon
The record COLDEST AFTERNOON (MAX TEMP) was 38ºF in 1984.  This forecast would set a new record!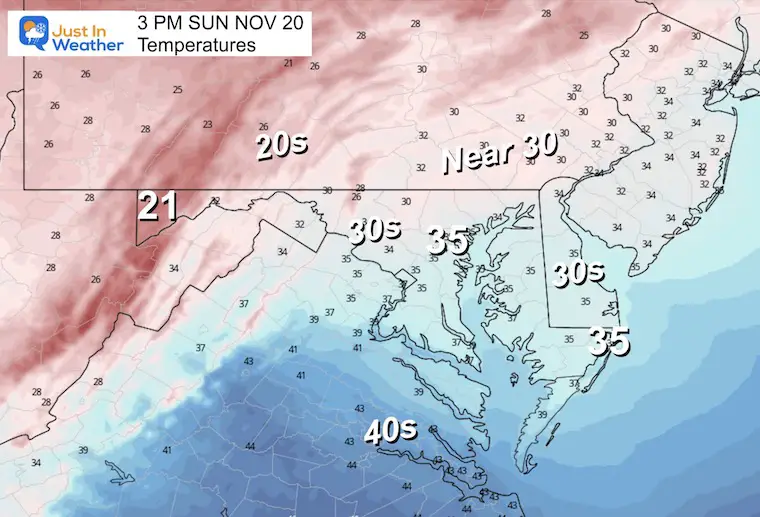 Wind Chills
Most of the region will feel like the 30s or colder.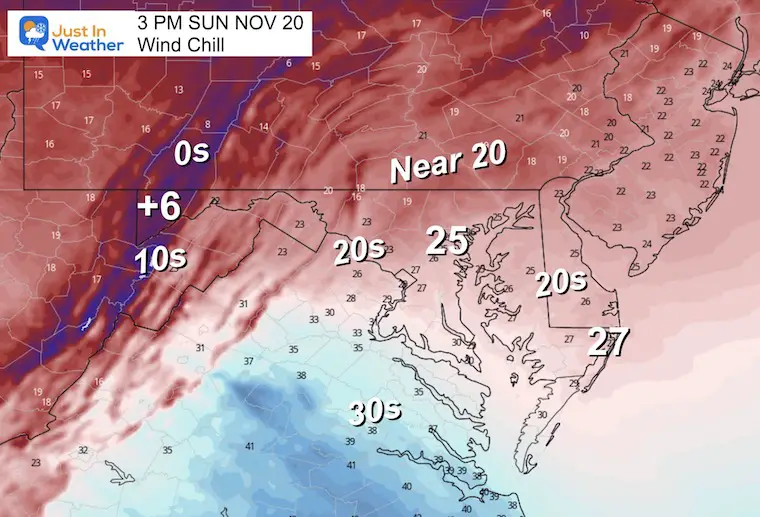 CLIMATE DATA
TODAY November 20
Normal Low in Baltimore:  35ºF
Record 22ºF in 1951 
(Coldest AFTERNOON HIGH = 38ºF in 1984)
SNOW: 2" in 1955
Normal High in Baltimore: 56ºF
Record 79ºF 1942
Have you been missing some of my reports?
Two ways to get notified more often:
Sign Up For My Newsletter
Weather posts straight to your inbox
Sign up and be the first to know!
ALSO on Facebook
They keep changing the settings… Go to my page wall and click this button to mark it as *Favorites
Click this image to get to my page wall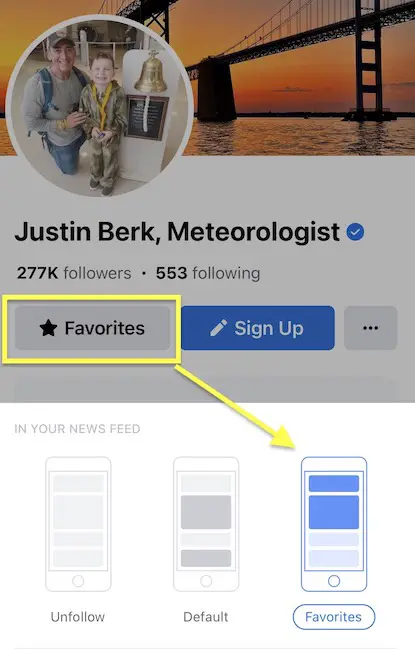 Monday Morning
Near or below freezing. This is NOT the record cold. That will be later in the day.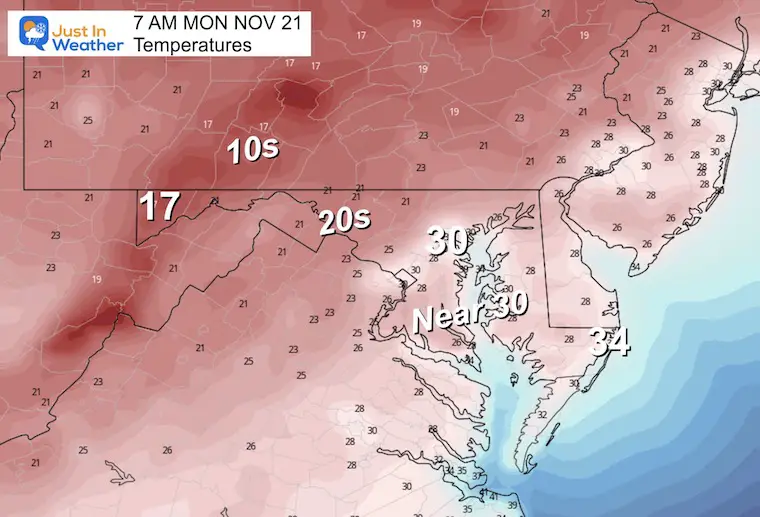 Monday Afternoon
With less wind, temps 10 degrees warmer will actually feel pleasant.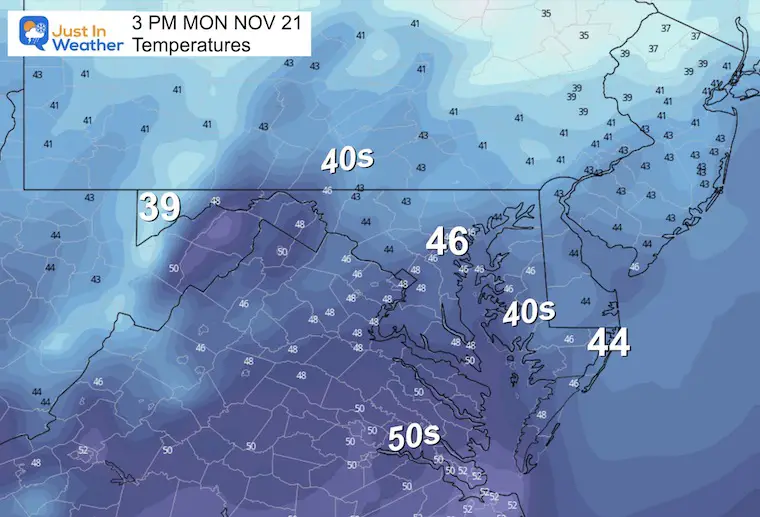 Thanksgiving Storm Outlook
This storm continues to show up, but models are having trouble with the development. I mentioned this in my report a few days ago and still expect more fluctuations. So the specifics about timing and temperatures will adjust as the elements to form the storm get closer. 
The European Model still shows the storm on Friday, while the GFS has delayed the organization until Sunday, resulting in a milder more rain event. 
ECMWF- European Model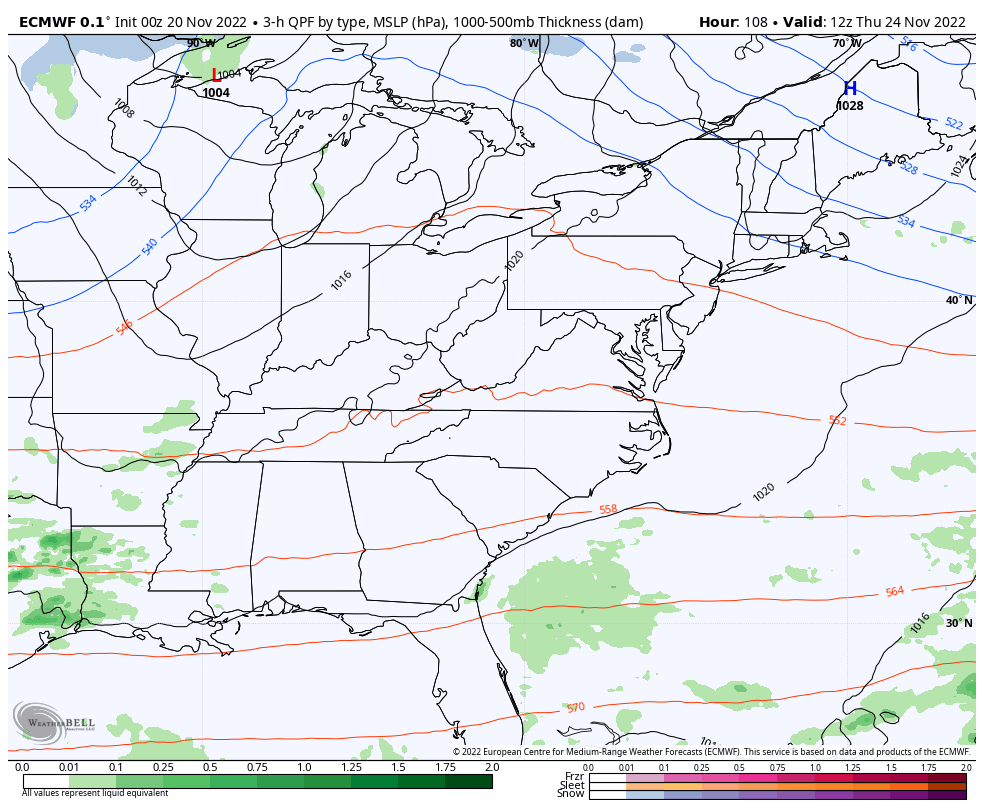 Snapshot Friday
While we see all rain here, I've highlighted the line where freezing temps are identified at cloud level… Which could involve sleet or snow. It is still early….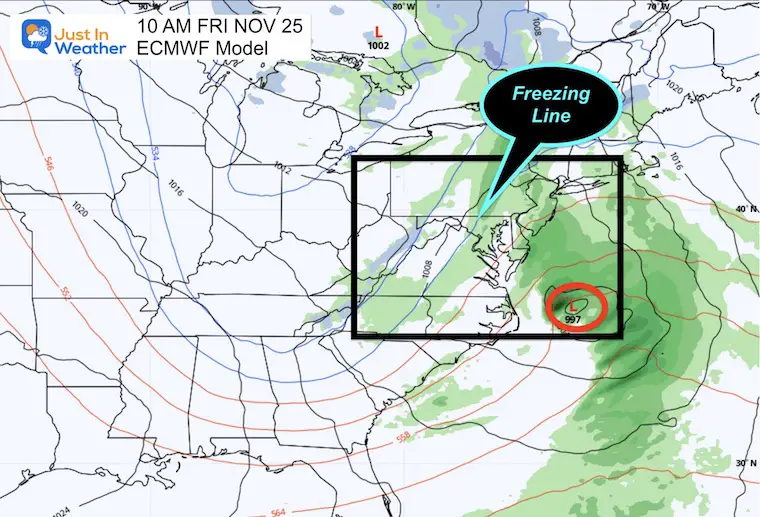 GFS Model: Snapshot Sunday
This product is nearly 2 days later and a little warmer. This is the model that showed ice and snow for Friday just two days ago.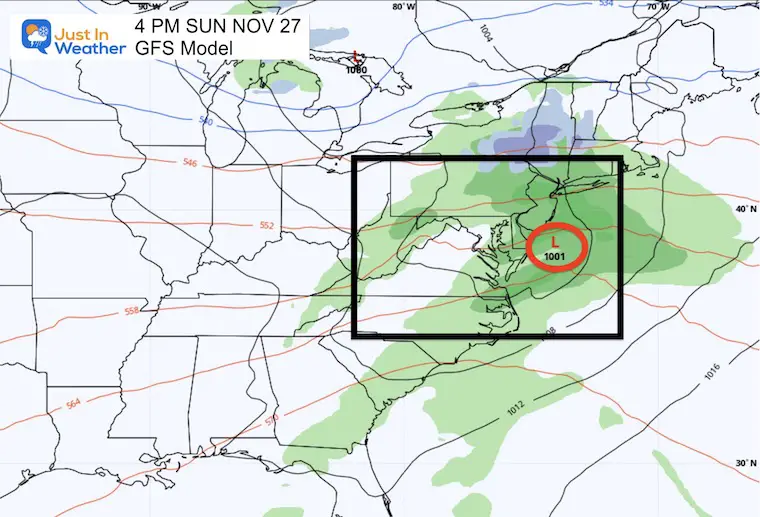 I have been showing you this to highlight that despite all the advances, long range forecasting heading into winter will continue to be a challenge and NOT trustworthy beyond a week. 
7 Day Forecast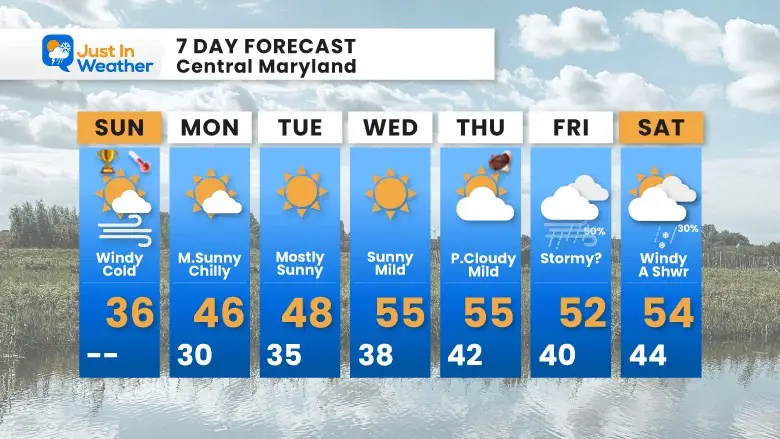 Faith in the Flakes Gear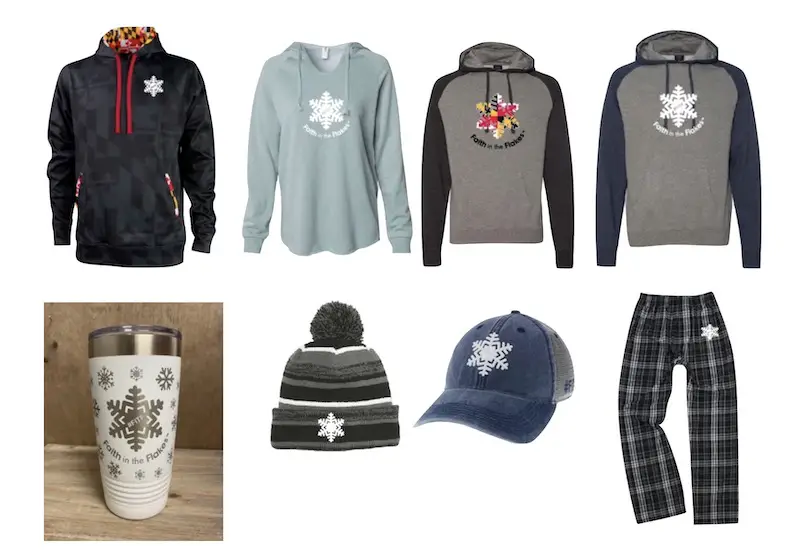 SNOWSTIX – Available Now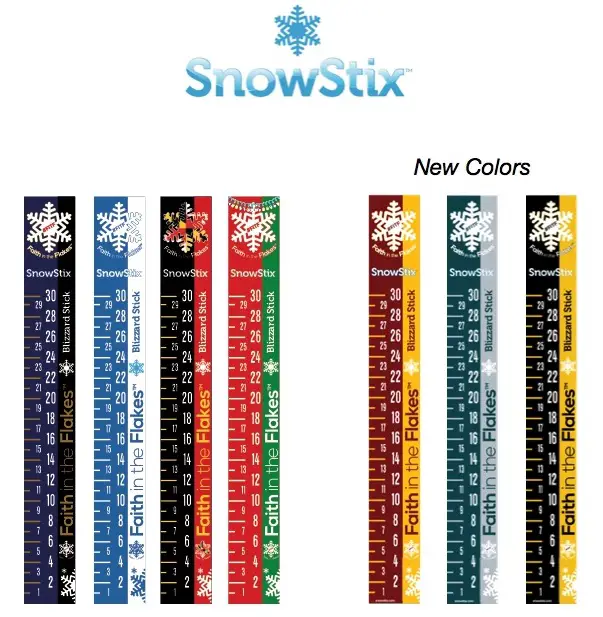 Also See: Winter Outlook Series:
Winter Outlook 2023 From NOAA Very Different Than Farmers Almanacs
ALSO, SEE THESE OTHER WINTER OUTLOOK REPORTS
Farmer's Almanac Comparison
Winter Outlook 2023 Early Look At Snow From Two Farmers Almanacs
Triple Dip La Niña Winter
CONNECTION TO WINTER?
If you want a snowy winter, this is what you might want to look for in the rest of the tropical season. (You might be seeing a lot of commercial snow removal people out this Winter).
Record August For No Named Tropical Storms: Closer Look At Snow Following
Wooly Bear Caterpillars
Persimmon Seeds
Click to see Top 20 and MORE
Winter Weather Folklore Top 20 And More Outlook Signals From Nature For Cold And Snow
Normals And Records: Maryland and Baltimore Climate History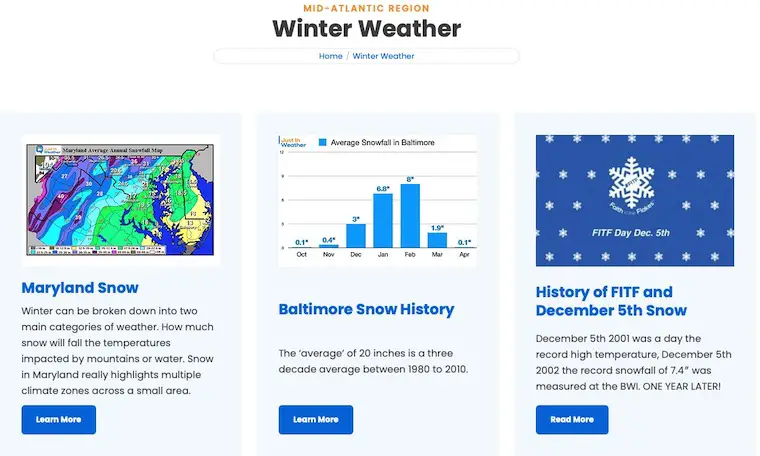 STEM Assemblies/In School Fields Trips Are Back
Click to see more and 'Book' a visit to your school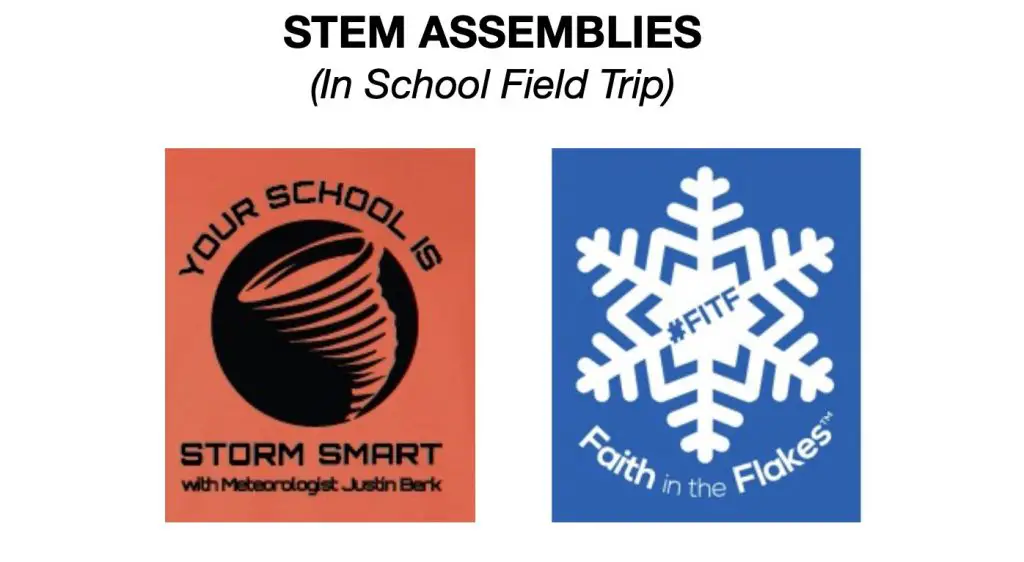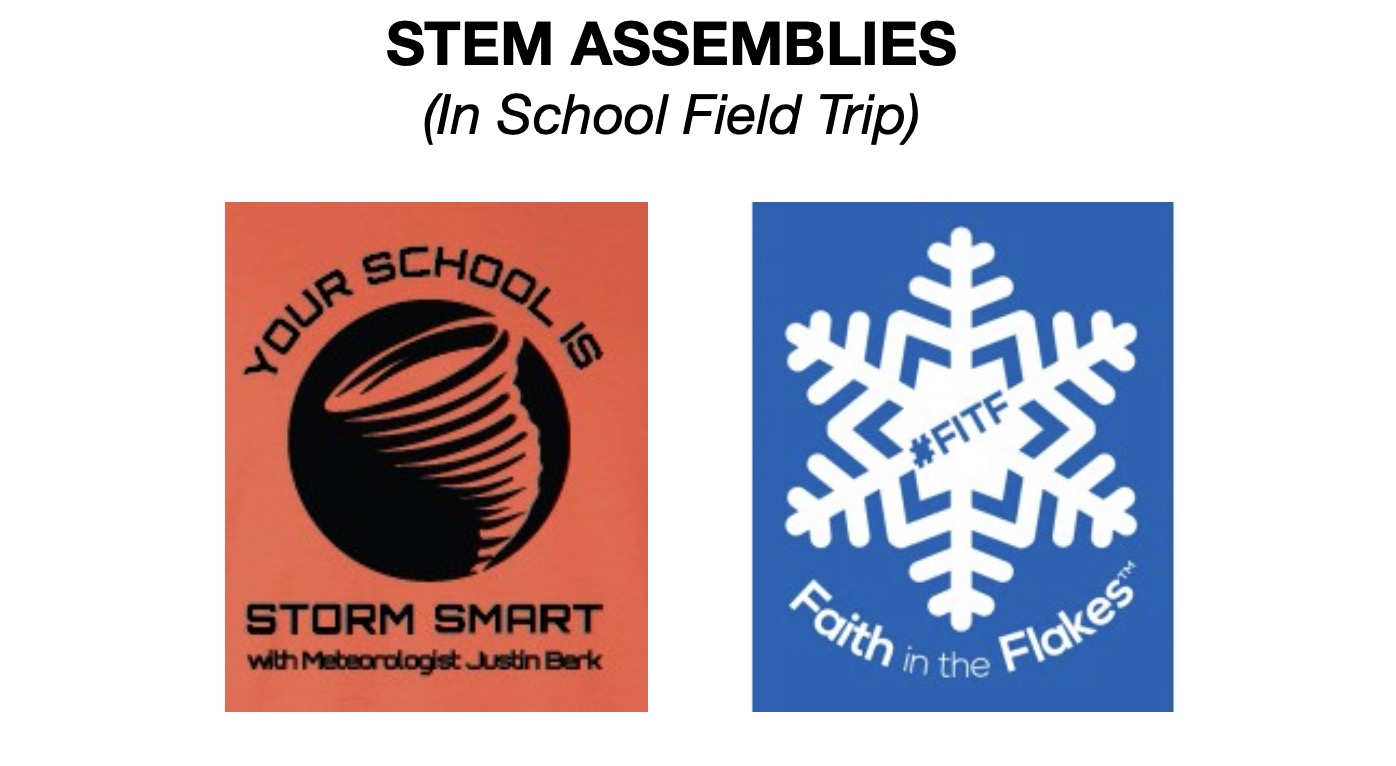 Please share your thoughts, best weather pics/videos, or just keep in touch via social media