November 15 Chilly Rain With Burst Of Snow And Sleet Inland Beyond The Winter Weather Advisory
snow forecast
climate data
Winter Weather
Forecast
Warnings
Justin Berk
Nov 15, 2022
6:24 am
0
November 15, 2022
Tuesday Morning Update 
Cold air has settled in this morning, including the first freeze for portions of Delmarva. It's the area inland with the 20s that is significant with the approach of the next weather system.  With clouds moving in early and trapping the cold air, there will be a burst of snow and sleet for many areas inland during the afternoon and evening. 
I do not want you to be caught off guard with this first winter event.  There is a Winter Weather Advisory for far western Maryland and interior Pennsylvania. However, there will be frozen stuff falling in the nearby suburbs of Baltimore. 
The roads should remain wet and I will highlight those areas in this post. 
Headlines:
Rain, Sleet, and Snow arrive for most After 1 PM
Burst of Sleet and Snow: NW Suburbs of Baltimore into the evening
Snow Burst and road stickage WEST of I-81
Tonight: Turning to all rain, ending before sunrise
Morning Temps
Quite a few freezing temps observed on Delmarva.
Check out the 20s inland.

 
Winter Weather Alerts:
Freeze Warning: Delmarva will give it another try after not getting to 32ºF Monday morning.
Winter Weather Advisory: Some stickage may affect travel on I-68, I-70 west of Breezewood, and I-81.
I have colored in a section left of the light blue line where I believe a period of snow or sleet may fall, which I'll explain below.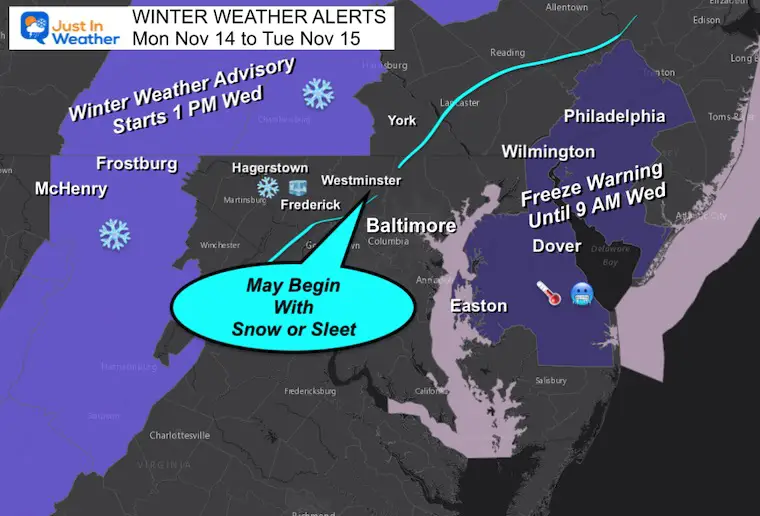 Morning Surface Weather
This complex pattern is highlighted by a more organized Low Pressure along the Gulf Coast. This will track close to Maryland… enhancing the rain and keeping the colder air inland.
I am marking this track in my Atmospheric Memory file for the winter ahead.  It is significant for what I believe will be an active winter.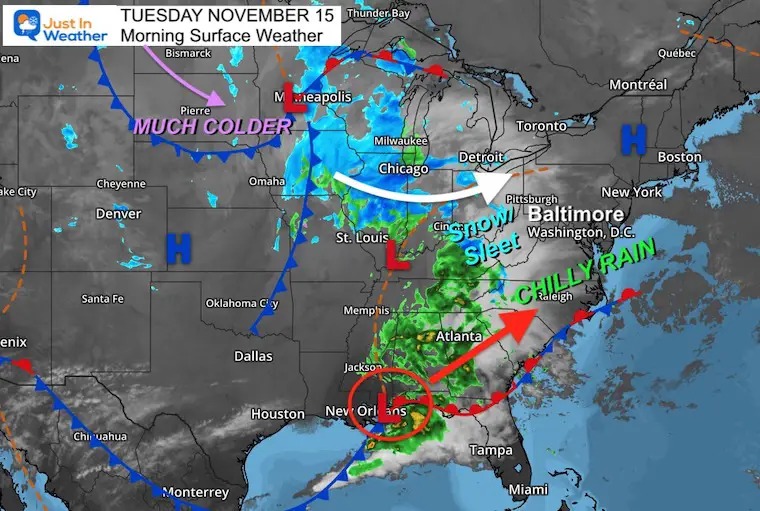 Wide View Forecast
1 PM Tuesday to 1 PM Wednesday 
This event will arrive this afternoon, then be gone before sunrise on Wednesday… Places that start with snow or sleet should turn to rain overnight.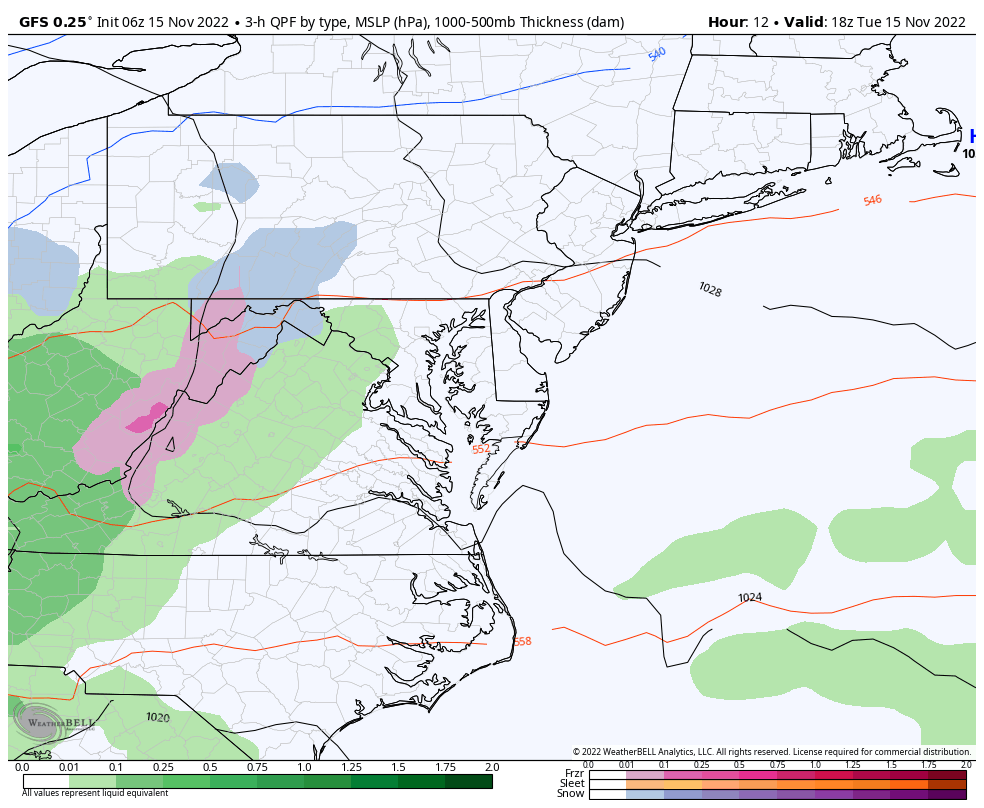 Closer Look (GFS Model)
Noon Temperature
Baltimore only around 44ºF, with inland areas in the lower 40s and upper 30s.  This is chilly, but above freezing.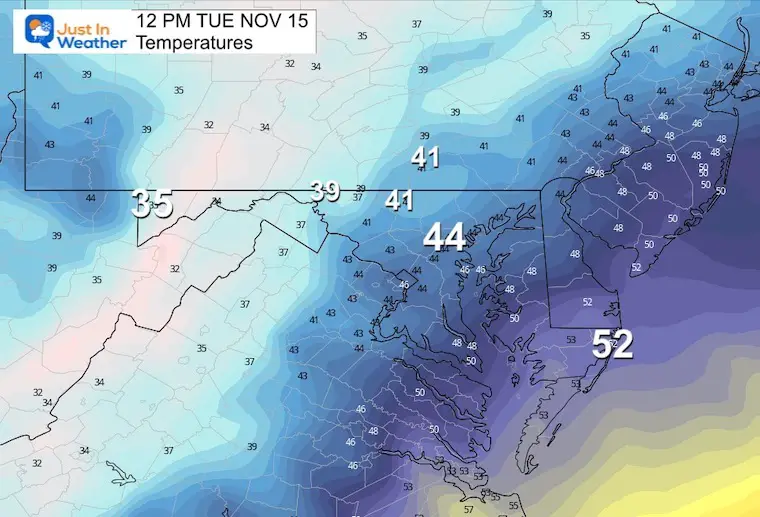 1 PM
Rain arrives west of Baltimore, with snow near and west of Hagerstown.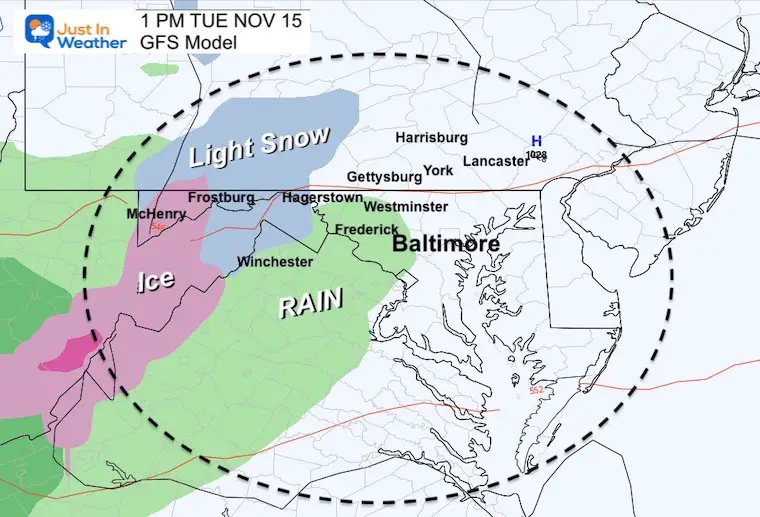 4 PM
Snow or sleet develops quickly between 1 and 4 PM.
This is shown to include Frederick, Carroll, and NW Baltimore Counties in Maryland.
Also into York and Harrisburg in PA.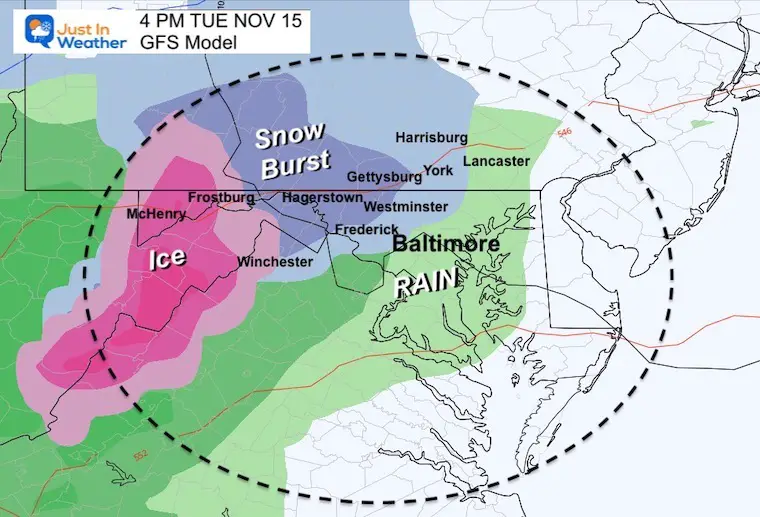 Temperatures
Expect a drop in temperatures with the start of the precipitation. The wintry mix areas will be in the 30s, with the freezing line close to Hagerstown and westward. 
7 PM
Burst of Snow and sleet in those Northwest suburbs may last for a few hours….
Heavier snow with stickage more likely along Rt 15 and I-81.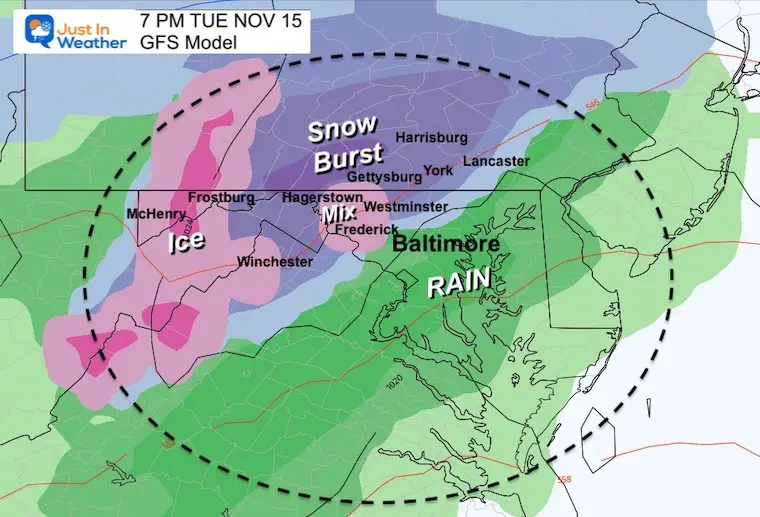 Temperatures
The freezing line may get closer to Westminster and York.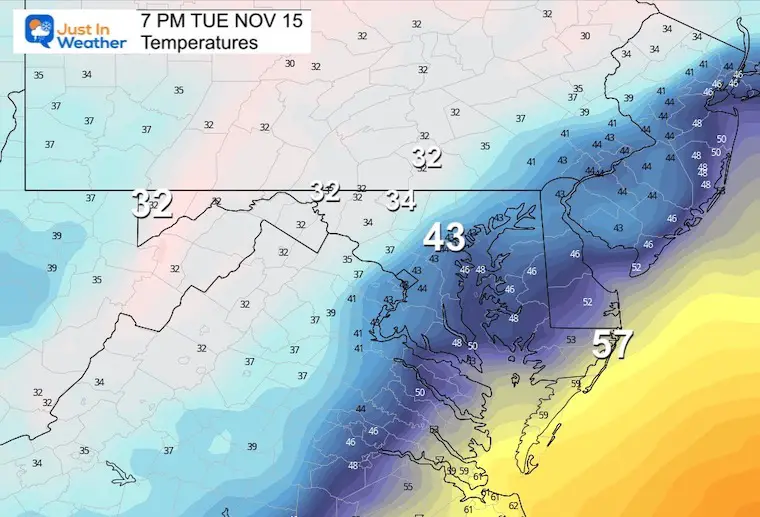 Other Models
Canadian GEM
European ECMWF
Rest Of The Night (GFS)
Turning to rain with slightly warmer air moving in from the south.
10 PM

1 AM Wednesday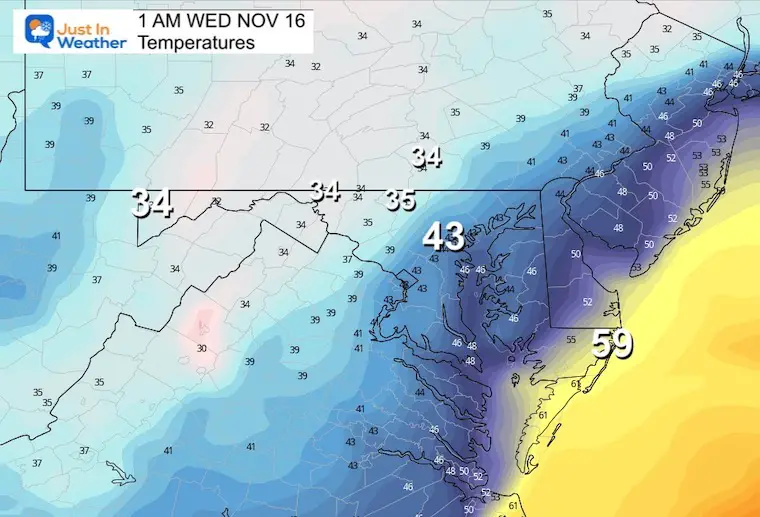 4 AM Wednesday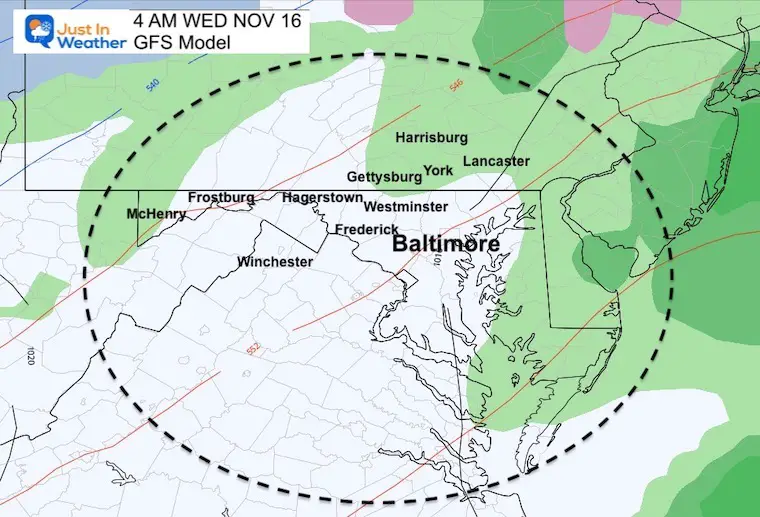 GFS Model Snow?
This is the high end of potential within reason
I do not trust the 2 to 5 inches between Westminster and York. This is assuming all stickage and does not account for melting.  But I needed to share with you just in case there is a surprise burst this evening.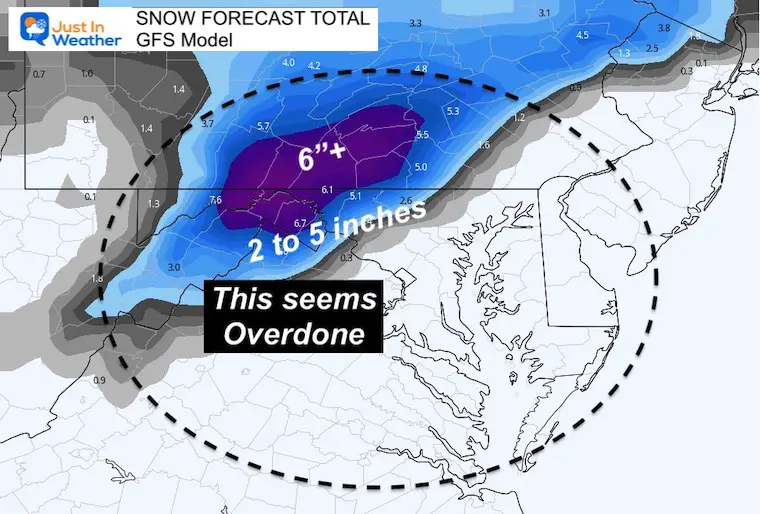 National Weather Service Snow Forecasts
Maryland/Virginia 
Pennsylvania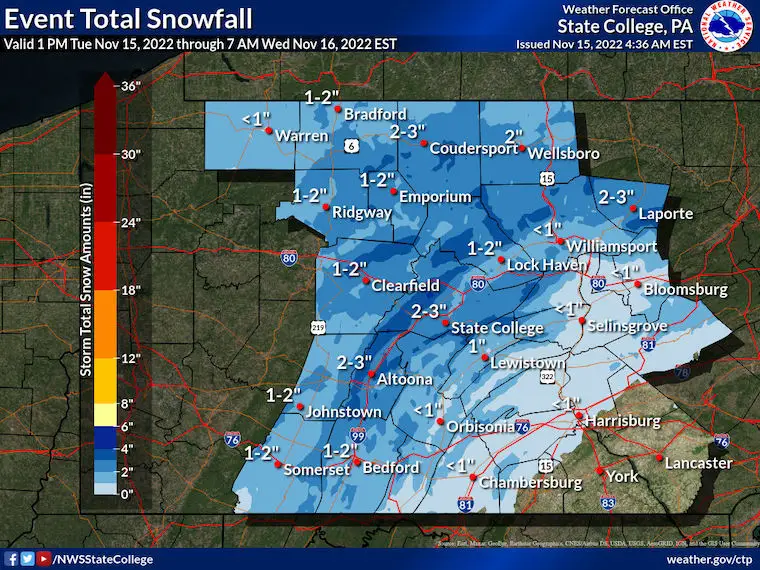 CLIMATE DATA
TODAY November 15
Normal Low in Baltimore:  37ºF
Record 19ºF in 1986
SNOW:1.7" 2018
Normal High in Baltimore: 58ºF
Record 79ºF 1993
Weather posts straight to your inbox
Sign up and be the first to know!
Rain/Precipitation Total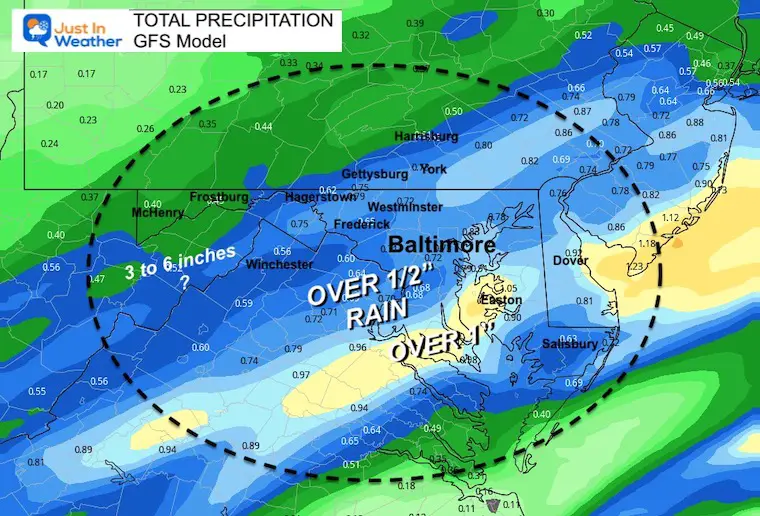 Wednesday Morning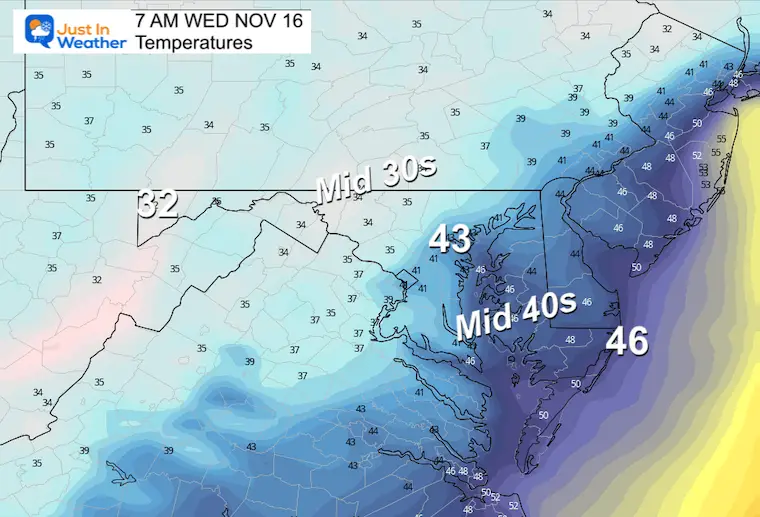 Wednesday Afternoon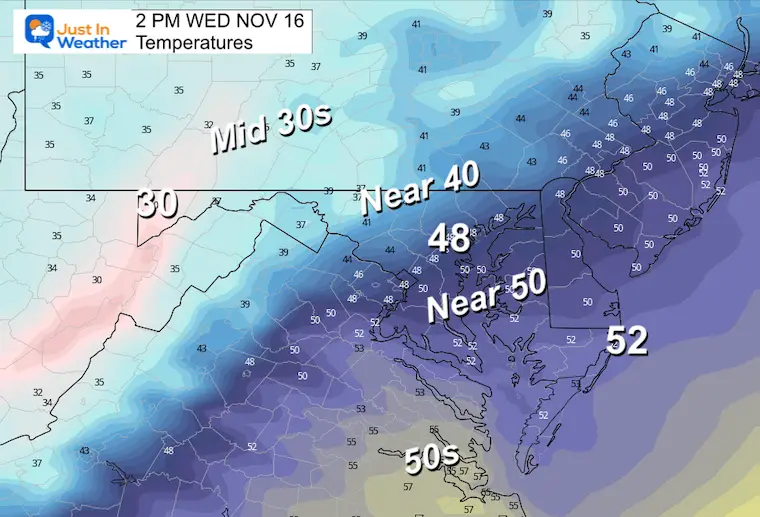 7 Day Forecast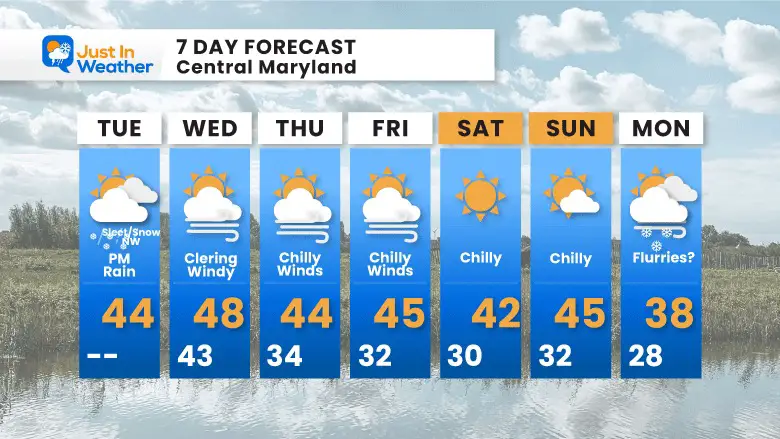 STEM Assemblies/In School Fields Trips Are Back
Click to see more and 'Book' a visit to your school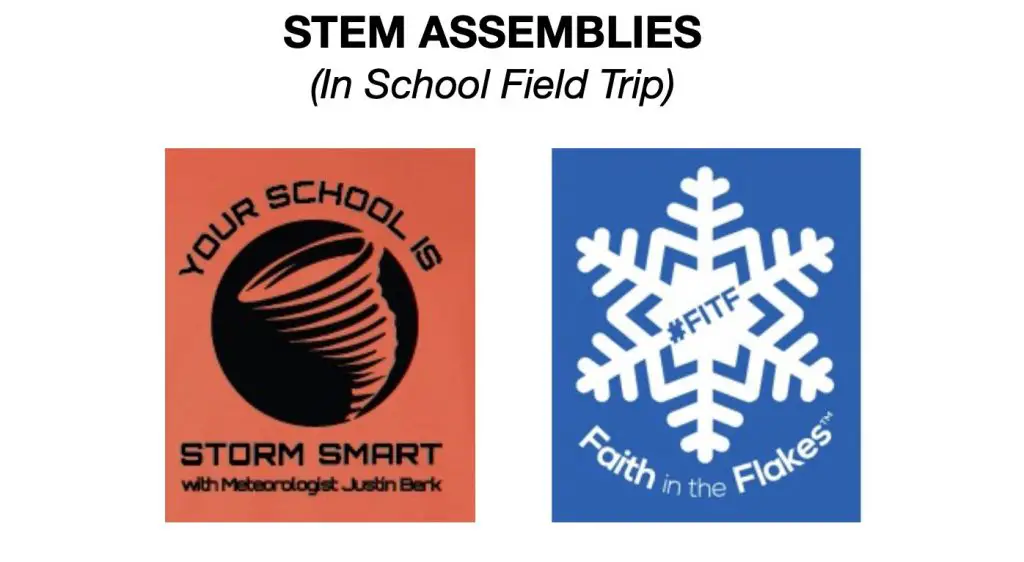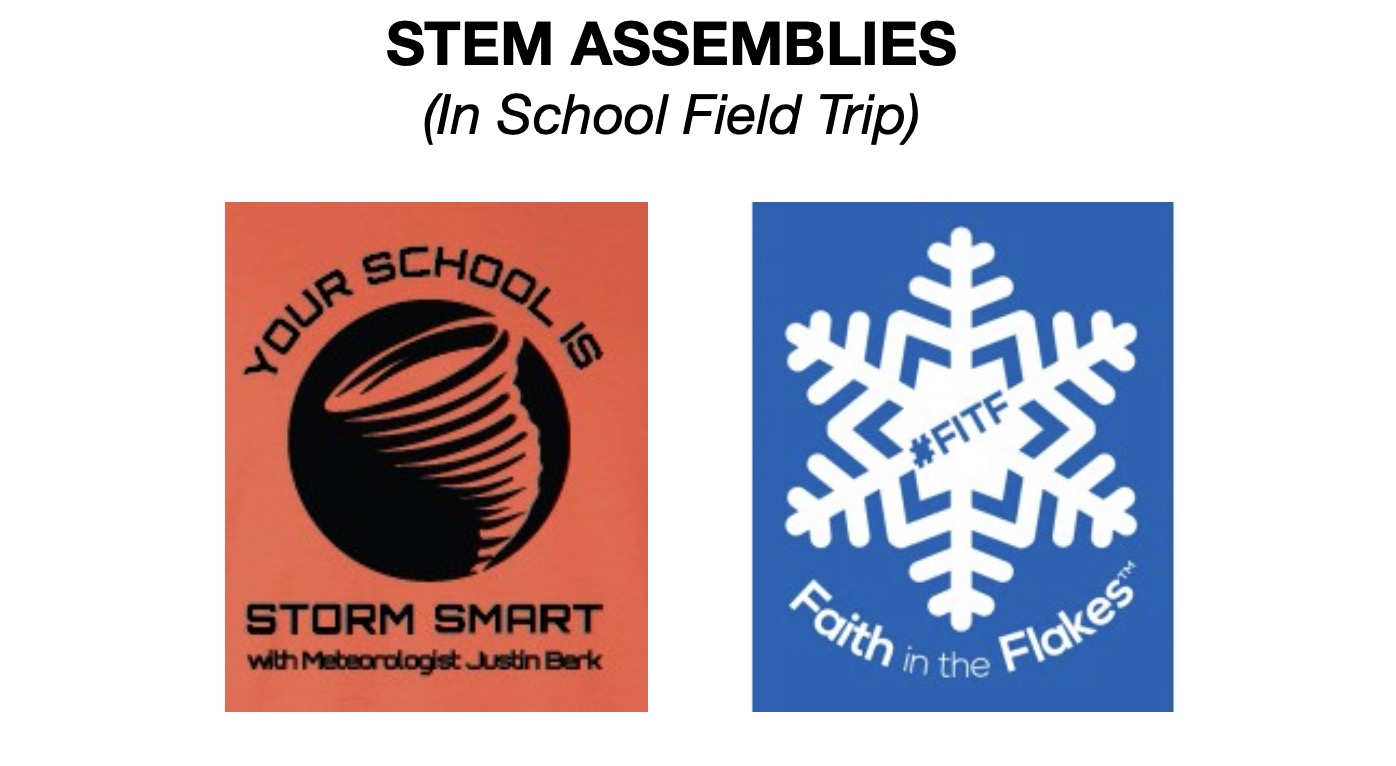 Also See: Winter Outlook Series:
Winter Outlook 2023 From NOAA Very Different Than Farmers Almanacs
ALSO, SEE THESE OTHER WINTER OUTLOOK REPORTS
Farmer's Almanac Comparison
Winter Outlook 2023 Early Look At Snow From Two Farmers Almanacs
Triple Dip La Niña Winter
CONNECTION TO WINTER?
If you want a snowy winter, this is what you might want to look for in the rest of the tropical season. (You might be seeing a lot of commercial snow removal people out this Winter).
Record August For No Named Tropical Storms: Closer Look At Snow Following
Wooly Bear Caterpillars
Persimmon Seeds
Click to see Top 20 and MORE
Winter Weather Folklore Top 20 And More Outlook Signals From Nature For Cold And Snow
Normals And Records: Maryland and Baltimore Climate History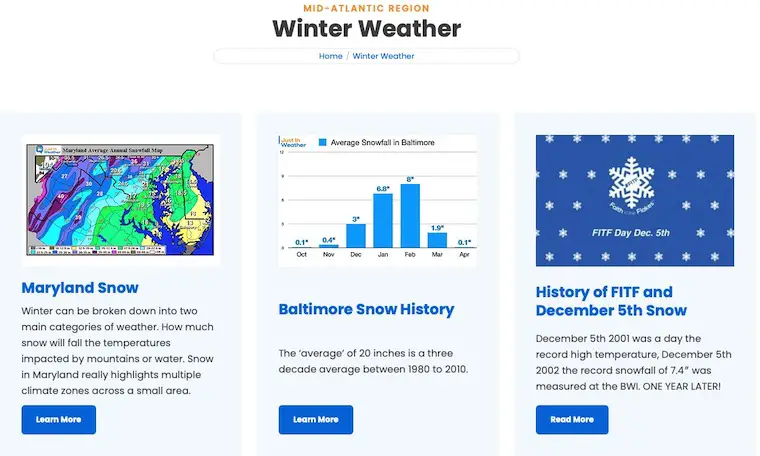 Faith in the Flakes Gear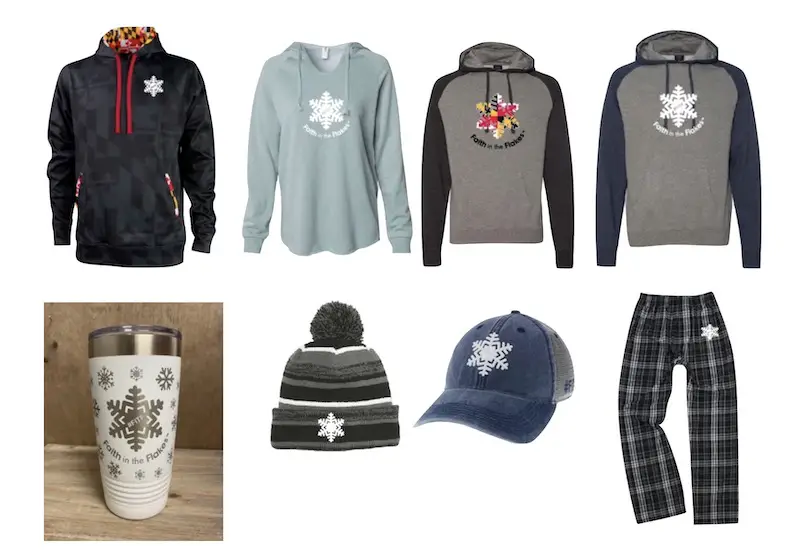 SNOWSTIX – Available Now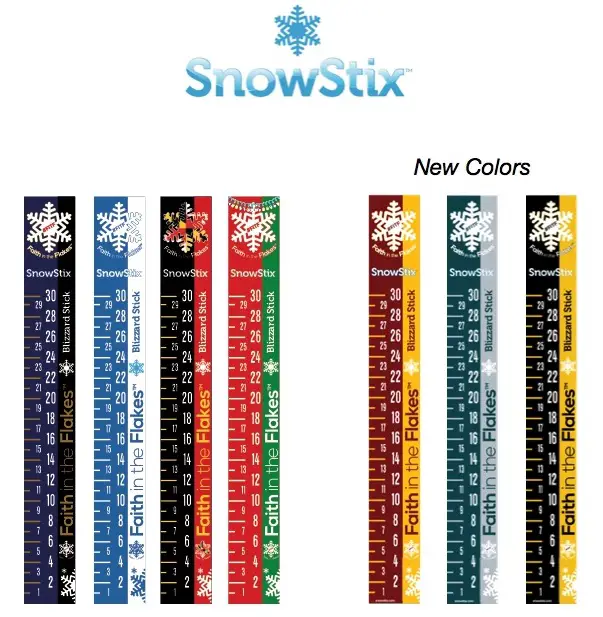 Please share your thoughts, best weather pics/videos, or just keep in touch via social media