September 28 New Record Low Set And Hurricane Ian Rain Update
climate data
Record Weather
Forecast
Tropics
Justin Berk
Sep 28, 2022
7:04 am
0
September 28, 2022
Wednesday Morning Update 
If there was not a hurricane about to hit the US, the big weather story would be our chill this morning. Baltimore set a new Record Low at BWI with a temperature of 48ºF, breaking the old record set in 1984. Most of the region has dropped into the 40s before sunrise. 
Later today, some showers might develop on our north side. It is Saturday when we will watch the south for rain from Ian, with more rain lasting Sunday into early next week.  That will lead to flooding in parts of our region.
Morning Surface Weather
Our set up includes strong High Pressure to the North and Hurricane Ian to the south. 
It was upgraded to a Category 4 with 155 mph winds this morning.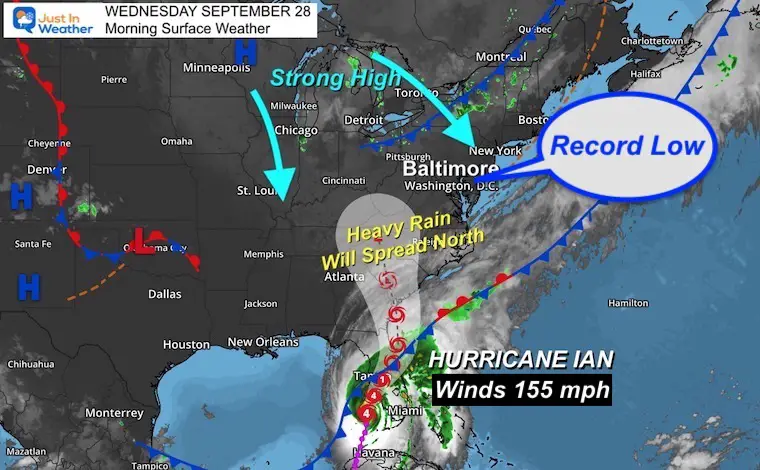 Hurricane Ian Morning Update: Click for full report
WINDS UP TO 155 mph at 7 AM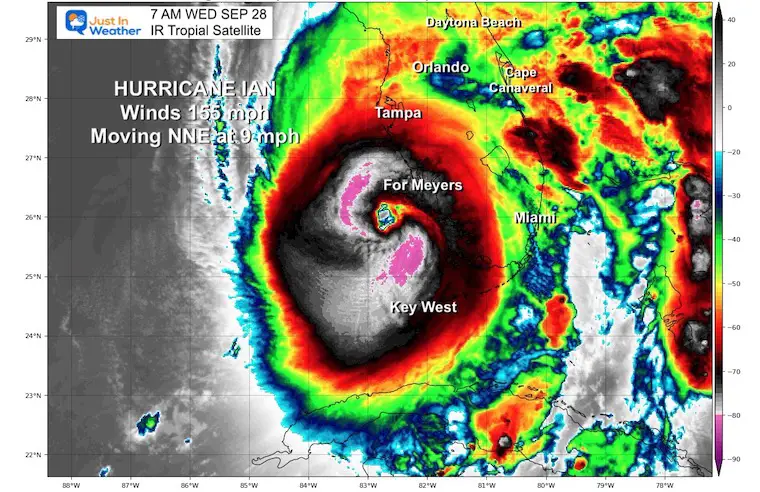 Morning Temperatures
Afternoon Temperatures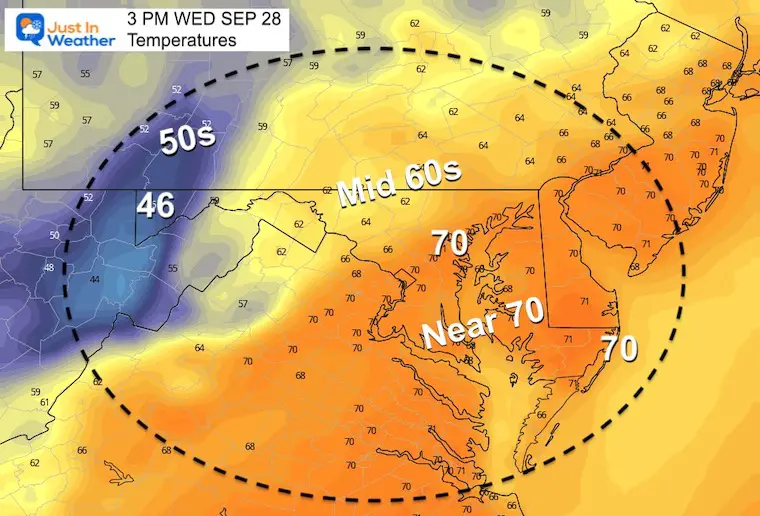 Radar Simulation: 4 PM to 9 PM
Late day showers from Pennsylvania will drop south later in the day.
CLIMATE DATA
TODAY September 28
Normal Low in Baltimore:  54ºF
Record 49ºF in 1984 <— Broken Today
Normal High in Baltimore: 75ºF
Record 91ºF 1886
Weather posts straight to your inbox
Sign up and be the first to know!
When Is The First Frost?
Thursday
 

Temperatures 
Morning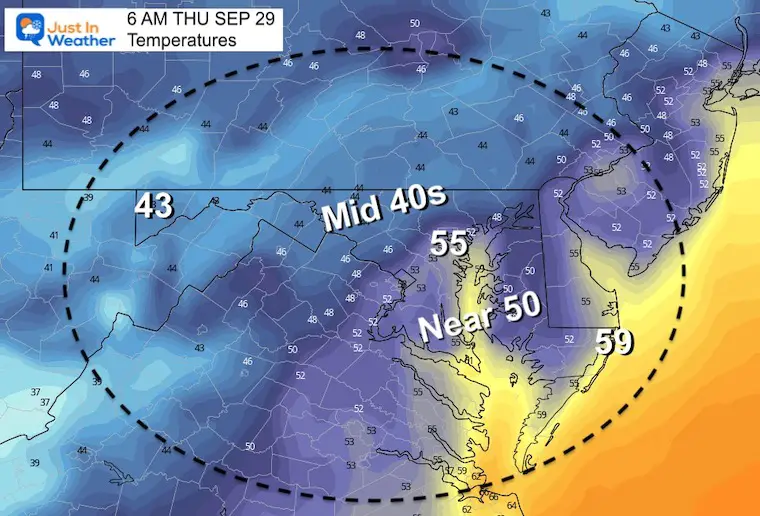 Afternoon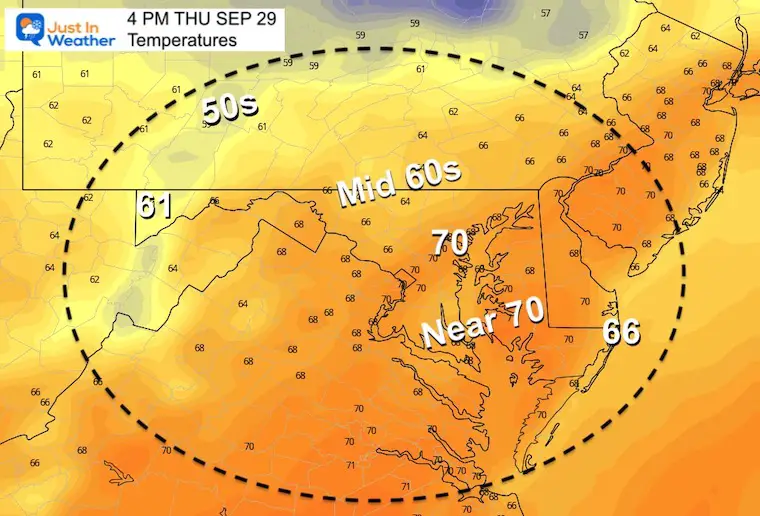 Long Range Forecast For Ian
GFS Model: Thursday Morning to Tuesday Morning
The track keeps adjusting. The GFS is in line with the latest consensus of Hurricane Ian crossing Florida to the Atlantic, then making a second landfall near the Georgia and South Carolina border. This brings a new track, timing, and more moisture available to push north. 
But High Pressure to our north will block the progress at some point, and turn this back to the coast.
Saturday (Wild Card) could bring in the rain or remain dry depending on Ian's behavior. I would plan for it turn wet for the concert in Ocean City and the Maryland Football hosting Michigan State.
Sunday is more likely to be wet, with rain lasting in to Monday.

 
Also note: We will be in a chilly air mass, so despite the remains of a tropical system, we should get a chilly rain.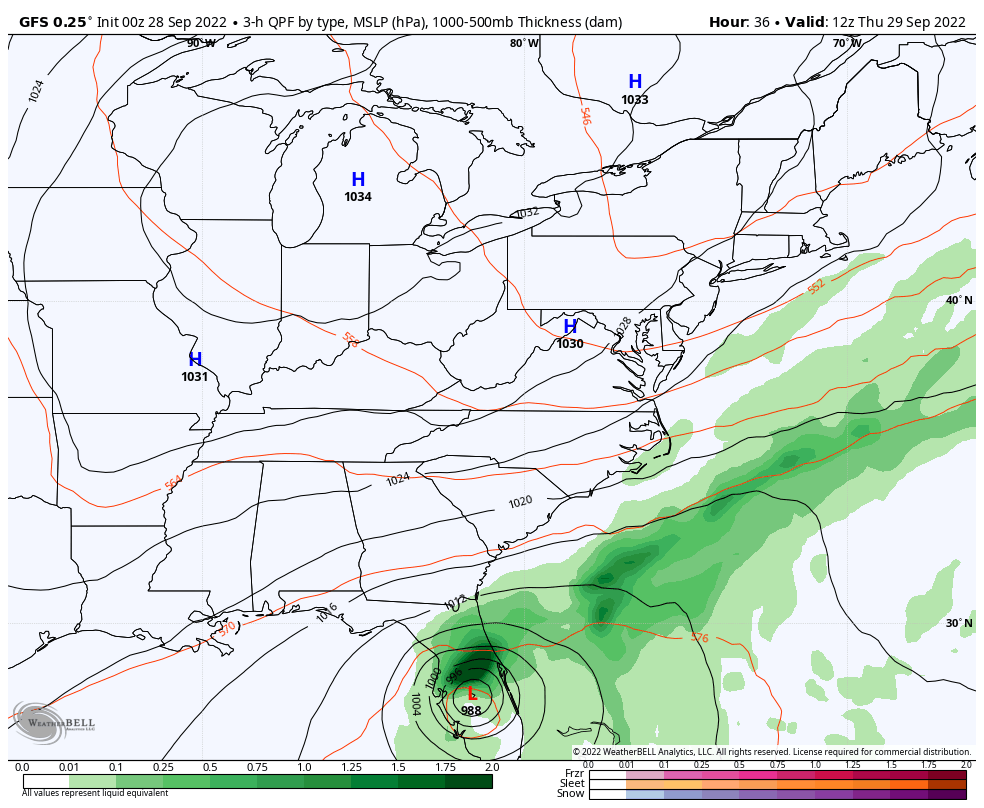 Rainfall Potential: GFS Model
We will apply other models and look to fine tune the amounts as we get closer. So that dry pocket and the numbers overall may still shift.  I would not discount anything yet.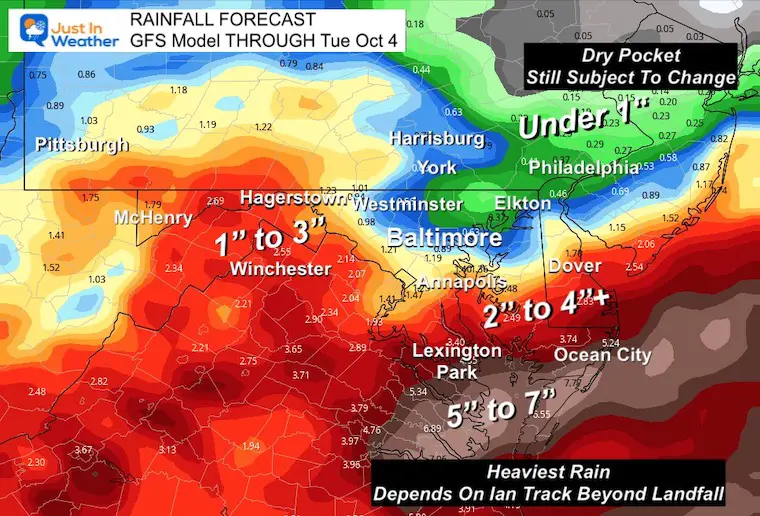 7 Day Forecast
Rainfall next weekend will depend on how Ian behaves. Slight adjustment to the track up to landfall will determine how strong and how much moisture it can push inland.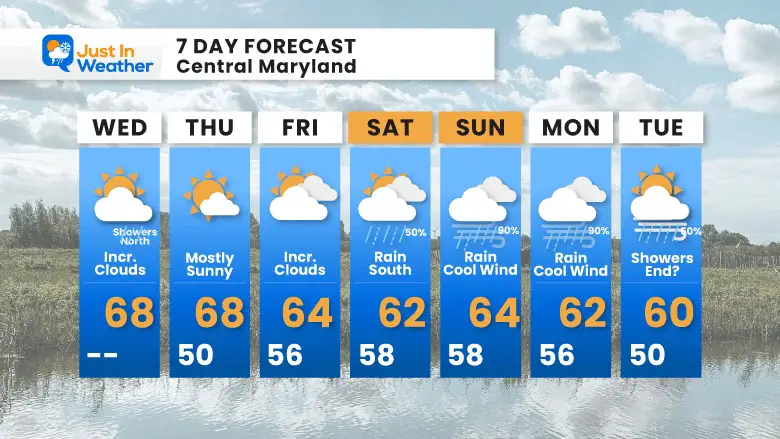 Golf Tournament: Join My Son And Me….
WE are thrilled they dedicated proceeds to our nonprofit Just In Power Kids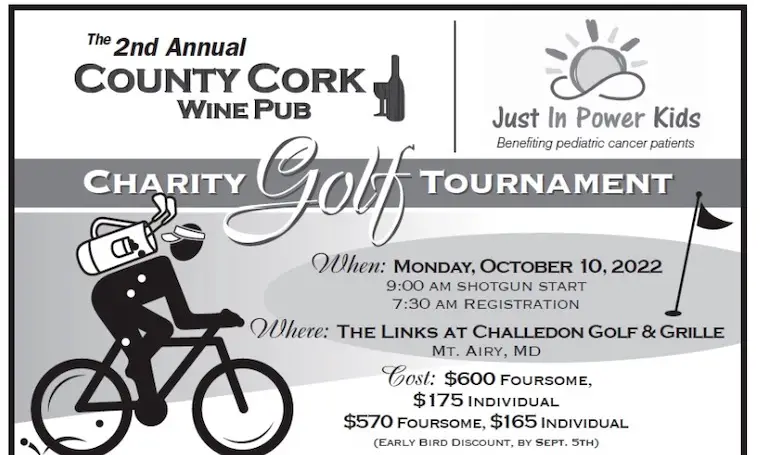 PATTERN CHANGER?
Hurricane Ian May Help Cooler Pattern Change: Monitor For Atmospheric Memory This Winter
CONNECTION TO WINTER?
If you want a snowy winter, this is what you might want to look for in the rest of the tropical season.
Record August For No Named Tropical Storms: Closer Look At Snow Following
Weather posts straight to your inbox
Sign up and be the first to know!
Hurricane Season Forecast: June 1 Through November 30
NOAA 2022 Hurricane Forecast- Above Normal Again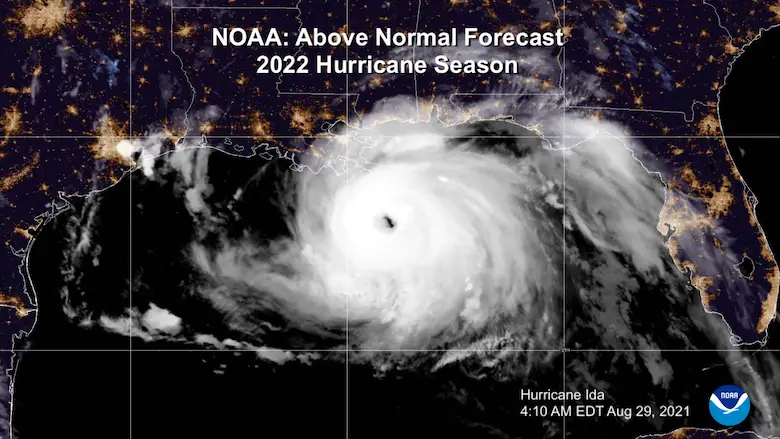 Related Posts
NOAA Study: Reducing Air Pollution INCREASED Tropical Storms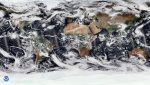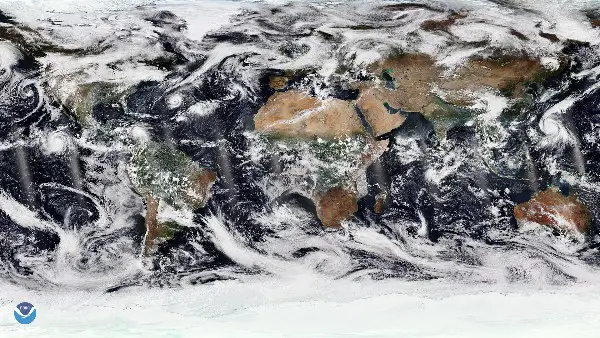 Atlantic Tropical History: Maps of Origin Regions Every 10 Days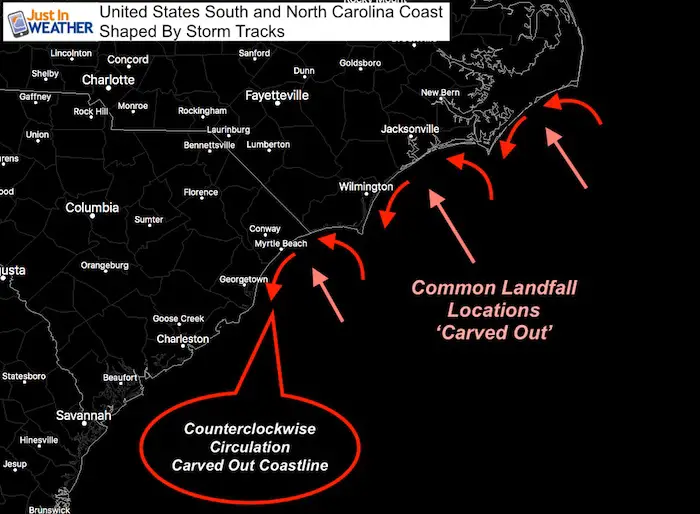 Please share your thoughts, best weather pics/videos, or just keep in touch via social media
STEM Assemblies/In School Fields Trips Are Back
Click to see more and 'Book' a visit to your school