Hurricane Ian Flooding May Reach Maryland This Weekend
Flooding
Maryland Weather
Forecast
Tropics
Justin Berk
Sep 26, 2022
8:15 pm
0
Monday Evening September 26
Hurricane Ian has continued to get stronger. This evening it is now a Category 2 Hurricane with winds of 100 mph and is expected to reach Category 3 by tomorrow. It will bring widespread destructive winds, waves, storm surge, and heavy rain when it brushes up against Florida. While Florida prepares for landfall in their State of Emergency, we need to consider the impacts of this storm farther up the coast. That includes the potential for flooding across Georgia, the Carolinas, and even into Maryland through the weekend. Need a flood remediation company?
IR Satellite Loop
The higher cloud tops are shaded in dark red, black, and purple.  There is a lot of healthy convection wrapping around a developing eye wall. This does look like it is ready to rapidly intensify as soon as it reaches warmer water.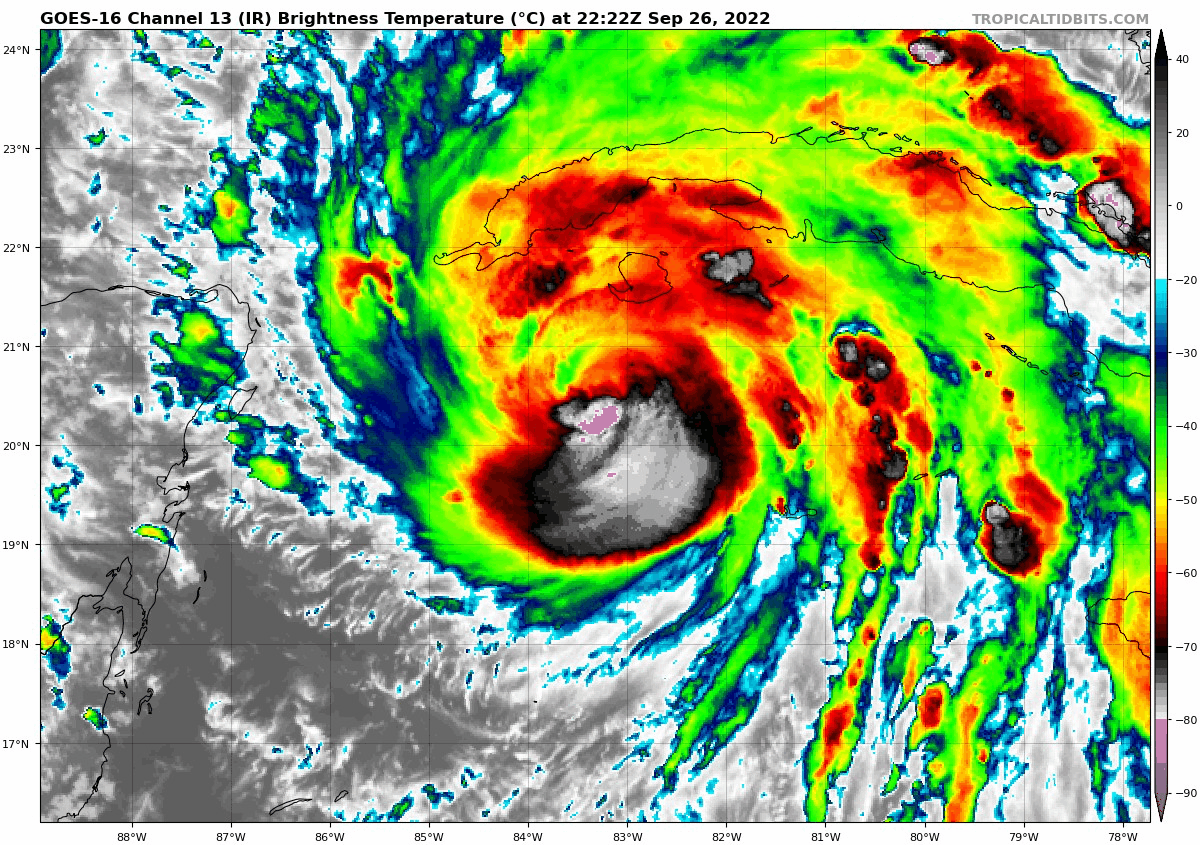 Evening Snapshot at 8 PM
Hurricane Force Winds: Extends 35 miles from the center.
Tropical Storm Force Winds: Extends 115 miles from the center.
In my prior report I showed the forecast for some places to possibly exceed 15 inches of rain.  In this report I want to address what we can expect as it travels farther north. Once making landfall it will get weaker, but the rain will spread out and is forecast to reach the Mid Atlantic over the weekend. 
How much rain is still subject to the intensity before landfall and tracking inland. But there is a lot of agreement that heavy rain will spread up the East Coast with the heaviest possibly reaching into Maryland. Let's take a look.
If you want a closer look at the Florida flooding from storm surge and rainfall, click here.
Hurricane Ian Forecast Animation
GFS Model: Wednesday through Tuesday
This is one solution and not the final call. I have multiple computer plots below. It does however show the expansion of the rainfall inland beyond landfall. 
Rainfall may get delayed reaching the Mid Atlantic until late Saturday or Sunday. This will be determined in part if Hurricane Ian does nearly stall for a day near Tampa.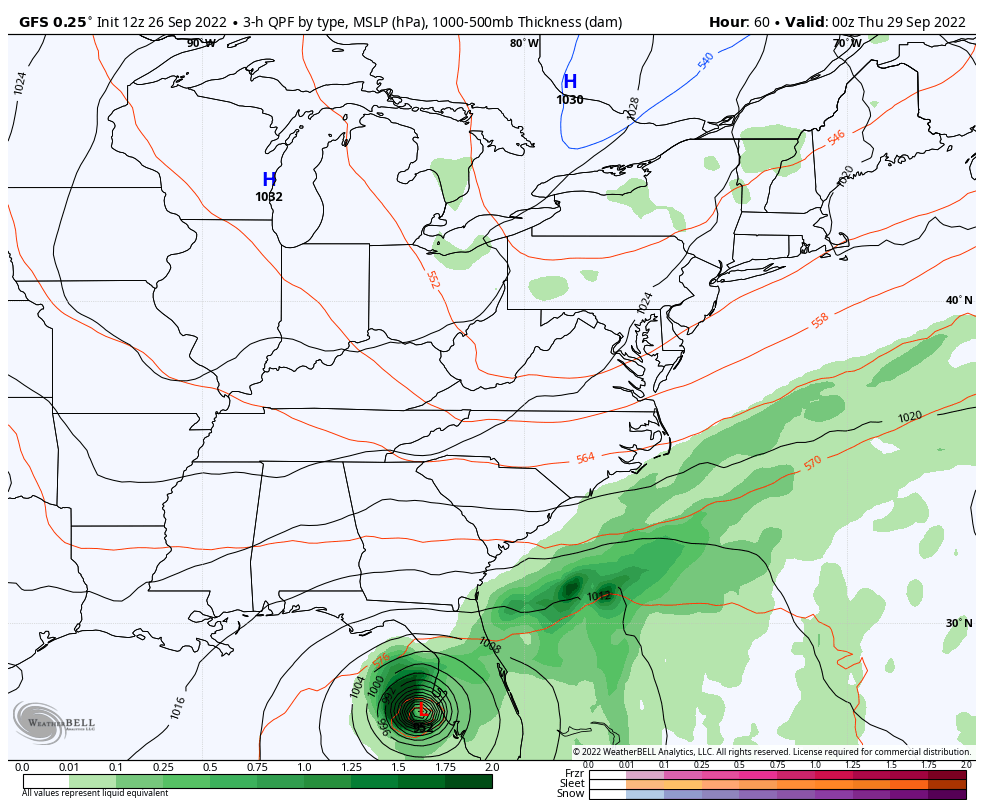 Computer Model Forecast Plots
GFS Model
These are all the ensemble models, with the consensus plot highlighted black. That tracks directly through Central Maryland including metro Baltimore.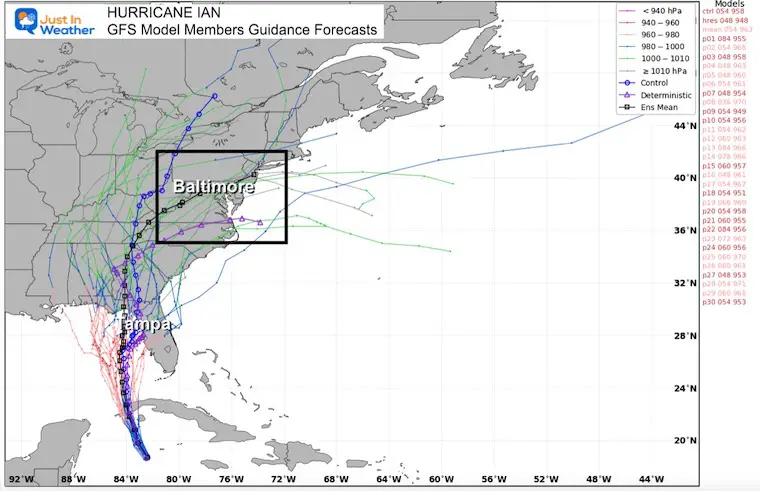 European Model ECWMF
These are all the ensemble models, with the consensus plot highlighted in the middle. This output tracks farther west of Atlanta, then it loses tropical identity. However, this is not the end of the rainmaker.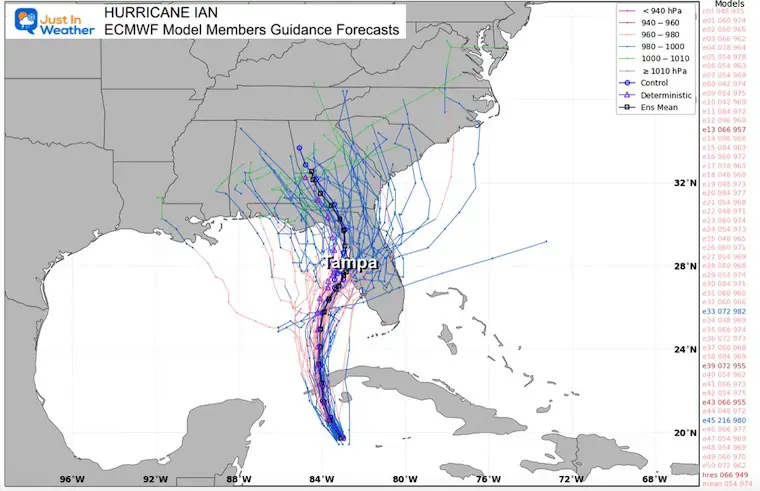 ATCF Plots
These generally track East of the ECMWF and turns up into the Mid Atlantic region by Sunday.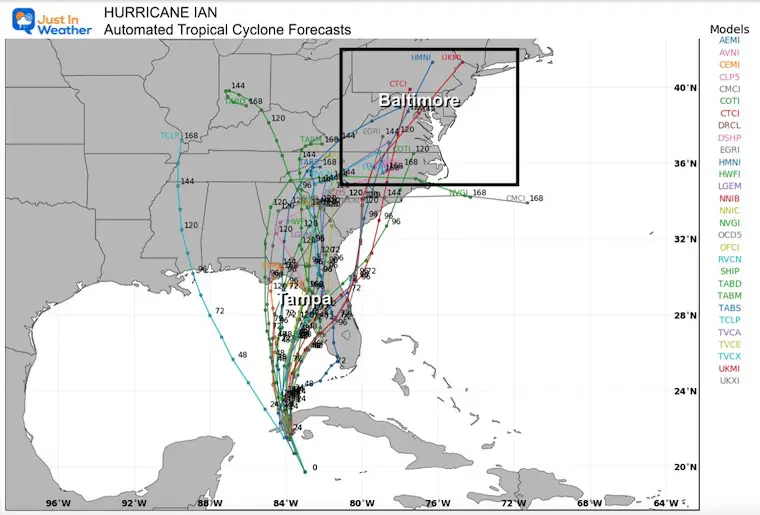 Rainfall Forecast Through Sunday
East Coast
Heaviest Rain north of Tampa FL may reach 15 inches. 
Southern Maryland may get into the eye of the 3 to 6 inch rainfall.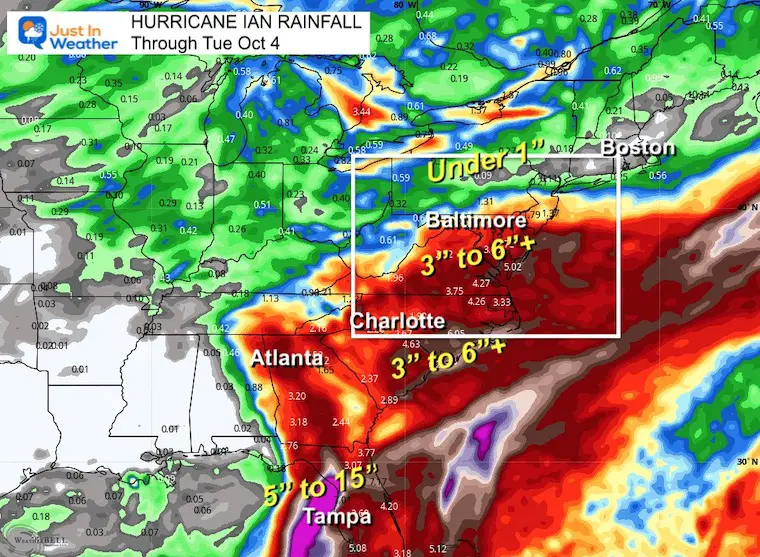 Mid Atlantic Region
Centered on Maryland, this shows the 1 to 3 inches of rain potential north of Baltimore to York PA. 
Annapolis to southern Maryland and the Beaches can range from 3 to over 5 inches. 
In my next report, I will show you how this may lead to a pattern change and something to watch for atmospheric memory as a favorable pattern for snow this winter. 
Also See:
WIND WIDGET FORECAST
Weather posts straight to your inbox
Sign up and be the first to know!
COMPARE TO THE
 

PAST

If you want a snowy winter, this is what you might want to look for in the rest of the tropical season.
Record August For No Named Tropical Storms: Closer Look At Snow Following
Hurricane Season Forecast: June 1 Through November 30
NOAA 2022 Hurricane Forecast- Above Normal Again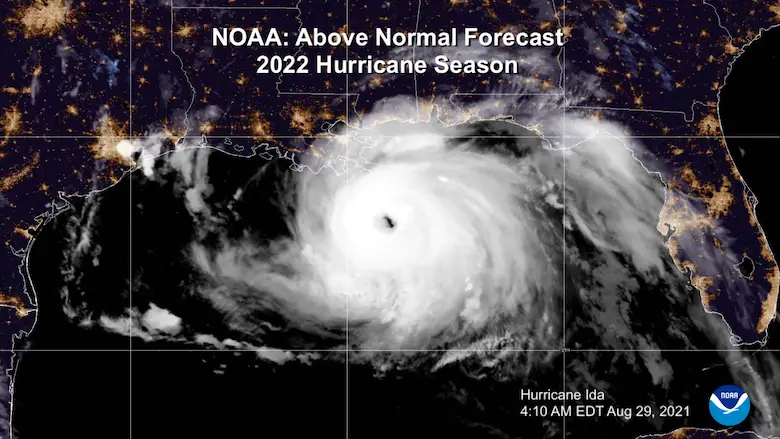 Related Posts
NOAA Study: Reducing Air Pollution INCREASED Tropical Storms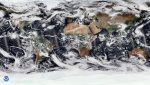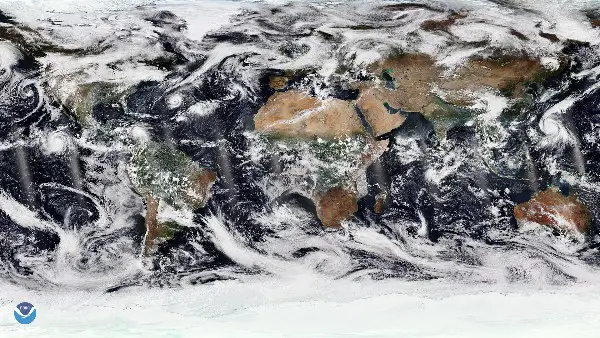 Atlantic Tropical History: Maps of Origin Regions Every 10 Days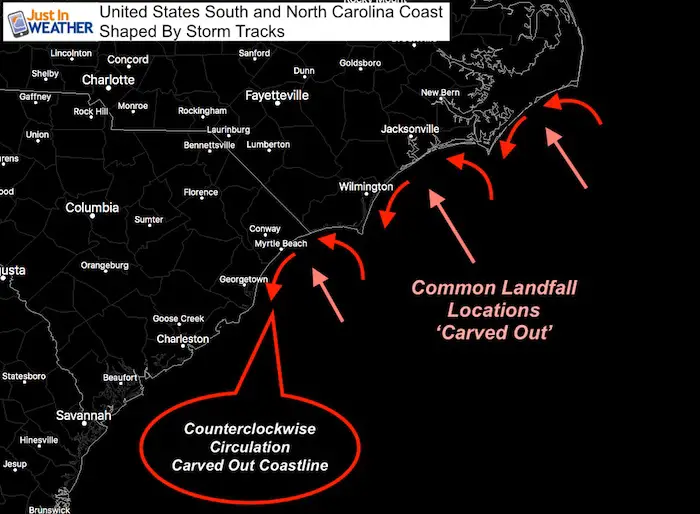 Please share your thoughts, best weather pics/videos, or just keep in touch via social media
STEM Assemblies/In School Fields Trips Are Back
Click to see more and 'Book' a visit to your school