Outlook Could Bring First Frost Next Weekend
Outlook
Justin Berk
Oct 17, 2021
3:45 pm
0
Sunday October 17, 2021
We finally got back into a real autumn weather pattern. Going from the 80s to slightly below average may make you just want to catch your breath.  While we have a warm up on the way back to the 70s this week, it won't last.  So when I mention the first frost of the season here, I am not getting ahead of myself. We are due!
Jet Stream
This snapshot of the upper air pattern for next weekend shows the progressive pattern.  By progressive, I mean cold air aloft will continue to get reinforcements, and try to make up for lost time (our warm start to October).
Next weekend we will be back into a trough, cool air aloft.  Looking westward or upstream across the US, and we see a weak ridge, followed by yet another surge of colder with with the Pacific Trough.  Things are about to get interesting….
Note: The 500 mb height is around 18,000 Feet above the ground. That is here the main river of air we call thee Jet Stream is located. There are different layers and air flow we track even higher.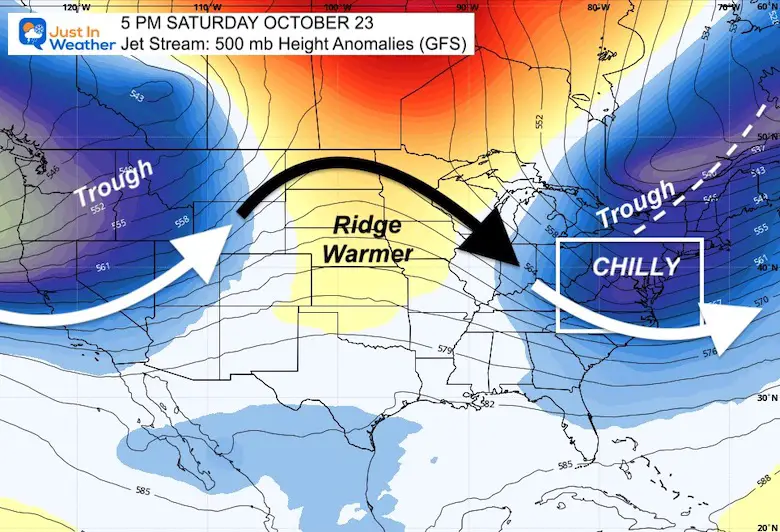 Jet Stream – Long Range Animation
7 AM Mon Oct 18 to 7 AM Sun Oct 31
This is a Two-Week Outlook
The snapshot above is the middle of this loop, so you can track that next trough across the US. This may spawn a fast moving storm system for Us Halloween Weekend. This pattern is what may be more common with a La Nina start into winter.
Temperature Trend
8 AM Mon Oct 18 to 8 AM Sun Oct 25
Just for fun, I wanted to plot the animation of temperatures.   Here you can see the warm afternoons midweek, followed by the progressive cold next weekend. 
Timing is in the upper right corner. 
Universal Time Code: 12Z Mon = 8 AM Mon.  00Z Tue = 8 PM Mon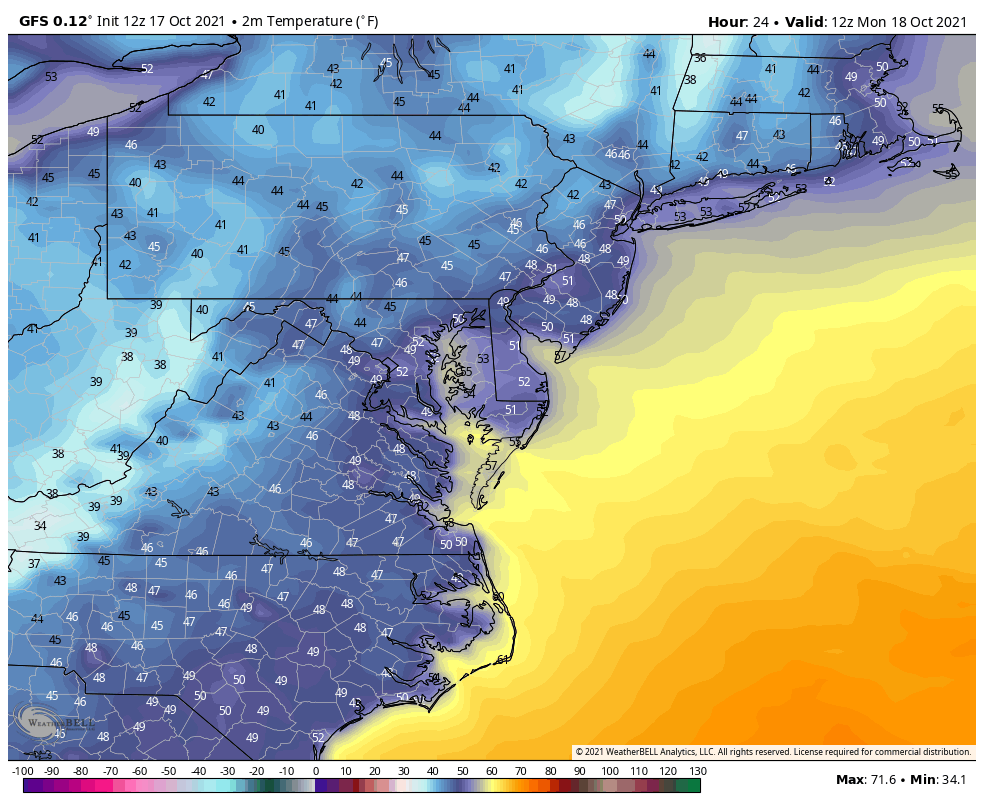 First Frost or Freeze?
Temperatures Snapshots: Next Weekend
Saturday October 23
Hint of 30s in the northern suburbs. This first surge may come with gusty winds, limiting potential frost formation. Noticeably warmer by the water of the Chesapeake Bay. But it will be getting colder. 
Sunday October 24
Winds will be higher as the core of this air mass settles in place.  That will allow more widespread cold, and a better chance for frost to form inland (west and north) of Baltimore. 
This may be the first morning below freezing in the high mountains of western Maryland and West Virgina.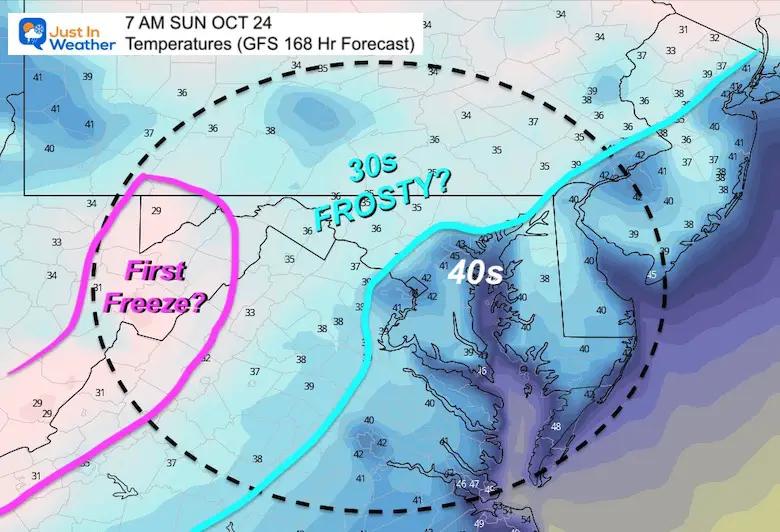 Model Spotlight: ECWMF Temperatures
Note: This European Model plot is for the weather station at BWI Airport.  Often, temps are cooler just a few miles inland west and north. This is why I see high potential for frosty 30s next weekend.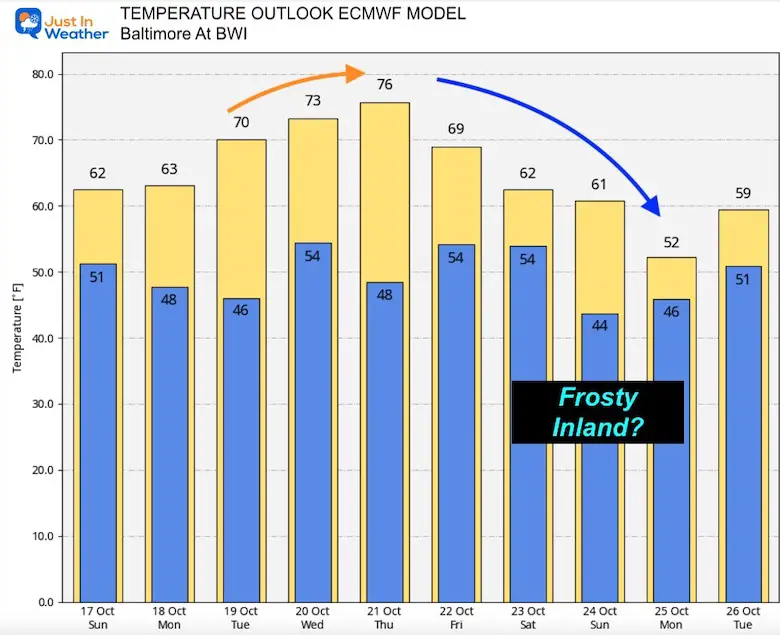 Faith in the Flakes Gear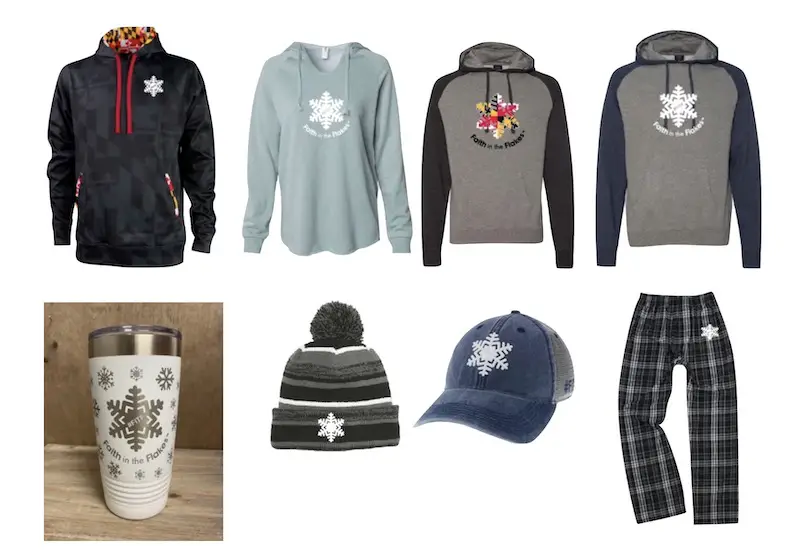 SNOWSTIX – Available Now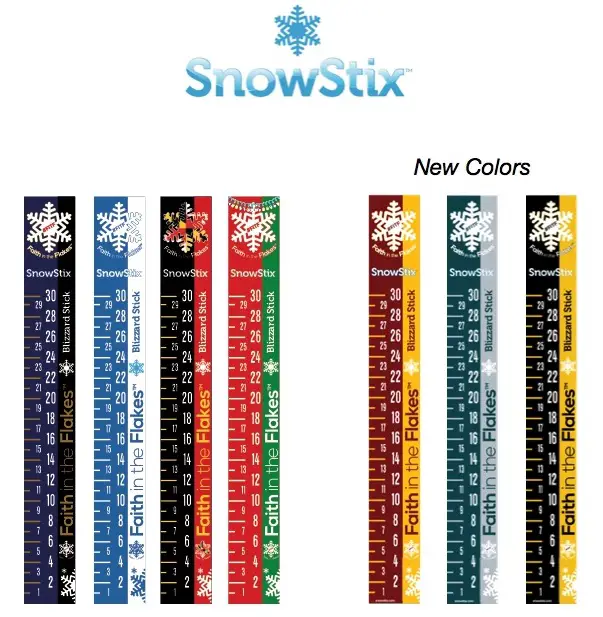 Please share your thoughts, best weather pics/video, or just keep in touch via social media
---
Email Updates
Please make sure you sign up for my newsletter.
See the SUBSCRIBE button at the bottom of the page.
This way you will get an email to make sure you are notified with each new post.