3 PM Hour Weather And Storm Update
Quick Weather Notes
Justin Berk
Oct 16, 2021
3:13 pm
0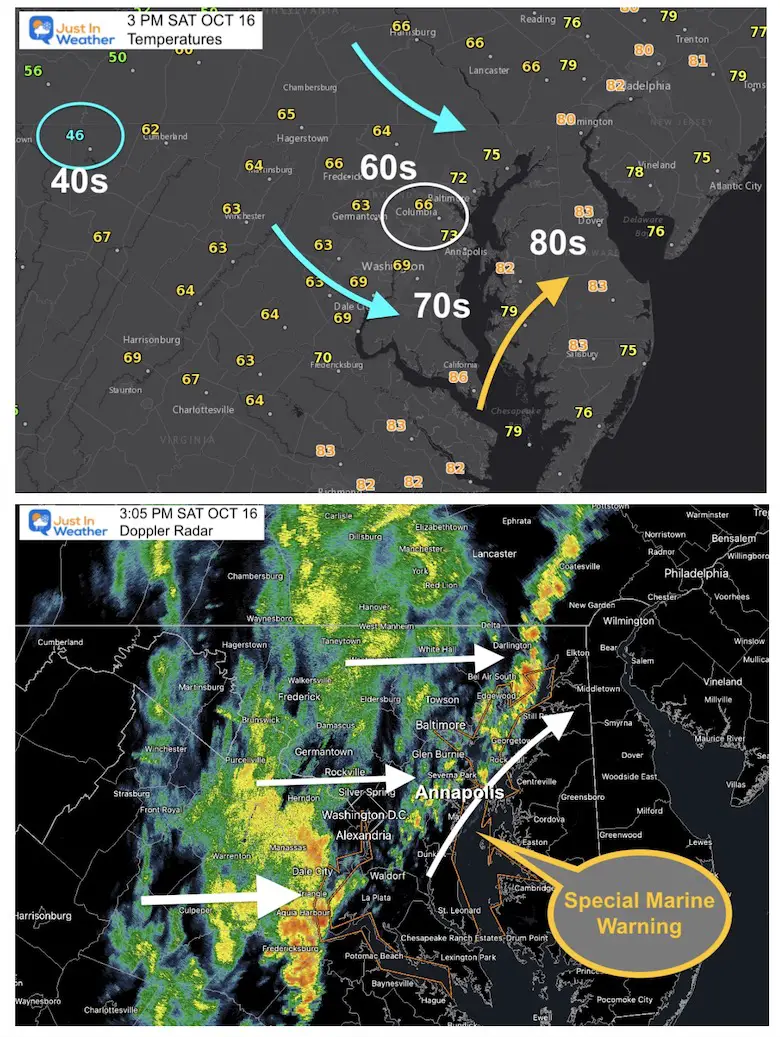 3 PM Hour Weather And Storm Update
With the rain spreading across metro Baltimore, temps have dropped!
Baltimore's BWI went from 80ºF at 2 PM to 66ºF at 2:47 PM
Winds were gusting from the WNW to 32 mph.
Western Maryland (Garrett County) still in the 40s.
Southern Maryland/Delmarva still near 80ºF and the rain is heading there next. 
Radar
SPECIAL MARINE WARNINGS Until 4:30 PM
See The Boating and Bay Page
Rain approaching Annapolis now. This will spread south of Rt 50 over the next 30 to 60 minutes. 
Getting Wet Next:
La Plata, Huntingtown, Lusby, and St. Mary's
Eastern Shore:
Getting wet next 30 to 60 minutes NORTH of Bay Bridge (50/301 split).
Then more likely after 4PM
Easton and Cambridge.
Around 5 PM or later 
Salisbury, Rehoboth, Ocean City
UPDATE FOR LIVE UPDATES
Click to See
May include newer posts. I will work for more local reports
All regional NWS Watches and Warnings
Home Page – Maps, Stats, and More
You can also tap my logo on the top of this page.