October 24 Drizzle And Light Rain Linger Then A Couple Of Warmer Days
Maryland Weather
climate data
rain timeline
atmospheric memory
Forecast
Justin Berk
Oct 24, 2022
6:11 am
0
October 24 2022
Monday Morning Update 
The coastal system that brought in a soggy Sunday to Delmarva and finally crossed the Bay after 4 PM, has left us with rain overnight into this morning. This is a slow moving but small system. The net result will be left over drizzle and light rain showers today. 
Once this moves out, we should see at least 2 days getting up near 70ºF, but we may get a few more rain chances this week. 
Here is a look at the set up, simulation, live radar, and forecast through next weekend. Radar Simulation and Live Widget are below.
Morning Surface Weather
Low Pressure is not strong, but close and slow moving. This will affect our local weather today with clouds and moisture. High Pressure is keeping the mountain region clear.  The next system will catch up mid week.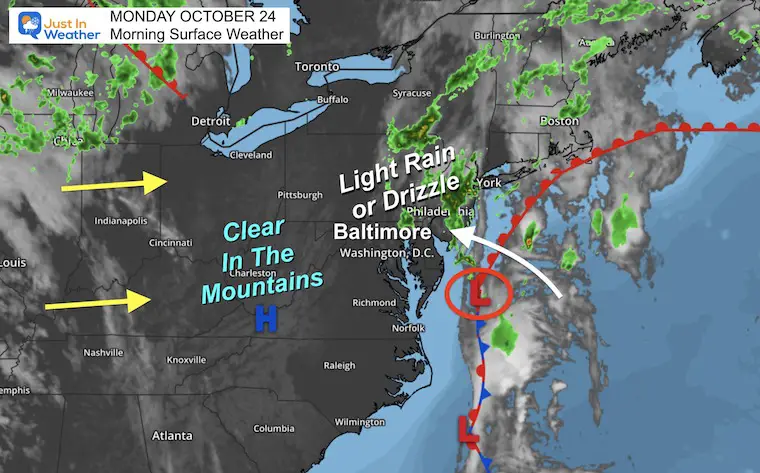 Morning Temperatures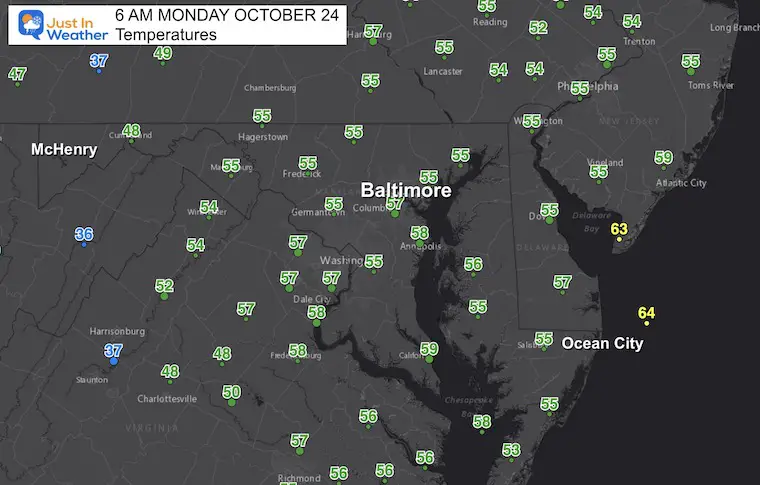 LIVE RADAR WIDGET
Compare to the simulation animation and timeline slider below.
Radar Simulation: 6 AM to
 

6 PM

NAM 3 Km Model – The rain is lifting NORTH, but more will redevelop during the day and expand across the area again.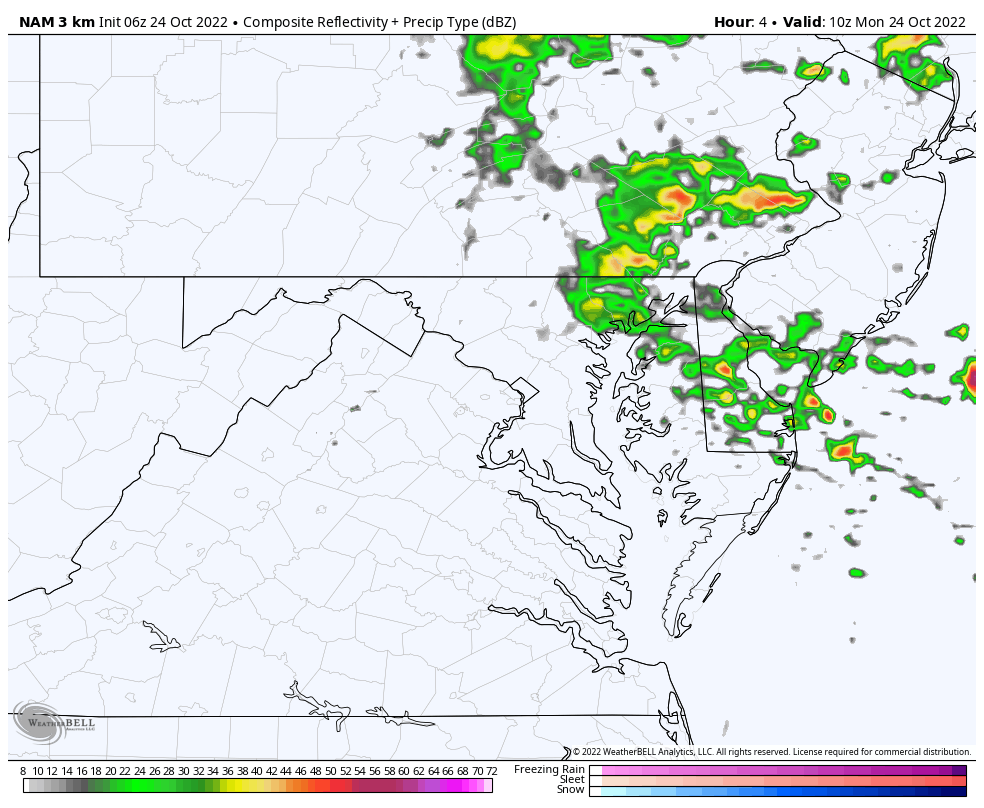 Wind Forecast at Noon
The coastal circulation will be just off the Delmarva beaches. This is damp and unsettled, seeing us moisture.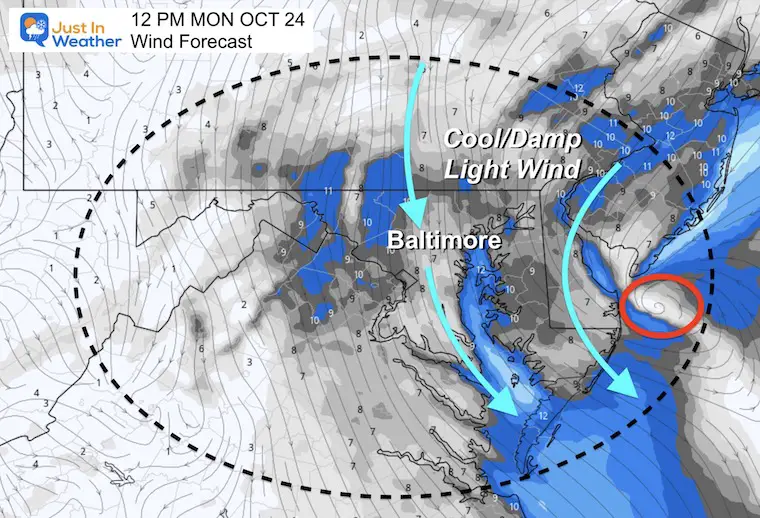 Afternoon Temperatures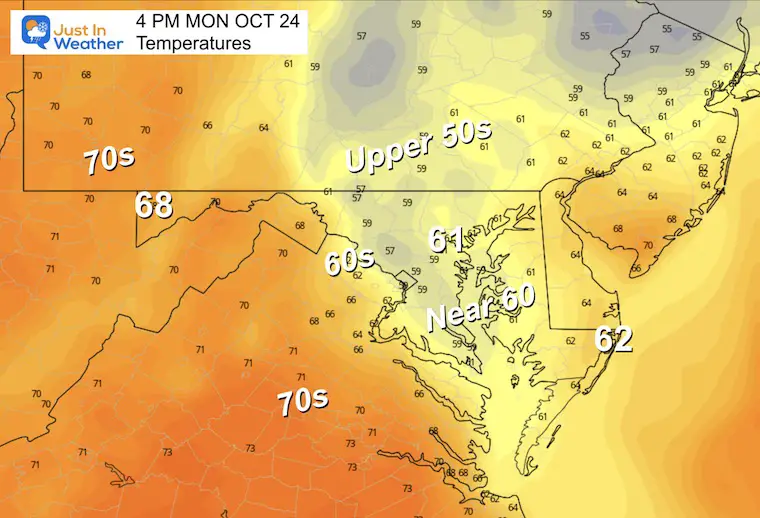 CLIMATE DATA
TODAY October 24
Normal Low in Baltimore:  43ºF
Record 25ºF in 1969
Normal High in Baltimore: 65ºF
Record 82ºF 2001
Weather posts straight to your inbox
Sign up and be the first to know!
NEW REPORT:
Winter Outlook 2023 From NOAA Very Different Than Farmers Almanacs
Tuesday Temperatures
With a break of sun we should work off the mild start and get a warmer finish. 
Morning
Some areas of thick fog may start the day…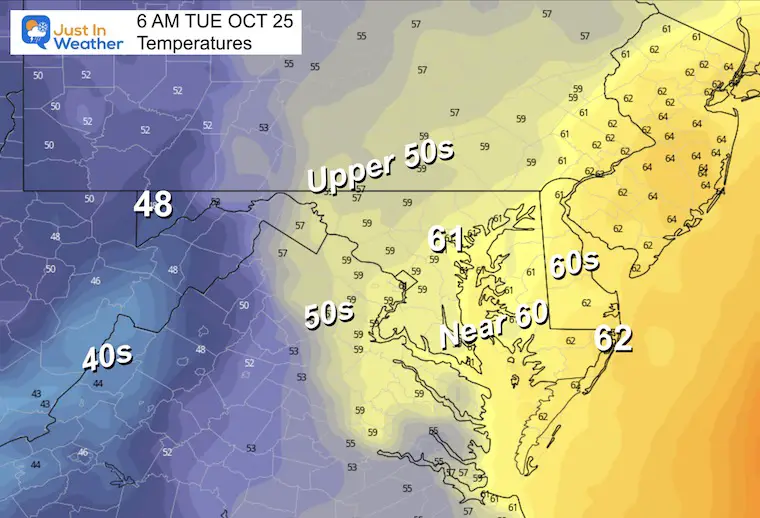 Afternoon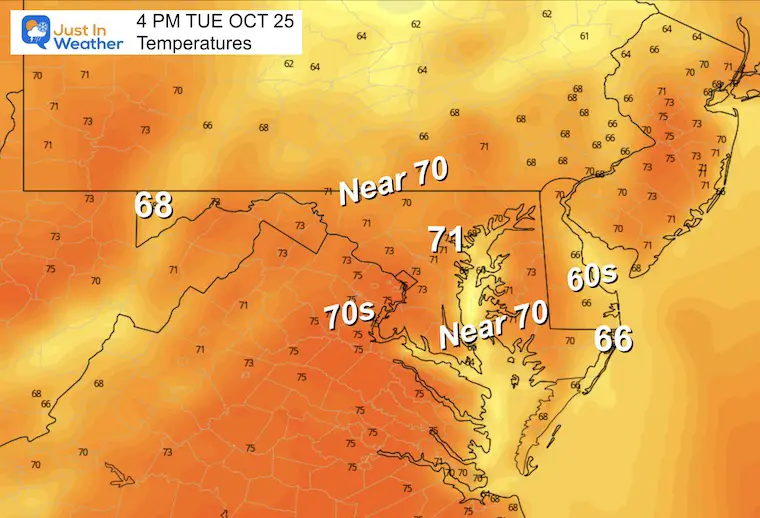 7 Day Forecast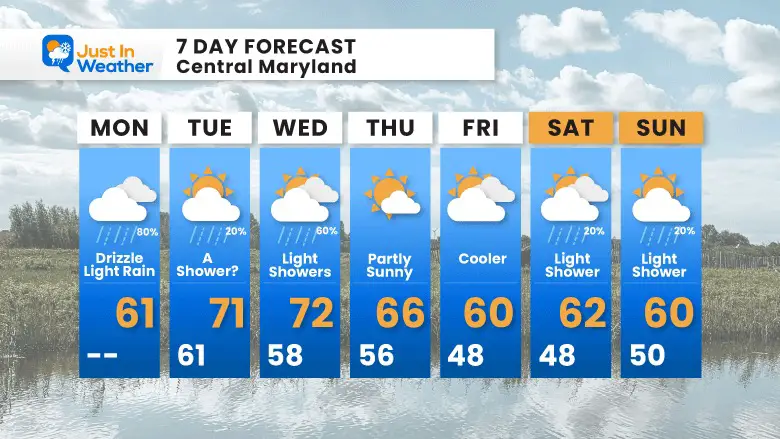 STEM Assemblies/In School Fields Trips Are Back
Click to see more and 'Book' a visit to your school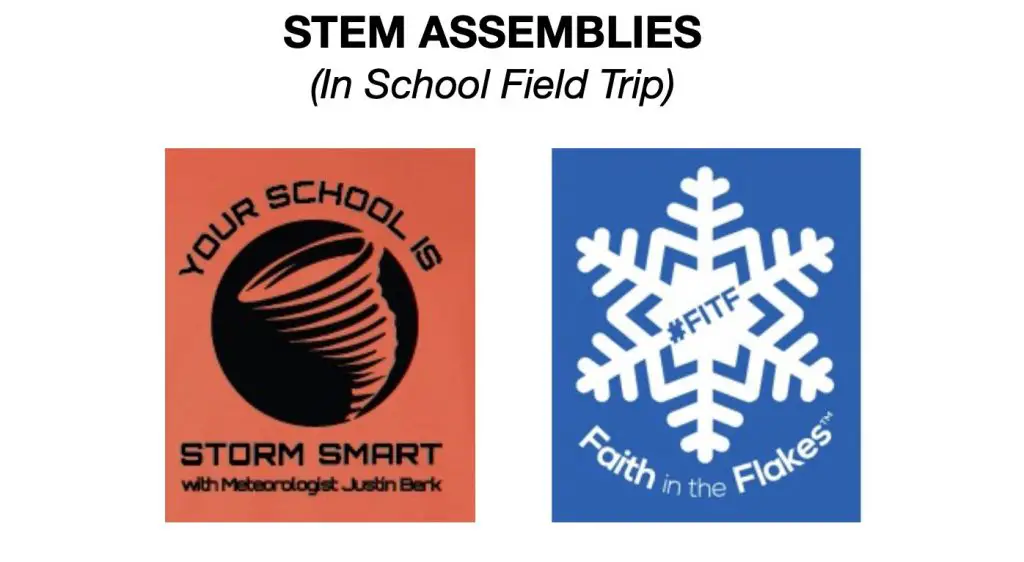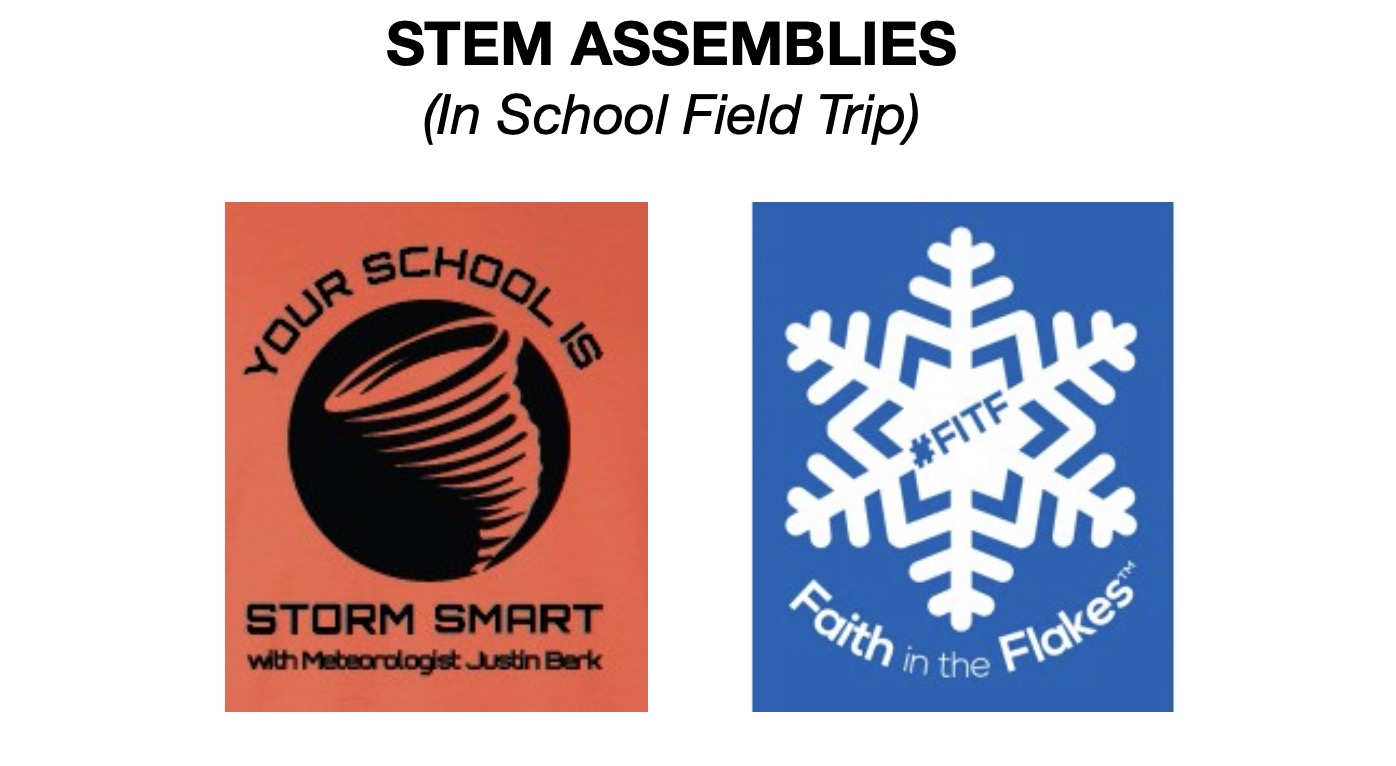 ALSO SEE THESE OTHER WINTER OUTLOOK REPORTS
Farmer's Almanac Comparison
Winter Outlook 2023 Early Look At Snow From Two Farmers Almanacs
Triple Dip La Nina Winter
CONNECTION TO WINTER?
If you want a snowy winter, this is what you might want to look for in the rest of the tropical season. (You might be seeing a lot of commercial snow removal people out this Winter)
Record August For No Named Tropical Storms: Closer Look At Snow Following
Winter Folklore Checklist
Normals And Records: Maryland and Baltimore Climate History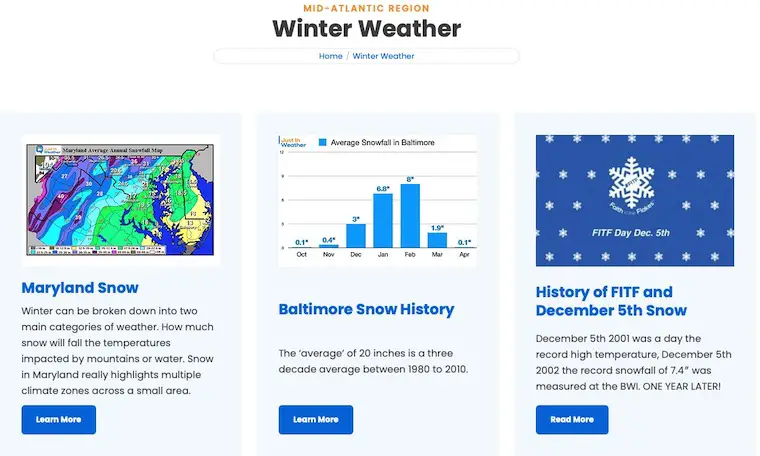 Faith in the Flakes Gear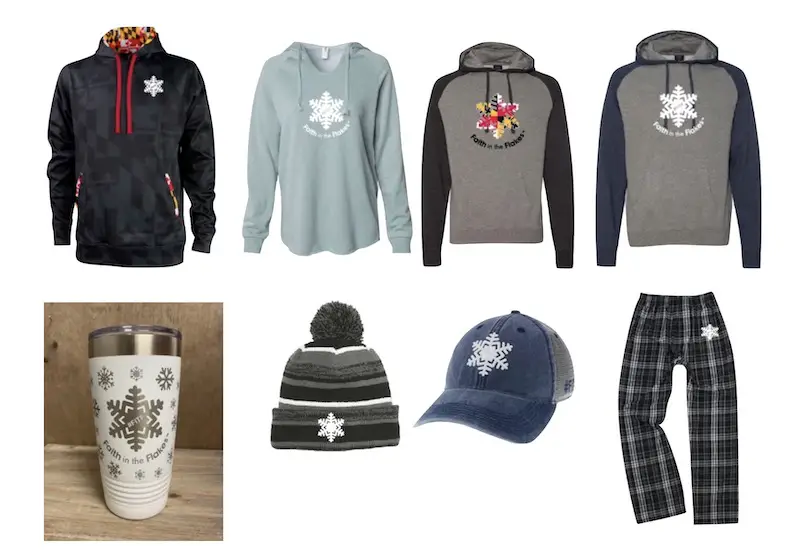 SNOWSTIX – Available Now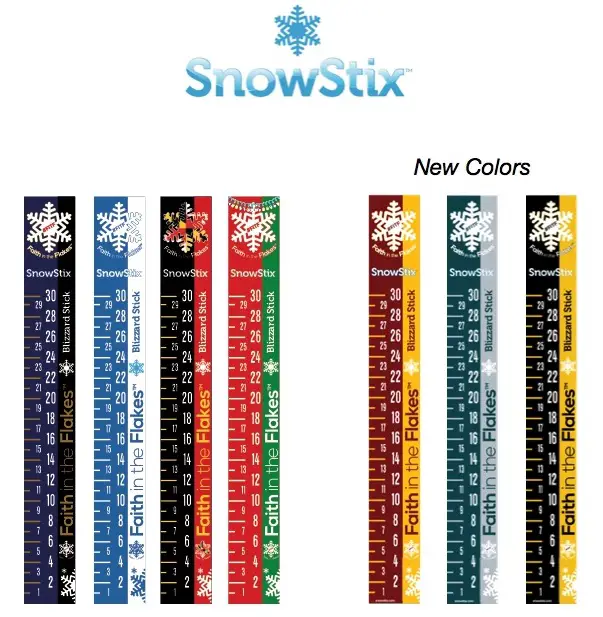 Please share your thoughts, best weather pics/videos, or just keep in touch via social media