May 20 Tracking Morning Storms Then Dangerous Heat For Preakness Weekend
climate data
Record Weather
Severe Weather
Forecast
Warnings
Justin Berk
May 20, 2022
6:35 am
0
May 20 2022
Friday Morning Report
Baltimore is front and center in the sports world this weekend with Preakness, and on the edge of some weather headlines.  We have been expecting high heat this weekend, and there has been a Special Statement about that from the National Weather Service.  In fact a new record high may be set for the date.
But first, we need to track some storm clusters including this morning. 
Morning Set up- Close
Surface Weather
Two bands of storms are being tracked to start the day. The leading edge is moving through western Maryland and has produced lightning and thunder with downpours. This may clip metro areas and especially north of Baltimore this morning.
The second cluster in Ohio is a Mesoscale Convective Complex (MCC). This has broad circulation and will produce severe storms in the path. This is tracking into central Pennsylvania through early this afternoon.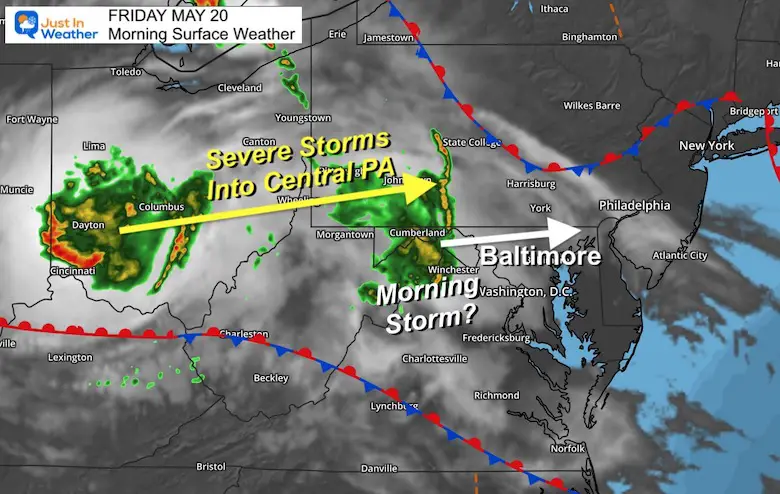 Satellite Loop (Enhanced Cloud Tops)
4 AM to 6 AM
That MCC looks impressive. Here we can see that Ohio storm tracking to the east-northeast and will be heading into PA.
NOAA Severe Storm Risk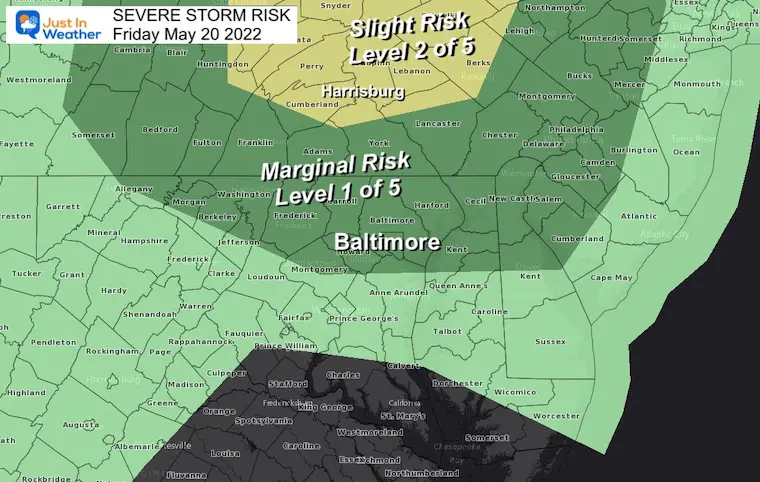 Morning Radar Snapshot at 6 AM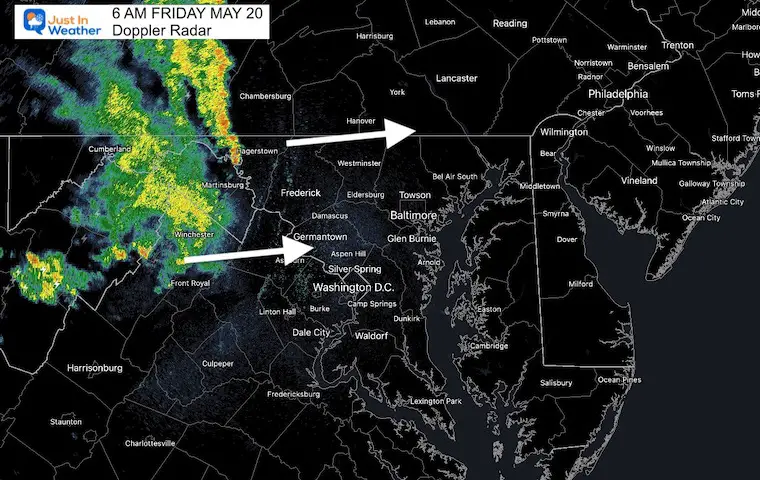 Radar Loop
4 AM to 6 AM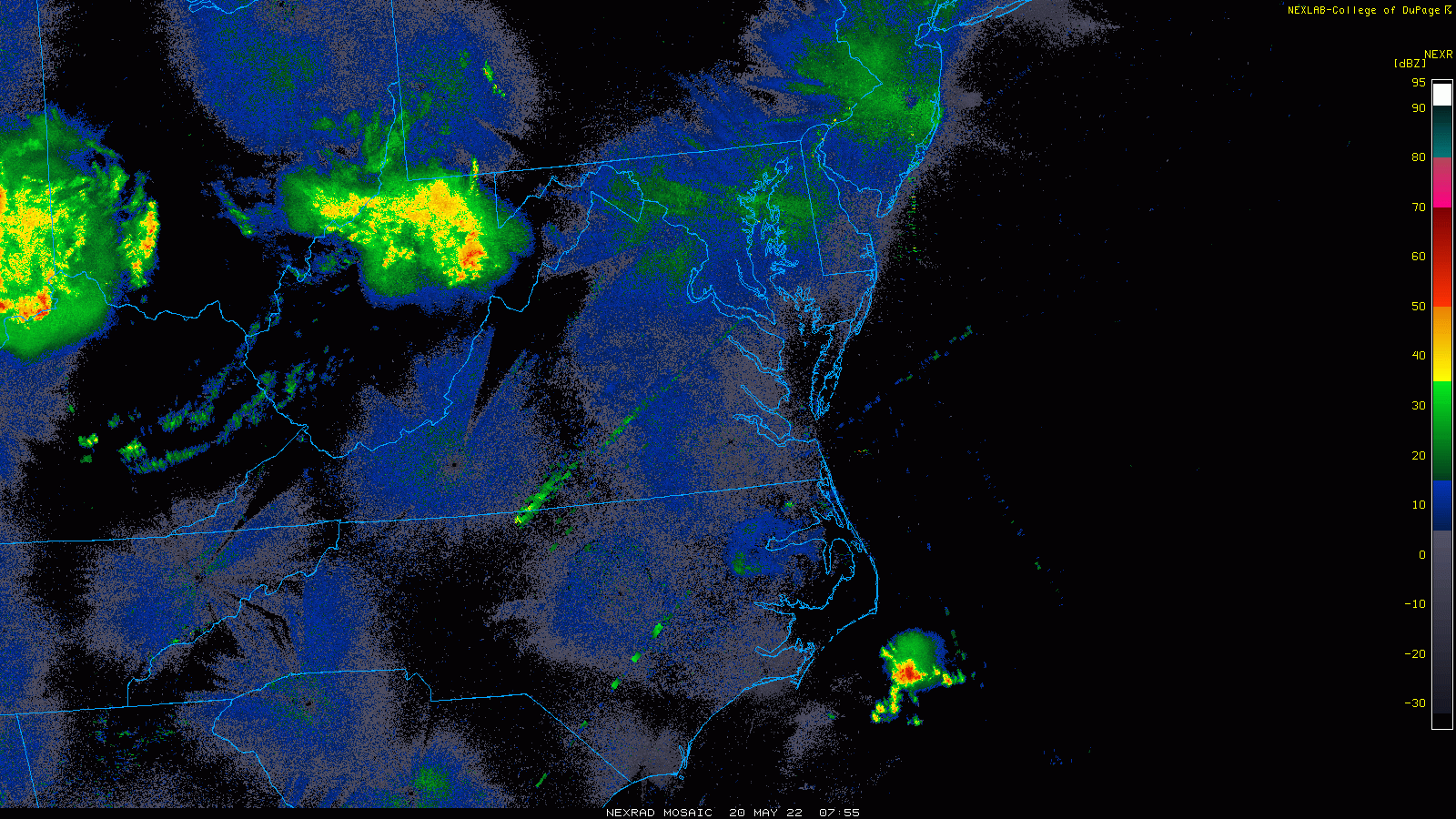 Radar Simulation —> slider
That cluster will weaken as it crosses the mountains, by some energy may clip metro Baltimore during the morning commute.  This will help increase the humidity today.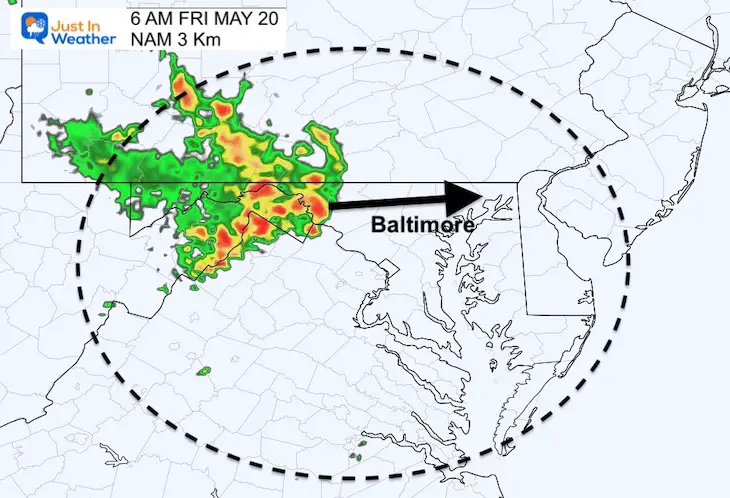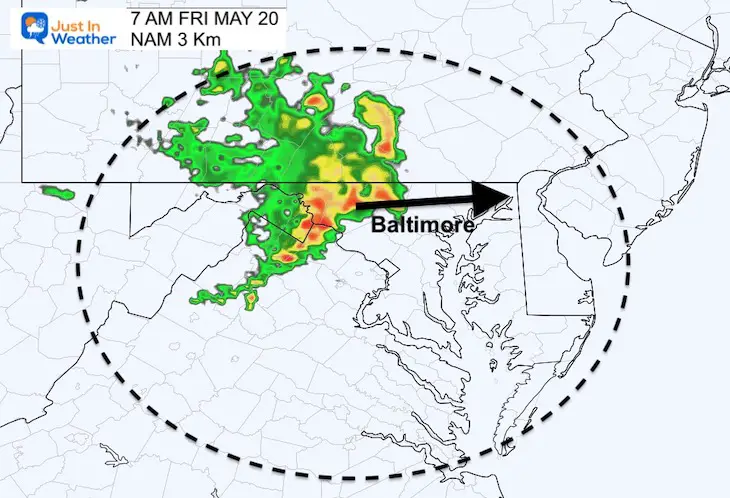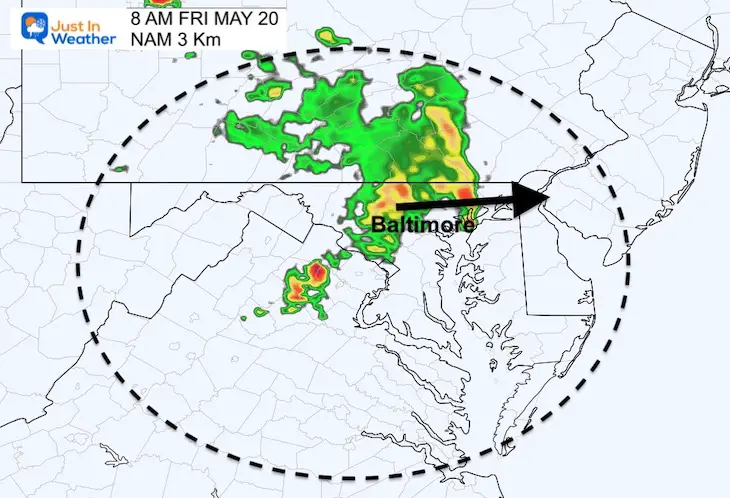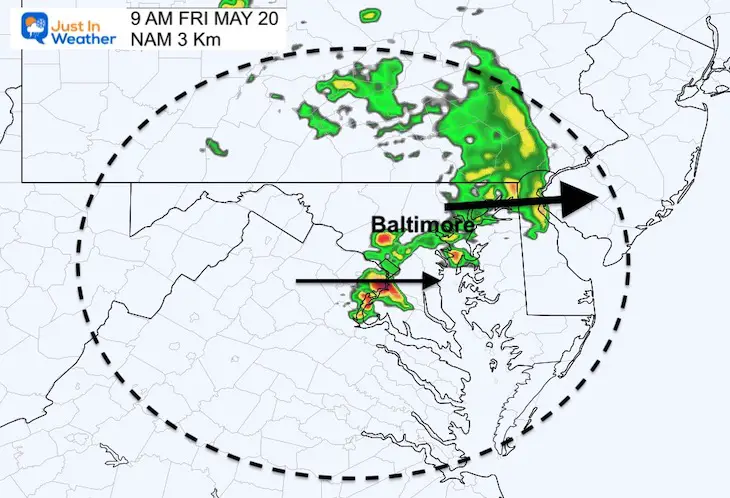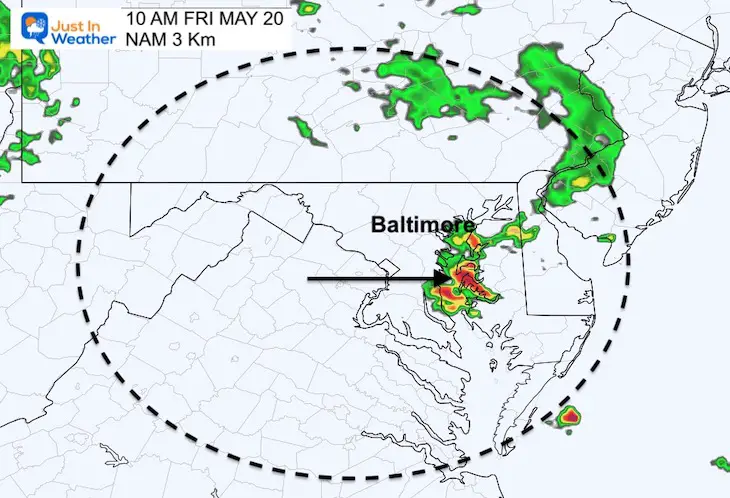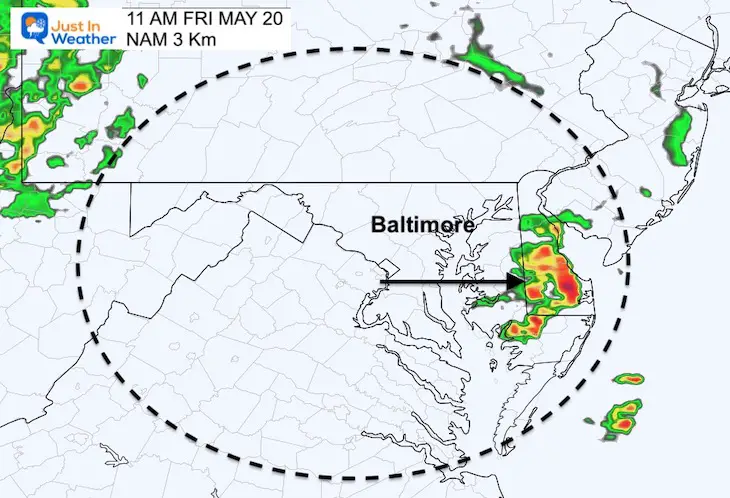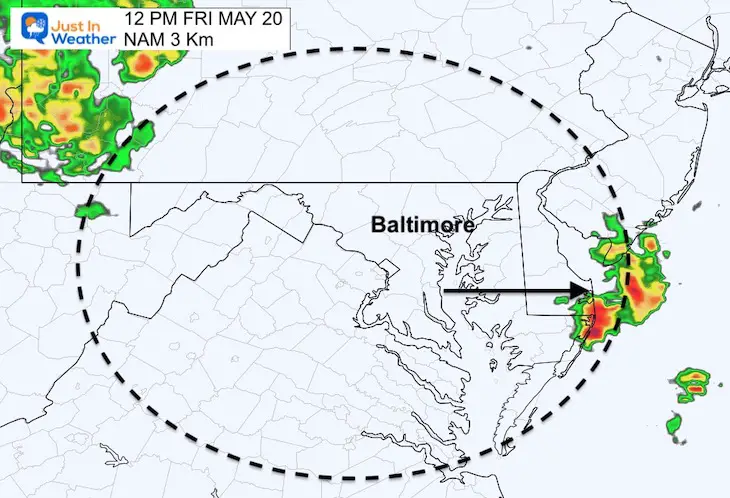 may-20-weather-storm-friday-morning-am-6
may-20-weather-storm-friday-morning-am-7
may-20-weather-storm-friday-morning-am-8
may-20-weather-storm-friday-morning-am-9
may-20-weather-storm-friday-morning-am-10
may-20-weather-storm-friday-morning-am-11
may-20-weather-storm-friday-morning-pm-12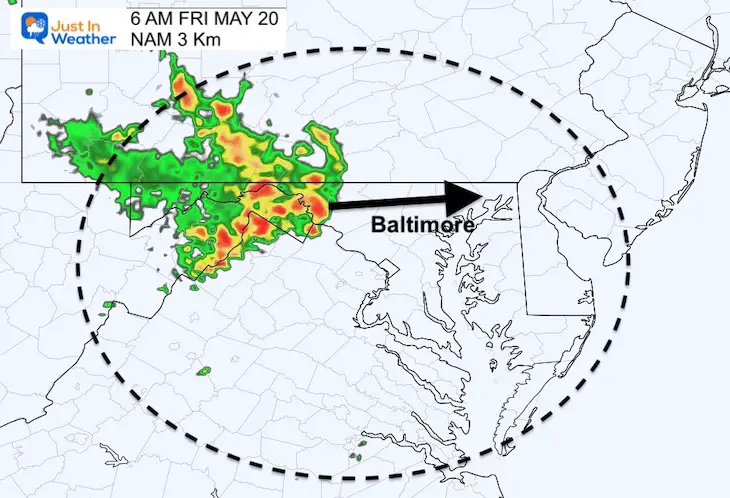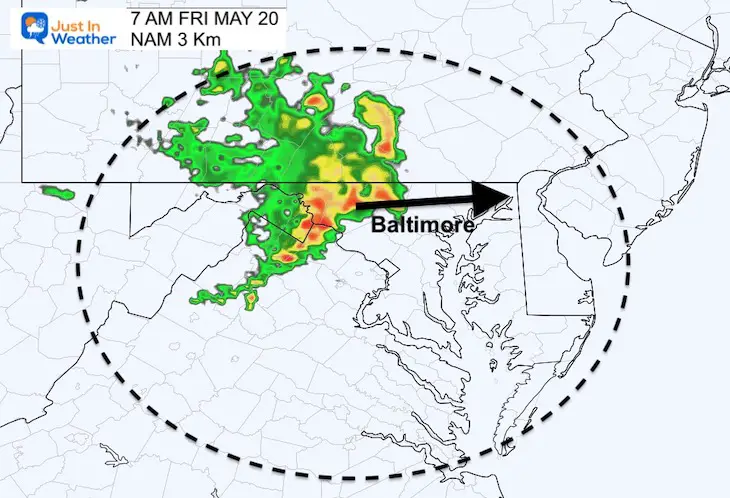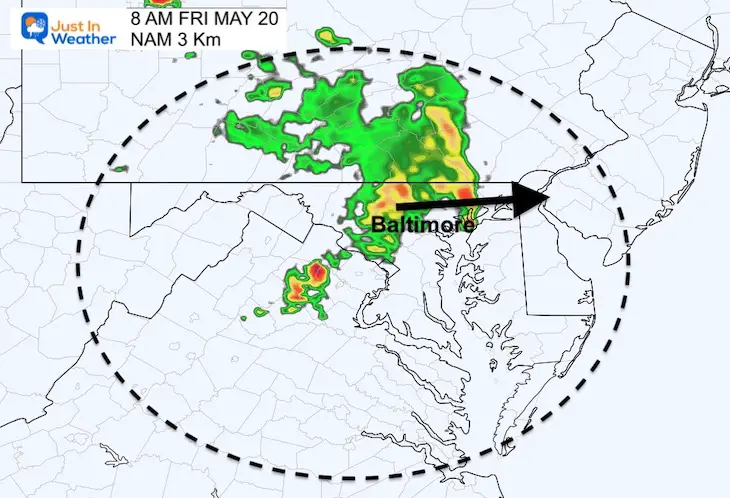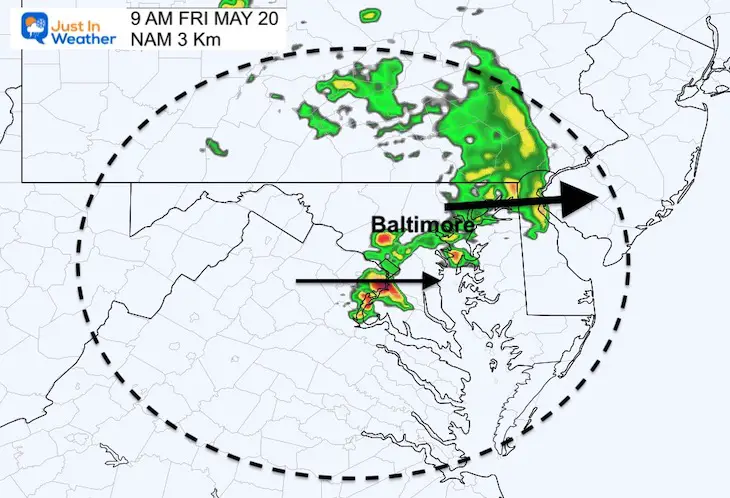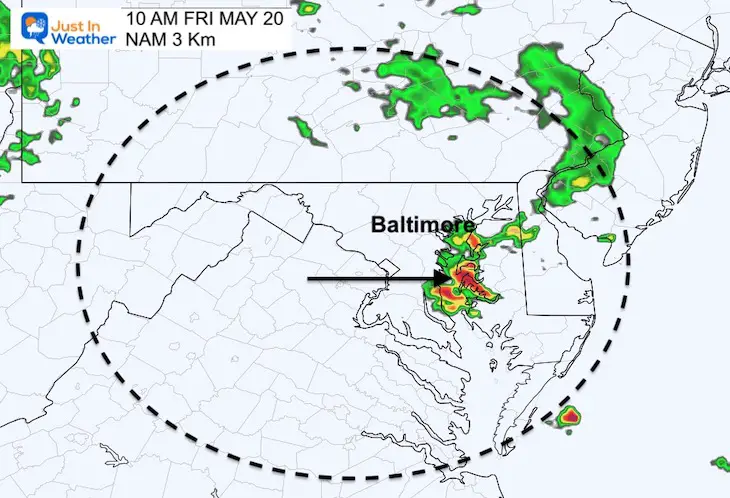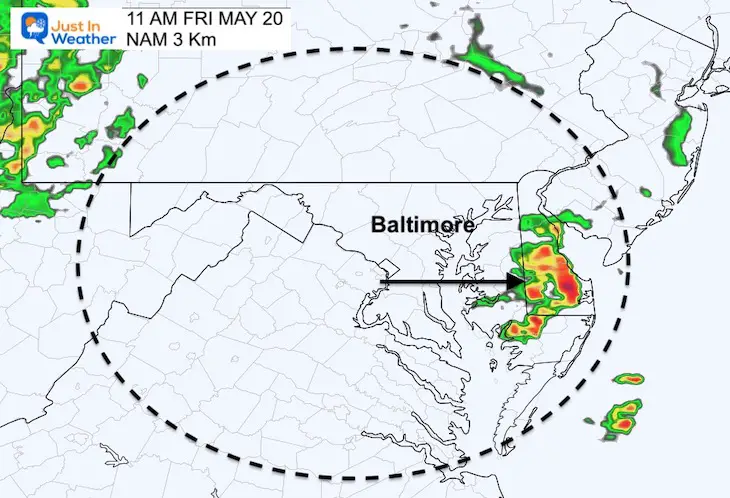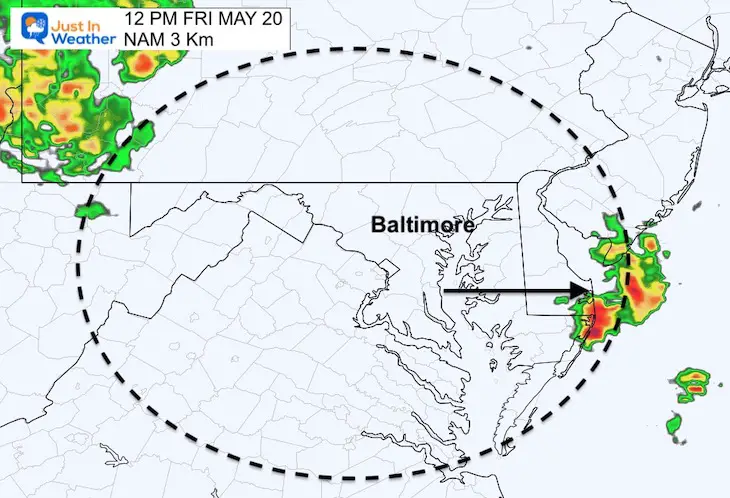 The MCC in Ohio is tracking to central PA
AFTERNOON:
Radar Simulation Animation
NAM 3 Km shows this mostly for central PA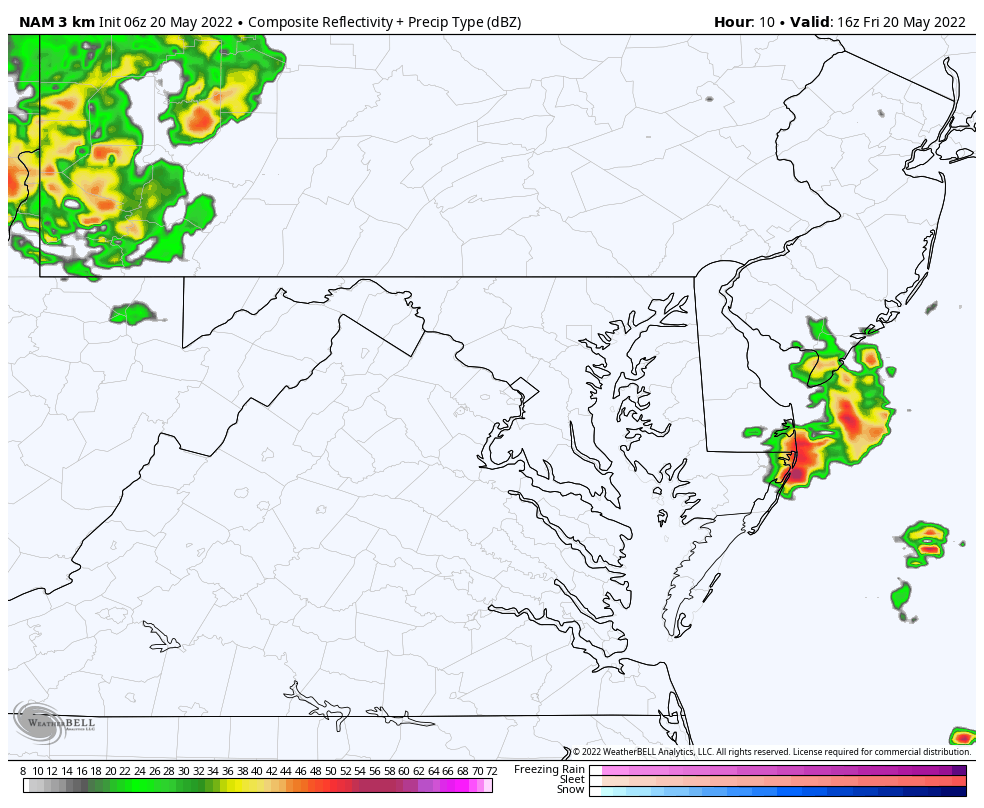 HRRR Model  shows that MCC possibly tracking south and clipping northern Maryland just north of Baltimore. This is worth watching for any lightning strikes on the outer edges.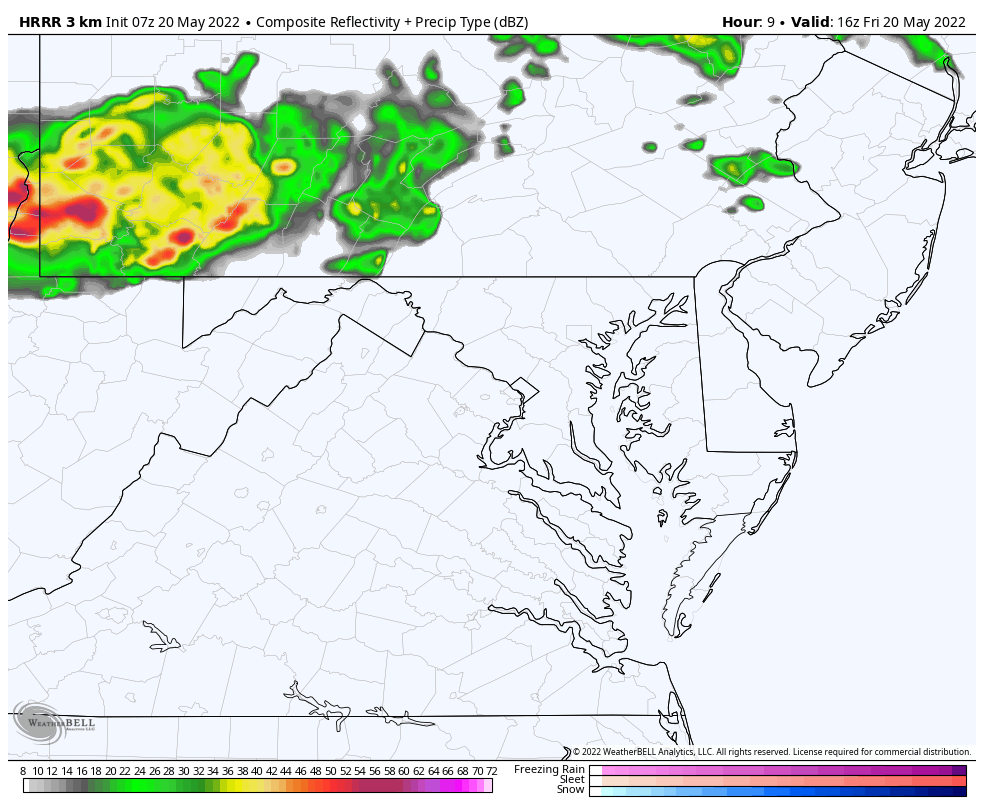 Afternoon Temperatures
Note the cooler temps farther north. This will be impacted by clouds and downdrafts closer to that MCC in PA.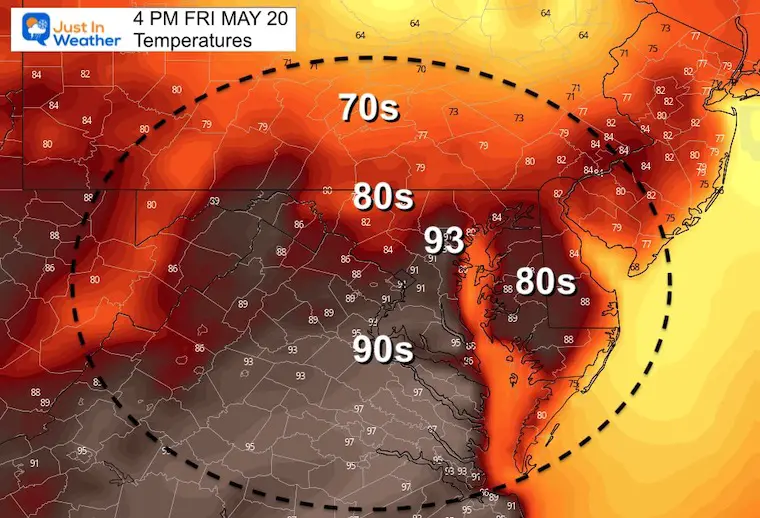 Around The Nation
While we track severe storms and record heat here in the east, a snowstorm is forming in the Rockies. Metro Denver may get over 6 inches of snow with over 1 foot in the high mountains into this weekend.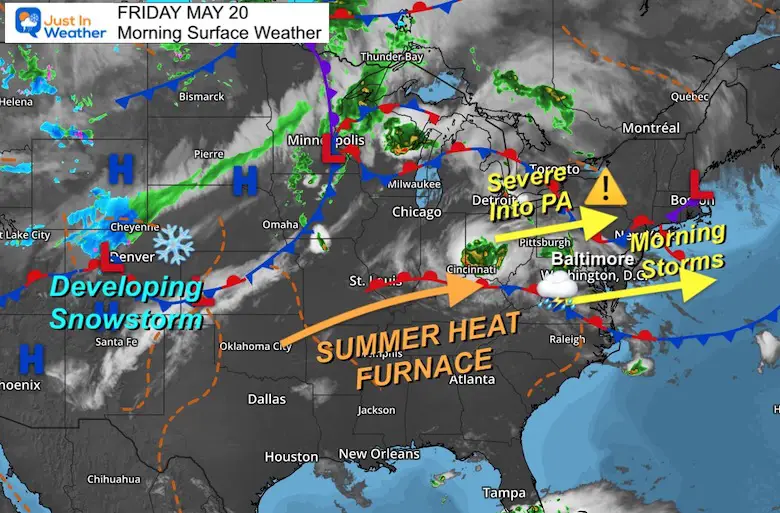 CLIMATE DATA
TODAY May 20th
Normal Low in Baltimore:  53ºF
Record 39ºF in 2002
Normal High in Baltimore: 75ºF
Record 95ºF 1962
VOTE: Best 'Meteorologist'
Of Baltimore (Reader's Poll)
Through May 29 at 5 PM
Click here to access The Baltimore Sun 

Preakness Saturday
Temperatures
Morning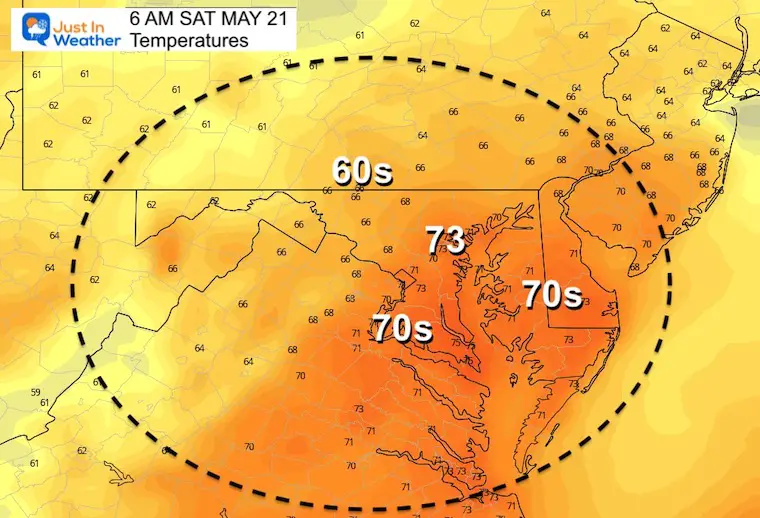 Afternoon
RECORD HIGH: 96ºF in 1934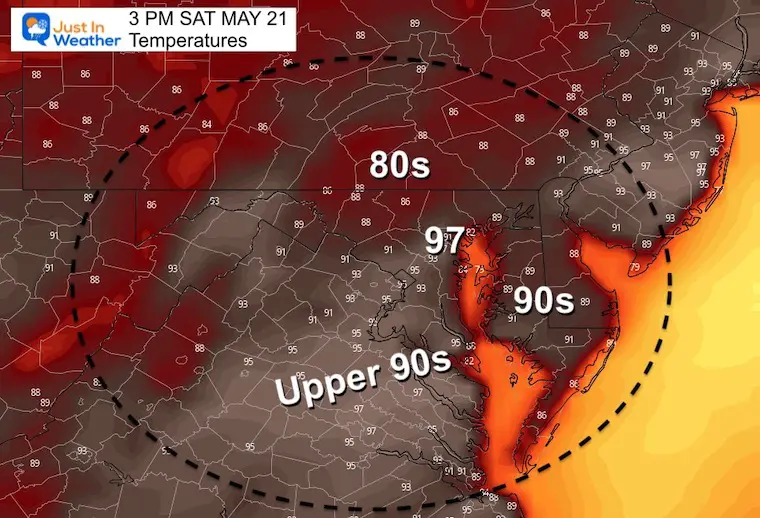 Looking Ahead:
Preakness Saturday Afternoon
Sunday Storms
I know the models had lowered the chance yesterday, but it looks like we will still be tracking at least a 50% chance for storm and a severe risk mid afternoon and evening. This will be followed by a sharp cool down Monday.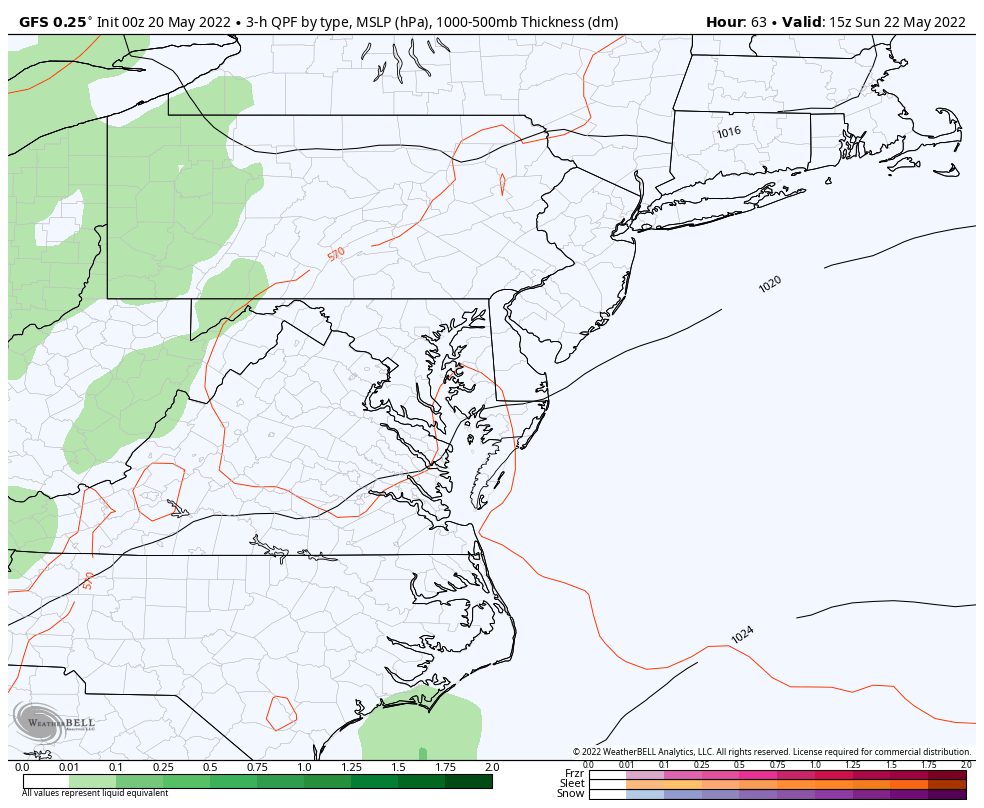 Weather posts straight to your inbox
Sign up and be the first to know!
7 Day Forecast
Humidity builds today then just plain HOT Friday into the weekend.
Preakness should dry with a slight chance for storms that night.
Rain risk increases on Sunday to break the heat next week.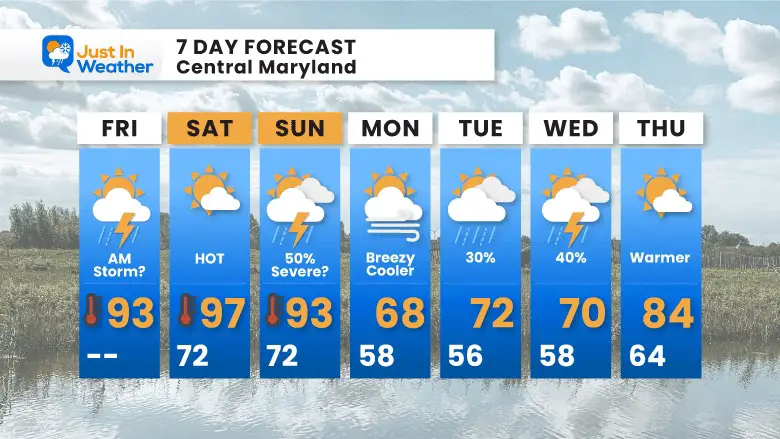 Tropical Season Begins June 1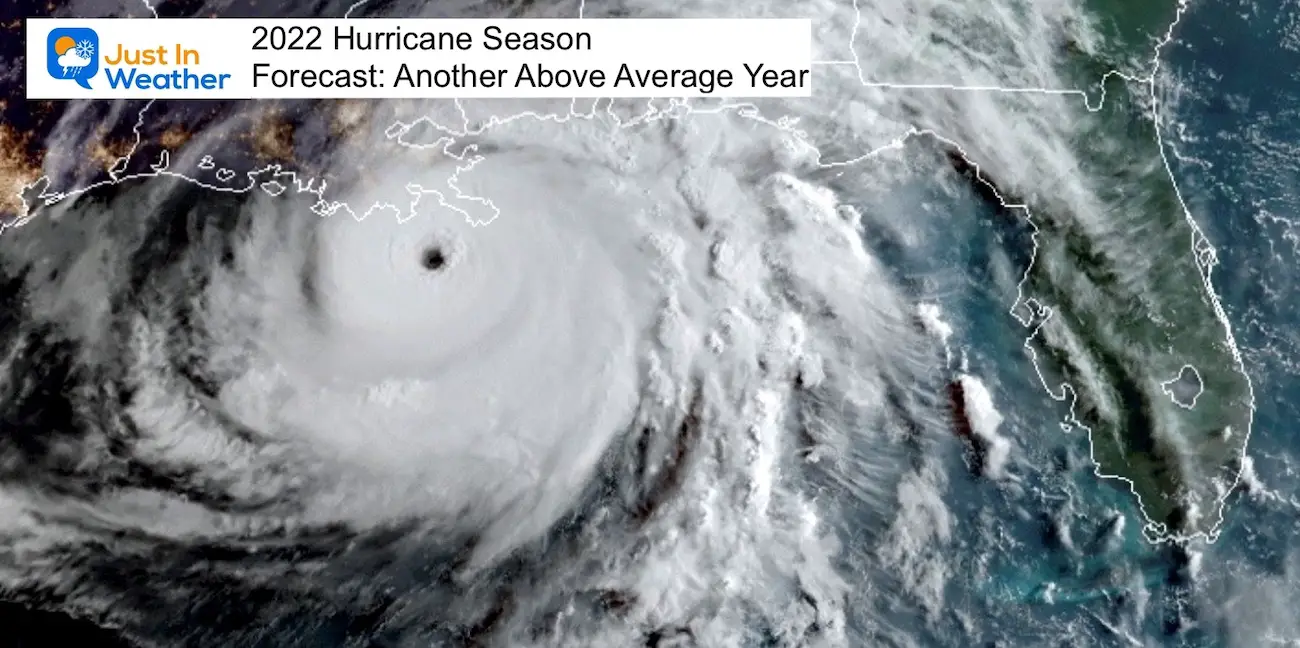 Related Posts
NOAA Study: Reducing Air Pollution INCREASED Tropical Storms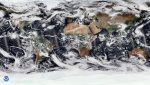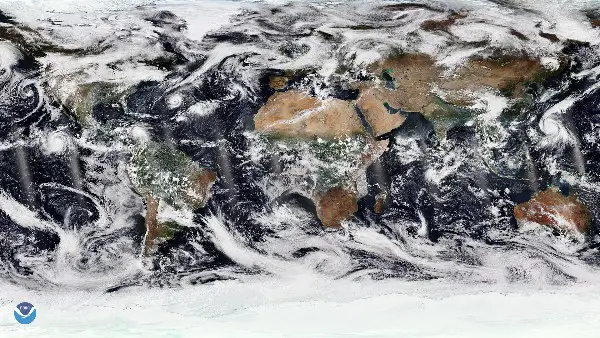 Atlantic Tropical History: Maps of Origin Regions Every 10 Days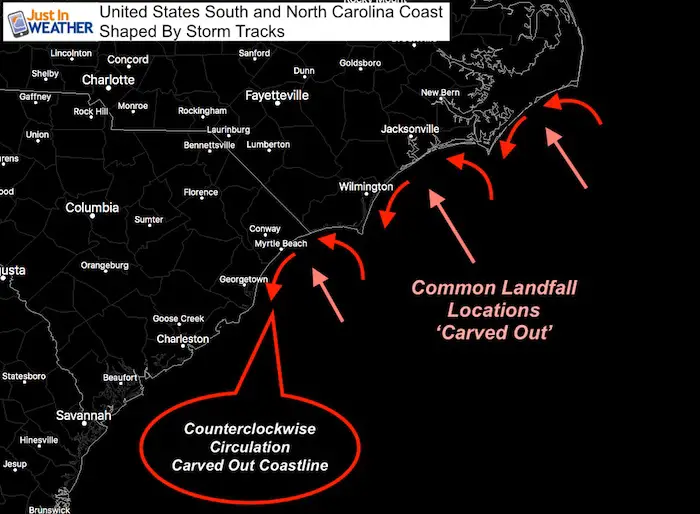 Please share your thoughts, best weather pics/video, or just keep in touch via social media
*Disclaimer due to frequent questions:
I am aware there are some spelling and grammar typos. I have made a few public statements over the years, but if you are new here you may have missed it:
I have dyslexia, and found out at my second year at Cornell.  I didn't stop me from getting my meteorology degree, and being first to get the AMS CBM in the Baltimore/Washington region. 
I do miss my mistakes in my own proofreading. The autocorrect spell check on my computer sometimes does an injustice to make it worse. 
All of the maps and information are accurate. The 'wordy' stuff can get sticky. 
There is no editor that can check my work when I need it and have it ready to send out in a newsworthy timeline. 
I accept this and perhaps proves what you read is really from me…
It's part of my charm.