May 20 Tornado Watch Until 7 PM Baltimore North To Souther Pennsylvania
tornado
Severe Weather
Warnings
Justin Berk
May 20, 2022
12:55 pm
0
May 20 2022
Friday Afternoon Report
Since my earlier report, NOAA had adjusted the Severe Storm Risk southward. This begins to include southern Pennsylvania and north central Maryland into the marginal to slight category.  
Severe Storm Outlook
As a result of 'potential' A Tornado Watch has been issued until 7 PM.  The greater chance will be farther north, but Baltimore is included on the edge.  This is important for the Back Eyed Susan Day and Preakness Festivities.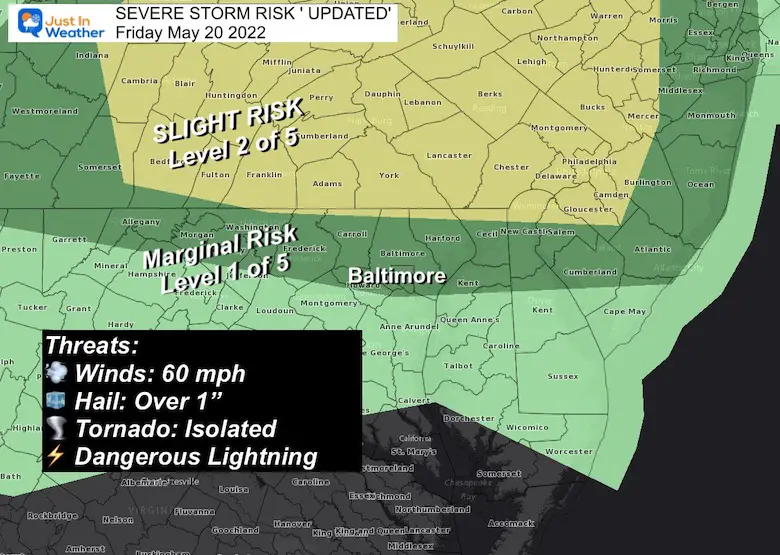 Satellite Loop (Enhanced Cloud Tops)
10:30 AM to 12:30 PM
That MCC we tracked this morning looks less impressive, but there is a lot of spin and sheer left over. That is what any storm getting enough lift could lead to spin off vortices and tornadoes.. But that is closer to the core into Pennsylvania with the higher risk.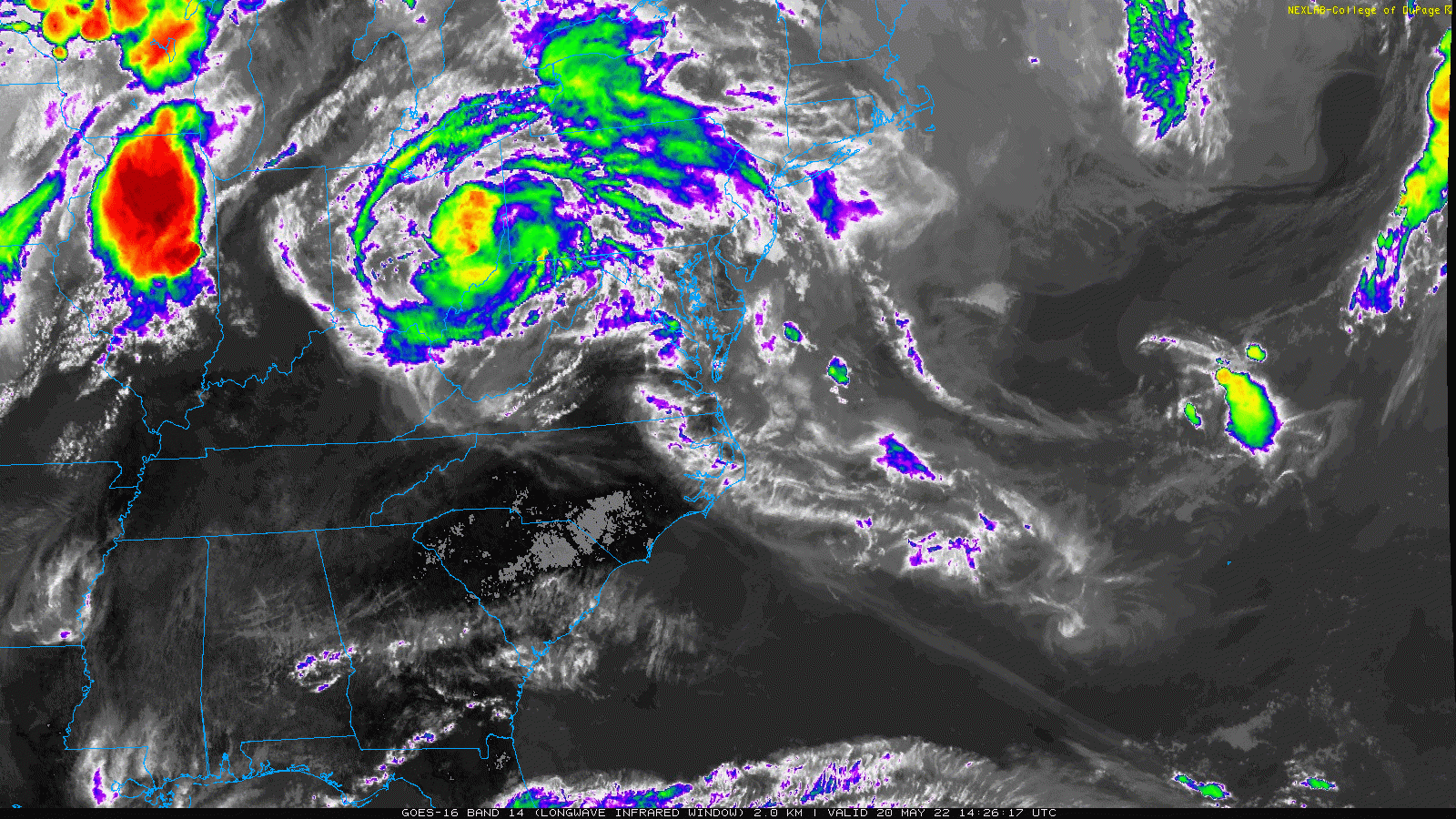 Tornado Watch Until 7 PM
This is Potential NOT a Promise. 
Should a storm develop, a WARNING will be issued to track through specific towns and counties. 
Central Maryland/York PA region timing would be 2 to 4 PM for the chance… Up Until 7 PM for Metro Philadelphia and northern Delaware.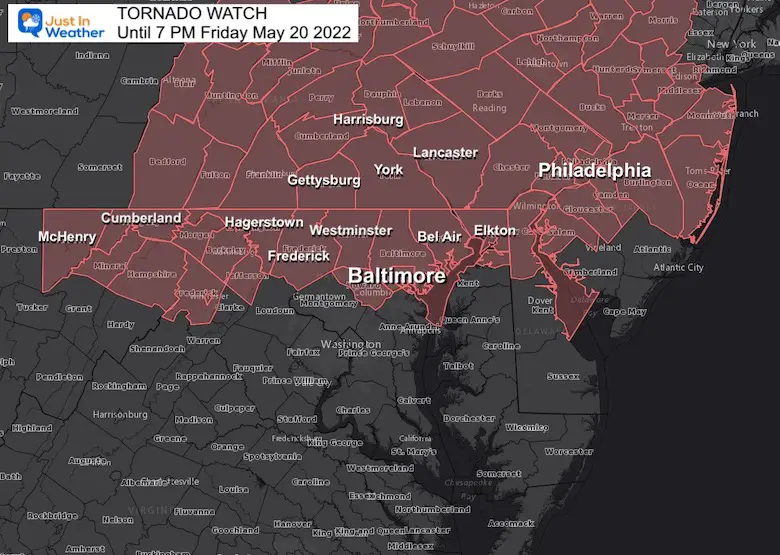 Radar Loop 10:40 AM to 12:40 PM
Here we can see the rapid movement of that storm line in the mountains, pivoting to the northeast along the way.
Some showers are breaking out ahead of that main band in the mountains…
But this is moving to the east -northeast. That is on a track for this cluster to miss metro Baltimore… but reach York PA.
We will need to watch for new pop up cells ahead of it.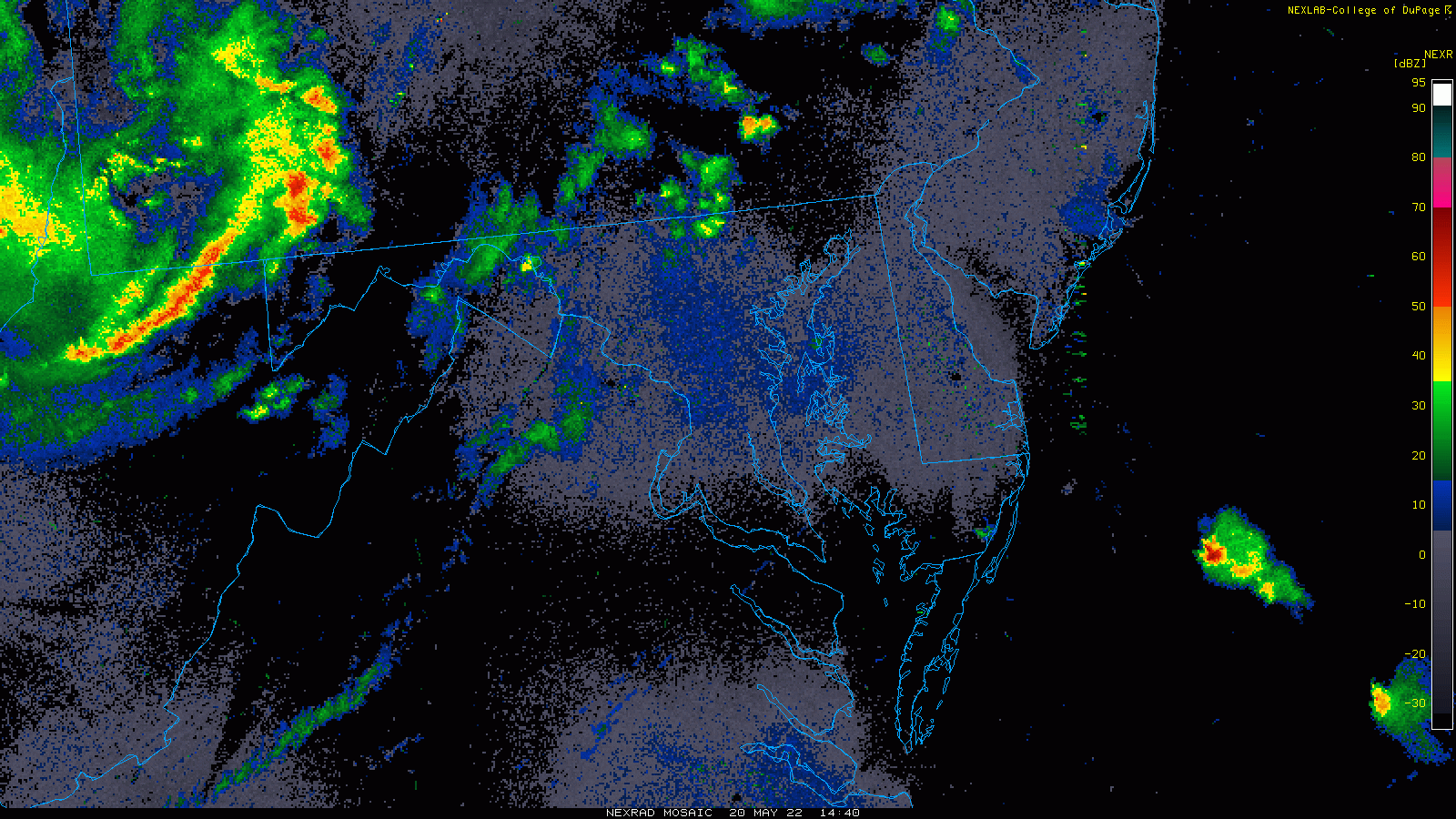 Doppler Radar Snapshot at 12:30 PM
Warnings ha ve popped near Cumberland….
Next up Hagerstown and Chambersburg.
New cells ahead of this are the wild card. As you will see below, the short range model simulations have underplayed them.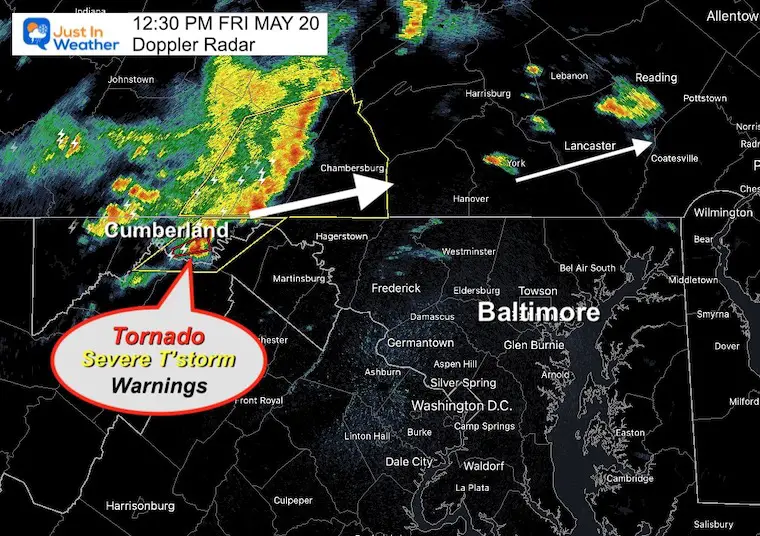 My Concern
The computer model simulations seem to be underplaying this situation, so we need to pay close attention for whatever pops up.  Storms have already produced severe wether and wrings in Western Maryland.
UPDATE at 2:10 PM
York County getting the brunt!!! Large Hail from Dover to York heading to Mount Joy.
Less intense but still strong from Dallasotown to Shrewsbury in the next 20 + min.
Metro Philadelphia also in line for intense storms from their first of two rounds… This is missing Central Maryland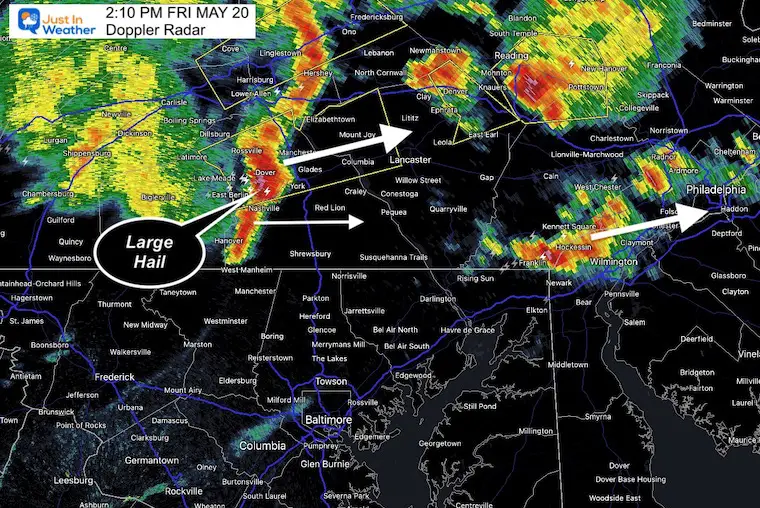 HRRR Model
Not much action showing up ahead of main line in the Watch Zone…
We need to pay attention for any development 'nowcast' the situation through 4 PM.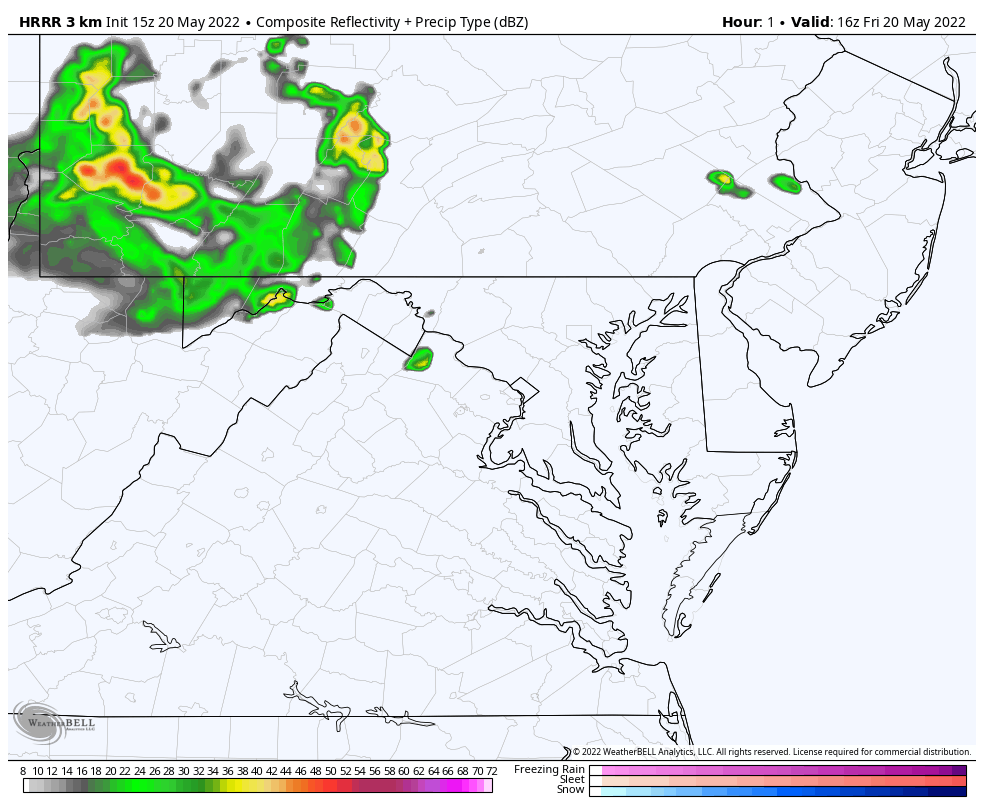 NAM 3 Km Model
This model also is missing any further development.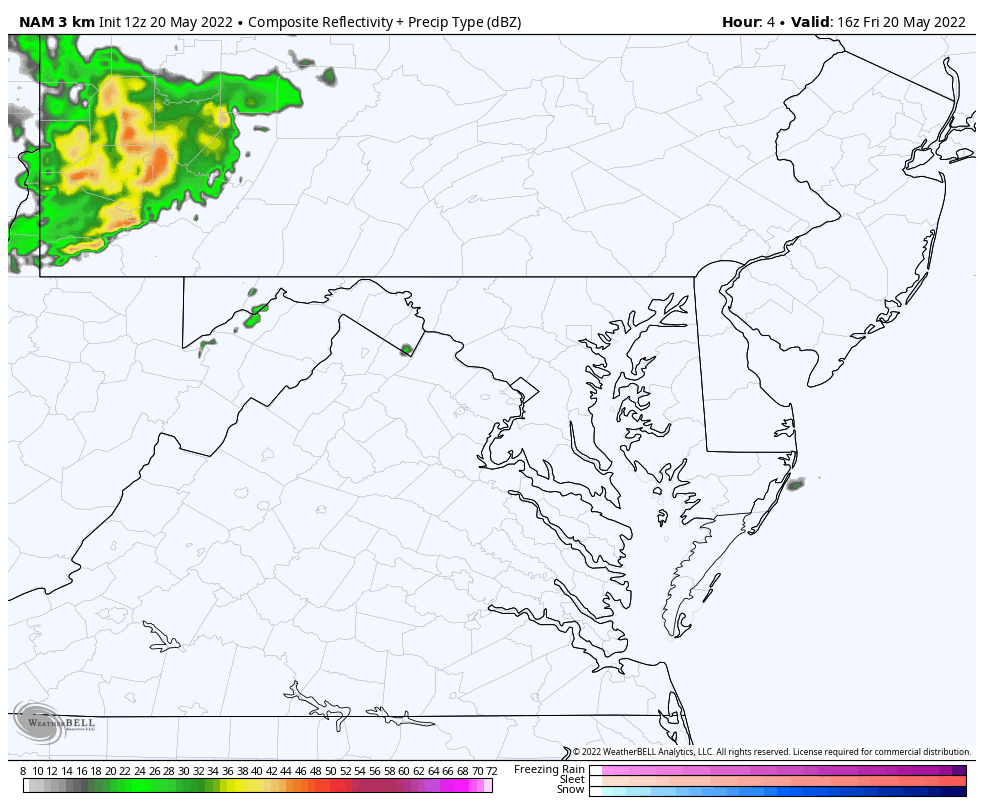 Looking For Convergence By The Bay
The winds are primarily from the Southwest. But by the Chesapeake a Southeast Wind is always the factor that can enhance storm development east of Frederick into metro areas…. Watching for that wind set up for anything new to 'pop.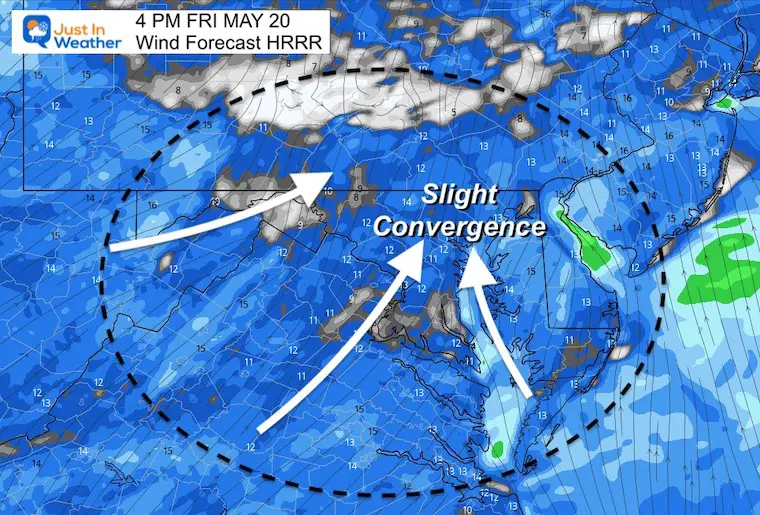 VOTE: Best 'Meteorologist'
Of Baltimore (Reader's Poll)
Through May 29 at 5 PM
Click here to access The Baltimore Sun 

Preakness Saturday
Temperatures
Morning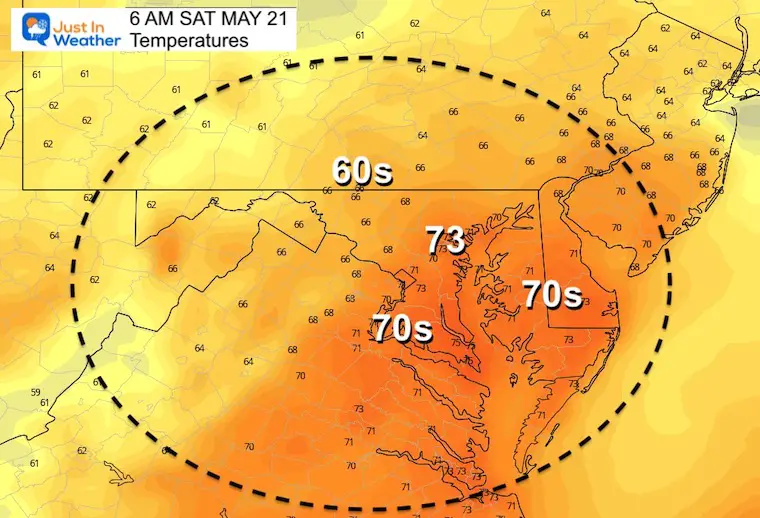 Afternoon
RECORD HIGH: 96ºF in 1934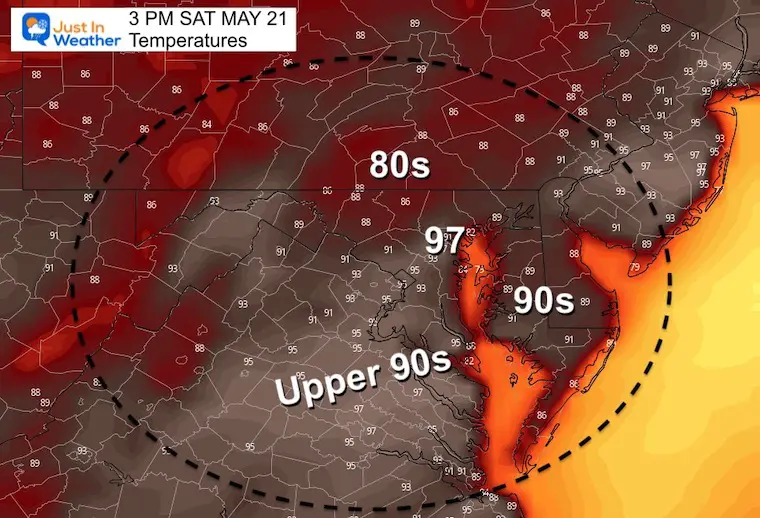 Looking Ahead:
Preakness Saturday Afternoon
Sunday Storms
I know the models had lowered the chance yesterday, but it looks like we will still be tracking at least a 50% chance for storm and a severe risk mid afternoon and evening. This will be followed by a sharp cool down Monday.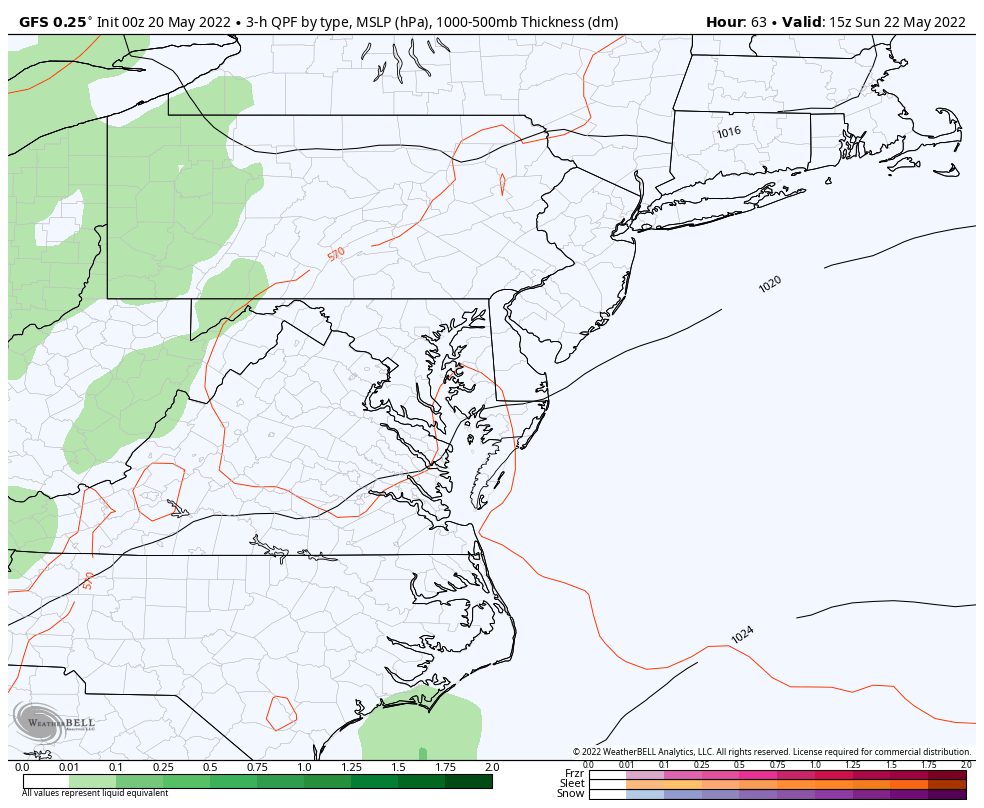 Weather posts straight to your inbox
Sign up and be the first to know!
7 Day Forecast
Humidity builds today then just plain HOT Friday into the weekend.
Preakness should dry with a slight chance for storms that night.
Rain risk increases on Sunday to break the heat next week.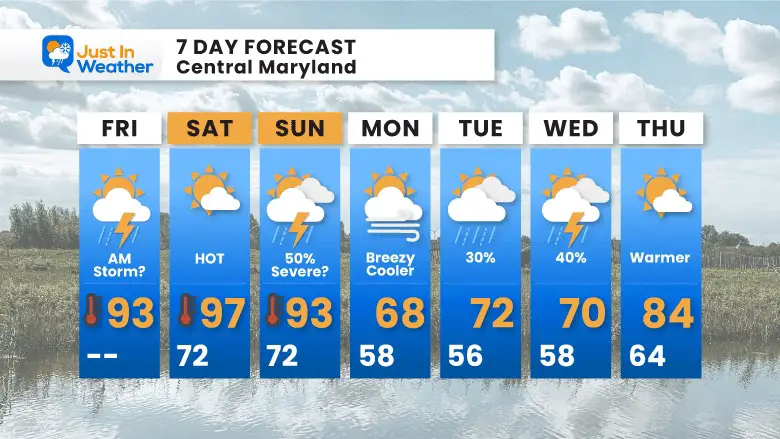 Tropical Season Begins June 1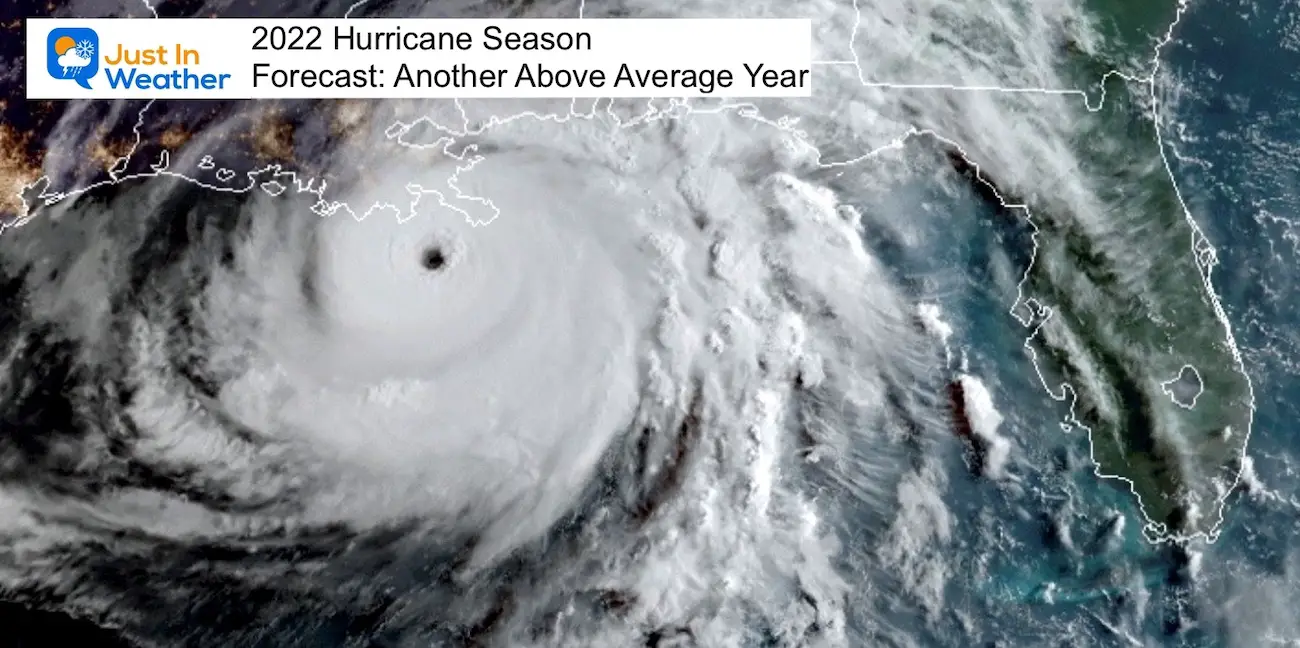 Related Posts
NOAA Study: Reducing Air Pollution INCREASED Tropical Storms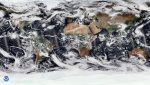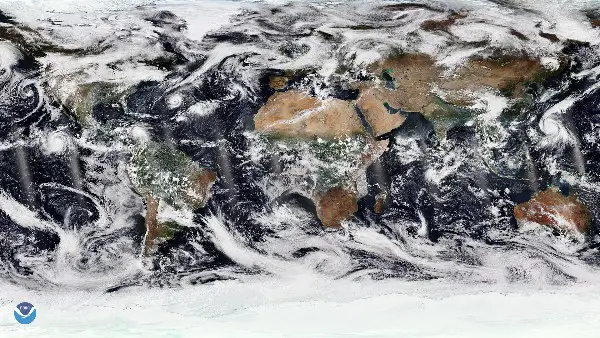 Atlantic Tropical History: Maps of Origin Regions Every 10 Days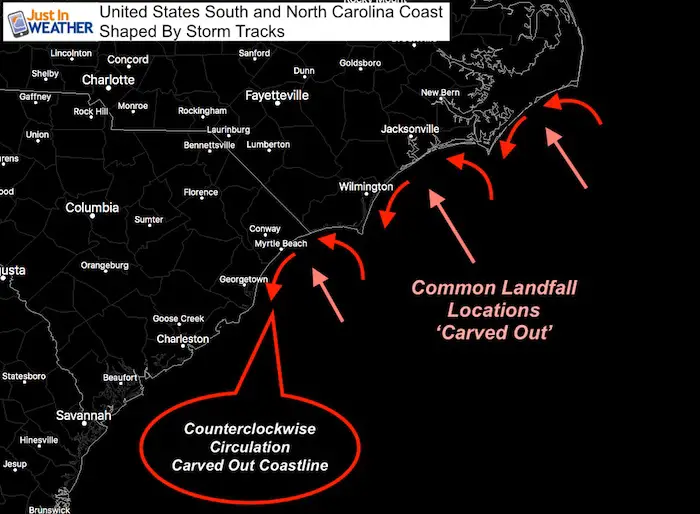 Please share your thoughts, best weather pics/video, or just keep in touch via social media
*Disclaimer due to frequent questions:
I am aware there are some spelling and grammar typos. I have made a few public statements over the years, but if you are new here you may have missed it:
I have dyslexia, and found out at my second year at Cornell.  I didn't stop me from getting my meteorology degree, and being first to get the AMS CBM in the Baltimore/Washington region. 
I do miss my mistakes in my own proofreading. The autocorrect spell check on my computer sometimes does an injustice to make it worse. 
All of the maps and information are accurate. The 'wordy' stuff can get sticky. 
There is no editor that can check my work when I need it and have it ready to send out in a newsworthy timeline. 
I accept this and perhaps proves what you read is really from me…
It's part of my charm.