October 11 Clouds Linger And Coastal Flood Advisory Then Warm Temps Build Again Week
Flooding
Forecast
Justin Berk
Oct 11, 2021
6:29 am
0
Monday October 11
That 'Slow Low' continues to linger off of the North Carolina coast this morning. There is no longer a chance for this to develop into a tropical feature.  However it will help to keep a Northeast wind in place holding the clouds around. 
Morning Surface Weather
Surface winds will be from the Northeast. The result will be another cool and cloudy day. This is also helping to keep high water up agains the east coast and parts of the Chesapeake Bay.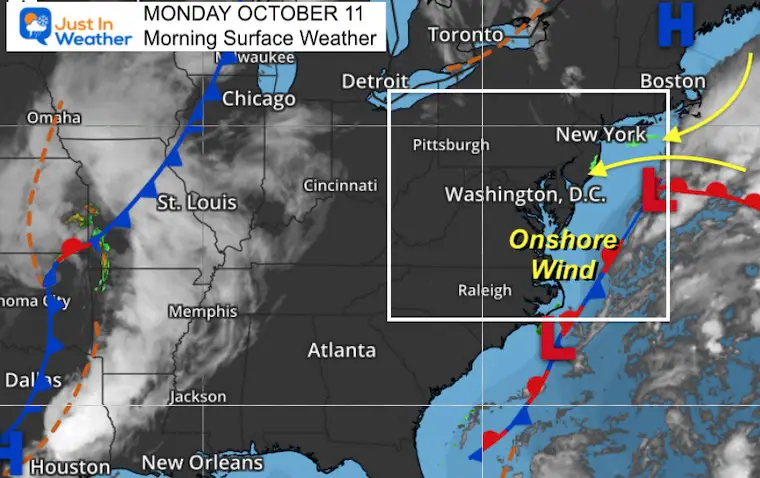 Coastal Flood Advisories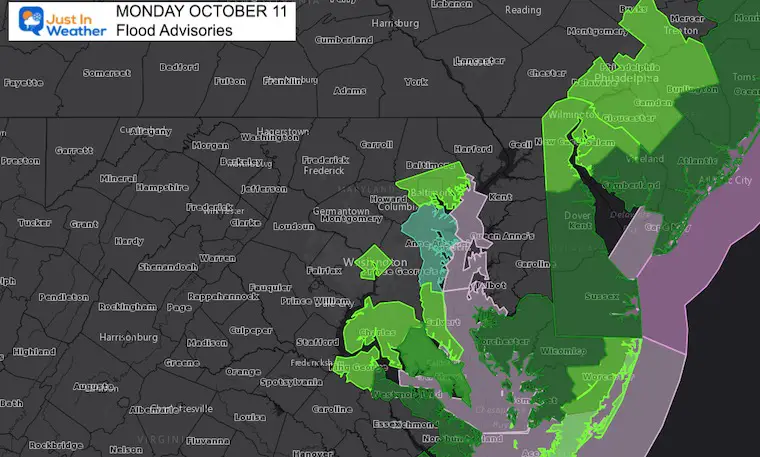 Morning Temperatures 
Still quite mild across the board in the mid 60s. The cooler spot is in Garrett County in the 50s, which is warm for that mountain region.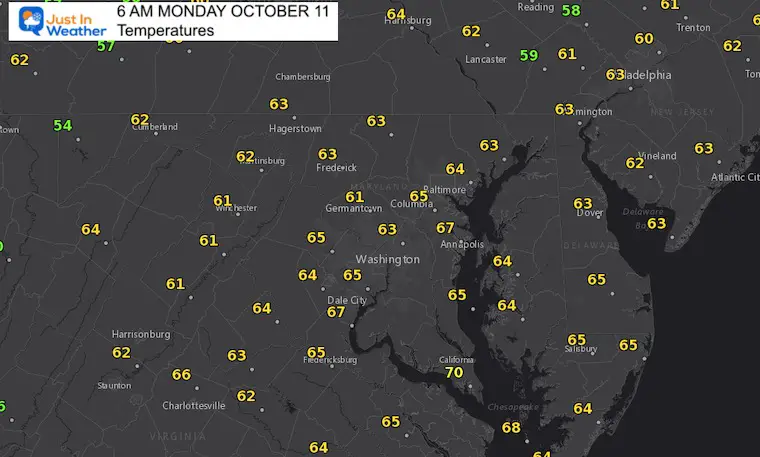 Where is Autumn? 
The cool temps will hold off another week. The leaves are turning, but the actual feel of Fall is delayed a little longer. 
Historic Heat Wave
We will reach the 80s this week, but not like this record stretch:
1954 – Baltimore
Oct 11 = 89ºF

Oct 12 = 89ºF

Oct 13 = 89ºF
Afternoon Temperatures
Note: Our local Offical recording station at BWI tends to be warmer than models and surroundings. 
*Ravens Game: Temps will be in the 60s tonight.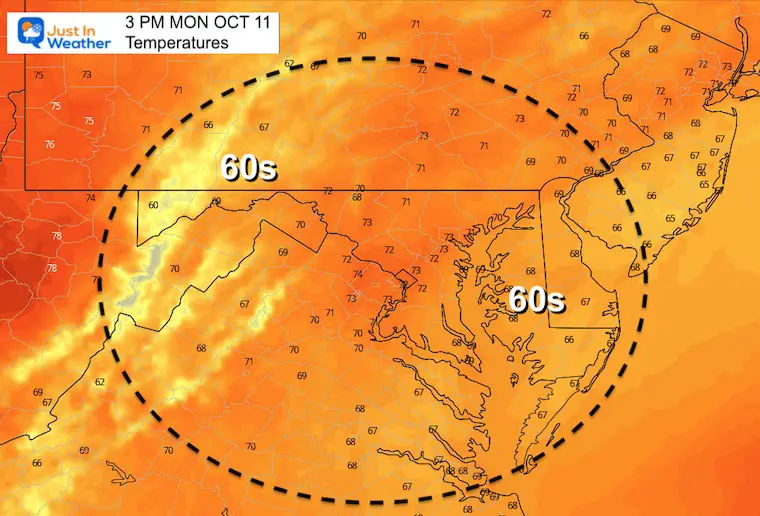 Fall Foliage Update This Past Weekend
Also See:
Temperature Outlook Above Normal Through Mid October
Weather Almanac: Climate Data
Now Available in the Currents Tab on the right –>
Click The 'Climate' Tile for expanded info 
TODAY October 11
Normal Low in Baltimore:  48ºF
Record 27ºF in 1964
Normal High in Baltimore: 69ºF
Record 89º F 1954

Temperatures Tuesday
Morning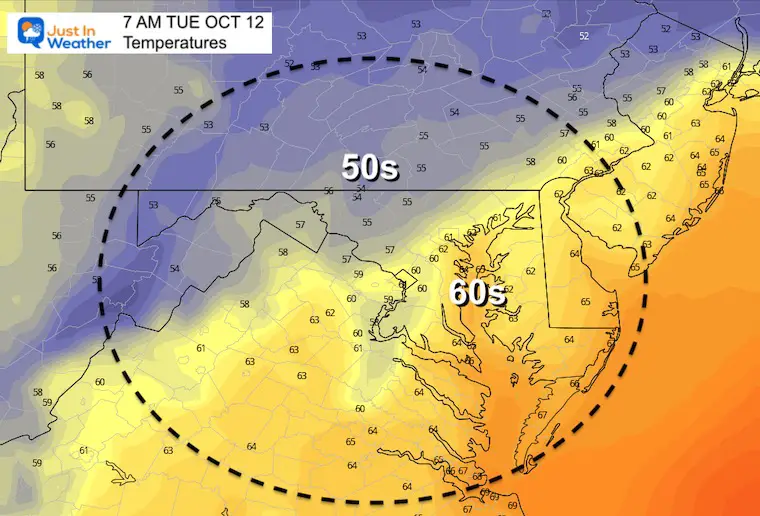 Afternoon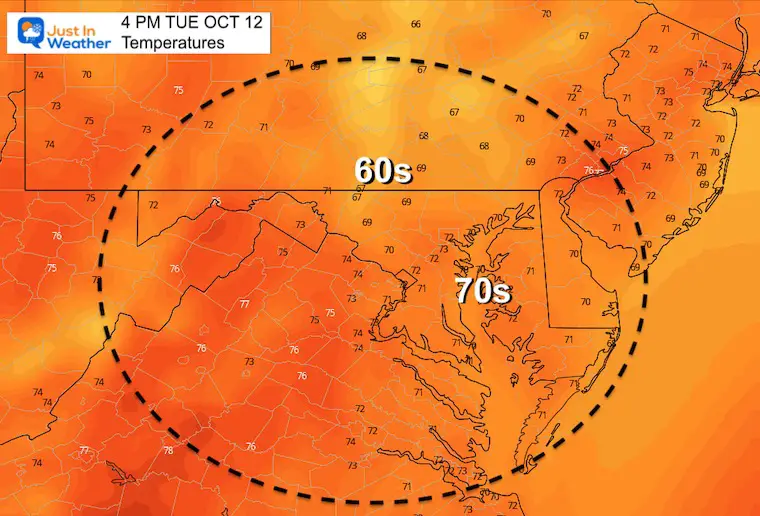 Warming Back Up
Temps will aim for the lower 80s at Baltimore's BWI this week. The hottest day will be Saturday followed by a line of storms.  But this should be safe from the record high on
Saturday Oct 16 = 90ºF 1897
7 Day Forecast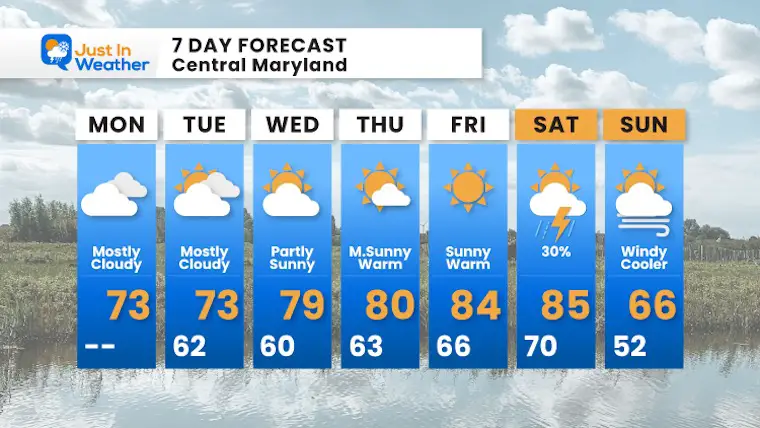 Maryland Trek Gear

Maryland Trek 8 Says THANK YOU!
Running Total Raised $116,438
During 329 Miles From Wisp To Ocean City
To Honor Kids In Cancer Treatment and Support FREE Programs At Just In Power Kids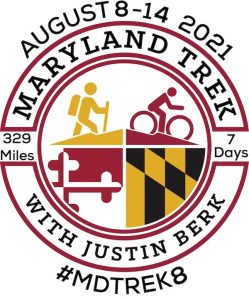 Please share your thoughts, best weather pics/video, or just keep in touch via social media