How Faith in the Flakes Began
The start of the phrase Faith in the Flakes goes back in 2009.  I credit my oldest son just one month before he turned four years old. There was potential for an early season (November) snowstorm, and I extended my excitement with him. We talked about all the things we planned on doing in the snow that weekend. But the week ended, the snow did not arrive.  I had to explain to Little B why his dad (and a weatherman) was wrong.
Brendan understood quickly, and believed it would eventually snow. He know we had plenty of winter ahead of us.
That word 'Faith' was his, knowing it was believing in something you can't see. The phrase Faith in the Flakes came from our conversation.  We walked away happy and didn't have to wait long.
It was this date is when #FITF got validation.
It was on December 5, 2009 when we got our snow.  Baltimore's BWI records only show 1 inch, but the inland suburbs got up to 5 inches. That's what we got to play in at our house.
Then two weeks later  on December 19, 2009, we had the largest snowstorm in Baltimore December history and began our snowiest winter on record with a total of 77 inches!
The photos below:
This was my son and I celebrating in 20 inches of snow after the first of 3 blizzards that winter. This was PROOF that having Faith in the Flakes will eventually come true. I am so happy as a dad to carry that legacy with thousands of people today.
I redeemed my weather skills as a meteorologist and dad in his eyes. We kept saying it back and forth to each other. One day it 'all out of my mouth', while broadcasting on TV. It wasn't planned, simply a happy accident.  Soon it was returned back to me on social media. I  had no idea it would catch on the way it did.
Many people suggested I put the phrase on a T-shirt, but that wasn't my thing. Then in 2014, my friend Lauren made the FITF Flake design, and I figured I would give it a try.   Over 1,000 orders came in! Wow!
In 2015 we put the Maryland Flag in the flake and then we had our epic 29″ snowstorm in January 2016.
This eventually evolved into my winter education program. I have done this in over 300 schools since then. Many included the 'spirit wear' program where we put the school's name on a FITF shirt. That program involved PTA/PTO organizers with a fundraiser for the Schoo. They helped promote the shirts,  and the result if enough sold was a FREE program for the school AND me paying them when I arrive. Up until the Covid restrictions, FITF has paid OVER $20,000 in total back to many of the schools I have visited.
I support local business, and have always worked with printers in Maryland. Since 2017 I have been with Maryland Print House in Carrol County. I consider them partners and fiends.
Added Bonus:
Many designs have blossomed, with new ones on the way. The benefit has also been a portion of the sales goes to Just In Power Kids- the nonprofit my wife and I began to assist Pediatric Oncology patients and their families.
December 5th snow has a lot more history to it, which is all below. That is why snow lovers can celebrate our love of winter on this date every year.
Brendan and I kept saying it back and forth to each other for years.  Now he's a 6'2″ teenager, and a little too cool for it. But he does humor me once in a while.  If his name sounds familiar, he is also my son that came up with the idea of Kid Weather App and helped me develop it. That is currently down for maintenance.
Faith in the Flakes Gear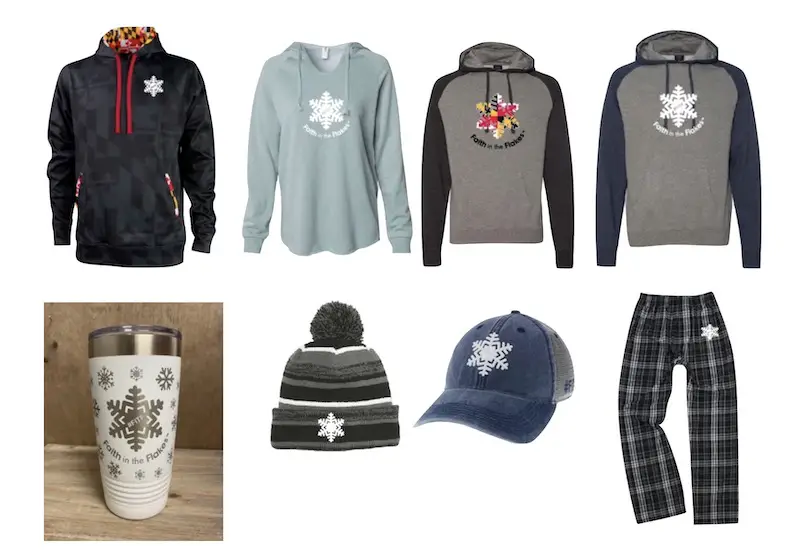 December 5th- Date With Destiny For Almost a Decade
To add some context:
December 5th 2001 was a day the record high temperature was set in at BWI at 75°F.
December 5th 2002 the record snowfall of 7.4″ was measured at the BWI.  ONE YEAR LATER!
This began a stretch of eight out of the next nine years with the first snow of the season on this date. It was like clockwork and made some people hit a streak of wins in their office pools.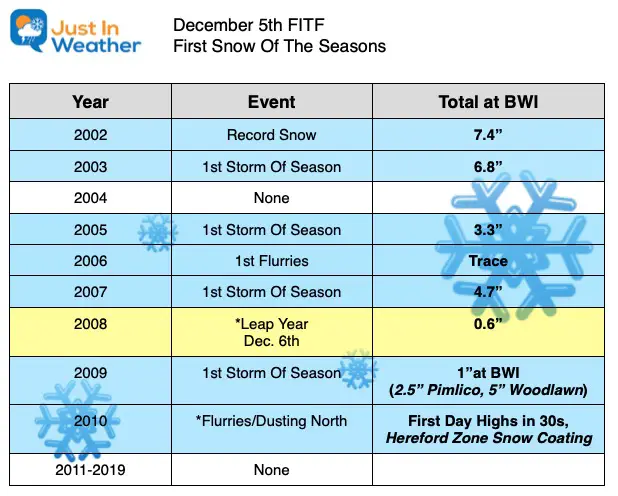 December 5th is FITF Day
December 5th is the date almost every year for nearly a decade marked the first snow of each winter season in central Maryland!
I credit the phrase to a conversation I had with my son in 2009. But it all began with a record breaking snow storm in 2002, when I did my infamous snow angel on Live TV, just one year after setting a record high temperature on the same date.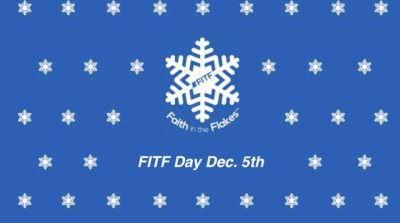 As a true Snowhound, I chose this date on the calendar to honor the history of first snows AND dreaming for more.  No, it does not promise snow on December 5th, but it is a way to show our love and anticipation that more is on the way. Even if we do not see it now, we have Faith that winter will bring it to us again, like that first talk with my son.
Winter in the Mid Atlantic can either behave like the south and stay mild, or like the northeast and snowy. Often we get caught in between and hang on every word of potential snow.
Each year it is cliche to expect snow around Presidents Week. That's when we get our biggest storms. But starting the season with the first snow in December is filled with anticipation by many and for many years it kept coming on the same date.
Baltimore has a few other special weather dates, but this one in particular has gotten a lot of attention in recent years. December 5th appeared to have been the average arrival of snow, at least at the start of this century.
Stickage - First Documented on video in 1975
I have used the word stickage for snow laying and staying on the ground most of my life. Tony Pann began using it, and the debate online blossomed to figure out who said it first.
My dad found this family movie showing the first use when I was a toddler in 1975.
PROOF! (disregard the late model Honda on the street)
Perhaps this will put to rest the debate  ;-). If not, someone added me to the Urban Dictionary in 2016. But I won't add the link here, since it also has some other meanings I'd like to not share with kids that read my work.
Faith in the Flakes my friends. Love of snow spans all ages and brings so many together.