Baltimore and Annapolis Update
Quick Weather Notes
Justin Berk
Oct 16, 2021
2:36 pm
0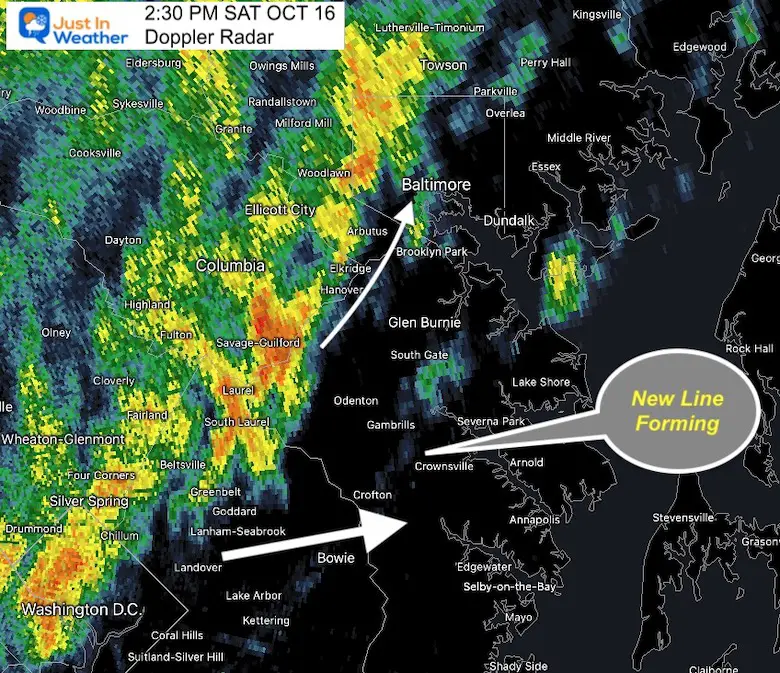 Baltimore and Annapolis Update
At 2:30 PM, the steady rain has engulfed Howard County and is crossing I-95.
Baltimore is getting rain on the west side, but downtown will get soggy in minutes and stay wet for an hour or two.
Glen Burnie might get the heavy cell close to 2:45 PM 
I see a new line trying to form ahead of the prime rain shield. So showers will be popping across the county before 3 PM.
Annapolis should get the rain between 3 PM and 3:30 PM
Anne Arundel County will get soggy for the rest of the afternoon. 
UPDATE FOR LIVE UPDATES
Click to See
May include newer posts. I will work for more local reports
All regional NWS Watches and Warnings
Home Page – Maps, Stats, and More
You can also tap my logo on the top of this page.