October 26 More Fog And Drizzle Today Plus Halloween Weather Outlook
Maryland Weather
Outlook
climate data
Forecast
Justin Berk
Oct 26, 2022
6:18 am
0
October 26 2022
Wednesday Weather Update 
Here we go again!  Widespread fog, drizzle, and this morning we add in some rain showers. There has been a band lined up along the Chesapeake Bay on radar.  Today will remain wet and mild. 
I have been reminding my son, who is 16 years old and driving to school, to look out for wet leaves because they can be as slick as ice. I hope that is a universal message for all traveling. 
While it remains damp today, we still expect a wind shift to clear us out tomorrow. Then back to clouds and cool this weekend, plus the outlook for Halloween to bring more rain. 
Morning Surface Weather
REPEAT: STUCK IN THE MUCK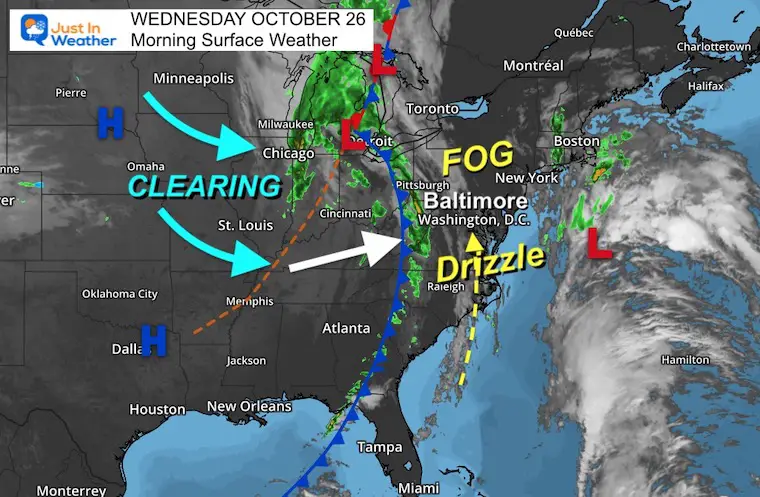 Video Worth Watching:
In case you missed what I shared on my Facebook Page…
Close Call: SHIP Passing UNDER The Bay Bridge
WATCH UNTIL THE END!
FROM Vincenzo Schiano
The mighty MSC Benedetta passing under the Chesapeake Bay Bridge Tuesday morning.
They know what they are doing, but it still keeps you on edge.
Morning Temperatures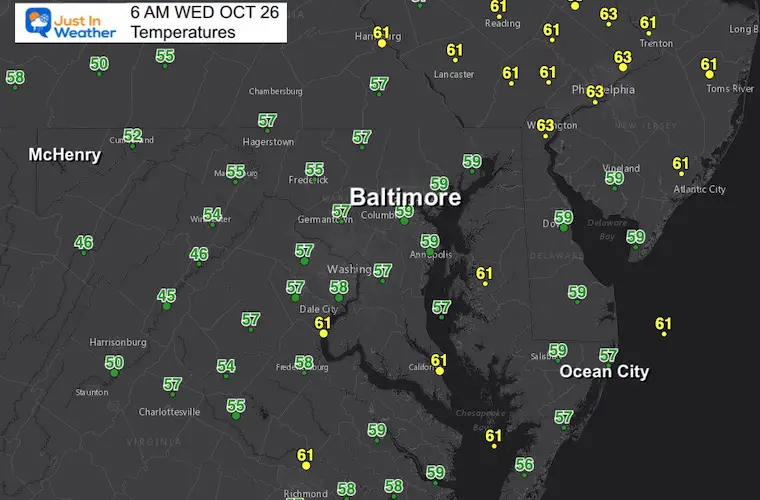 LIVE Radar Widget
Radar Simulation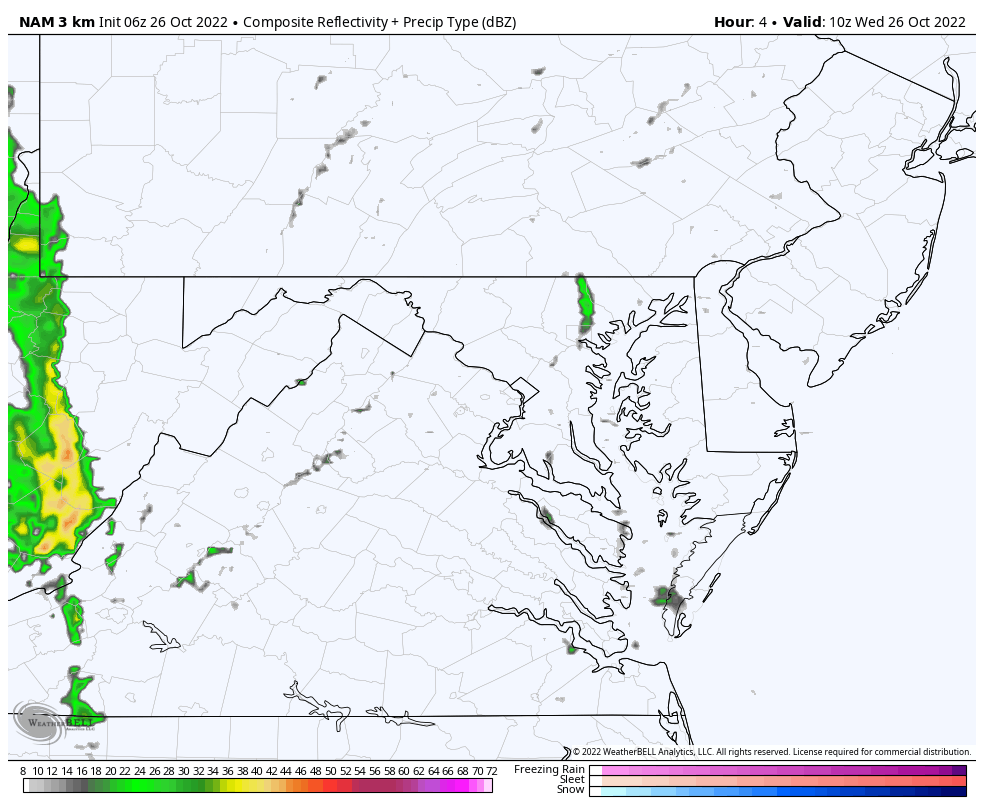 Afternoon Temperatures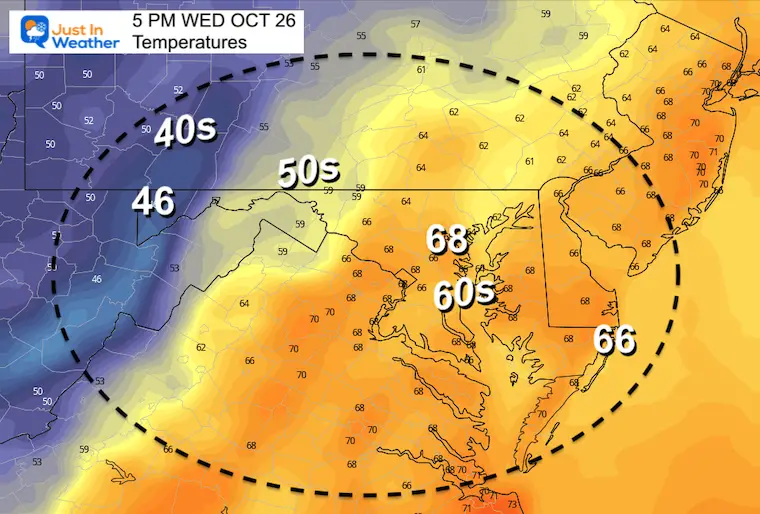 CLIMATE DATA
TODAY October 26
Normal Low in Baltimore:  43ºF
Record 27ºF in 1952
Normal High in Baltimore: 65ºF
Record 81ºF 1978
Weather posts straight to your inbox
Sign up and be the first to know!
NEW REPORT: Winter Weather Outlook: Persimmon Seeds And Snow
More Winter Outlook Series below the 7-day forecast.
Wind Forecast:
The shift of winds FROM the West will bring in dry air and clear us out. This will also come with cooler temps.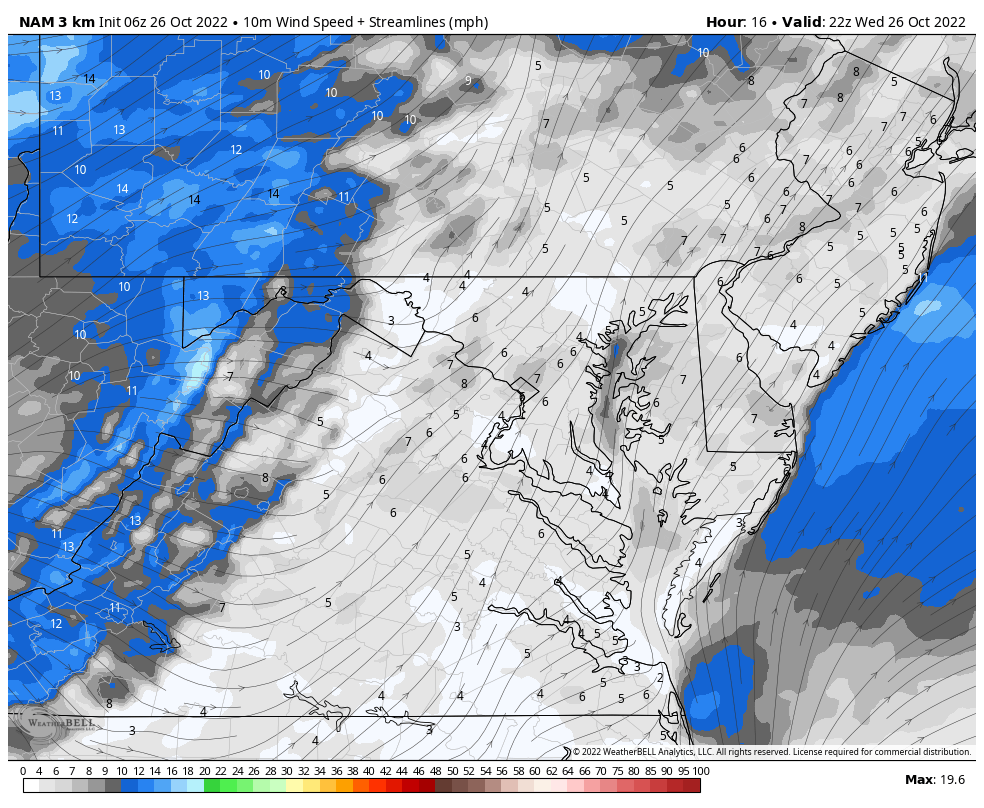 Thursday Temperatures
Morning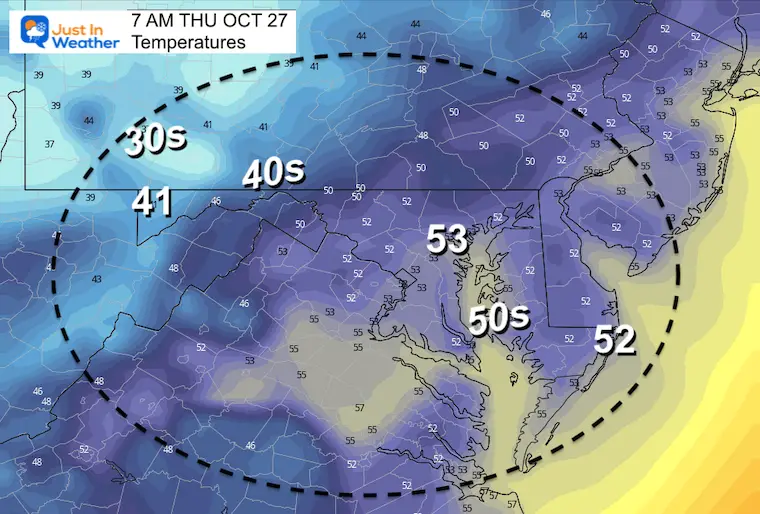 Afternoon
It will be breezy, but we should get into the sunshine.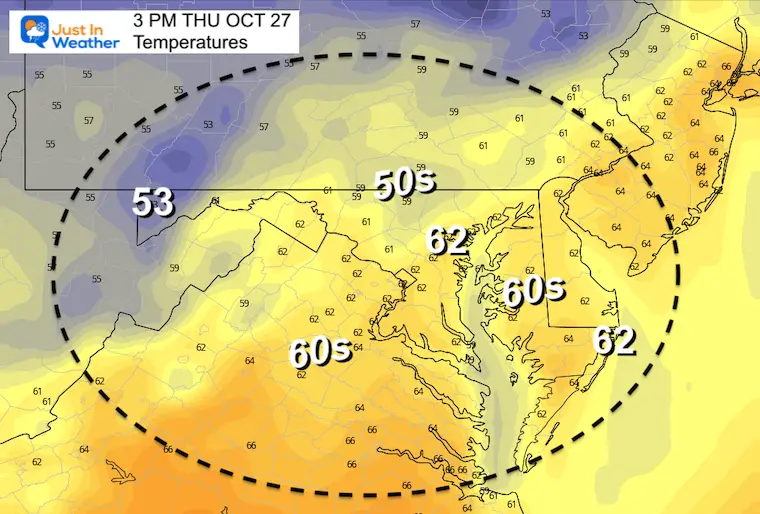 Looking Ahead:
Storm Animation Sunday Afternoon to Monday Evening (Halloween)
A broad Low Pressure off the Southeast US coast will help funnel the next band of rain showers into our region on Monday. The chance for rain on Halloween is up to 70%. This may factor into your costume plans. 
7 Day Forecast
STEM Assemblies/In School Fields Trips Are Back
Click to see more and 'Book' a visit to your school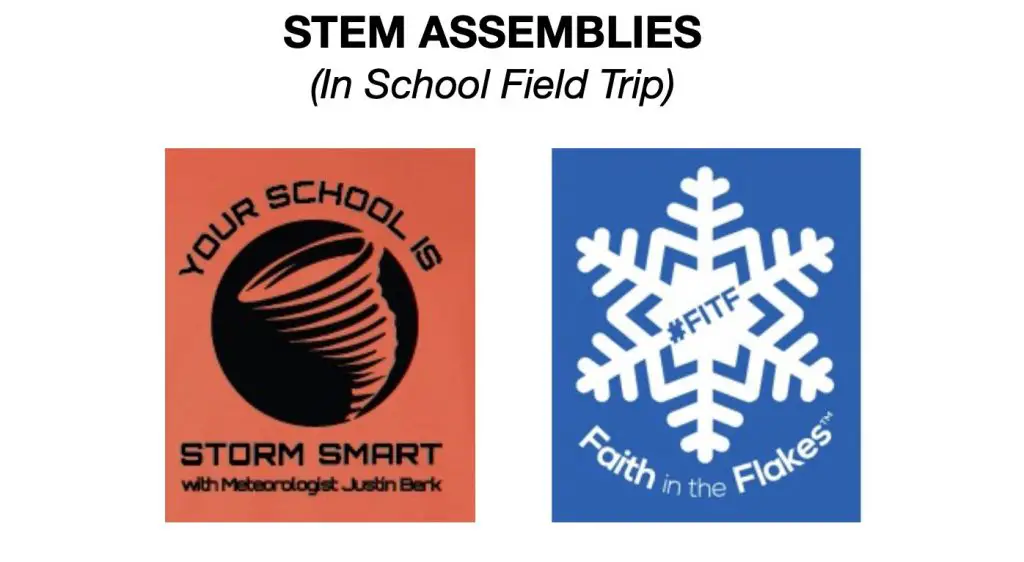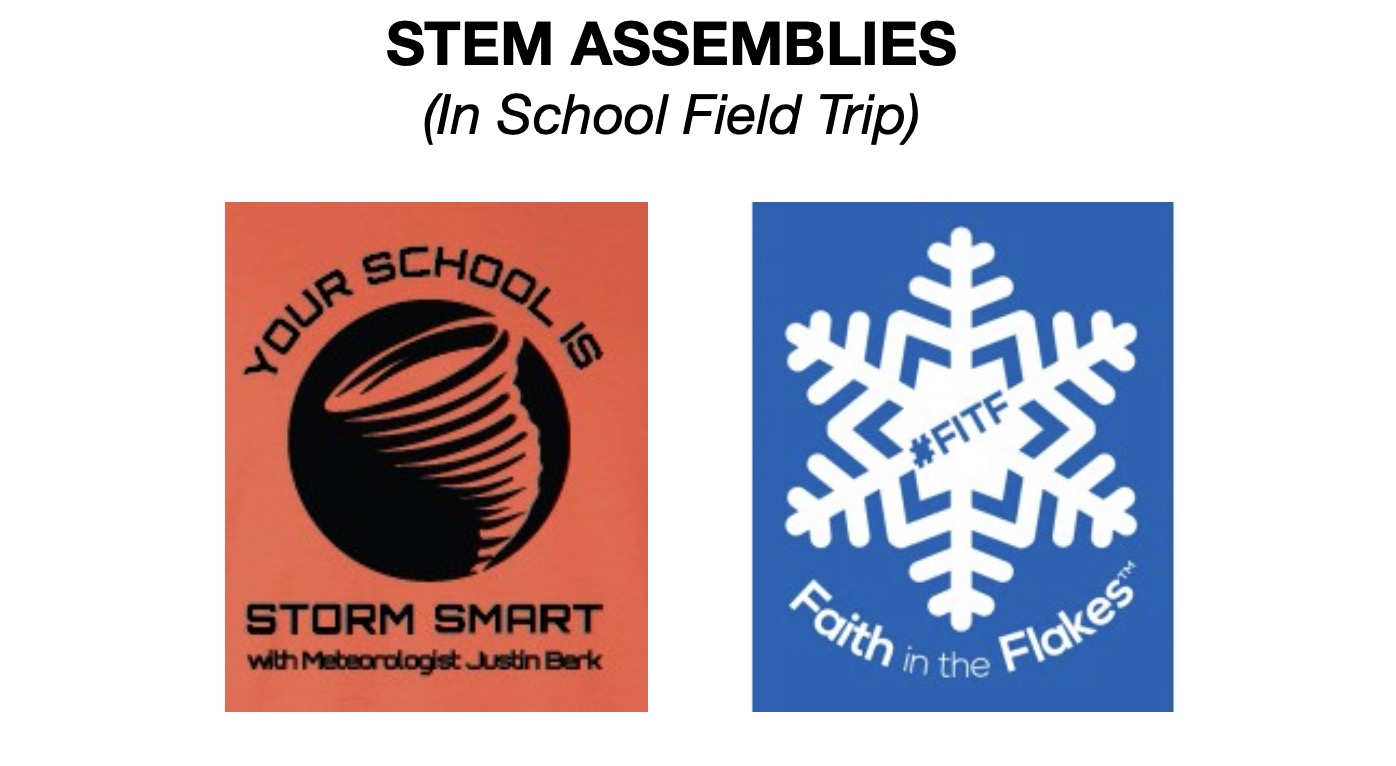 WINTER OUTLOOK SERIES
Winter Outlook 2023 From NOAA Very Different Than Farmers Almanacs
ALSO SEE THESE OTHER WINTER OUTLOOK REPORTS
Farmer's Almanac Comparison
Winter Outlook 2023 Early Look At Snow From Two Farmers Almanacs
Triple Dip La Nina Winter
CONNECTION TO WINTER?
If you want a snowy winter, this is what you might want to look for in the rest of the tropical season. (You might be seeing a lot of commercial snow removal people out this Winter)
Record August For No Named Tropical Storms: Closer Look At Snow Following
Winter Folklore Checklist
Normals And Records: Maryland and Baltimore Climate History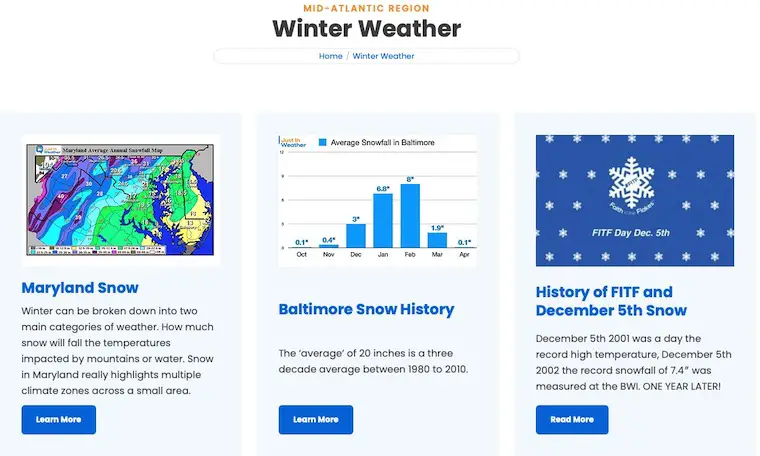 Faith in the Flakes Gear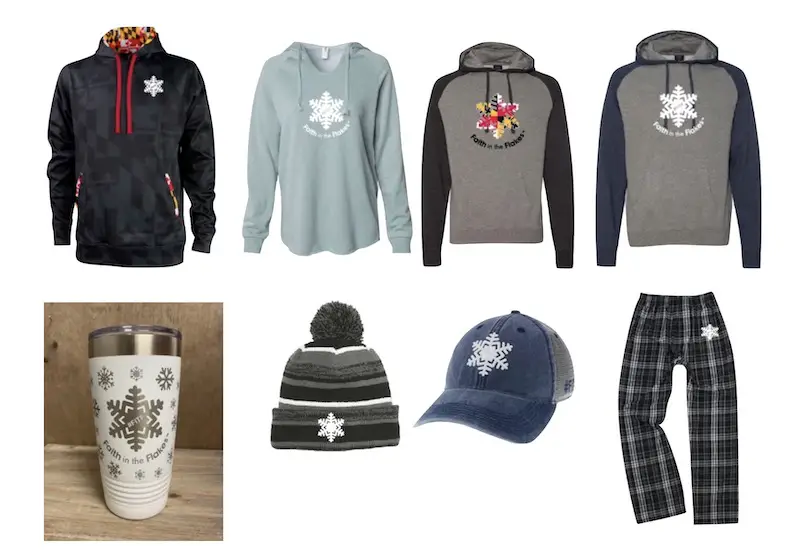 SNOWSTIX – Available Now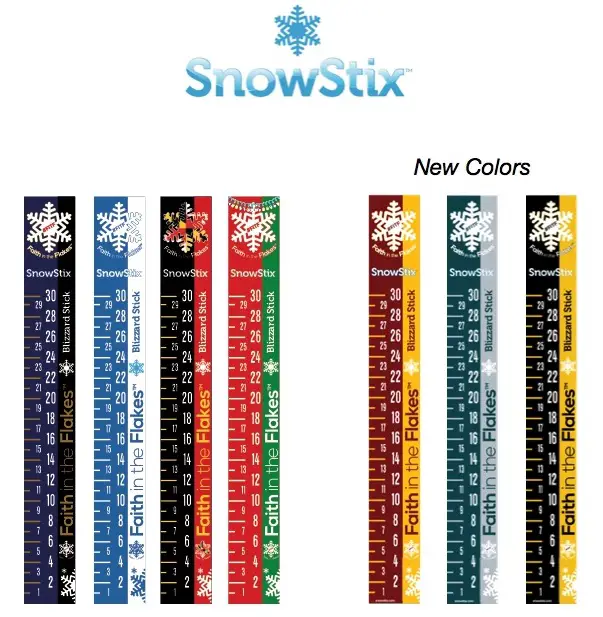 Please share your thoughts, best weather pics/videos, or just keep in touch via social media