May 22 Hot Again Today With Strong Late Day Storms Followed By Cooling
climate data
Severe Weather
Forecast
Justin Berk
May 22, 2022
7:26 am
0
May 22 2022
Sunday Report
This mini heat wave will be ending today. We still have one more hot day that will contain a cold front bringing in late day storms. There is a low chance to turn severe, but enough to mention. What follows will be a much more comfortable week ahead.
First, let's recap the high temperatures yesterday. Baltimore's BWI was one of the hottest reporting stations (typical) but just missed the 1934 record by one degree.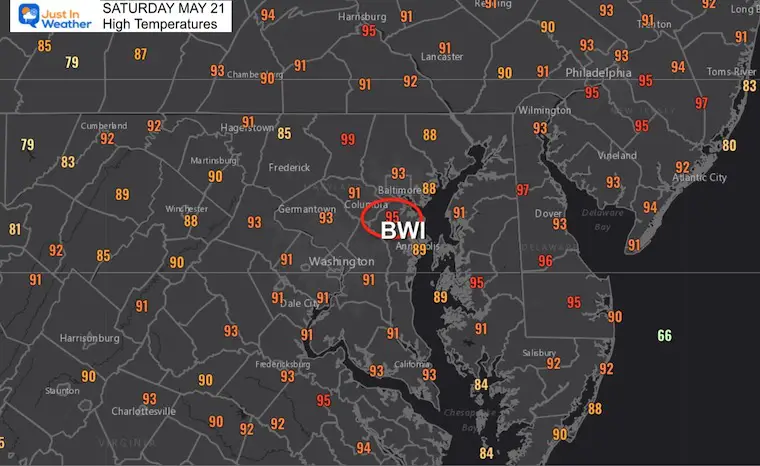 That 99ºF reading in Westminster seems to continue to show that instrument needs to be examined for possible recalibration.
Morning Set Up
Temperatures At 7 AM
Comfortable and not too humid…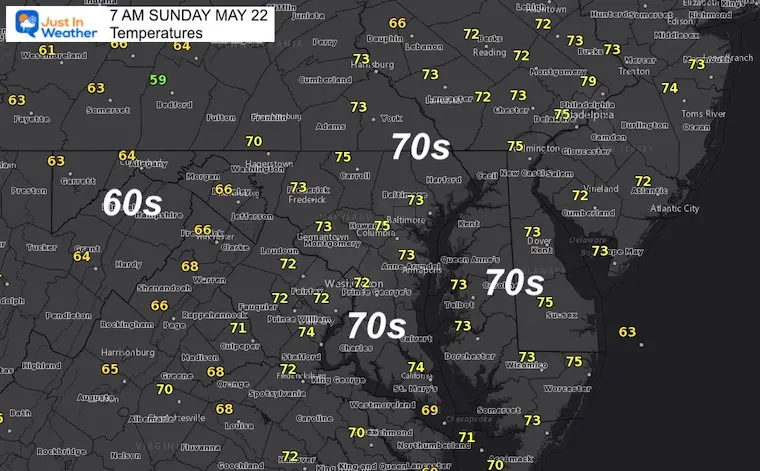 Surface Weather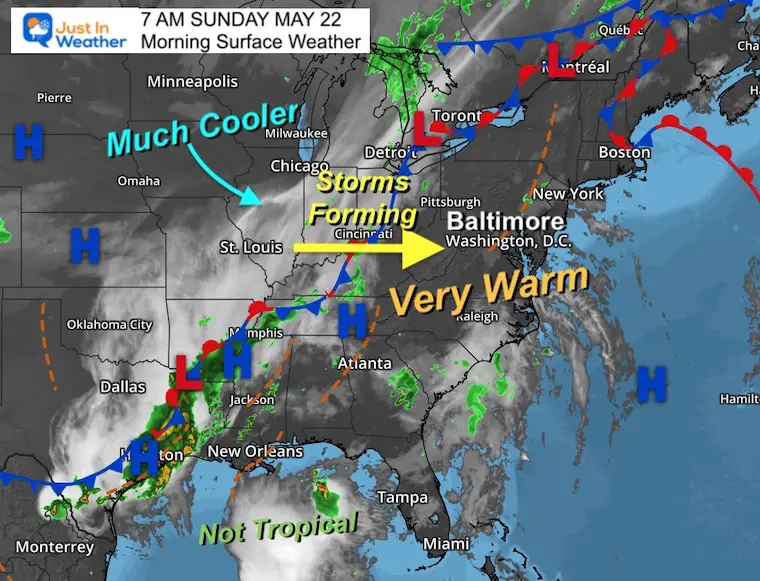 Pollen Report
Keep this link handy… I post the latest info as soon as I get it on this page.
Click here for The Pollen Page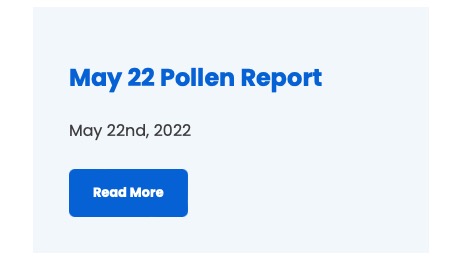 Afternoon Temperatures
RECORD HIGH: 98ºF in 1941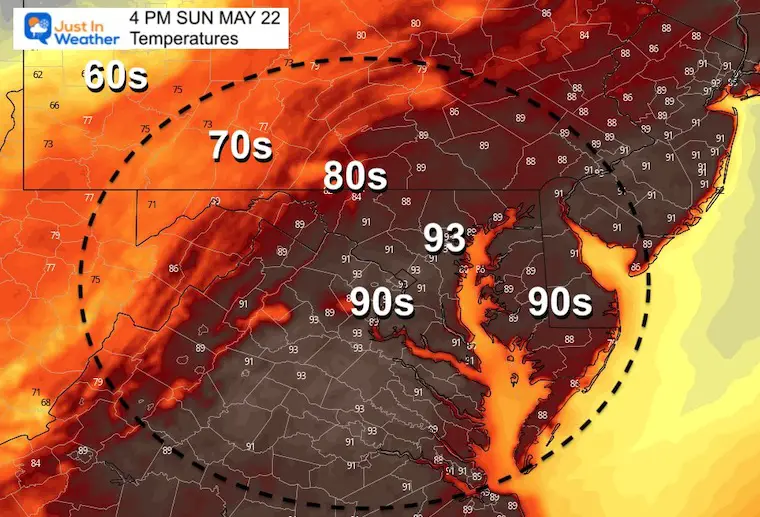 Storm Risk
Most of our region is in the Level 1 of 5 – Marginal Risk. That is low, but still a chance that some of the storm cells could turn severe.  The Primary threat would be damaging wind gusts over 60 mph.
There is a higher chance across the Poconos into central New York and Northern New England.
Radar Simulation Animations
Short Range Model Simulation Comparisons
The HRRR and NAM show slight variations…
The HRRR has one line of storms for meter areas, then lingering heavy rain south through midnight.

 

The NAM 3 Km has two bands of rain, with the first falling apart near metro areas earlier at 5 PM, then a second broken line later around 10 PM.
HRRR:
One line of storms for metro Baltimore between 7 and 8 PM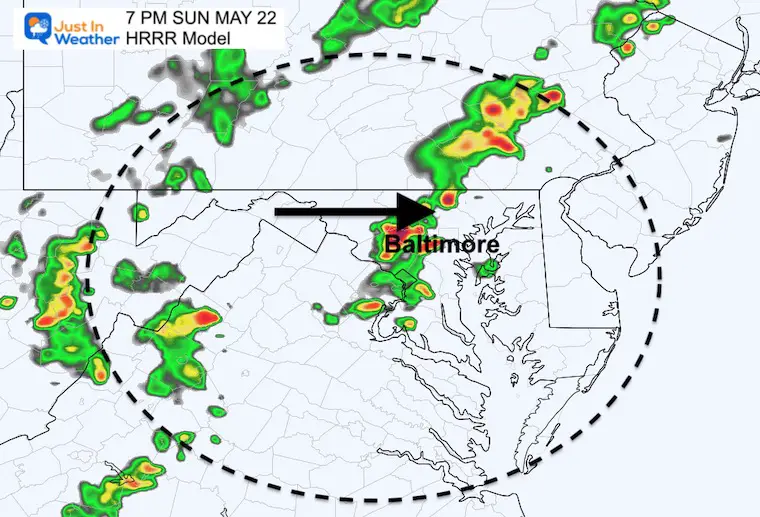 This today suggests a storm line passing Baltimore between 7 and 8 PM, then the line regenerates to the south.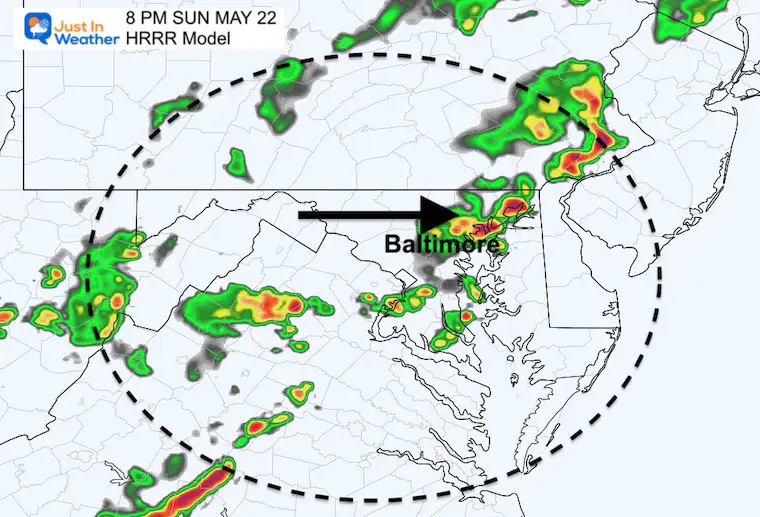 Animation: 4 PM to 11 PM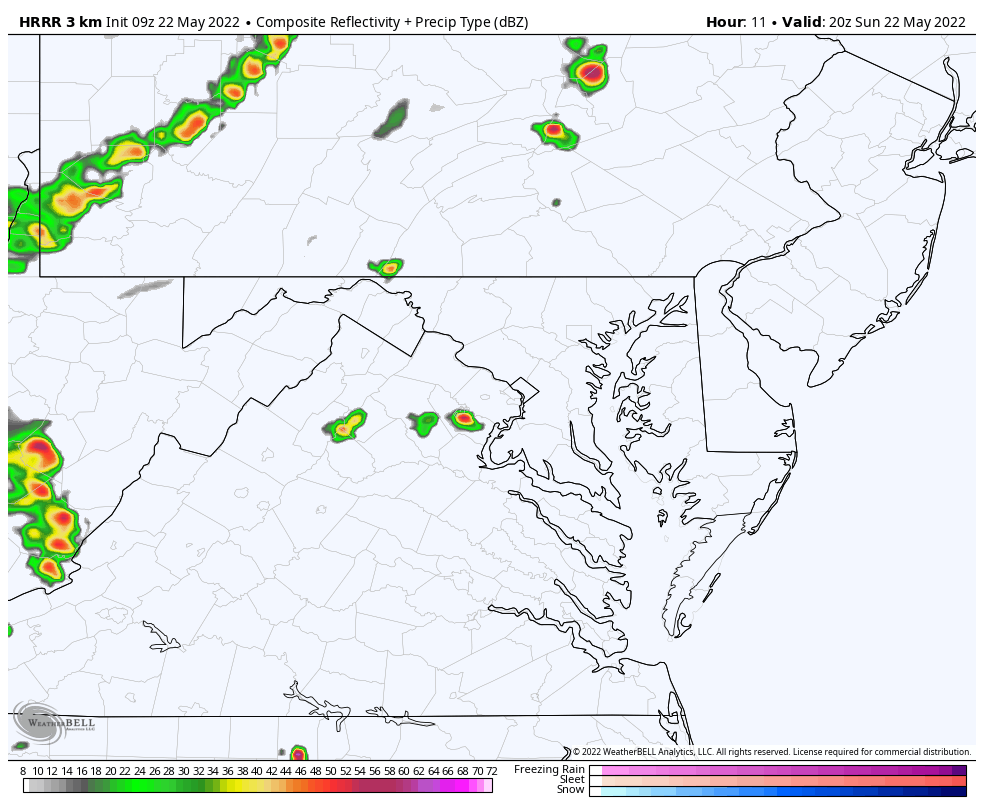 NAM 3 Km
Two separate lines breaking up around metro areas…
5 PM- First line west of the cities, but breaking up…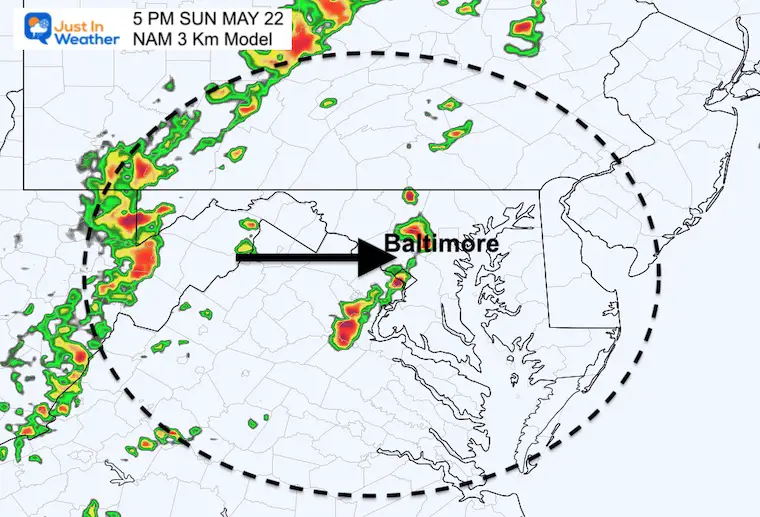 7 PM- The first line fades as it reaches the Bay, then a second stronger line approaches from the mountains.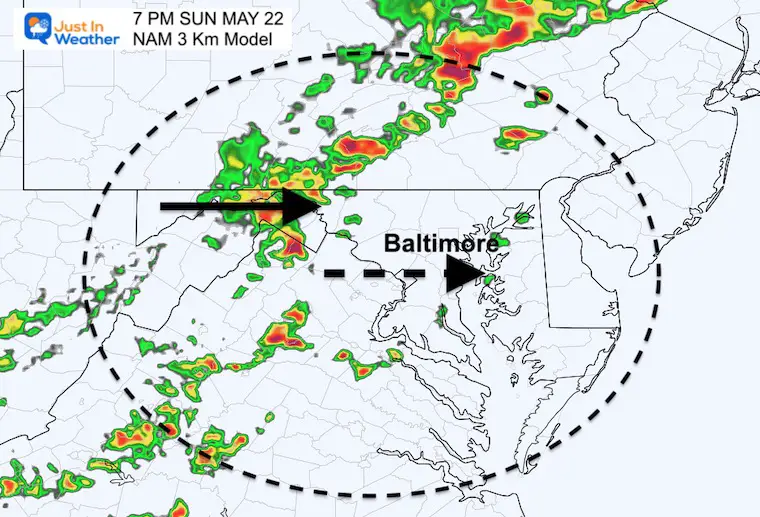 10 PM – The cold front still not showing a solid line, with breaks and dry pockets.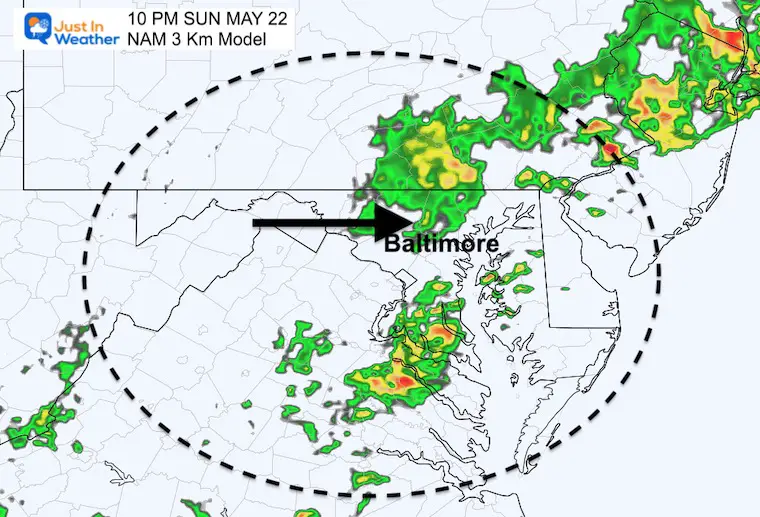 Animation 3 PM to 11 PM
Weather posts straight to your inbox
Sign up and be the first to know!
VOTE: Best 'Meteorologist'
Of Baltimore (Reader's Poll)
Through May 29 at 5 PM
Click here to access The Baltimore Sun 

CLIMATE DATA
TODAY May 22nd
Normal Low in Baltimore:  54ºF
Record 35ºF in 2002
Normal High in Baltimore: 76ºF
Record 98ºF 1941
Monday
Temperatures
Morning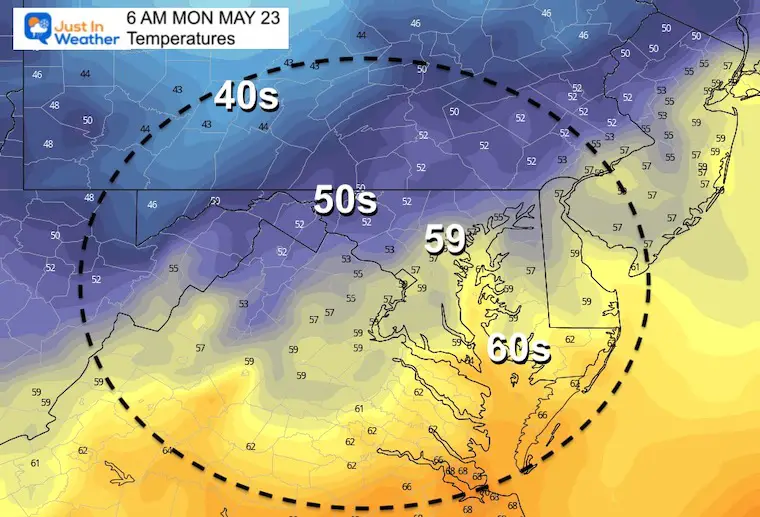 Wind Forecast
The north wind will be stronger in the morning as it ushers in a new air mass that will keep temps in check.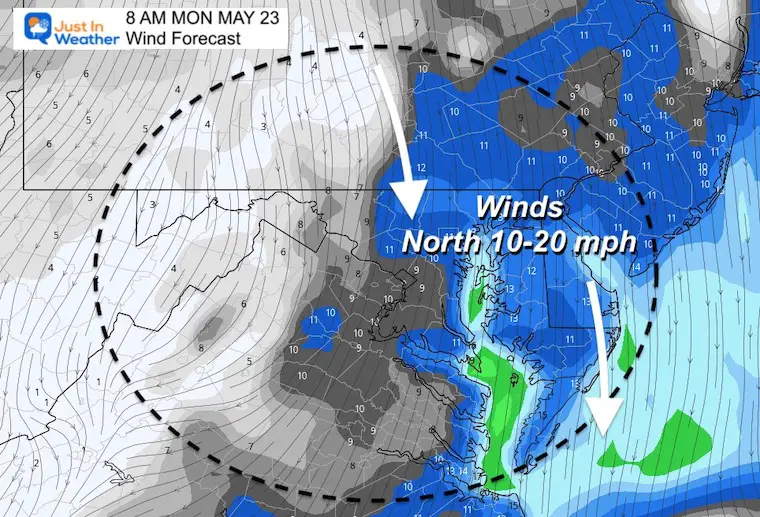 Afternoon
7 Day Forecast
Cooler winds from the ocean will keep us in the lower 70s with additional clouds for a few days.  Warmer air and more active weather will return by the end of the work week.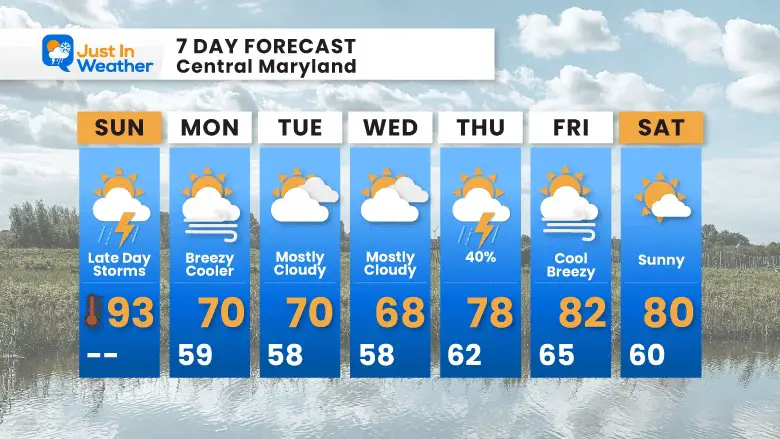 Tropical Season Begins June 1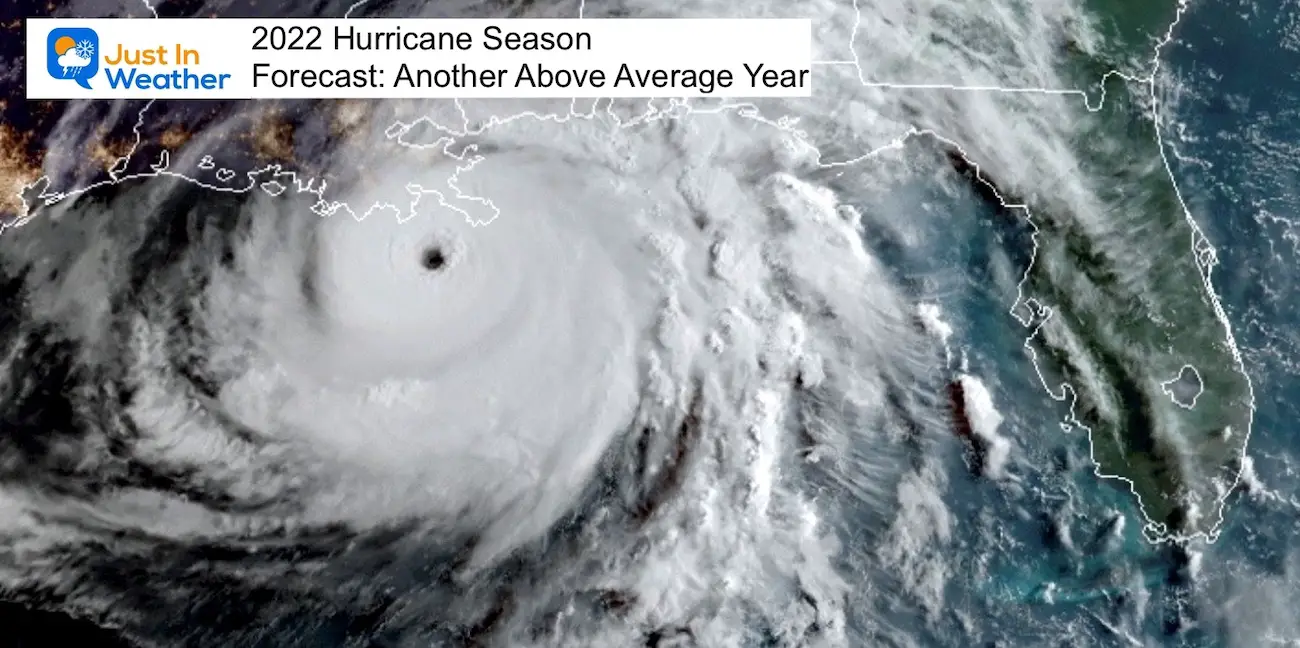 Related Posts
NOAA Study: Reducing Air Pollution INCREASED Tropical Storms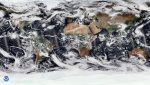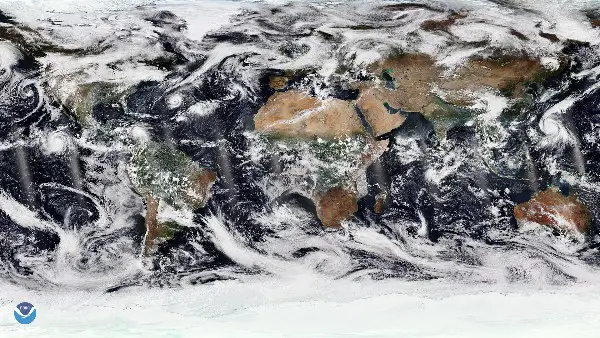 Atlantic Tropical History: Maps of Origin Regions Every 10 Days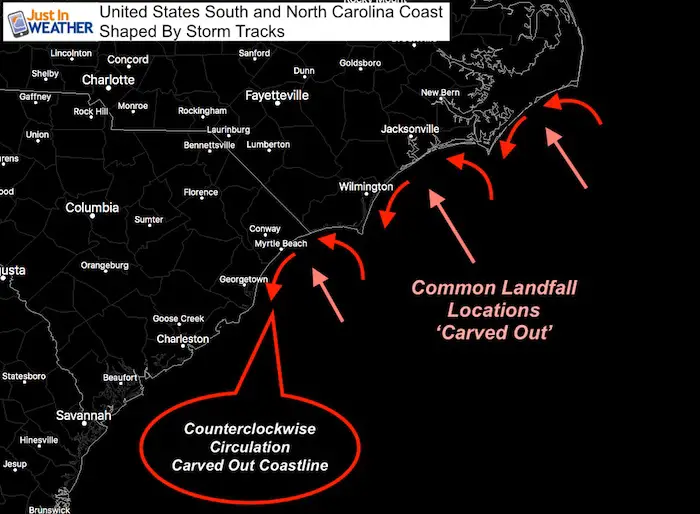 Please share your thoughts, best weather pics/video, or just keep in touch via social media
*Disclaimer due to frequent questions:
I am aware there are some spelling and grammar typos. I have made a few public statements over the years, but if you are new here you may have missed it:
I have dyslexia, and found out at my second year at Cornell.  I didn't stop me from getting my meteorology degree, and being first to get the AMS CBM in the Baltimore/Washington region. 
I do miss my mistakes in my own proofreading. The autocorrect spell check on my computer sometimes does an injustice to make it worse. 
All of the maps and information are accurate. The 'wordy' stuff can get sticky. 
There is no editor that can check my work when I need it and have it ready to send out in a newsworthy timeline. 
I accept this and perhaps proves what you read is really from me…
It's part of my charm.