Saturday Rain And Storm Updated Timelines May 14
Coastal Storm
Forecast
Justin Berk
May 14, 2022
11:18 am
0
May 14 2022
Late Morning Update
The situation today is all about that old storm from last week. It has taken a firm form and is now moving northward along the Eastern US.  The good news is that it is more identifiable. The bas news is that despite that, the short range model forecasts are not handling this well.  We can see that with the 11 AM plots.
However, what we can extrapolate is a better idea of what to expect for the rest of today. In short, there will be developing rain and heavy downpours. Some isolated cells may turn severe…
Morning Surface Map at 11 AM
The Low circulation is centered around Wilmington, NC. This is a broad circulation and pulling tropical moisture northward.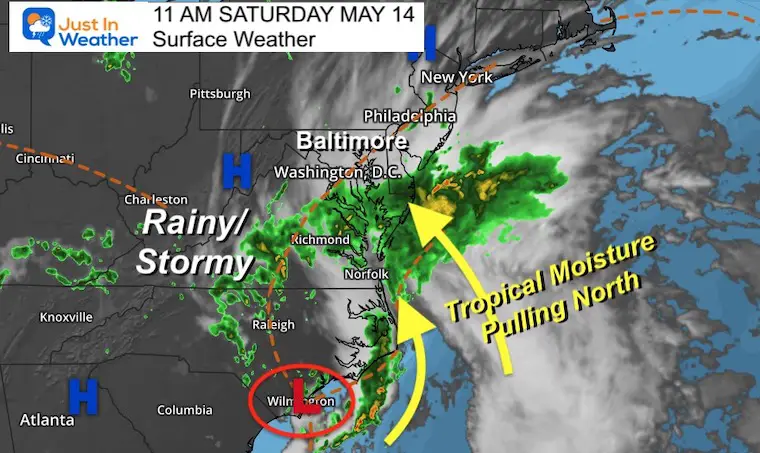 Satellite Loop
Wide view shows the broad circulation of the Low and moisture being pulling northward…
This still looks semi-tropical to me suggesting that if it was over the water it could have developed into a named system. It does NOT have a name now.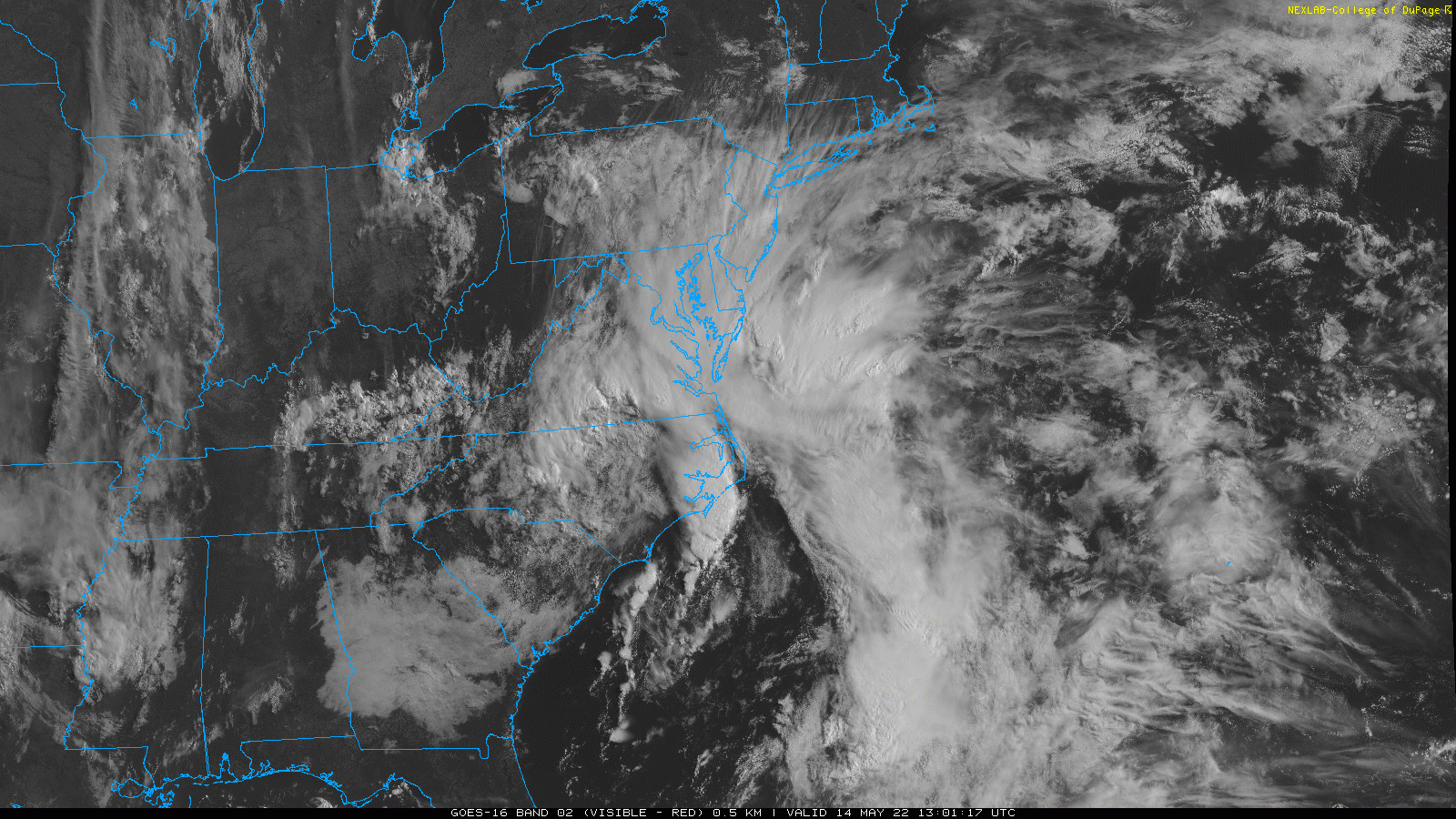 Radar Loop
Notice the expansion of the rain field entering lower Delmarva and spreading north.
There are some heavier showers and thunderstorms just starting to build on the daytime heating.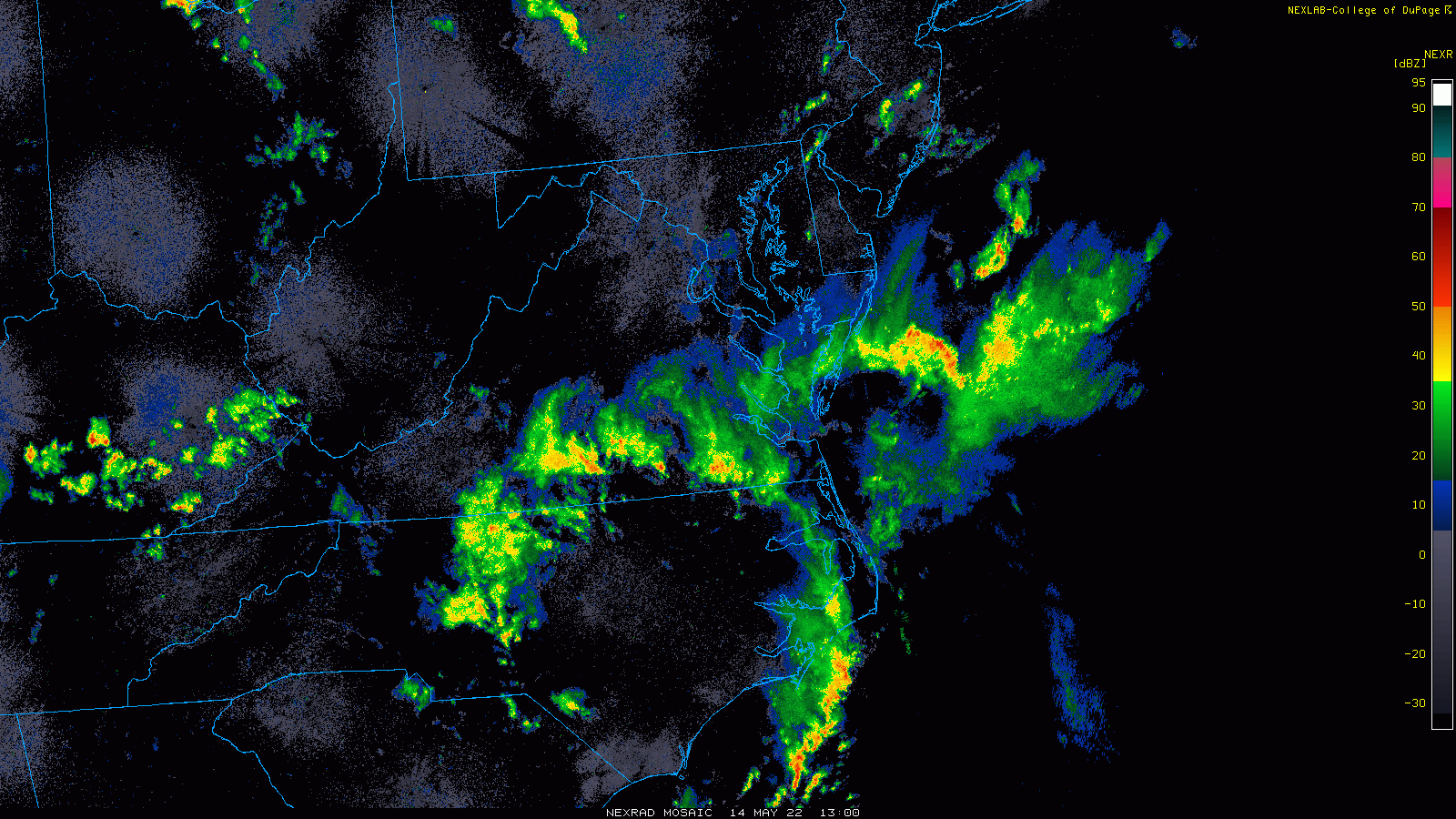 11 AM Comparison
Local Doppler Radar Snapshot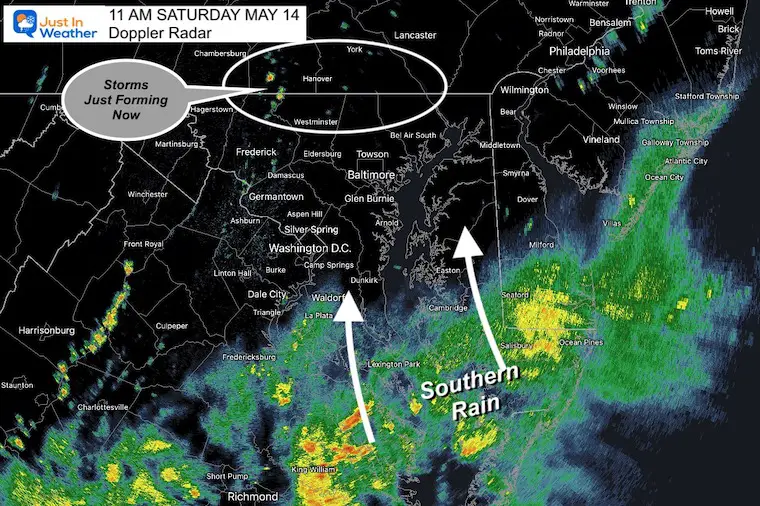 Short Range Model Forecast
HRRR Model
This was the 2 Hour forecast, showing that band of rain in southern Maryland better.
This also developed clusters of rain cells in central Maryland that were just forming. It is showing more validity in this late update, but a little ahead of schedule…
Note that it was less intense AND I believe is still underplaying that core energy for the afternoon.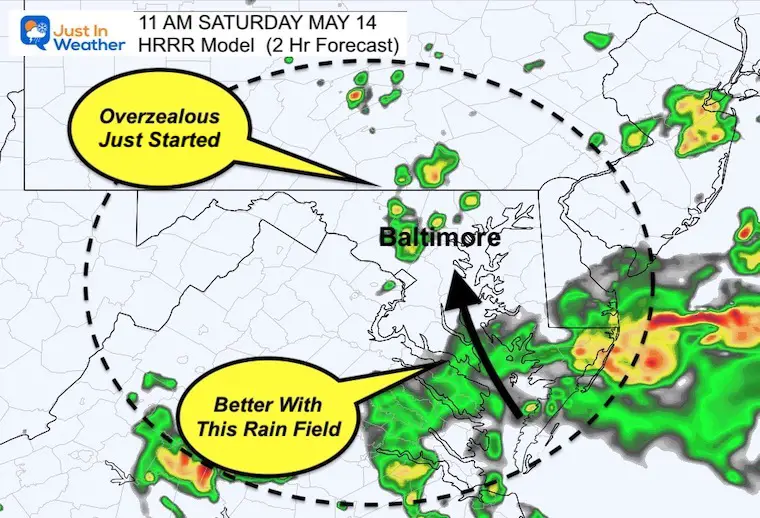 NAM 3 Km
This was the 3 hour forecast for 11 AM, and it underplayed the leading band of rain.  This initialization means it has not seen the leading band of rain into southern Maryland and thus can not be trusted for the rest of the day.
The HRRR Model is the better of the two options now…
Radar Simulation HRRR Model Noon to 10 PM
I believe this is NOT treating that rain in southern Maryland with respect, and phasing it out/drying too fast.
Please consider this simply for the movement.  I expect we will have more rain holding as it moves into central Maryland mid afternoon…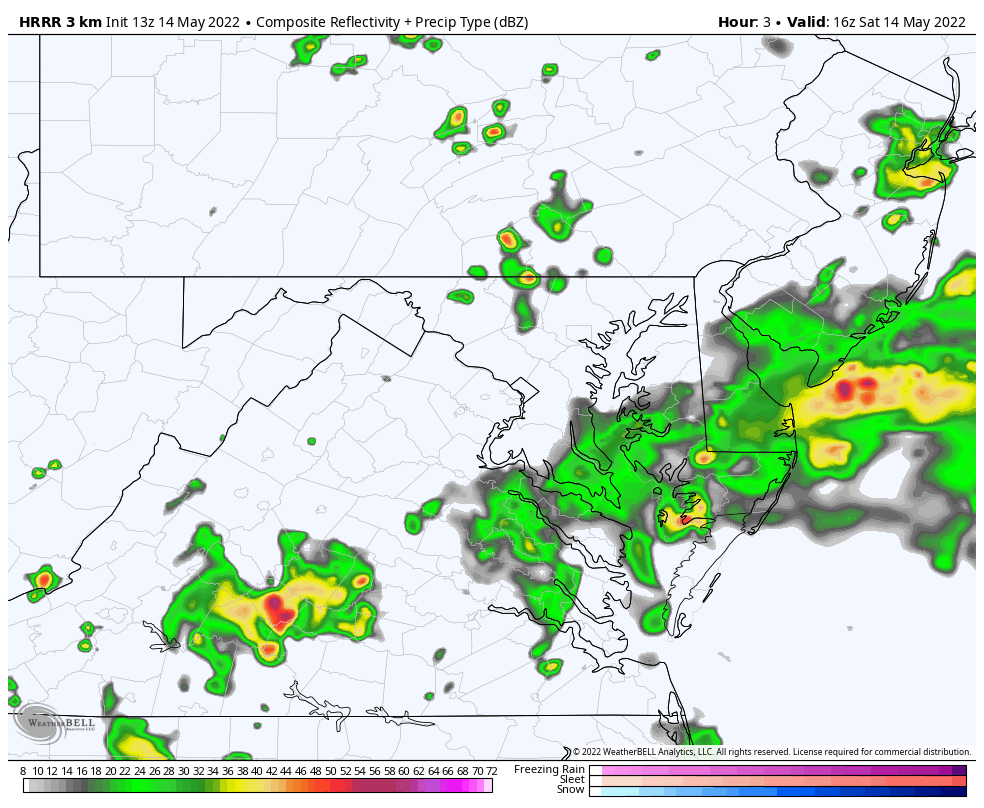 The activity will settle down after sunset… but any place that get rain will likely develop fog overnight. 
Rain Animation Through Tuesday Morning
Here we see the flare up of storms this afternoon and again on Sunday.
The cluster of storms on Sunday and Monday will be more likely in the afternoon and evening as a cold front passes. This may bring the highest risk for severe storms, but also clear us out mid week.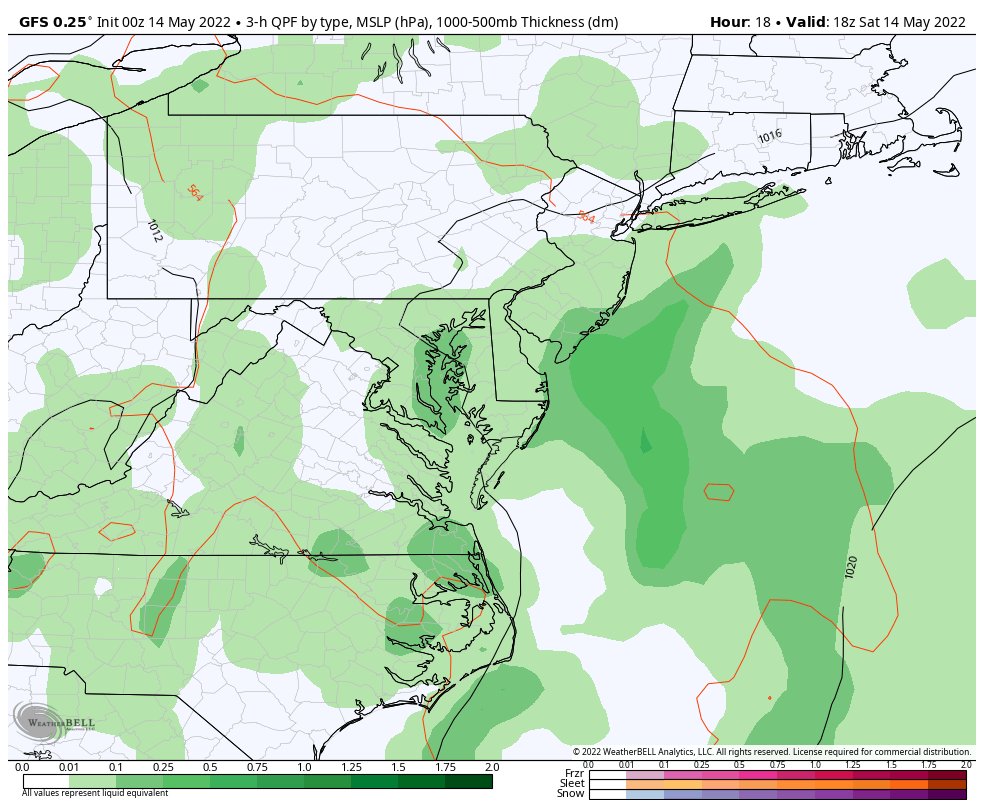 SUMMER HEAT BY NEXT WEEKND
The pattern will relax and let the heat build in this week. See the forecast high temps for next weekend below the 7 Day forecast
Weather posts straight to your inbox
Sign up and be the first to know!
7 Day Forecast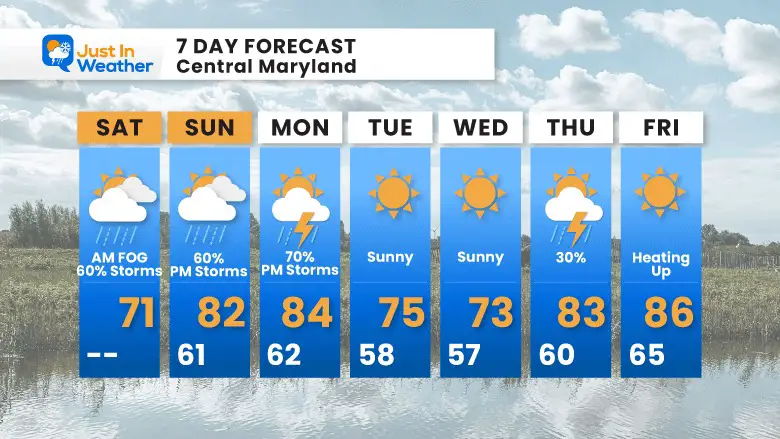 Preakness Saturday: HOT HIGHS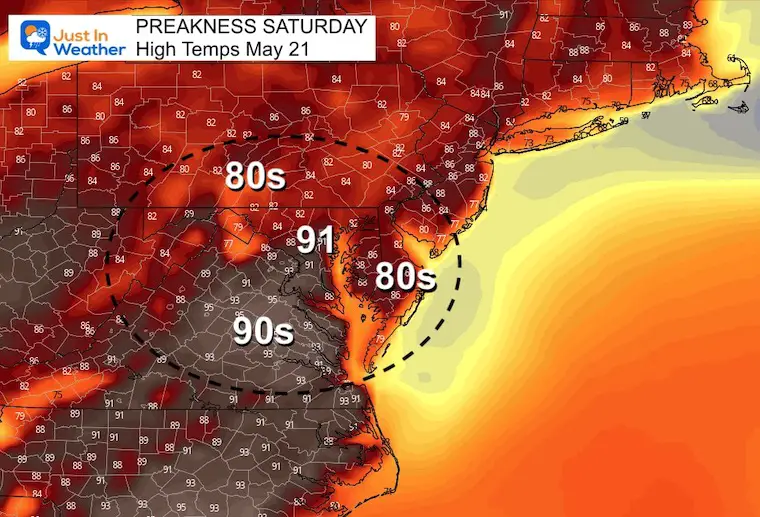 Tropical Season Begins June 1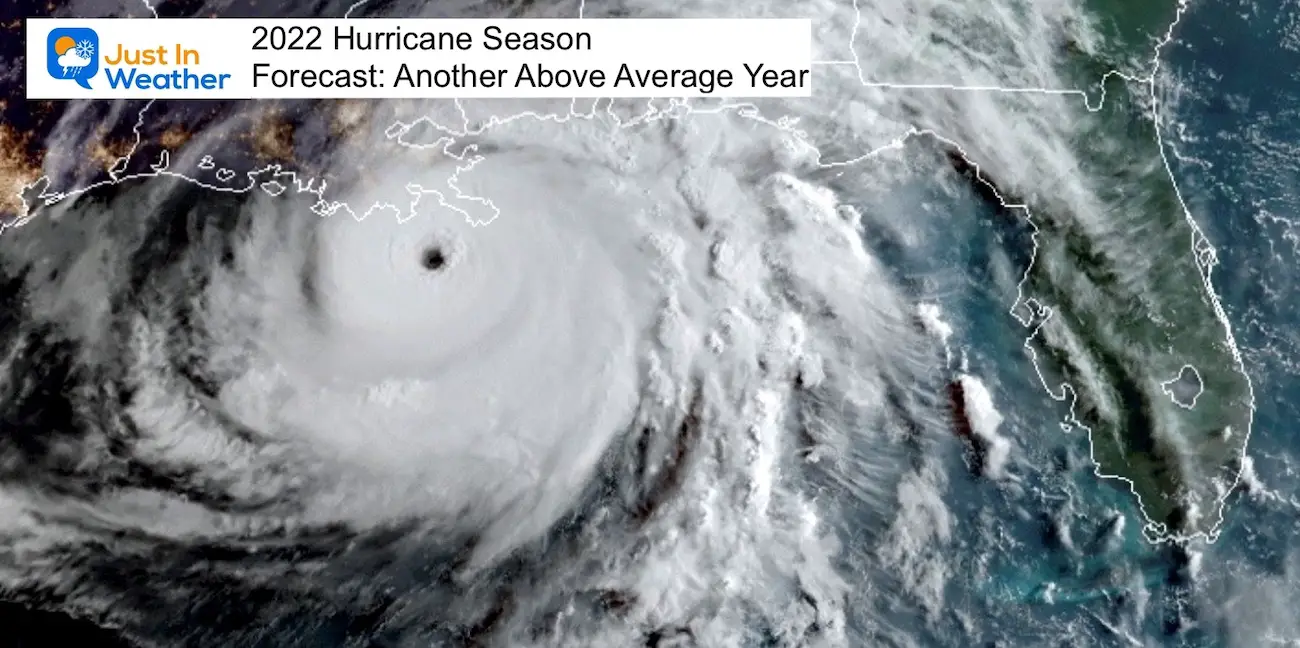 Related Posts
NOAA Study: Reducing Air Pollution INCREASED Tropical Storms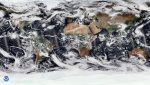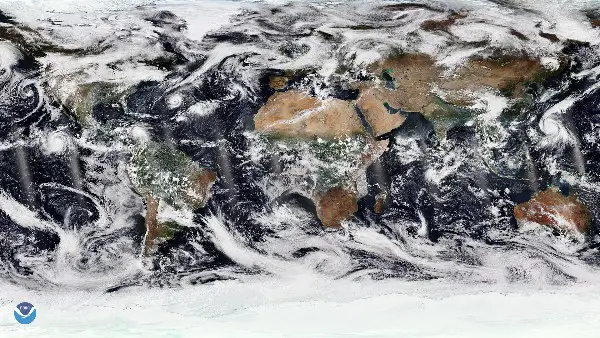 Atlantic Tropical History: Maps of Origin Regions Every 10 Days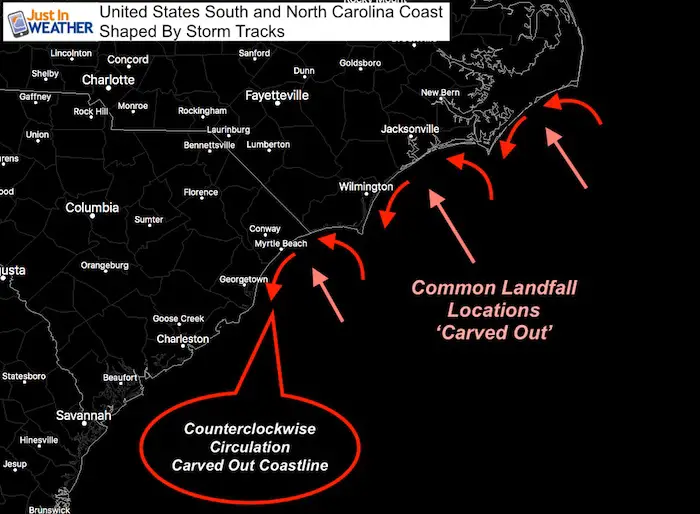 Please share your thoughts, best weather pics/video, or just keep in touch via social media
*Disclaimer due to frequent questions:
I am aware there are some spelling and grammar typos. I have made a few public statements over the years, but if you are new here you may have missed it:
I have dyslexia, and found out at my second year at Cornell.  I didn't stop me from getting my meteorology degree, and being first to get the AMS CBM in the Baltimore/Washington region. 
I do miss my mistakes in my own proofreading. The autocorrect spell check on my computer sometimes does an injustice to make it worse. 
All of the maps and information are accurate. The 'wordy' stuff can get sticky. 
There is no editor that can check my work when I need it and have it ready to send out in a newsworthy timeline. 
I accept this and perhaps proves what you read is really from me…
It's part of my charm.