October 14 Morning Fog Then Summer Like Afternoon
Forecast
Warnings
Justin Berk
Oct 14, 2021
6:32 am
0
Thursday October 14
Today is the day we expect to be in our mini-later summer weather.  But first we must have to deal with fog.  While it is more widespread than yesterday, we should have more support to burn it off before noon and get into that sun.
Dense Fog Advisory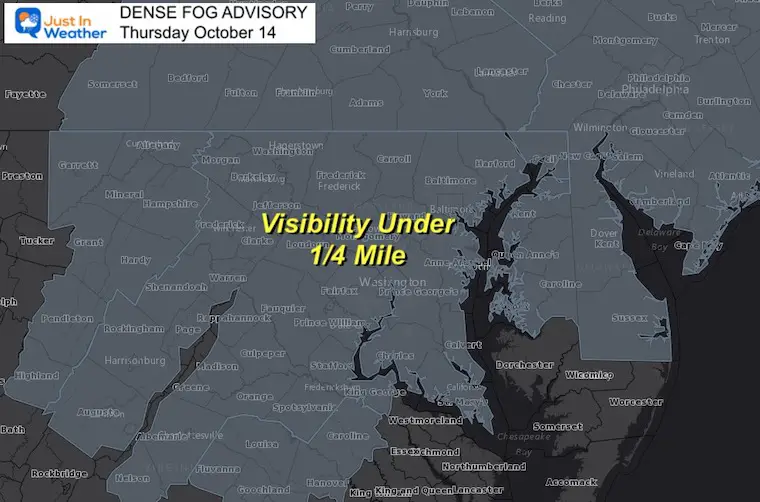 Morning Surface Weather
High Pressure has been in control, but we had this low level moisture trapped underneath. Today a light westerly wind should help dry us out with daytime mixing of the air. 
That cold front in the MidWest will ignite strong to severe storms. This is the system we expect on Saturday.
Morning Temperatures
Current Conditions: See the tab on the right.
Change your location: See the Blue Bar at the top of this post.
Weather Maps: See the home page
*This is the first phase. Much more expanded weather info will be added soon.
Too Many Cloudy Days
Yes, it's been about one week of persistent cloud cover. Even NWS has been tracking this. Check out the daily satellite images
Feel like you haven't been seeing much sunshine recently? Well, here's a look at the afternoon visible satellite imagery the past 6 days. Clouds have been plentiful with the continued northeasterly onshore flow. Any peeks of sun have been somewhat brief. #MDwx #VAwx #DCwx #WVwx pic.twitter.com/modTd5PWVl

— NWS Baltimore-Washington (@NWS_BaltWash) October 12, 2021
Afternoon Temperatures
Note: Our local Offical recording station at BWI tends to be warmer than models and surroundings.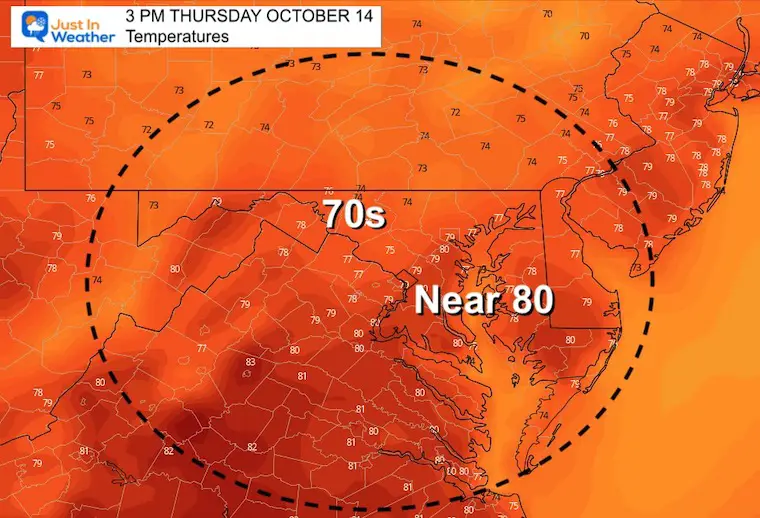 Weather Almanac: Climate Data
TODAY October 14
Normal Low in Baltimore:  46ºF
Record 29ºF in 1988
Normal High in Baltimore: 67ºF
Record 86º F 1975
Also See:
Sweating Weather To Sweater Weather

Temperatures Saturday
Morning
Afternoon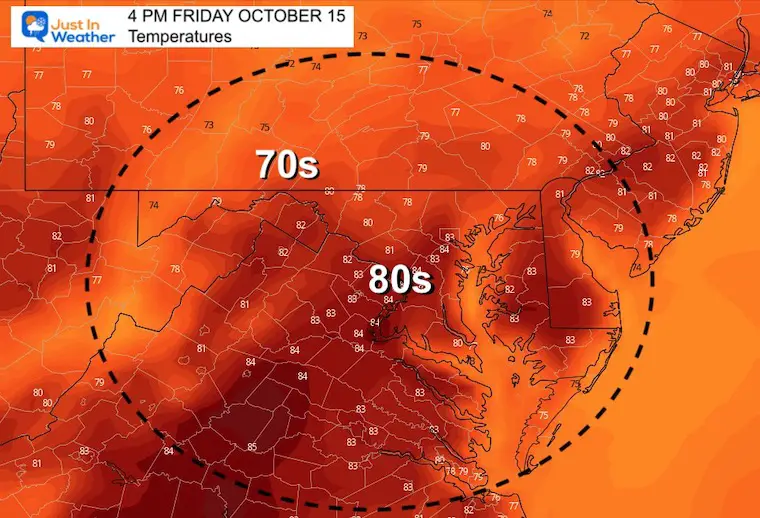 Weekend Change
As of now, the timing of the Cold Front should be during the afternoon. Here are snapshots at 2 PM from the High Resolution NAM 3 Km Model.
It will start warm and end cool. If you have outdoor plans, the timing will be subject to your location and the speed of this front.  Expect storms mid day to afternoon. Earlier in the western mountains, later on Delmarva)
Temp Transition…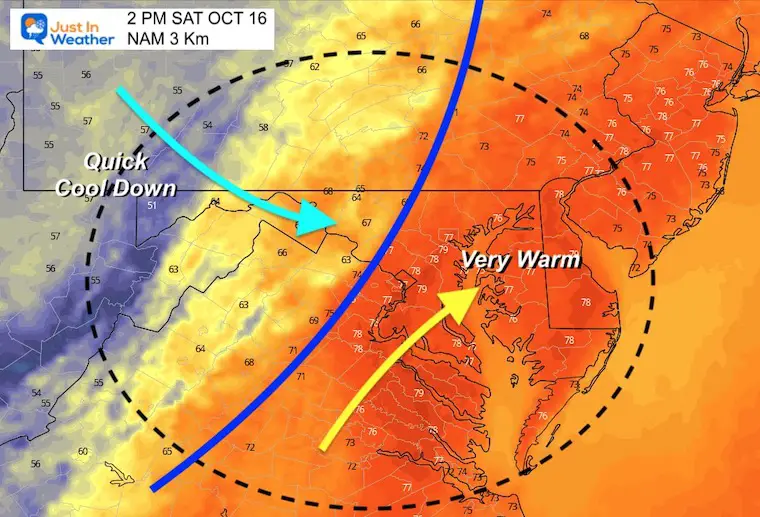 Storm Line…
This plot is NOT perfect!  I expect there will be more activity than shown for now.  Plan for the potential for storm to turn severe. These may contain damming wind and large hail.  I will expand more on this in my evening report.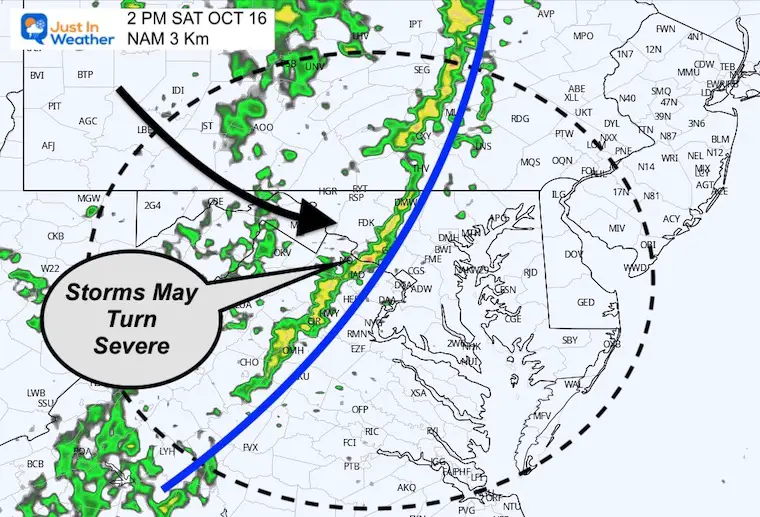 Saturday Rain Animation
8 AM to 10 PM – ECMWF Model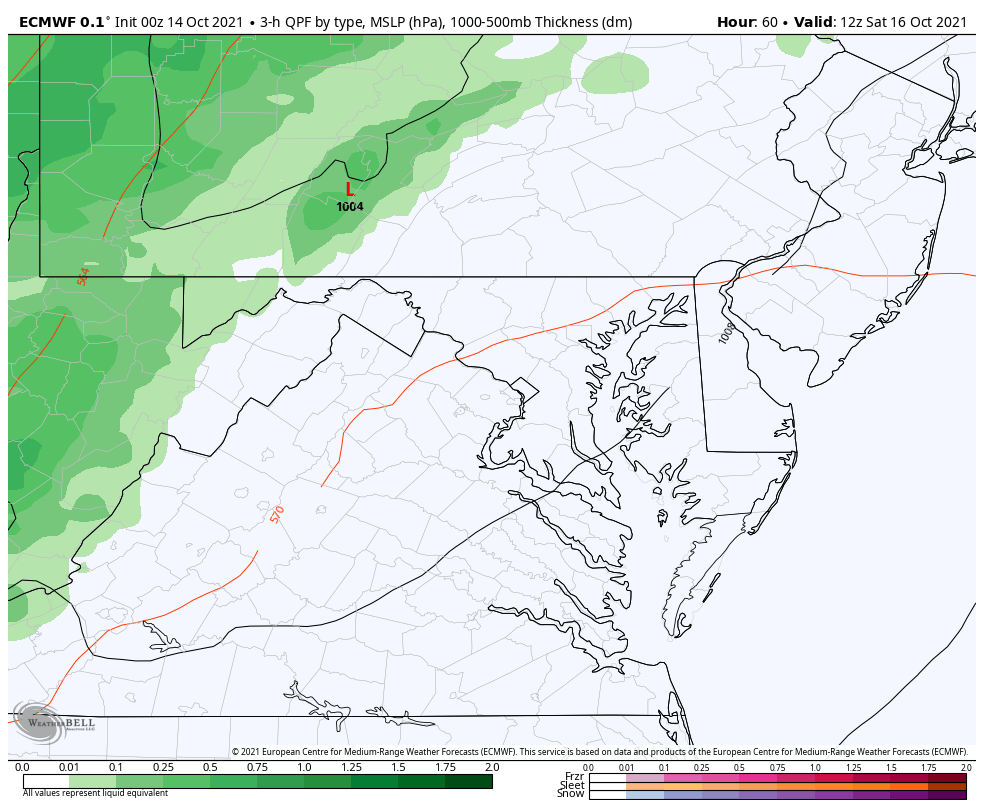 7 Day Forecast
Maryland Trek Gear

Maryland Trek 8 Says THANK YOU!
Running Total Raised $116,438
During 329 Miles From Wisp To Ocean City
To Honor Kids In Cancer Treatment and Support FREE Programs At Just In Power Kids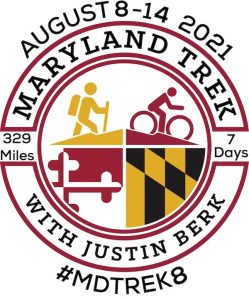 Please share your thoughts, best weather pics/video, or just keep in touch via social media